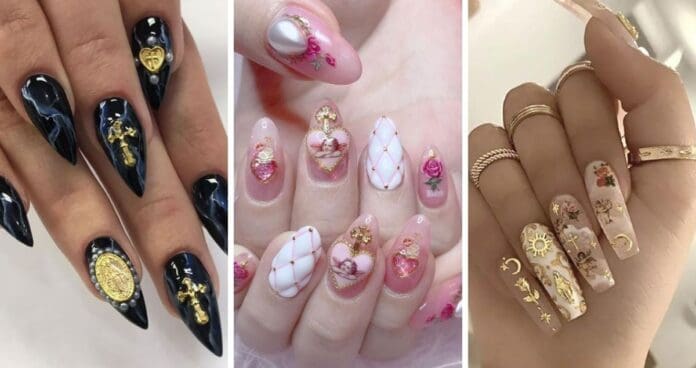 Nail art is a wonderful way to show off your personality and while there are many trends to choose from, angel-inspired art is undoubtedly one of the best. Angels represent many things to different people. Believers, are messengers of God but are also associated with love, kindness, purity, hope, and protection for others. There are many ways to try this look, from bold black and gold combinations that demand attention and make a statement, to more subtle and casual options like an ombre or a dreamy pink base layer. For those who want a magical look, you can draw clouds or hearts. However, the best thing about angel nails is that many of them are so easy to create at home. All you need is your favorite polishes and stickers. Keep reading to find inspiration for your next trendy manicure.
1. Natural Color Angel Nails
Natural colored nails are a great way to try out angel stickers. The open base allows the drawings to come to life, complementing them rather than conflicting with them. These shades are also incredibly comfortable to wear and perfect for a variety of occasions. Plus, they don't show chips and scuffs as easily, and they tend to be suitable for all skin tones. However, you can take your favorite nail polish to a whole new level by adding gold details and little cherub stickers to it. The result is bold, playful, and ultra-feminine. Feel free to wear your favorite gold rings for an excellent matching effect.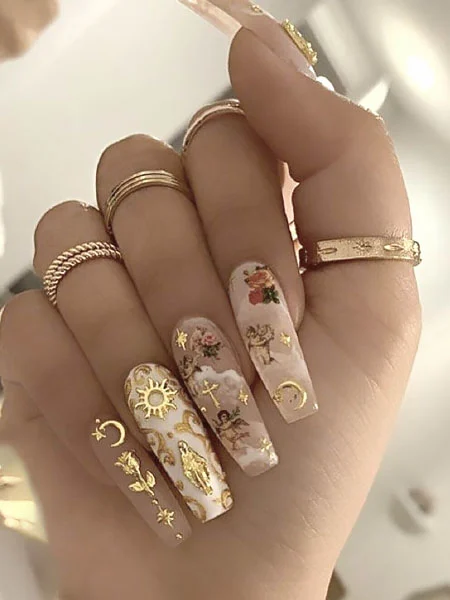 2. Love Angels Nail Stickers
If you want a fun manicure, you can create it with angel nail stickers. The fantastic thing about this option is that you don't have to be a pro when it comes to nail art. Paint your nails with a nude, white or light pink base coat to make the images stand out and become the center of your look. You can also add clouds or tiny hearts for a dreamy and girly look if you're feeling especially creative. Angels are associated with innocence, goodness, and hope, but Cupid is also associated with love and matchmaking. Let your manicure tell your loved one how you feel about it, or let it bring a smile to your face because of its sweetness.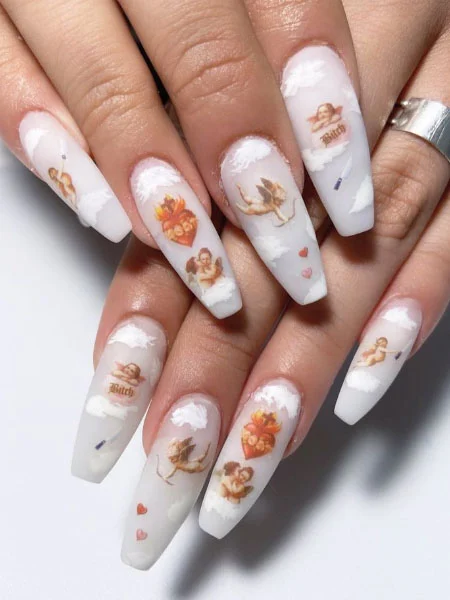 3. Stiletto Nails with Angel Feature Nails
Stiletto nails require some maintenance and may not be ideal for certain activities, but there's a good reason why so many women love them. The shape can elongate the fingers and looks very feminine. In addition, no matter how simple your nail art with this shape is, it requires attention and your hands will definitely notice it. It is for this reason that simple designs can complement the form. Paint the claws in a bright color like blue to represent the sky and evoke calmness. You can then choose one nail to add your angel image to create a special nail that will be the center of your look. It is not only incredibly comfortable but also beautiful and modern.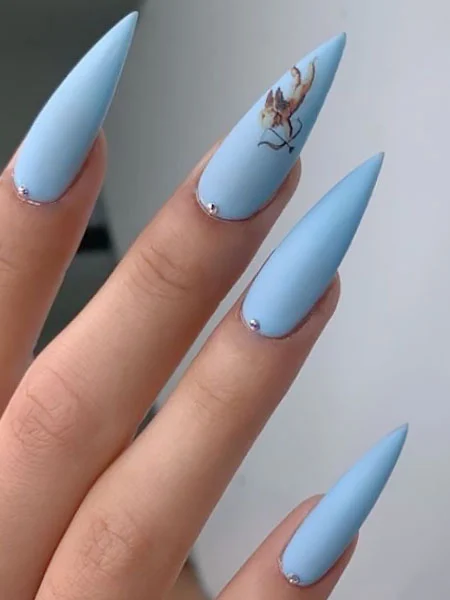 4. Iridescent Angel Nails
Rainbow angel nails are magical and beautiful. They sparkle in the sun and are the perfect base for a wide variety of nail art, be it shells or unicorns. It is also a great addition to any angel artwork. Adding cute little white or soft pink clouds and cherub stickers to your nails will make your manicure even more impressive. It's also a look that's surprisingly not that hard to achieve with the right polish. Plus, it's a great way to show off your hands and add romance to the overall look.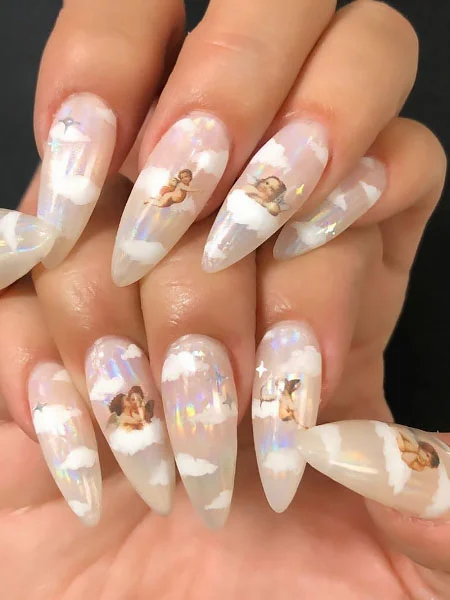 5. Angels and Icons Nail Stickers
Angels represent goodness and hope and are considered messengers of God. If you are a person who appreciates faith and wants to show it, you can dedicate your manicure to religious images. It's a bold choice because it lets the world know your beliefs, but it can also make beautiful and exciting nail art that can be a real talking point. The image of Mary, crosses, stars, and angels can be combined in an intricate manicure. The detailing on each nail means it would be useful to have longer nails, as this gives more room to complete the design and won't be overworked. Feel free to experiment with different placement options and add rhinestones or rhinestones to give you a more sparkly look.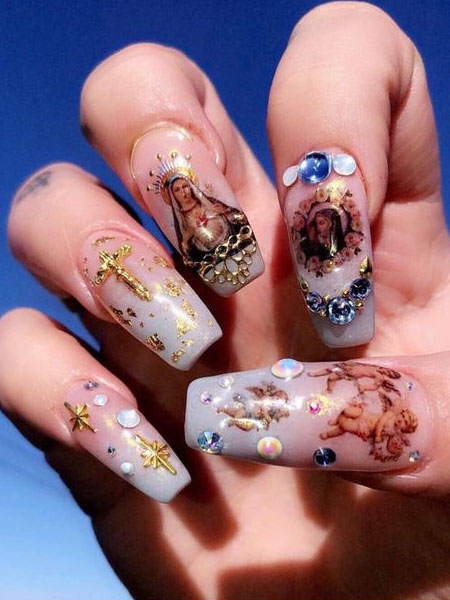 6. 3D Angel Nails
What do you dislike about 3D nail angel? This manicure is perfect for a woman who wants to make a statement and be creative. It's so much more than just applying your favorite nail polish and includes lots of detailing, adding gems, hearts, flowers and more. However, the look will limit you in terms of activities and you won't be able to do sports or anything that requires too much contact as you have a 3D piece of art. Reserve this design for special occasions and impress everyone with your beautiful nails and skills.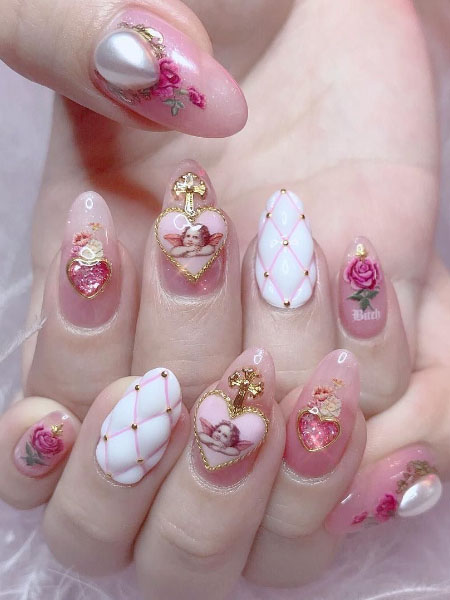 7. Angel Writing Nails
Letter manicure is a lot of fun because you get to say the words that mean the most to you. This is an opportunity to share your interests and the things you like without even talking about it. Maybe you want to show the world how you feel about love, or you want to be portrayed as angelic. There is a certain appeal to creating angel lettering nails and it is a great alternative to using images. You can play around with different color combinations and see what works best for you. To create a more casual and comfortable look, the black lettering on the nude base coat looks classy yet simple. You can also opt for bolder hues like red or navy blue. Choosing a specific font is another way to make this piece unique.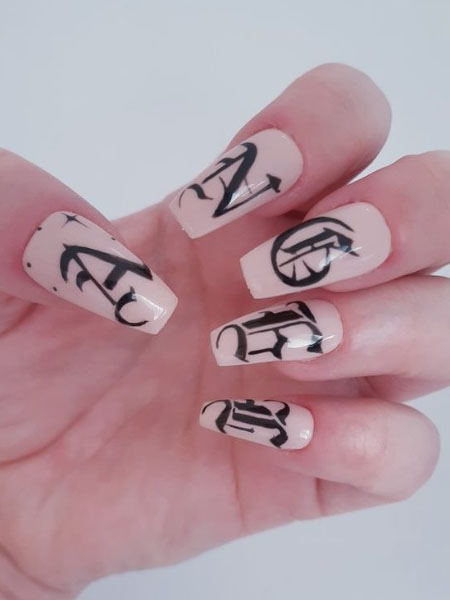 8. Black Marble Effect Nails With Angel and Cross Stickers
Black marble effect nails are so pretty and cool, and they become even more attractive when you add angel and cross stickers to your artwork. The marble art style is so luxurious. The colors are a classic combination and make a statement. Black is associated with power, strength, and sophistication and is a bold choice for nail polish as it demands attention. It works great as a base coat for nail art and the choice of gold details will really let your designs come to life and become even more visible. To soften your look, you can choose two or three nails to add art while keeping the rest simple. This will make your manicure less dramatic and more wearable.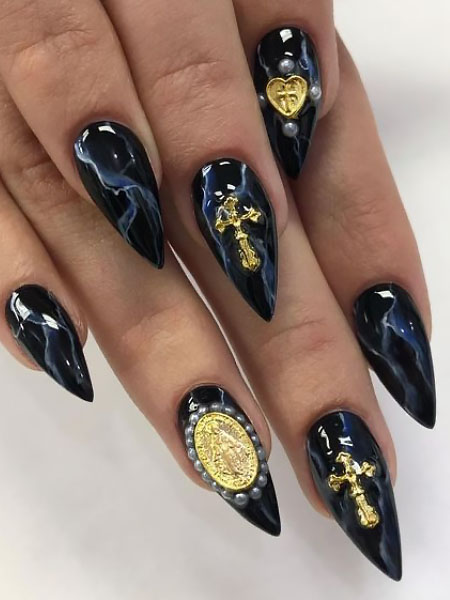 9. Ombre Angel Nails
Ombre angel nails are the perfect combination of pretty and cool. The shading effect has long been a favorite in nail art because it can easily make a statement. Ombre can also be created with different colors, but the key is to choose two shades, one light and one darker, and let them blend into each other. For softer and more wearable options, nude or light pink shades with white or cream will complement your nail art perfectly. If you prefer bolder designs, you can opt for brighter colors such as red or blue. The great thing is that you can experiment with combinations that suit you, making your look more personal and meaningful.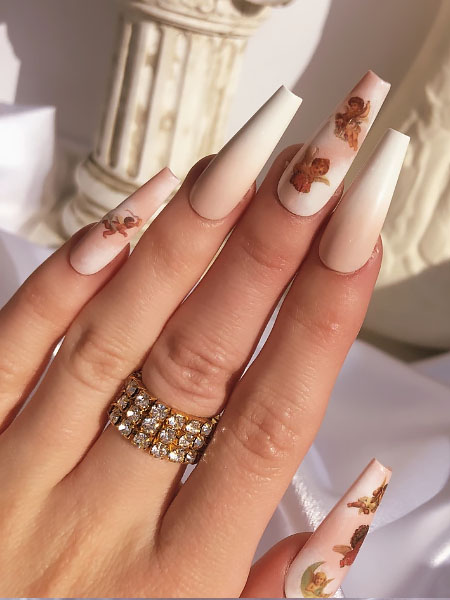 10. Angel on a French Manicure Feature Nail
If you are looking for a way to wear an angelic manicure that is sophisticated, stylish and perfect for almost all occasions, then the best way to do it is to get a French manicure. The French manicure is a look that has been around for decades, but the decision to paint just one nail with a white tip is a modern take. This makes this nail stand a great way to make nail stickers and artwork easier to use. You can add other details to make it unique. For example, gold foil, scales, and tiny studs are great but keep them simple and subtle if you want a look that can be worn every day.