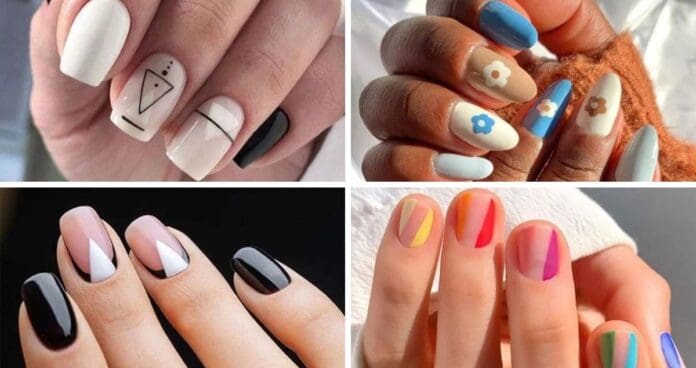 Short nails are great for women who prefer undemanding nail care. They are less prone to breakage, lend themselves well to various settings and are very practical. They can also be customized to suit your preferences and you can get creative with your artwork. If you like to stand out from the crowd, then contrasting colors and unusual details are what you need. Or maybe you are someone who prefers the classics; Pastel art and dreamy pink hues will help you bring your dream design to life. Nail art is a great way to express yourself and one of the easiest things to change about your appearance. So, whether you want bright and bold nails or something beautiful and sophisticated, keep reading for inspiration on the perfect manicure, no matter the occasion.
1. Short Astrology Nails
If you are an astrology fan and love to watch and interpret the stars, there is no better manicure for you than astrology-inspired nails. This gorgeous look is detailed, but it can also be symbolic. Stars are often associated with light, goodness, and guidance and can serve as a reminder to stay focused or all good things will come. Our galaxy symbolizes hopes and dreams, and manicures can be used to subtly express your thoughts. For this illustration, a dark base color like black or navy blue is best for representing the night sky, and your constellation could be white or silver. The contrast between the base coat and the nail design will also make it stand out more. You can paint each nail with a different pattern or leave it the same.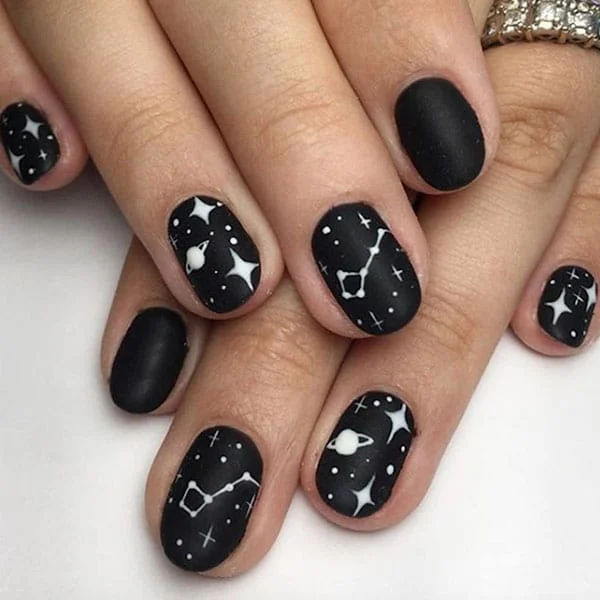 2. Short Black and Nude Nails
Black and white are some of the most classic nail art combinations, but if you want something different, try black and nude nails. Nude is more subtle and less defined than white, adding softness to your manicure. The contrast is still present but looks less dramatic. There are many ways to combine these two colors to get creative and show off your personality. These can be abstract images such as shapes and wavy lines, line art, heart symbols, or stars. You can opt for a nude base coat and black details or vice versa. Depending on how bold your nail art is, this manicure can make a statement.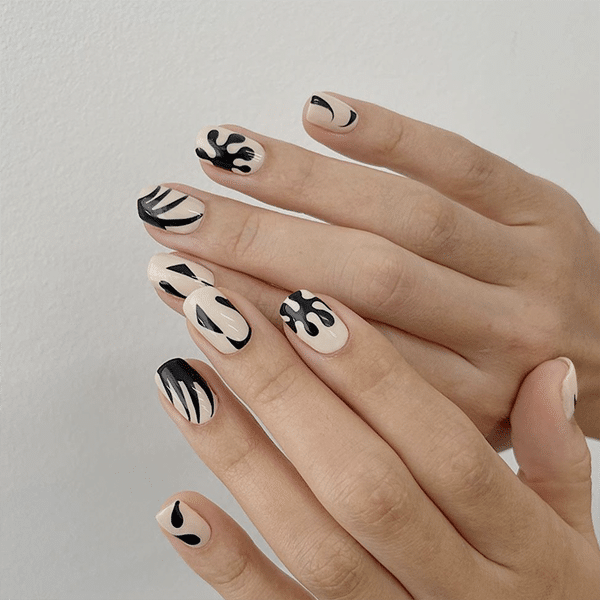 3. Short Brown and Blue Nails
Brown and blue nails are a combination that will draw attention to your hands. These colors are clearly reminiscent of retro and can look incredibly cool. There are many different ways to combine these shades and you can choose from different shades depending on how dramatic you want the contrast to be; lighter shades are often more comfortable to wear. You can paint each nail a different shade of brown or blue and add checkered, floral or squiggles to it for a fun finish. You can also experiment with other polishes, such as matte polish, if you want a smooth look.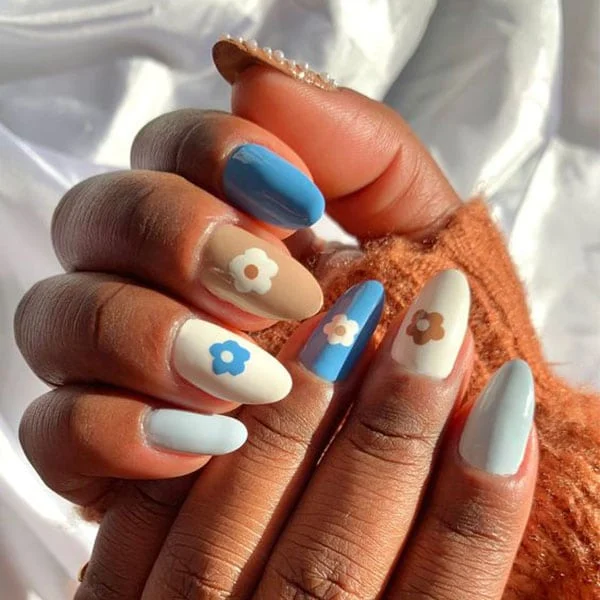 4. Short Blue Tips Nails
For a simple but luxurious winter manicure, blue tips are perfect. Blue is associated with serenity, sophistication and royalty. Some women may not want to paint all of their nails blue, but a chic alternative is to focus on just the tips. The approach is similar to a French manicure, but instead of the classic white stripe along the top of the nail, it's been replaced with your favorite shade of blue. The result is a modern look that is easy to wear and can be worn on nails of any shape and length. Pair the blue tips with a nude, light brown or white base coat for more contrast. To make your nails stand out, you can pair them with a matching blue sweater or chunky knit.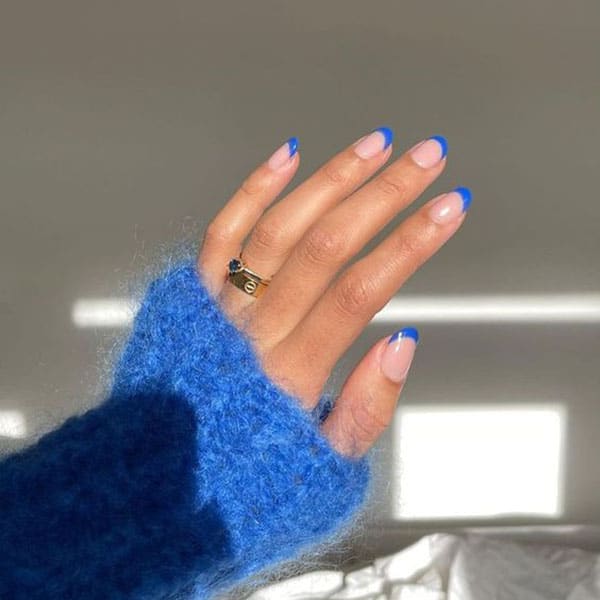 5. Short Brown Nails
Brown nails look ultra-chic and are a great choice for your next manicure. This is a fantastic alternative for those who want to wear a darker color but find black too harsh; it's not as dark, which makes it more versatile. You can combine multiple shades of brown for an interesting effect and experiment with different angles and shapes. For a feminine look, you can add a floral pattern to a brown base coat or keep it simple with a simple brown polish. The simpler your manicure, the more wearable it will be for different occasions.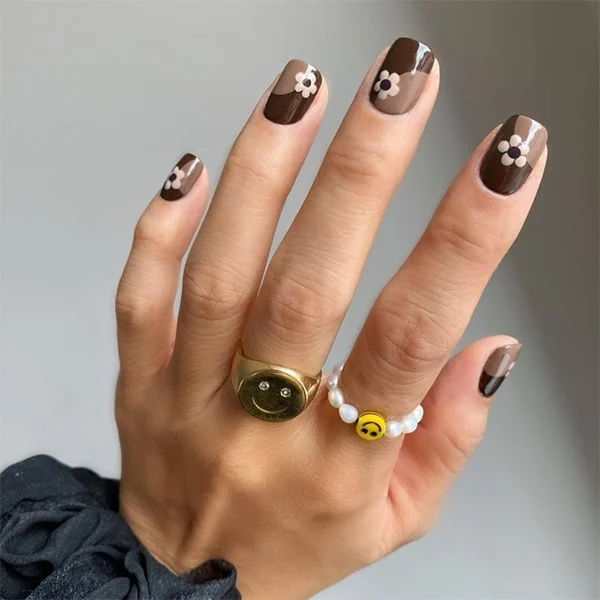 6. Short Butterfly Nail Designs
Short nails are practical and easy to maintain, but that doesn't mean you can't enjoy your manicure. There are many manicure options that allow you to experiment with color and details. If you want to look beautiful and feminine, try butterfly nail designs. This manicure is not only gorgeous but also symbolic. The butterfly is associated with growth, life, and transformation and can serve as a reminder that good things are coming. Or it may be attractive to those who are going through a period of transition in their lives. Your butterfly-inspired work can be as vibrant or subtle as you wish. For those who want the perfect everyday look that will work well for multiple occasions, opt for a beautiful nude or cream base coat and your favorite butterfly wings at different angles on each nail.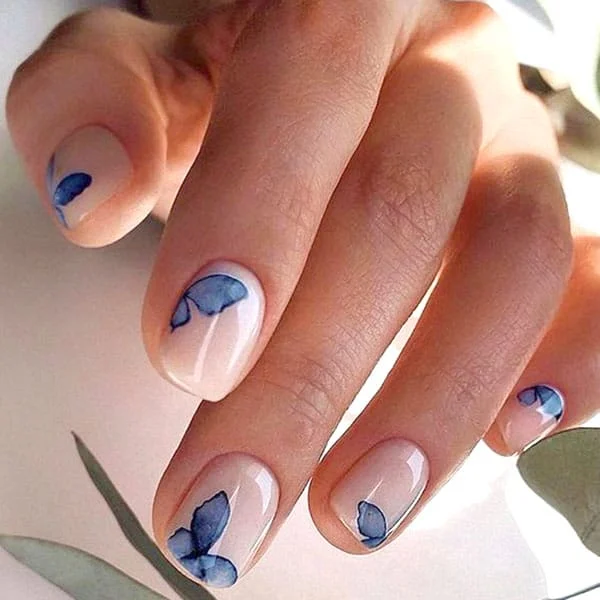 7. Short Cartoon Inspired Nails
If you have a favorite cartoon that brings you happiness and joy, or perhaps an image that takes you back to your childhood, then cartoon-inspired nails are the perfect choice. The beauty of this manicure is that it can be anything from Mickey Mouse to Snoopy. You can also experiment with different colors by choosing a bright and colorful nail design that is not to be missed. Or soften it up with a muted palette of pastels and nudes. You can add your favorite character on one or two nails to make them the highlight of your look, or choose your own design for each nail.
8. Short Cat Art Nails
If you are a cat lover, there is no better option than cat drawings. This is a great way to show your love for an animal and your pet can inspire you to create a manicure. Or you can opt for a more cartoonish approach, allowing you to get creative with different color options. For vibrant work, use a muted base coat by choosing a sheer or nude color. Alternatively, you can opt for a contrasting look by opting for a bright base and colorful cat designs. Cats are associated with intelligence, grace, mystery, and healing, and your manicure can remind you of the importance of these qualities. The choice is yours, so have fun and let your creativity run wild.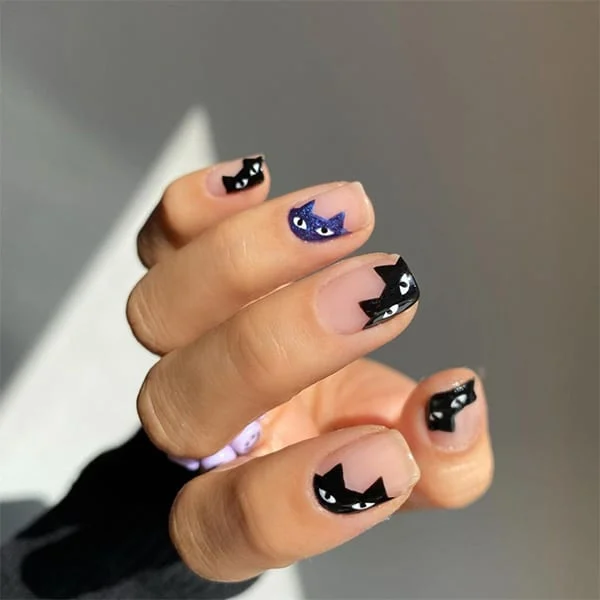 9. Short Cloud Nail Art
Cloud nail art creates a gorgeous and dreamy manicure. Clouds are often associated with dreams and good times and bring hope for the future, so it's no surprise why women want to add clouds to their nails. There are several color combinations you can try, but pastels are the best because they are beautiful but also add softness to your look. You can keep it simple by using a pastel blue base and white clouds for a more realistic feel, and the sophistication of your look also makes it easier to wear. Your manicure is suitable for a variety of occasions, including dates or parties.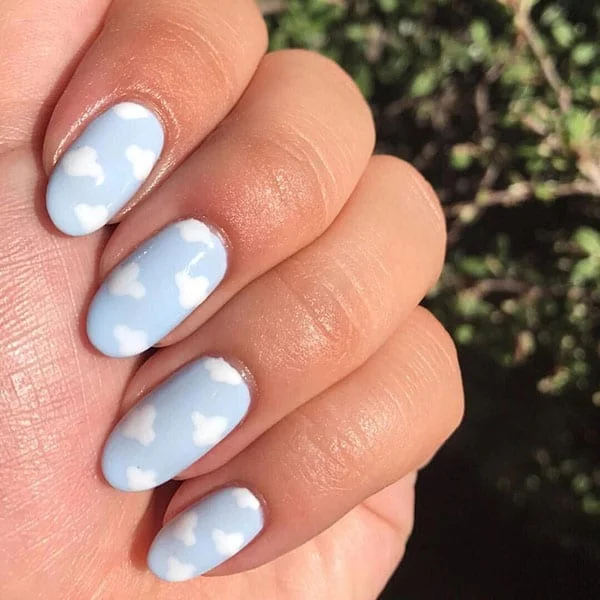 10. Short Cloud and Stars Nail Art
Clouds and star nail art are beautiful and symbolic. The combination represents guidance, hope, dreams and protection. There are several ways to include stars and clouds in your nail art and you can choose the colors of your choice. Opt for muted hues like beige, sand, nude and light pink for a more sophisticated and comfortable look. This will make your manicure perfect for a variety of occasions. If you're looking for gorgeous, meaningful nails that can remind you to stay focused or look on the bright side, then these are for you.