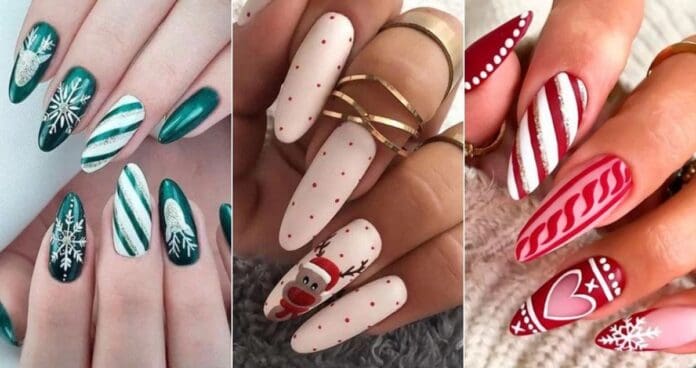 The Christmas season is one of the most fun and joyful times of the year, so why not reflect that in your nail design choices? There are red, white and green images, drawings of snowmen, Rudolph and Santa Claus for lovers of the classics. Or, if you prefer a more subdued approach to your holiday nails, forget about reds and greens and try browns, sophisticated nudes and whites, and shimmery silvers. We only celebrate once a year, so now is the time to add some sparkle to your manicure and express yourself. There are options for every taste and they can be adjusted to your length and shape of nails. If you've been looking for New Year's nail design inspiration to wear this holiday, keep reading to find your perfect style.
1. Brown Tones Christmas Nails
Not all holiday nail art is office-worthy, but if you want it to be easy to wear and look sophisticated, forget red and green and try brown. The beauty of a Christmas inspired manicure is that it can be created in a variety of colors, allowing you to choose the combination that best reflects your personality. A beautiful alternative to the classics can be made with a light brown base and white nail art. The addition of brown and white is a great combination that will complement each other. It is easy to wear because the colors are muted and therefore well-suited to a variety of settings, including more formal ones. This look is very versatile and you can wear it with anything!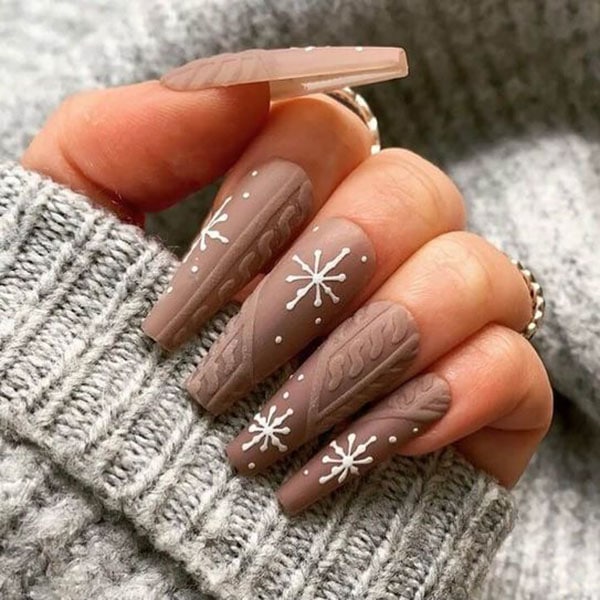 2. Nude and White Christmas Nails
Nude and white is a combination that is easy to wear and looks great. The two colors complement each other and will help create a New Year's manicure without being too flashy. This is perfect for women who have a more casual approach to nail art or who want to try chic and sophisticated Christmas looks. Subdued models are more comfortable to wear and can be worn in a wide variety of settings, including the workplace. Of course, you can experiment with different finishes to make your work as bold and colorful as you want. You can also cover your nails with glitter polish or give them a smooth, dry look with matte polish. There is an option for every taste.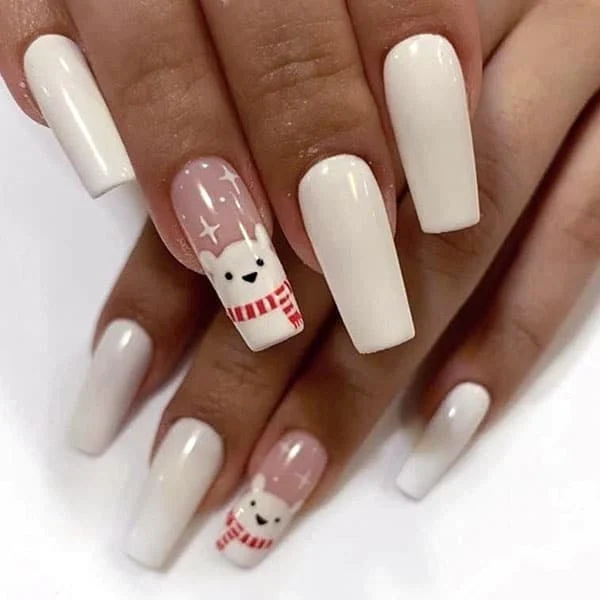 3. Pink Festive Nails
Pink isn't a traditional color for the holidays, but it's gorgeous. This shade is timeless and classic and can complement nails of any length and shape. It can also be worn by women of all ages and goes well with a variety of designs. For a softer and easier to wear look, a lighter pink is a fantastic option, but you can also opt for nail designs with different shades of pink for a subtle and beautiful contrast. When choosing a design, it can be anything related to Christmas, from polar bears and snowflakes to candy stripes and hearts. Ultimately, this is one of the dreamiest and most feminine manicures ever!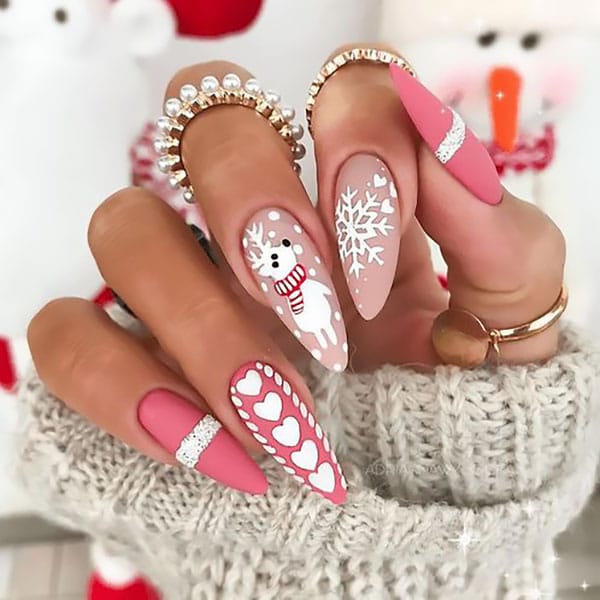 4. Gingerbread Man Art
Are gingerbread men your favorite Christmas snack? If so, the cute gingerbread man nail design will make you salivate every time you look at your hands. A brown gingerbread man will go well with nude and gold hues. Apply nude polish over base coat and add gold patterns, flecks or French for a touch of shimmer. Your work of art can be placed on a special nail to become the center of your image. This is a great way to draw attention to something as special as an engagement ring. Alternatively, you can add a gingerbread man to each nail for a pop of color.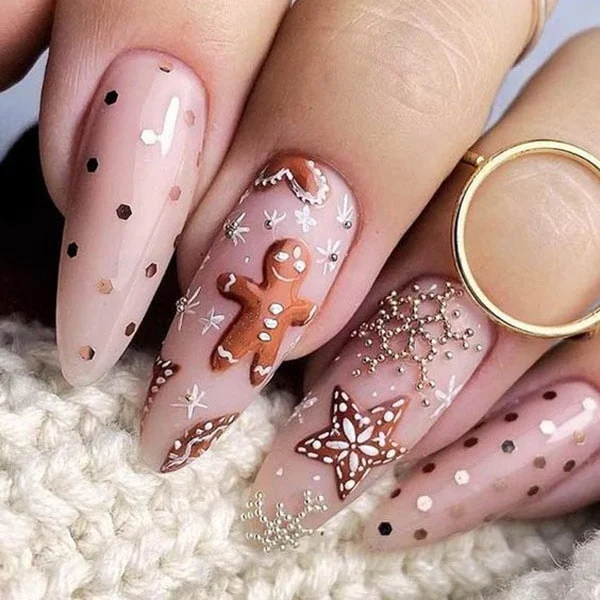 5. Rudolph Nails
Rudolph, the red-nosed reindeer, saved Christmas and will be a welcome addition to any holiday manicure. What could be better than adding a photo of Santa's faithful companion? Choose a muted base coat to bring the deer motif to the center of your look. You can also add subtle details such as red and white polka dots or a French tip. By keeping the rest of your manicure simple, it will be easier for you to mix and match whatever you have. Your nails will be cute, but they can also be symbolic. Rudolph can represent determination, luck, and travel, making a subtle statement about your thoughts during the season.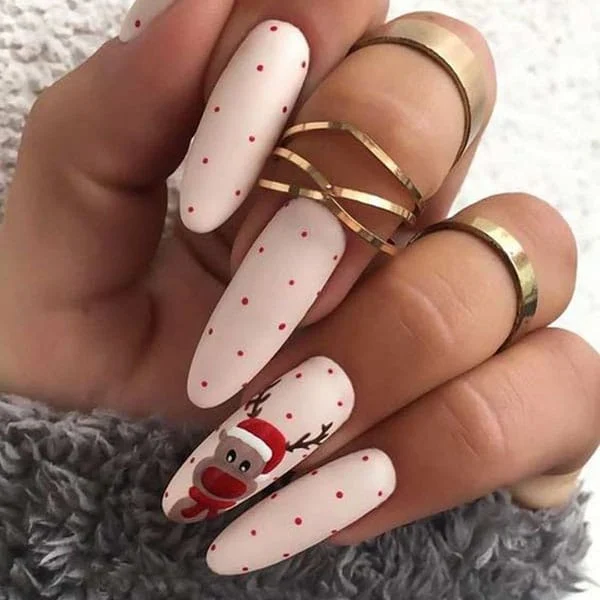 6. Red, Pink, and White Nails
There are few better color combinations than red, pink and white. It is a girly and dreamy look that is often associated with love and femininity. These shades complement each other, blend well with each other and create a more sophisticated look. You can get creative with how you choose to create your nail art, including choosing different colored base coats for each nail and different patterns. Or you can make it more uniform by choosing the same base coat and pattern on each nail. As a simple approach, you can accentuate one nail by painting the rest of your nails with a pink base and white tips. The choice is yours and this option will allow you to find what works best for your nail length, shape and personality.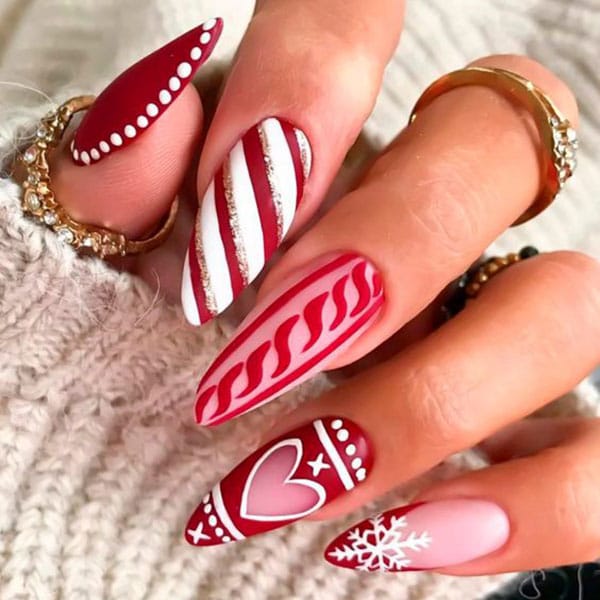 7. Gingham Nails
Gingham is one of the simplest yet vibrant prints. This is a two tone pattern and you can get creative with these colors by choosing the hues you like best. A stunning and versatile selection includes red and very dark green. These colors are holiday favorites and work well together to help create a contrasting look that will draw attention to your hands. They can be created on nails of any length and shape due to their simplicity, so you won't be limited if you don't want to have very long nails. To bring red into your design, you can pair it with red clothing, such as a cute dress or blouse.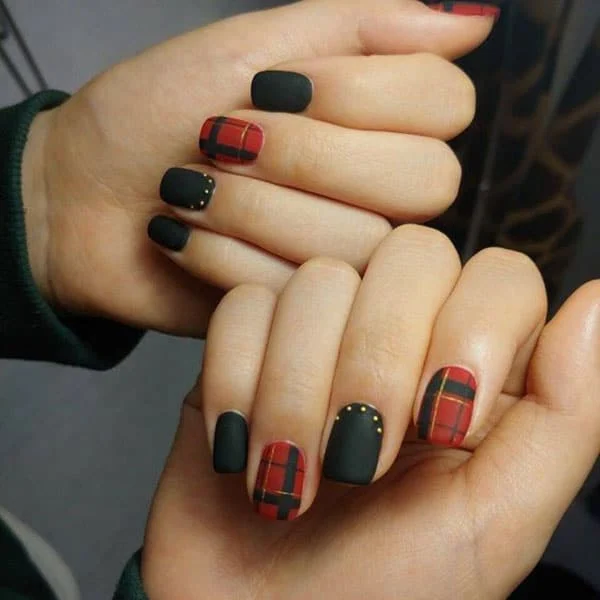 8. Arty Christmas Nails
If you like the idea of ​​Christmas nails but prefer less obvious prints and patterns, get creative with your manicure. You don't have to stick to the classic red, green, and white palette to create great art, and artistic Christmas nails can be anything. They are more of an expression of how you feel. It's a way to let your creativity run wild and you can let your creative juices run wild by trying different color combinations and designs. It can be subtle, with warm muted tones like browns and nudes, or grays and silvers. Complement it with various patterns or simple illustrations to make it look attractive and interesting.
9. Lilac and White Christmas Nails
Lilac and white are a soft, dreamy combination. It makes for a subtle, easy-to-wear manicure that is very girly. White is a shade that can be worn with everything and is associated with freshness, purity and new beginnings. Wearing it with lilac, a pale shade of violet purple, will add color to your manicure and be the perfect backdrop for winter nail designs. These can be cartoon drawings of a deer, Santa, snowflakes or a snowman. To draw even more attention to your hands, put on massive rings and bright accessories.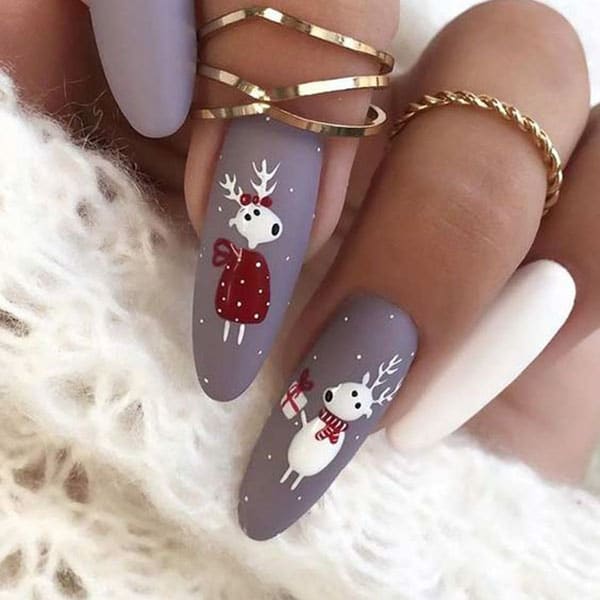 10. Festive Sparkle Nails
There is no better time to sparkle than the holiday season. This is the one time of the year when you can wear as much sequins as you want, whether it's a sequined dress or adding sequins to your manicure. It can also be subtle or bold as you wish, depending on your preference. For a chic and wearable look, stick to neutral colors and complement them with sparkly snowflake details. If you want the look to be more prominent, you can also experiment by adding gold tips to your nails or painting some metallic nails. It is a beautiful and feminine choice that can be worn on nails of any length and shape.