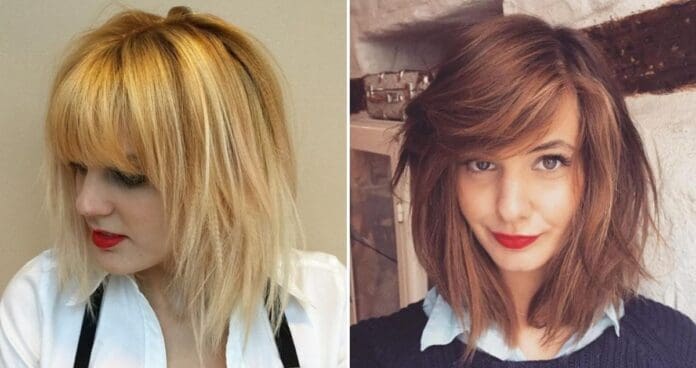 Very often we are thinking of changing something in our image. It's amazing how dramatically a woman can change when she has her hair cut in a new original way. Commonly we are a bit worried to make this resolute move towards a new image, because we are not sure whether it's going to be a successful move or not. Other times we simply don't know what specific haircut to choose. You will be surprised but the truth is you already have all the answers. Just ask your intuition. It will tell you which looks you are more comfortable with. Meanwhile, we are going to offer you some food for thought and imagination with an awesome collection of photos, featuring the trendiest haircuts for medium-length hair.
Trends in Haircuts 2021
Pixie haircuts
Original angular bobs
The center parting
Side swept bangs
Choppy, graduated layers
Clean lines
Cute Medium Haircuts to Stand Out from the Crowd
And now let's see how all those look on photos.
#1: Lots of Layers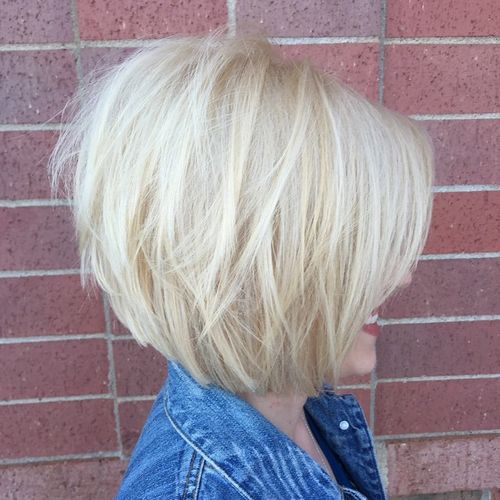 SOURCE
This is the perfect style for thin hair because it uses two different cutting techniques to create fullness: angles and layers. The angles within this bob give thickness and the layering provides movement and a fantastic shape.
#2: Perfectly Undone in Purple
Loose waves work wonderfully for oval faces because they frame the face without making it look longer. The reddish purple hue will complement almost all skin tones; it picks up on the subtones in a warm complexion and contrasts with cooler ones.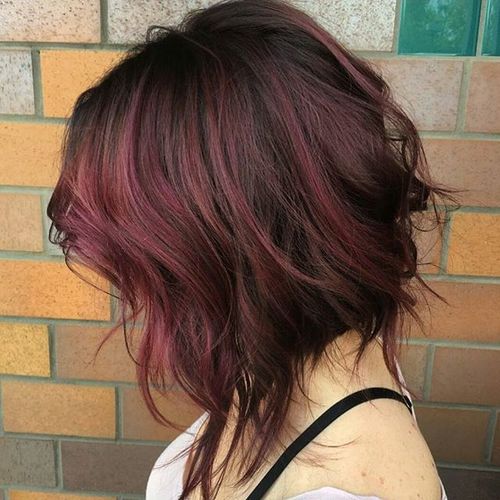 SOURCE
#3: Choppy Shoulder-Length Style
Want to shave years off of your appearance? Try a youthful choppy haircut that is both cute and chic. It works well for all ages and always looks fresh, although a fun look like this is best for casual settings.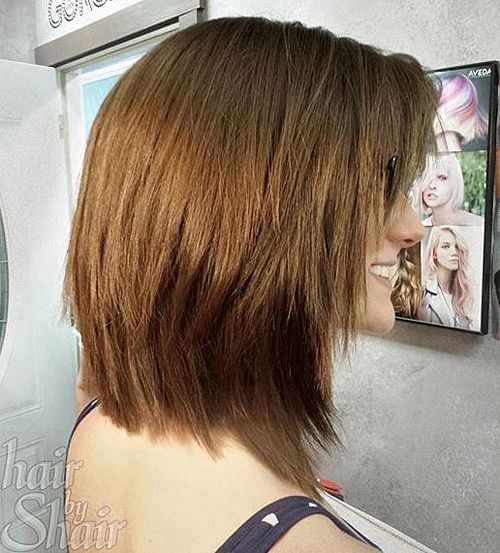 SOURCE
#4: The Perfect Flip
Did you know that the proper hairstyle could actually create some flattering angles for round faces? The flipped back layers frame your face gracefully and add the right edge to the whole look. Light strips of color break up the density in thick hair, causing it to appear more weightless.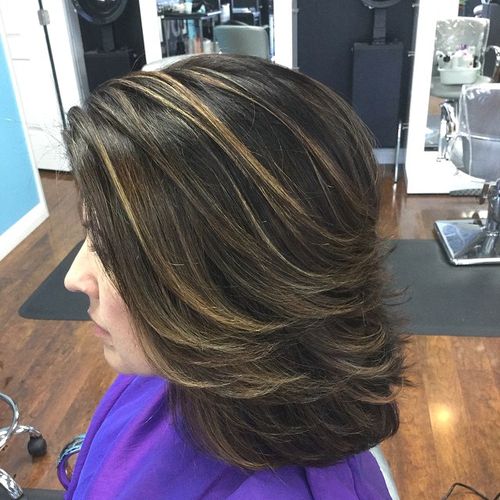 SOURCE
#5: Shaggy and Beautiful
Just because you have a heavy dose of texture within your medium length haircut does not mean that you can't also rock neat bangs with it. The look here is a nice example, because it is getting a messy texture towards the ends, which means that some blunt bangs can blend well into the body of the style.
SOURCE
#6: Simple Cut with Eyebrow-Skimming Bangs
Cute glasses want an equally cute medium haircut to match. Since you need to be able to see, make sure that your bangs stop above the bridge of your glasses. Minimal layers within the hairdo work well with heart shaped faces, as they draw attention to the slender pointed chin.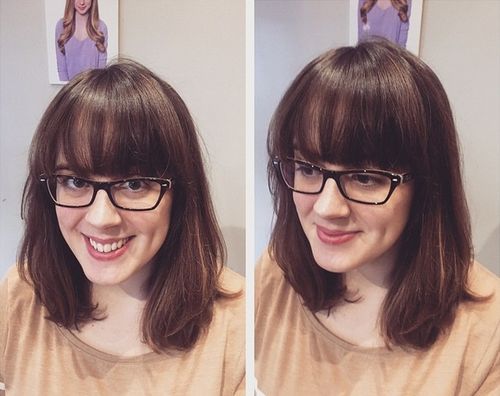 SOURCE
#7: Wind-Swept Medium Chestnut Hair
Add a little warmth to your cute medium haircut. Try rocking a soft reddish brown shade to give it dimension and life. Anyone can play it safe and go blonde or brunette, but it takes one brave lady to go big and try a sassy chestnut shade.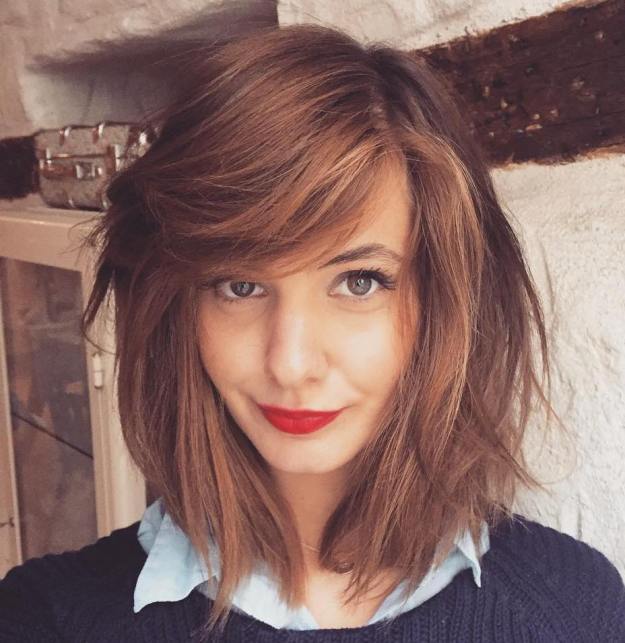 SOURCE
#8: Medium Length Shaggy Bob
Try a medium cut that almost hits the "short hair" realm. The stylish shaggy bob is deceptive – it looks like a chic, cropped 'do, but still has some length to it. A short-to-long 'do allows for versatility in styling, which is always a good thing.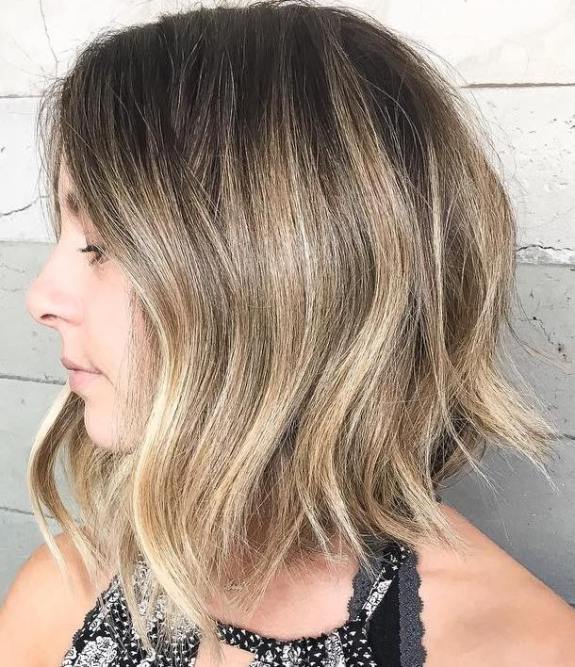 SOURCE
#9: Layered Medium Length Locks
If you need a cut that works for thick hair, a layered style is the way to go. Mid-length locks with choppy layers throughout work in two directions – they give your style some appealing shape and make it feel less heavy and more manageable.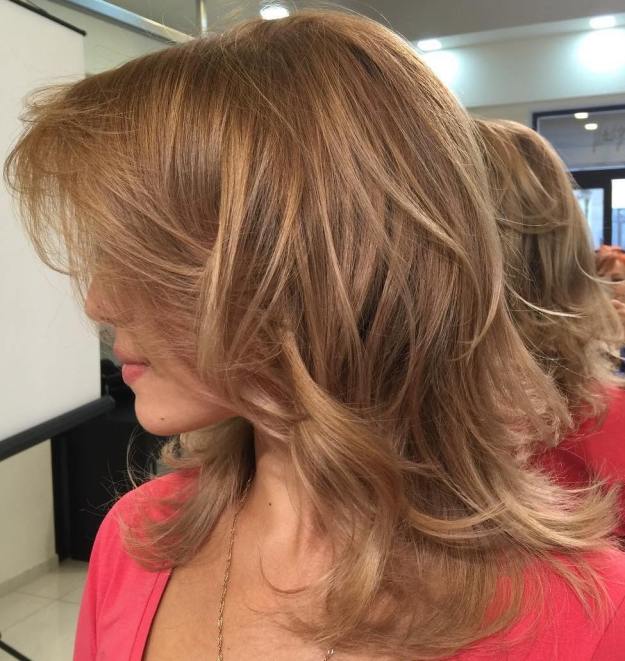 SOURCE
#10: Medium Mermaid Hair
Cute medium haircuts just got cuter with the help of some fun, fairy-like hair color. The silvery blue and purple locks offer a lovely iridescent effect that is beautifully ethereal. And with bright-colored hair being all the rage right now, this style is definitely on trend.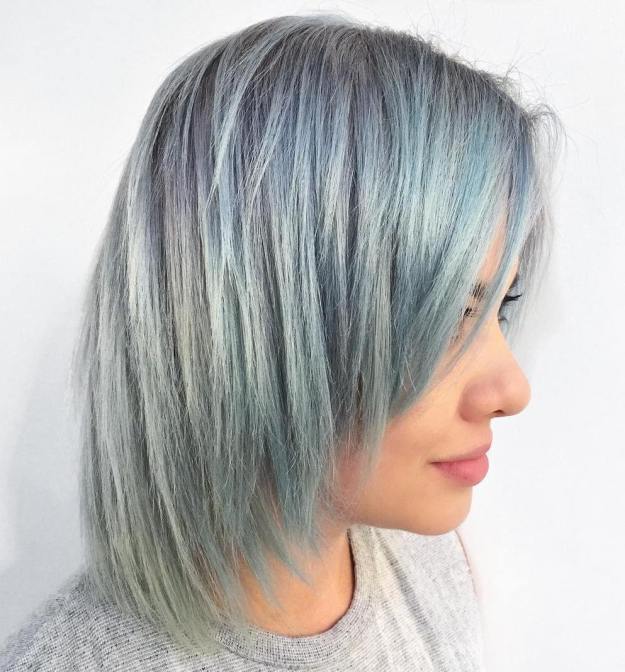 SOURCE