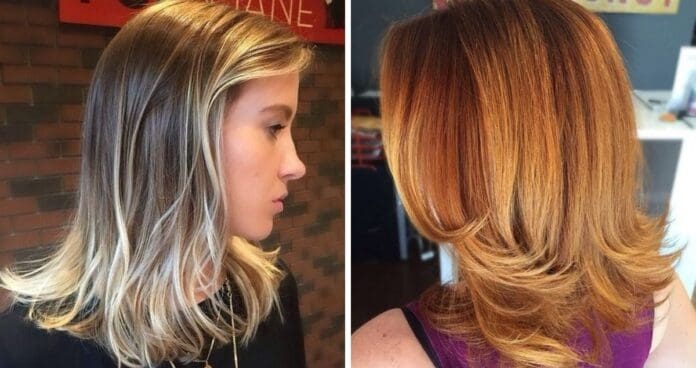 Medium length hair is an excellent compromise between a short haircut and long tresses. In men's opinion, medium or long hair is more appealing and sexy than short locks. With a medium length, your hairstyle won't take much of your precious time, and you are still going to have freedom to experiment with trendy updos and downdos.
Chic and Effortless Medium Straight Hairstyles
So, have a look and pick what you like the most!
#1: Stylish Choppy Locks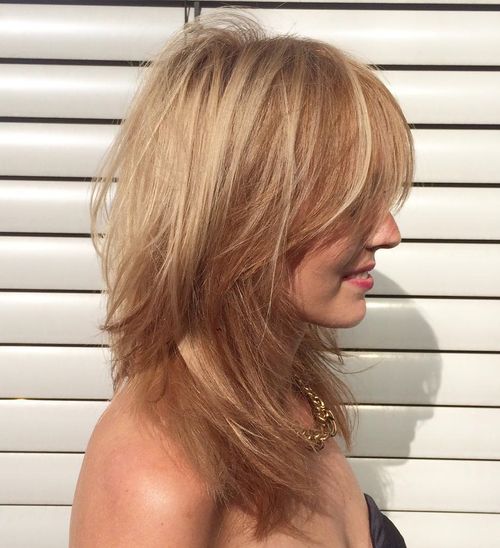 SOURCE
Revive limp, lifeless hair by adding some short and long layers. Chopped-up strands are a great way to give your mid-length 'do some body and dimension. Throw in a bit texturizing spray and you're good to go!
#2: Sassy Straight Hairstyle
Straight, brown strands don't have to mean boring hair! Throw in honey-colored highlights, lots of layers and a good blowdry to get a bodacious look that will make heads turn.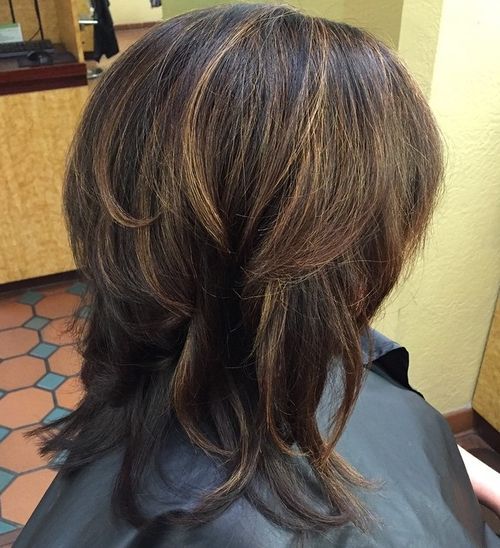 SOURCE
#3: Ashy Bronde Layers
Nothing dresses up mid-length hair like a bit of color. And, going platinum just took on a whole new meaning. Instead of bright, buttery blonde highlights, consider a more ashy finish. This will add some edge and chic to your look.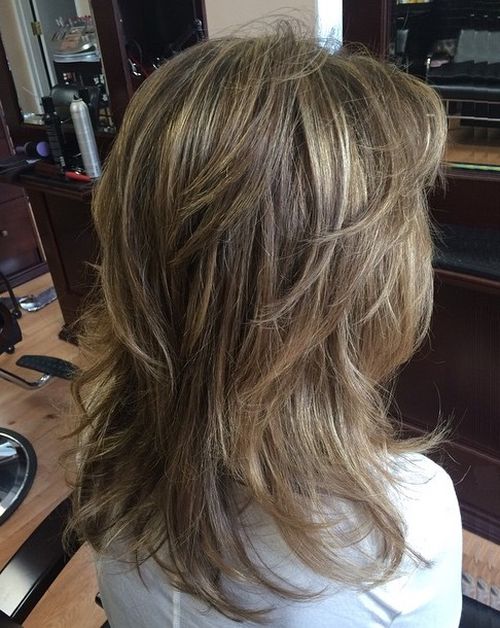 SOURCE
#4: Beautiful Ombre is Simply the Best
Not sure what to do with your shoulder-length black hair? Give it a cute ombré makeover and see if your look doesn't completely transform! For some extra flair, flip out your layers with a blowdryer or curling iron.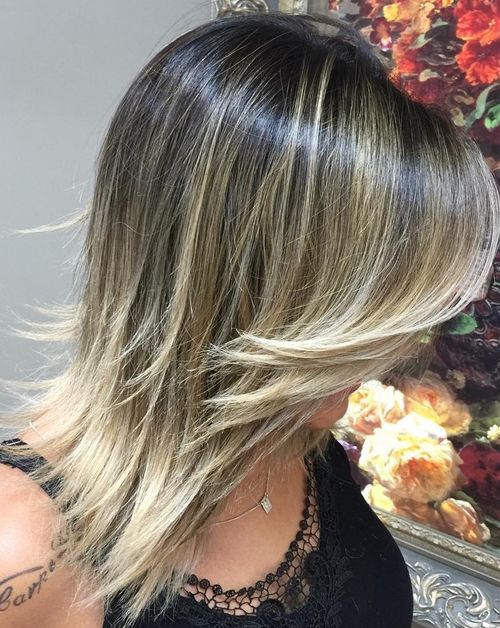 SOURCE
#5: Flipped-Out Straight Hairstyle
Thin hair got you down? Introduce some bounce to those stick-straight locks by adding a little flip. Give the roots a spritz of root-lifting spray while it's still wet and blowdry your hair outward. Fluff it gently with your fingers and, voila, instant body!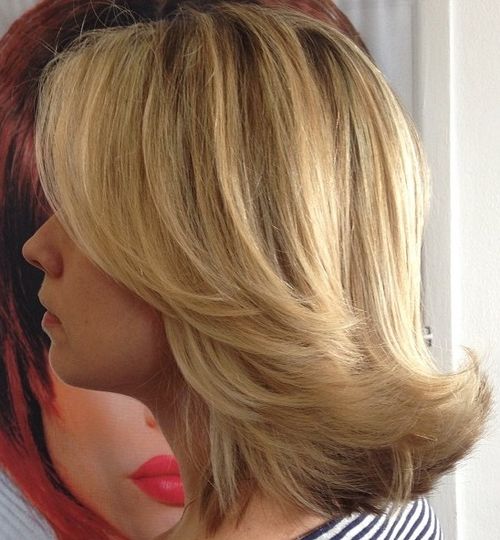 SOURCE
#6: Bangin' Bangs
Fine hair can be fun with a little fringe! Throw some wispy bangs into the mix, and your mid-length 'do will look amazing! Yes, you can frame your face with bangs to make your cut much more interesting.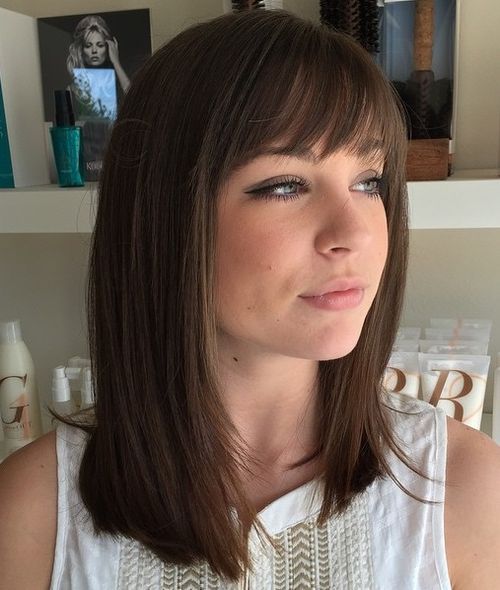 SOURCE
#7: Angular Bob
A long bob is a great way to update your straight shoulder-length hair and keep it stylish and trendy. For some added body, try angular layers that are shorter in the back and longer in the front. You'd be surprised by the instant, sassy results!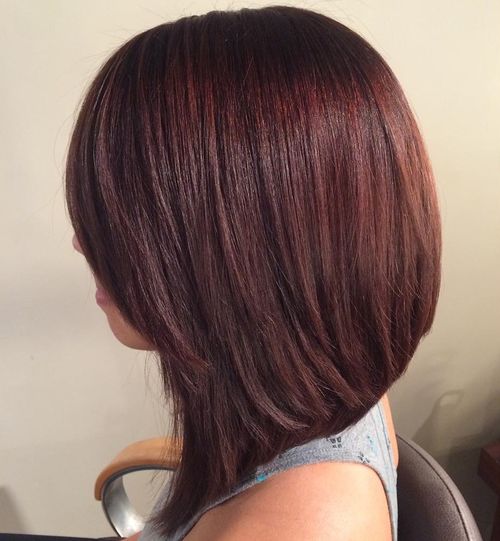 SOURCE
#8: Non-Layered Haircut for Straight Hair
Straight hair looks great when cut at the shoulders and lightened up with bright blonde highlights. Ombré hairstyles are VERY in and are a great way to give your color a little oomph! And don't worry about letting those dark roots show! This style requires little upkeep.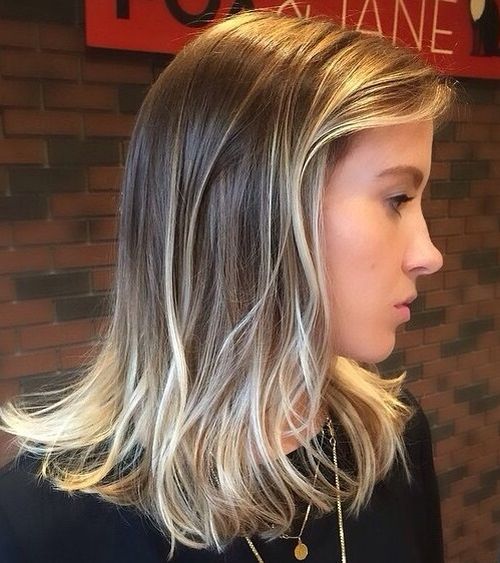 SOURCE
#9: Curled-to-Perfection Locks
Thick, straight hair can appear heavy and lifeless if left to its own devices. Show your mane who's the boss by applying a curling iron to it. Curl out the ends and lightly spritz them with a lightweight, flexible hairspray. The result is instant body, shape and movement!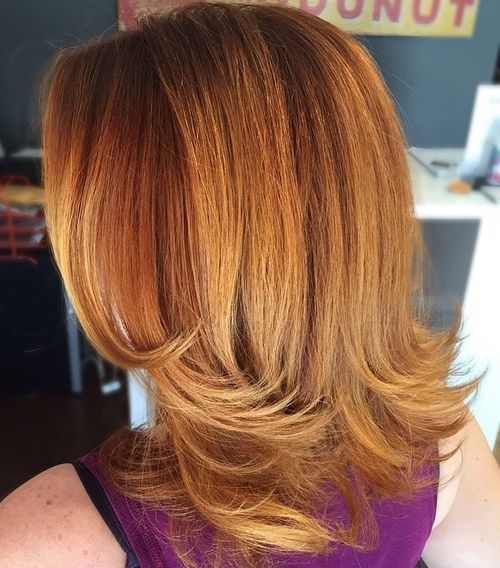 SOURCE
#10: Straight Shoulder-Length Cut
Layers are great for those with thick, full locks, but they can often work against those with thinner strands. This doesn't mean you have to settle for flat, blunt hair! Give your mid-length, thin strands some shape by razoring the ends. This will render your hair the welcome texture without taking off too much weight.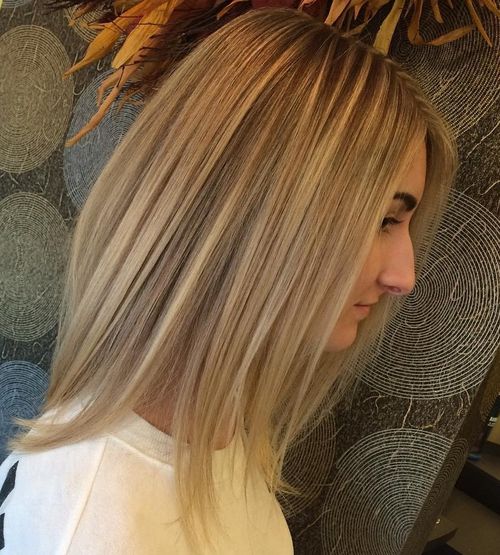 SOURCE