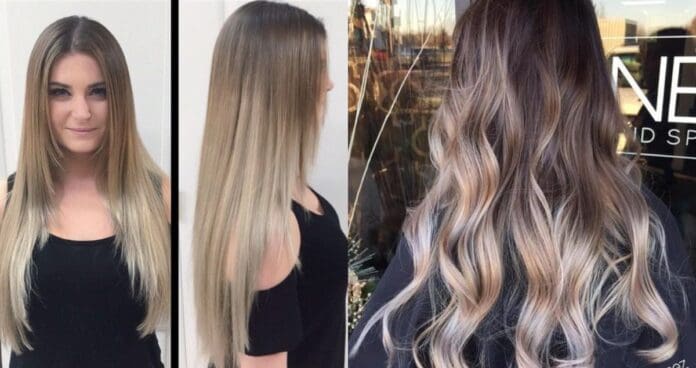 Silver and ash blonde ombre looks are relatively new additions to the styling scene. They make hair look gilded, sterling, nearly metallic. They have an otherworldly charm, reminiscent of fairy creatures from the legends of the Celts and the Norsemen. And yet stylists from all over the world have been somewhat taken aback by this rise of popularity. How did these muted colors, which make women dye their hair nearly gray, become such strong trends? We've got twenty amazing pictures below, which will help you to understand just how gorgeous ash and silver can look on one's hair.
Ash Blonde and Silver Ombre Hairstyles
It's always good to have a choice. Someone is obsessed with bright ombre looks, featuring unnatural hair colors, and someone goes for more sophisticated silver and ash blonde fades. Are the latter going to make you look like an older woman? Not really, if you are young and use make up, a rich lip color, for instance.
#1: Medium Choppy Cut With Ash Ombre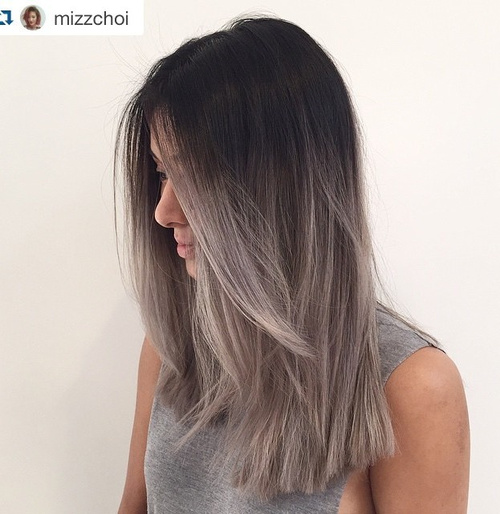 Here's another straight look, but one with a decidedly edgier vibe. That all comes from the choppy cut with long face-framing layers and bluntly cut ends. This is one very simple and effective way to highlight the lighter streaks of gray towards the ends of the model's mane. Note how the gradient starts with very dark brown—this look definitely requires bleaching.
#2: Smooth Straight Brown-To-Silver Ombre Hair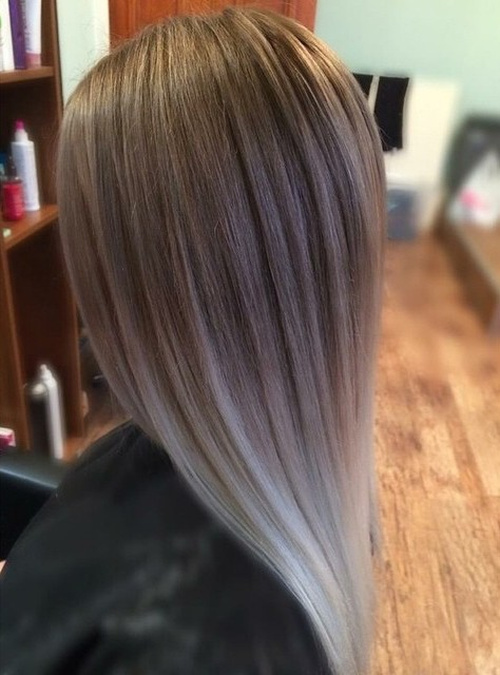 If the title of this article made you think that ash ombre hair is only something wild teenagers can pull off, perhaps you should reconsider. In fact, this is but one of the more demure looks on our list. The upper part of the hair is a light hazel, while the color of the tips veers toward an icy Nordic blonde. Styling it straight helps to achieve a cool polished look.
#3: Dark Roots And Ashy Blonde Strands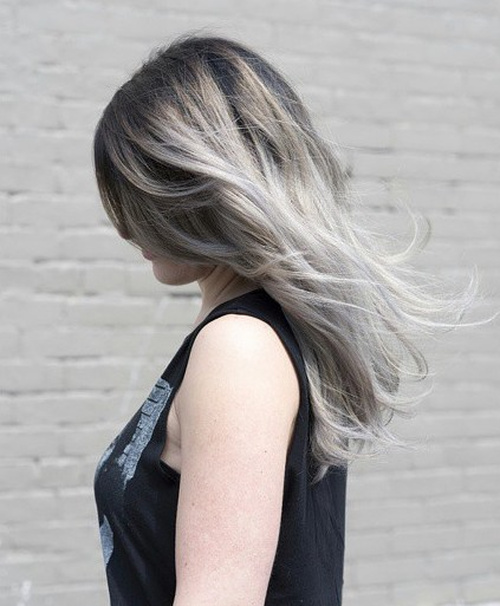 There was a time, not too long ago, when women all over the western world would cringe at the thought of letting their dyed hair grow to the point where their naturally dark roots are showing. Nowadays, they're flaunting those roots, which, however, do not look like grown out hair because the transition between the two colors is smeared. We love both the dark roots and the lovely blonde with a subtle nuance of silver!
#4: The Ice Princess Silver Ombre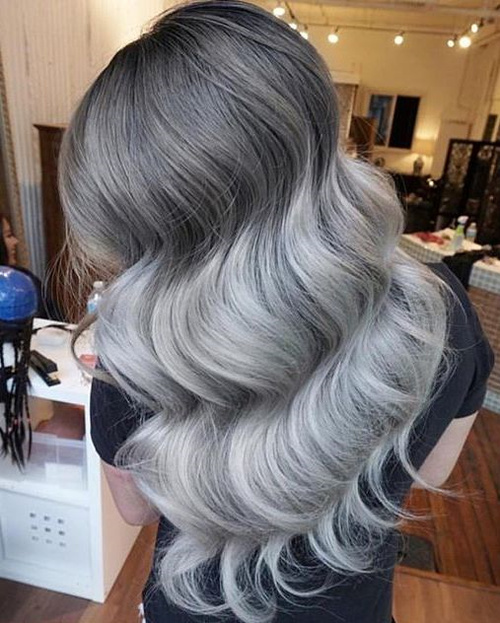 "Wow, who would ever want to dye their hair gray?!" Plenty of women, actually. Namely all those who understand just how beautiful silver ombre hair can look. The model in this photo has aptly paired it with ample curls, which add a touch of royalty to the style. Note how subtly the tones melt from dark to light.
#5: Baby Blonde Ombre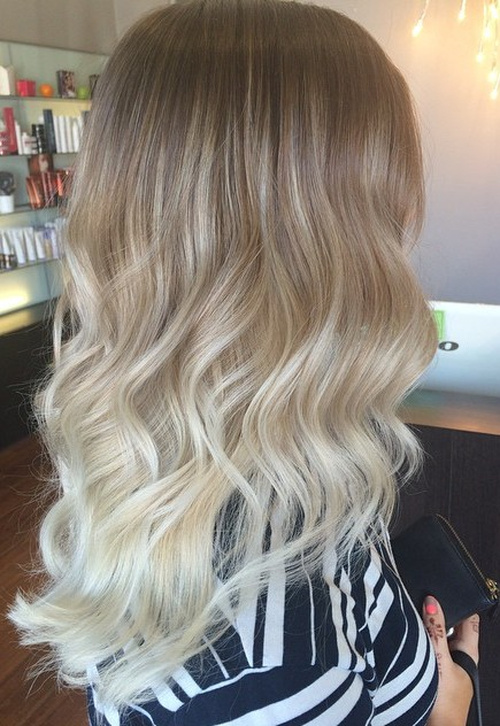 Ever since Brigitte Bardot and the tale of Lolita, the baby doll look has become iconic. This chick right here is taking it literally, by sporting a soft blonde ombre, fit for a genuine California girl. It looks perfectly natural, too, just as if the color of her tips had gone lighter from too many hours spent having fun under the sun.
#6: Long Silver Ombre Hair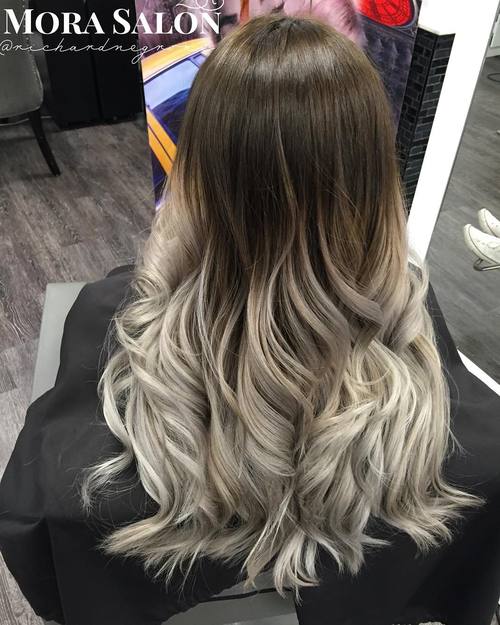 If you have made an effort to grow your hair long and you're proud to show it off – go for long silver ombre hair. The effect will be stunning, especially if your hair is longer than mid-back and styled in waves.
#7: Back to Black Ombre Hair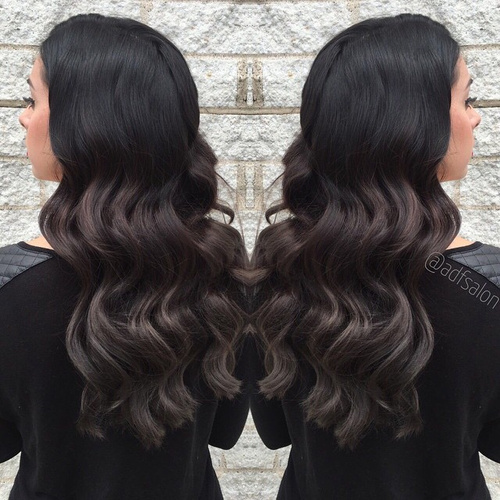 Ladies with raven black hair can also adapt the ash blonde hair idea to their dark locks. Instead of simply choosing dark ash blonde, you can tint the ends in tones close to charcoal for a perfect balance between dramatic and subtle.
#8: Ash Blonde Ombre with Brown Balayage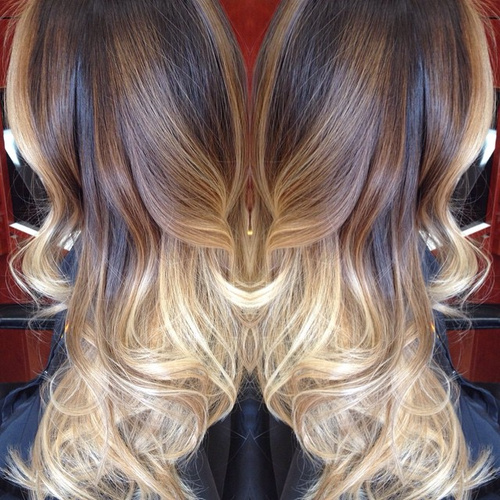 Let's say that you have decided to go for ash blonde ombre hair, but you want to add a twist to the look. You can do so by introducing balayage into your ombre look. Chunky chocolate brown highlights with the black base peeking through make for a statement look, but the ombre takes it even further.
#9: Discrete Ash Blonde Ombre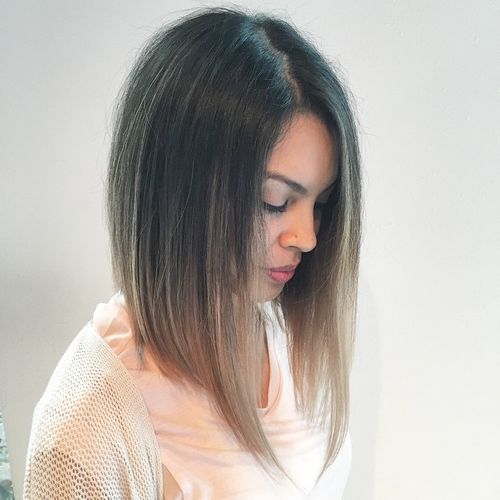 Not all ladies want a dramatic ombre look, especially if they work in a corporate environment or they're still in school. A fantastic solution is to go with a very discrete ash blonde ombre hair style on the base of a long bob. You won't get any complaints and you'll still look fabulous.
#10: Platinum Contrast Ombre Hair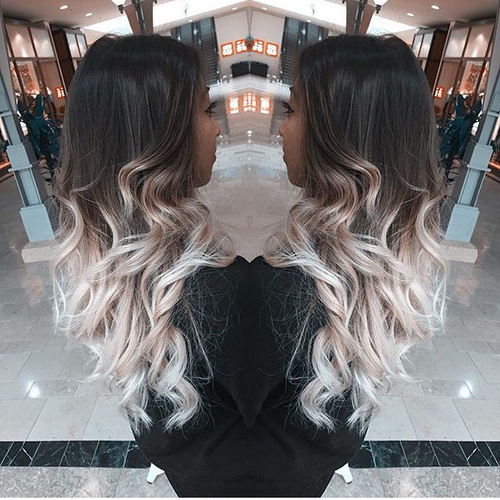 White silver ombre hair is eye candy at its finest. If you want to go from dark brown to blonde with your ombre hair, you can decide on a dramatic transition from mid-shaft to ends. Consider platinum contrast ombre hair if your locks are long and lovely.