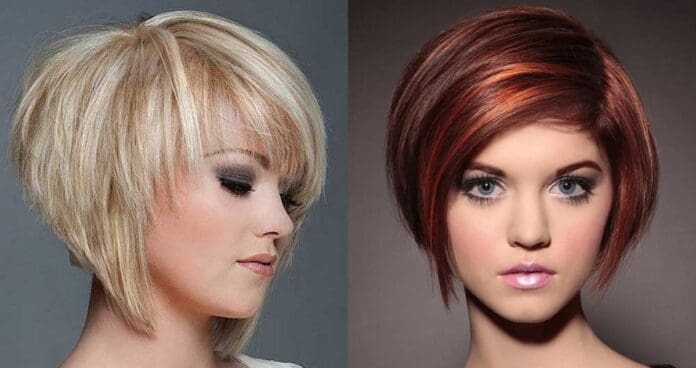 Creating a layered bob in 2022 may be complicated. However, the result often exceeds all expectations. Experimenting with bobs can start from long layered ones and go all the way to the shortest stacked options. Choosing the right bob depends on the hair and face type. Longer bobs are great for oval and round faces, while shorter ones are perfect for oblong and triangular face shapes. Stacked bobs will be a good choice for thick hair, while long layers will suit fine locks. Take a look at the bobs, we have chosen to help you with your search. Think about how each of them will look with your face and hair type. You will surely find the one to suit you personally.
1. Short layered bob for fine hair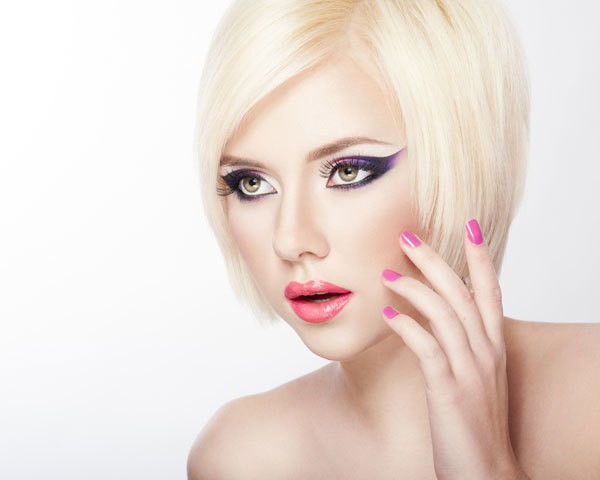 This bob is perfect for fine hair. The layers are not obvious, but they create certain volume to make the hairstyle seem full. The side swept bangs are a great addition to any bob, especially if the hair is thin, since they create even more volume.
2. Highlights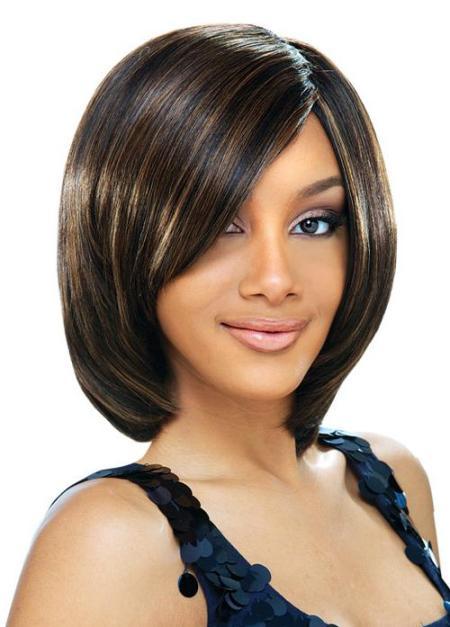 Highlights are a wonderful way to make any hairstyle seem brighter. This is definitely true for bobs. Properly chosen colors will add your bob some brightness and will really make it seem special. No maintenance needed!
3. Messy texture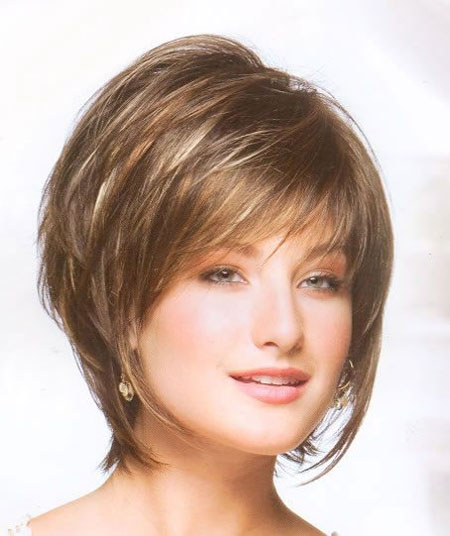 This layered bob with bangs looks great on women with any hair type. It will make the volume for your fine hair and add some style to thick locks. The highlights and wispy bangs make this bob truly unique. If you go for this hairstyle, get ready to spend some time on styling it.
4. Long and windblown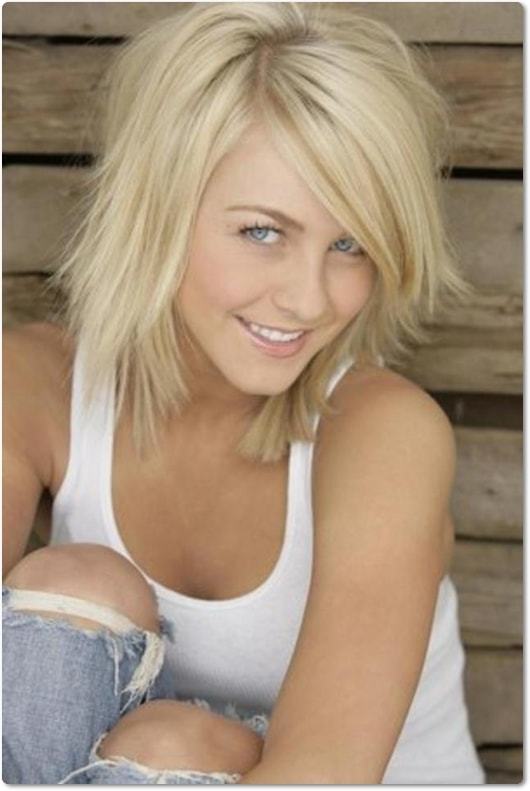 Long bobs look especially well on women with blond hair. The messy or windblown looks are perfect for younger girls. However, the style can be appropriate for older women as well, if the locks are styled a little neater.
5. Angled and textured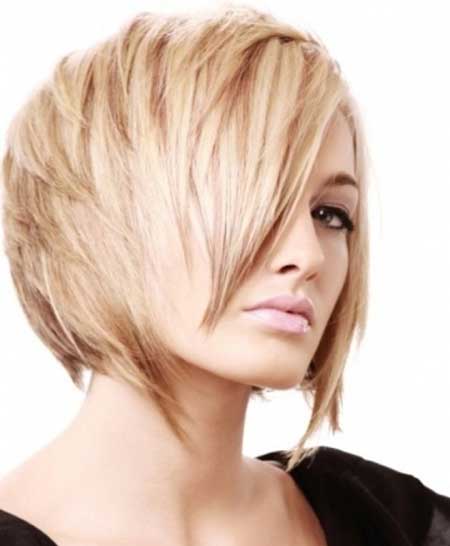 Asymmetry is the word! So, if you go for a textured look, consider making an angled bob. The layers are shaped chaotically to create a wild look, which can be a wonderful addition to any woman's style. No careful brushing is needed here.
6. Stacked and short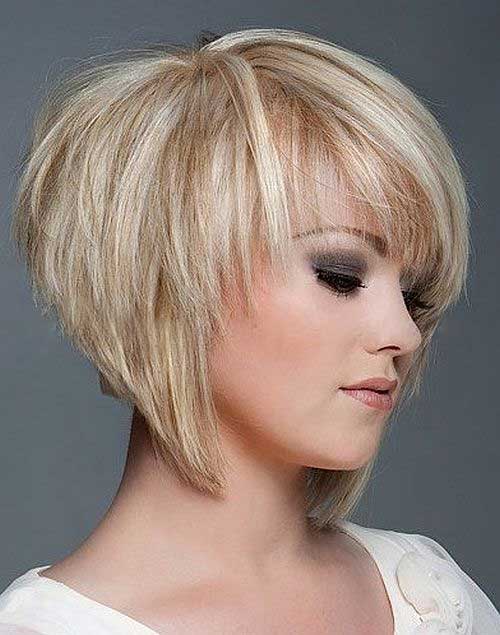 Stacked hairstyles look wonderful regardless the length. This stacked bob with layers looks unique due to the angeled strands on the sides and a cap layer on top. This hairstyle is quite tough to keep neat. But if you are ready to do it, you will truly look amazing.
7. Medium layered bob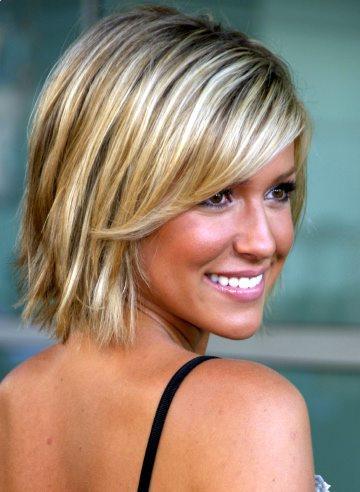 Medium bobs are perfect for straight hair. Try this layered option with blunt ends. If the hairstyle seems too simple for you, consider adding some highlights. This style requires little maintenance and almost no hair gel.
8. Sexy auburn bob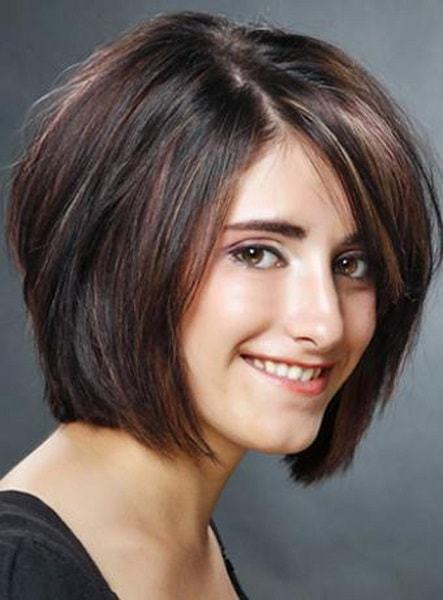 If your hair is dark, choose this sexy auburn bob to keep some heads turning. Blunt ends add this haircut a lot of style, while layers in the back create upper volume. All you will need to do to look great is brush your hair on the regular basis.
9. Volume on top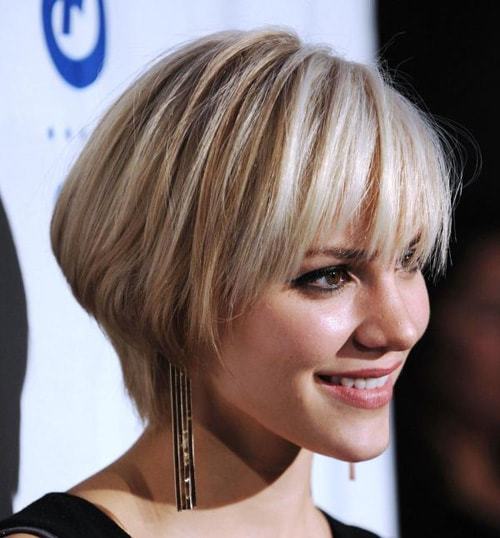 This mix of short and medium bobs is created by making layers on the top part of the head and leaving straight strands down the neck. It is perfect for women with oval or oblong faces. Make sure to keep your hair neat, otherwise, the top volume will be lost and the mix will turn messy.
10. Round bob with wispy bangs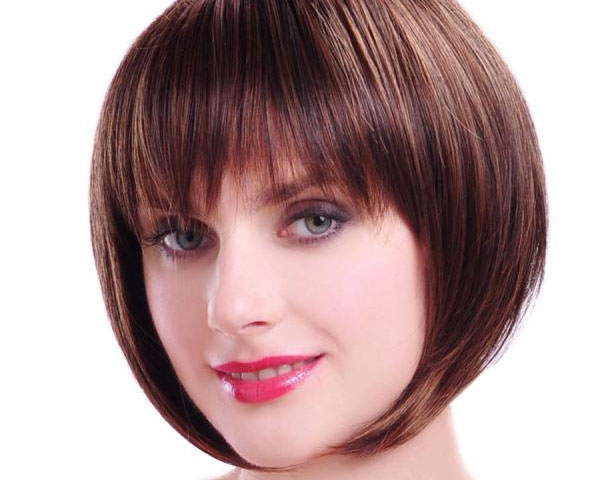 This round layered bob hairstyle is great for women with square, oblong and triangular face shape. The stacked style in the back creates neat volume, while the strands in front surround the face. Wispy bangs are a great addition to this hairstyle, however, it would look interesting with blunt fringe as well.
11. Cute and simple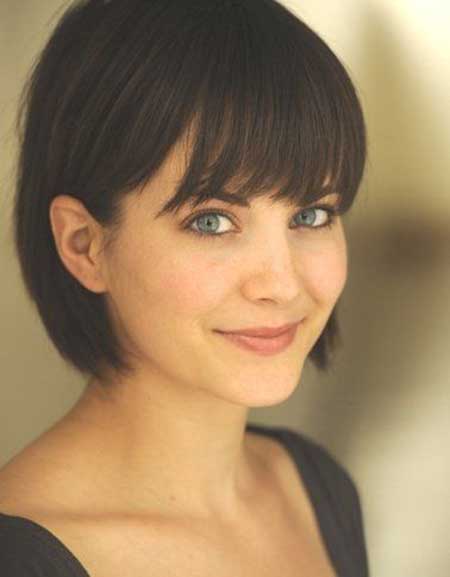 This bob might look cute and simple, but there is really much more to it. Long wispy bangs draw attention to the eyes. Hair is cut medium length in front, while the back is short and stacked. You can tuck your hair behind your ears to seem cute, or let it hang around your face for a more sexy look.
12. Creative bangs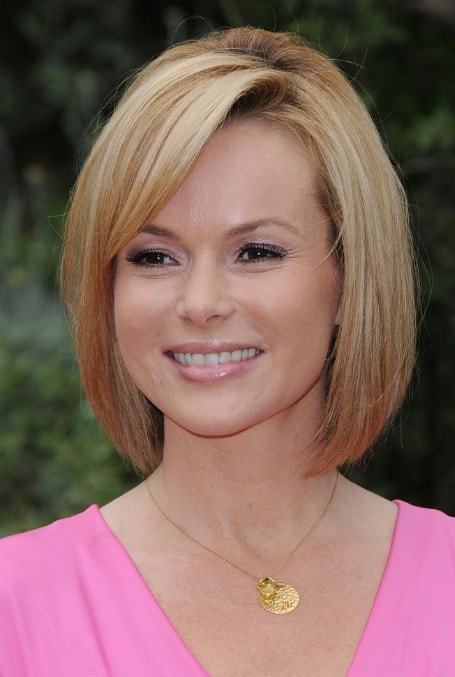 This is another bob, which would have looked simple in front if not for the bangs. The top layers are brushed against the hair growth direction to make a creative look for side swept bangs. The back is slightly stacked to create volume.
13. Waves
Neat bobs are hard to achieve when it comes to wavy hair. No matter how many layers you create, the waves will do everything they can to hide them. So, you can go for bluntly cut frontal strands and layered back for volume.
14. Long and angled

This bob is perfect for women with triangular and round faces. It visually elongates the face and makes a great stylish look. Layers serve the purpose of making the haircut look neat. The wispy bangs make the style seem complete.
15. Long layered bob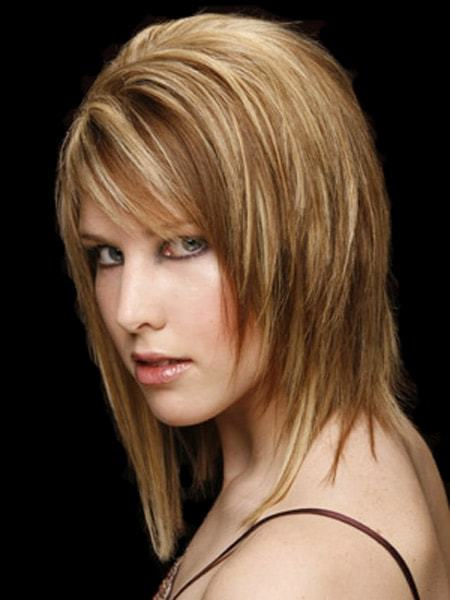 This bob is wonderful for women with fine hair. As you can see, the length is created by leaving out random strands both in front and in the back. The layers add this style volume on top and outline the angular strands on the bottom.
16. Asymmetrical layers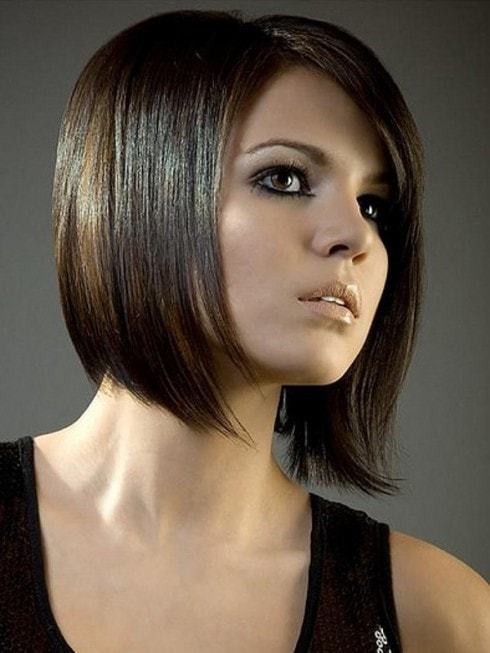 Asymmetry is very fashionable, so making differently sized layers on the sides will make your bob look amazing. Side sweep your bangs to the longer side to emphasize the asymmetry. Use some hair gel to make the haircut look sleek and neat.
17. Undercut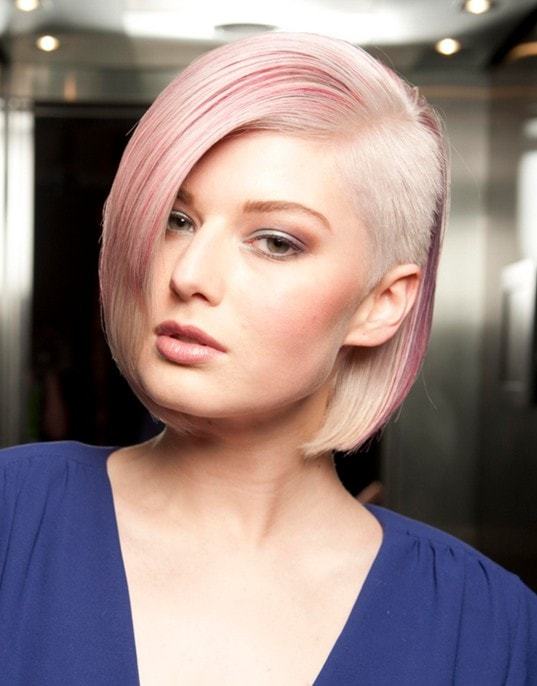 This layered bob for women is truly creative. You can make a hidden undercut or an obvious one on one of the sides. A hidden undercut can be fully covered by the layers, while an obvious one will always be open.
18. Criss cross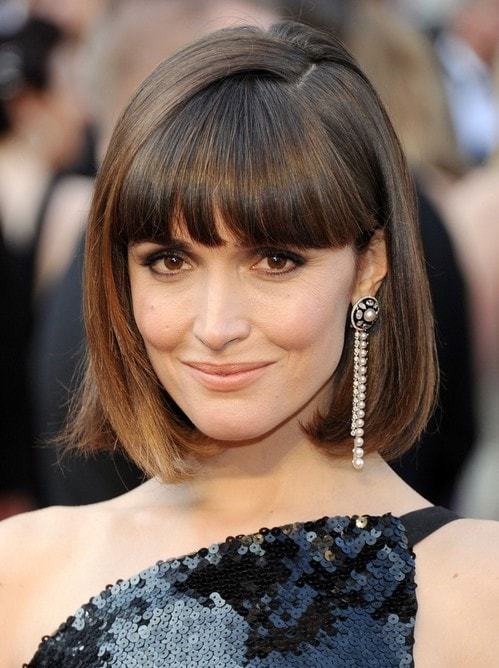 Want to diversify your simple bob? Go for criss-cross strands. They are easily achieved by brushing several strands against the hair growth and then securing them with hair gel. This creative hairstyle is great for emphasizing the full blunt bangs.
19. Short and fine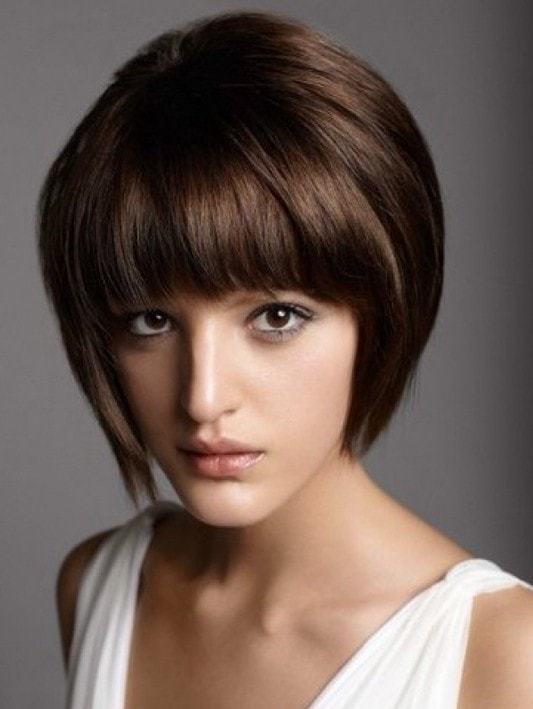 Layered bob haircuts are a real find for women with fine hair. If your locks are damaged and you don't want to dye them, this haircut is great for you. Leave your hair natural and style it into a short stacked bob. Add some thin asymmetrical strands in front to create a fashionable look. The style is perfect for women with triangular faces.
20. Windblown bangs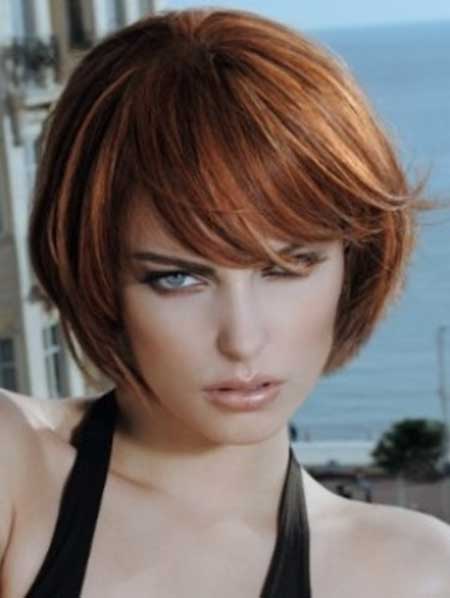 Windblown bangs will make any hairstyle look pretty sexy. If you are tired of your bob and ready for a change, play around with the bangs. Changing the bangs is the easiest way to create a new and improved hairstyle.
21. Straight and blond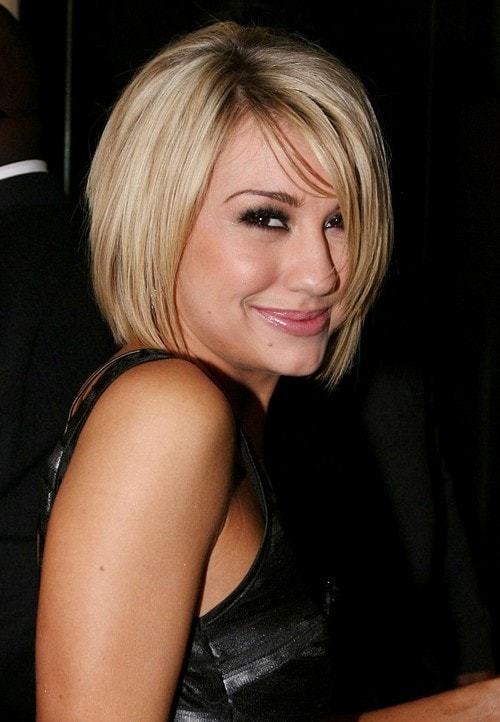 Straight and blond hair is what the stylists usually face when it comes to layered bobs for women. There is nothing simpler than creating a slightly layered hairstyle on straight hair. Long layers will not add too much volume, but the look will certainly be fashionable.
22. Side part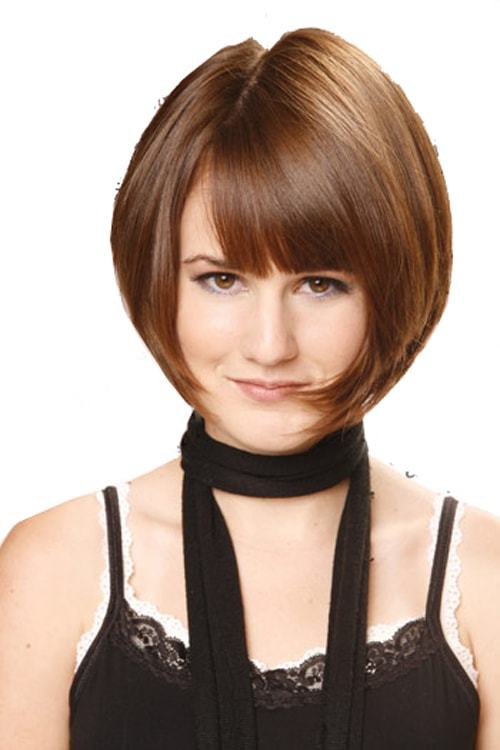 A round stacked bob with a side part can be considered a classic. This hairstyle is so all purpose, that you can change your style just by choosing the right wardrobe and proper make up. You can easily go from wild and sexy to neat and cute.
23. Neat waves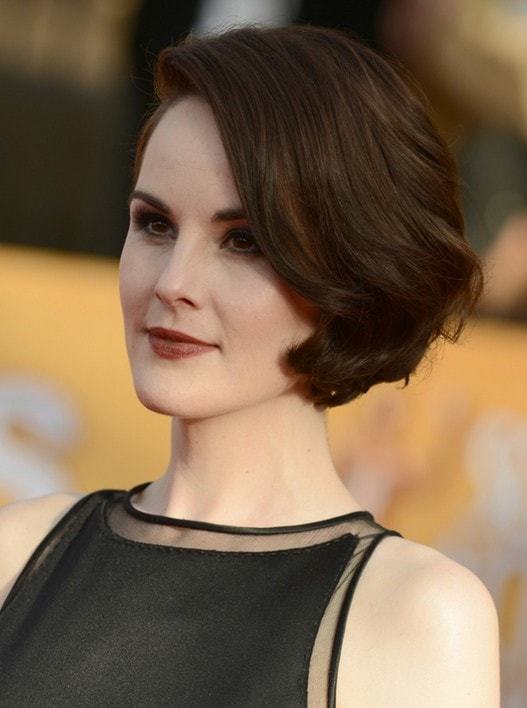 This hairstyle will really take some work. But the result will be no less than perfect. The layered hair is carefully styled to create waves on the side where the bangs are side swept to. Hair gel is applied to let the waves stay in place.
24. Layered and curly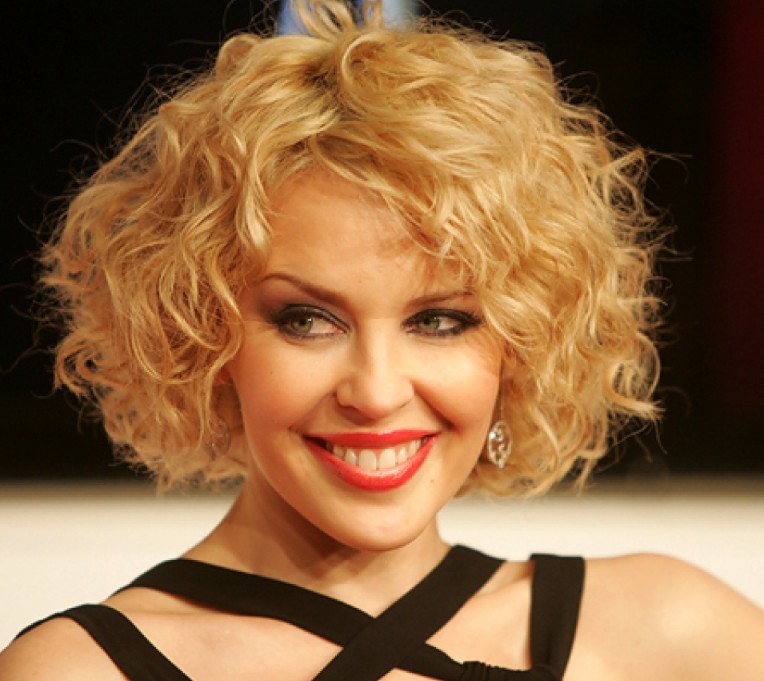 Curly hair looks amazing when layered. So, if you've got naturally tight curls or a perm, ask your stylist for a layered bob. It will look voluminous and fantastic and will definitely make you stand out of the crowd.
25. Natural and messy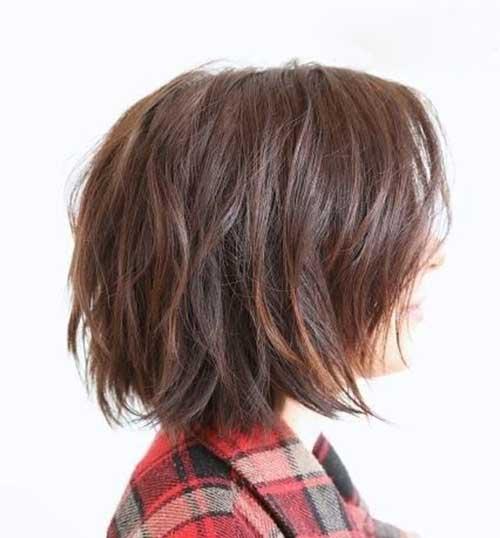 This messy hairstyle is perfect for young girls. The hair is layered to create volume and left naturally wavy to seem messy. This style will look wonderful at any time of the day. No brushing is needed.
26. Free Natural Bangs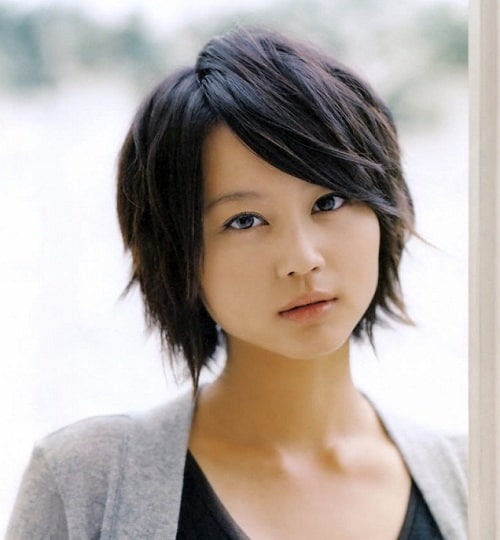 This layered bob has natural bangs swept to a side will have heads turning in your direction wherever you go. The sharp edges need professional trimming and significantly boost up your style and personality. You can go for hours without brushing it, just run your fingers through it and you are all set to go.
27. Sleek Blonde Waves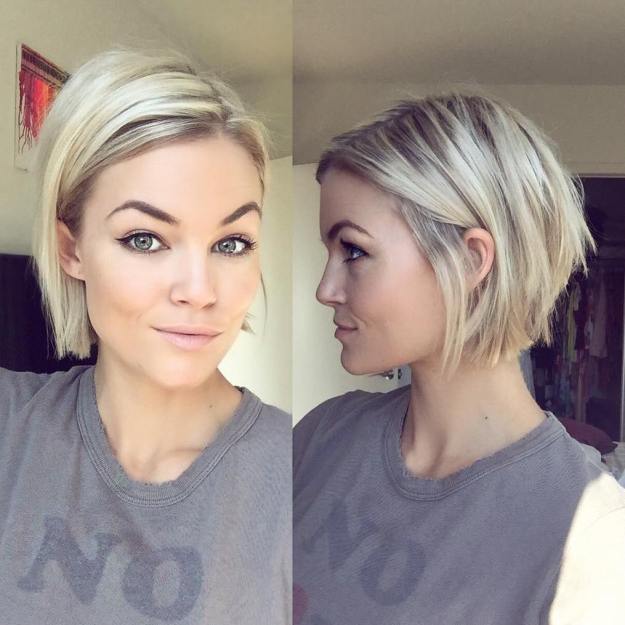 This one is a stylish and classy look which needs no products for maintenance. The natural styling goes a long way in impressing everyone with merely your looks. This style needs minimum time for brushing and taming and it looks great with all kinds of dressing up that you want.
28. Stylish Golden Layers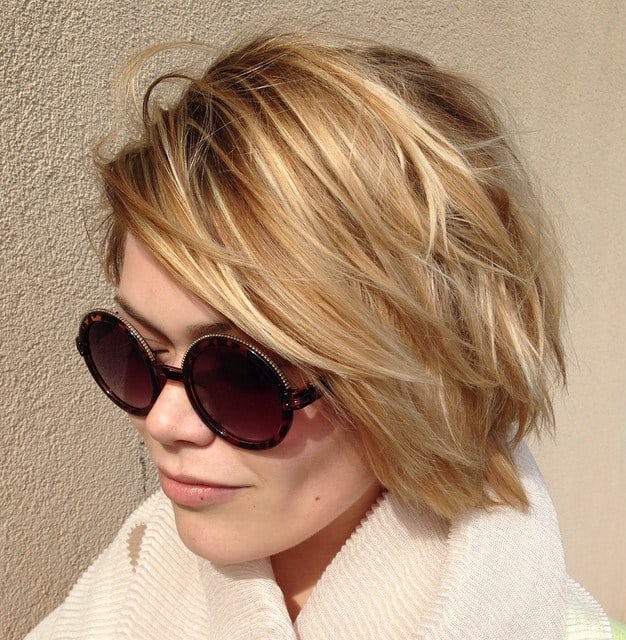 The layers are the one thing which makes this golden bob more attractive and classy. The layers are cut in every which way and the rough layers fall impressively around your head, making them look well taken of. This is a favorite layered bob of many.
29. Sleek Shoulder Touching Blonde Hair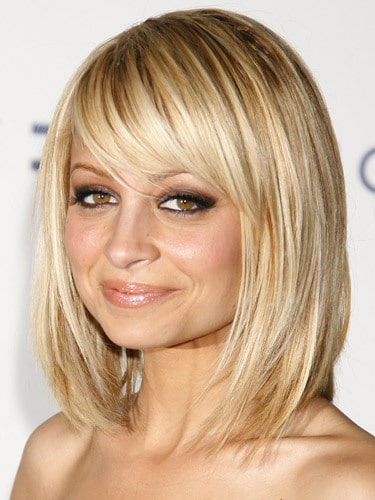 If you want a bob, but do not want to cut your hair too short then this lovely hairstyle is totally your call. The hair lightly touches shoulders and has a very classy and chic look which ladies of every age can rock effortlessly.
30. Grey Ombre Bob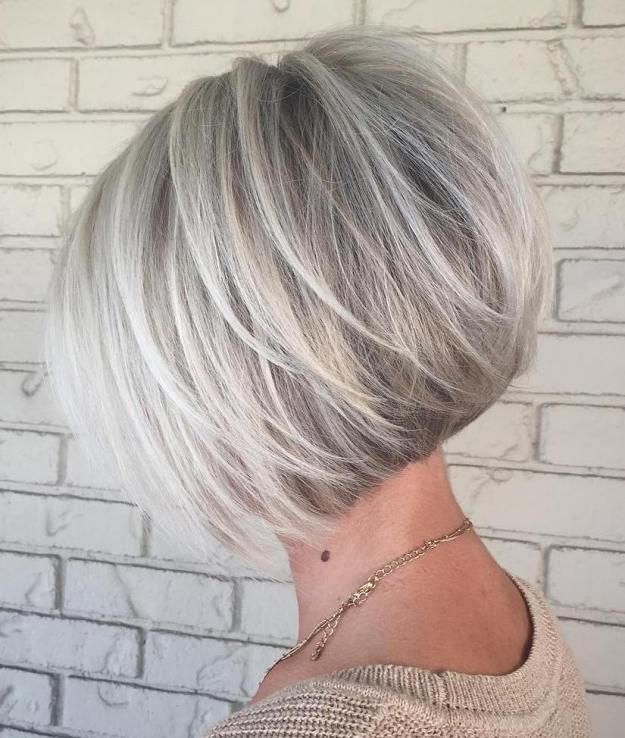 Grey ombre is hot in fashion trends nowadays and what better hairstyle is there to rock a perfect grey ombre than a layered bob? This one is as chic and sleek as a bob can get forming a circle of thick hair around your head.
31. Stylish Layered Bob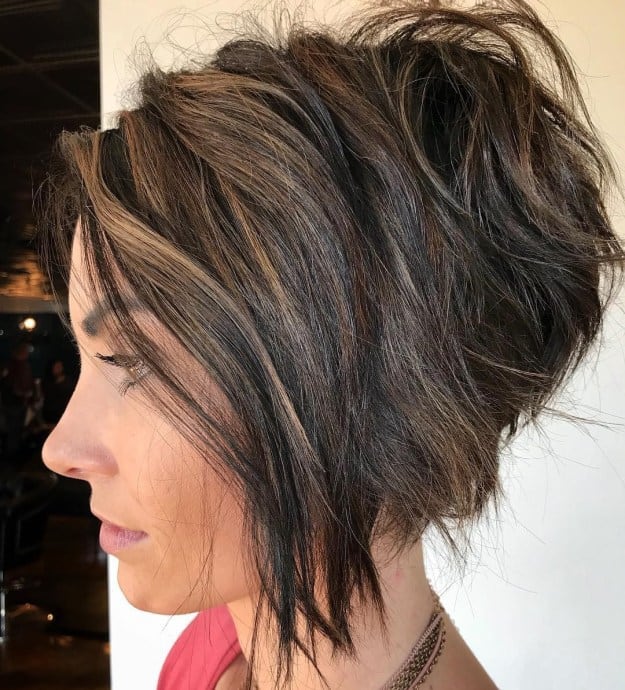 This one has very stylish and fine layering with hair getting even shorter going towards the back. The added low and highlights make it classy and more dramatic which instantly grabs the attention of everyone in a gathering.
32. Purple Ombre Bob with Grey Base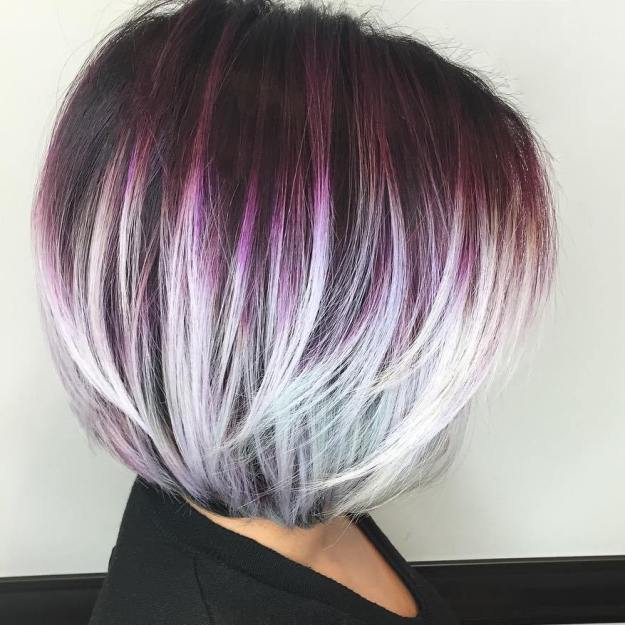 If unconventional and vibrant is your thing then you should then this epic layered bob. The purple ombre is exquisite and becomes more attractive and cooler with a grey ombre base. So, go all stylish and funky with this modern style this season.
33. Face-Framing Blonde Layers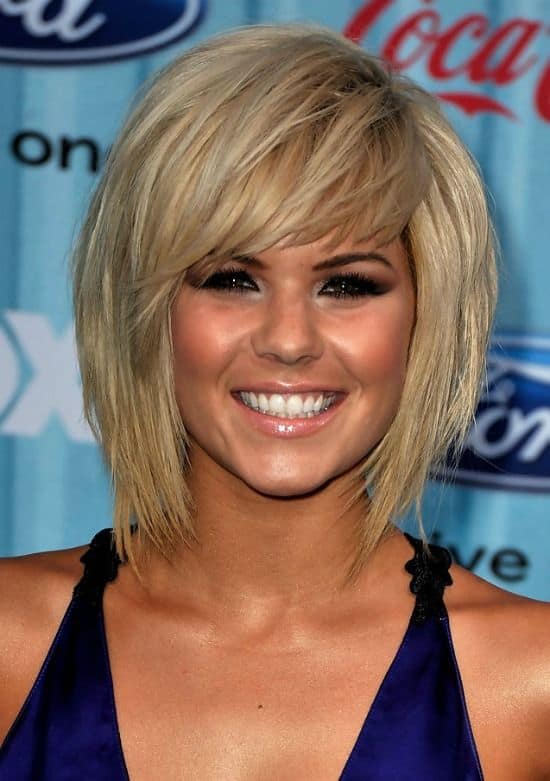 This one is a youthful and lovely style for young women who like to have short hair with loads of layers in them. The sharply cut hair frames the face perfectly and the short cropped hair at the front add fun and carefree energy to your style.
34. Golden Ombre Bob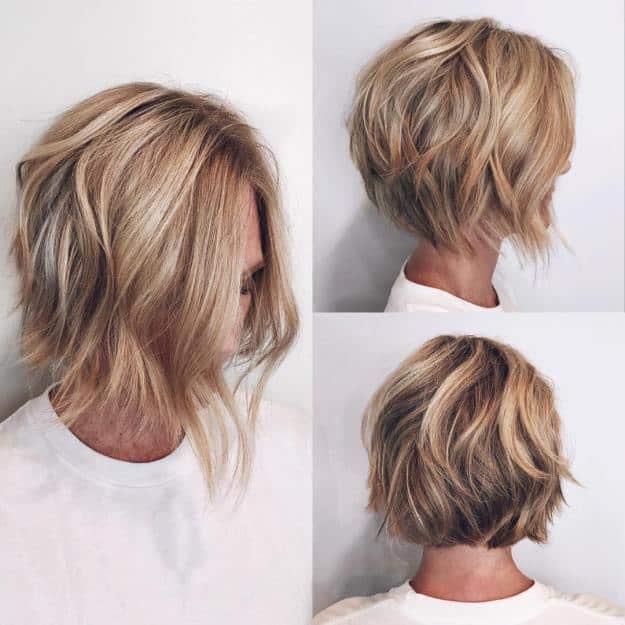 This one a thoroughly layered bob with changing length at different points. It goes longer towards the front and has other natural shades of hair too which brings out the ombre even more. It needs lesser styling time on a daily basis, so it is a win-win style for you.
35. Vibrant Red Bob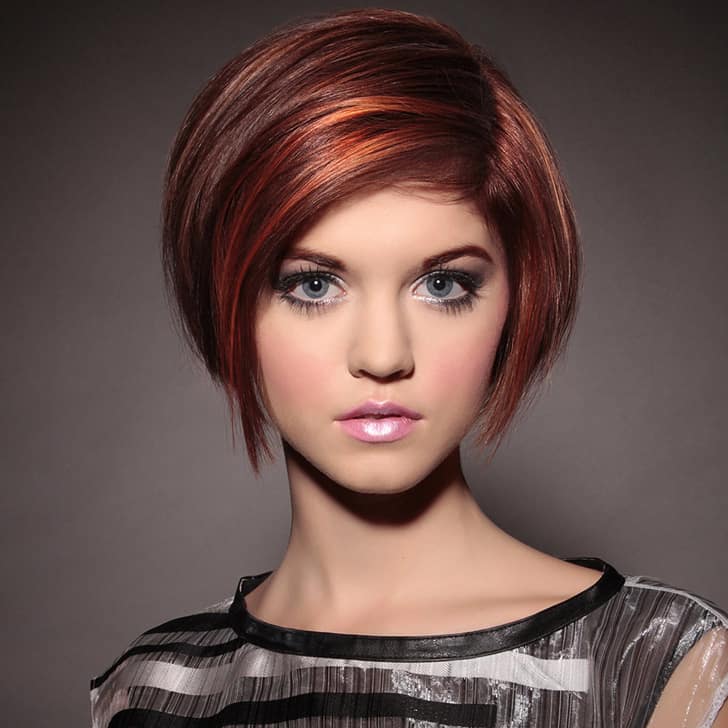 Red is totally your color if you are a young, beautiful and confident woman who knows how to play with style. The different shades of orange and red make this a fiery and attractive style, so it does not need much layering or length variations.