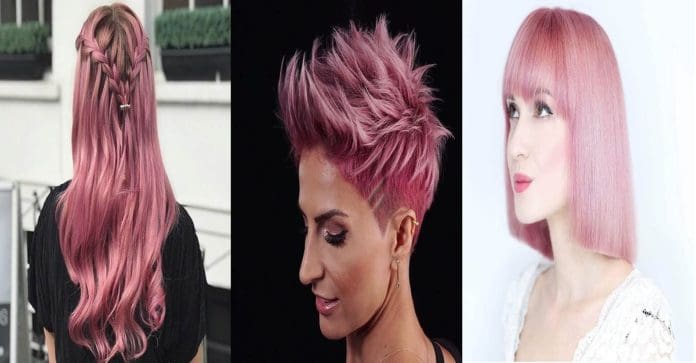 Once a color seemingly reserved for goth girls and pop stars, pink hair is now making major headway in the world of fashion. It's been seen all over Hollywood on big stars including Katy Perry, Lady Gaga, Kate Hudson, Rachel McAdams, Cyndi Lauper, and even Helen Mirren. It's a trend that is certainly no longer confined to the young and the restless as it's becoming more and more socially acceptable and less of a fashion faux pas that is sure to get the side-eye from the rest of the world.
1) Smokin' Hot Pink Blended Hair Color
There's a lot to love about this style. The raspberry toned roots that blend into hot pink and bubblegum balayage highlights is a stunning effect, perfectly accenting the texture of the bob cut. It's trendy, charming, pretty hairstyle that definitely stands out from the crowd.
2) Sweet and Simple Cherry Blossom
Cute and classy, this style is suitable for a professional environment or a nightclub. This shade of pink is delicate, girly and fun. The low maintenance cut is sleek, the ombre color is subtle, and the overall effect is a gorgeous, easy hairstyle.
3) Beautiful Blush Pink Hair Color
There aren't enough words to describe how incredible this shade of pink is. It's super soft, extremely feminine and totally touchable without going to the extreme of looking faded. Paired with the cascading curls, it would be a cute hairstyle for girls, but sophisticated enough for any woman.
4) Making Waves in Pink Lemonade
Ladies, this color is completely delectable! Doesn't it make you think of summer sunsets and sweet strawberry lemonade? The ombre effect is done to perfection here, smoothly combining the pink and peachy tones. This cute easy hairstyle shows off these vibrant colors in their best light.
5) Hot Magenta and Coral Pink Hair Color
This is a killer color combo. The orange is done on the bottom half to give it a peekaboo effect, so a braid like this is the best way to show it off. The overall look ends up being fiery, feisty, and beyond beautiful.
6) Awesome Orchid Tone Pink Hair
For a stunning all-over color, this one is amazing. This shade tends to complement any skin tone and fits well with any season, hairstyle, or age. Also, any all-over color is going to be somewhat lower maintenance than balayage or ombre applications, and that's always a bonus.
7) Popping Pink and White Blonde Ombre
It's pretty common to see a blonde/bright color combo but generally, the blonde is on top. I particularly like that this style swapped the order. That pink is perfection! It's vivid, warm and definitely packs a punch. It really raises the bar for pink hair color ideas.
8) On the Edge Short Pink Hair
Everything about this style backs up the fact that girls can be both tough and feminine, not to mention stunningly gorgeous as well! The spiky texture and shaved sides are an awesome accent to the color, giving it movement and powerful personality. It's practical, low maintenance, and fit for a princess (or a kickboxer)!
9) Ripe Raspberry and Bubblegum Pink Hair
If you're looking for that "wow" factor, this blazing, bold style will do the trick. With a deep ruby shade of pink wedged between a shameless shade of bubblegum, this is an eye-catching and memorable look. Not everyone can pull off this level of spicy but if this is your pace, I say rock it.
10) Simple, Sweet and Short Pink Hair
I am loving the shimmering lavender-rose shade of this style. The sleek, straight cut is an ideal canvas for this hue, giving it an almost iridescent, ethereal quality that is out of this world and beautiful. It's unique, fun, and a definite must-try this year.
11) Ultra Pink Princess Style
This vivid, glossy all-over color suits this pretty hairstyle to a T. The length, the braids, and the soft curls bring to mind the Renaissance era, directly opposing the vibrant color in a stunning contrast that's pleasing to the eye and sure to bring the compliments pouring in.
12) Pretty Pink-Tinged Blonde
The way the barely-there pink frames the face and highlights the layers of this style is lovely. This would be a sweet, cute hairstyle for girls, with the softness and subtlety age-appropriate and delicate while still being unique enough to make a fashion statement.
13) Chocolate and Berries and Shine, Oh My!
This gleaming ombre color job is reminiscent of chocolate-dipped strawberries, isn't it? The deep mahogany blends beautifully into the pink, flowing and swirling luxuriously down the back in a striking display of color. This type of color is shown to the fullest advantage on hair longer than shoulder length but could also be pretty on shorter hair.
14) Cute and Classy Cotton Candy
What could be more timeless than a perfectly executed pixie cut like this one? Combined with the sweetness of this cotton candy pink, the whole style takes a class to an entirely new level. This sweet, simple, stylish 'do is wonderfully feminine no matter your age.
15) Soft and Sweet Baby Pink
Delicate, girly and bold, this shade has a lot to offer. It tends to bring out the natural color in your cheeks, soften any harsh angles of face shapes and pairs well with so many other tones. It's lovely as an all-over color but would be just as sweet in ombre or highlights.
16) Sunset Hued Short Pink Hair
Okay, those curls are killer and that cut? Nailed it. The only thing that could make it better is a drop-dead gorgeous color and oh look! It's got that, too. Pastel shades of pink and orange blend in perfect ombre harmony down to the lightest of blonde just at the tips. This cute easy hairstyle is versatile, a breeze to care for and sweetly innocent.
17) Hot, Hotter and Hottest Pink
This bold and beautiful blend is stunning on this long, simple style, although I think any shorter style would do it justice as well. It starts as a soft shade of bubblegum but quickly heats up along the length of the hair until it's burning, neon magenta. The conditioner is key with this color so take care not to let your locks get dried out.
18) Refreshing Strawberry Punch Pink Hair
This sassy sweet hair color has summer written all over it. The cool tones of the brown roots make for a pretty contrast with the hot pink, accentuating the natural beachy waves of this style. It suggests sunny days in the sand and ice-cold sips of fruit-filled drinks. The ease and simplicity of this style make it an ideal choice for pink lovers of any age.
19) Cotton Candy Pink Curly Layers
Pink shades applied all over like this one tend to give certain styles a wonderful satin sheen. This one does so admirably. The look is bright, feisty and totally touchable as well as a cute hairstyle for girls. It's easy to care for and a breeze to touch up when those roots start showing.
20) Pink and Purple Passion Balayage
As color combos go, I don't know of any that are more perfectly, uniquely feminine than these two hues. The braid is an ideal display of this, with the strands of fuchsia, plum, and the palest of pinks all weaving together in an almost marbled effect. This lovely style is packed with unique personality and depth.
21) Taffy Tone Pink Balayage Hairstyle
The smooth texture, delicious shade of pink and subtle shine of this style looks like taffy being pulled and I'll be honest, it's a surprisingly charming effect. I'm loving the rose gold underneath but the star of the show is the pale and dark pink highlights that bring out the gorgeous texture of the cut.
22) Hard Rocking Hot Pink Hair
If you're going to go with neon pink, this is totally the way to do it! The whole style is edgy, vivacious and rock and roll all over. The layers of pink make a clear statement here and that statement is "I may be a girl but I'm tough as nails"!
23) Sweet and Easy Peaches and Cream
A touch of pink, a dash of peach and just a tiny pinch of blonde make for a delicious blend of color. The balayage is done so expertly here that there is no lack of movement and depth, while the natural waves are accented beautifully. Soft, pretty and fairly low maintenance, this look would be cute for little girls.
24) Curly Coral Short Pink Hair
This classic short bob style is modernized and brought up to date perfectly with the addition of coral and hot pink color. It's timeless with just a touch of sass while being a cute hairstyle for girls, easy for busy moms, trendy for professionals and all around simply gorgeous, not to mention fun.
25) Bubblegum Pink Bombshell Hairstyle
Pink is pretty any time but it's absolutely jaw-dropping when it's as voluptuous and glossy as this! The ombre effect and the high-contrast colors make the whole style pop in the most beautiful way. It's unique and striking while maintaining a delightful sense of femininity.
26) Rouge-Hued Hot Pink Haircut
This trendy asymmetrical bob is the ultimate starting point for any vibrant hair color. The softer shade of hot pink all-over color shimmers and shines while making the cut itself stand out from all the others. Sweet for everyone from young girls to on-the-go professionals, this gorgeous look is utterly enviable.
27) That's One Hot (Pink) Hairdo!
Violet and magenta play off each other in a stunning, vivid display here. The contrast between warm and cool tones creates depth and texture throughout the cut while the neon tones pack a delightfully pink punch. Creatively cool and cute, this color combo is a definite must-try.
28) Radical Raspberry Curly Pink Hairstyle
I am madly in love with this shade of pink, ladies. It's dark enough to almost be red but still holds onto that sweetly girly pink tone. It's vibrant, quirky and flattering on nearly any skin tone. Beyond all those benefits, check out how the color plays along those curls! If you're a curly-haired beauty, this may be the perfect shade of pink for you.
29) Electric Pink Beach Wave Style
If you adore the ultra-bright shades of pink, you're going to love this one. With subtle hints of violet hidden throughout and the gorgeous dark mahogany roots, this pink is popping with personality and depth. The ease and simplicity of the style make it a great option for all ages.
30) Simple Striking Short Pink Hairstyle
This unabashedly pink and modern hairstyle is literally a cut above the rest with those soaring spikes. Blonde and shades of pink play very nicely together to create a unique look that's overflowing with texture, style, vibrancy, and sass. If you want something edgy and ultra-tough, this is a perfect choice.
31) Feisty Fuchsia and Violet Boho Waves
I can't say enough good things about the balayage color technique. This perfect application both blends the colors and allows them to stand on their own, creating the illusion that the hair is in motion and alive. This pretty, flowing style is both sweet and spicy enough to suit any taste.
32) Rainbow Pink Unicorn Hair Color
This type of hair color utilizes all the shades of the rainbow and is a little girls' dream come true. The cotton candy tone of pink here is a perfect base for all the other vibrant colors, melding each one into the next in a modern fashion marvel as yet unequaled. It may be high maintenance but it's totally worth it for this level of stunning.
33) Simply Salmon Natural Beach Wave Style
If you're dying to go pink (no pun intended) but still want to stay more on the natural side of things, this ash blonde/subtle pink mix is a great way to do it. The ombre effect here is relaxed, lovely, and low maintenance. This is an easy, simple hairstyle for women who are bold but maybe not quite neon bold.
34) Punchy Pink and Lavender Ombre
This easy hairstyle idea displays the colors to their best advantage. Melding seamlessly into one another, the hot pink and cool lavender pop and sizzle over elegant, soft curls. Sweet enough for younger girls but sassy enough to keep up with a teen, everything about this style says youthful vivacity.
35) Beautiful Pink Multi-Colored Style
This is a gorgeous hair idea, giving your look mystical, fairy-tale flair while keeping a certain softness and grace. Vibrant without being too over-the-top, this shade of pink wonderfully complements the other pastel shades. This kind of "unicorn hair color" is swiftly becoming extremely popular and highly desirable and it's easy to see why. Nothing about it looks natural but everything about it is simply stunning!