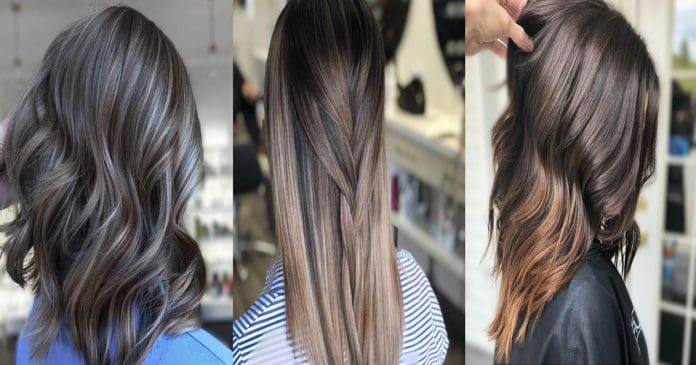 Does your dark brown hair have you feeling dull and down? Does your current style have you feeling frumpy or bored? As the weather gets colder and holiday festivities draw near, it is not uncommon to feel somewhat restless. This time of year can be strange. It can be easy to feel like you've lost your style amid the hustle and bustle. A bit of a change may be just what you need during this chilling, gray time of year. This change may come in the form of a new dramatic cut, an exciting new color or an inspired new style for your already magnificent mane. Whatever you are in search of, staying exactly the same is no way to get it.
1) Subtly Wavy Dark Brown Hairstyle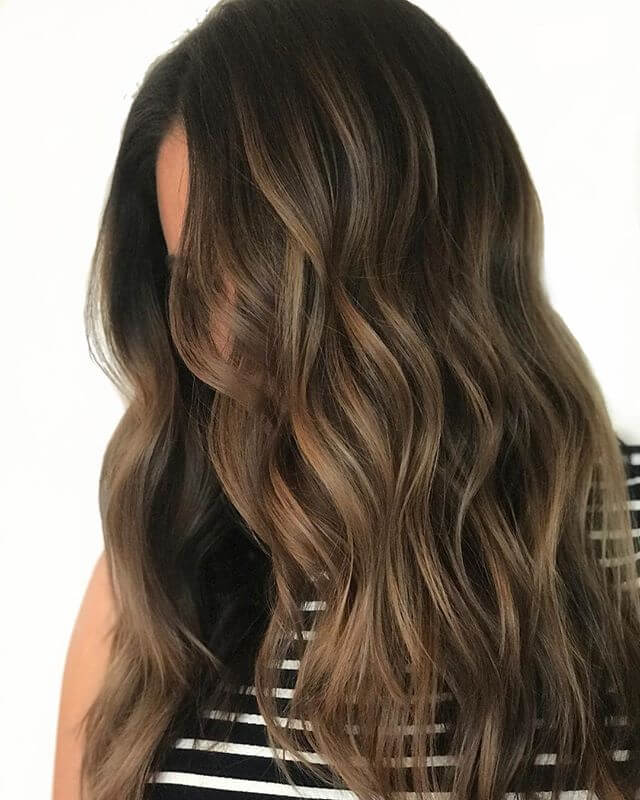 Source: carla.jean.styles – instagram.com
If you are looking to add to the dimension of your long hair, look no further! For those with exceedingly straight hair whose tight curls fade, these already loosened spirals may just be the balance in bounce your locks have been looking for. The slight curl will add movement while sparing you the need for pounds of product or a mid-day touch up curl.
2) Feathery and Silky Dark Brown Waves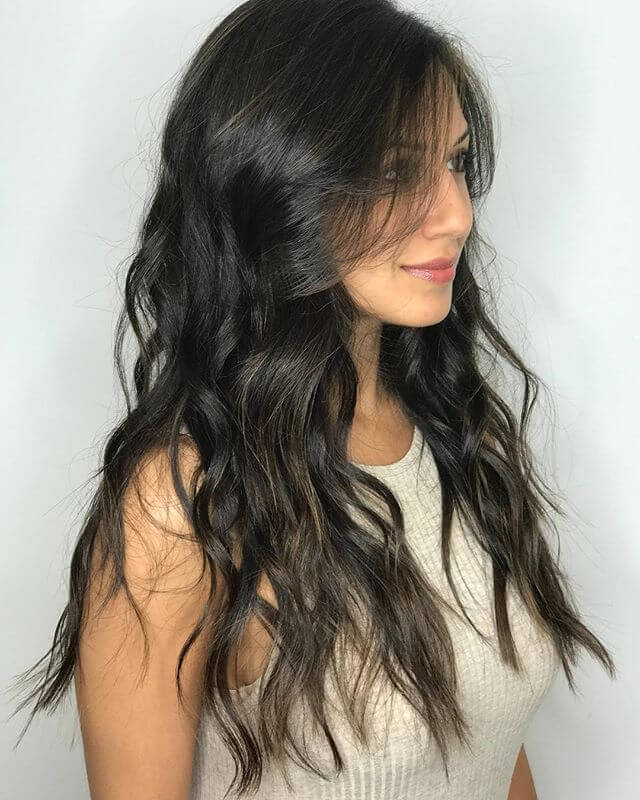 Source: ninadoeshairr – instagram.com
These inspired spirals of dark hair are perfect for embracing your inner wild child without sacrificing your chic composure. The look of loosely defined cascades of curls gives a sense of seriousness without being rigid or predictable. It is an awesome, easy alternative to the everyday pulled-back look that will have friends and co-workers doing a double take.
3) Multi-tonal Long Brunette Bob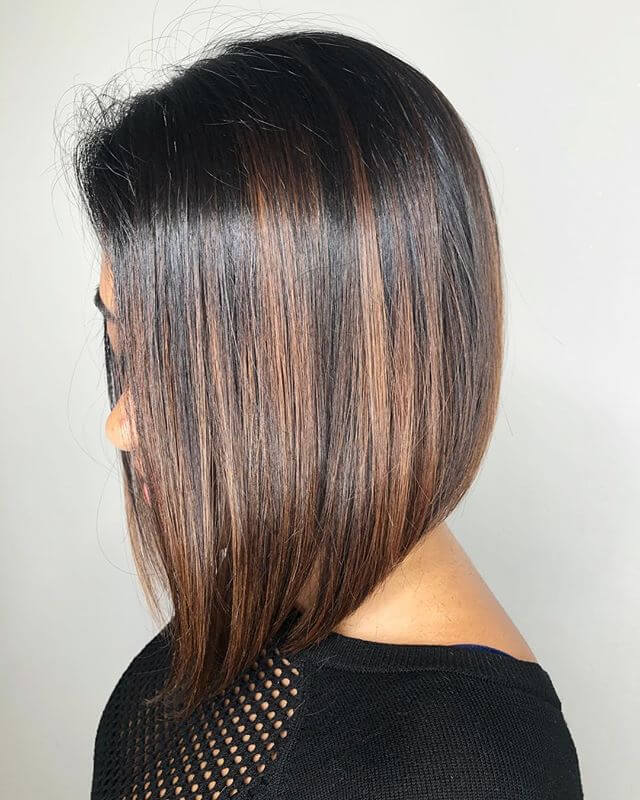 Source: monikathegreat – instagram.com
In search of an easy hairstyle that will show off the carefully chosen colors in your dark brown hair? A shiny straightened bob is the perfect presentation for your unique color. The hues of your hair will be highlighted without endless styling or excessive length. This is an ideal hairstyle for those who like a high maintenance look without all the high maintenance effort.
4) Lazy, Soft, Long Brown Curls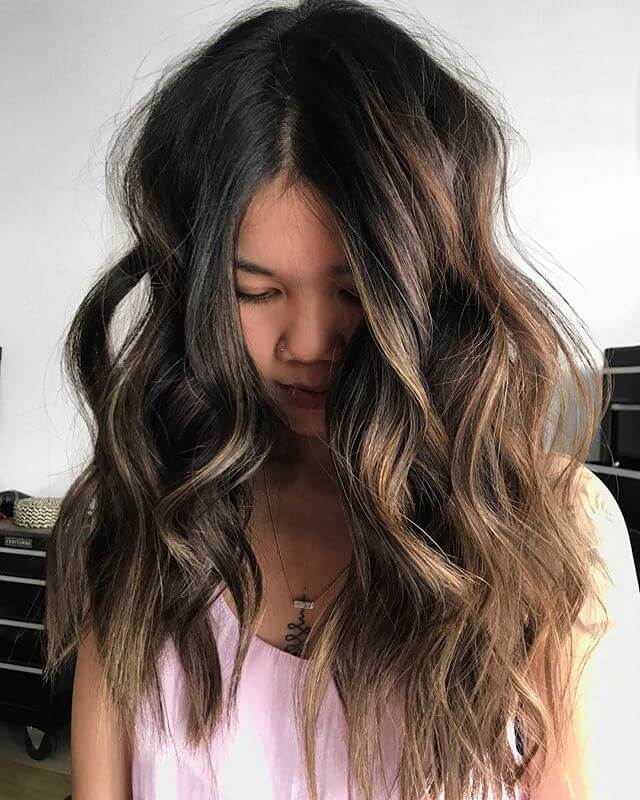 Source: erin.boha – instagram.com
The art of looking messy without looking like a mess is one that requires a few tricks. One of those tricks is big curls. With long hair, in particular, large curls lend themselves to the appearance of effortless beauty. Keep your long brown hair selfie-ready at all times with this style.
5) Dark Brown Hairstyle With Barely There Waves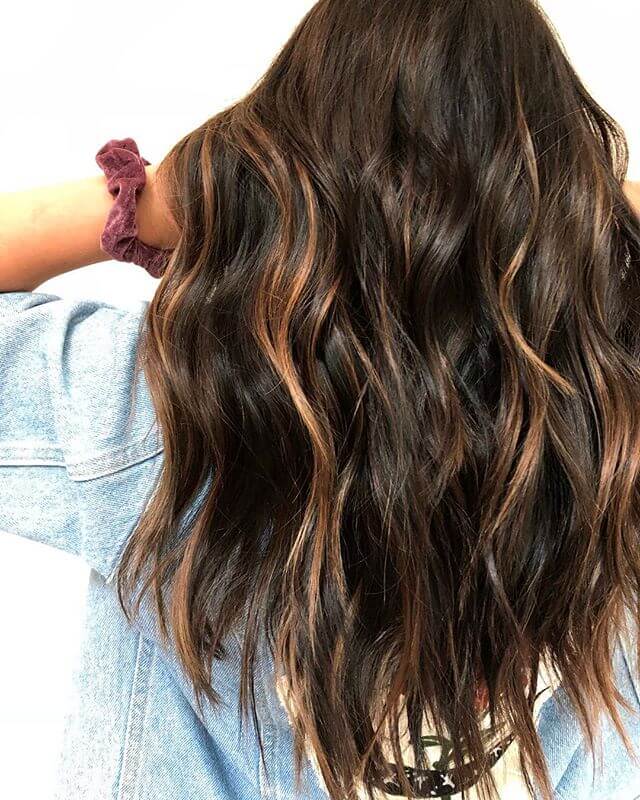 Source: meltedbymish – instagram.com
Does your dark brown hair have just enough curl to be annoying? Having trouble getting it to fully commit to a curly or straight look? Embrace this medium length style that will help you accentuate your natural beauty rather than working against it. Let your kinky hair go a bit wild by choosing a product over irons or curlers.
6) Swept Away By A Dark Brown Bob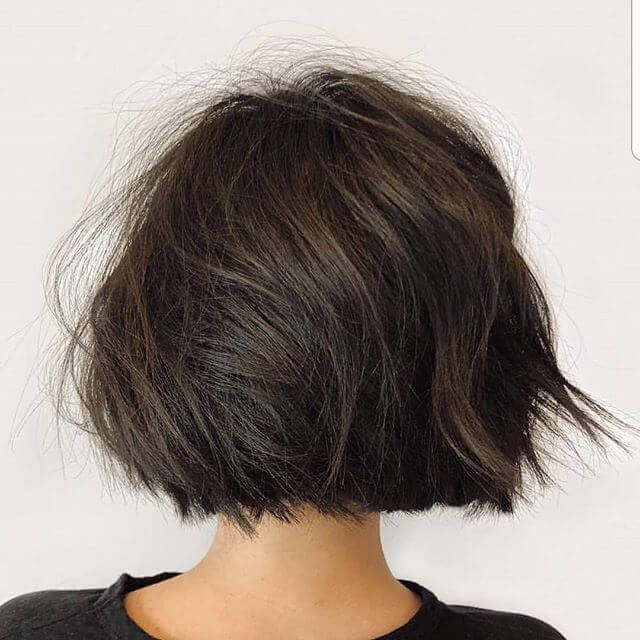 Source: clebber.tinoco – instagram.com
This styled dark bob will have passersby captivated by your whirlwind glamor. The movement of the style along with the short length of the cut make this an easy and memorable choice for an edgier style this autumn.
7) Hairstyle For Brown Hair With A Purple Haze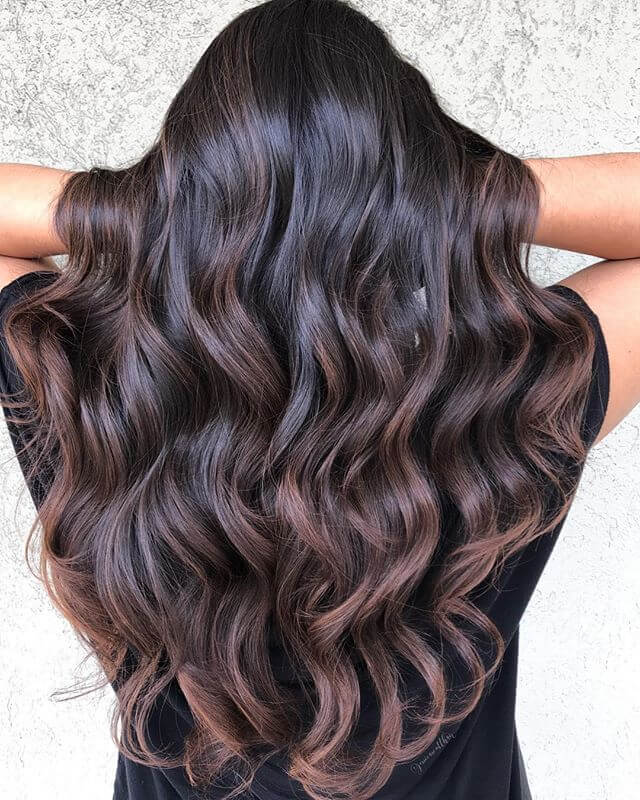 Source: jessicascotthair – instagram.com
Purple may not seem like an obvious companion to dark brown hair, but this style shows that the two are more than comparable. If you are hoping to add edge without appearing to have fallen off one, purple accents are a versatile and surprisingly elegant option. Long haircut and styles really present the color combo well.
8) Long, Simple Dark Brown Locks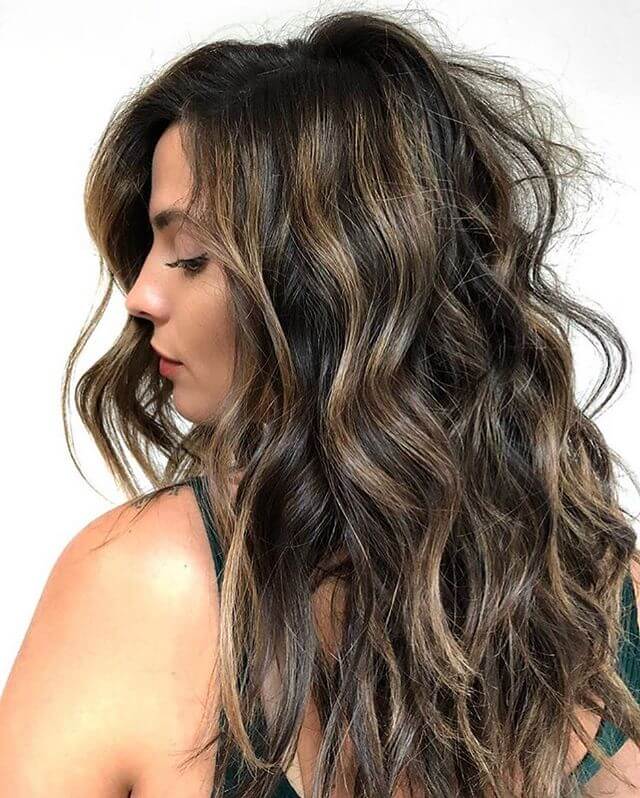 Source: "_blank" rel="nofollow">_saltsociety – instagram.com
The style of long brown curls is a timeless one. Whether worn messy and a bit tousled, or sprayed securely to perfection, this style is one that will be appropriate for any occasion your hectic life may throw at you. Suffer from almost-forgotten events and last minute plan changes? This is a hairstyle that can go from casual to formal with the mere change of an outfit.
9) The Elegant Single Wave Hairstyle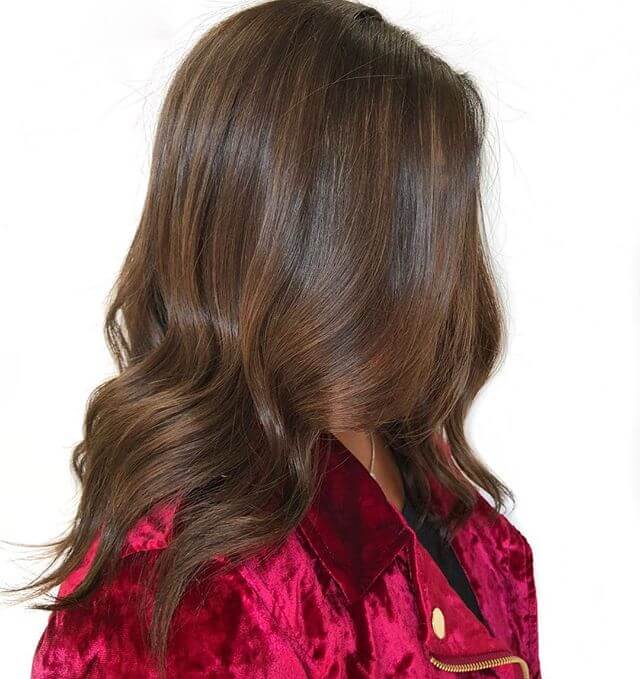 Source: paintloveblend – instagram.com
Giving straight hair more body and movement without curling and spraying it to death can be a serious challenge. This classy yet modern look lets women have their cake and eat it too by giving added volume without sacrificing straightened shine. A single, swelling wave of gorgeous brown hair catches the light and gives hair bounce while the smooth look surrounding it gives a glowing spotlight to healthy hair.
10) Simple, Modern Haircut For Busy Ladies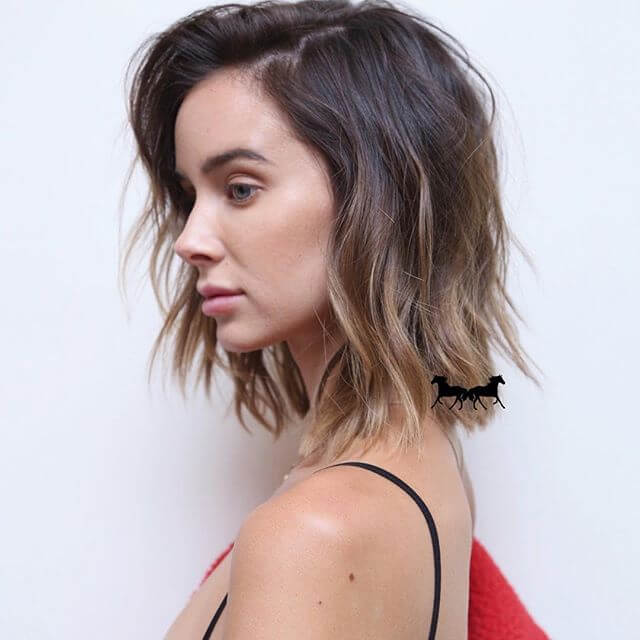 Source: johnnyramirez – instagram.com
Not all of us have curly OR straight hair. Some women are caught in the middle. If you want a cute easy hairstyle that doesn't require you to pick a team, you have met your match! The simplicity of the style with the boldness of the cut will have women and girls sporting and celebrating the in-between look.
11) Multi-layered Dark Brown Hair With Cool Tones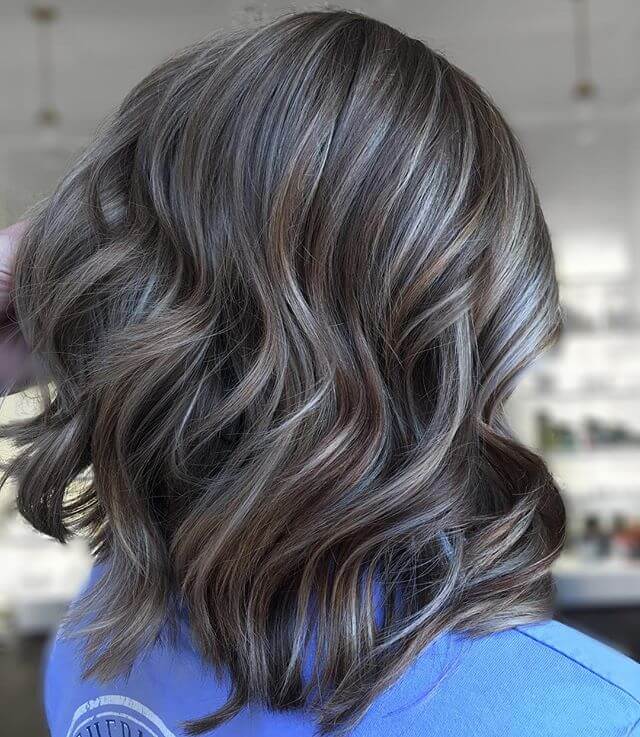 Source: sydneyreeveshair – instagram.com
This is a look that will help you cool down with the weather while you spice things up in the mirror. The surprise of soft, cool hues will certainly attract some gazes, but the angle of the layers will hold them to you. Switching things up with a pastel, cold color pallet makes a unique statement without necessarily being a loud one. Embrace the cold with this hot look.
12) Daring Layers Of Dark Brown Hair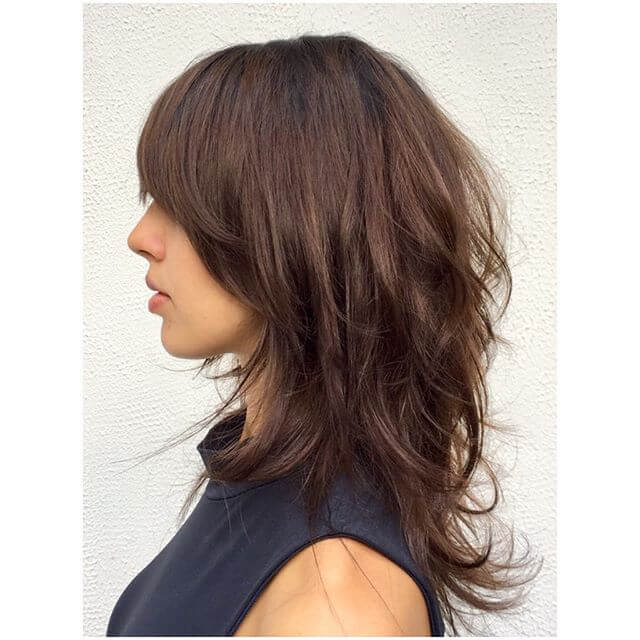 Source: juliocrepaldihair – instagram.com
Brunettes with the crazy confidence will absolutely love this bold and contrasting cut. The striking differences in length help to accent hair with multiple tones while being fairly simple to style. The longer layers can even be pulled back while the shorter ones are left to frame the face if you have the need to dress up this edgy hairdo. The out-going look is one full of excitement and individuality.
13) Spinning Brunette Into Gold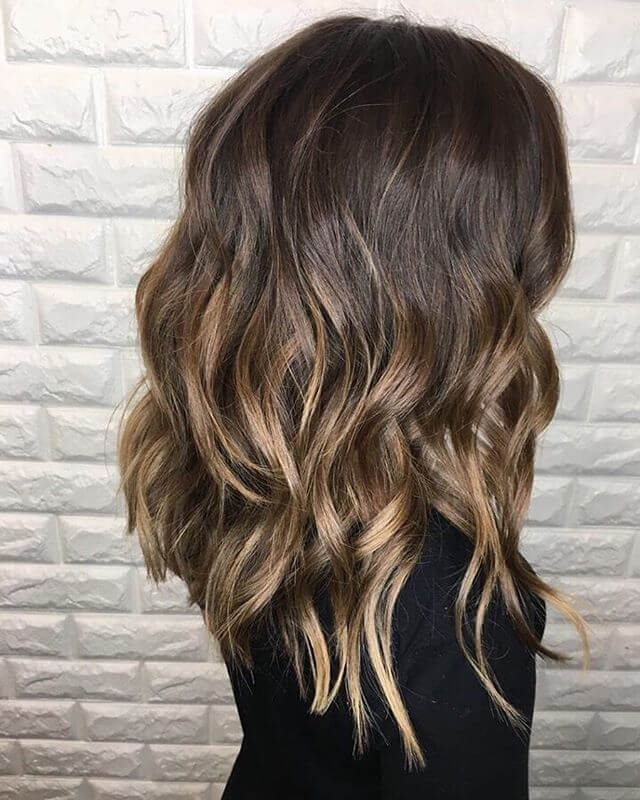 Source: salonbordeaux – instagram.com
A fade of dark brown hair into a light golden color may be just the change you've been looking for this season. A fade into warmer color can draw attention to the face, create depth, and add a warmth to your overall look. Even when hair is pulled up or back the element of a color transition can be striking and impressive. Curls can also be beneficial in creating a smooth, transitional look for the color fade.
14) Long Brown Locks Fade Into Beautiful Blushing Blonde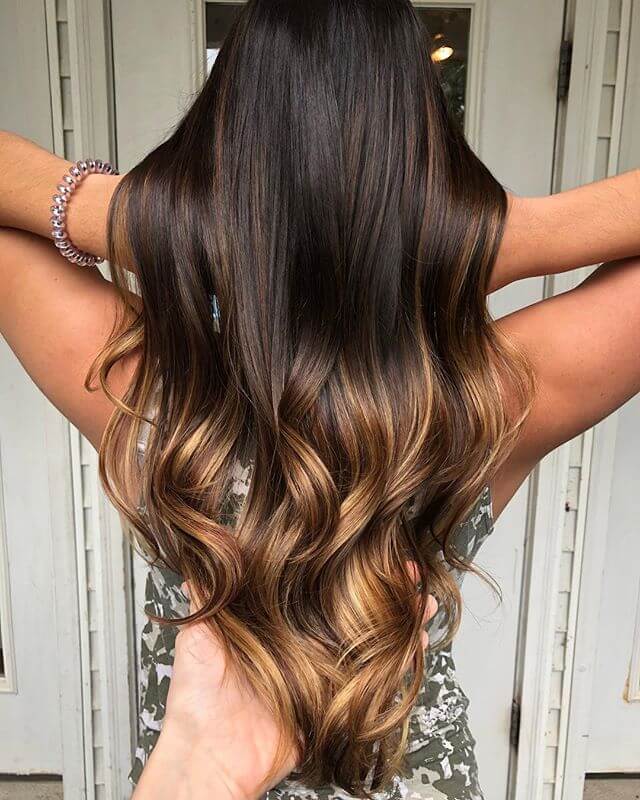 Source: daymakerschair – instagram.com
The look of warm, dark brown and rose gold blonde is the flawless color combo that will have everyone falling for you this fall. Pinkish tones in highlights of color create an irresistible and romantic look that can be further enhanced by big, soft curls. This soft transitional color choice is perfect for long hair.
15) Grungy, Modern Hairstyle For Shoulder Length Cuts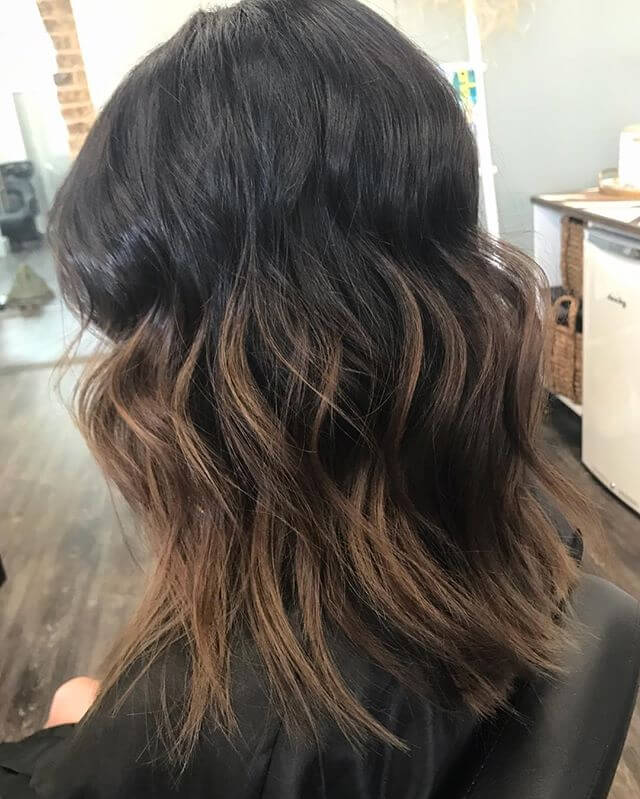 Source: carlybellhair – instagram.com
This is a look that is individualistic and bold. It is a hair idea that conveys attitude and edge while being easily maintained and wearable. The subtle fate in color from dark to the lighter brown skin can add dimension while keeping the cutting-edge cut the main focus. A slight curl or wave can also add volume in strategic places to give an even more pronounced and daring appearance.
16) Lengthy, Stretched Dark Waves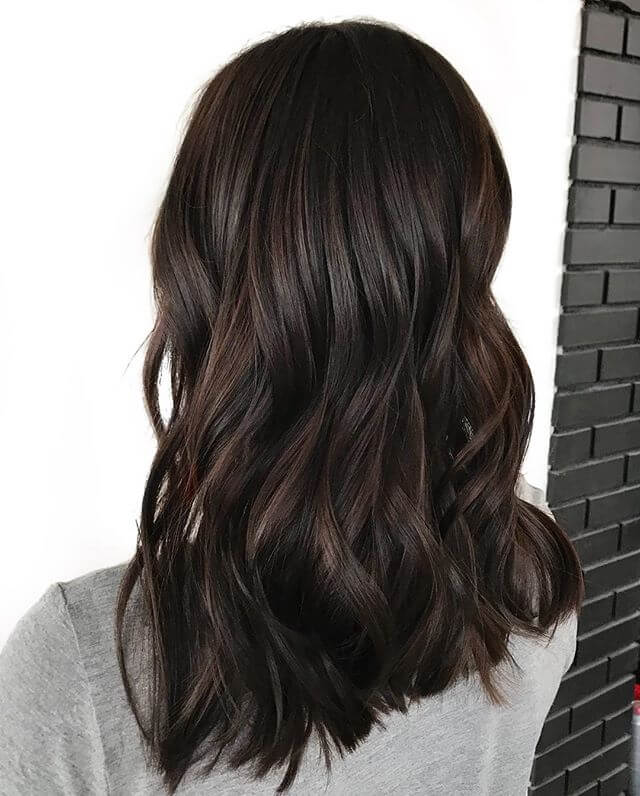 Source: tame_to_tease – instagram.com
This wavy look is a fun option for adding some dimension to mono-tonal, long hair. Long, loose wavy curls give heavy hair bounce while avoiding the need to spend hours of time with a curling iron and a counter full of product. Let the weight of your long, flowing hair loosen up those spirals for an appealingly modest and easily maintained look.
17) Classicly Pretty Hairstyle With Curled Ends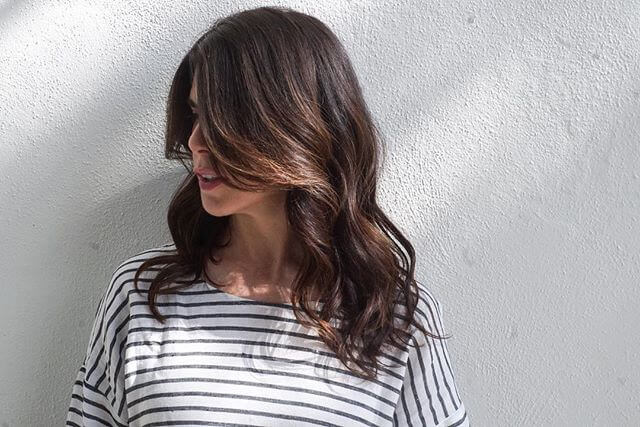 Source: _killitkid – instagram.com
With slight layers and a slight curl, this look is all about being beautiful and hassle-free. Face-framing curled ends will guide gazers to your dazzling smile while captivating them with subtle, shoulder-length layers. Your gorgeous brown hair will be picture ready in no time at all with this style. Give yourself a boost of confidence and a little more time to sleep in with this cute cut.
18) Long Easy Hairstyle Layered To A Point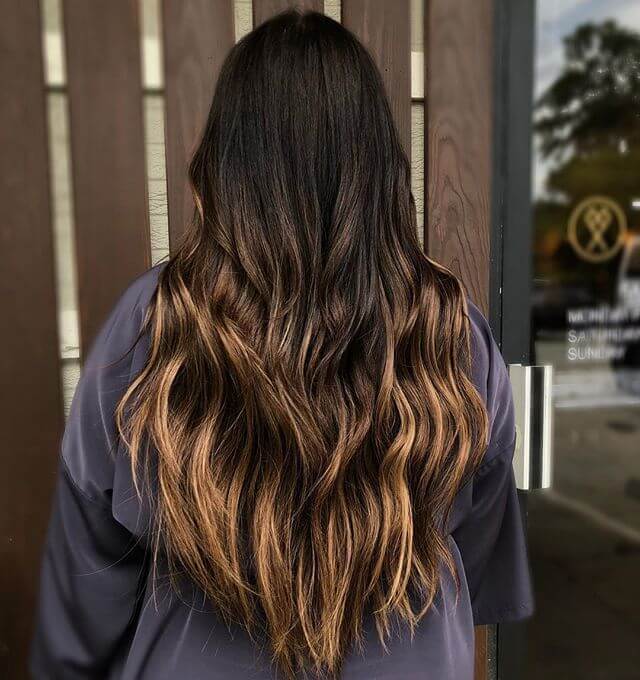 Source: jessicawagnerhair – instagram.com
The layers may be long, but they are certainly dramatic in this look for long, dark brown hair. The angle of the layers would allow you to keep the length you've worked so hard on while making a pointed statement and adding body. You will see a revival of style in your chic ponytails along with a seriously positive effect on your loose and lazy looks. If your long hair needs a shakeup without losing much length or extensive coloring, this style is definitely worth a shot.
19) Luminous Highlighted Hairstyle For Brown Hair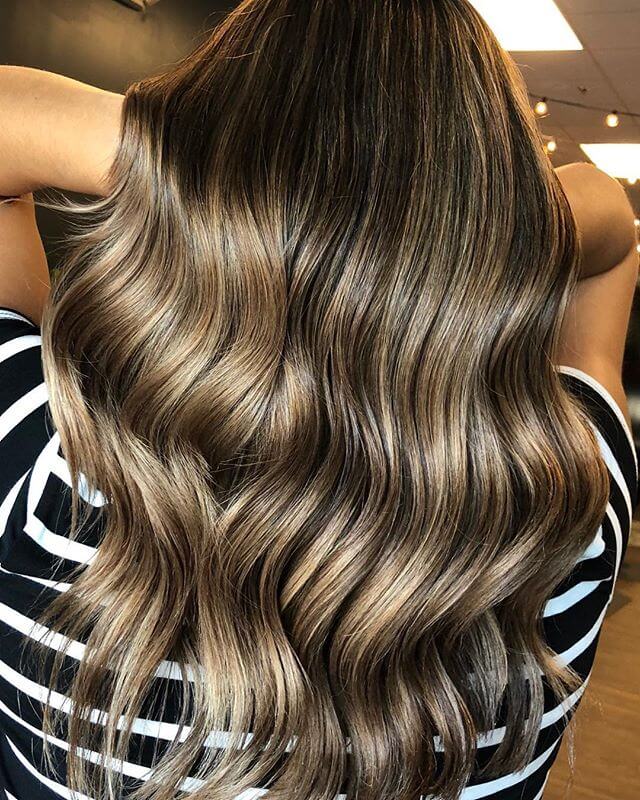 Source: jessdeehair – instagram.com
The variation in the golden brown colors of this style option will have people doing double takes. The bold mixture and seamless blending of gold, blonde and brown tones are among the most effective ways to shake up dull, dark brown hair. Any haircut for brown hair can be enhanced by splashes of shimmering highlights. These color combinations also work on a number of hair length style and textures, as well.
20) Edgy, Mid-Curled Modern Hairstyle For Brunettes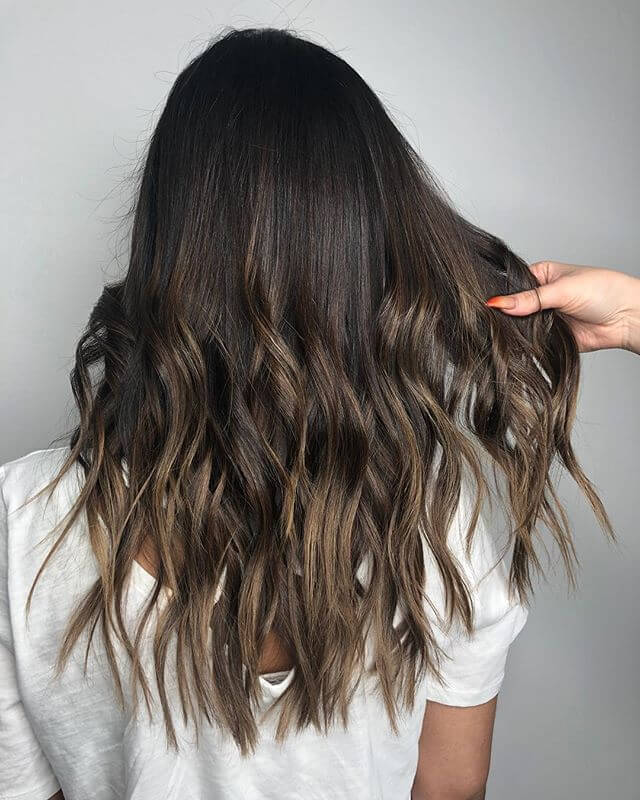 Source: artandchemistry – instagram.com
Adding a single ringlet mid-length into your long, beautiful brown hair may seem like an insane style idea, at first. However, this awesome and easy idea has made for a surprisingly trendy and pretty hairstyle! The genius combination of straight and curly mixed with the unexpected modern placement of the curl creates a one of a kind, fresh look. This style is one of beauty and bravery that isn't both daring and minimalistic.
21) Warmly Toned Waves Of Dark Brown Hair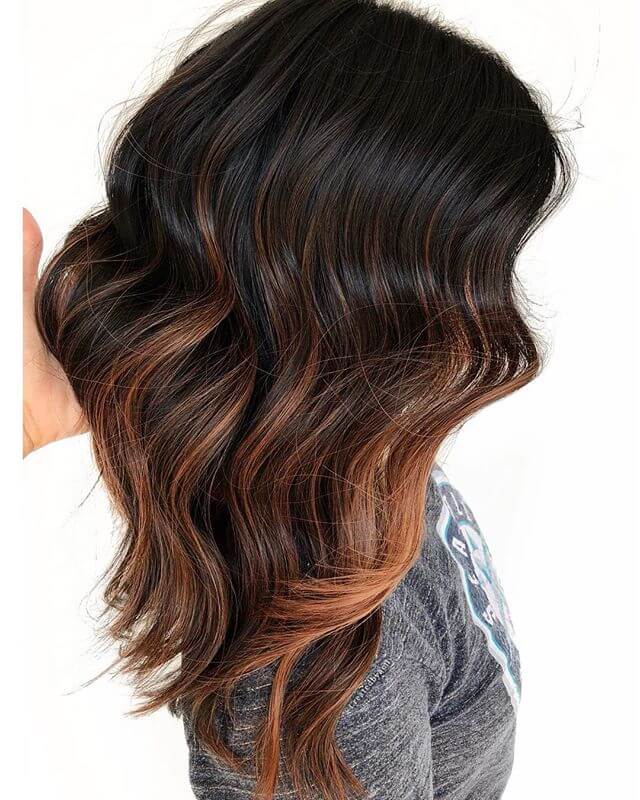 Source: createdbyami – instagram.com
Adding a bit of fiery color to your dark brown locks may be just what you need to warmly embrace the colder seasons. Make your holiday photos memorable by slicing up your look with streaks of color, as bold or subtle as you prefer. While adding a bit of a glow, these shades and colors also help bring out the lustrous tones of your beautiful dark color. Consider letting the colors of autumn help guide your hair look this season.
22) Hairstyle For Women With Coffee-Inspired Color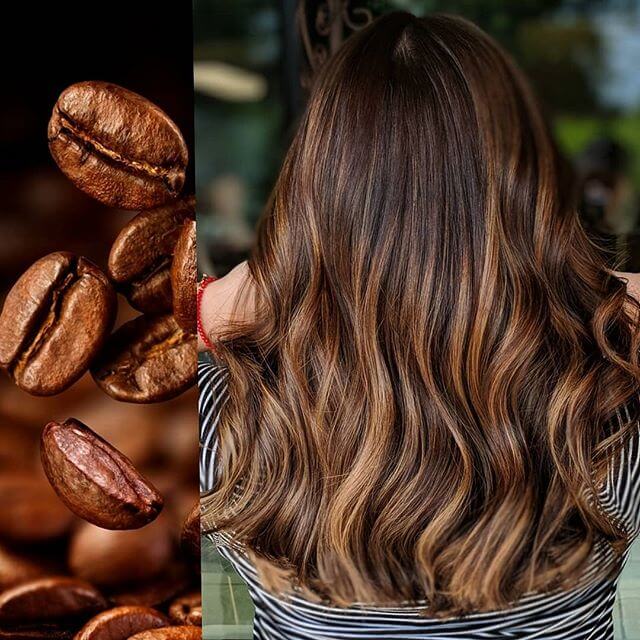 Source: mashytaters – instagram.com
Coffee fiend? Your morning jolt of caffeine isn't the only inspiration coffee has to offer. Let the color shine of everything from deep, dark espresso to cafe au lait lead you to your perfect shade. Play around with shading and highlighting to find a look that is as perfect as your morning cup. Once your color has been perfected, wake up the world by displaying it with length and curls!
23) Show Off Your Shine With Cute Easy Hairstyle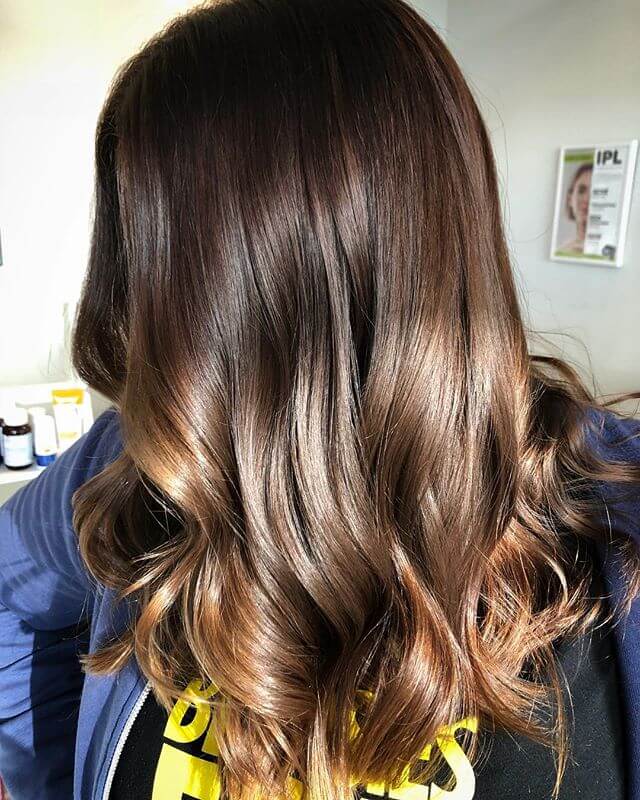 Source: hairbynicolereyns – instagram.com
Does your hair smoothly glisten in the light? Does it create a glowing aura of confident beauty? Don't hide it or dull it down with the wrong style. A shoulder-length haircut is a perfect length for those with a tremendous shine to spotlight it without weighing it down or cutting too much. An addition of subtle highlights or a well-blended color transition can't also help accentuate your shimmer, but be sure the color is balanced and won't damage that luster you're working hard to showcase.
24) Cute Hairstyle For Girls On The Go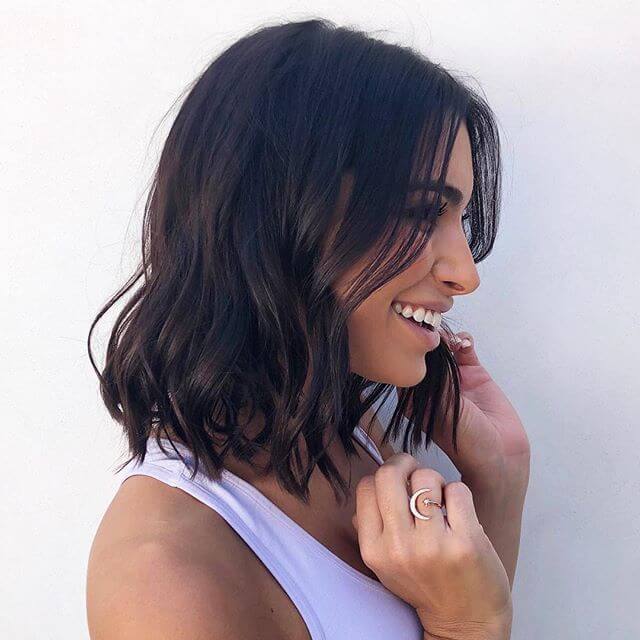 Source: justinandersoncolor – instagram.com
This straight cut is perfect for dark-haired girls with packed schedules. IT is easy to pull back but also looks great whenever worn down. It can be curled, straightened, or left with a bit of chaotic kink. It looks great with solidly dark hair, but would also be exceptionally compatible with most color variations. Whatever your hair throws at you, th
is style can turn into pretty and cute with minimal effort.
25) All Business, Straight Edge Haircut For Brown Hair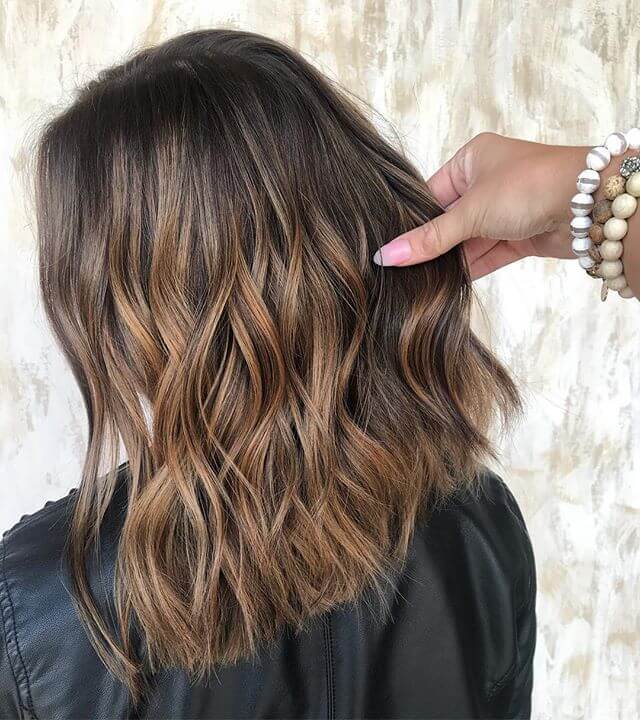 Source: hairgoalsbyhannah – instagram.com
The extremely straight edge on this cut says that you aren't here to play games. The angle and style are simultaneously beautiful and severe. It conveys composure and confidence while being refined and serious. You aren't here to soften the edges, you're here to take charge. This is the haircut that says so. With this cut and you're favorite power outfit, you'll take the world by storm.
26) Highlighted Color Fade With Whispers Of Color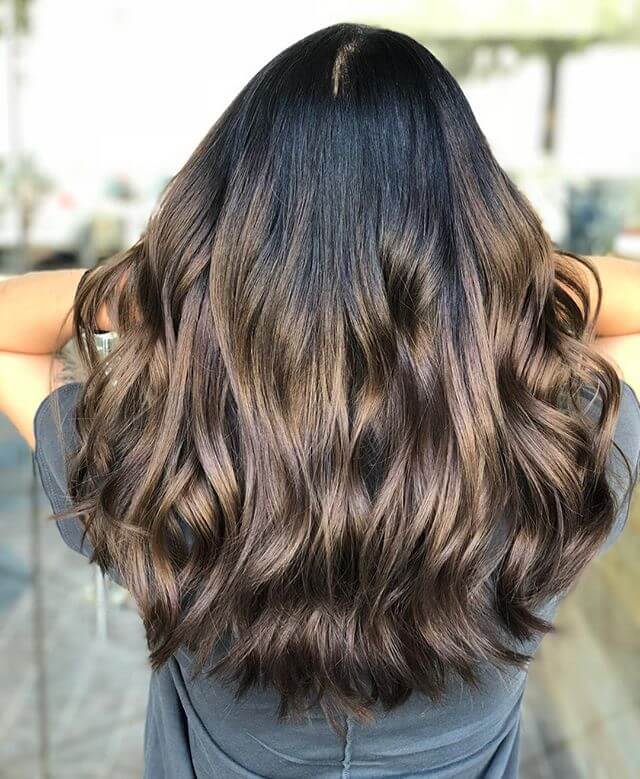 Source: glamdoll1 – instagram.com
Dark hair can be difficult to color without feeling like it's either barely noticeable or completely over the top. Particularly with longer hair. Rather than choosing a saturated and bold color pallet, you may want to consider faded or muted accents. In addition to a hint of warm hue that will tie your new look back into your natural color, these faded color choices will be a more demure alternative to a drastic change.
27) Vibrant, Youthful, Cute Easy Hairstyle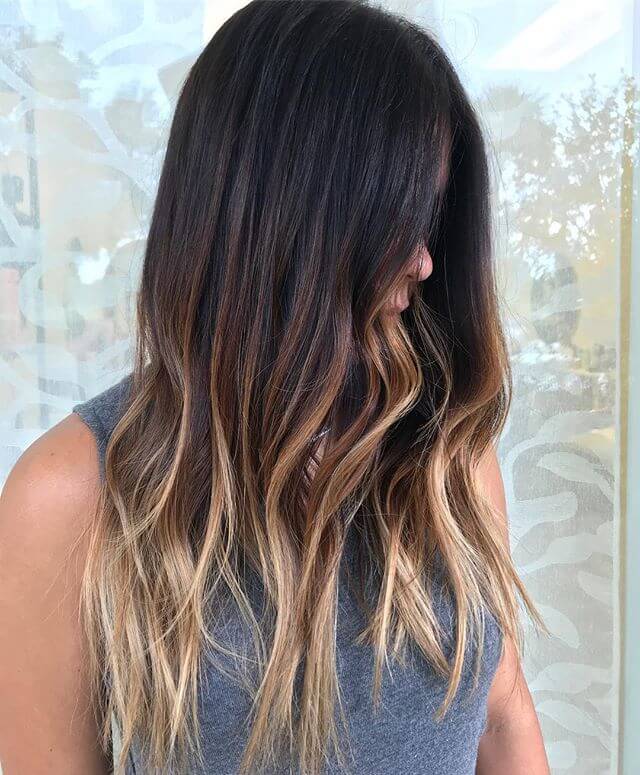 Source: hellobalayage – instagram.com
Those with thin, fine hair may feel that long hairstyles are out of the question. This style proves that fine hair can be dazzling and exciting! By adding a bit of volume with very low key curls, and some dimension and direction with strategic coloring, you can have the length you long for even if your hair isn't thick. Don't sacrifice your style, just get creative with it!
28) Chic Yet Low Maintenance Hairstyle For Women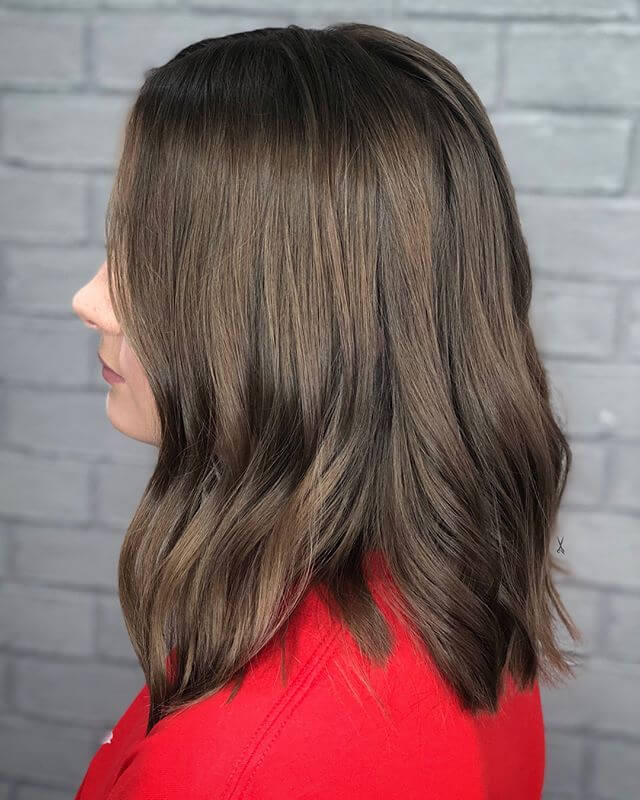 Source: hair.by.craig_parkinson – instagram.com
Stay at home mothers, working women and students can all enjoy this style. The simplicity of the cut makes it a breeze to style while leaving enough length for those moments you need to pull it back and get stuff done. Great for a lot of different hair colors, this look fuses ease and grace into a style you can wear anywhere.
29) Pretty Dark Brown Hairstyle For Women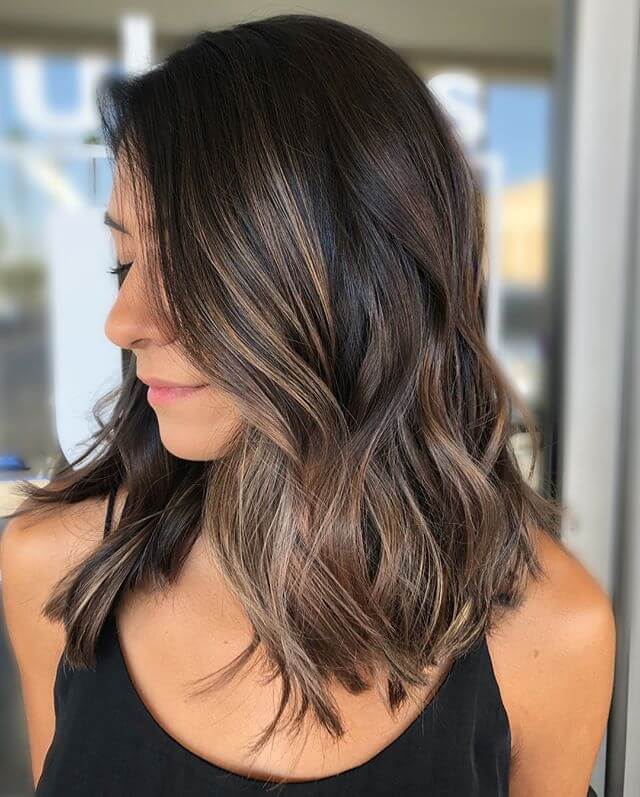 Source: frances_hairartist – instagram.com
Having dark hair doesn't mean having a dark look. This bright, sunny look is the best choice for those who are fun-loving and active. Give your style an injection of youth by adding bouncing curls that will move around your smiling face. The cut is great for all tones of brown but isn't best with dark hair that has highlights or more natural colorations.
30) Elegant Hollywood Glamor Curls For Long Dark Hair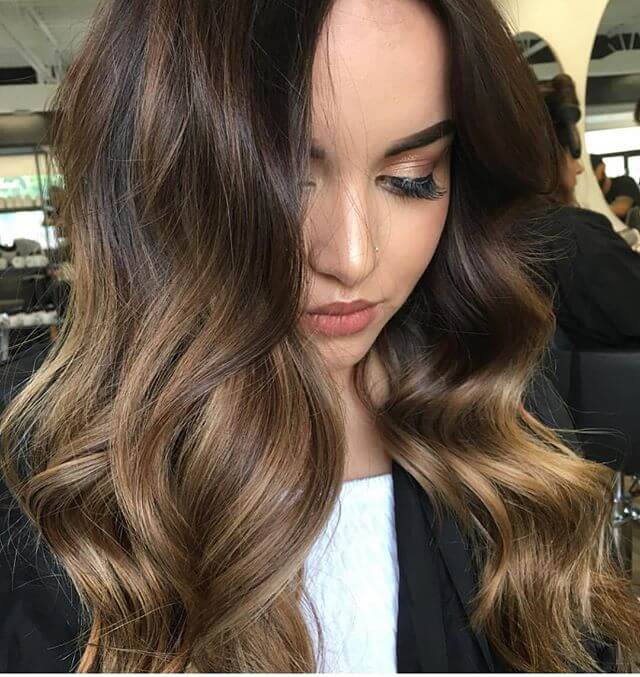 Source: dvcolour – instagram.com
This look of carefully curated curls is paparazzi ready. The well defined yet smooth look of the curls gives off the impression of elegance and refinement. Showing off your brown hair in such an elegant way will have people thinking you stepped right out of a Hollywood classic. All you'll need Ian the outfit and you'll be red carpet ready.
31) Lovely Long Curls For Business Or Casual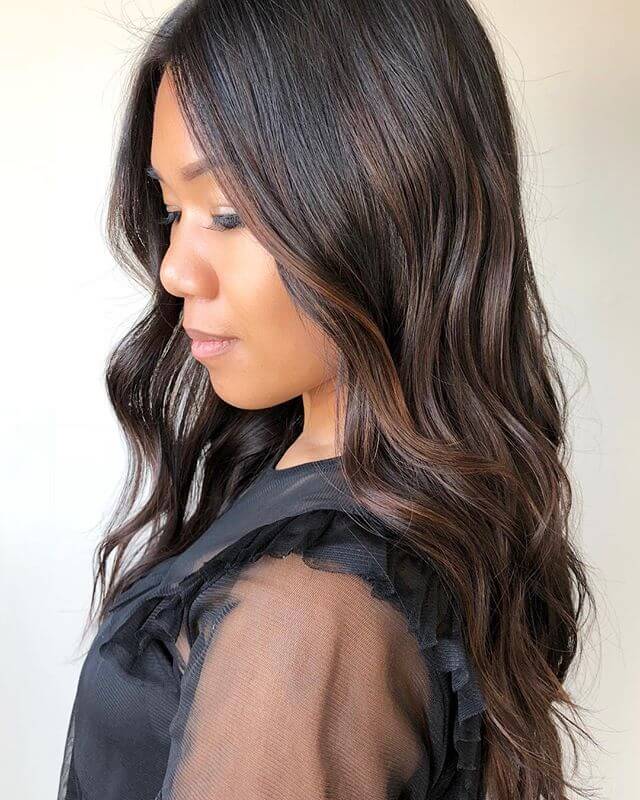 Source: sadieface – instagram.com
Many a modern woman find some herself in many roles: partner, parent, professional. It makes sense that she would need a hairstyle that's can be a serious versatile as she is. IF you are a woman on many missions, this hairstyle will help you look good no matter what you're trying to get done. Curl type and color can also be different from day to day with this cut, and it can be easily styled up at a moments notice.
32) Trendy, Carefree Modern Hairstyle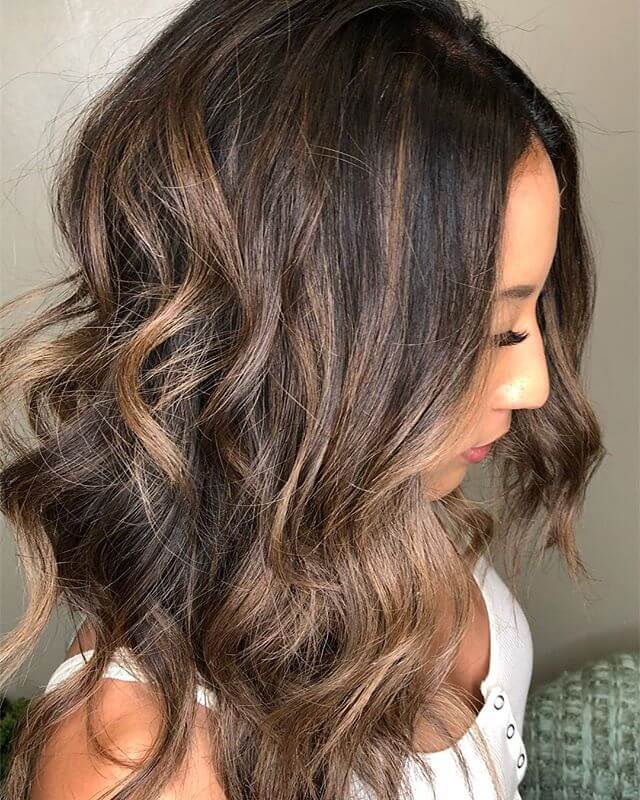 Source: heatherhairandbridalstylist – instagram.com
Chaos and unpredictability aren't typically assets in the world of hairstyling. However, not every woman is afraid of the unpredictable. If you are a woman who can go with the flow and isn't intimidated by a more flexible style, you may want to go out on a limb for this style. The sporadically curled, seriously angled look can be extreme and cute all at the same time. While this is a style that can be played many ways, it is best left to those who are ever style sensibilities are a bit more extreme.
33) Loose, Sleek Half-Braid For Straight Hair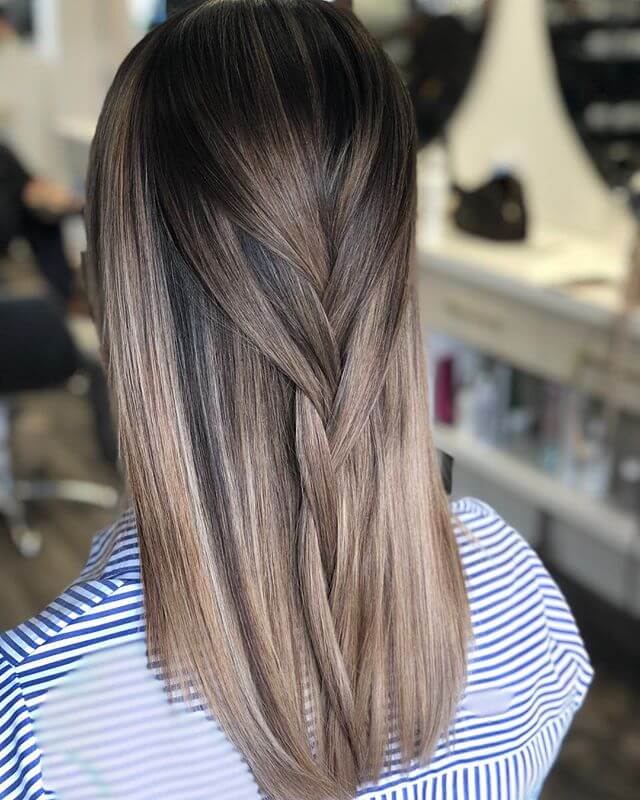 Source: yogacolourist – instagram.com
Looking for an Instagram-worthy hairdo to show off your new color? This loose, barely there half-braid is the perfect display style! The braid itself will show off the streaks and tones, the length left down will accentuate layers and color blending. This cute, lazy braid is the best way to show off your pretty hair and your pretty face at the same time. It will help you maximize your "effortless" look.
34) All-Tied-Up Modern Hairstyle For The Busy Boss Lady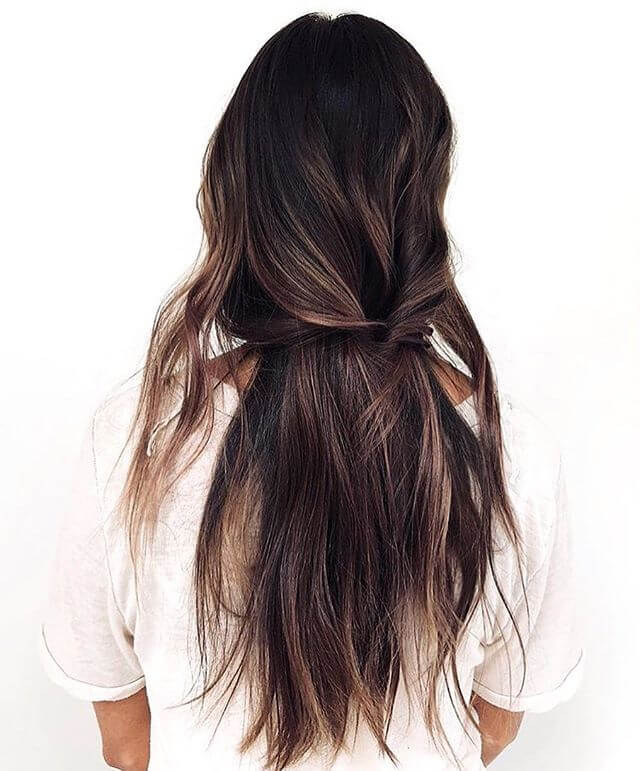 Source: salt.hair – instagram.com
If you want to solve problems and turn heads while doing it, you may want to think about tying back your curls. Simply tying back part of your hair keeps it out of your way while remaining classy and professional. Need to have your hair back down for the big presentation? There's nothing extensive or elaborate to undo. Just untie, retirement, and untie as you need. You're a busy woman. Make sure you pick a style that won't tie you down.
35) The Ultimate Style For Beautiful, Smooth Hair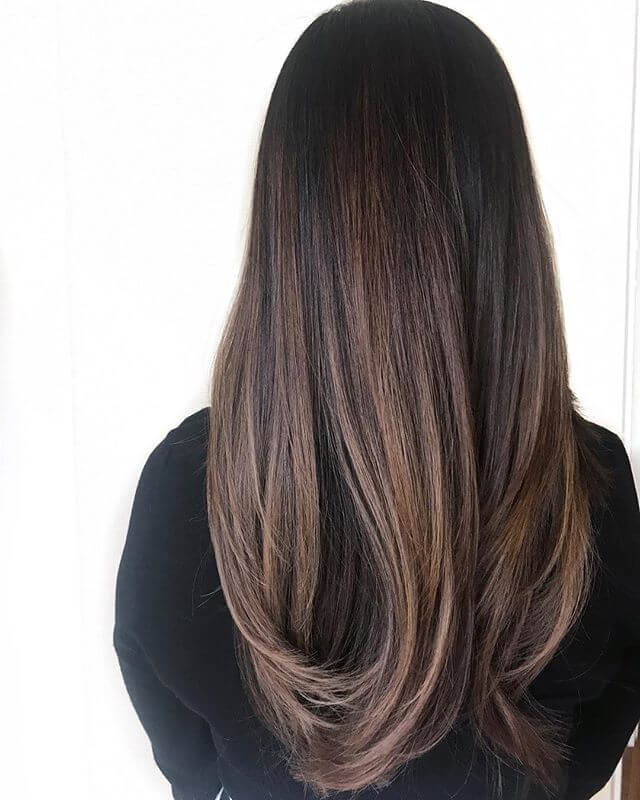 Source: candelahairstudio – instagram.com
Let it shine, let it shine, let it shine! This long, rounded cut is the perfect choice for those with thick, straight hair they can't wait to show off. This pretty hairstyle for brown hair may take effort when it comes to shampooing and properly conditioning, but it is an absolute breeze when it comes to styling and maintaining this touchable smooth look. (This particular city also makes a drop dead gorgeous ponytail!)
36) Sharp Angles and Soft Curls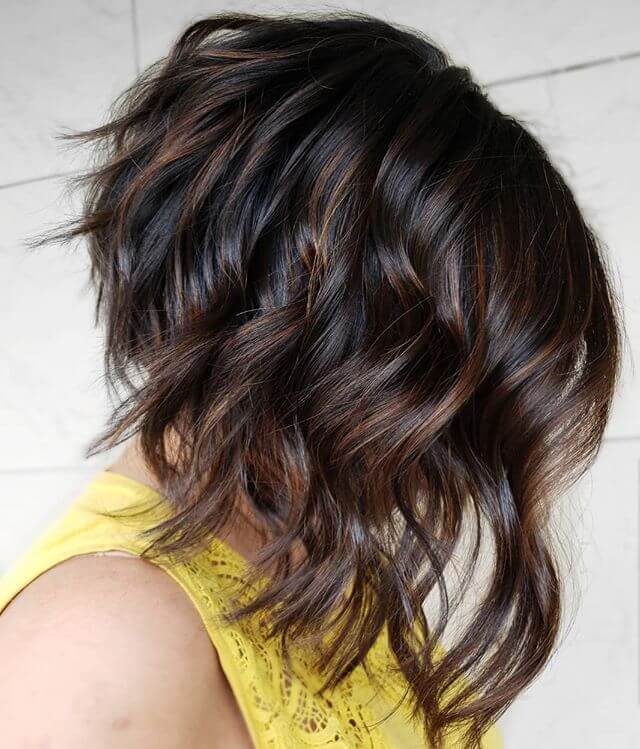 Source: hairbynathi – instagram.com
This cut is beauty and strength all rolled into one. Soft feminine curls create a versatility and accessibility to this courageous and dramatic cut. A shortcut with large curls will both turn heads and make waves as you take care of business and enjoy your life. The fun, face-framing angles could be the excitement you've been looking to add.
37) Layered Haircut For Brown Hair With Length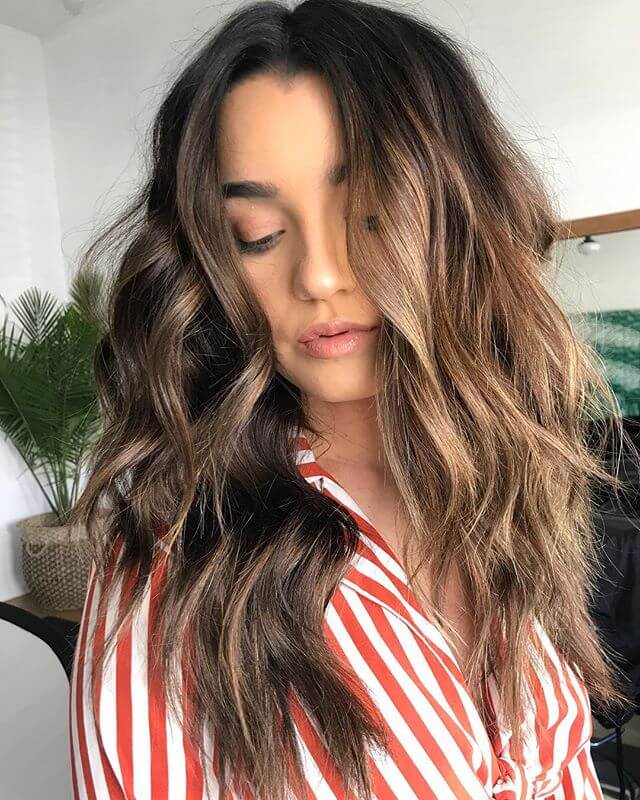 Source: erin.boha – instagram.com
Convey to the world your carefree nature with these long layers. Loose texture and messier ends will transform your rigid, uniform look into a bohemian masterpiece. The length of the cut will give you styling options while also providing you with the option of not styling your hair at all. Let your wild child out, and let her be lazy with this fun casual option.
38) Edgy, Cute Hairstyle For Girls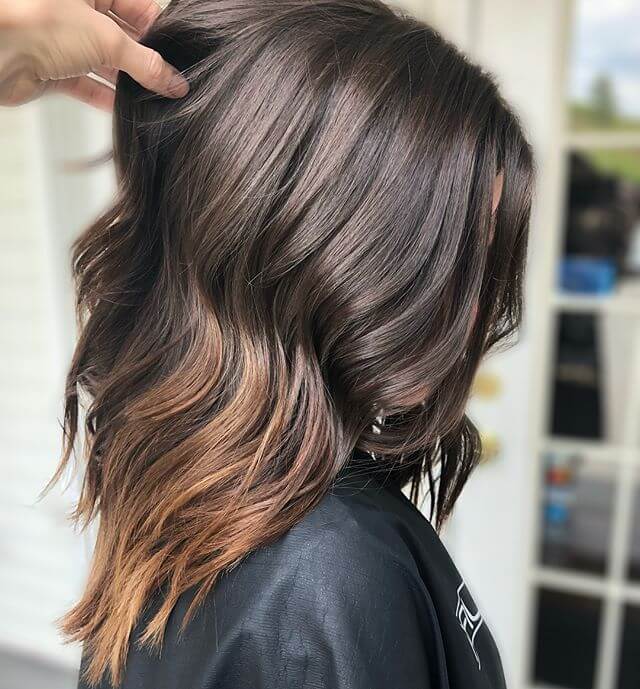 Source: daymakerschair – instagram.com
If you are looking to make an impression or to shake up the mundane, this may just be what you've been looking for. The daring, choppy angles are made even more exciting by adding bold or heavily saturated color choices. Perfect for girls and women starting new chapters in their lives who need a look to celebrate with. Your confidence will carry this look, and your stunning new selfies will prove it!
39) Simple Curled Look For Long Hair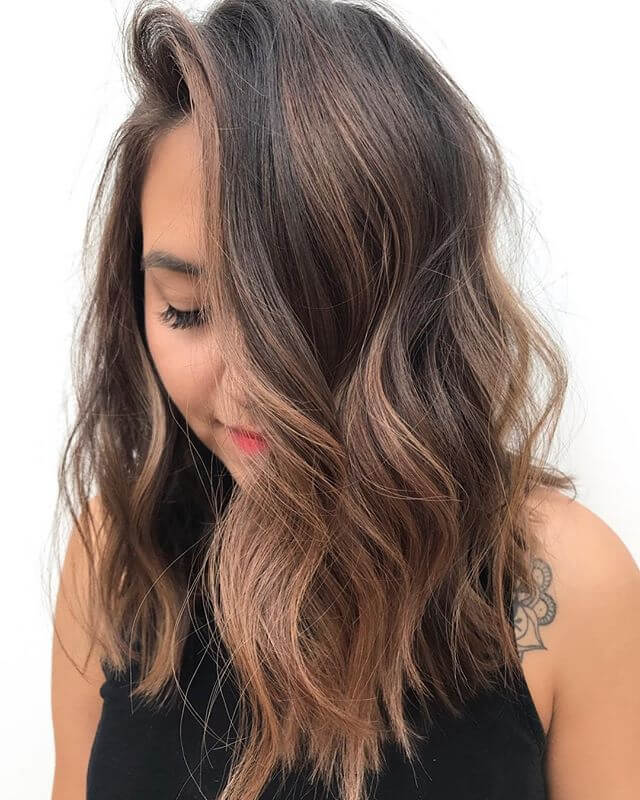 Source: sarahgoldsborough – instagram.com
This is a simple go-to look for the days when your long hair feels underwhelming. A bit of curl can bring out color highlights and draw attention to layers without being a tremendous time burden. This option can also create a noticeable difference from your everyday look without being over the top. There are some days where you just want to switch things up a bit without having to change them altogether. This easy style does just that.
40) Show Stopping, Voluminous Long Curls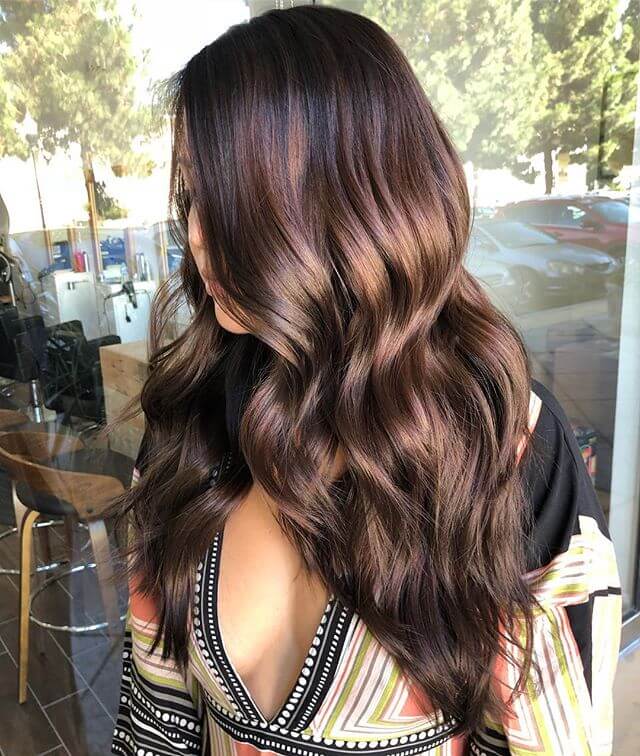 Source: glamdoll1 – instagram.com
These long, sleek curls are magazine ready! While they aren't exactly well-defined curls, this look is far from messy looking. Rounded, wavy curls will help you show off the undeniable shine of your long, luminous hair. While the color options for this lengthy cut are really a matter of taste, the darker the hair the more apparent and pronounced the shine of your shimmering waves will be.