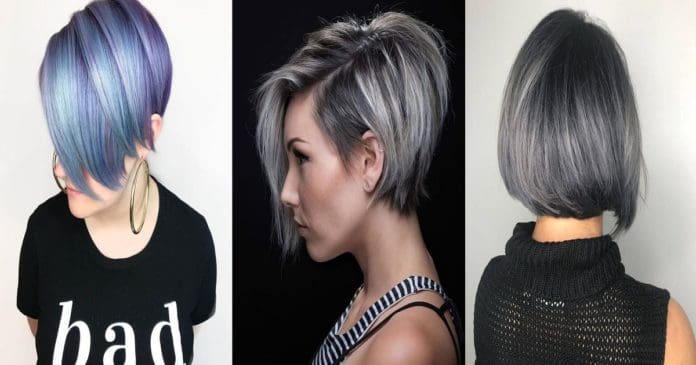 Having thin, flat hair can be a pain. I totally get it. Fine hair is notorious for having a lack of volume and texture. Styling can be difficult to accomplish without breaking the delicate strands. However, with the right styling tips, a high-quality shampoo and hair products to add volume, you can have a cute and cool style for a fuller, bouncier head of hair. The best haircuts for fine hair add layers around the face. Laying gives the hair movement and volume. You can also try using deep waves, thick curls or a side part for a thicker texture and the appearance of more volume to your hair.
1) Short With A Twist And A Touch Of Curl
This cute short haircut is perfect for those who have narrow faces. This can be the best haircut for fine hair and adds volume and bounce to what would otherwise be a limp, flat head of hair. Notice the blond highlights that reach to the ends of the hair. Highlighting your hair in this way can give the appearance of a fuller head of hair.
2) Straight Yet Full With Natural Coloring
If you are more interested in a natural appearance for your fine hair, consider this just-above-the shoulder haircut. Those with oval faces can benefit from this plain and simple, yet beautiful hairstyle that is perfect for all those who want a sweet and pretty best haircut for fine hair.
3) Nut Brown With Golden Highlights Haircut For Fine Hair
Keep your inner self a secret with this delicately draped hairstyle that falls gently around the face. The gentle waves add interest and body, while the golden lower half adds a beautiful touch of sunshine in an otherwise single-toned appearance. But don't be fooled. This hairstyle can also be worn in a short ponytail for a sporty look.
4) Platinum Blonde For Pretty Pictures
Platinum blonde is one of the most popular hair colors of the current trend because of its striking appearance. A shortcut for fine hair lends itself perfectly to this trend, creating something that is cute, attractive and practical at the same time. This look is perfect for those who work in professional settings and those who simply want a quick and easy style.
5) Straight With Sunglasses: Who's Behind Those Foster Grants?
For those of you who like it really short, this bob cut is for you. Gently cupping your face, this hairstyle for those with fine and delicate hair will appreciate the sense of body this style brings. It is uncomplicated and natural, not too hard to care for, and is perfect for busy moms and active teenagers.
6) Pretty Silver Accents With Dark Undertones
Dark hair is especially pretty when it is touched with silver accents. This silvery short hairstyle beautifully showcases the natural beauty present in ahead with a few gray hairs. The fullness of the cut adds body to the hair and makes it appear to be thick and lush. Just because your hair is graying does not mean that it is ugly. Silver hair has its own unique beauty.
7) Hello Little Pixie, Where Are You Going?
Pixie cuts are one of the best styles for short and fine hair. The shortness of the cut prevents the weight of the hair from pulling itself out of shape while adding volume and lift. The style frames the face as well, adding softness and femininity. Leprechauns and fairies of the world, unite!
8) Highlight The Natural Luster Of Mahogany Locks
Touching up the ends of mahogany hair can add interest to an otherwise single-toned hairstyle. The shortcut gently wraps itself around the neck, keeping your ears covered while still maintaining the shortness required to give fine thin hair the most attractive appearance. The gentle waves add bounce and flair to your hair for a beautiful look.
9) Rich Reddish Brown Stands Just Fine On Its Own
Rich brown hair color can be a natural look for some. Highlight the natural beauty of your hair with this cut designed specifically for fine hair. The waves in the middle of the length add a bit of curl while allowing the natural body of the hair to reveal itself. This pretty hairstyle style kisses your shoulders and is perfect for those who want their hair not too short, not too long, but just right.
10) A Karate Chop Is Not Always Harsh
A straight cut of the hair to form a level line with the neck is not always a bad thing. This style can be made to look sweet and appealing by using a good shampoo and allowing the hair to dry naturally after washing it. A quality conditioner will prevent split ends while maintaining the natural beauty of a healthy head of hair.