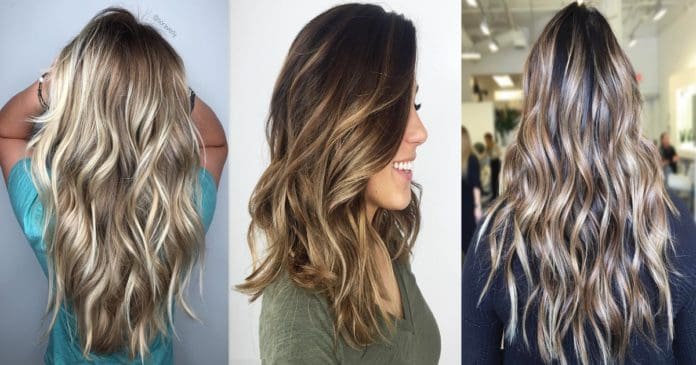 Balayage is a French hair coloring technique where the color is painted on the hair by hand as opposed to the old school highlighting methods with foils and cap highlighting. The free-hand application allows to achieve a more natural and modern effect with subtle transitions between the chosen hues, whether blonde, brunette, red or unnatural colors, such as popular pastels and even neons.
The Difference Between Ombre and Balayage
Ombre is a darker shade washed to a lighter shade, with no darker pieces at the ends of your hair, whereas balayage is well-blended vertical highlights that let glimpses of a darker shade throughout the length and even at the ends. With ombre the lighter shade is denser and its concentrated mid-shaft to ends. The lighter pieces of balayage are placed strategically, some start higher and closer to the roots, others lower, and some brighten the ends, resulting in a less uniform, less predictable and more natural style.
#1: Long Waves with Warm Caramel Balayage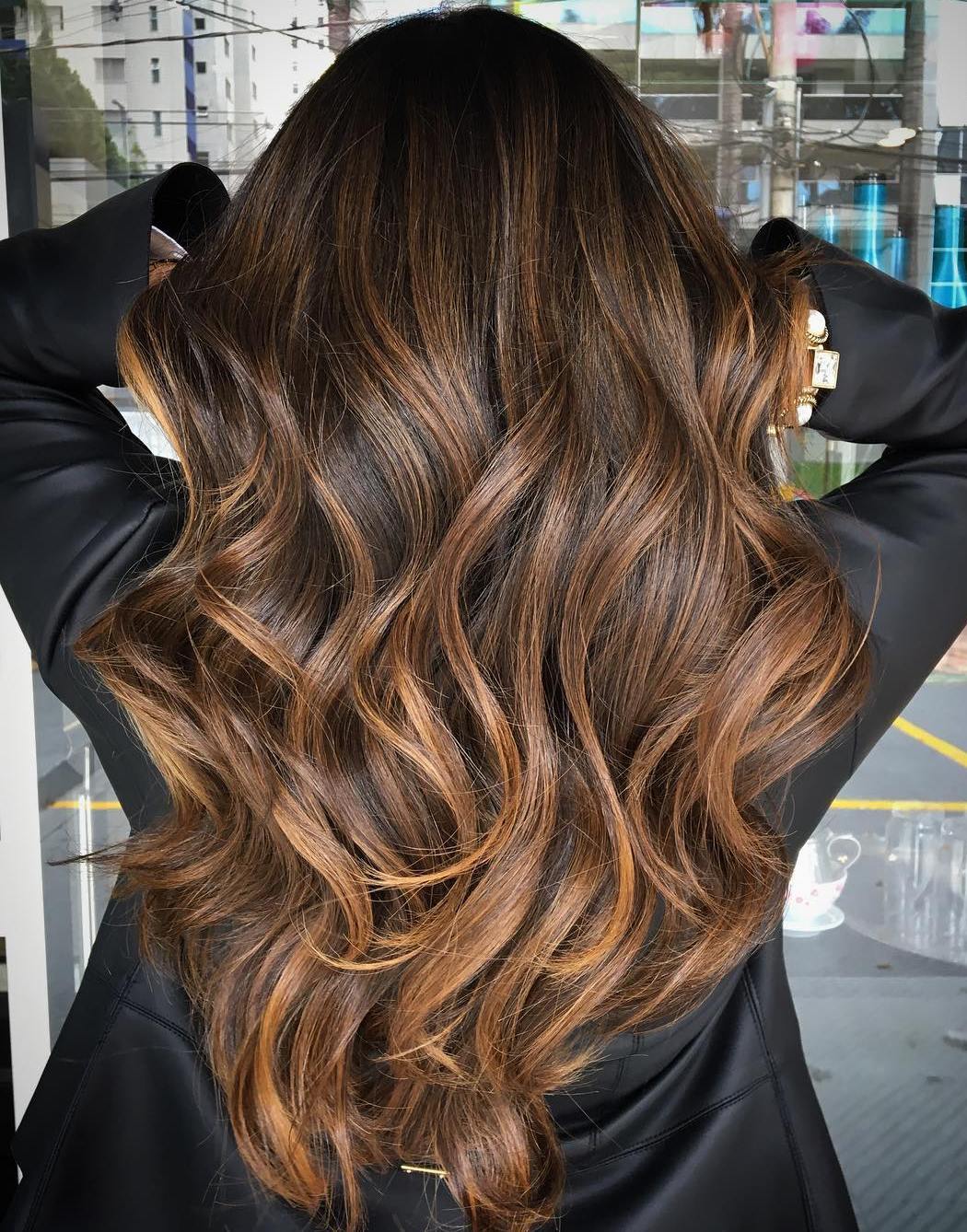 Instagram / @cris_cobucci
Long hair, tumbling curls and caramel highlights make for a timeless combination. A variety of beautiful V-cut layers will add movement to locks and emphasize the warm undertones running throughout. Sophisticated and stylish.
#2: Dimensional Waves and Bronde Balayage
The good thing about highlights is that no matter what hair type you have, from pin straight to curly, an optical illusion of movement is created. On textured messy hair particularly, golden blonde balayage gives off a carefree beauty vibe.
#3: Sprinkled Chocolate and Caramel Balayage
Tired of espresso brown hair? Why not try a sprinkle of gorgeous burned caramel highlights? Introduce them slowly, with just a handful of fine streaks placed through the front. It will not only create a beautiful face-framing effect, but also look luxurious and cool simultaneously.
#4: Ash Blonde V-Cut for Fine Hair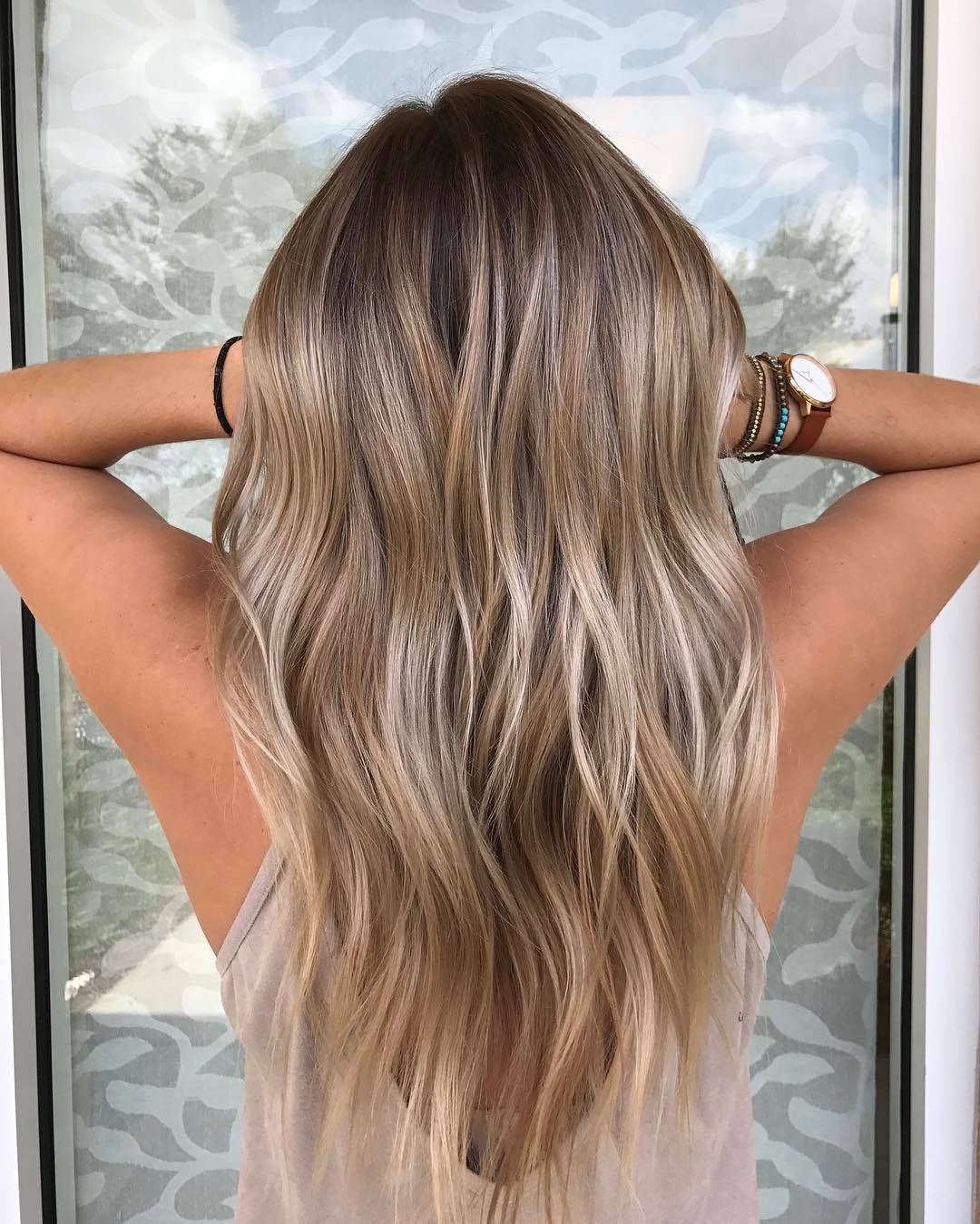 One can never go wrong with a staple Cali girl 'do. Platinum blonde highlights compliment ashy brown hair beautifully and give off a sunkissed girl-next-door vibe. Moreover, this color paired with a V-cut works wonders on fine hair by boosting its body and dimension.
#5: Medium Hair and Multi-Colored Balayage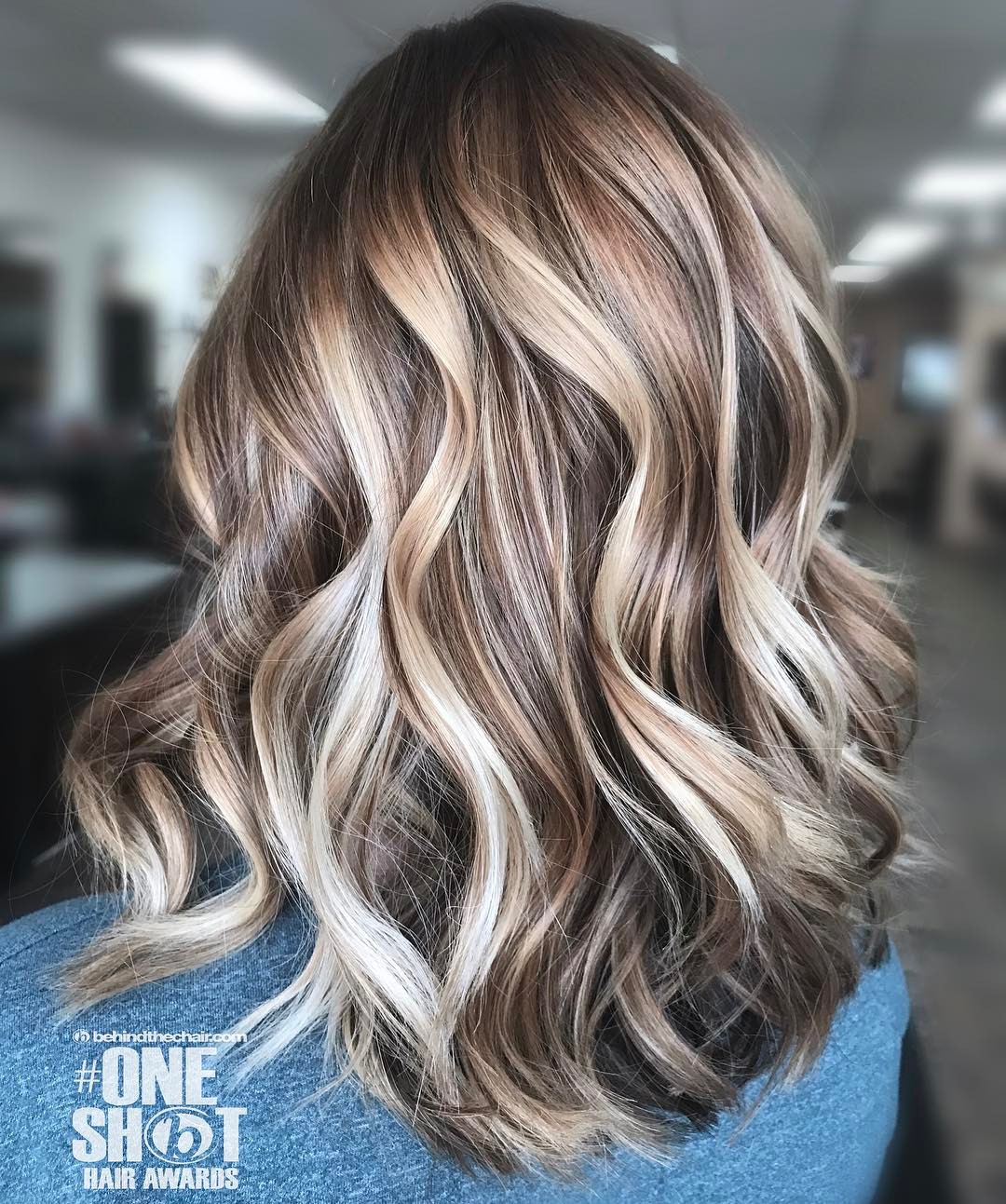 Thanks to the hand painted technique that balayage brings to the table, hair can truly look like a work of art full of dimension and gorgeous color blends. This collage of shades inspires and leaves us staring at all of the different tones. A wavy finish really shows off this masterpiece.
#6: Dirty Blonde Balayage Lob
This is an exquisite example of subtle balayage. Whether you like your base color or you're nervous to experiment with heavy highlights, slightly lightening the tips and face framing strands gives enough of a look update.
Instagram / @hairbybrae
#7: Shaggy Lob with Partial Balayage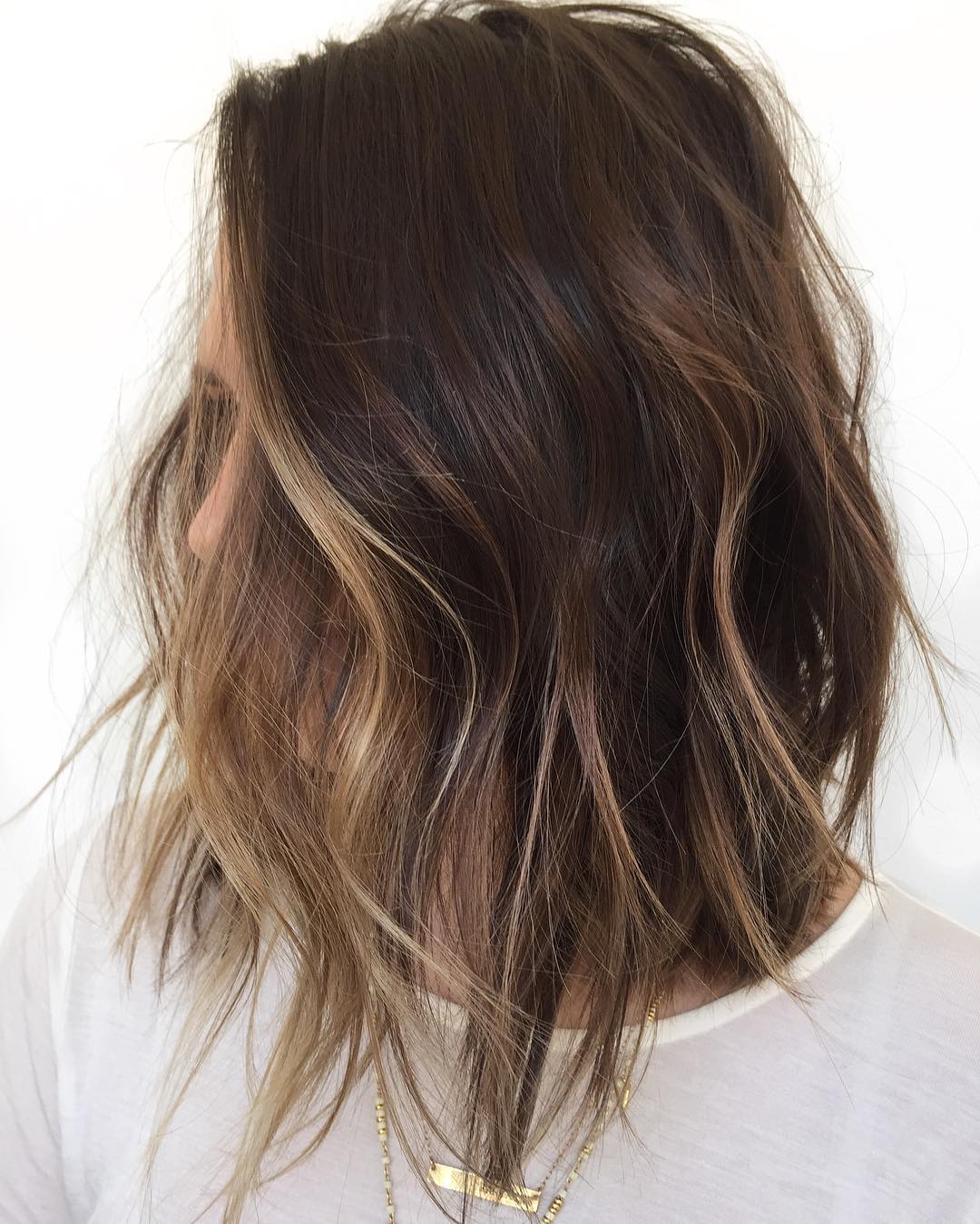 A smattering of super fine highlights can create a beautiful subtle balayage. Ask your colorist to paint luscious honey hues mostly around the face and a bit through the lengths, focusing on where the light naturally hits. Beautifully understated.
#8: Caramel-Toned Layers for Brunettes
Brunette balayage can be also performed with some delicious caramel tones involved. This hair color choice will be particularly flattering for women with warm complexions. The long luscious waves flow like real caramel. This mane is made to drive someone crazy!
#9: Dark Blonde Hair with Platinum Pieces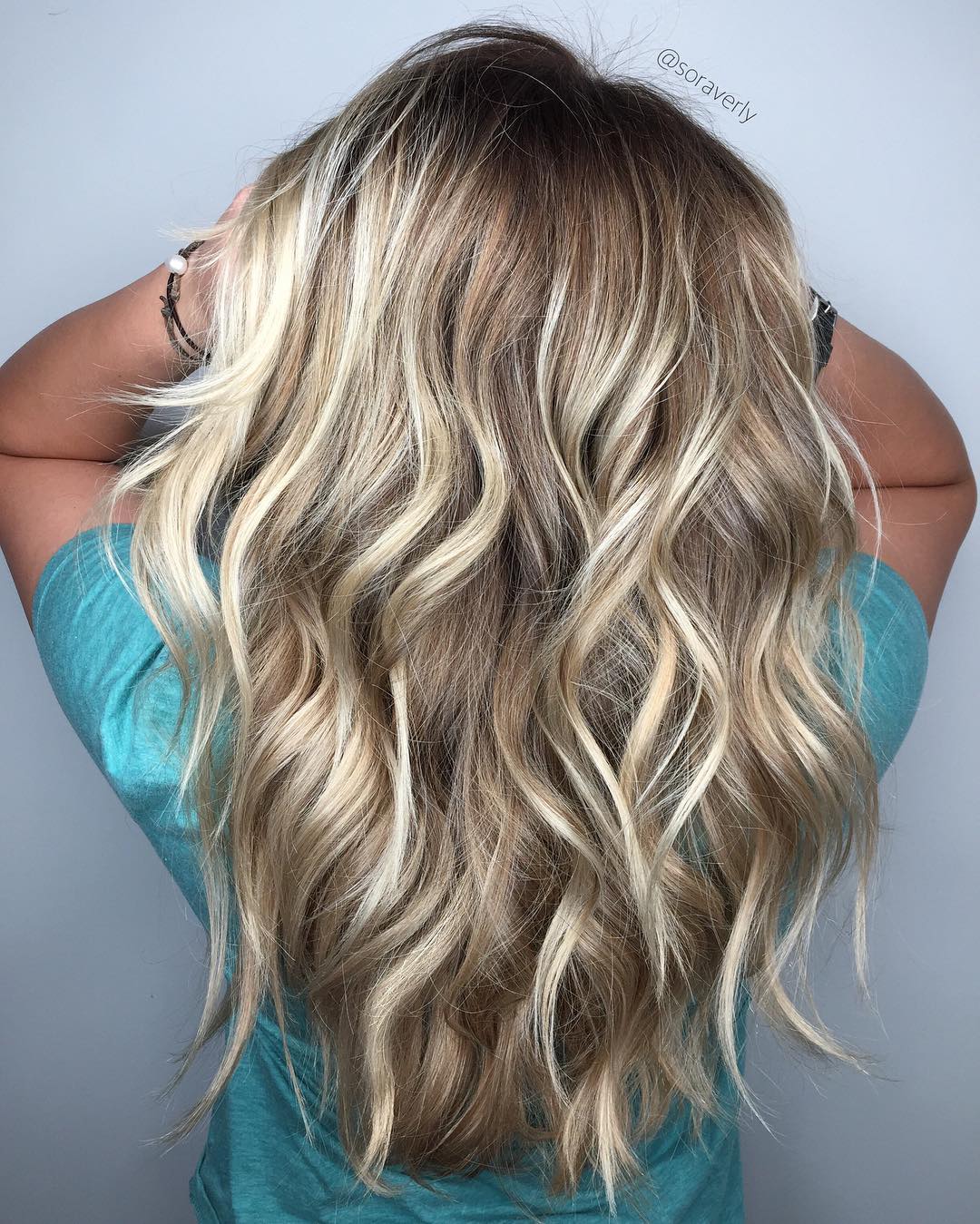 Forget the foils and opt for balayage highlights at your next salon visit. This clever contouring technique leaves hair looking sun-bleached. Here's a cute idea for dishwater blondes: icy streaks breaking up a darker dirty blonde base. Keep your balayage free from brassy tones by using a purple shampoo at least once a week.
#10: Choppy Bob with Soft Blonde Balayage
Say goodbye to flat color with a brunette balayage completed with soft honey and blonde highlights. Upgrading a shorter choppy cut with soft, feminine streaks feels modern and cool. Add in some understated waves and you're onto a winner.
#11: Bronde Coloring for Medium Hair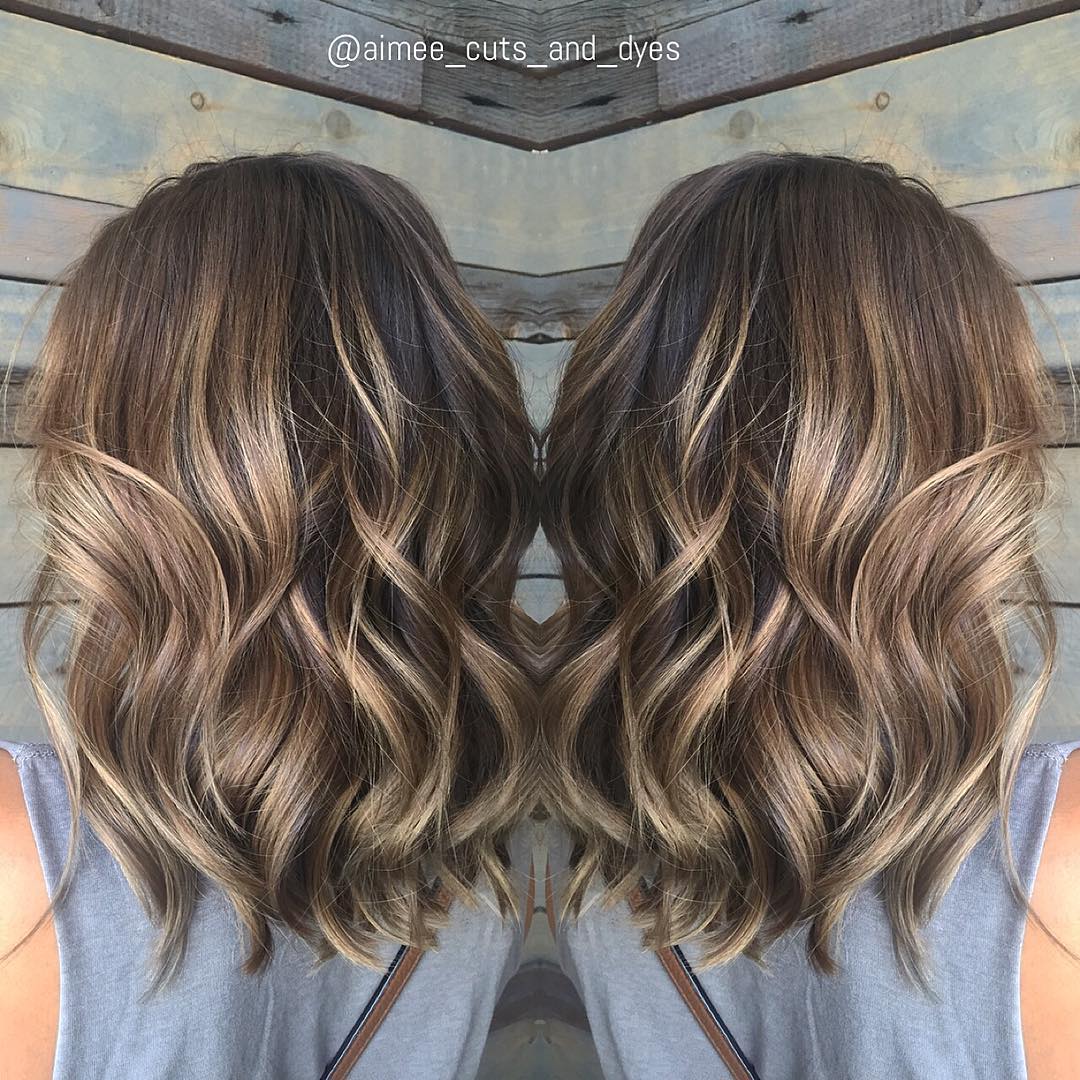 Natural brunettes— if you don't want a completely new hairdo but still wish to change up your look, freshen up your hair by lifting it to the delicious bronde pictured here. This is a risk-free update that is extra modern on medium length hair.
#12: Ombre Inspired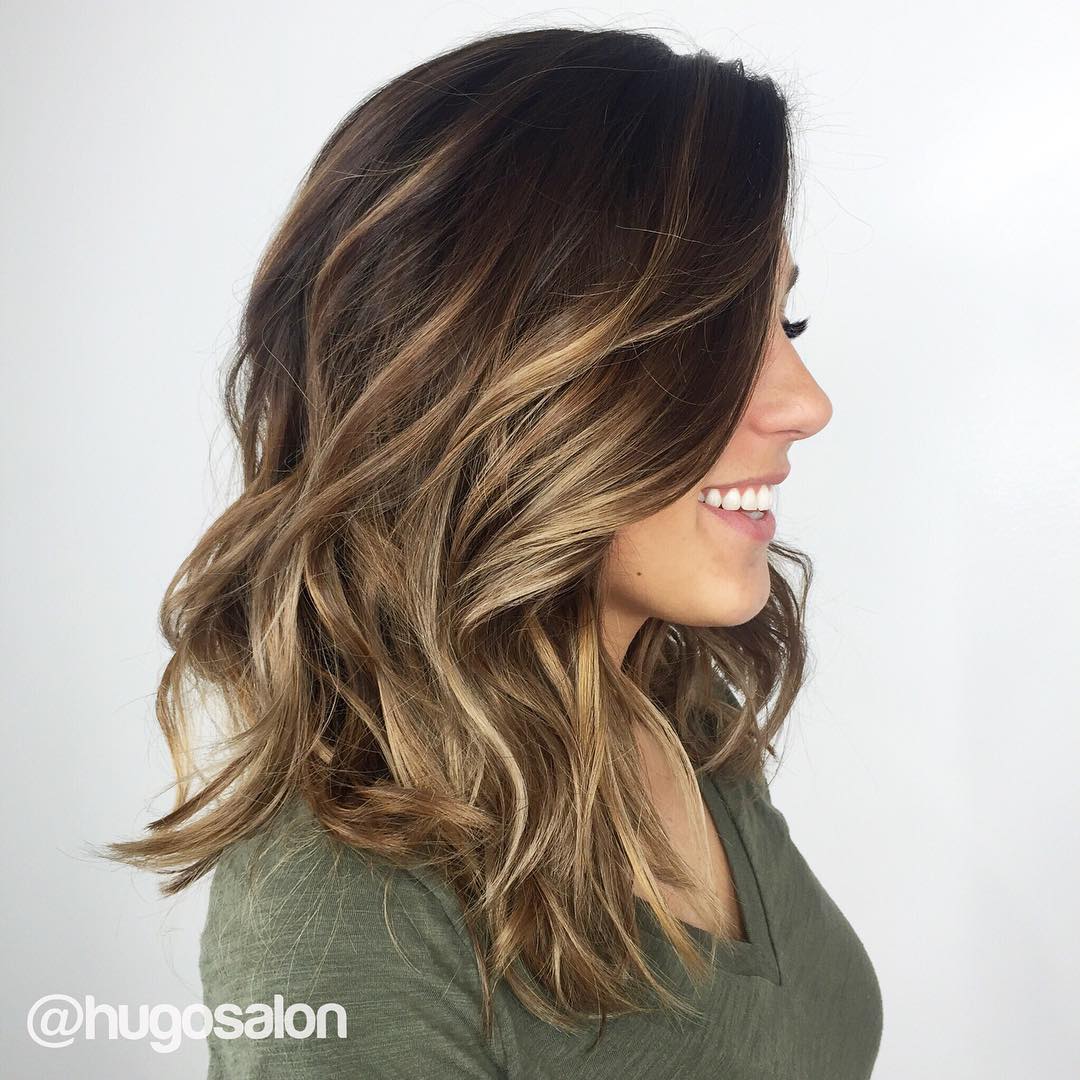 Ombre hair is still beautiful and in style, but it's gradually phasing out due to its severity. If you want something that looks more God-given than salon-given, go with a more natural balayage ombre that will flatter your features without overpowering them.
#13: Silver Gray Balayage Ombre Hair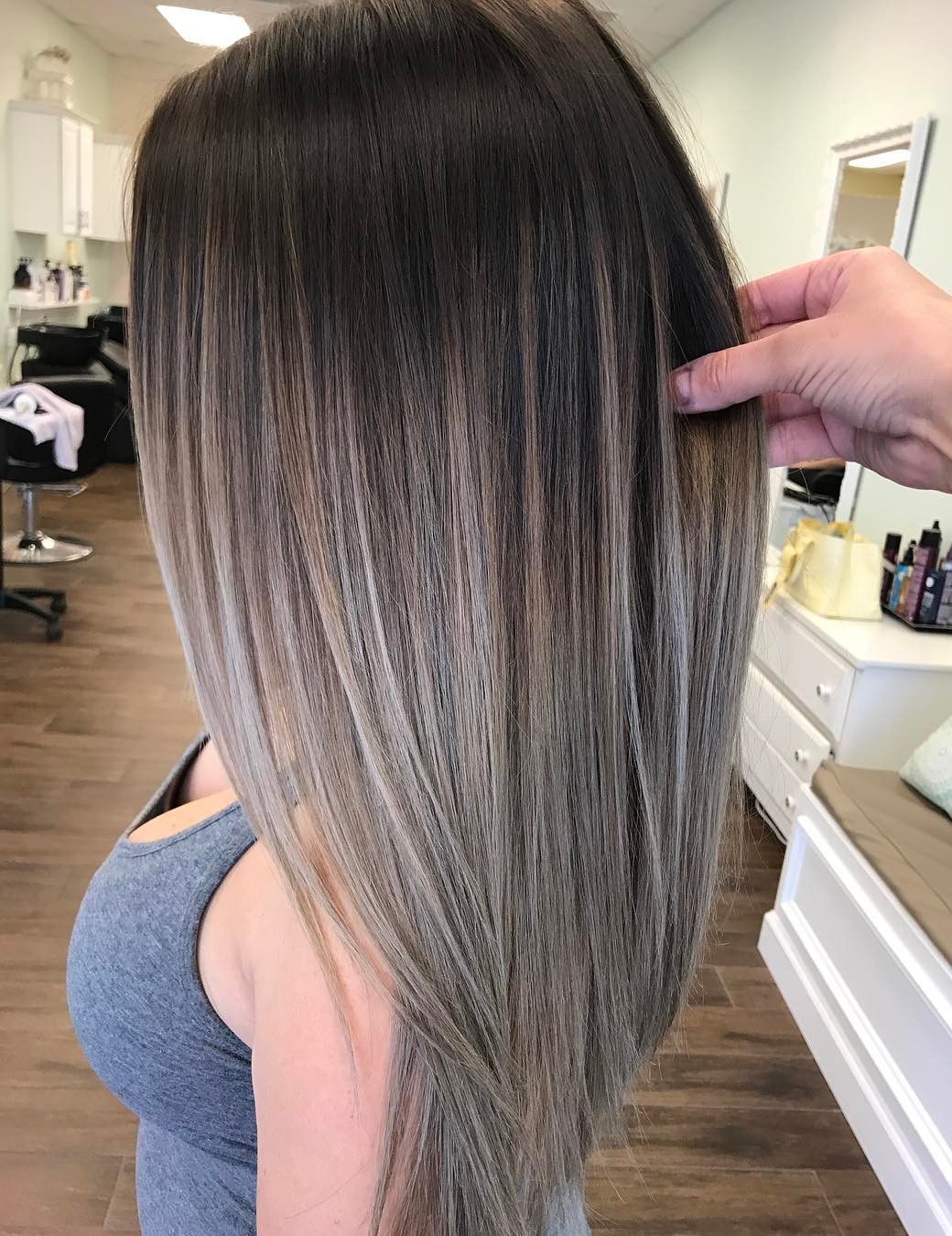 Silver hair isn't going anywhere! Accentuate a millennial grunge wardrobe with gray brunette balayage. There is a high contrast between the two tones, but a skilled colorist is able to hand blend both into each other.
#14: Brown Blonde Balayage Ombre
When you like the idea of lighter ends, but want to wrap it into the most popular today coloring approach, go for balayage ombre. In this particular look the beach waves seem to melt towards the ends – the most relaxed look ever!
#15: Chunky Honey Blonde Balayage
A beautiful balayage starts at the salon. No blocky highlights here! To get a flawlessly blended finish, your stylist will use a hand painting technique, picking up strands strategically and applying bleach and dye to create a gorgeous multi-tonal effect. True hair artistry!
#16: Honey Balayage with Flashes of Blonde
A mix of light brown and blonde pieces is a popular choice when it comes to balayage color combinations. Why? They can be tweaked to suit everyone! Ask a stylist you trust for their expert opinion on which combo you should go for, then take the plunge.
#17: Caramel Balayage for Brown Hair
Brunette balayage can have as many varieties as you can imagine. If you prefer a natural look of sun-faded locks, caramel and blonde tones are a worthy choice. Those shades can breathe new life into your common choppy bob haircut.
#18: Chocolate Brown with Caramel Highlights
Dark brown hair and balayage highlights complement each other beautifully, as evidenced by this gorgeous hair color choice. With the chocolate brown base diluted with caramel highlights, this is absolutely a fuss-free and flattering look. The undone waves placed throughout also keep this look modern and fresh.
#19: Textured Bob with Golden Blonde Highlights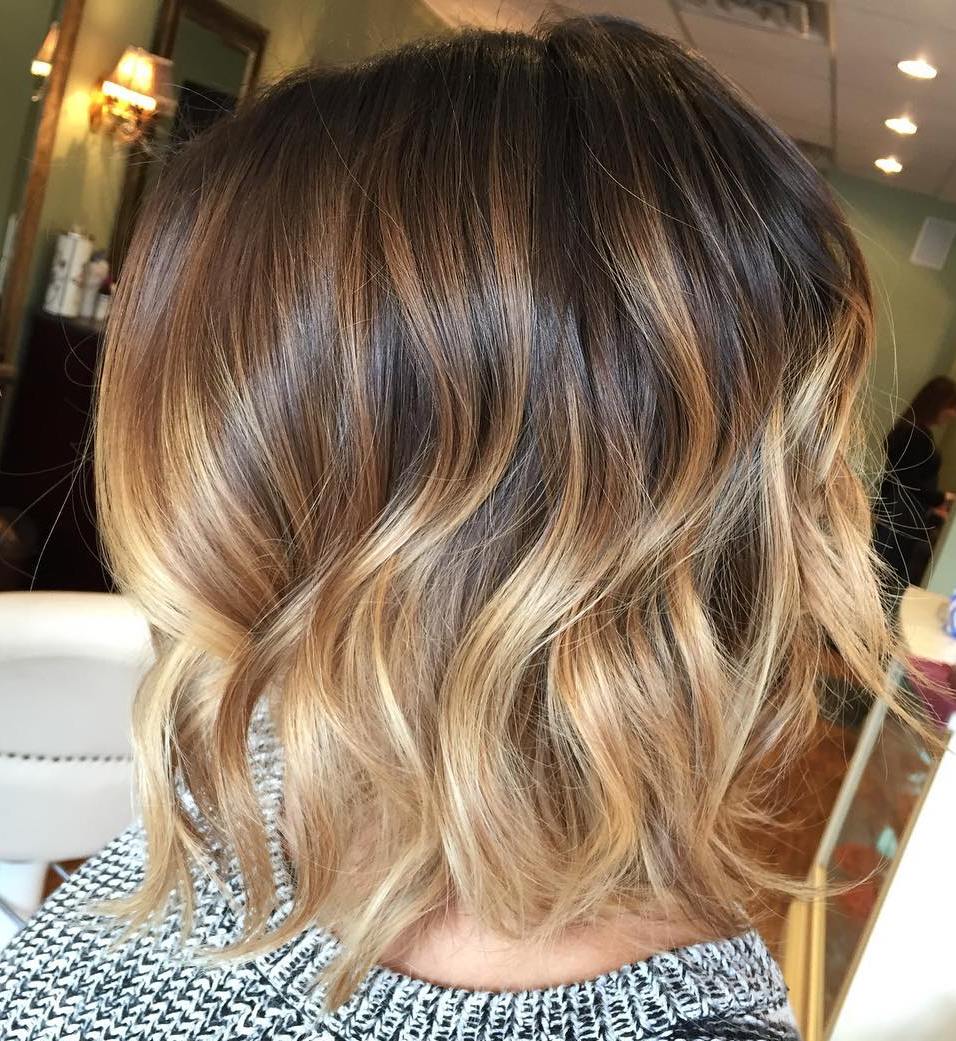 A bob cut is super cute on its own and flatters most face shapes. A mix of dark brown, light brown, and golden blonde shades can really bring out the beauty of this style. Concentrate the lighter shade at the tips for a cool contrasting look.
#20: Dark Brown Hair with Caramel Balayage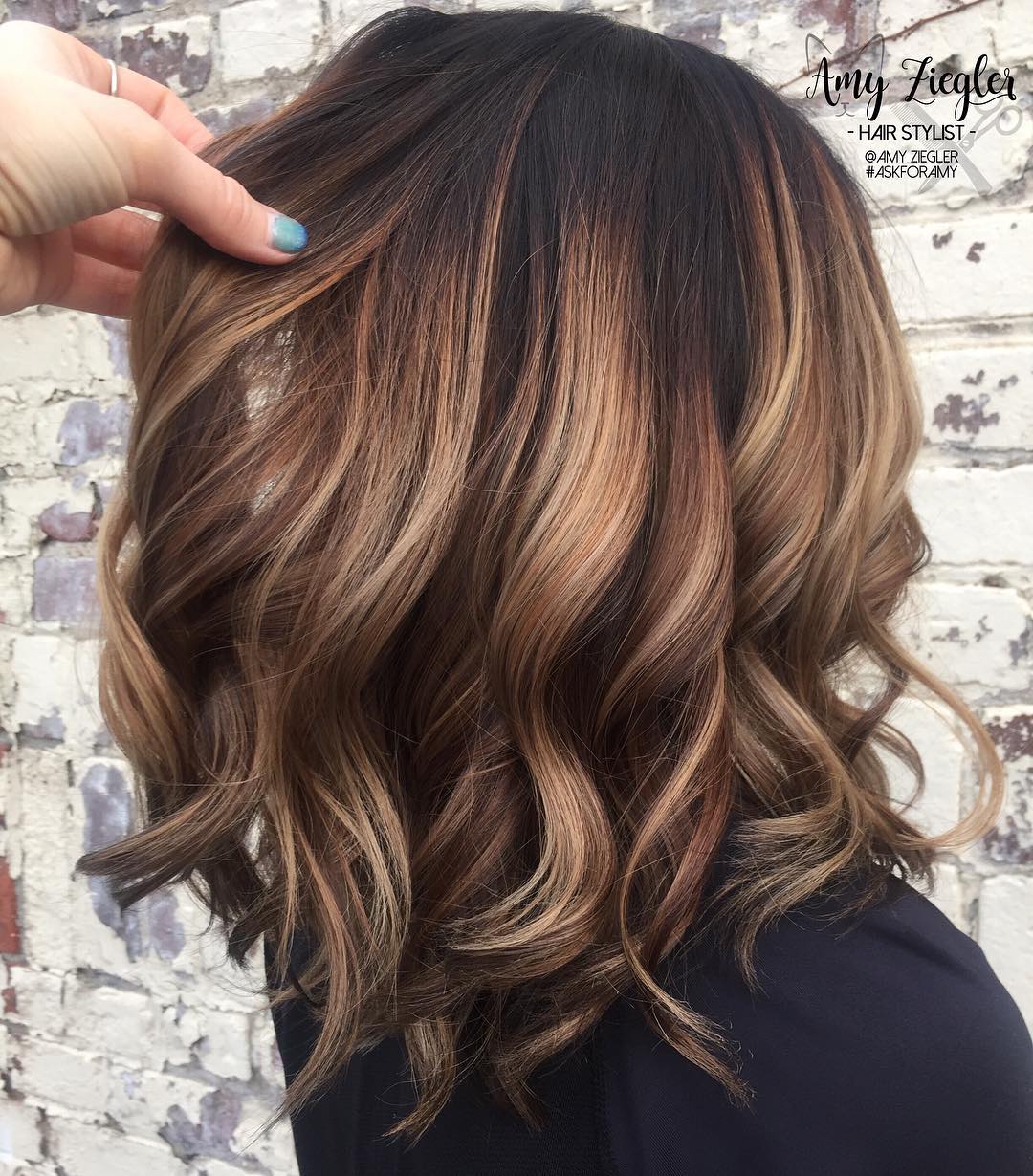 How gorgeous is this caramel balayage? If you want to break up very thick brown hair, illuminating streaks will create dimension and volume. Hints of amber and rose gold compliment brown and black hair, and provide a great transition shade if you're looking to go lighter in the future.
#21: Cool-Toned Blonde Colormelt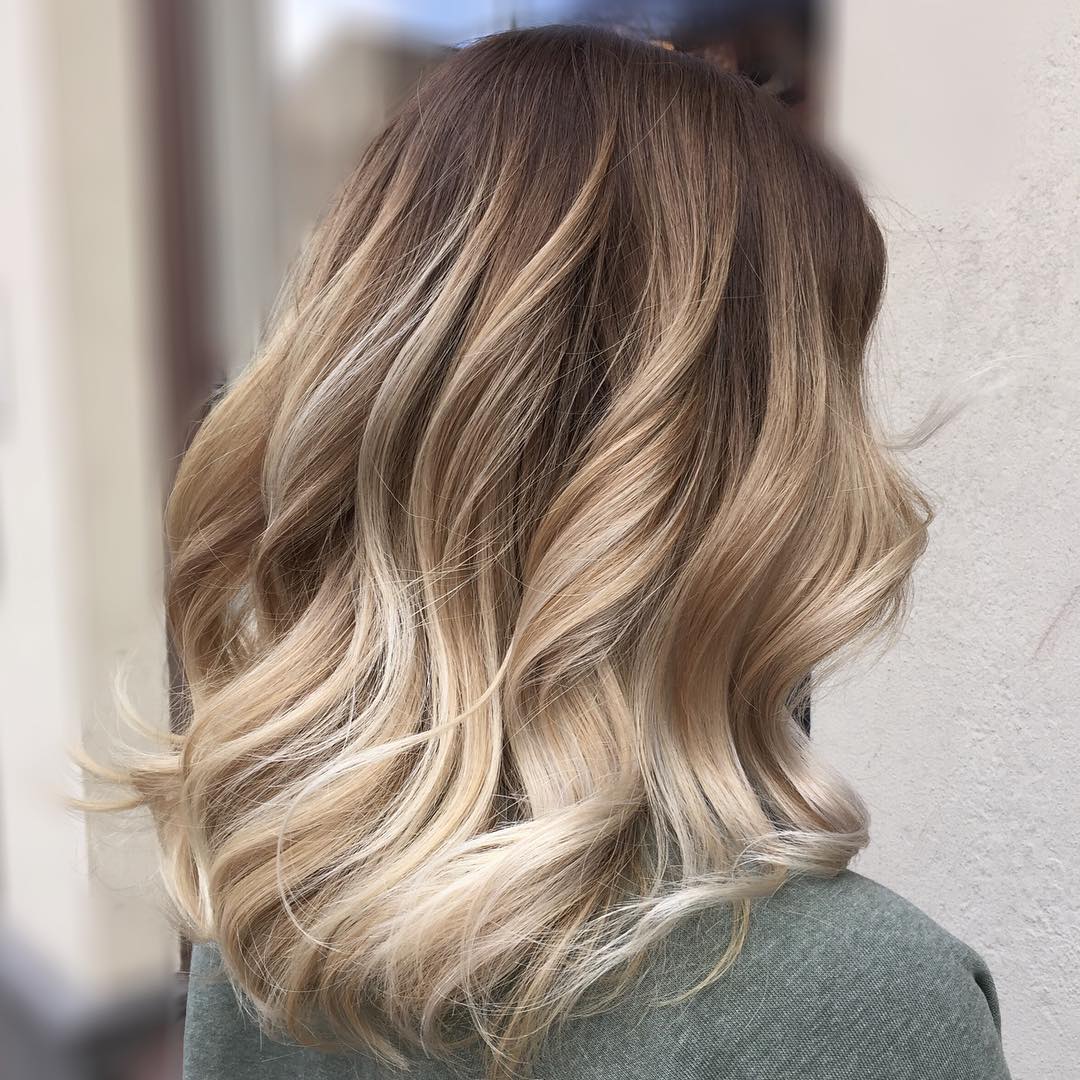 Balayage styles aren't going to step out of the spotlight any time soon, and it's easy to see why when they look this fantastic. It's the perfect example of blonde and brown shades melting seamlessly into one another. To recreate the look, ask your stylist to include honey, creamy beige and platinum hues into the mix for a sublime, dimensional finish.
#22: Medium Hair with Copper and Beige Highlights
These tresses boast endless shades to admire. The trick to this 'do is using shades that suit your skin undertone and blending high contrast colors through transitioning hues like caramel and copper in this example.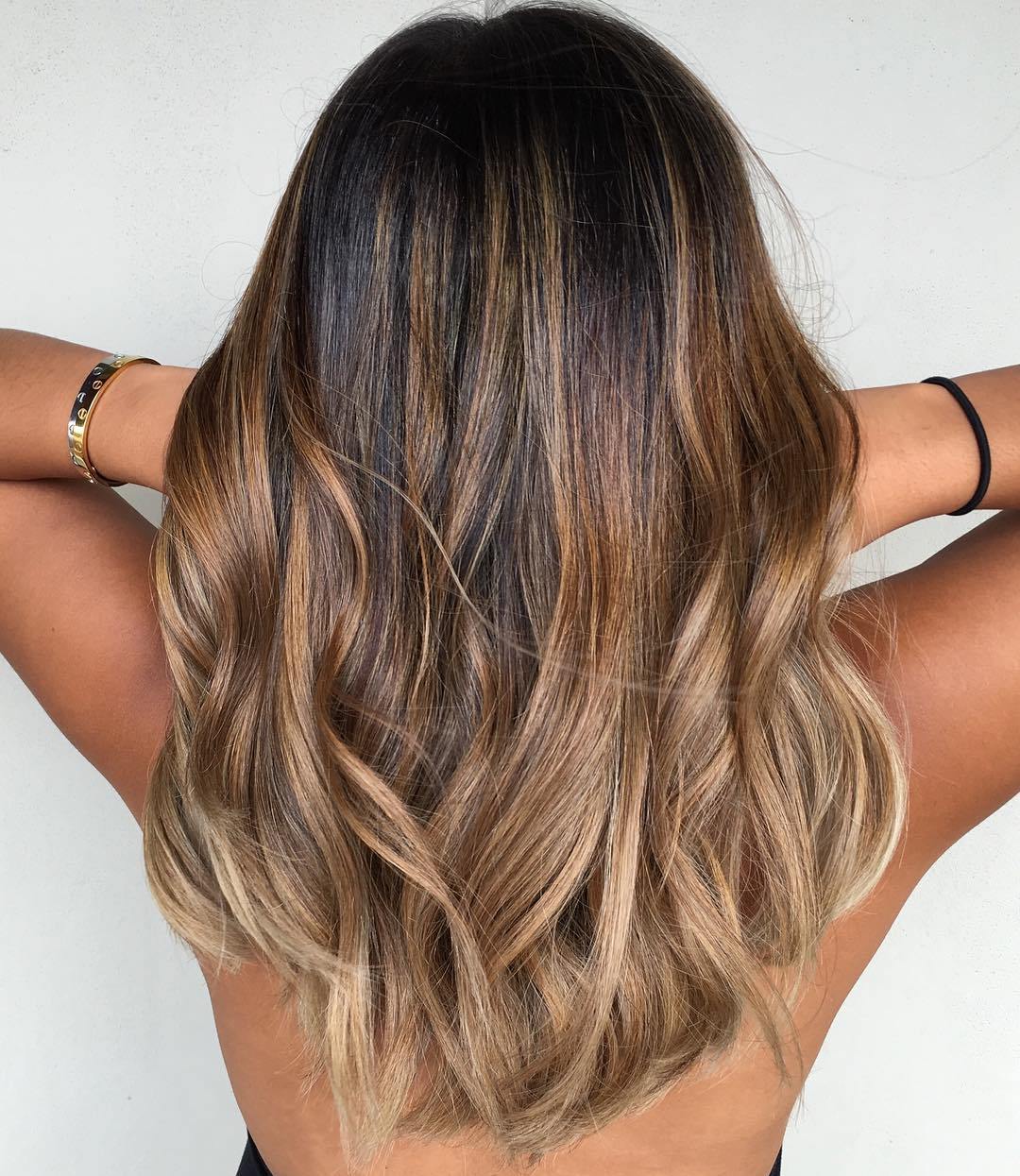 Instagram / @sharchang
#23: Brunette Bob with Caramel Highlights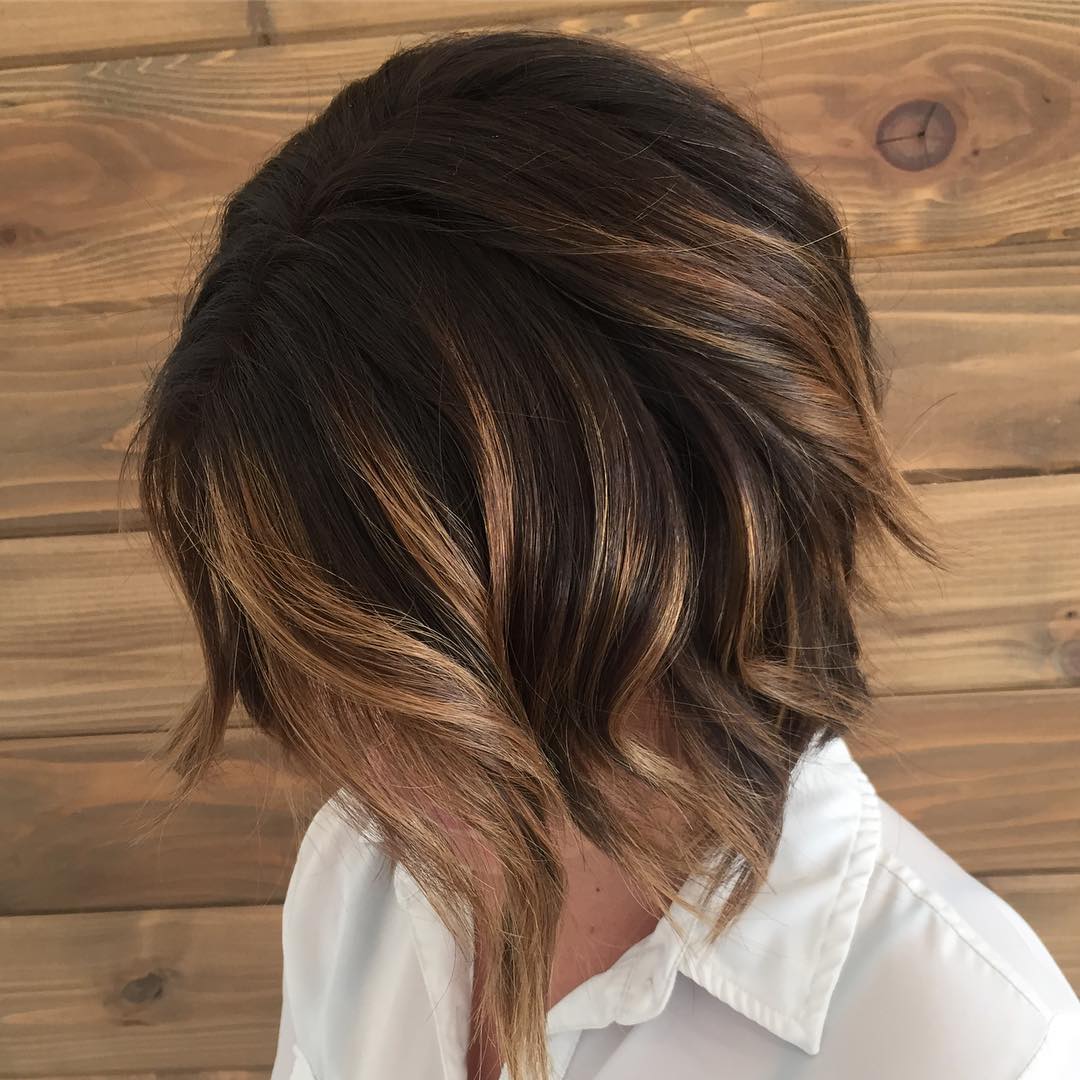 Ladies with short hair, spice up your bob by dyeing tips a caramel or sandy shade. Highlights that have a reddish nuance flatter deep brunettes amazingly. Balayage hair color is a great option for women who are looking to grow out their short manes, too!
#24: Caramel Balayage on Shorter Locks
Short hair is a sexy canvas for a warm balayage. The caramel highlights swirled throughout the loose waves deliver delectable style. It's an easy look for brown-haired girls who don't want to fully commit to being blonde. Plus, the shoulder-sweeping length is sassy and exudes confidence.
Instagram / @HAIRBYKARISSA
#25: Brunette-to-Blonde Balayage Waves
Beauty starts with amazing hair. A glossy caramel balayage is one way to ensure that your locks (and your total look) stun every day. Have your stylist give you layers towards the end of your tresses for the effect of added fullness.
Instagram / @HAIRBYSTEVIE
#26: Caramel Highlights on Dark Hair
A lush caramel hue woven throughout dark strands creates an interesting contrast that plays-up the airy texture of a wavy cut. The wavy tresses are ready for everything from lazy days to dates. Even if you throw these long layers into a ponytail, the color will still shine through.
Instagram / @JANDREWSERNA
#27: Short and Sweet Curly Balayage
Enliven your elongated bob with some curls. Have your stylist throw in a few pieces layers for good measure. This spin on the bob straddles the line between sophisticated and chic. The balayage simply amplifies its modern allure.
Instagram / @CHRISWEBERHAIR
#28: Balayage on Extra Long Haircut
Balayage caramel highlights are the answer to no-fuss style. The gorgeous color really carries your hairstyle, no matter the texture you choose. The highlights don't need to be dramatic either. They can be more on the subtle side so that you add just a touch of color to your dark hair.
Instagram / @HAIRBYEDWIN
#29: Ombre to Balayage Transformation
It is simply breathtaking the way the varied colors in a balyage wrap around and flow through the coils of curly hair. There is so much depth and dimension. Plus, when you're not feeling like curls, the color is super versatile. The balayage starts high, closer to the scalp, so as it grows out it needs little maintenance. It's a win-win, right?
Instagram / @HAIRBYANGELAALBERICI
#30: Caramel Balayage with Middle Part
Balayage is a great color choice on its own, but maybe you are currently rocking the classic ombre. Ask your stylist to convert that ombre into a balayage for a more natural look with a subtle fade from black to caramel. Even though you are adding more color, the overall hairstyle will be more understated.
Instagram / @HAIRXJOJO
#31: Caramel Highlights on Brown Hair
Dark brown hair with caramel balayage is the perfect combo if you're looking to experiment with color but don't want to be too dramatic. The subtle contrast delivers effortlessly chic style, especially when paired with easy waves.
Instagram / @PETERMENEZES
#32: Strawberry Blonde Balayage
Dark roots are no longer taboo. Use them to your advantage with a caramel and strawberry balayage. The blend of colors is mesmerizing; it enhances the appearance of fullness and dimension in your hair.
Instagram / @LITTLE_LELE_SCISSORHANDS
#33: Black Bob with Caramel Balayage
There is a fine line between bed-head and tousled waves. That line is known as the "done-undone" look. Effortless, cool, and sexy all in one, it's an it-girl essential hairstyle. Caramel coloring on short dark hair only makes the coif even cooler.
Instagram / @SALSALHAIR
#34: Dark Hair with Trendy Balayage
Caramel balayage on black hair can bring life and dimension to your noir tresses. While a solid jet black mane is sexy, adding some color is a chic change. The darker your hair, the more subtle you want the highlights to be, which is why caramel is the perfect complement.
Instagram / @THE_BLONDOLOGIST
#35: Straight Balayaged Hairstyle
Waves and balayage seem to go hand-in-hand, but don't be so quick to dismiss straight hair. Caramel and auburn hues can beautifully be shown-off with sleek, back-skimming strands. Sans curls and waves, the balayage is more subdued.
Instagram / @HAIRPRINTBYLIZZ
#36: Wavy Chocolate and Ashen Balayage
For all the brunettes out there who can't decide if they want to go blonde, a caramel ash balayage is a sweet compromise. The mix of chocolate and lighter hues accentuates the texture of curled hair, and creates an illusion of light reflecting off your tresses.
Instagram / @CAITLINFORDHAIR
#37: Curled Hair with Subtle Balayage
Caramel balayage highlights can be very subtle to give the look of sun-kissed locks. Maybe bold colors aren't your cup of tea and you are more focused on hair with volume. Slightly lighter ends create the appearance of fullness you're seeking, without being over the top.
Instagram / @ALEXGODOY
#38: Long and Wavy Caramel Balayage
Long hair means much work for a colorist, but that's not to say you can't keep the balayage simple. It's just more length to show off with glossy caramel highlights strewn throughout. The warmth of the style will stun all year round.
Instagram / @HAIRBYANGELAALBERICI
#39: Medium Length Bronde Balayage
If you are looking for a very fashion forward hairstyle, definitely have your stylist use very light blonde towards the ends. The blonde and browns are gorgeous and command attention. All of these hues mixed in one dye job work well with short to medium-length locks, so that you don't have too much of a good thing going on at once.
Instagram / @KRISTEN.LUMIERE
#40: Barrel Curled Balayage Hair
Make your caramel balayage standout with sleek layers and big barrel curls. The luscious curls are perfect for an evening event, and when you brush them out in the morning, you will have the perfect beach waves.
Instagram / @PARRUCCHIERIDELCORSO
#41: Chocolatey Balayage
The caramel auburn hue teamed with the chocolate brown creates just enough dimension, that is subtle while still visually intriguing. The beauty of balayage is how the color blends into your natural hair color so smoothly.
Instagram / @OFF7THSALON
For all the dark-haired ladies, the lighter browns with your naturally chocolatey, deep brown, and black strands are a way for you to experiment with color without being afraid that it will result into a high contrast dye job. There is a range of shades to mix with the caramel too.