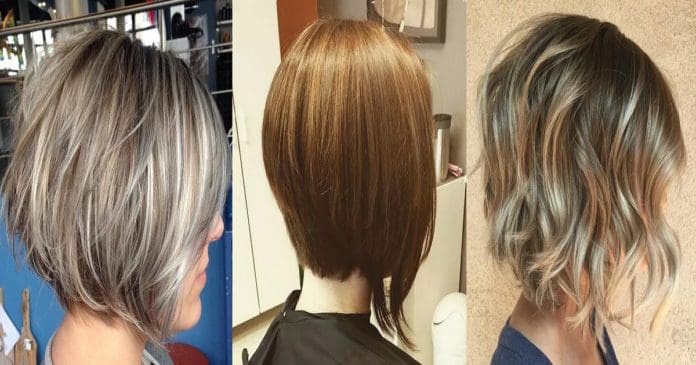 Short bobs have been popular in some form for decades, but the modern bobs are truly unique in their versatility and edgier style. Incorporating color, shape and dimension, short bobs can be worn by any woman looking to try something new.
Short Bob Hairstyles
The following shorter bobs are truly unique. It's not a challenge for a contemporary woman to look individually with a short haircut anymore. See for yourself.
#1: Messy Blonde Bob with Lowlights
The short bob hairstyles of today are not what they were yesterday. The trendy blonde is no longer one, solid tone, it's transformed into a light ash blonde color with lowlights. Accordingly, a bob is no longer just a bob, it is a messy, graduated bob with air within the strands, and it looks quite fabulous!
#2: Tousled Blonde Bob
Keeping the ends of your cut uneven with shorter blunt edges and longer choppy strands makes for a cool cut full of personality. A perfect way to style it is in a laidback, tousled 'do. Achieve by staying away from heat tools, while staying true to natural hair texture and using bedhead styling sprays.
#3: Messy Blonde Bob with Thin Choppy Layers
There's so much versatility in short bob haircuts; if you're not into uni-length bobs or lobs, implement many short, choppy layers throughout. Not only do they bring a lot of movement but they also add body to finer hair.
#4: Blonde Balayage Bob with Black Roots
Short bobs with choppy ends are super chic and trendy but for some tastes they can seem a bit flat. Playing with color through balayage highlights and dark roots helps to solve this problem, bringing depth and dimension even into sleek, straight hairstyles.
#5: Short Bob with Scrunched Waves
Loose, easy-going styling suits a shorter bob perfectly. Using a curling wand or texturizing products, shape some shattered, natural-looking waves, and don't strive for perfection! A deep side part is also a great idea for such breezy hairstyles!
#6: Asymmetrical Pixie Bob
One of the eccentric forms of short bob cuts is an asymmetrical choppy pixie bob that is a perfect fit for a fashionista on-the-go. When you go to the salon, it's good to have at hand some pictures that depict the perfect degree of choppiness you want.
#7: Choppy Stacked Bob
The choppy layers upgraded with a soft whimsical color make this pale purple bob hair style a delicate beauty. The layers are stacked well and tousled for a shaggy, carefree look.
#8: A-Line Sleek Bob
The colorombre trend is optimal for those who are longing to add a funky shade to their short bob hairstyles. Those tiffany blue streaks on the smoothed gray bob scream chic and add dimension to the style.
#9: Short Beachy Angled Bob
This platinum blonde mane with dark roots is smoothly styled with soft beach waves transforming a casual angled bob into an absolute creation of sexy summer glamour. It looks so alluring, it's almost like she was born with it. Almost.
#10: Burgundy Bob with Orangey Highlights
Bob haircuts for women let us experiment with colors and textures, while our hair is short, but not awkward-short; it's trendy and nice-looking! Pair burgundy and caramel, golden blonde and silver, or whatever striking combination comes to your mind; with shorter hair it's much easier to pull off bolder colors and the potential damage is not so significant.
#11: Tousled Short Bob with Pink Ombre
Skimming through edgy short bob hairstyles? Want to join the pink hair league? This image right here could be you! The almost purple pink washes out through the pale pink jagged layers creating voluminous tousled texture you want to run your fingers through. This hairstyle is as fashion-forward as you want it to be and as free-spirited as you can imagine!
#12: Rounded Brunette Bob with Voluminous Layers
Bobs are fabulous for women of all ages because they give off a classy yet youthful aesthetic. Particularly striking in deeper, dark colors, you can never go wrong with a uni-length solid colored hairdo. Layers help to lift up roots and add tons of volume.
#13: Sassy Feathered Blonde Bob
Feathering is the wisest strategy for fine hair. Razor cutting methods for bob styles blend tips of strands together while adding necessary texture and volume. The concave, swoopy styling complements this haircut best.
#14: Blonde Bob with Bold Dimensional Waves
Pastel dyes are a different way to add more vibrancy to short bob hairstyles. Put in a medley of shades, like platinum blonde, dusty pink and your natural color for a visual feast. Worn in bold waves, the dimension gets shown off wonderfully.
#15: Sassy Marsala Balayage Bob
For our sassy ladies, a very short bob with a deep passionate balayage color makes a powerful entrance. Though the cut itself is quite simple, choose a vibrant tone to really pop. Wondering what color to decide on? Base it on your skin's undertone (warm, cool or neutral), while also analyzing the color wheel's complementing tones that will make your eyes look brighter.
#16: Glossy Brown Inverted Bob
Medium brown is an underrated hair color. Undertones of this shade are neither warm nor ashy, but a happy medium. It's quite natural, so your short bob cut will look especially healthy and thick when topped off with shine spray.
#17: Curly Feminine Blonde Bob
One of the most feminine ways to style a bob is with big, loose curls. You can achieve this using a thick barrel wand or a regular curling iron with a clamp. Tousle the curls making them settle more naturally.
#18: Short Messy Curly Bob
An appealing aspect about bobs is that they give leeway to messy styling without making it seem like you haven't put effort into looking presentable. Getting miscellaneous layers cut throughout fills the cut with movement.