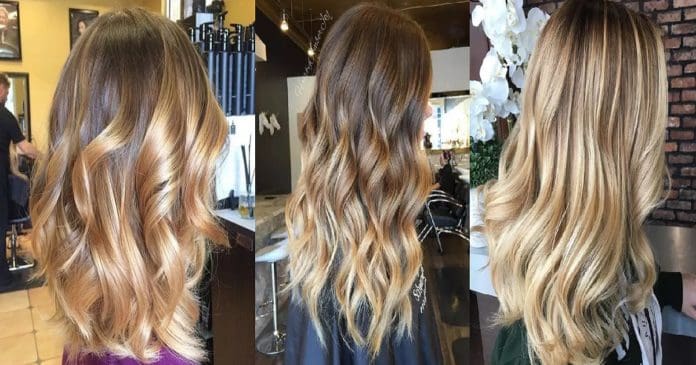 A great interest to blonde hair can be explained by the fact that every other brunette wonders what it is to be a blonde and tries a blonde hair color at least once. Today thanks to balayage and ombre color techniques, a border between blonde and brunette palettes is blurred. The lighter and darker, cooler and warmer shades are blended so expertly that we can enjoy a whole host of new hair colors you can choose your own solution from and stop looking like someone else.
Blonde Hair Color Ideas for You
A new blonde or bronde hair color will lift your spirits every time you take a quick peek in the mirror. The gallery below will help you to realize which direction you want to move – darker or lighter, warmer or cooler, softer or more dramatic.
#1: Buttery Blonde Hair
Source
Here is an inviting buttery shade of blonde that seems to have come from under the California sun. It looks dimensional and very attractive to the eye, simply because it instantly awakes associations of blissful hours by the ocean.
#2: Pearl Blonde Highlights
Healthy and natural-looking flaxen hair with pearl blonde highlights is a beautiful solution for girls who want to brighten up their dishwater blonde locks and get a new sophisticated hair color that won't be too outlandish or yelling.
Source
#3: Brown Blonde Balayage Lob
Today's hair ideas are endless because of the richest variety of hair shades you can mix in different proportions and get new looks even with your basic haircuts and hairstyles. Dimensional ribbons of brown blonde hair are always impressive whether your locks are long or just grazing your shoulders.
Source
#4: Medium Blonde Balayage
This medium shade of blonde will be a good choice for brunettes who do not want to stick to very light blonde hair but would rather prefer a low maintenance balayage that still offers the look and all the perks of blonde locks.
Source
#5: Brown Blonde Layers
As stated earlier, one of the main things to remember when rocking blonde is to be mindful of your complexion and what hues complement it. For olive tones, dark blonde hair with streaks of light brown and lighter blonde will work great and won't be hard to update when the roots grow out.
Source
#6: Caramel Blonde Hair
Caramel blonde is the sweetest and warmest reddish blonde hair color. It will make a beautiful frame for a face with the lightest skin tone and blue or green eyes. Very subtle blonde babylights and a few richer red streaks add to the complexity and uniqueness of the final result.
Source
#7: Bouncy Caramel Blonde Bob
Dirty blonde hair is a complex color that is not dark enough to be considered brown, though it's not an average blonde either. Some of the most popular celebrities that have embraced this shade are Jennifer Aniston and Lauren Conrad. Because it's a low maintenance color, it is best paired with a low-key style like casual messy curls.
Source
#8: Straight Sandy Blonde Layers
In contrast, pale blonde hair color is particularly flattering on women with fair or cool-toned complexions because of the beige hues in the color. It is important to avoid being washed out with such light colors, so make sure to help your facial features pop with a rich-colored lipstick and mascara.
Instagram/ @tarareich
#9: Rosewood Blonde Waves
What a gorgeous and sophisticated hue we knew nothing some 5-10 years ago! Is it blonde or brown? Is there a hint on pink or it's just the lighting? The most amazing hues can't be described in a few words. They create a unique look for you and make you feel special.
Source
#10: Beige Balayage for Light Brown Hair
With such beige blonde highlights brushed on the sides of your angled ash brown lob you'll rather look like a blonde, not a brunette. A stunning idea for a lady who wants to soften her look, but still appear pulled together thanks to the geometric silhouette of her cut.
Source
#11: Rooty Long Bob
Good fashion is like barbecue: a little sweet and a little spicy. In the image below, platinum highlights and razored ends create a light breezy feeling. Dark roots and undone texture add just the right balance of grit. A glossy finish ties it all together.
Instagram / @prettylittleombre
#12: Shoulder-Length Ombre
Instead of choosing a mid-range tone, deconstruct the bronde trend with this high-contrast mix of blonde and brown. Warm peachy hues soften the juxtaposition. The blonde color of the ends isn't solid, it rather alternates strips of two different shades: light honey and silver blonde.
Instagram / @kaleybess
#13: Icy Ombre Waves
Retaining a darker shade at the roots makes your mane appear thicker and keeps you from having to get it colored every 4-6 weeks. The wavy texture creates diffused edges and shows off the nuances of highlights. The moderate length helps maintain healthy ends.
Instagram / @chrisweberhair
#14: Warm Blonde Curls
Blonde doesn't have to be homogenous. A blend of honey blonde and brown highlights is anything but boring. Styling in loose coils reveals interior layers of hair, showing off the interwoven hues. Long layers add classic shaping that de-bulks ends and adds swing.
Instagram / @southmarksouth
#15: Long Bob with Babylights
For an au courant take on pale strands, try this color solution that reminds us of sun-kissed child's hair. Ultra-thin wispy blonde highlights give a sun-brightened effect that's vivid at the edges and barely-there in the roots. The long tousled bob enhances the youthful appeal while staying on-trend.
Instagram / @corynneylon_hair
#16: Dishwater Waves
Because most people naturally have cool-toned manes, keeping your color in the ash blonde range gives off a hip, didn't-try-too-hard vibe. The beachy wave are just as unfussy. Get them by twisting hair into a loose bun and air-drying.
Instagram / @hairby.ashleypac
#17: Wheat Blonde Ombre
The gradient blonde emerging from dark roots evokes the hues of a field of grain. The wispy, soft layers support the visual flow. Nature is a great source of color ideas. The pale hues of cereals provide a bounty of blonde inspiration.
Instagram / @stephengarrison
#18: Amber and Gold
Make your skin glow and your eye color pop with golden blonde hair. Warm blonde hair colors feel sun-kissed without tanning. The key to keeping them from feeling brassy is to add a bit of beige, which cuts yellow tones.
Instagram / @kearybladel
19 Medium Blonde Hairstyle
Source
Those who want a no-fuss style that will work easily with a jam-packed schedule full of events will love this haircut. The sleek layers and sophisticated color will blend well for any occasion.
#20 Long Wavy Layers
This is the ultimate "cool girl" hairstyle and a perfect look to fall back on when you are feeling uninspired. It is always appealing and will never go out of fashion.
Source
#21 Dramatic Curls for Medmaid Hair
Get hair that stuns a crowd and truly turns heads by combining color and curls. This hairstyle is gorgeous, girly and easy to pull off on long hair.
Source
#22 Straight Silvery Blonde Hair
Don't settle for boring long locks. Instead, opt for a cool and creative ice gray hue. It instantly elevates your overall style, and it won't be inappropriate in business casual environments.
Source
#23 Curly Caramel Hairstyle
With the right layers, you can let your hair air dry and result in seductive yet easy loose curls. It's a beautiful and simple look for a busy woman who's always on the run.
Source
#24 Blonde Balayage for Thick Hair
Blonde balayage is a lovely hair trend that looks good on a wide variety of hair types. Ditching the platinum blonde in exchange for more natural looking hues, this coloristic solution comes out looking almost like a more subtle ombre.
Source
#25 Ash Blonde Waves
Love the graduated color of balayage blonde hair but want something a bit more out-of-the-ordinary? Check out this ash blonde hue that takes after the current grey hair trend. Ash blonde seems almost grey/blue in some lighting, bringing a more stunning, unusual look to the trendy color.
Source
#26 Sleek and Gorgeous Medium Hair
Love the look of blonde but not too thrilled about the upkeep? Chances are, balayage is perfect for you. In a way, it's the poor man's blonde – the roots are already significantly darkened so you don't have to worry about regrowth as often, thus saving your added expense. A darker top and lighter bottom will add sheen and shine to your hair that will leave you feeling gorgeous.
Source
#27 Light Brown Balayage Ombre Hair
If you love the look of balayage blonde hair but want something a bit fancier, try pairing it with some long, loose spiral curls. You can get this look with a medium barrel curling iron and some holding spray. Not only will it show off the shades of blonde and lovely layers, it will bring more body to otherwise flat and lifeless hair.
Source
#28: Blonde Bob with Lavender Streaks
A great example of how you can use bright colors in a subtle way. If you are worried about committing to the look, this is the best time to utilize hair chalk or temporary dye for a quick yet fun color.
Source
#29: Blonde Locks with Lowlights
While some balayage styles involve several shades of blonde and a dramatic final look, this isn't always the case. In this style, the change in hues is very subtle. If you love light blonde hair but don't want to go completely overboard, this is an example of hair that lightens up while still looking natural.
Source
#30: Platinum Balayage Ombre
Platinum blonde ends give an instant cool-girl vibe to layered haircuts, especially when contrasted against deep brown roots. Piecey light brown highlights throughout help to beautifully blend the two drastically different colors together.
Instagram / @salon_sessions
#31: Brown to Blonde Hairstyle
Can't decide between brown and blonde? A blonde balayage is a good way to try out both choices without sacrificing your natural hair color. Choppy layers and messy waves add a little ease to the look.
Instagram / @bayliestudioonesalons
#32: Blond Balayage Lob
Subtly dark roots with lustrous blonde lengths show the natural side of a good balayage. Tousled blonde tresses are a smart choice for those who want a minimalist hairstyle with maximum impact.
Instagram / @romeufelipe
#33: Beachy Bleached Waves
This gorgeous back-skimming mane oozes beachy vibes with its pretty bleached hue and wavy texture. With a balayage hairstyle like the one shown, it's like taking the ease and beauty of those sand-and-shore days with you, wherever you go.
Instagram / @wesdoeshair
#34: Face-Framing Balayage
Tailor your blonde balayage hair to your own personal style and face shape, by asking your hairdresser to dye the lightest strands around your face. It's a nice way to try out the hair trend, while keeping a look that's simple and brightens your visage.
Instagram / @zacharyjarid
#35: Big Beautiful Balayage Waves
Reminiscent of Tori Kelly's iconic voluminous hair, this luscious mane shows that curly girls should never be afraid of color. Just think of your textured tresses as an even bigger canvas to show off your sense of style, no matter how bold or refined.
Instagram / @hairbynoora
#36: Wavy Ash Blonde Balayage Hair
This balayage hair is cool in more ways than one, from its ashen color to the contemporary cut. The soft long layers lend themselves to easy maintenance; flyaways only enhance the effortless appeal, and frizz accentuates the volume. It's a can't-miss coif.
Instagram / @stephengarrison