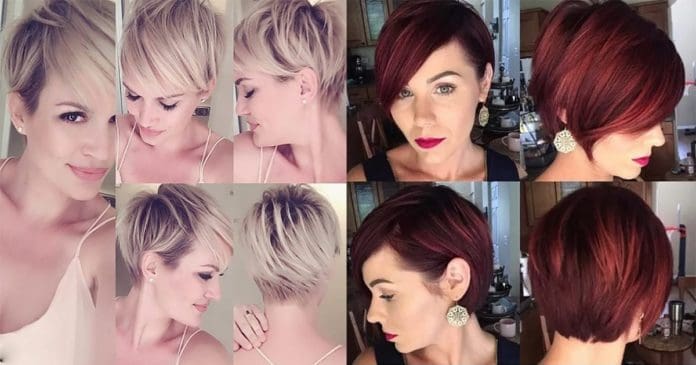 Compared with long hair, pixie gives more focus to your whole face and quickly boosts your confidence, giving you a modern look. So what're you waiting for?
#1: Blonde Textured Pixie
Source
This hairdo creates a tousled style by the usage of the textured layers of various lengths and an upgrade on the top, which looks chic enough. When paired with a suitable lip color, you'll start shining immediately.
#2: Disconnected Pixie Cut
Source
Modern pixies are often paired with long side bangs or a shorter angled side fringe, upgraded with choppy, spiky layers and undercuts. This pixie follows the rules mentioned above and with it looks chic, clean, and delicate. The dark roots perfectly suit the platinum layers.
#3: Layered Pixie Cut With Balayage Highlights
Source
This pixie with long straight side bangs looks classy and stylish. The subtle wavy layers create a fuzzy feeling and add a feminine charm to the whole look. Balayage highlights make the hair simply beautiful.
#4: Broux Tapered Pixie
Source
Broux looks gorgeous, elegant and stylish and it goes perfectly with this stacked bob, giving a refreshing look. You too can join the fashion elite with just a few modern coloring techniques
#5: Updo Pixie Cut
Source
Not every girl has a face that fits this short pixie cut, but it definitely looks cool. Angle the cut by using some styling products and use the fixed shaggy bangs to help show off your unique beauty.
#6: Two-Tone Pixie with Long Side Bangs
Source
Side part cuts and long side fringes help outline a delicate face shape. The subtle wavy layers create a shaggy feeling and make the look more energetic. The gray colors blend well and smoothly fade from the root to tip. The whole look is really on point.
#7: Layered Pixie Cuts with Side Bangs
Source
If you have soft and thin hair, go for this classic in vogue layered pixie cut. Feathered layers make the hair loose and natural and the ivory color keeps up with fashion. It's low maintenance too. Just comb it with your fingers every day to keep it fluffy.
#8: Long Curly Pixie
Source
This is a really unique hairstyle that mixes the bob and pixie cut. The flowing curly side bangs on top are really all the rage and it's a daring look for a woman with an adventurous spirit.
#9: Rose Gold Soft Pixie Bob
Source
Shortcuts can seem too neat or polished for a woman who wants to be noticed, but not this one: A pink graduated pixie with a messy top fringe and undercut. Long bangs add mystery to your look and the beautiful color definitely makes you more attractive.
#10: Tapered Pixie with Dark Roots
Source
If you like simplicity and don't want to spend too much time following trends, then go for this tapered pixie with dark roots. It not only shows off your elegant side, but is also in keeping with your inner glamour. Better yet, you don't need to dye it frequently.
#11: Reddish Brown Layered Pixie Bob
Source
If you are a sophisticated woman,you shouldn't miss out on this option. A reddish brown angled pixie bob will fully show off your impressive taste. A deep parting with long side bangs can bring out your eyes, conceal your forehead and slim your face.
#12: Blonde Pixie
Source
This hairstyle uses feathered bangs and sideburns to show off your beautiful face. The short and choppy fringes look modern and go so well with this classic short haircut. The dark roots, as one of the key elements of this trendy look, make it all the more impressive.
#13: Dark Golden Pixie Cut Updo
Source
While a cropped style with a long side bang is nothing new, this pixie haircut gives it a modern spin by incorporating some angled strands for a natural fluid look, that will keep you on trend.
#14: Side Swept Pixie with Long Fringe
Source
This stacked pixie bob is a fantastically refreshing look. Side straight bangs slim the face and the varied layers add texture and volume. Beautiful highlights allow the hair to be natural in both color and texture.
#15: Heavily Layered Pixie With Balayage Highlights
Source
Heavily tousled layers add loads of texture and help complement the face and the balayage highlights look gorgeous. This is a pretty good option for women with thick hair who can take advantage of it in order to create a style packed with volume.
#16: Flipping-out Pixie for Curly Hair
Source
Fun and funky, this grown out curly hair looks cute and refreshing. The wavy layers are a perfect way to add texture and dimension to the overall appearance, and the asymmetrical side parting slims the face.
#17: Short Black Hairstyle for Curly Hair
Source
Usually, curly hair is hard to tame, but a pixie cut can take advantage of that tricky mane. For example, this haircut collects the majority of hair in the middle of the head in order to create a voluminous effect. I don't think anyone can disagree that it looks sexy!
#18: Classic Well-Structured Pixie
Source
Simplicity when executed well looks perfect. This well-structured pixie is simple but great for everyone who wants to keep up with fashion. Asymmetrical bangs add an edge and help conceal the forehead. Choppy layers are used to soften this edgy cut, giving the hairstyle a sassy aesthetic.
#19: Blonde Pixie with Strands of Lavender Hue
Source
If your hair color is platinum blonde or gray, how about trying this pixie cut? The usage of long side bangs and strands of lavender bring a real vibrancy to the look. Sleek bangs and straight locks work best on thinner hair, but this cut can be pulled off with any hair type.
#20: Pixie-Bob With Temple undercut
Source
A half pixie, half undercut bob, is undoubtedly all the rage. Asymmetry is always a great way to make you look chic and unique, whereas the dark roots and dimensional tousled texture complete this fashionable look.
#21: Side Swoop
Source
A side swoop adds a touch of retro drama to this short style. The beautiful curve on the head, makes it a gorgeous, fashionable and fabulous hairstyle. Keep its distinctive shape with the hairspray products like Bumble Spray de Mode Flexible Hold Hairspray.
#22: Chic Undercut
Source
This undercut features curly bangs on the top of the head, which help soften the sharp edges and add a feminine charm to the overall look. When you put on your beautiful earrings and walk outside, you're the queen.
#23: Cool Pompadour
Source
The pompadour is not just a man's privilege, it can work very well on a woman. Your hair will be shaped along the sides of your head to show off the look to perfect effect from various angles and it also enhances your brow line!
#24: Messy Curls
Source
You don't need to worry about a super-short haircut when you have curly bangs as the latter makes your hair versatile and fashionable. For example, this low-maintenance hairstyle looks great. You can run a little gel through your mane, mess it up and enjoy the air-dried results.
#25: Platinum Pixie
Source
Opt for a platinum pixie with bangs that go from shorter to longer across the forehead to show off your beauty and sexuality, just like this beautiful woman!It is a simple haircut, but so attractive.
#26: Sweeping Bangs
Source
What makes this haircut fantastic not only is its ravishing balayage but the excellent shape. With sweeping bangs, you don't need to leave your entire face exposed, which gives you the security of bangs with the ease of a pixie.
#27: Longer Pixie
Source
You can play with length and color in your pixie so as to make it distinctive and gorgeous like this one below. It mingles the highlights with lowlights, producing a well-blended color that looks stylish from multiple perspectives.
#28: Thick Bangs
Source
Women with thick hair might opt for this pixie cut as it looks perfect and makes hair manageable. You achieve the effect by cutting the hair short and leaving the volume bangs along the forehead.
#29: Feathered Pixie
Source
Many women are fond of this pixie with feathered bangs and a deep side part. It is a haircut that will keep in tune with your elegant nature and draw many an admiring glance. At the same time, it's trendy and knocks many years off you.
#30: Golden Pixie
Source
Scarlett Johannson's messy layered cut looks vibrant and refreshing. It calls for bright and shiny highlights. You can be as beautiful as Scarlett when you choose the haircut that best showcases your delicate features.
#31: Chic Curls
Source
Curly hair shouldn't be limited to dull and staid hairstyles; instead, these sexy ringlets have great potential when it comes to a pixie cut, like this example below. It looks ravishing, dynamic and eye-catching. Almost no man can refrain from seeing it twice.
#32: Purple Pixie
Source
Purple blending color looks very chic and is trending now. It works very well with a pixie cut. The spikey layers help incorporate dimension and texture and create a messy but natural style which can liven you up.
#33: Cropped Cut
Source
Don't want a dull pixie? Try to keep the top of the hair long, and wear it side-parted, with a root lift. Go as short as you like on the back. Also, opt for a beautiful color to cap off the overall look, you will be a shining star amongst the crowd.
#34: Classic Pixie
Source
A classic pixie paired with delicate makeup will make you stand out immediately. Sweep your locks to the side and bring out your forehead, the bangs will frame the face, making the look feminine and pretty, in spite of being so short.
#35: Spiky Pixie
Source
Jennifer Lawrence looks perfect with the pixie cut. Her stylist is good at using the spiky layers on the top to add feminine charm to the overall look. Keeping the layers messy adds texture and volume to the style, making it one of the most stylish pixie cuts around.
#36: Ice Blonde Pixie
Source
This icy white blonde hair is trendy and creates an understated and a modern look. The soft parting and tones illuminate the face and complement various face shapes. Other highlights like the triangular edges make your profile look perfect.
#37: Gloden Pixie
Source
Cate Blanchett gives her cut a deep side part and casually sweeps it across her forehead. The beautiful golden hair color pairs very well with the overall look. She looks gorgeous with this short pixie.