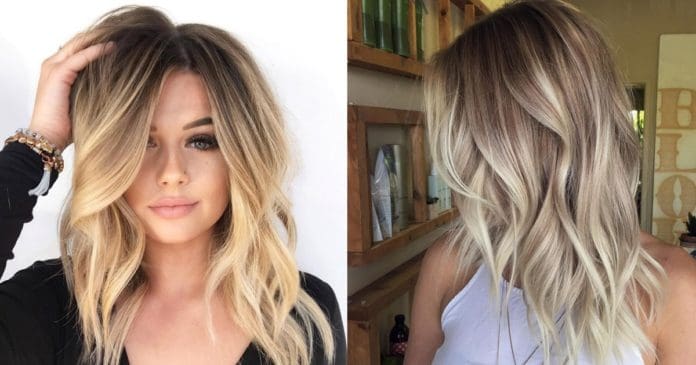 Being stuck in a hair rut is disturbing. One way to breathe new life into your hair is by changing the color. The balayage is deservedly considered the hottest color trend today. Here we sum up 40 of the most flatting hairstyles to get you out of that rut.
#1: Red Hair With Highlights
Source
Rich chocolate and hazelnut tones combined with copper and penny shades give your hair a delightful color. And the usage of balayage technique enhances your hair with sun-kissed highlights. There's no telling just how many people will fall in love with it at first glance.
#2: Rose Gold Balayage
Source
Balayage works excellently on every hair color. One thing to note is that it's important to find the right hue to complement your natural locks and give you the vibe you want. For example, this rose golden hue definitely livens up her original darker color.
#3: Upgraded Balayage
Source
This balayage hairstyle effortlessly gives your locks depth and dimension by melting all the colors beautifully into each other and seamlessly blending them. The blonde coloring pairs well with darker shades and the wavy layers help to show off this masterpiece.
#4: Warm Caramel Balayage
Source
If you want an understated color, go for this warm caramel balayage! You can never go wrong with it. Moreover, this color pairs especially well with long luscious waves and adds a feminine charm to the overall look. It'll drive people crazy!
#5: Sprinkled Chocolate And Caramel Balayage
Source
Have your colorist paint ravishing honey hues a through the strands of your hair, focusing on where the light naturally hits. The two tones form a sharp contrast that will definitely attract admiring glances.
#6: Copper And Beige Highlights
Source
This is another excellent example of a balayage haircut, as it uses shades that suit your skin tone, as well as blending high contrast colors through transitioning hues like copper or beige. This pairs well with the long wavy hairstyle and makes it a feast for the eyes.
#7: Chunky Honey Blonde Balayage
Source
It's so much fun to make a balayage style as it mixes many colors to achieve a magical effect. For example, when you ask your stylist to melt blonde and brown shades into one another, you can get this beautiful hairstyle below.
#8: Dark Blonde Balayage
Source
Highlights work well on whatever hair type you have, particularly on the messy textured hair like this one. It features blonde streaks that break up the darker base. You can use some purple shampoo once a week to free your balayage of brassy tones.
#9: Honey Balayage With Flashes Of Blonde
Source
If you're not sure about the best balayage color to suit you, try this. A perfect combination of brown and blonde that can be tweaked to suit almost everyone. Ask your stylist to give you a great haircut to pair with this beautiful color.
#10: Golden Blonde Highlights
Source
Balayage also works great on a short bob like this one. A mix of dark brown, light brown, and golden blonde shades can really show the beauty of this style. Meanwhile, the angled bob and lighter shade at the tips are helpful for a cool contrasting look.
#11: Brunette With Blonde Highlights
Source
The blonde balayage highlights and emphasizes the structure of those beautiful waves, giving the already full-bodied hairstyle even more dimension. Who could refuse such a refreshing style? Go and find a new you!
#12: Icy Ashy Blonde Balayage Highlights
Source
The balayage technique makes hair look like a work of art full of dimension and beautiful color blends. This collage of shades succeeds in attracting people's attention. Almost no one can shift focus from this pretty hairstyle!
#13: Dark Brown With Platinum Blonde
Source
Dark brown with platinum blonde balayage is another top choice. The lighter strands lighten up the overall look and inject more distinguishing features into the hair. More than that, this beautiful blend is undeniably chic.
#14: Silver Gray Balayage Ombre Hair
Source
Balayage works great on straight hair too. A skilled stylist is good at blending silver, gray and brunette into each other, leading to the fantastic effect you can see below. This truly looks perfect, and it's not a surprise that many younger women prefer this chic color.
#15: Platinum And Golden Ribbons
Source
You can't refuse this delicate balayage, as the multiple colors are perfectly blended into each other. The usage of a warm hue, like platinum or golden color, adds a refreshed feel to the overall look.
#16: Ash Blonde V-Cut
Source
This color can never go wrong as the platinum blonde highlights compliment the ashy brown hair beautifully and give off a sunkissed girl-next-door vibe. Besides, it works great on fine hair because it adds a dimensional effect to the overall look.
#17: Dimensional Ash Blonde
Source
This balayage is all the rage as ash gray becomes more and more popular. It also works well on thin hair as it adds volume and dimension. You don't have to dye it frequently if you have a darker hair color.
#18: Brown Highlights
Source
This brown wavy style looks undeniably sexy and gorgeous. It adds a feminine charm for women of all ages. The brown highlights liven up the style, making it vibrant and refreshing. Meanwhile the curls on the ends cap off the look by pumping up the volume.
#19: Ombre Hairstyles
Source
This brown wavy style looks undeniably sexy and gorgeous. It adds a feminine charm for women of all ages. The brown highlights liven up the style, making it vibrant and refreshing. Meanwhile the curls on the ends cap off the look by pumping up the volume.
#20: Pink Highlights On Brown Hair
Source
This pink balayage looks youthful and dynamic. The long curls naturally fall along the face bringing out your eyes and adding to your feminine charm. The side part also well frames the face, making it a perfect hairstyle for women of any age.
#21: Rose Gold Balayage Hair
Source
Many girls are fond of rose hair because it looks chic and shiny, but the traditional rose color can be dull and stiff. When applied with a balayage technique, the rose hair is suddenly made to be bright and shiny like this one.
#22: Copper & Blonde Balayage
Source
This distinctive hair color will attract anyone at their first glance, wouldn't it? The graduated color from top to the tips contrasts sharply, which helps win admiring glances every time you walk outside.
#23: Light Brown Balayage Hair
Source
Blonde-brown is a classic balayage that is suitable for women of all ages. Cut your hair to a medium length and leave the angled curls to pump up the volume and create movement. This style offers a nonchalant, effortless allure.
#24: Purple & Pink Balayage
Source
Purple always symbolizes mystery, and it also shows your bold and unique nature. This purple and pink balayage looks so attractive that many people are picking up on it. Ask your stylist to give you the beautiful curls too so that you can give it that little extra feminine charm.
#25: Rainbow Balayage
Source
Have you dreamed of getting rainbow hair but you are not sure if it can do the magic? Here is an example that shows you its fantastic effect. You must win many attentions when you go out. Of course, it is a bonus for the bald person.
#26: Medium-Length Balayage
Source
How to make a medium-length haircut show its best? Cut enough layers and textures for your hair first. And then, throw in the trendy blonde balayage hair color to showcase the layers. Last but not the least, don't forget to create many loose waves to complete the whole look.
#27: Rose Gold Balayage
Source
This hair color applies the balayage skill to let rose gold melt with brown hair color naturally. The roots are brown and the ends are rose gold. Try a center part and create some big waves loosely. Let the hair pour to your shoulder naturally.
#28: Short Balayage Curls
Source
If you choose a short haircut, then highlights are always a must, which can make short hair chic and amazing instead of lazy and dull. Rock this outstanding hairstyle, and remember, you need highlights that are two shades lighter than your base hair color. Last, create some cute curls.
#29: Burgundy Balayage
Source
No idea for your new hair color? How about this one in the photo? When you rock a short hair, try something special. Generally speaking, opt for a warm-toned hair color is more flattering. But you should consult your stylist what color will work best for your eye color and skin tone.
#30: Blonde Balayage with Twisted Waves
Source
These twisted locks are really gorgeous! Cut your hair short with chopped ends and messy layers. Try straightener method to create the twisted parts. Blow drying your hair and then twist your hair in different directions in sections. Remember to leave the ends straight. The blonde balayage enhance the waves.
#31: Light Blonde Balayage
Source
We dare say that whoever saw this gorgeous blend of blonde shades would ask your hairstylist's phone number. The balayage technique is really amazing. If you are with natural light mane, this hair color is perfect for you. Dark roots plus blonde balayage.
#32: Beige Blended Balayage
Source
One of the advantages of balayage is that we won't worry about our grown-out dark roots and still look gorgeous. Right? And it is a wonderful gift for your originally normal long waves. What's more, when your hair grows out, the light brown will blend even more flawlessly.
#33: Subtle Balayage
Source
If you don't like subtle balayage instead of grandiloquent one, rock this style in the photo. To get this look, you just need to experience the light blonde slightly without experiment with heavy highlights. The naturally wavy locks can surly frame your face shape and give enough of a look update.
#34: Girly Blonde Balayage with Dark Roots
Source
This layered blonde lob can thoroughly show off your girly side. So don't hesitate to try it! As we said before, dark roots are the trendiest fashion. It is not only chic but also easy to style as your hair grows out. All you have to do is make your big and loose waves sexier and sassier to earn more admiring glances.
#35: Blonde Balayage with Purple Gray
Source
Gray hair is no longer the privilege of aged women. For young girls, gray hair has been a trendy hair color to choose, especially balayage is added. The balayage in the photo starts with a classic blonde and descend into an amazing purple-gray shade that you must rock in life.
#36: Free Balayage
Source
If you are the kind of people who don't follow the common template, then, you should absolutely try this balayage to enjoy more fun and edgy. It covers purple gray and platinum blonde. You can also add whatever else hair color you love. The key to this gorgeous balayage is to paint it freely instead of following the systematic like routine.
#37: Neutral Brown Balayage
Source
Most balayage colors are from the brown palette. You can also add some reddish tones as well as golden shades into the look to create diversity. If you'd love to try a more neutral solution, you can rock like this. As for the underlayer part, try dark brown. And then from medium brown to light ash hues. At last, add ribbons of brown-blonde across the whole look.
#38: Art of Brown And Blonde Balayage
Source
The art of brown balayage is to blend brown and blonde hair color in a stylish way. As we mentioned above, dark roots are a popular trend. why? The dark roots plus the light ends can make the lock look longer visually by drawing the eye downward. And, this is a perfect way to lengthen a round face shape.