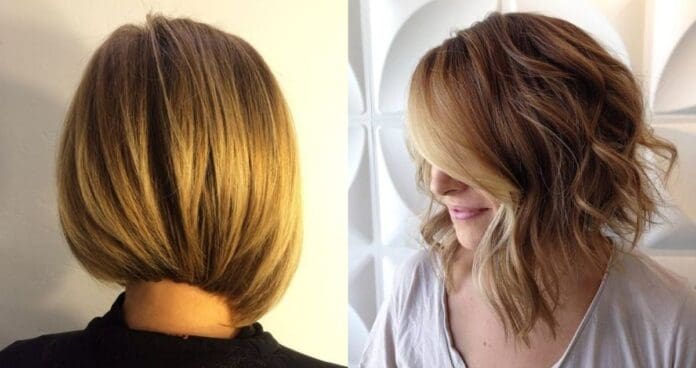 Blunt symmetrical bobs are classic, but can sometimes seem too regular for women who crave an extra dose of style and glam throughout their everyday lives. An asymmetrical bob haircut gives an edgy vibe to the standard look, which you can further customize with curls and colors. Look through our top twenty looks below – they really suit any woman's desire for self-expression.
Asymmetrical Bobs
To make an impact, asymmetry in bobs should be significant. If one side is practically the same as the other, it will be unnoticeable. The following are the best examples of present-day asymmetric bob cuts.
#1: Sharp Choppy Bob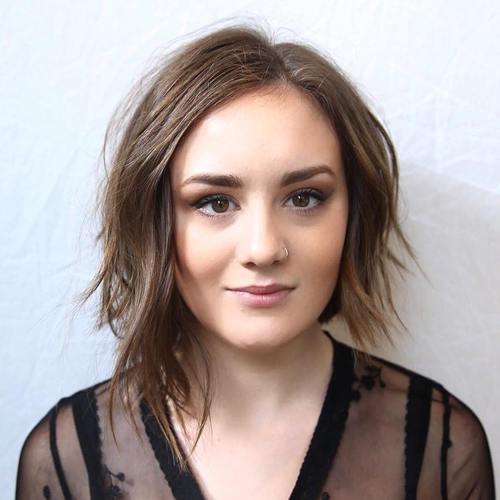 This short bob could be your ultimate low-maintenance chic style with its mussed-up bedhead look. The cut works perfectly for someone with wavy hair or even fine straight hair and requires almost no daily styling, making for easy upkeep. Falling asleep with wet hair and rolling out of bed has never looked so good.
#2: Lavender A-line Look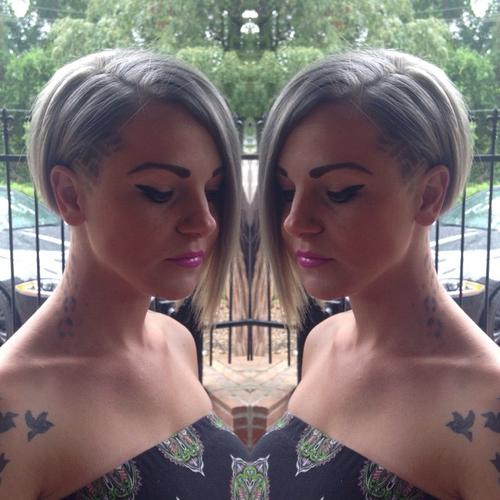 Lavender is an equally appealing alternative to gray or silver hair if you crave something with a little extra color. The great thing is that the color complements a variety of different skin tones and hair textures – it's equally exciting on most of them.
#3: Shaggy Uneven Bob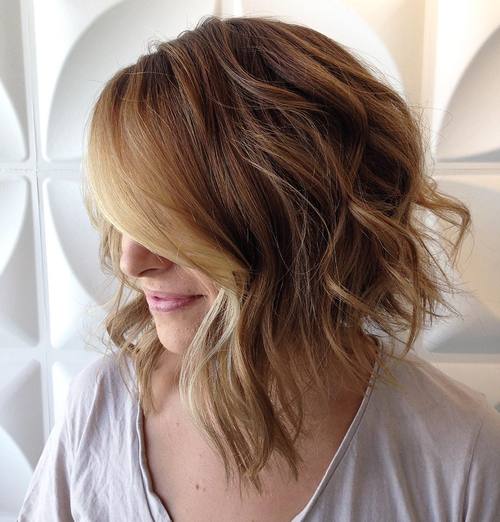 Romantic and feminine, this angled bob with its delicately tousled waves looks nice in all colors, but especially touching with some honeyed highlights pictured here. A deep side part adds a bit of mysterious flair, and the darker underlayer conveys depth and drama to these adorable beach waves.
#4: Blunt Bob with an Angled Side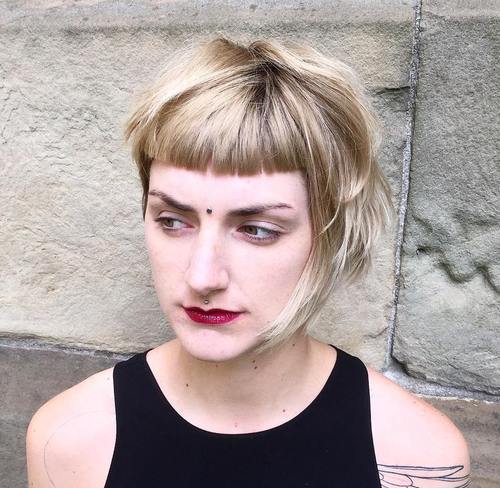 Short bangs are still having their moment, but to keep the look fresh, go ahead and turn a blunt bowl cut into an angled bob on one side for the ultimate asymmetrical edge. Angling and layering make this anti-mullet cut extremely fashion-forward and bring to perfection its unique androgynous look.
#5: Deep Red Half Pixie Half Bob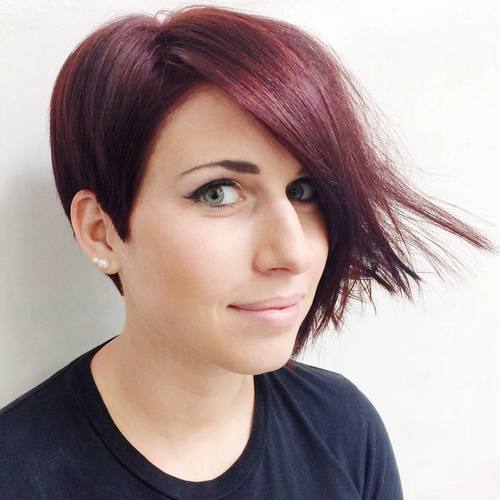 This beautiful maroon hair color creates the perfect base for a short asymmetrical bob. Being sharply angled on one side, it offers the ideal spiky pieces that you can define with some pomade or texturizer. Easy to style, all it takes to perfect this look is running your fingers through your ends to create those funky pieces.
#6: Stacked Haircut for Thick Hair
Having your hair cut from long to short is a major commitment, but it is worth it, especially if your lengthy locks are weighing your face down. Face-framing layers better accentuate smaller face shapes and add structure to a previously uninspiring style.
#7: Fiery Red Angled Bob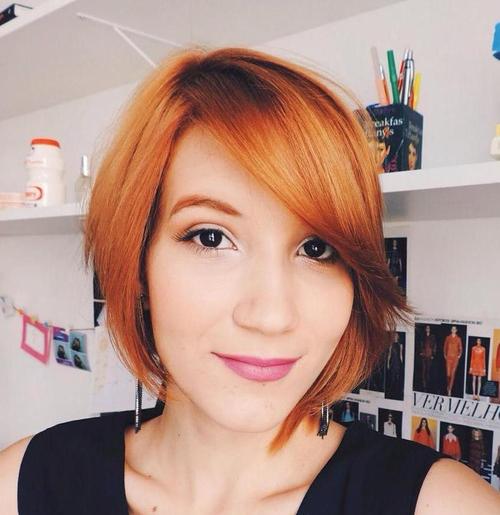 This layered and angled cut makes the girl's unique coloring all the more fun and funky. The artful angling of this attention-grabbing foxy red bob brings out the contrast of the darker roots and the brighter ends, creating depth and easy, playful, movement for a striking look.
#8: Curly Bob with Highlights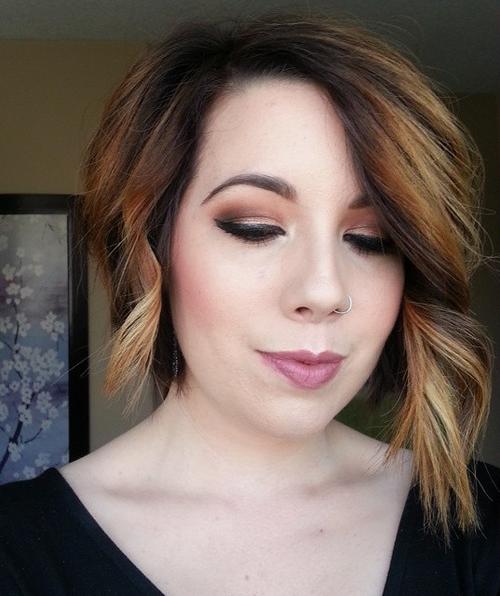 Ladies with thin hair should still add layers within their asymmetric style to create fullness. This look also uses highlights with darker roots for dimension and spiral curls to amplify the volume. As with the first style, matching your makeup to your hair color—this time using eye shadow—is a great way to create a fully coordinated look.
#9: Short Layered Bob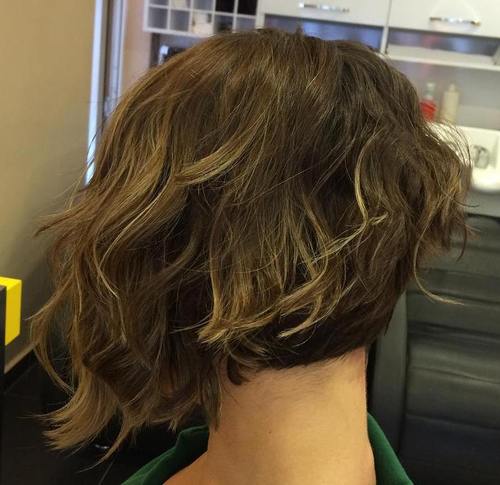 Blonde babylights throughout this graduated bob give it a playful look and almost hint at sun-touched beach waves. The sharp angle, choppy layers, and the clean nape line make this bob both masculine and feminine – the ideal yin and yang combo.
#10: Classic Straight Black Bob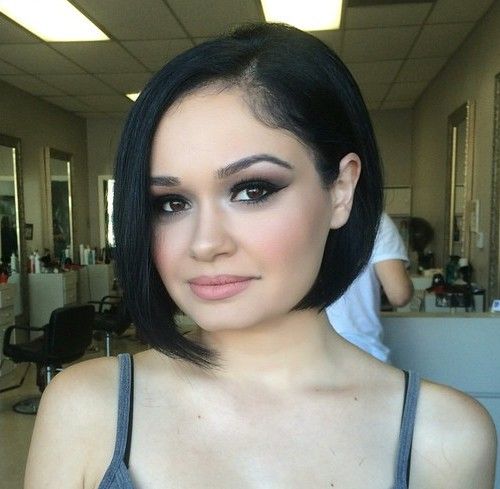 This bob is a blend of the two most popular bob lengths – chin length on one side and collar bone on the other. The asymmetric bob echoes the origins of the bob back in the '20s with its classic straight look and edges gently turned in to frame your face softly.