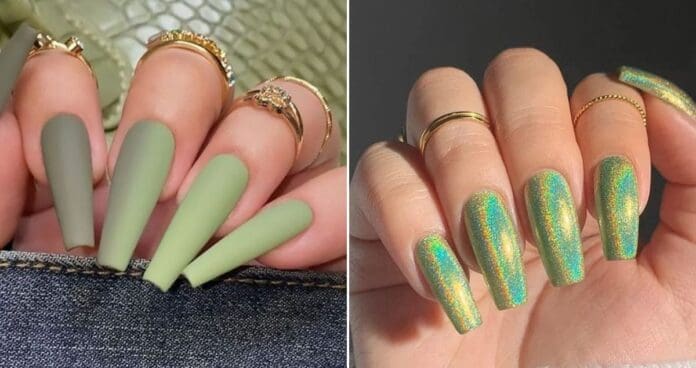 There's a place and time for classic nail colors, but you shouldn't look any more than green polish to get an updated look. The beauty of the green polishes is it comes in many shades to choose from that range from luxurious and rich shades such as emerald to vibrant and vivid limes and neons. There's a shade that will suit each nail's length and shape as well as skin tone. It's an excellent opportunity to enjoy work and be creative using different designs and finishes. In addition, green is a symbol of development, nature and freshness. your hands will not only appear great, but they could be a subtle reflection on how your feel. Follow this article for ideas for your next visit to the salon.
1. Neon Green Nail Design
Neon green is an excellent option to stand out with your manicure. It's bright and striking that will leave your nails awe-inspiring. Although you might be restricted in the areas you can wear this color It's a great choice for those who love to enjoy their manicure. It's possible to create a basic view or a more detailed one however you like. For instance, you could completely paint every nail with neon nail polish or play with various patterns and designs. Try negative spacing or even balance the color using neutral shades for a more soft look. Another advantage of neon nails is the fact that the hue is usually associated with strength and determination.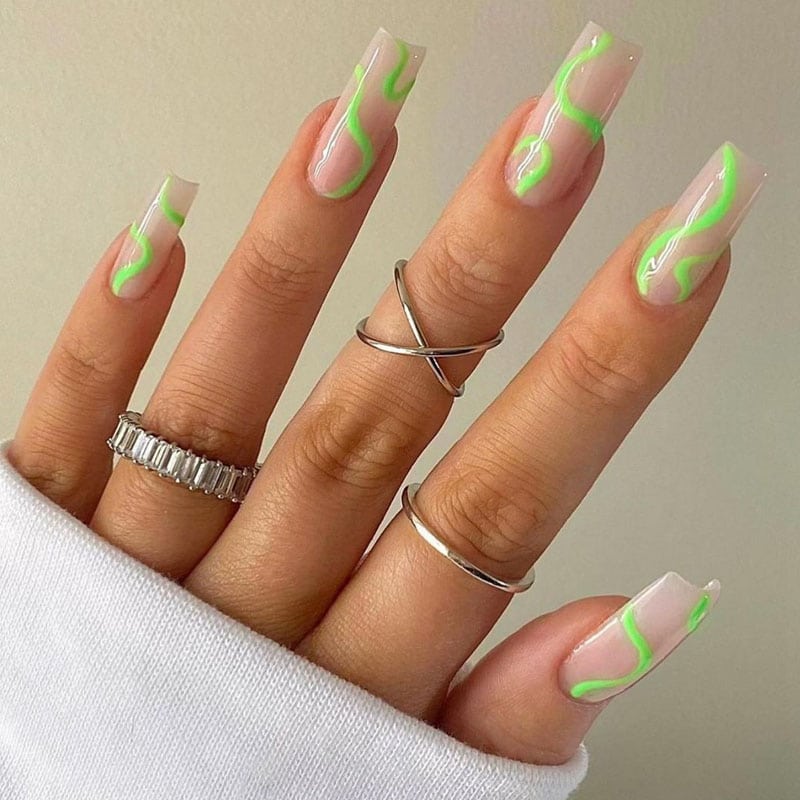 2. Olive Green Nails
The olive green nail color is perfect for women at all ages and extremely versatile. It's a deep yellowish-green shade, and it is more comfortable to wear than brighter alternatives such as neon. It is a symbol of the harmony and tranquility. Mix and match other neutral shades, apply only one nail in this shade or play around with different designs. Glitter polish is an excellent method for adding a feminine flair to manicures, while matte nails can create a fascinating texture. Choose the style that matches your style and then take it easy since that's exactly what green nails are all about.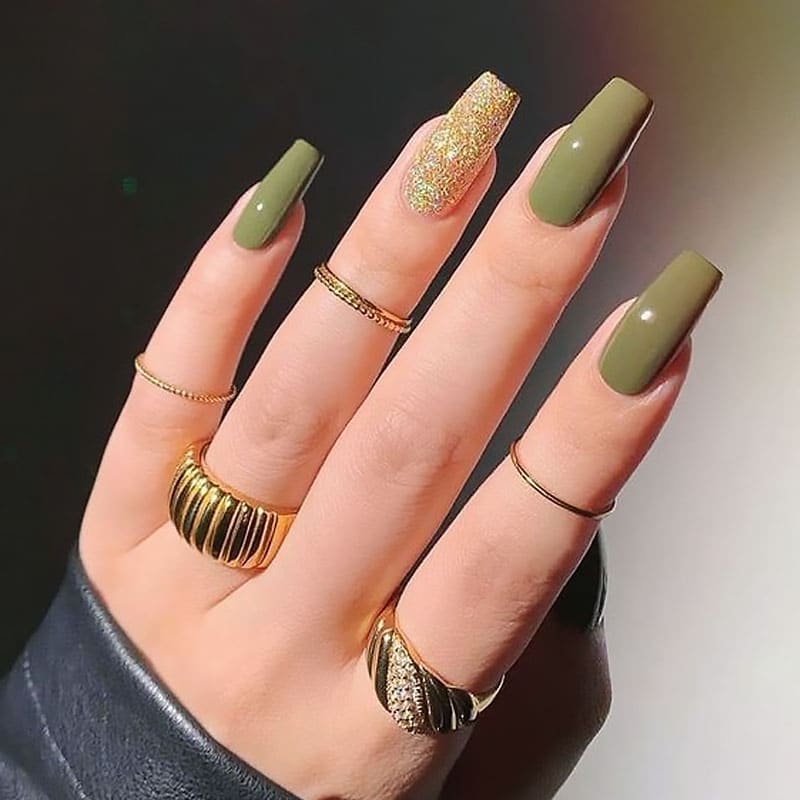 3. Lime Green Nails
These nails come in an energizing and vibrant shade, a bit between bright yellow and bright green. It's a great choice for those who wish to brighten her look and add youthfulness and vivacity with it. To reduce the intensity of the shade, combine it with neutrals like white or beige polishes; it will make your manicure more manageable and less striking. It is also possible to use negative patterns or spacing to create interesting contrast. If you'd like your nails to be the focal point of your style it's a good option to pick a neutral shade to match your attire. Choose light green nails for the beach, to hang out with your friends, or go to fashion occasions.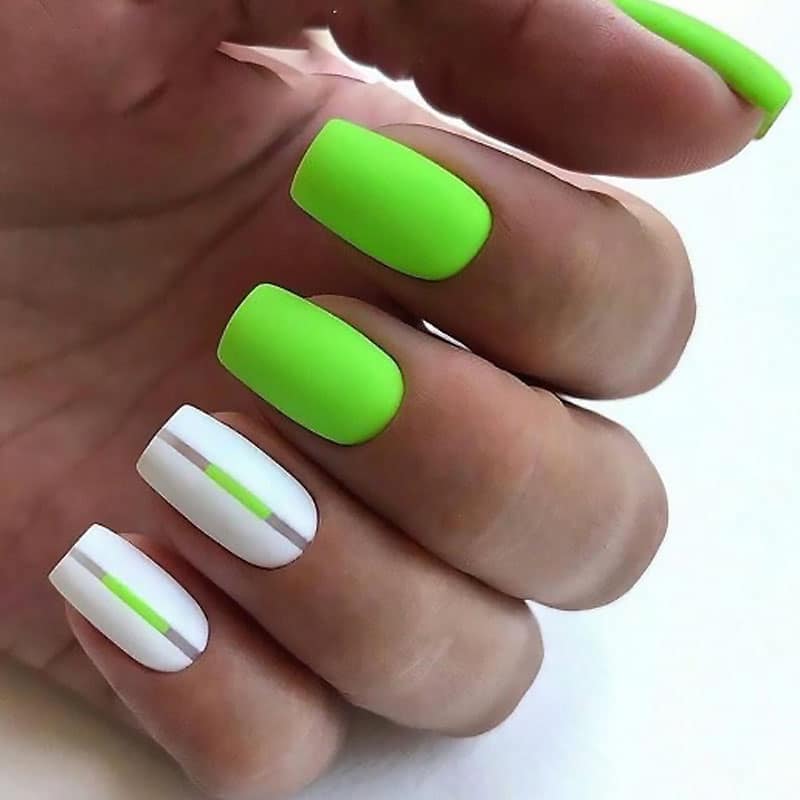 4. Sage Green Nails
Sage Green is a lovely earthy shade that has gray undertones. It's a subtle tone that makes it versatile, suitable for a range of designs and settings. The colors that work well with the sage color are grey and white. To create a striking look you could also consider pink and red accents like floral prints or squiggles. This lets you experiment with different nail art designs and makes your manicure distinctive and fascinating by picking patterns and designs that you like. Sage is frequently linked to wisdom and your manicure could be stunning and symbolic.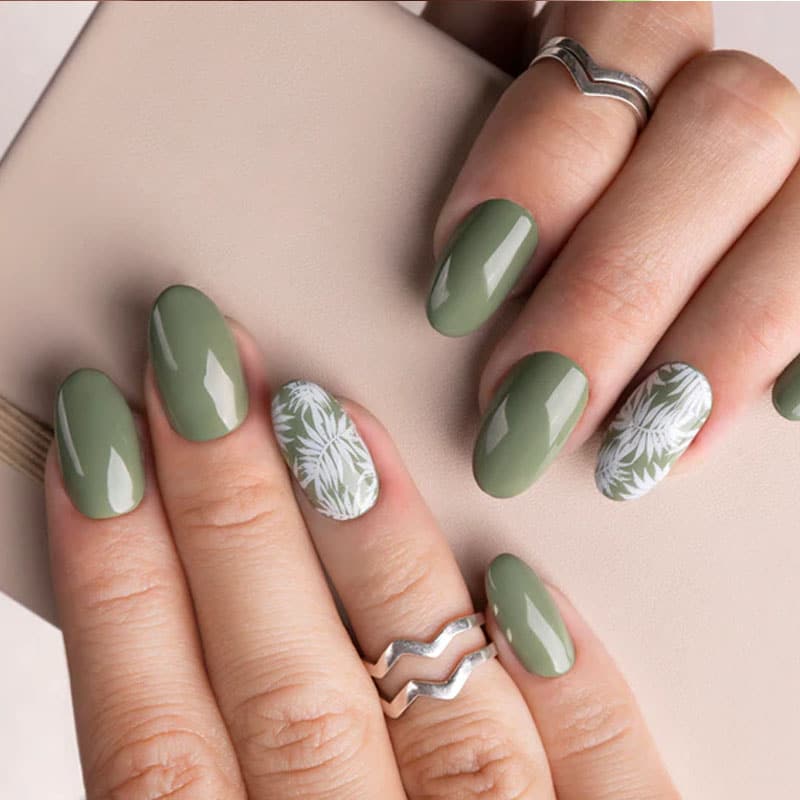 5. Dark Green Nails
Nails with dark, greenish nails can be a luscious hue that draws the attention of your fingers. It is usually associated with wealth and jealousy and tranquility and peace. No matter what your personal meaning is for the color, it's a fact the fact that this color is great to wear for manicures. It appears more elegant than lighter or brighter shades, making it more comfortable to wear. It's also great for many occasions from casual to semi-formal. You can put on dark green nail polish on both short and long nails, and experiment with different types of polish. For your nail polish to be the focus of attention, make your nails appear more softer by wearing neutrals that are solid like white or black. Alternately, you can go for bright colors like purple. These colors will create an interesting accent and are certain to attract the attention of others.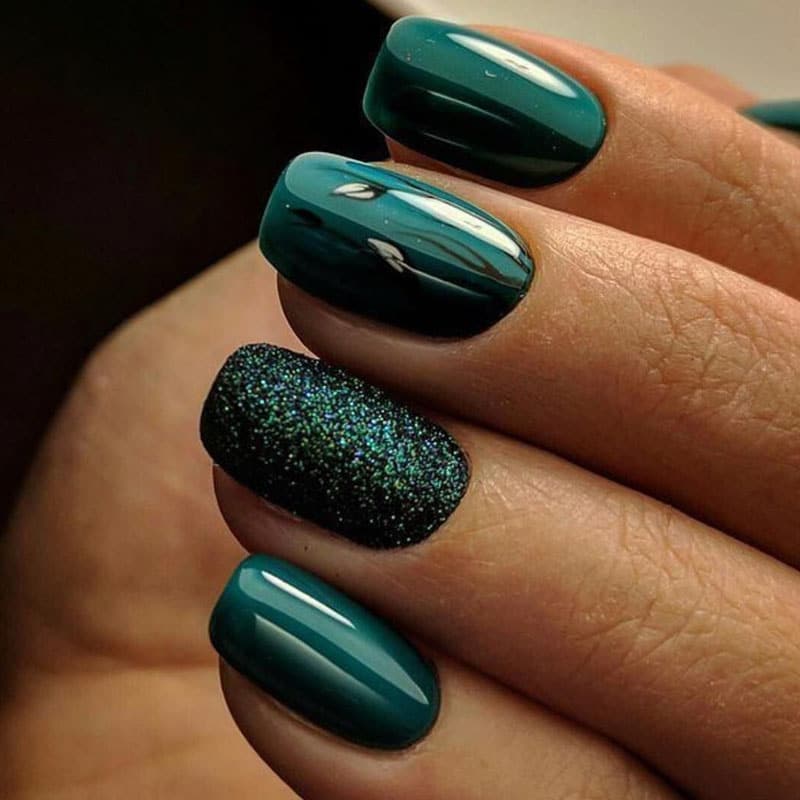 6. Mint Green Nails
If you're in search of an color that makes you think of nature and offers an extremely relaxing feel take a look at the mint-colored nails. It's a lot more comfortable to wear since it's a lighter color and blends well with other neutral shades and white. Mint works with all skin tones and looks stunningly attractive. It's also extremely versatile, and is well-suited to nail tips of every length or shape. You can also get creative in your design Perhaps you'd like to go with mint green tips or even add gold accents for the most luxurious feel. Utilizing negative spacing or mixing it with neutrals or whites make it appear more subtle. You may also consider striking hues like royal blue or black. Put on your favourite rings to attract attention to your hands and take in this gorgeous color.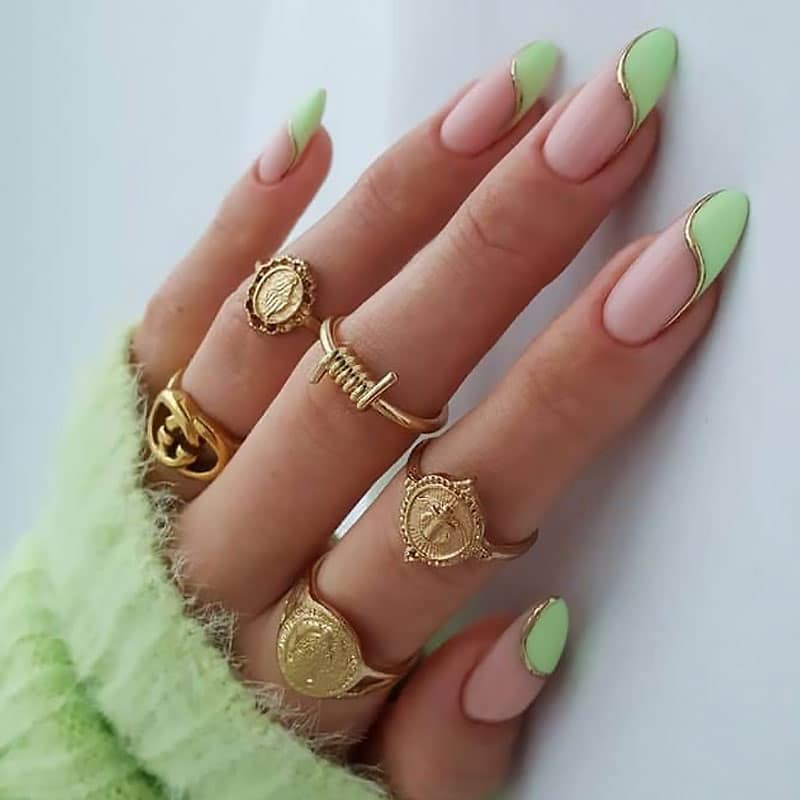 7. Emerald Green Nails
Of all the green hues that you can pick from, it's Emerald green nails that are lavish and luxurious. The blueish-green hue is an extremely distinctive hue and is believed to bring luck and prosperity. It could also remind you of power and royalty. It looks fantastic with long nails. It can be combined with different colors to create stunning nail art. neutral colors such as beige can neutralize the green while red and red create a look that is more vibrant and dramatic. But, the most sought-after combination is gold and green. It's an extremely sophisticated appearance as well as the manicure is a great complement to the green.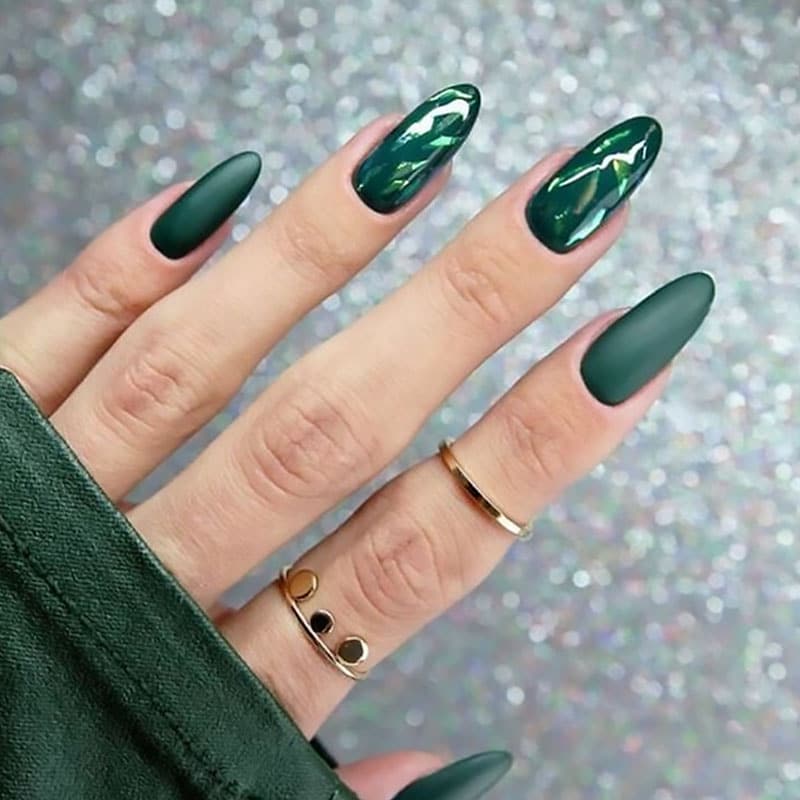 8. Light Green Nails
Dark, intense colors create stunning nail art, however for those who prefer something less sombre and subtle, a lighter green manicure is the way to explore. The beauty of the green manicure is the fact that there are many shades available that it is an appealing and diverse option. Light hues are more suitable to wear everyday, since they don't require extra attention. Light greens look contemporary and fresh when paired with white. You can make it look very feminine by putting little white daisies to your nails. Or, you can channel the 70s fashion by using checkered patterns or Squiggles.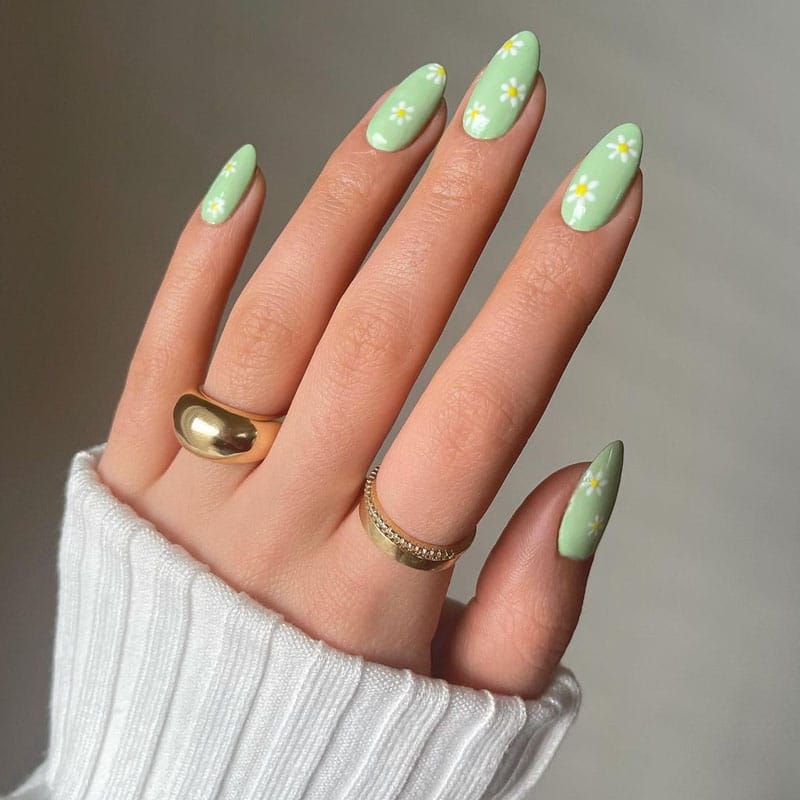 9. Green Ombre Nails
Green ombre nails are trendy and modern, which makes the perfect option for women of all ages. Combining two shades, usually one light and one dark , gives an appealing look. It also lets you have more shades. There are many combinations you can pick the best manicure for you. For example, you can pair your preferred color of green with white or two greenish hues such as olive and mint. If you're looking for an intriguing and lively look There is no better choice then an ombre nail However, you might have to pay a bit extra for it as it takes skill and perseverance to master it. If you want to take a less stressful option, you can purchase fake nails which already have a positive effect on their nails.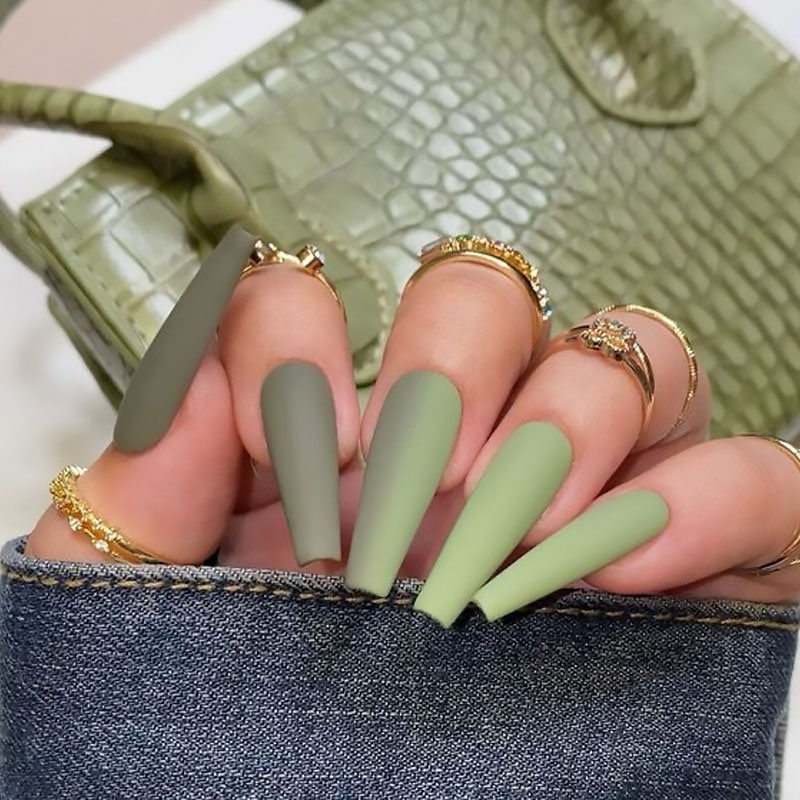 10. Matte Green Nails
Matte polish is not shiny making it a fascinating look. It is also more discreetand easy to wear and can look great when you have shorter nails. Matte nail designs fade quicker than glossy nail polish , and your manicure will last less lengthy, however, many women love it as a option to alter their usual look. picking matte shades can result in an elegant and stylish appearance. If you're unsure of how to allow it, the choice is completely yours to make. You can pick a special nail and leave the rest with a glittery or glossy finishes and pick the most popular designs or simply make it simple by painting your entire nail with one solid shade.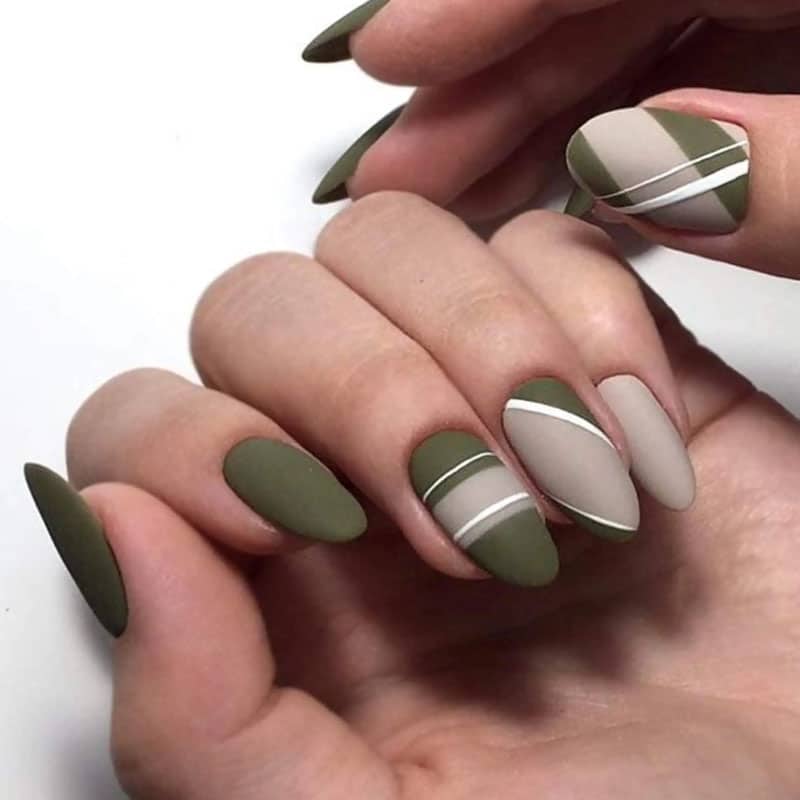 11. Army Green Nails
Another fantastic idea to try is to try army green nails. It's a rich yellow and green mix which gives a new appearance. The color can also be associated with military and the natural world. You can choose to stick with one of these themes such as by adding camouflage prints on your nails. This shade is an excellent option for both short and long nails, and is suitable for all skin tones. The color you choose to wear on your nails is a fantastic option to experiment with the trend of green without appearing too extravagant. If you're unsure of what color to wear it with The good thing is that it's extremely versatile and looks great with white, black brown, grey, and.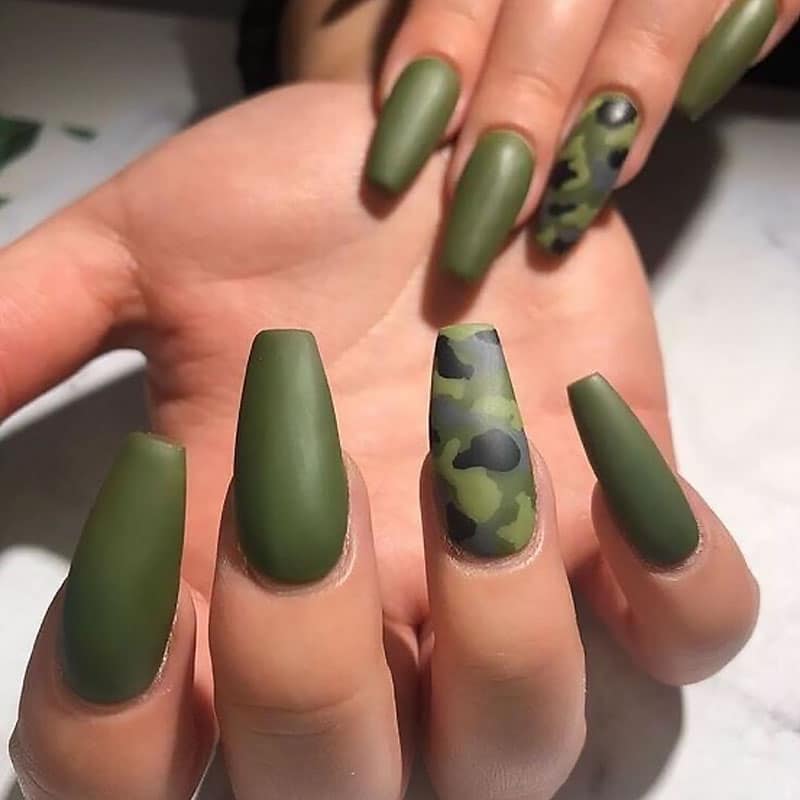 12. Pastel Green Nails
Pastel is a popular color in nail art due to the fact that it's timeless and traditional. They will never go out of style. They are able to be mix and matched with different shades and appear extremely feminine. Green nails in pastel shades are soft shade and is an excellent option for those looking for nails that are comfortable to wear and suitable for daily wear. This shade is popular for its novelty and freshness it looks amazing for nails with any size or shape. There are a variety of ways to experiment with this shade, no matter your level of skill; you could paint just the tips, select your preferred patterns, or go for the marbled effect. If you want to it is possible to simplify the process by painting your entire nail with a gentle pastel color; there truly isn't anything you can't accomplish using pastel-colored green!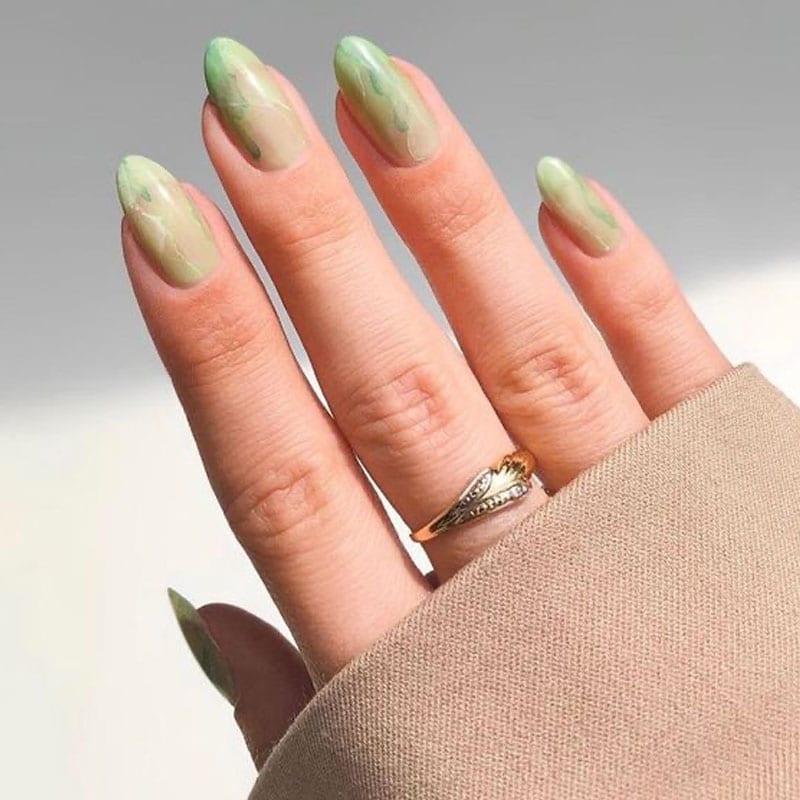 13. Forest Green Nails
The forest green nail polish is essential if you like polishes that remind you of the earth and nature. The manicure you choose to wear can honor the natural world as well as remind that you should be kind to the planet and yourself, and also be an excuse to have fun. It's a vibrant shade that is a great choice to wear alone or with beige, white, and gold. This is an excellent option to add patterns to your nails, or cut through the greenery. Use pictures of butterflies, leaves or lines to add greater creativity. If you'd like you nails to stand out as the main focus of your appearance You can soften your appearance by wearing neutral tones. Make it vibrant and casual by adding yellow or pink.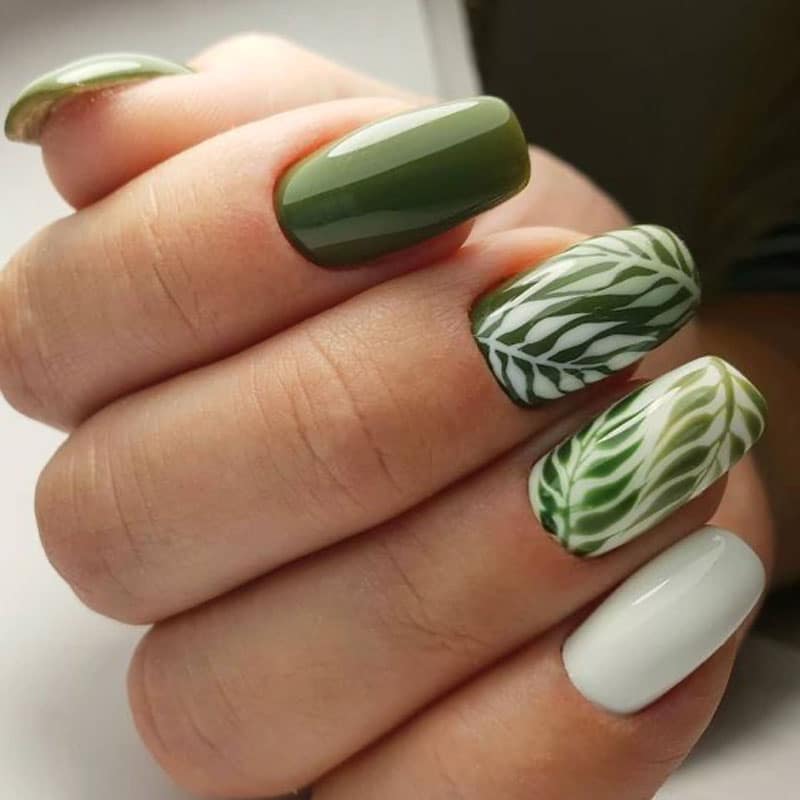 14. Green Christmas Nails
The Christmas season isn't here yet However, it doesn't mean that we shouldn't be inspired by green Christmas manicures. One of the most popular colours that is appropriate for the Christmas season is green. It is a symbol of evergreens like mistletoe or holly. It is typically combined with white and red and you can incorporate these hues in your manicure to create an extremely cute style. This is also a great moment to add some spice to your manicure, so make sure to choose glitter. What can you pick? It could be anything from stockings to snowflakes, and reindeer. If you're looking to wear this style during the summer months make sure to keep it as basic as you can with lollipops and stripe designs. This allows them to be more versatile and lets you wear them throughout the year.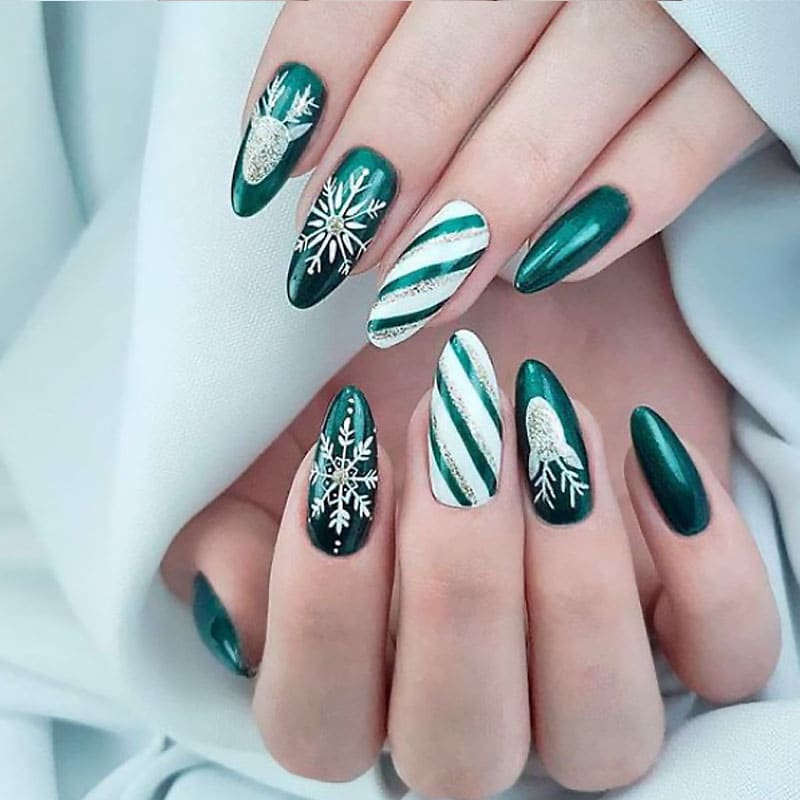 15. Green French Tip Nails
French tips are timeless choice which oozes class and is ideal for formal and casual setting. The style is achieved with a thin white stripe on the top of the nail but if you're looking to give it modern and trendy choose green french nail polish. This is an excellent option to test green nail polish without needing to coat your entire nail with the shade you prefer. It's easy to do and can give the impression of having more nails. Green also symbolizes the growth of your nails and luck, and you can keep track of the important things to you through your manicure, and also send positive vibes to the world.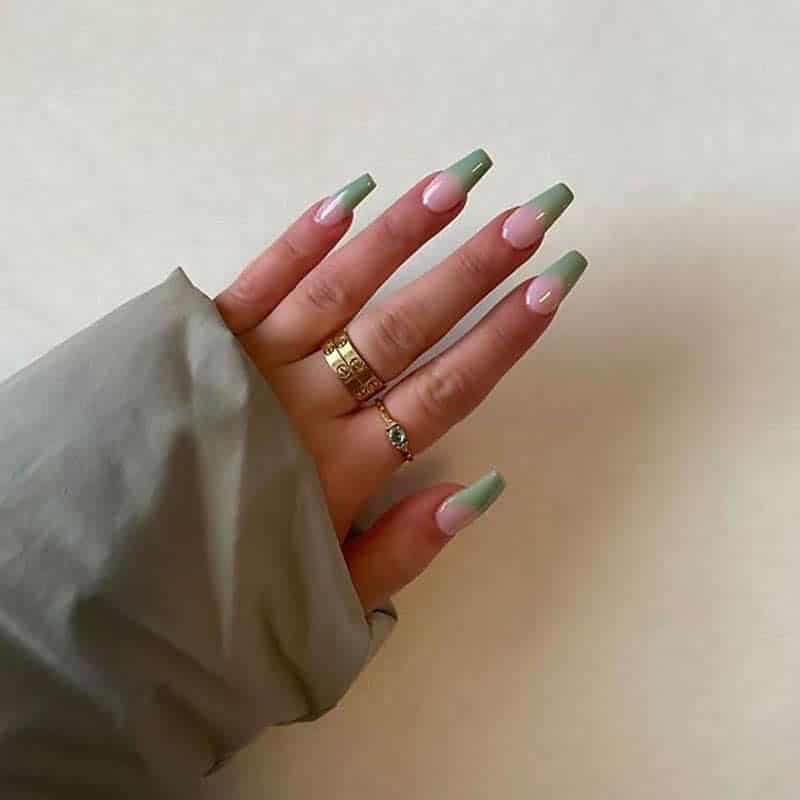 16. Hunter Green Nails
The color Hunter Green can be defined as being a deep yellow-green shade and was named so because it was, and continues to be used by hunters to create camouflage. It's a subtle shade that is a good match with natural colors like yellow and brown. Nude and white also perform well when performing nail art. It's extremely versatile as well as comfortable and there are a variety of ways to experiment with this shade, regardless of whether you're looking to paint only 1 nail, and leave the rest white or experiment using negative space. There's an option for every person.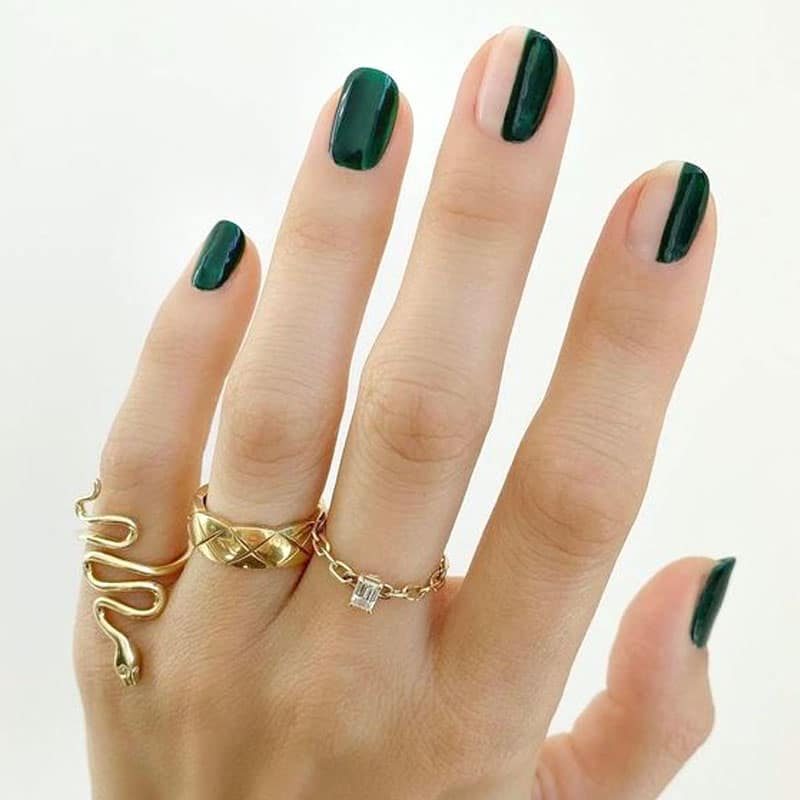 17. Black and Neon Green Nails
Black as well as green nail polish make an amazing combination that will attract attention to your hands. If you are a fan of vibrant colors, consider an intense neon color which can create more contrast when you pair it with black. This combo definitely requires confidence , and you'll be limited on where you can wear it. If you're a bit loose with workplace rules then this might not be the ideal place to try this striking style. But, it will bring smiles to your face and there are no set rules for mixing the shades. This lets you be imaginative. Checkered prints designs, alien logos, and thrilling patterns are all exciting ways to express yourself.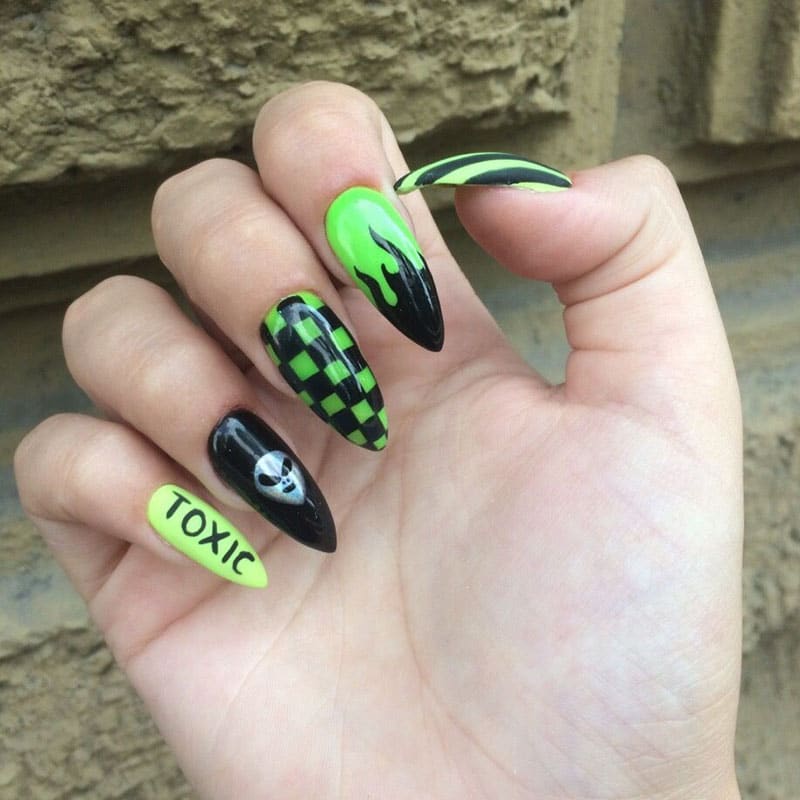 18. Blue and Green Nails
Green can be combined with other colors to create an interesting look, however one of the most popular combinations is a manicure that is blue and green. Both shades are similar enough that they make a beautiful combination that works well with all skin tones, aswell for the length and shape of nails. It's a great option to sport green nails and make your manicure a slightly more intriguing. It is possible to choose between dark and light shades, try different styles and gems, then pick the type of finish you'd like matte, glossy and glossy are excellent choices depending on the type of look you're after. Both colors have symbolic meanings Green is a symbol of the natural world and grows Blue is symbolizes calmness and confidence.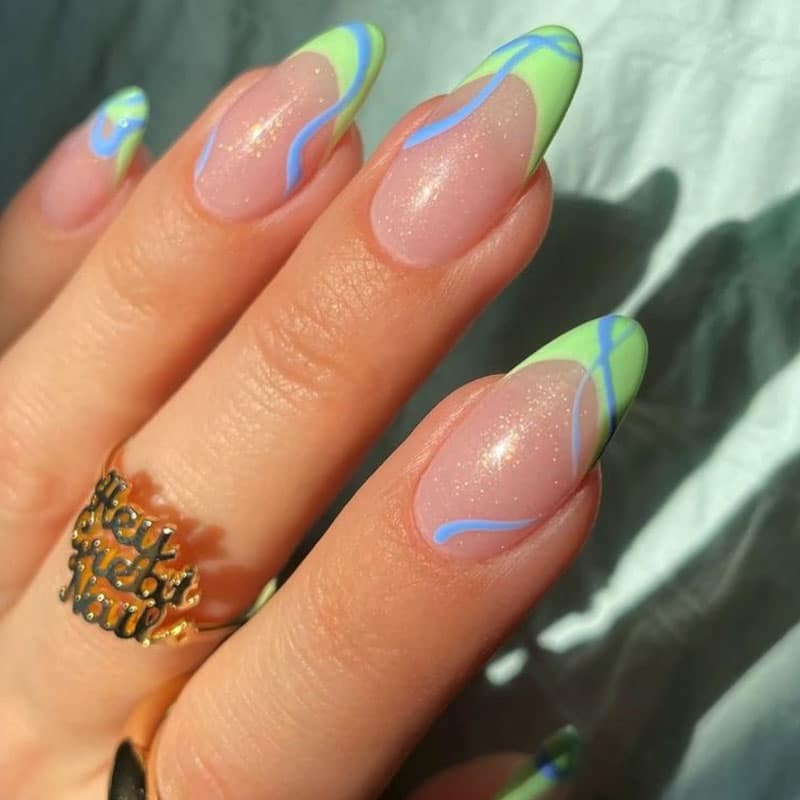 19. Green and White Nails
White and green nails make an easy pair. It's a neutral shade and can be paired with almost anything, adding a sense of an air of freshness. It also gives an elegant and timeless look. Instead of choosing brighter or darker colors such as purple and black white is extremely comfortable for wearing and appears great in any green shade. Another benefit of mixing both of these shades is the ability to play with various patterns and be creative with angles and shapes. Utilize emerald nail varnish for an elegant and refined appearance, or less glam shades like olive for a less glam style.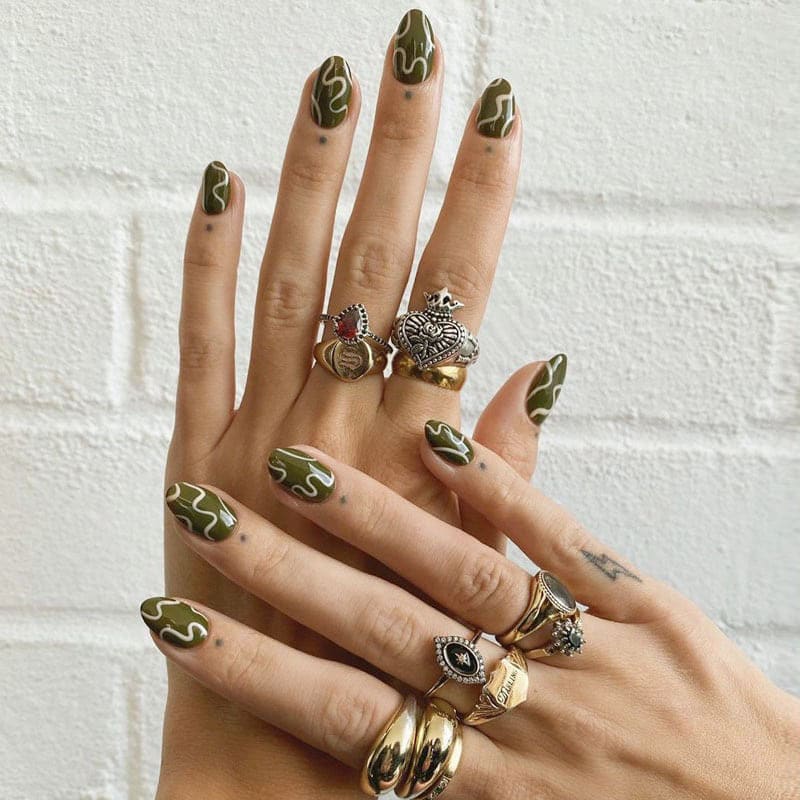 20. Holographic Green Nails
What's not to like about holographic nail polishes that are green? Their shiny appearance makes them a necessity, especially when they are exposed to light and they look amazing for nails with any form and length. The longer they are, the more attractive. This nail polish is distinctive because it's made of an additional color that creates the appearance of holograms. Holographic nails can be created with a variety of colors, however, green is among the most appealing because it appears very fresh. It's also a bold shade, making it the perfect for women who want to be different from the rest. To make the effect more striking add your favourite sparkling rings and revel in the attention your hands will draw.