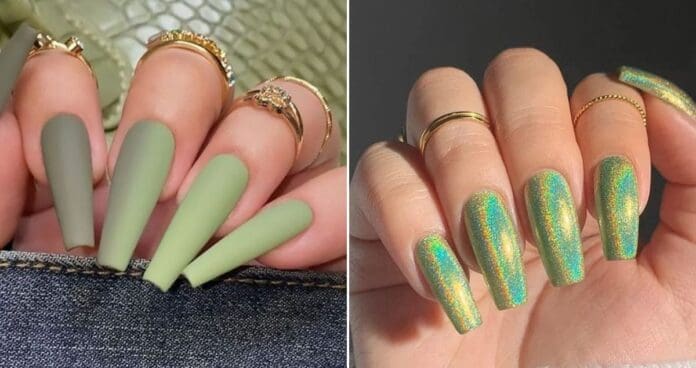 There's a time and place for classic nail shades but look no further than green polish if you're looking for a modern update. The great thing about green nail polish is that there are so many different hues, from rich and luxurious colors like an emerald to bold and bright neons and limes. There's a shade to suit every nail length, shape, and skin tone, and it's a great way to have fun at your job and get creative with different finishes and patterns. Plus, green symbolizes growth, nature, and freshness, so not only will your hands look great; they can also make a subtle statement about how you feel. Keep reading for inspiration on your next salon visit.
1. Neon Green Nail Design
Neon green is a great way to make a statement with a manicure. The color is bright and bold, making your nails unforgettable. While you may be somewhat limited in where you can wear this shade, it's a fantastic option for those who like to have fun with their manicure. You can create a simple view or a detailed view as you wish; for example, you can completely paint each nail with neon polish or experiment with different patterns and prints. Play with negative spacing or balance the color with neutral tones to soften the look. Another benefit of neon green nail designs is that this hue is often associated with determination and strength.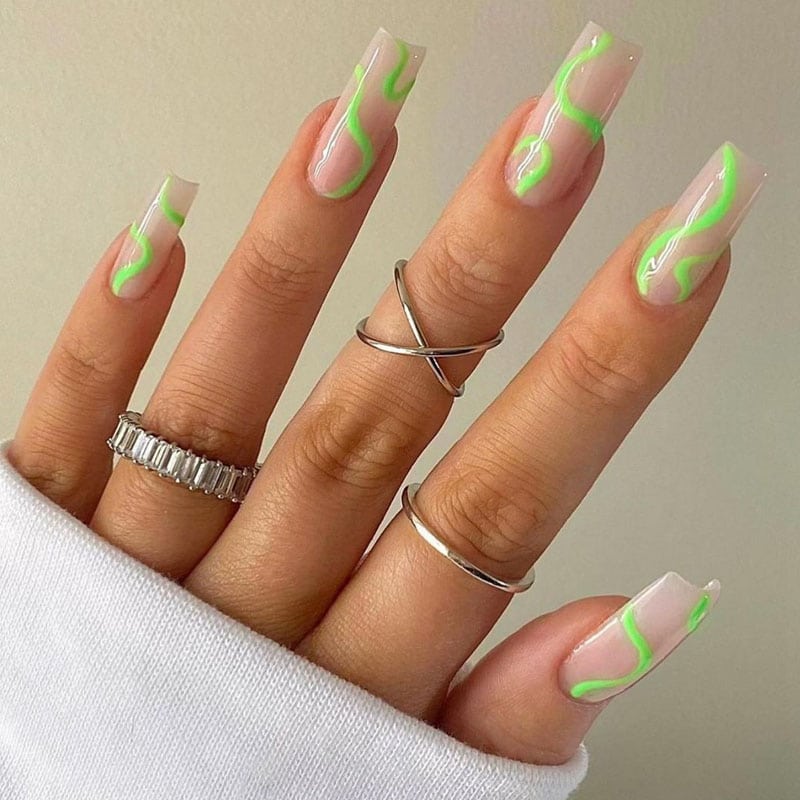 2. Olive Green Nails
Olive green nails are great for women of all ages and are amazingly versatile. It is a deep yellowish-green shade and is much easier to wear than bolder options like neon. It can represent peace and harmony. You can mix and match with other neutral colors, paint just one nail this shade, or experiment with different finishes. Glitter polish is a great way to add a feminine touch to a manicure, while matte nails create an interesting textured look. Find the look that best suits your personality and have fun with it because that's what green nails are all about.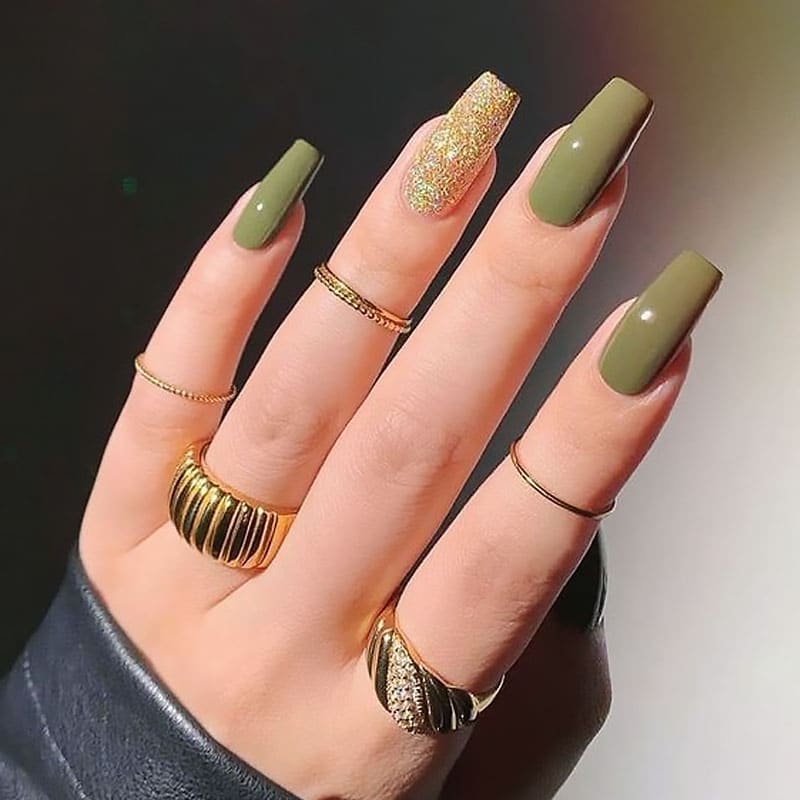 3. Lime Green Nails
Lime green nails are a bold and fun shade, somewhere between green and bright yellow. It is ideal for a woman who wants to add color to her appearance and associate freshness and liveliness with it. To dilute the color, you can pair it with other neutrals such as white or beige polish; it makes your manicure easier and less dramatic. You can also use negative spacing or patterns to create an interesting contrast. If you want your nails to be the center of your look, it's also a good idea to choose muted shades for your outfit. Wear light green nails to the beach, hang out with friends or attend fashion events.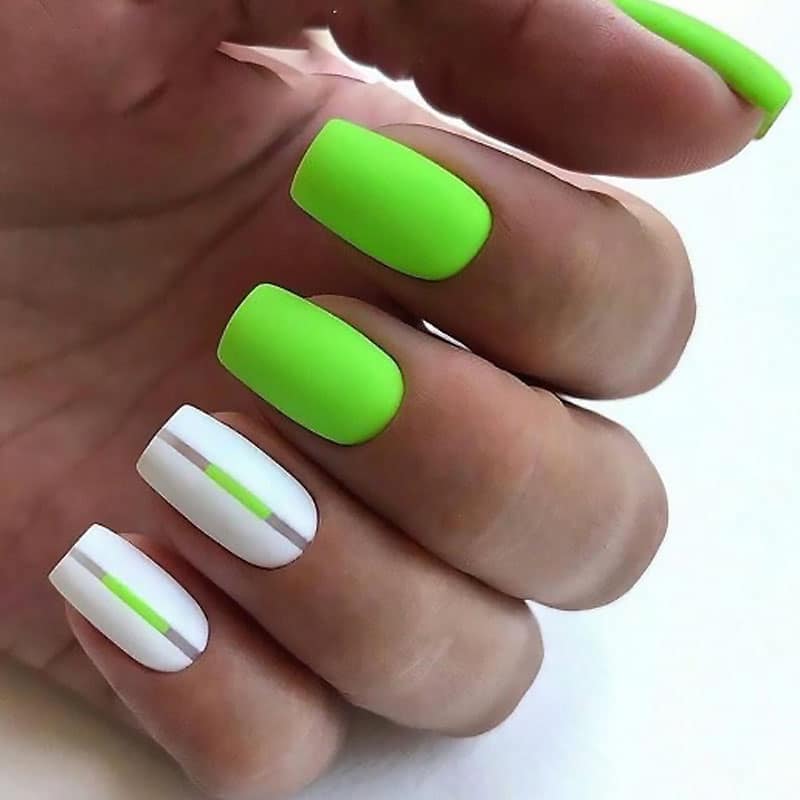 4. Sage Green Nails
Sage Green is a lovely earthy shade with gray undertones. It's a more subdued tone, making it versatile, well-suited to a variety of looks and a variety of environments. Colors that go well with sage are white and grey. For a more dramatic look, you can even try red and pink details like squiggles or floral prints. This allows you to experiment with different nail art options and you can make your manicure unique and interesting by choosing patterns and prints of your choice. Sage is also often associated with wisdom, so your manicure can be beautiful and symbolic.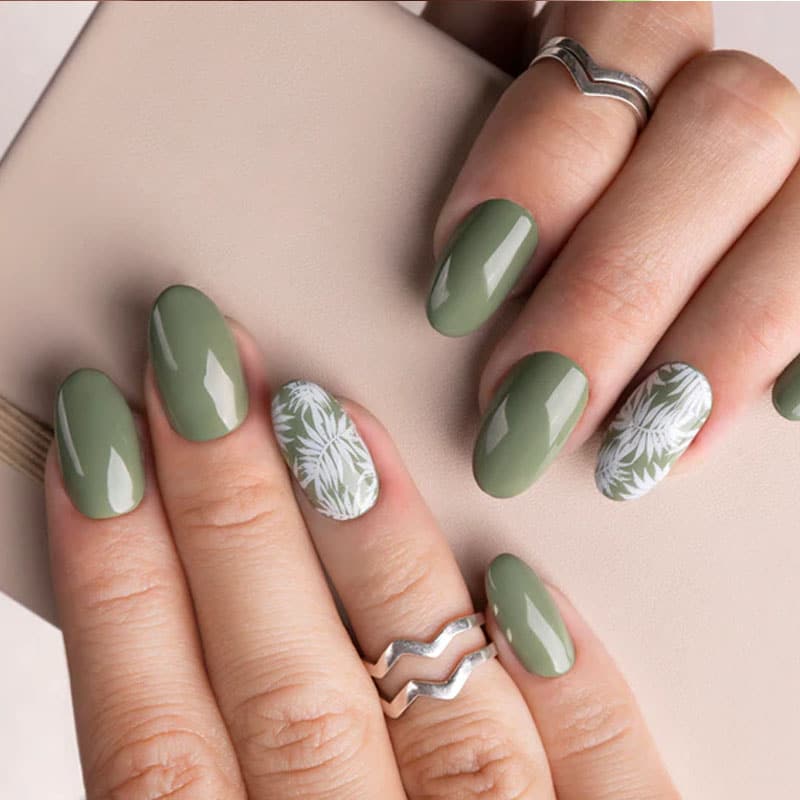 5. Dark Green Nails
Dark green nails are a rich shade that will draw attention to your hands. The color is often associated with jealousy and wealth, as well as peace and serenity. Regardless of your association with color, there's no denying that it's great for a manicure. It looks more luxurious than lighter and brighter shades, so it is easier to wear. It also works well for a variety of occasions, from casual to semi-formal. You can wear dark green polish on both long and short nails and try different finishes. To make your nails the center of attention, soften up your look by wearing solid neutrals like black or white. Alternatively, you can opt for contrasting colors such as purple, which will make an accent and are sure to grab attention.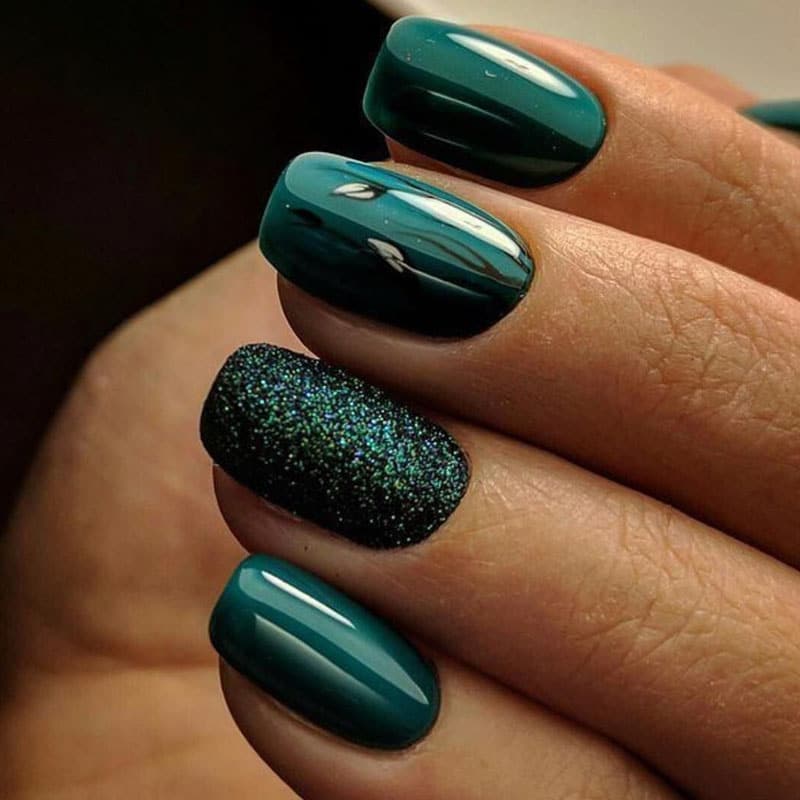 6. Mint Green Nails
If you're looking for a color that makes you think of nature and has a very soothing feel, check out mint green nails. It is easier to wear as it has a more muted shade of green and goes well with other soft colors and white. Mint suits all skin tones and is amazingly flattering. It is also exceptionally versatile, well suited to nails of any length and shape. Also, you can get creative with your work; maybe you want to opt for mint green tips or add gold details for a more luxurious feel. Using negative spacing or pairing it with nudes or whites makes it look more subtle, while you can also opt for contrasting hues like black or royal blue. Wear your favorite rings to draw attention to your hands and enjoy this dreamy shade.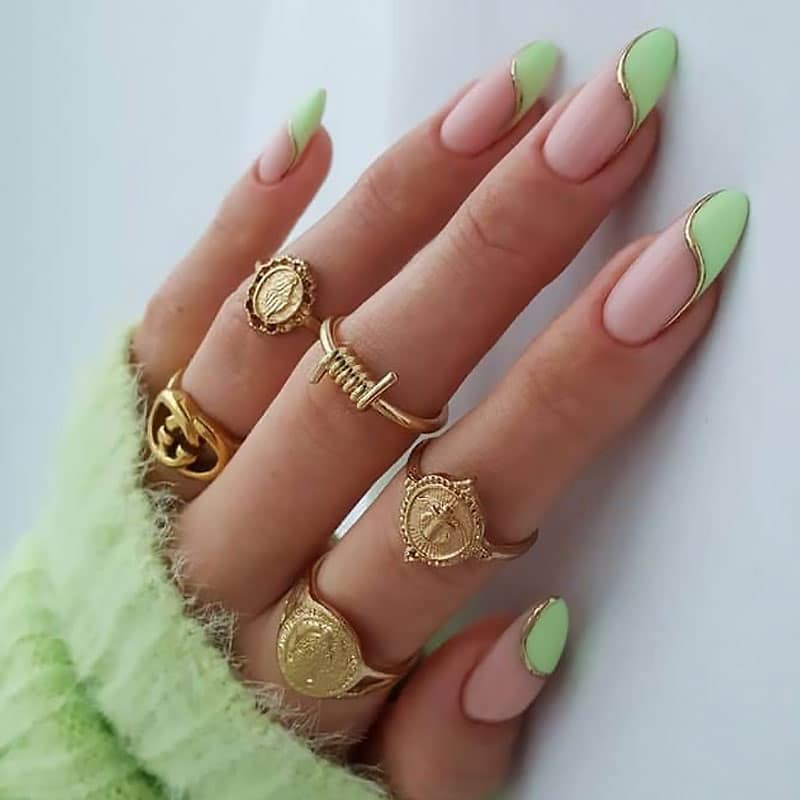 7. Emerald Green Nails
Of all the shades of green you can choose from, it is emerald green nails that are rich and luxurious. The bluish-green hue has a very distinctive color and is associated with good luck and prosperity, and can also make you think of royalty and power. It looks great with long nails and can be paired with several other colors to create breathtaking nail art. Neutral colors like beige will tone down the green, while purple and red will make the look more intense and contrasty. However, by far the most popular combination is emerald green and gold. It has an incredibly sophisticated look and the gold manicure choice really complements the green.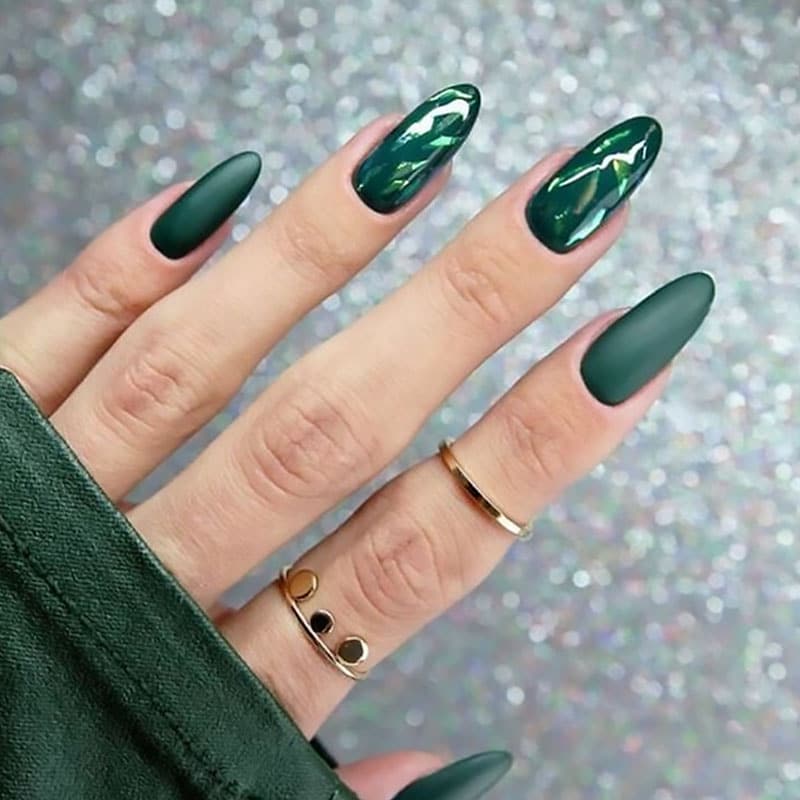 8. Light Green Nails
Intense dark colors make fantastic nail art, but if you want something more subtle, a light green manicure is a way to go. The great thing about any green manicure is that there are so many different shades, making it a versatile and interesting choice. Light shades are better suited for everyday wear, as they do not require special attention. Light green can look fresh and modern when paired with white. You can make it very feminine by adding little white daisies on your nails, or you can capture the 70s style with checkered patterns or squiggles.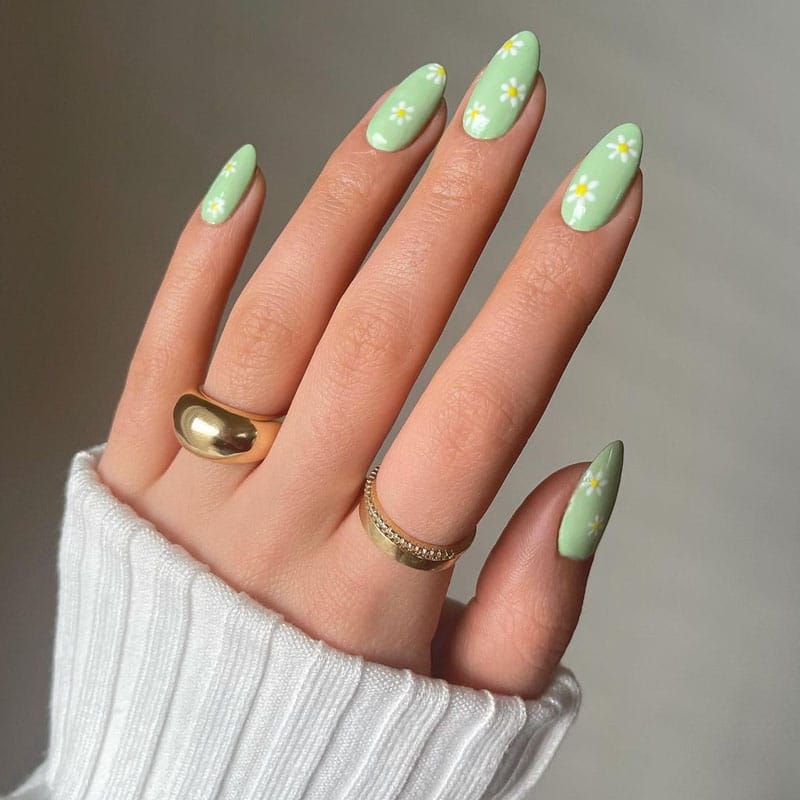 9. Green Ombre Nails
Green ombre nails are fresh and modern, making them a fantastic choice for any woman. Mixing two colors, often one light and one dark creates an eye-catching look and allows you to wear more than one shade. There are so many different combinations that you can choose a manicure to your liking. Examples include pairing your favorite shade of green with white, or two greenish hues like mint and olive. If you want an interesting and colorful finish, there is no better option than an ombre manicure; however, you can expect to pay a little more for this manicure because it takes skill and patience to get it right. alternatively, for a hassle-free approach, you can buy fake nails that already have an effect on them.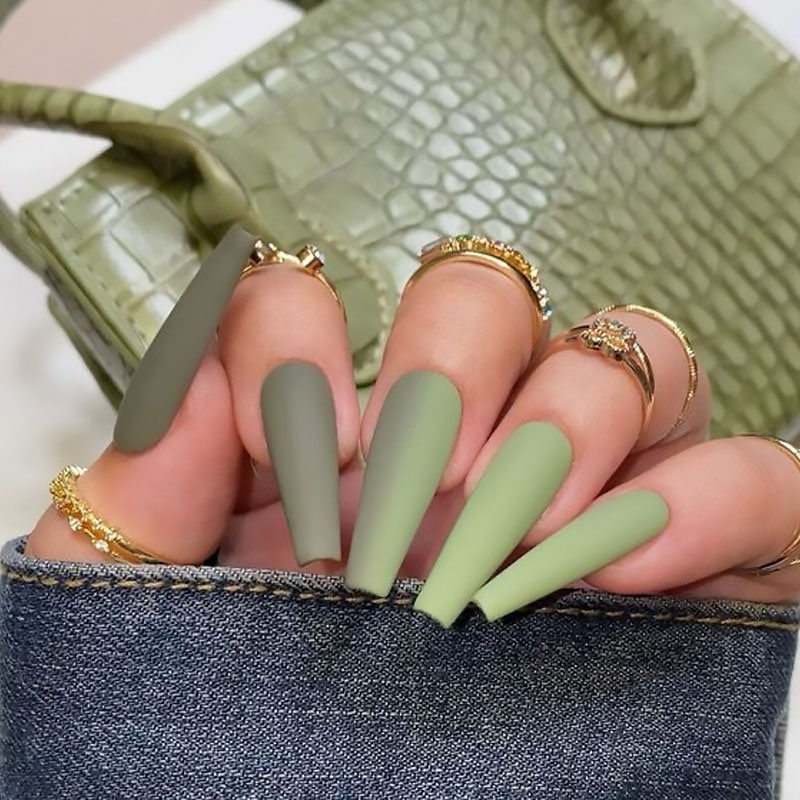 10. Matte Green Nails
Matte polish has no shine, creating an interesting finish. It can also be more discreet, easier to wear, and looks especially good with shorter nails. Matte nail designs wear off faster than glossy nail polish and your manicure won't last as long; however, most women find it a great way to change up their standard look, and choosing matte colors can create a sleek and classy look. As for how you decide to enable it, that decision is entirely up to you. You can choose a specialty nail leaving the rest with a glossy or glittery finish, choose your favorite prints, or make it easy by painting the entire nail in one solid color.