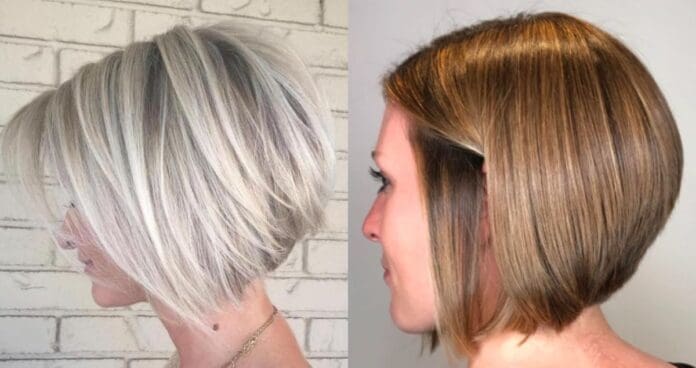 Fancy something hot and trendy? That's exactly what the sassy stacked bob hairstyle offers you — an on-trend look that everyone will marvel at. With so many benefits and very few positives, and also a look for every face shape, hair type, and even personal preference, the stacked bob certainly holds in its own weight when it comes to top short hair looks.
1 – Added Dimension and Texture
In terms of the most flattering, stacked bob hairstyles rock the short hair world. If you add the stacking to an A-line bob, you're also adding some volume and thickness to the occasion, and when you add highlights and other colors dimensions into the mix, you have a look that is super flattering, whatever the case.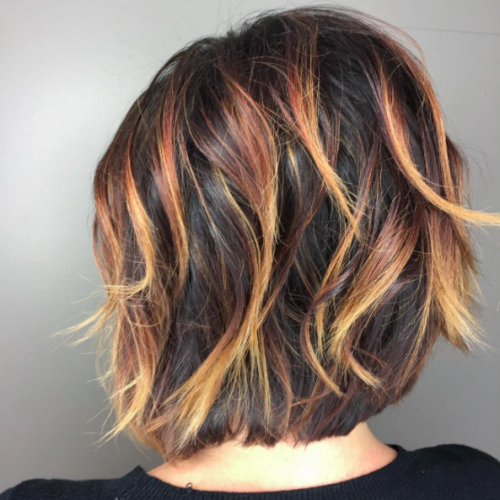 Source: briromerohairbrowsmakeup
2 – Bright Purple and Sleek Stacked Bob
Vibrant colors can make short bobs really stand out, especially if you want to make a big statement with your hair. You have your pick of colors too. This purple one makes a big impact, but with so many choices, you really can get away with being a bit experimental.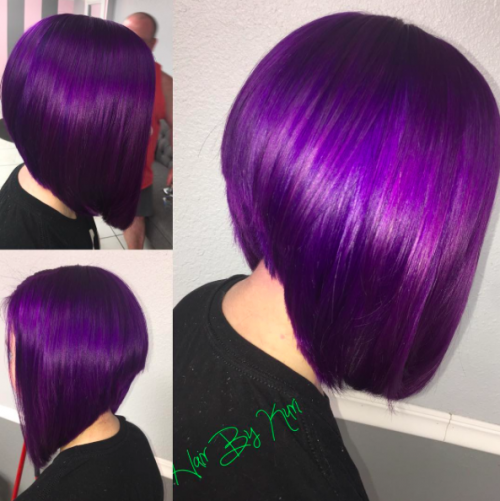 Source: hairbykuri
3 – Lilac Toned Blonde Stacked Bob
Lilac tones are perfect for when you want to add a splash of color, but not too much. A white toner will often help you to get this white and lilac hue at home if you've had the cut already done in the salon. Those pretty, soft layers offer the perfect look to show off every tone used in the design.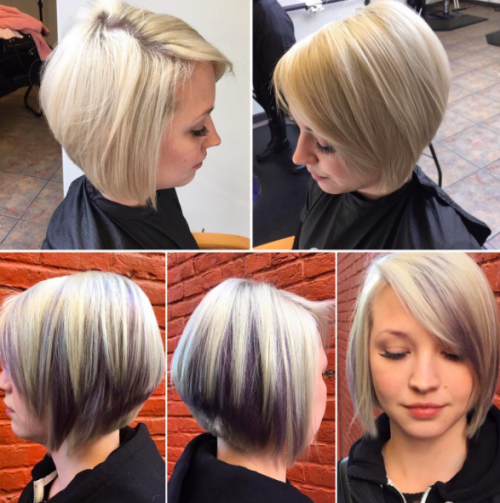 Source: tinybetty
4 – Soft & Stacked
Those stacked bobs add stacked layers at the back, hence the name. (It kinda gives it away really, doesn't it?) Those layers serve many purposes though, and can be worn both with longer layers and shorter ones. The biggest benefit they offer, of course, is adding more volume to limp and lifeless locks.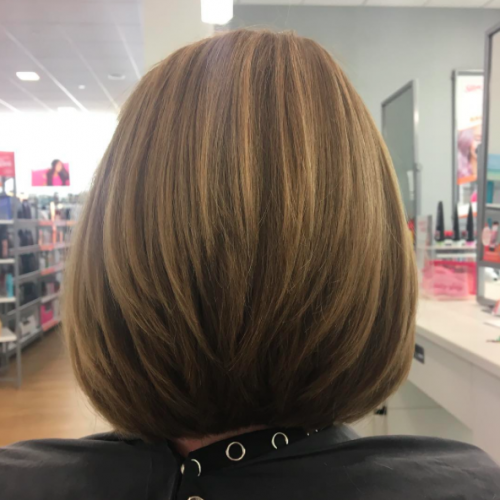 Source: tinamarie_mdrez
5 – Icy Blonde Stacked Bob
One of the biggest advantages of short hair is that it is generally quicker and easier in the morning to get ready. Longer hair takes a long time to wash, dry and then style than shorter hair, and with locks like this, you could be ready in no time at all. A few extra minutes in bed sure sounds nice, right?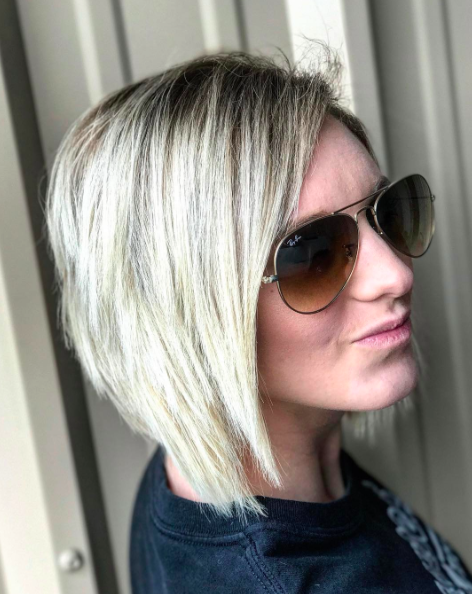 Source: alliesharpe001
6 – Seamless Stacked Bob
The bad news is that you won't just be able to put your hair into some sort of messy bun or easy ponytail when you opt for the chop, and this is often what comes as the biggest surprise to those who go from long to short hair very quickly. Make sure you know what you're up against when you opt for stacked bob haircuts like this one. You will need to go through some sort of styling regime in the morning. No throw-up-and-go.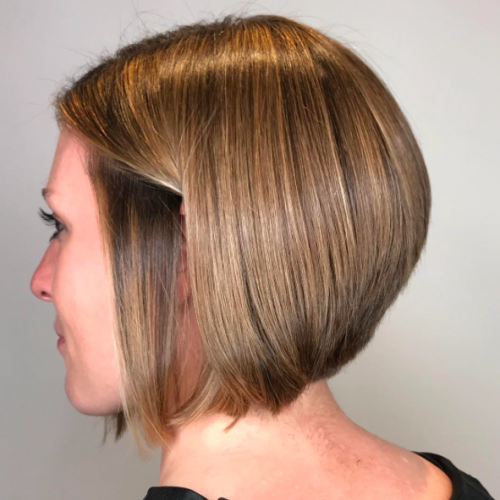 Source: hairbychristinamistretta
7 – Short & Sassy Stacked Bob Haircuts
Keep things short and sassy with this cute and blonde stacked bob style. Darker and lighter tones of blonde have been blended together wonderfully to give this some bounce and depth. The stacked layers towards the back, plus a few sassy layers, really make the whole design come to life.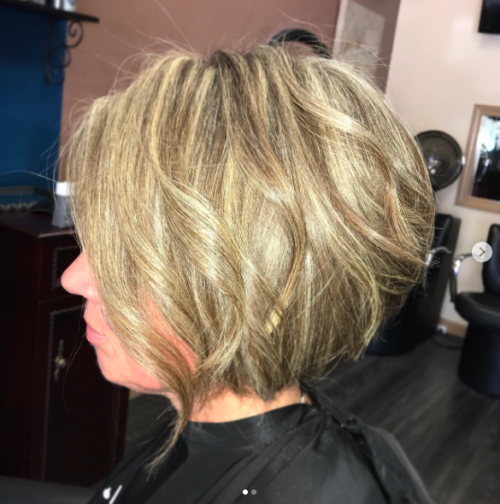 Source: smoothieash
8 – Purple Tinged Stacked Bob
If you want to play around with a few new colors and shades, but don't feel like going for colors that are too bright and bold, this purple-tinged look is a great one to take a little inspiration from. Sometimes a subtle pop of color will make more of an impact than really brave shades.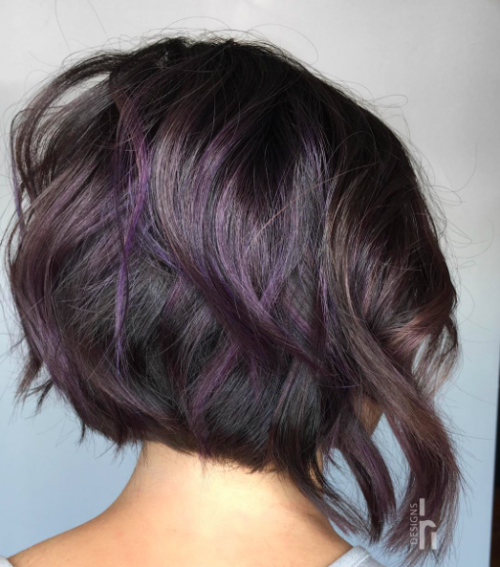 Source: headrushdesigns
9 – Awesome Angles Stacked Bob Haircuts
The back of this look will require a good stylist, so make sure you're picking the right hairdresser for the job. The stacked cut requires layers added to the back in such a way that it adds oomph and volume. If it's done the wrong way, it could just leave your hair looking even more limp and lifeless.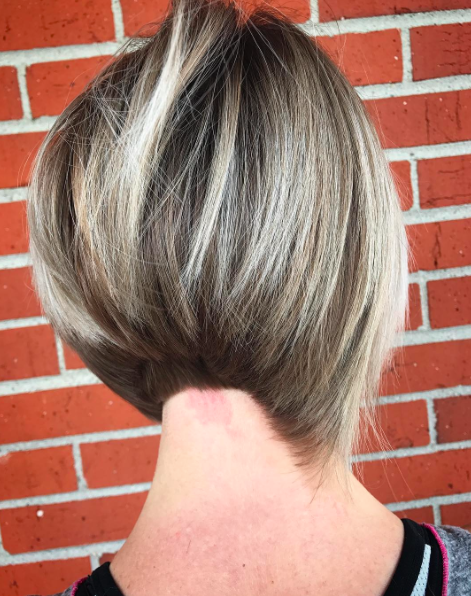 Source: rochellegoldenhairstylist
10 – Grey Toned Stacked Bob & Flat Iron Curls
Curling with flat irons is becoming a big deal right now, and it's a lot easier than you'd think to recreate at home too. Rather than pulling down on the hair with your straightening irons, flick it out instead. Different flick directions and tightnesses will give you different finished looks, so have a good play around and see what happens.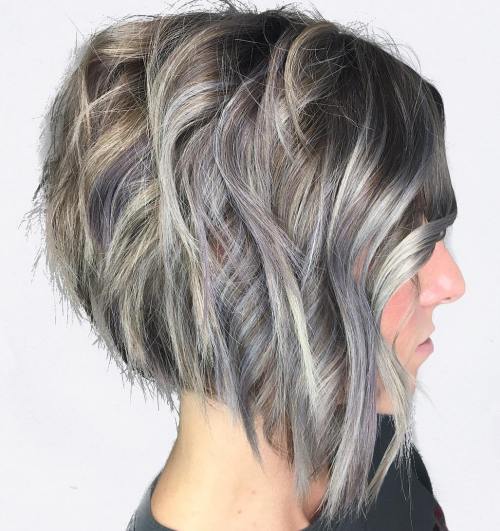 Source: emilyandersonstyling