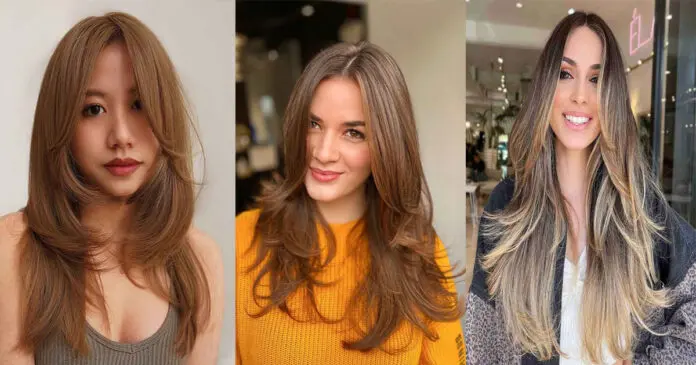 There are many benefits to adding layers to a haircut, especially long hair. A layered haircut allows long hair to have more movement and volume. Layering long hair removes just the right amount of weight to give the hair movement, without making the ends look over-layered and straggly. Long layered hairstyles typically look great on all face shapes. If you have a round face or long face, adding face-framing layers will help balance out your facial features. Before your next hair appointment, check out these trendy pictures of the best long layered hair ideas.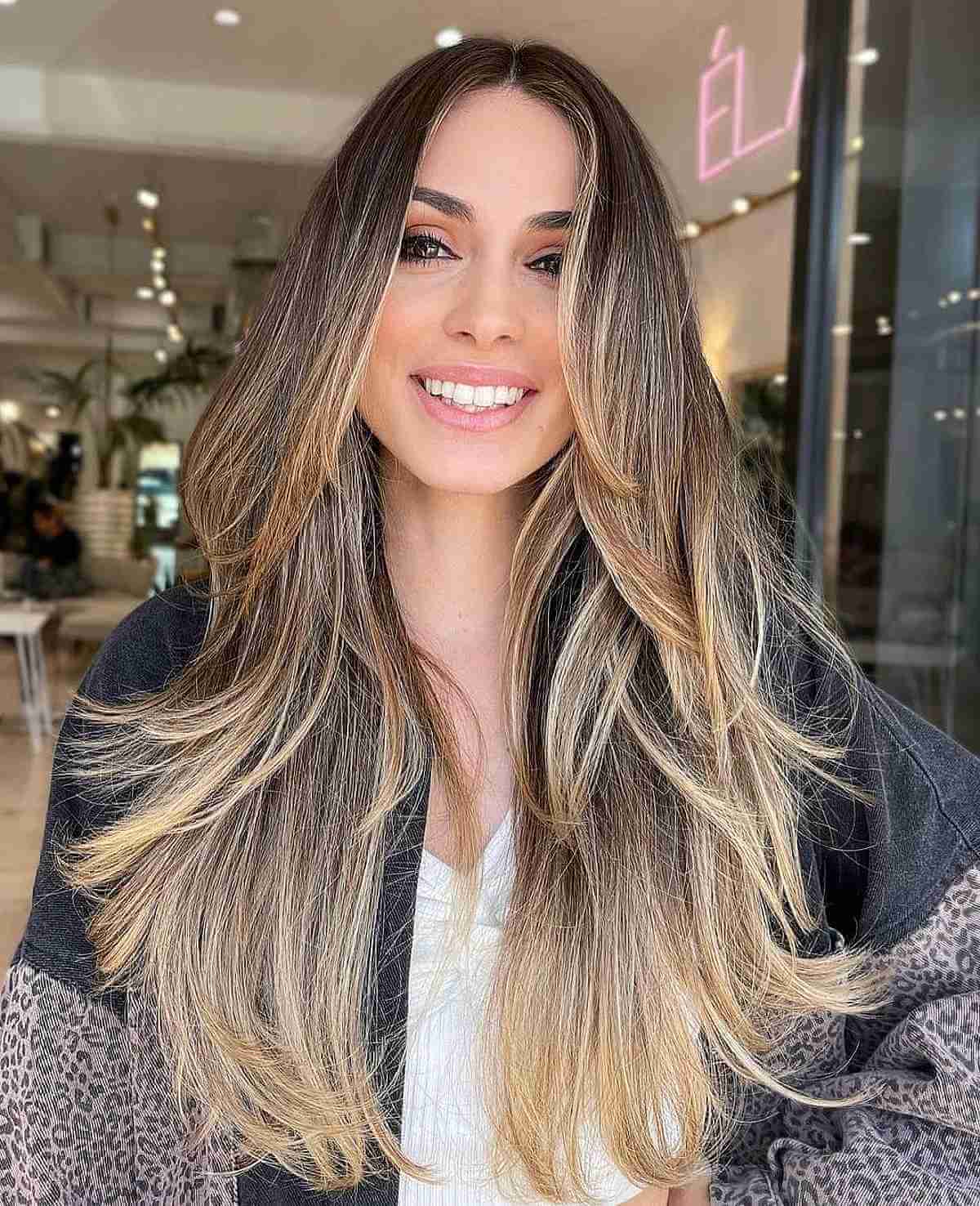 #1: Long Dark Hair with a Sun-Kissed Balayage
If you want a luxurious-looking mane, go for long dark hair with a sun-kissed balayage. Long layered haircuts are perfect for thick tresses and will give your hair body and movement. Long layers look amazing and will bring life to your weighed-down locks.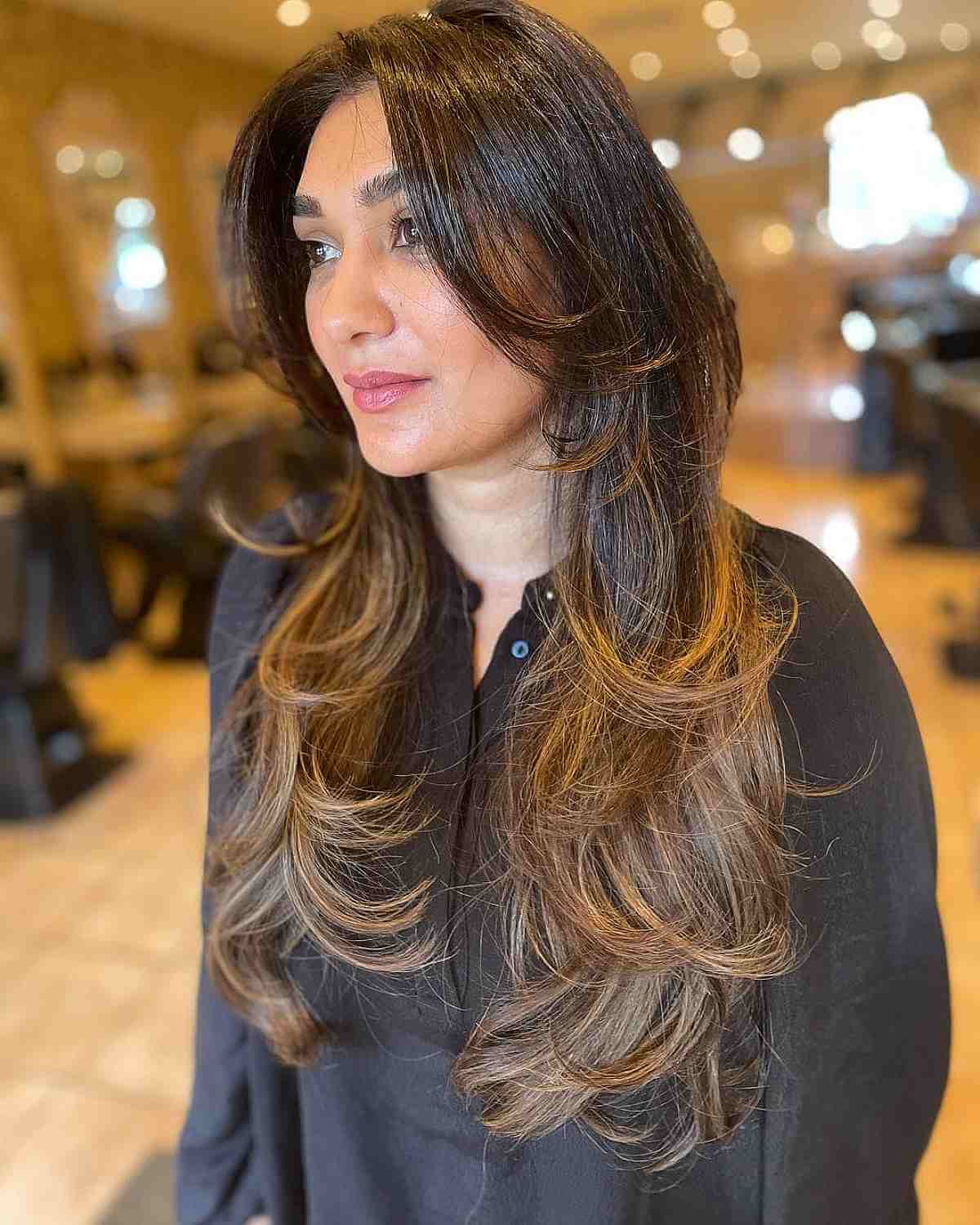 #2: Long Brown Hair with Caramel Balayage and Wispy Ends
Long brown hair paired with caramel balayage is a fun neutral to warm blonde. Caramel balayage is a great way to add dimension to your hair with little maintenance. With balayage, you won't need to color all of your hair to have a dramatic effect, just some well-placed, hand-painted pieces.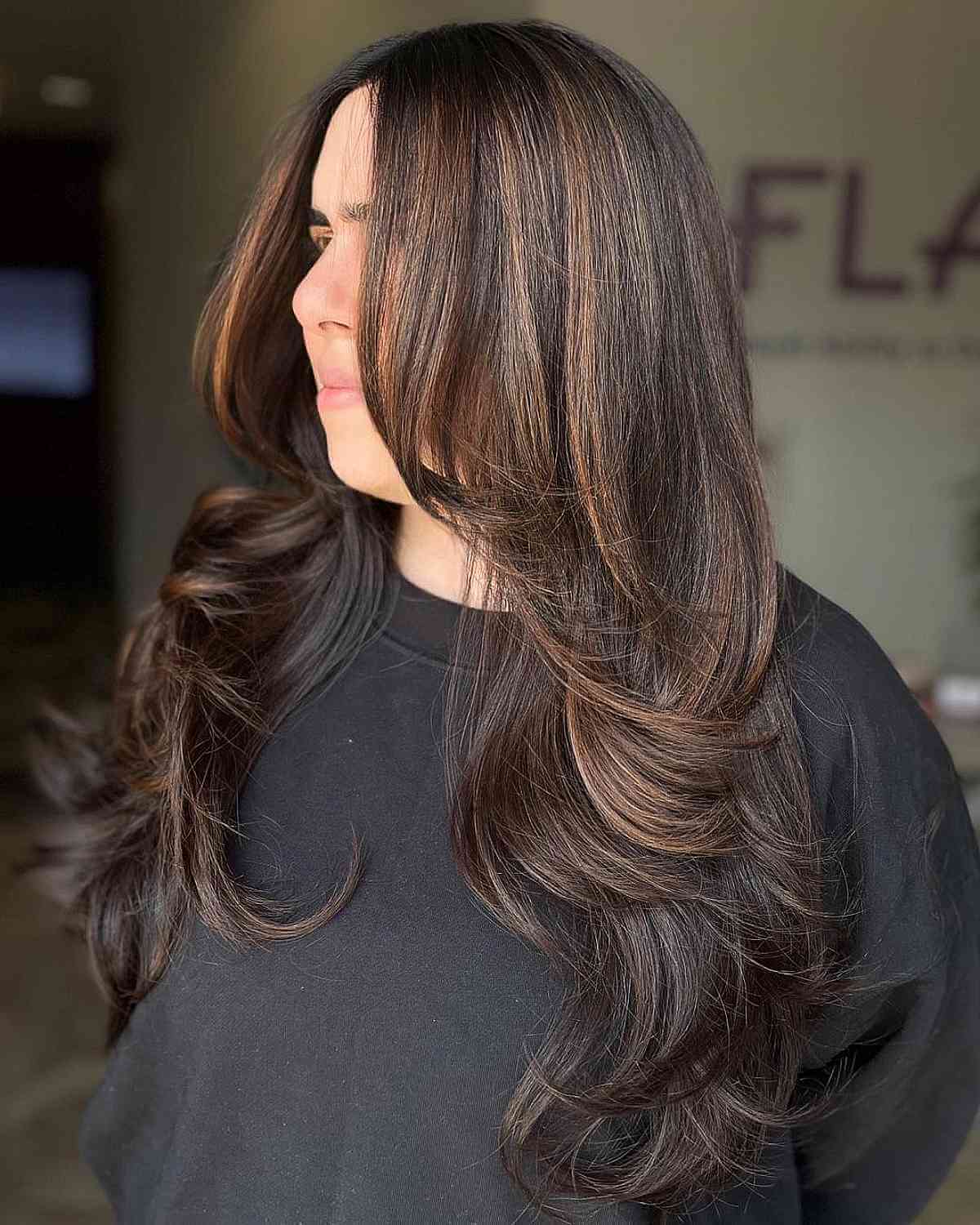 #3: Soft Brunette Swoopy Layers for Long Hair
Try swoopy layers if you have long hair and if you want to keep your length but are wanting a change. Ask your stylist to cut your hair with a center part, making the layers around your face shorter, then blended or angled down to your length. When at the hair salon, have your hairstylist show you how to recreate this look at home. They may recommend you use a round brush and blow dryer, curling iron or Velcro rollers to lightly curl the ends for that swoopy look.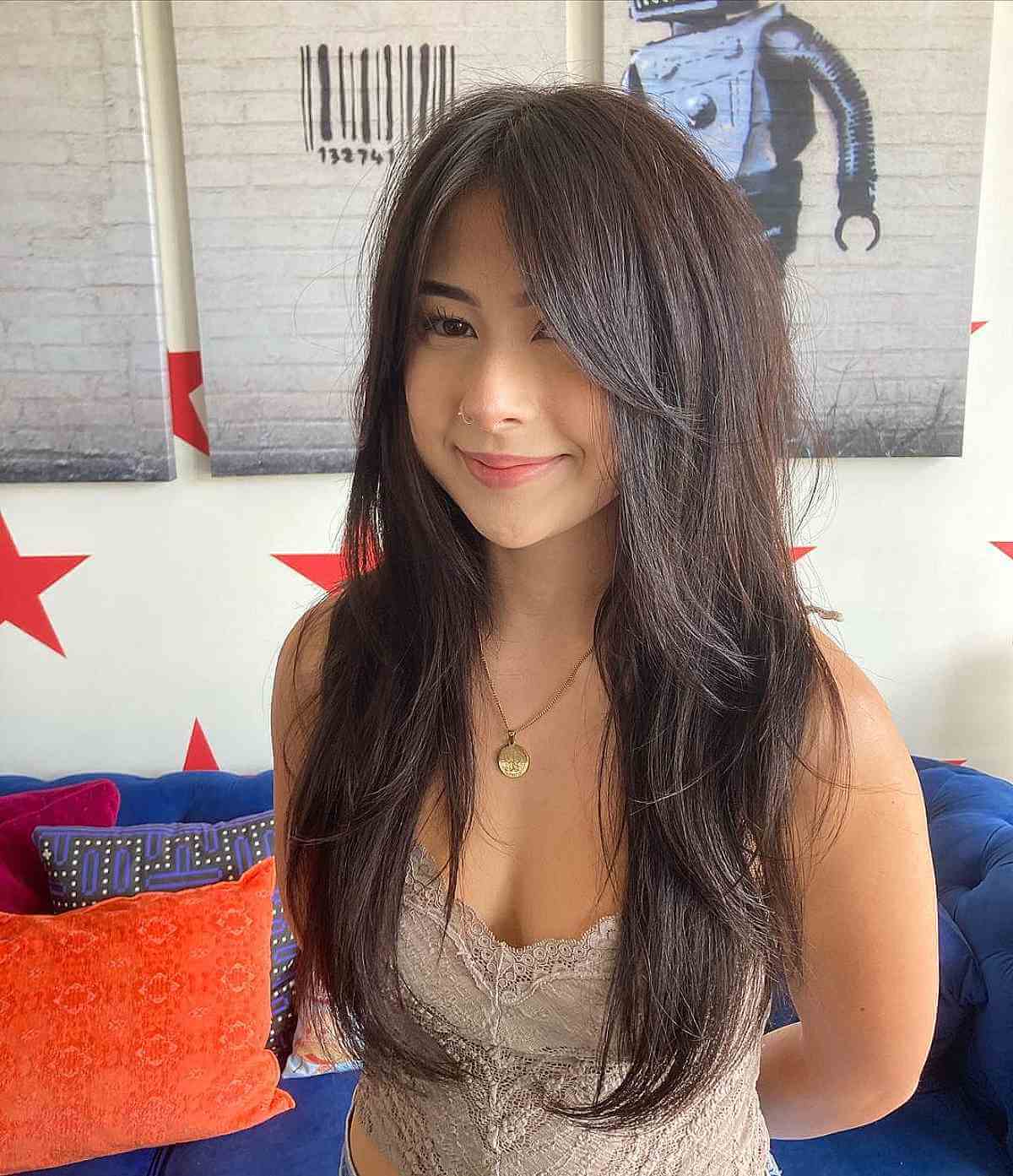 #4: Long Volumizing Layers for Straight Hair
Trying out long layers for your straight hair is perfect if you have one-length locks. Perfect if you have medium or thick hair, voluminous layers flatter your face and add shape. Bring this reference photo to your hair salon to get a stylish layered look.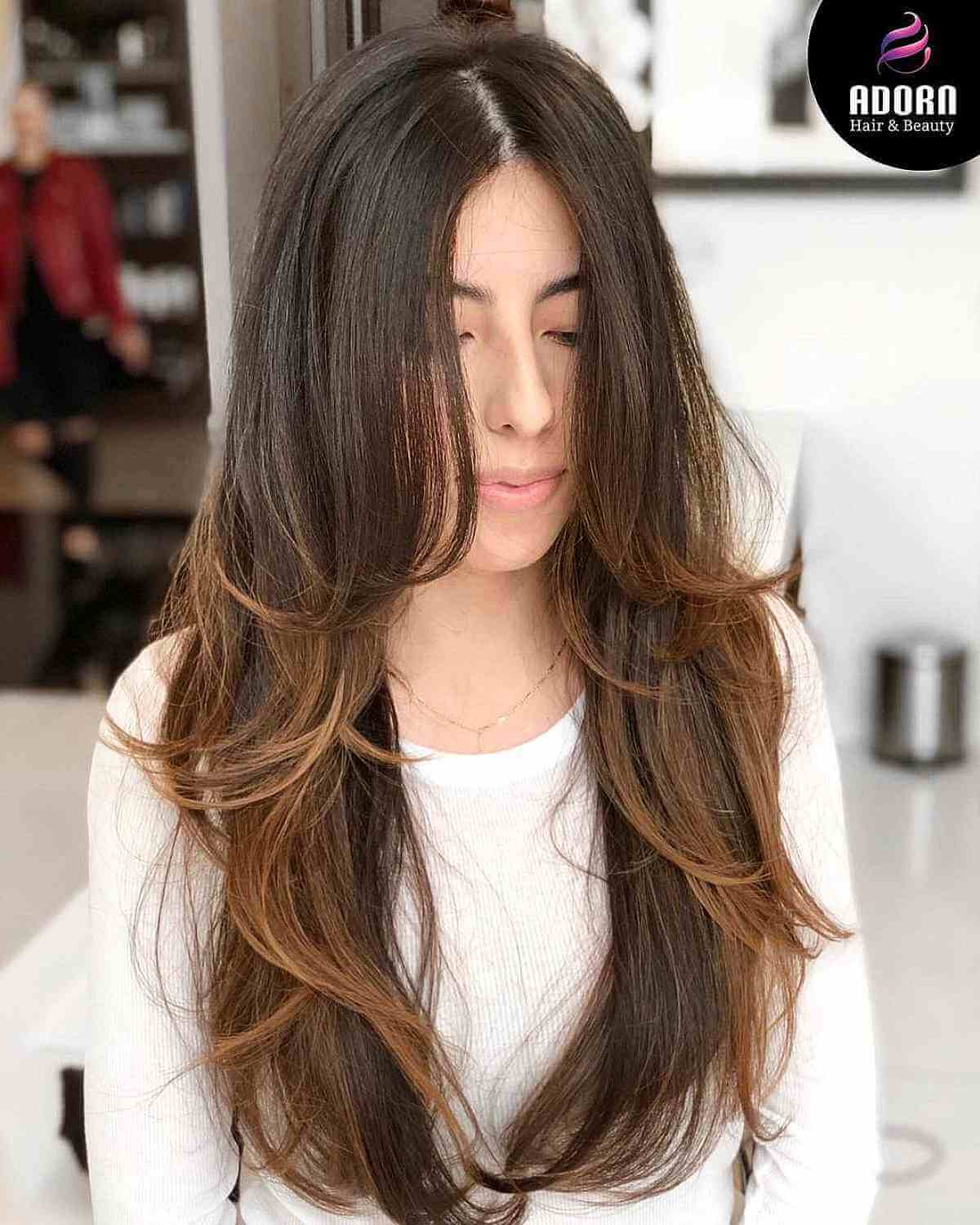 #5: Long Flipped Up Layers with Light Brown Tips
Long flipped-up layers are one of the most flattering hairstyles for long hair. Adding longer layers to your long hair will still allow you to pull your hair back or wear it down and styled. With super long hair, you'll want to have your stylist blend your layers into your hair without removing much weight from your ends. This can be achieved by cutting your shorter layers first and then over-directing your length up to the shorter layers or even angled down from the longest to the shortest length held straight above your head. Girls with long hair don't usually get their haircut that often, so it would be a good option as it's very low-maintenance.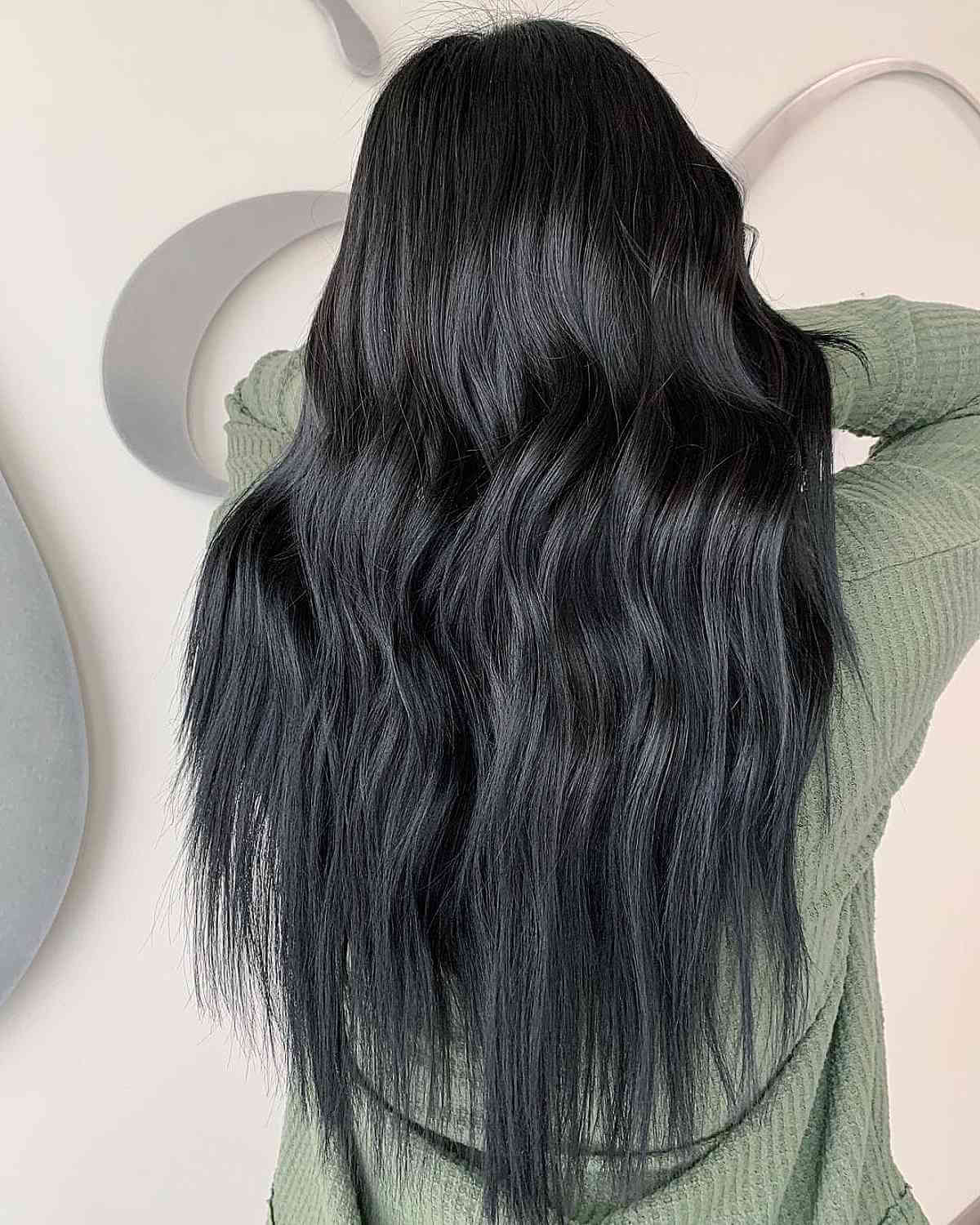 #6: Jet Black Tresses with Soft Layers
A jet black long layered haircut for long hair looks gorgeous on women with darker skin and extra-long hair.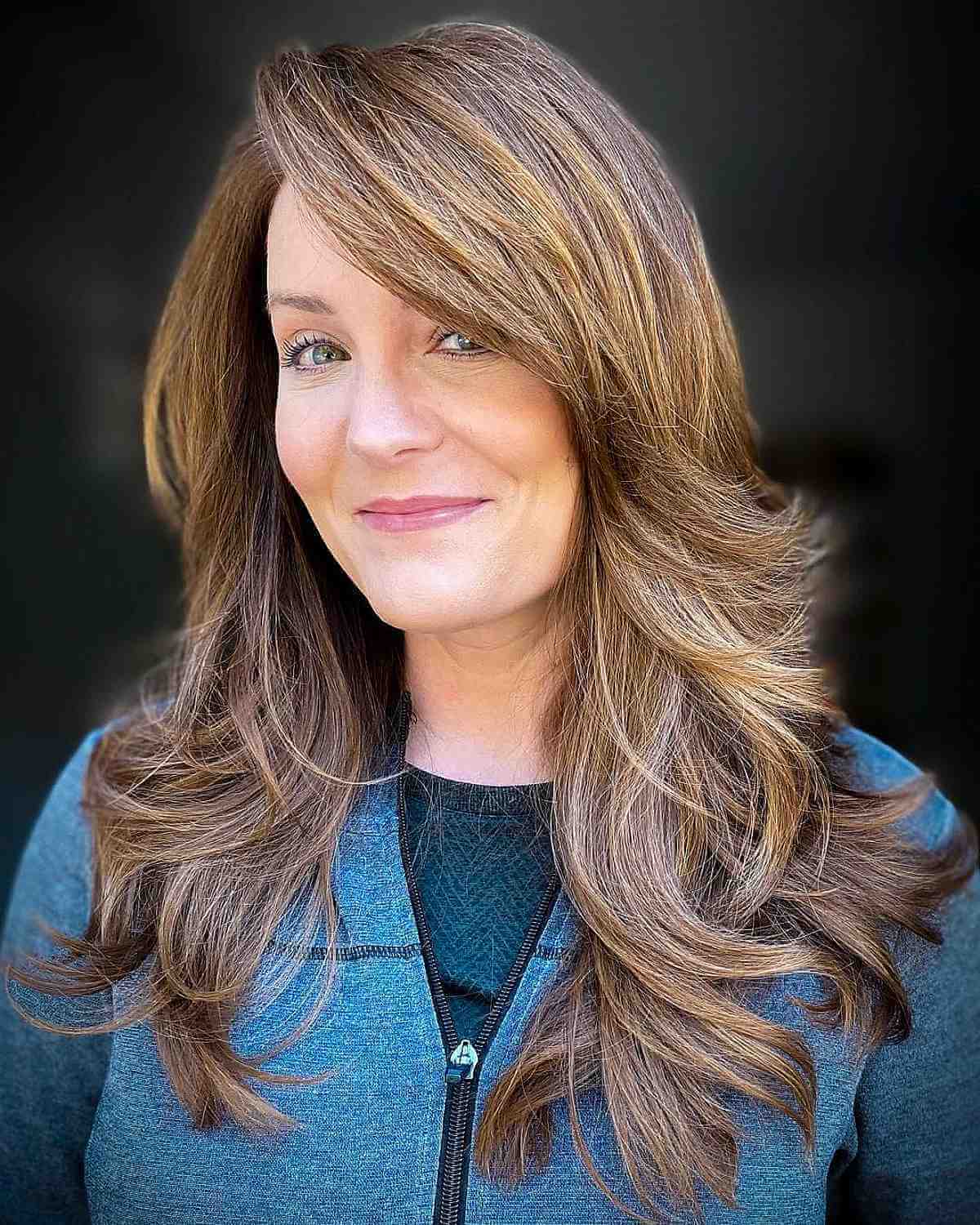 #7: Long Layered Hair with Side Bangs
Long locks look awesome with face-framing layers that taper into long layers towards the back. Creating an invisible shag around the top crown can be worn in its natural state or styled with extra "Bardot" retro volume. Long brunette hair with textured layers has a ton of versatility! It's easy to style or not style. It can be thrown up in a top knot or low bun with flirty pieces that fall out around the face creating side-swept long layered bangs. It's perfect for wavy hair, hair that's naturally air dried, or hair that likes to be blown out with lots of body and volume.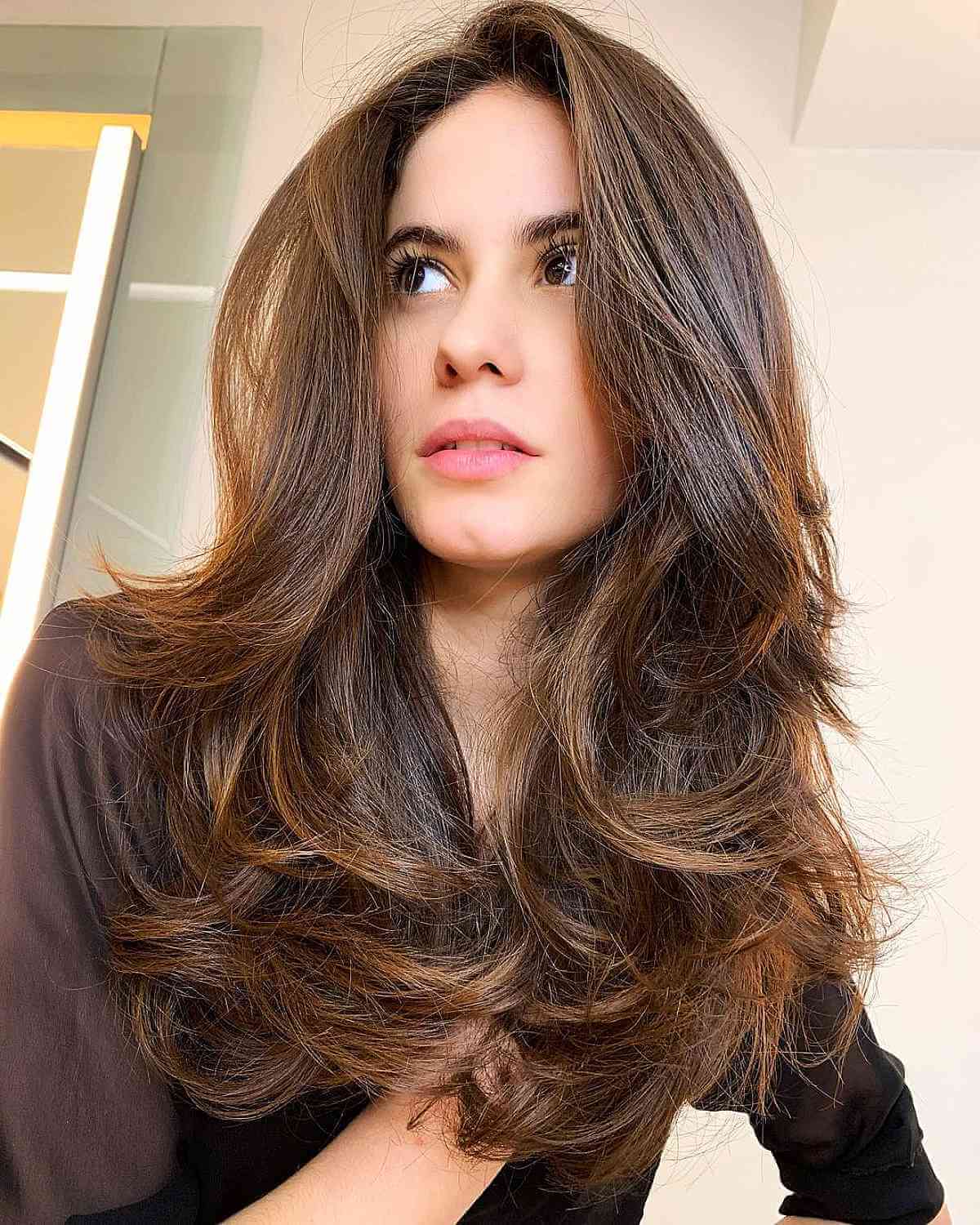 #8: Healthy Long Layered Brunette Style
Show off your beautiful locks with a healthy long layered brunette style. No matter the length or color of your hair, healthy hair is always one of the best looks. Do a conditioning treatment once or twice a week if you can to keep your locks looking healthy and strong. Always use a heat protector when using hot tools to keep damage at a minimum. Visit your stylist every 6-8 weeks to dust off dead ends to keep hair long but looking fresh.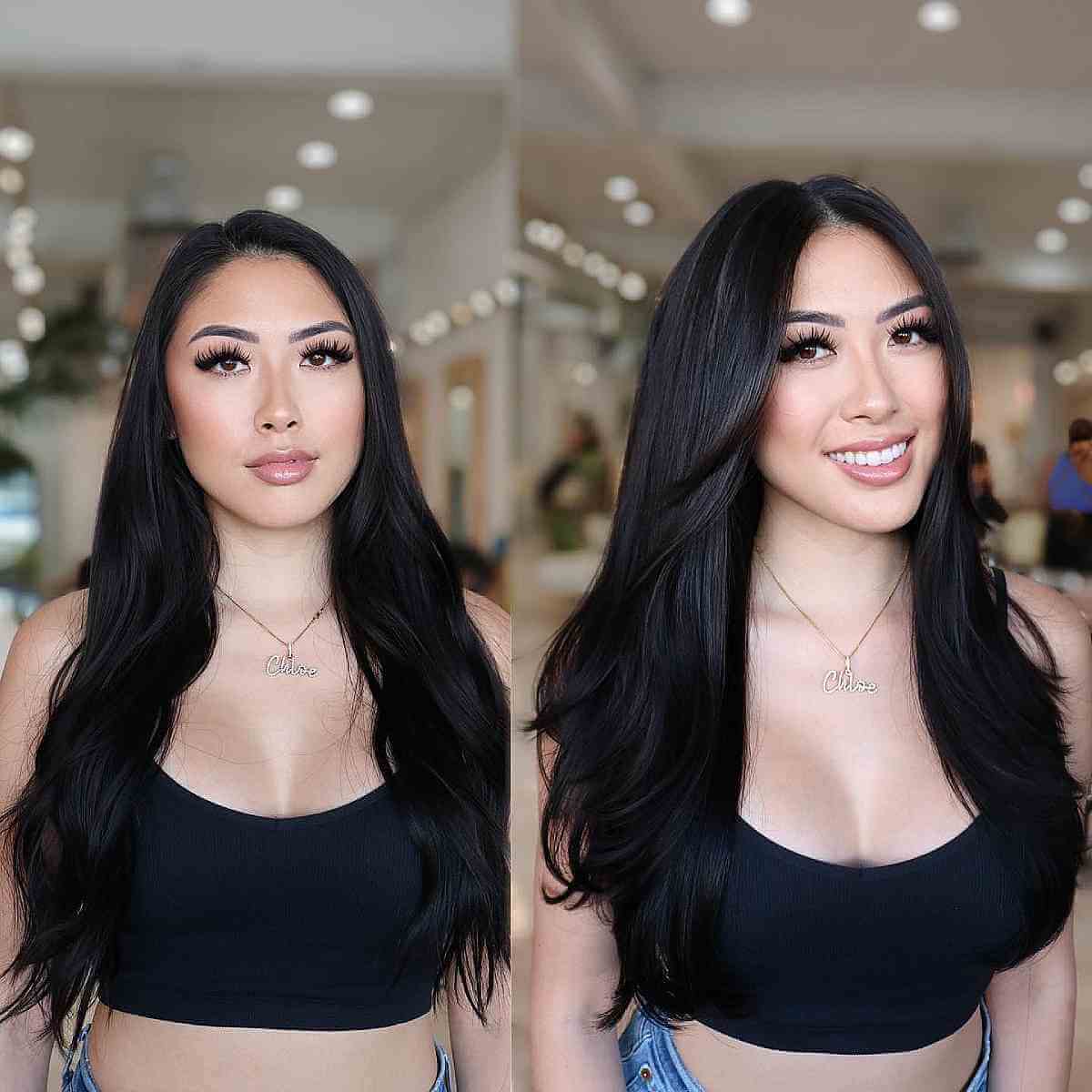 #9: Gorgeous Jet Black Layers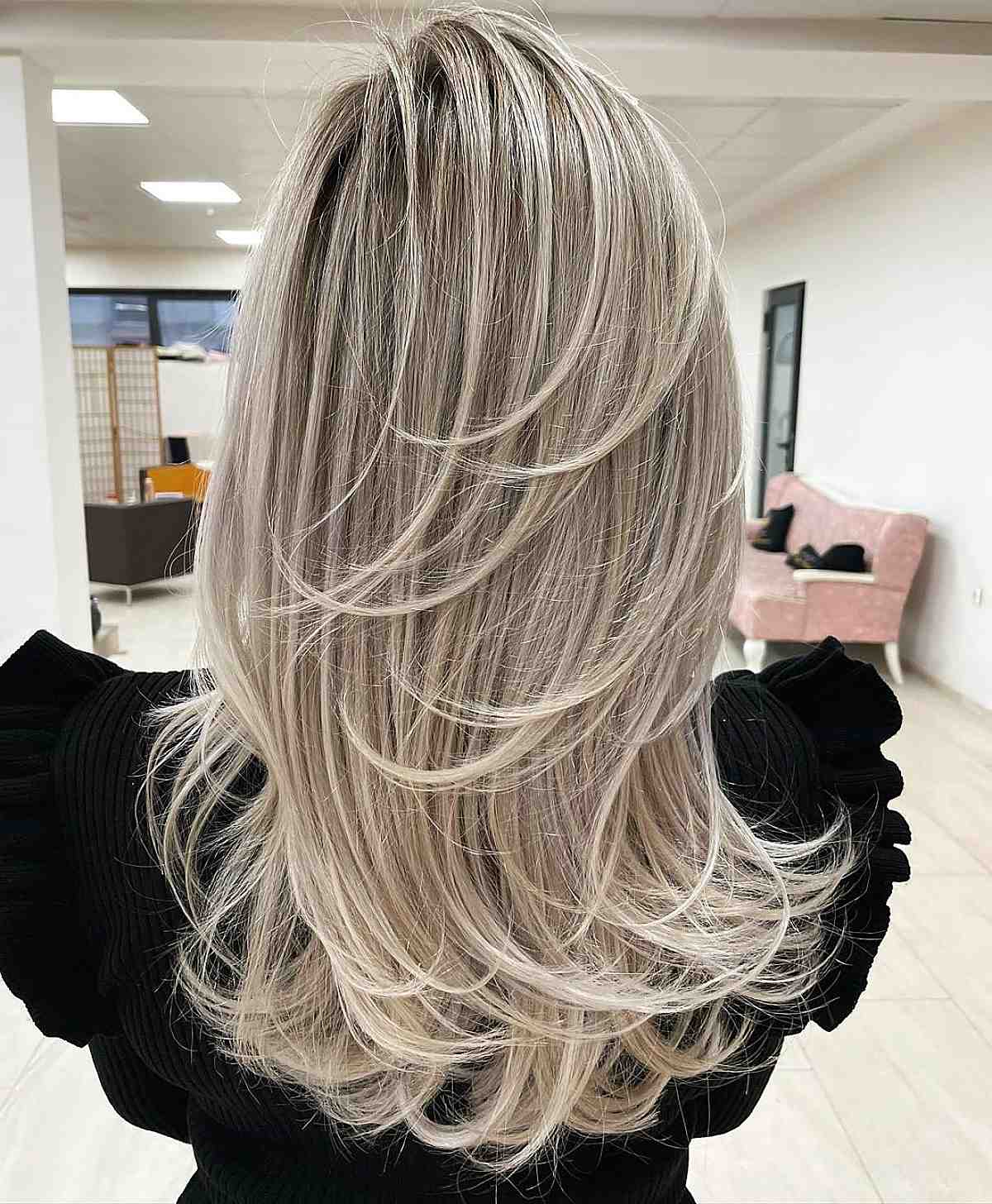 #10: Long Feathered Layers
Short layers for long hair give you a feathering look that's effortlessly stylish. This look is long hair with short layers, as opposed to calling it a long layered cut. The best part about this haircut is all the movement and body it has while still keeping the length. Ask your stylist to do a razor cut for a lot of the interior layering, then clean up the perimeter with their shears. Short layers on long hair works for women with medium density and medium textured hair. This shape is really good for ladies with round-shaped faces because of the length. It elongates the face. It's also a good haircut if you like to play with your style. It's great for long updos and would look beautiful curled with a wand.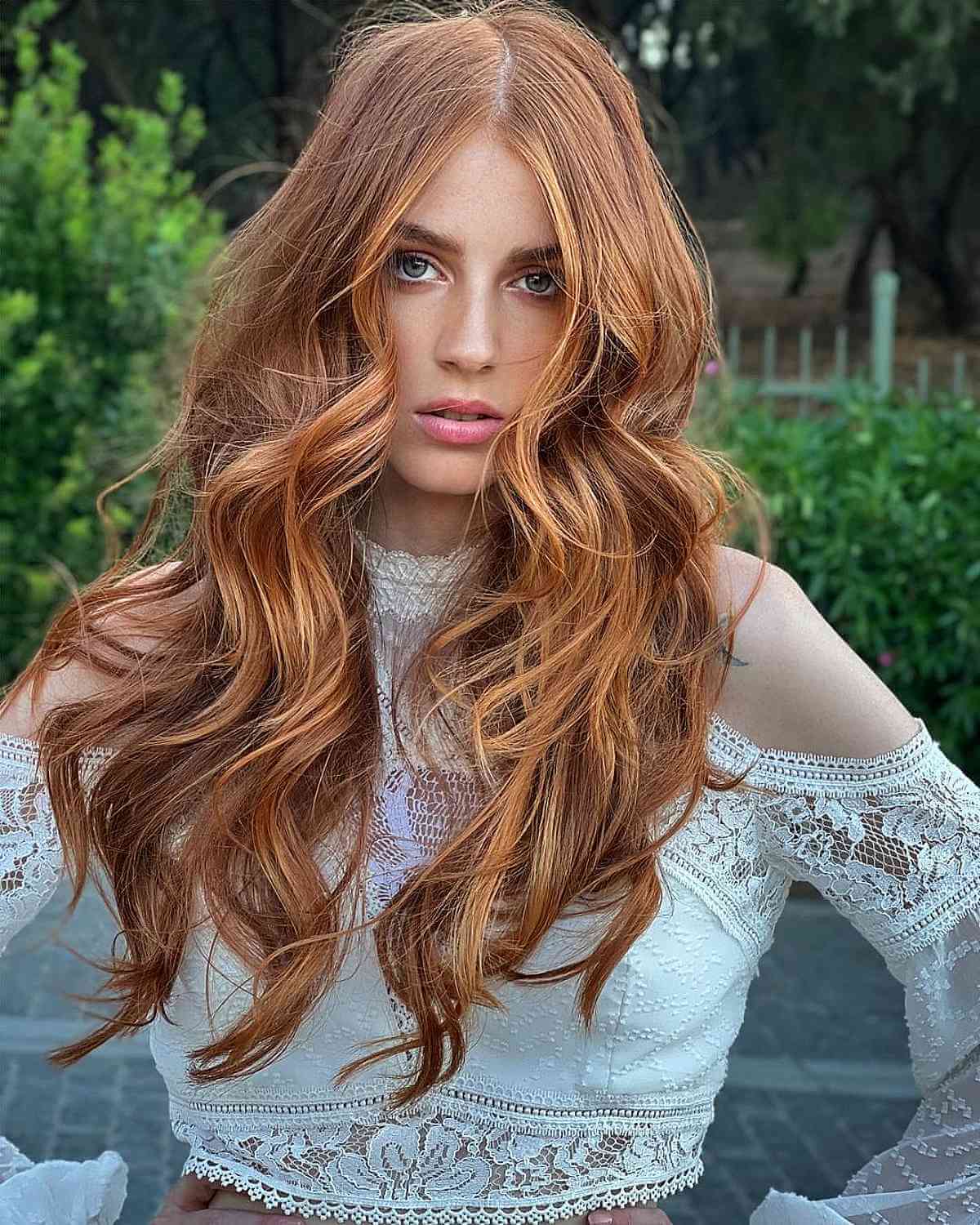 #11: Copper Long Layers with a Middle Part
Cooper long layers paired with a middle part is a gorgeous natural warm color that you can enjoy. Try curling your hair to bring out the different copper tones. This hair color can be worn any time of year!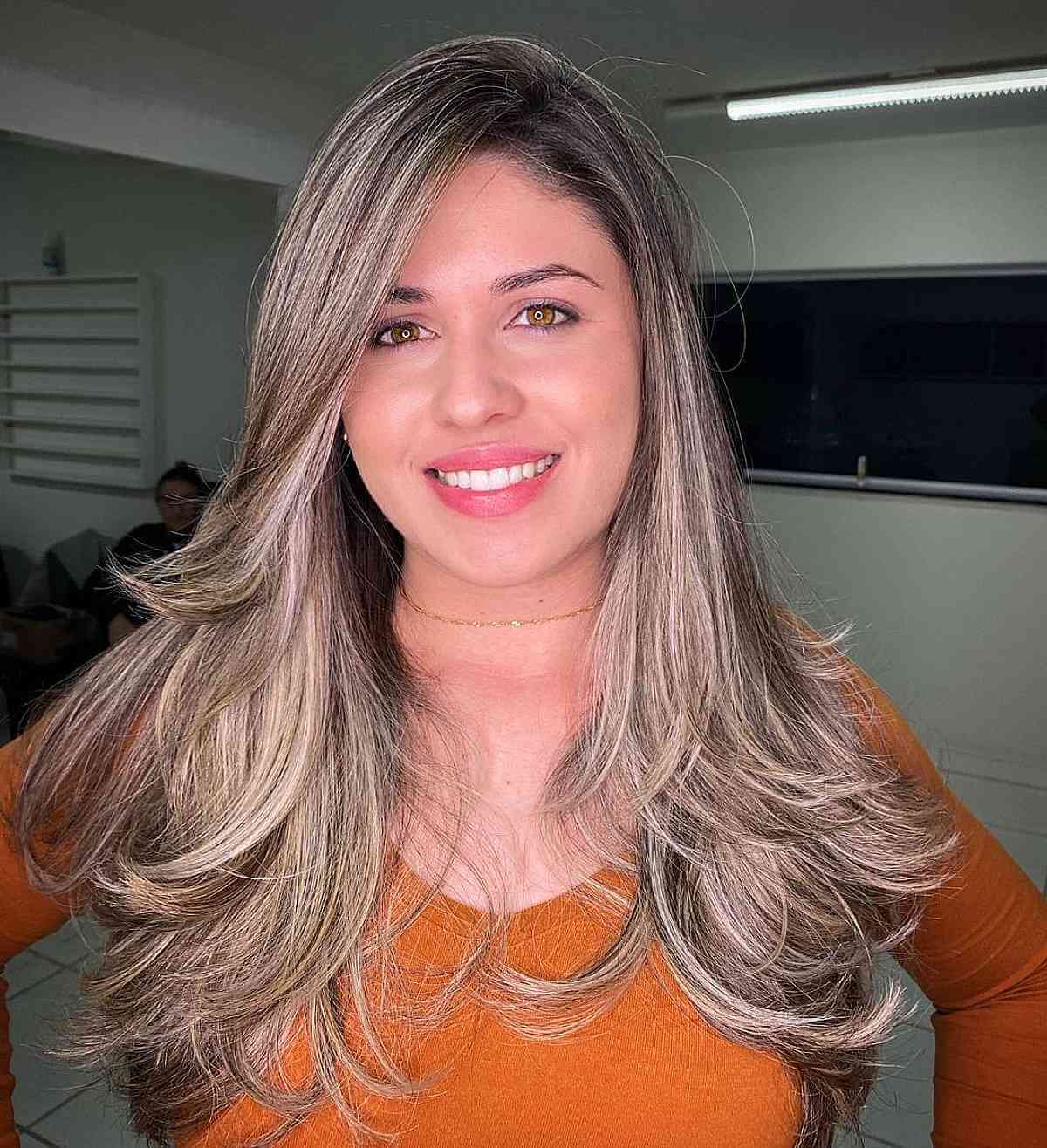 #12: Long Straight Hair with a Side Part
Try long straight hair with a side part to show off your layers. Having layers in long hair will create volume and texture. Your locks won't look boring with this new hairstyle!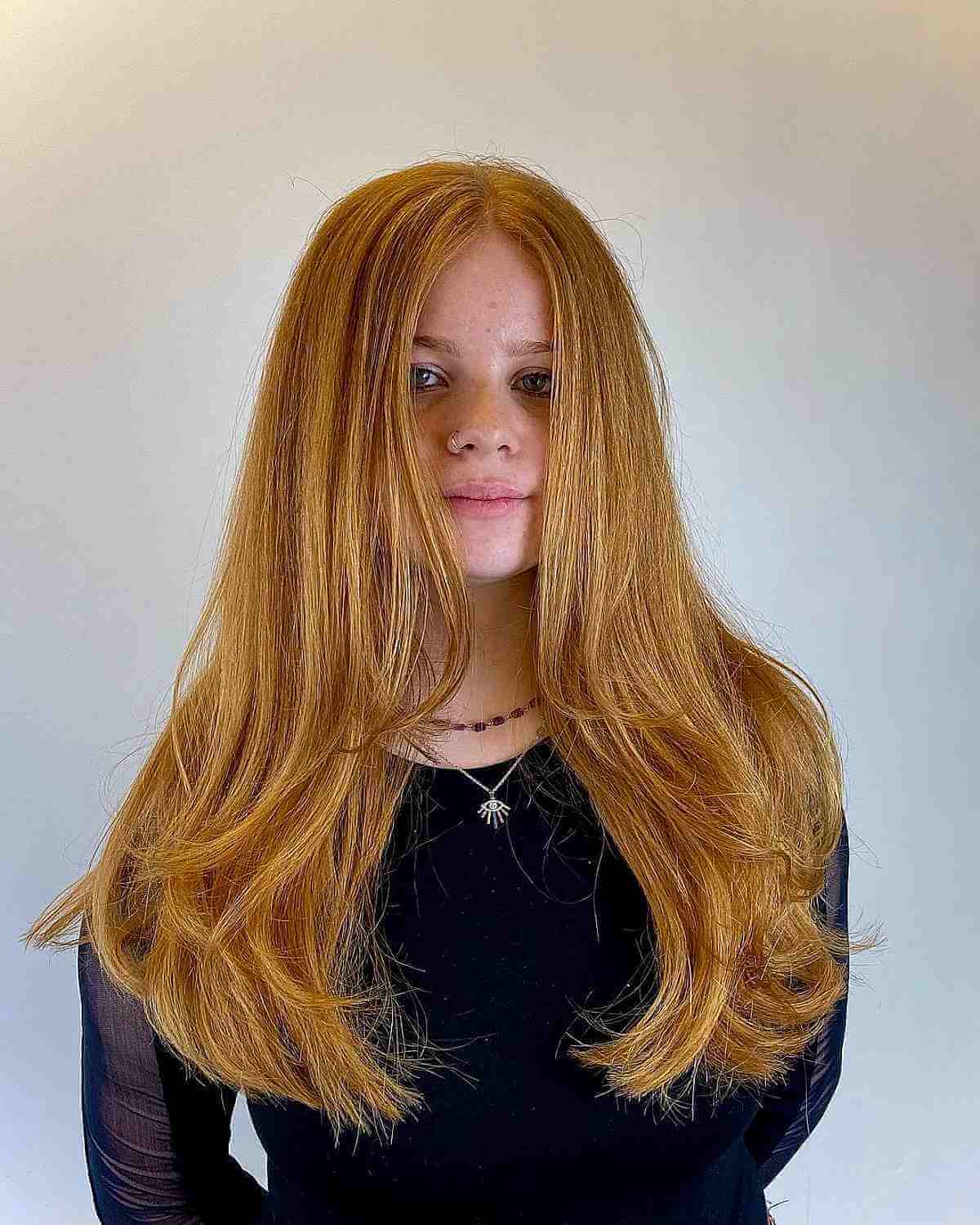 #13: Lightly Layered Face-Frame
Try a lightly layered face frame for something new this year. While it spices things up, it isn't high maintenance and can easily be clipped back. The frame this style creates for your face is soft and very flattering.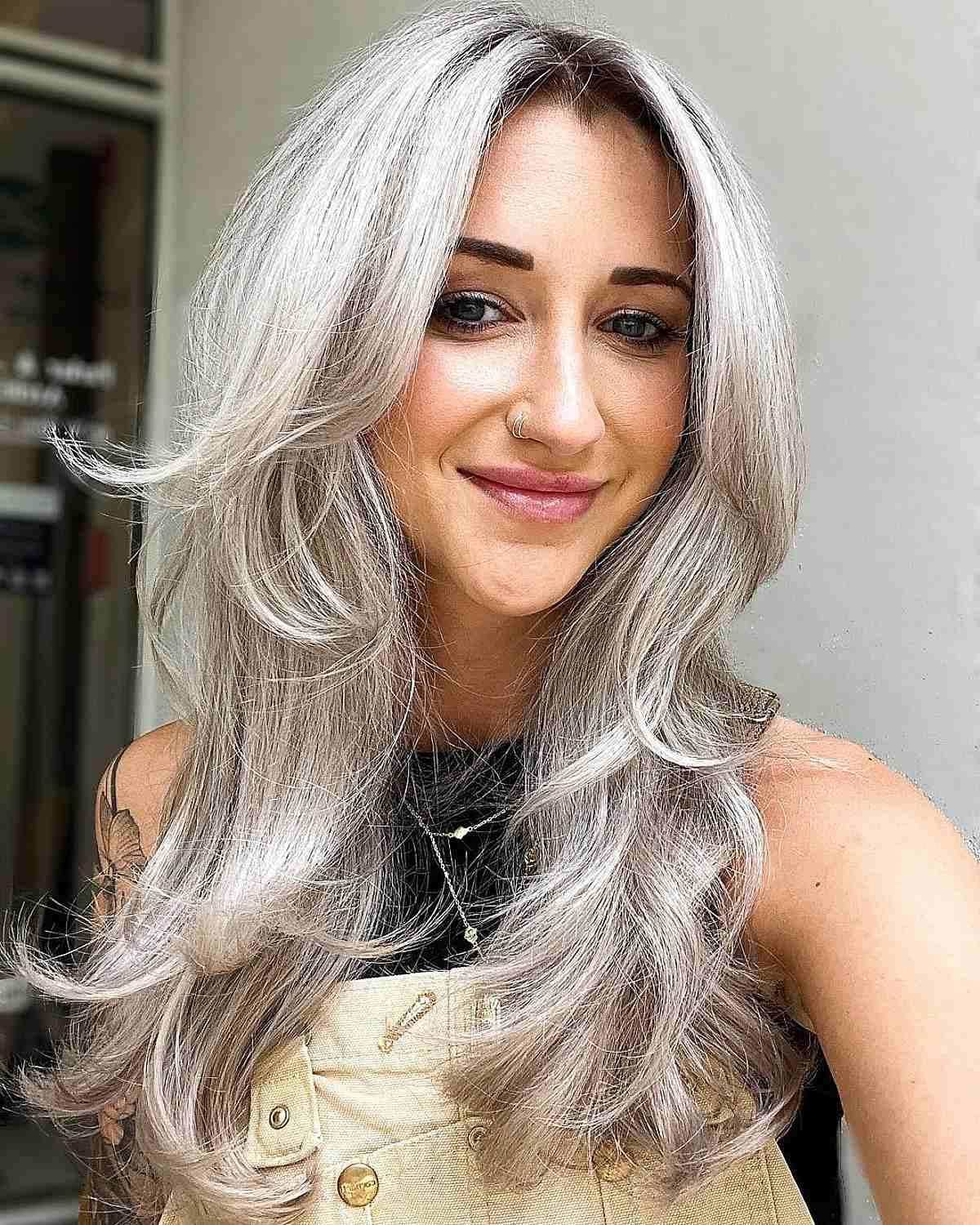 #14: Silver Long Layers with No Bangs
Silver layers without bangs is a beautiful look for long blonde hair. Ask your stylist if your blonde can be lightened enough to tone to silver, it may take a few sessions to do while maintaining the health of the hair. Long, flow-y layers are always stunning, create the bouncy blowout look with a round brush or with larger hot rollers. Silver hair will require toning ever 6 to 8 weeks as well as purple or blue toning shampoo once weekly at home.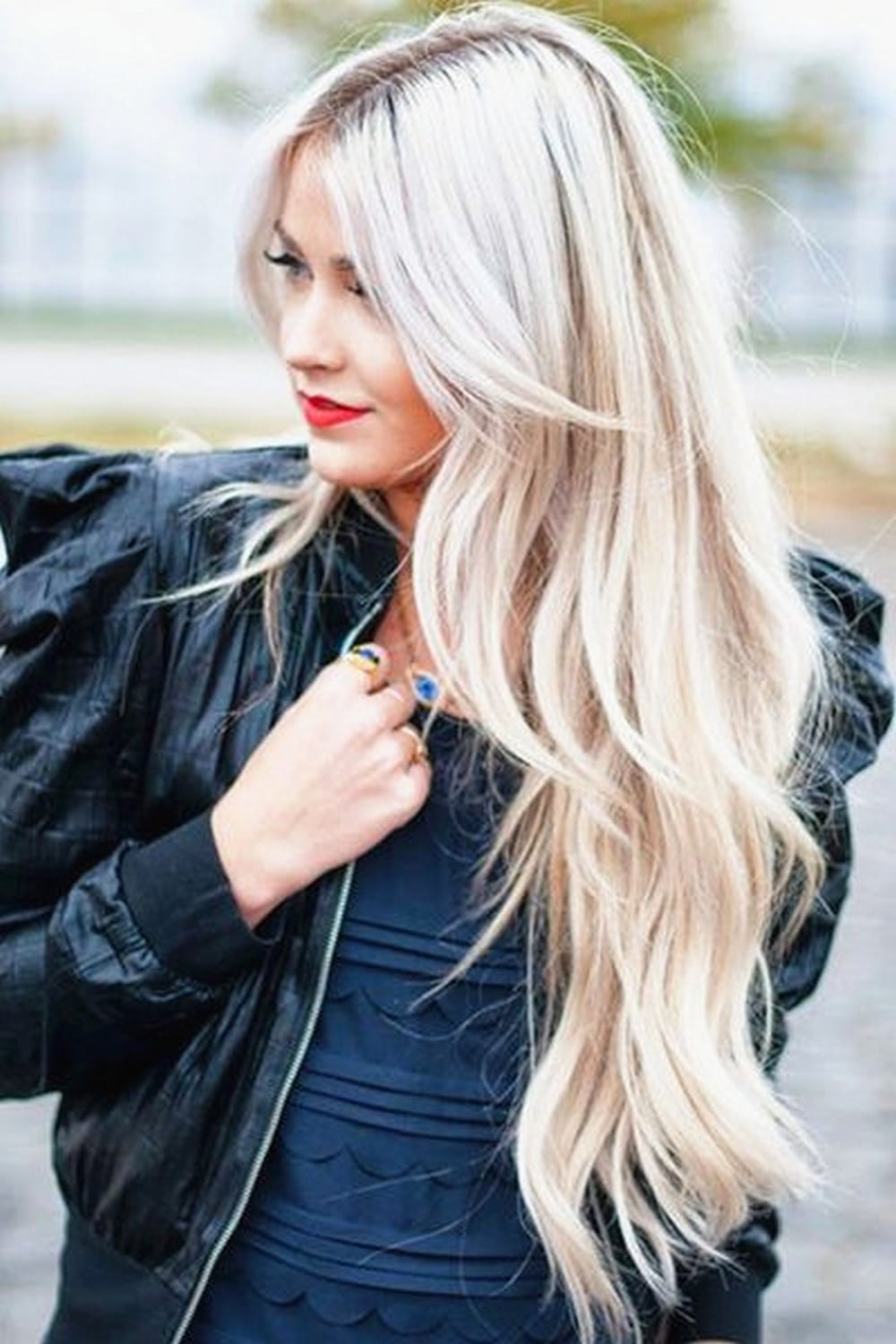 #15: Platinum Long Layered Hair
Extra long hairstyles with layers like this one boast a trendy shadow root and platinum-colored tresses.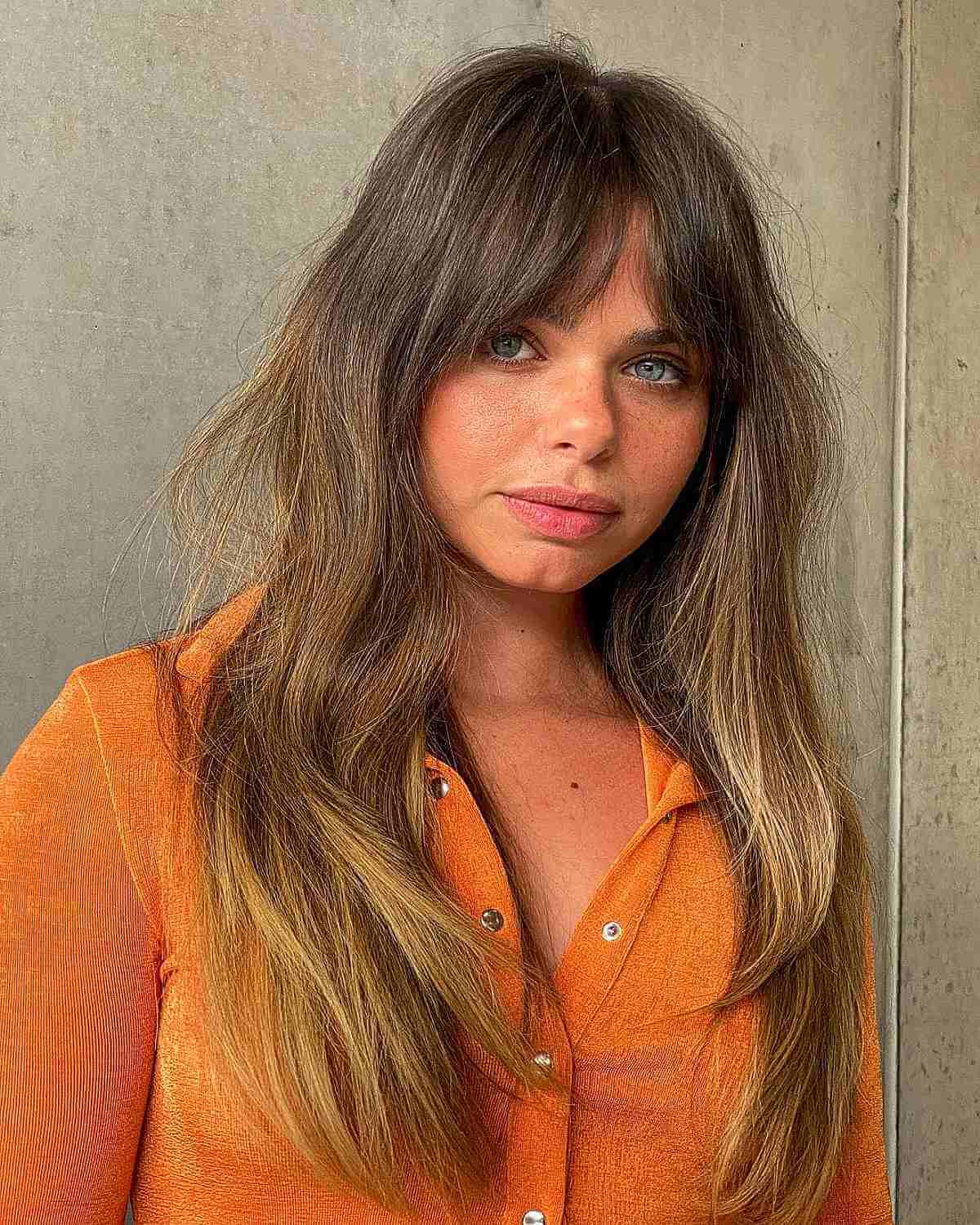 #16: Long Layers with Bangs
Long layered hair with bangs is a gorgeous example of what you can do with scissors and extensions. Don't you love the beautiful job of blending the layers and the various shades of golden brown? This is one of the best examples of long haircuts with bangs that you'll see this season.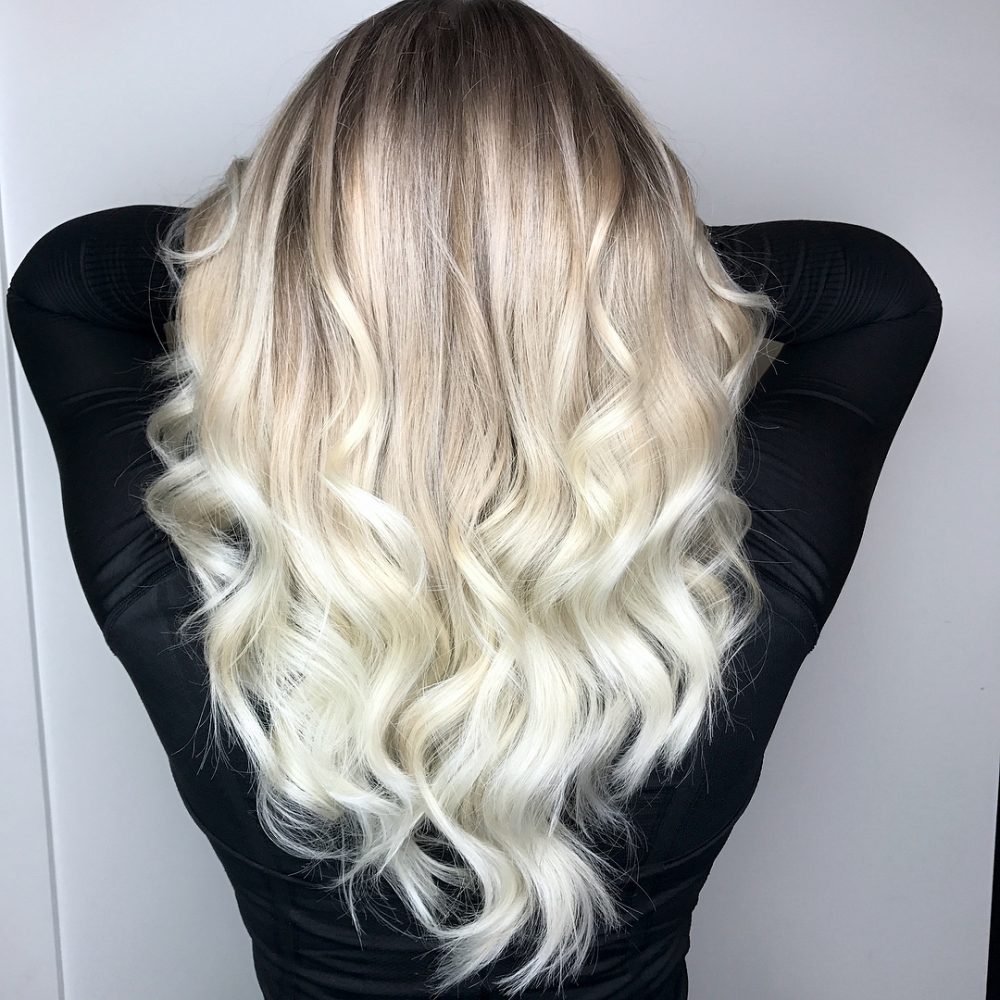 #17: Platinum Blonde Layering
Long layered hairstyles are perfect for diminishing strong facial features. The dark roots melting into the white-blonde hair really bring out a modern, feminine layered look.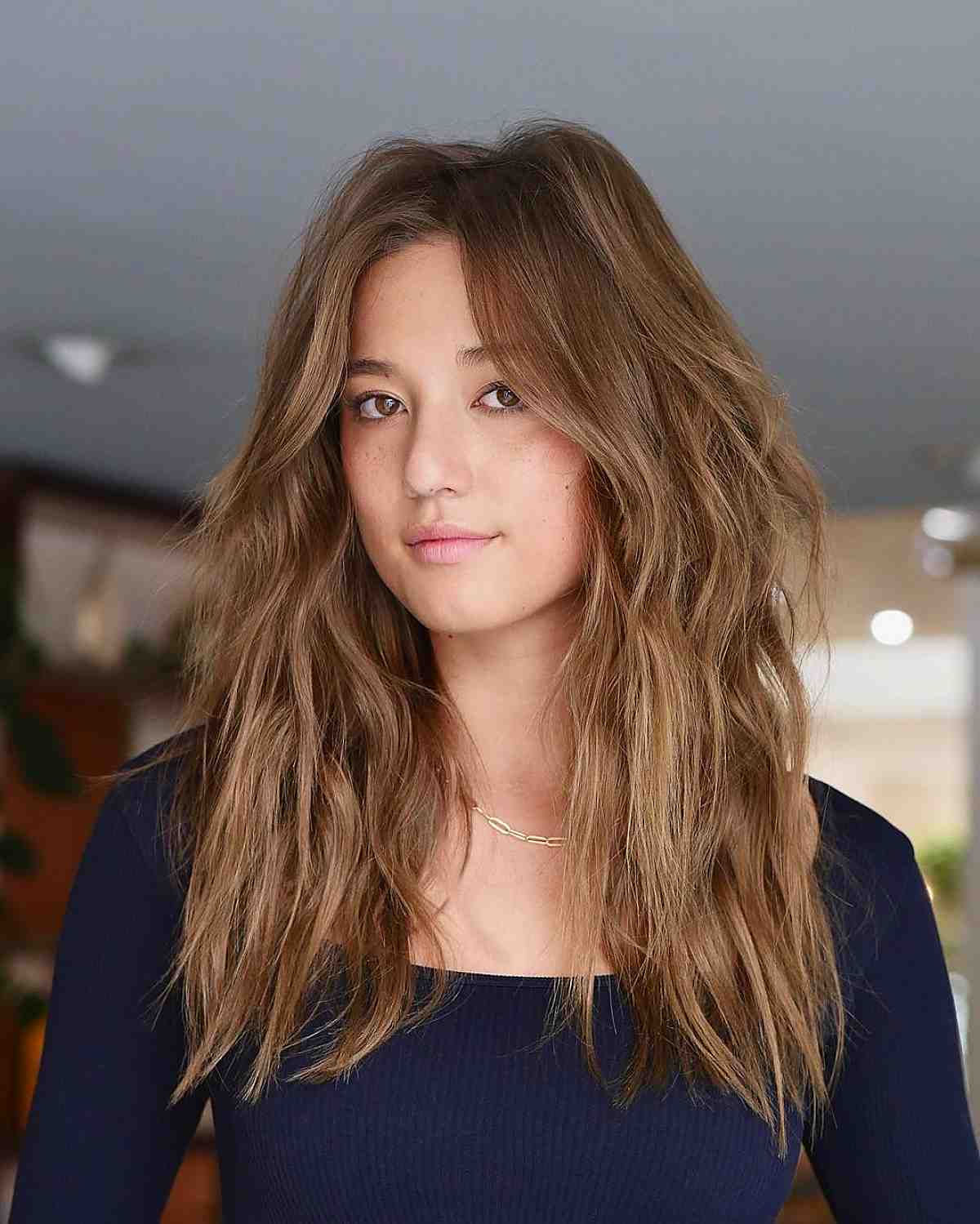 #18: Shaggy Layered Waves With a Side Part
The deep side part of this long layered hairstyle would be a gorgeous fall season look. For shaggy long layered haircuts, long hair gives lots of dimensions.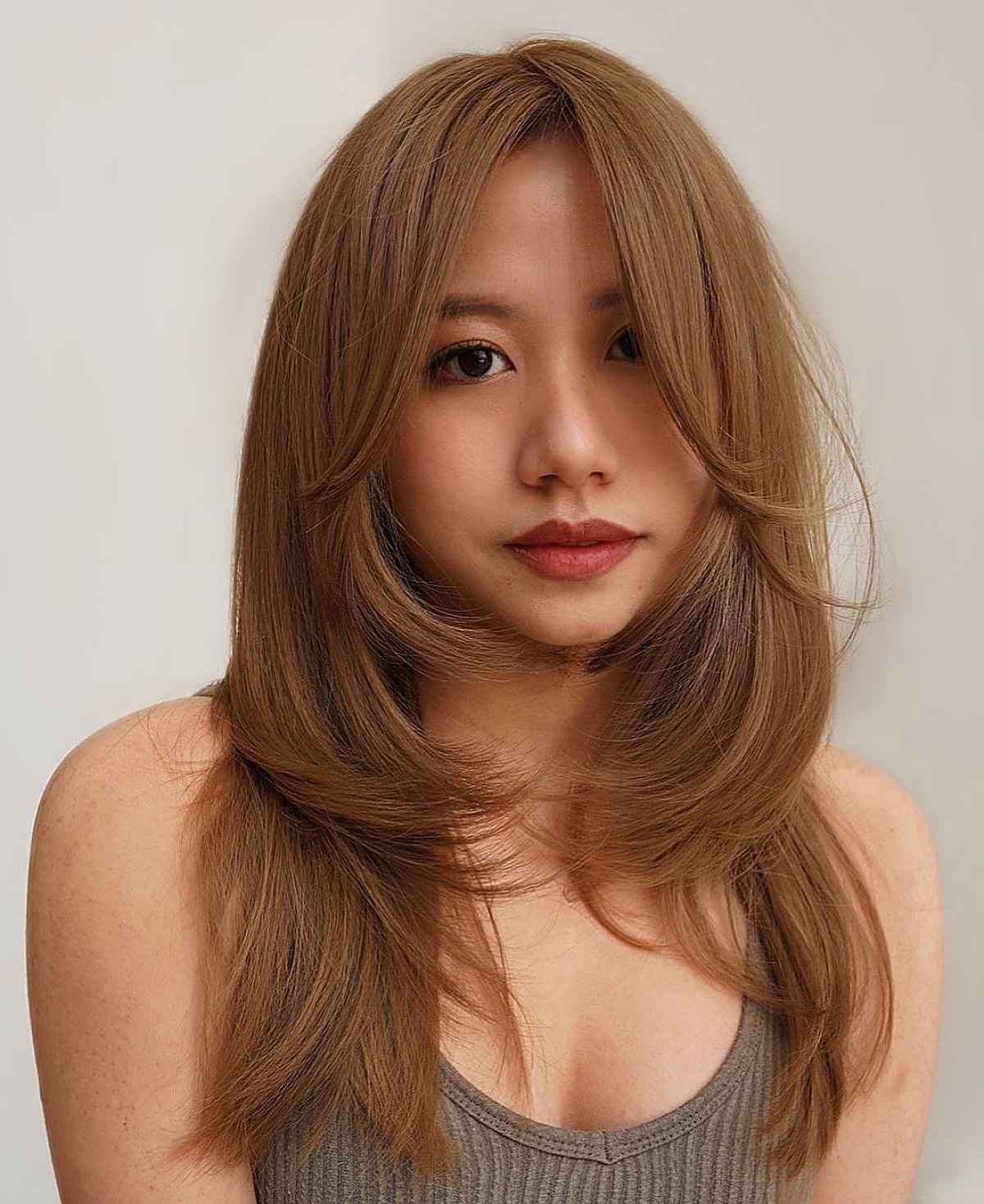 #19: Layered and Long with Curtain Bangs
A chop that's layered and long with curtain bangs can frame and accentuate the front of your face, especially the cheeks. Flaunt it with the golden brown shade, and you'll achieve that beautiful softer finish.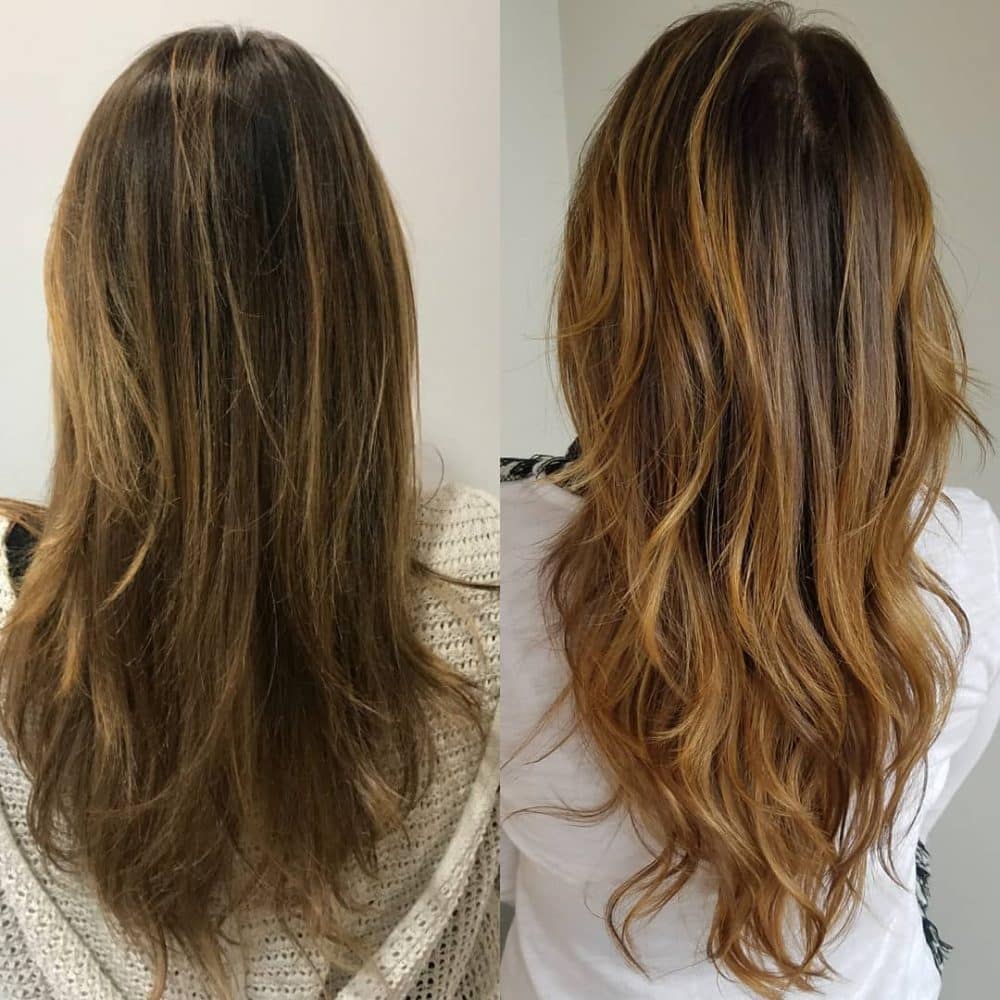 #20: Very Long V-Cut Layers
Take a look at this hair makeover with a cascade of long v-cut layers using the step-cutting technique. Trendy long layered tresses like this v-cut on long hair add dimension and body, which is perfect for women with thinner hair.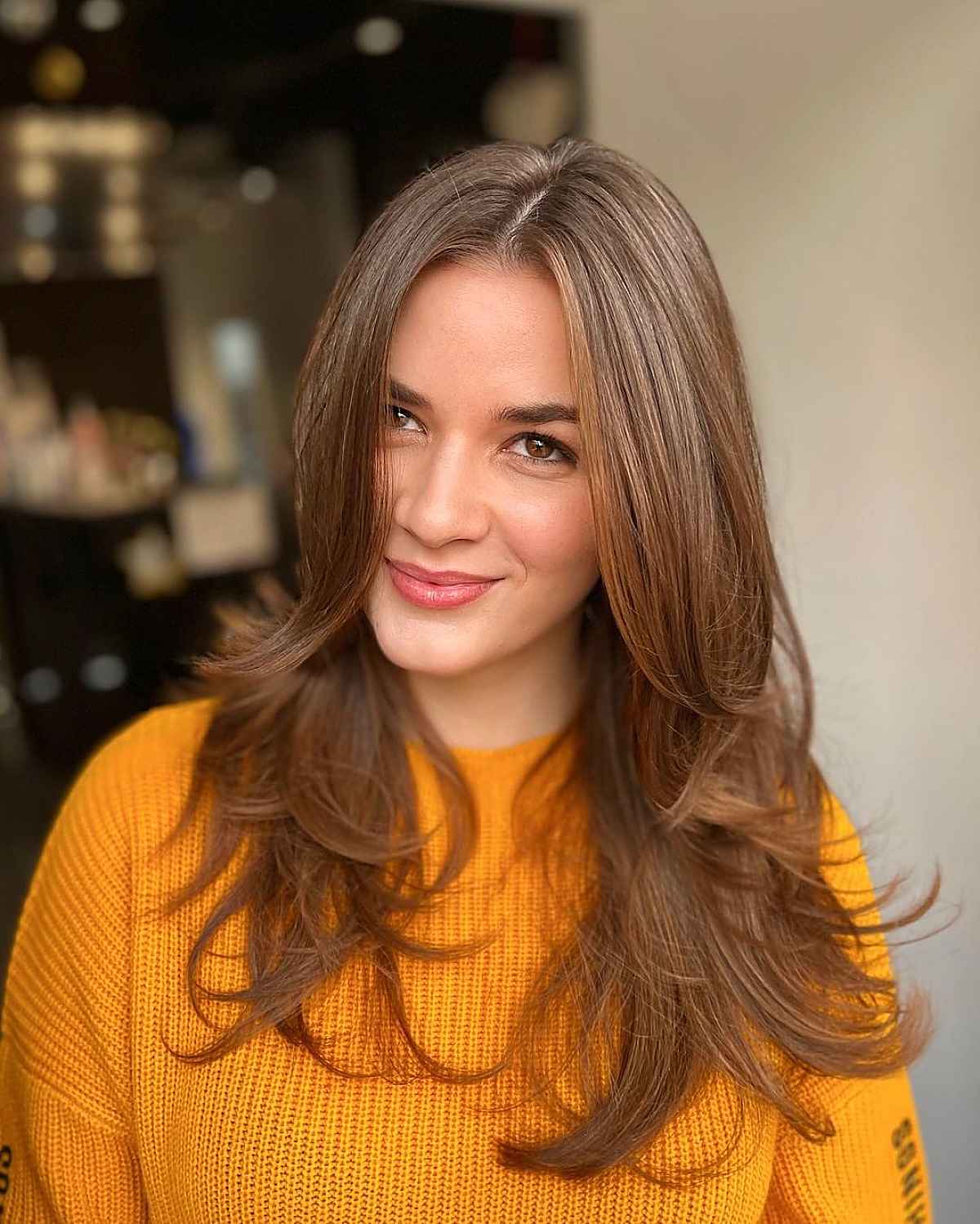 #21: Light Brown Locks with Lengthy Layers
These razored long layers on long-length hair have the advantage of a razor cut so you don't have to sacrifice length for movement. The wispy layers are kept lengthy so that the bottom line is not too skinny, giving the appearance of stringy hair. But cutting with a razor allows the ends to have plenty of free-flowing movement if the hair is blown out smooth or curled.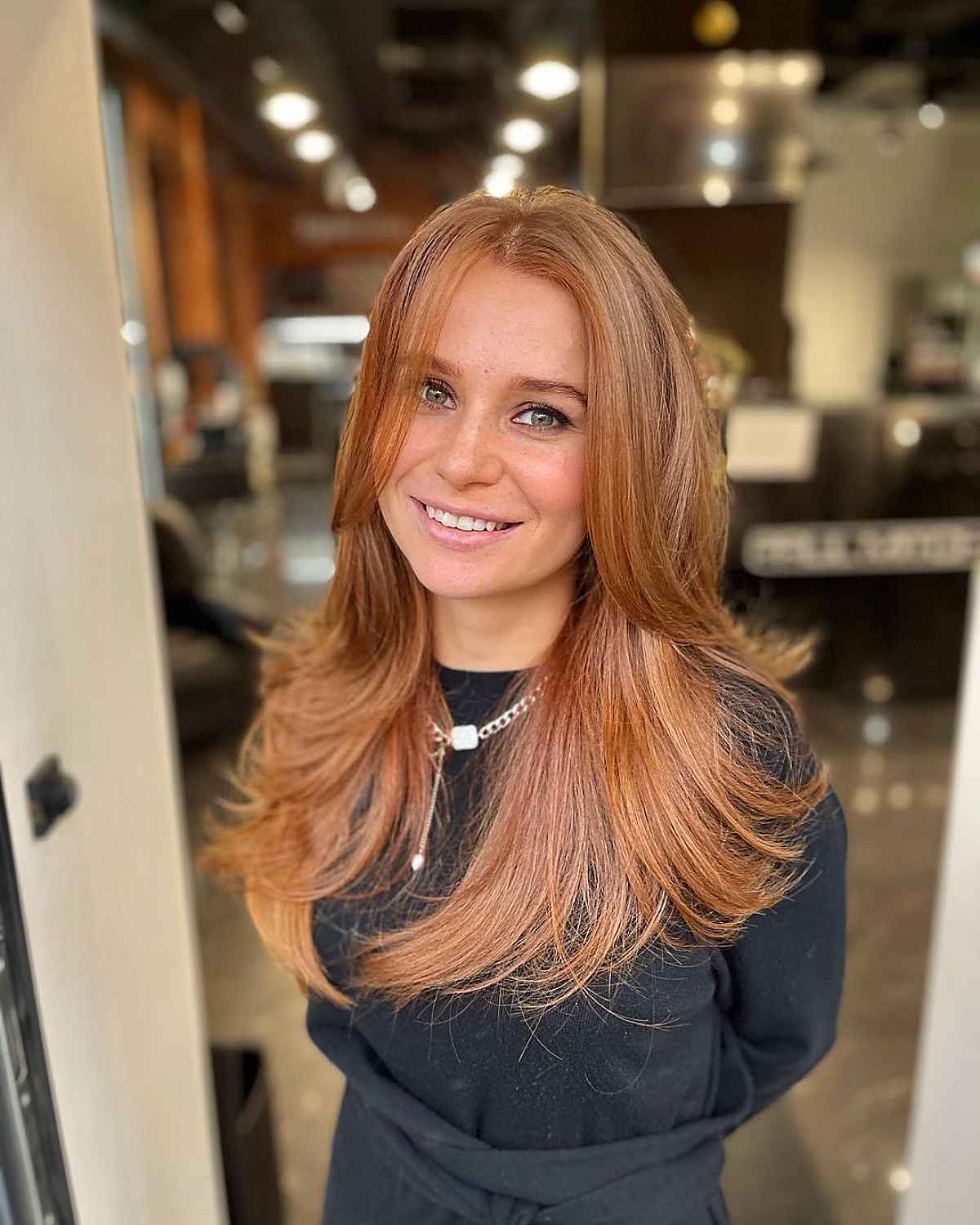 #22: Layers for Long Straight Hair
Dramatically layered lengthy tresses with a face-framing center part make this a perfect straight long layered cut for women with thick hair. The swoopy layers are so soft and feminine! This is a sun-kissed look with lots of movement that allows for versatile styling. No matter which way you part the hair or style the long hair, layers will always lay beautifully. For long layered hairstyles like this, it's important to use a good conditioner to keep your hair healthy, shiny, and strong.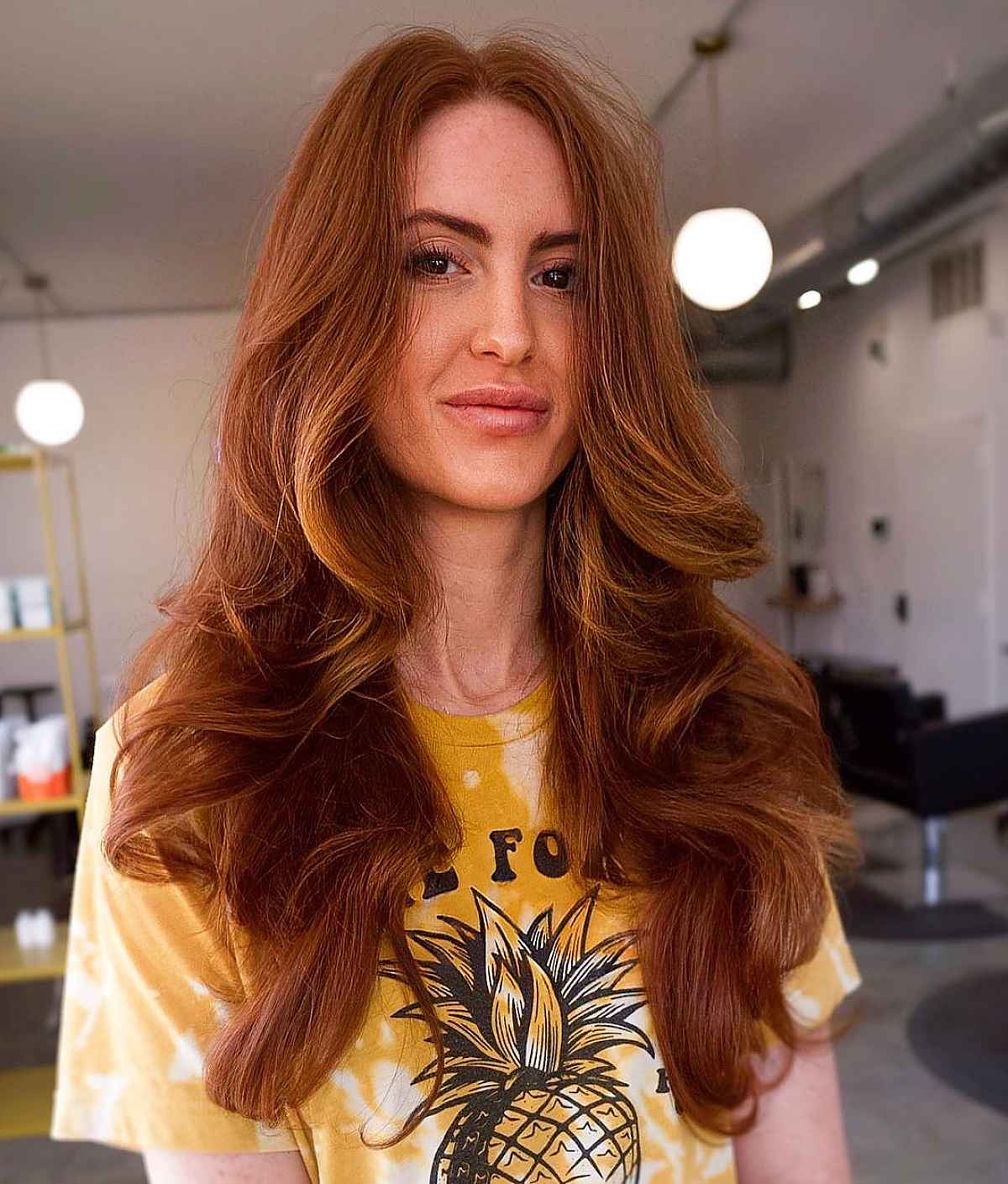 #23: Long Shaggy Layers
Opt for a gorgeous long layered haircut that offers long shaggy layers for optimum movement and texture. The curtain fringe creates a soft face-framing effect and has enough length to pin it back out of the eyes.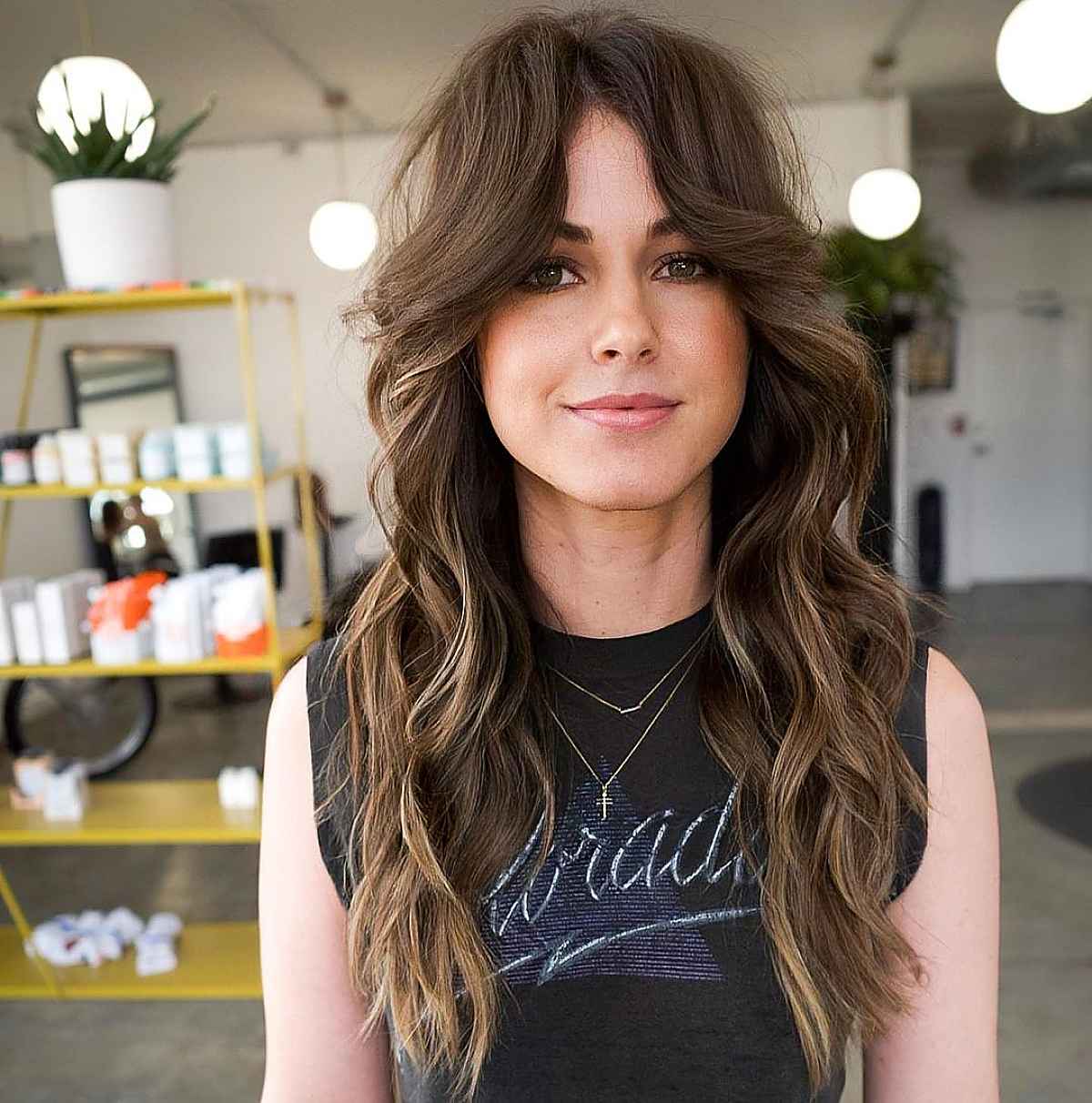 #24: Edgy Wavy Layered Cut
Try a wavy layered cut that features heavily textured, brown long layered strands and beachy long layers. Long layered hairstyles seem to provide that perfect beach-ready style. I see a wash-and-go style that's still modern and up to date. I love that women who have a low-maintenance style can still have a modern look that works for their everyday lifestyle.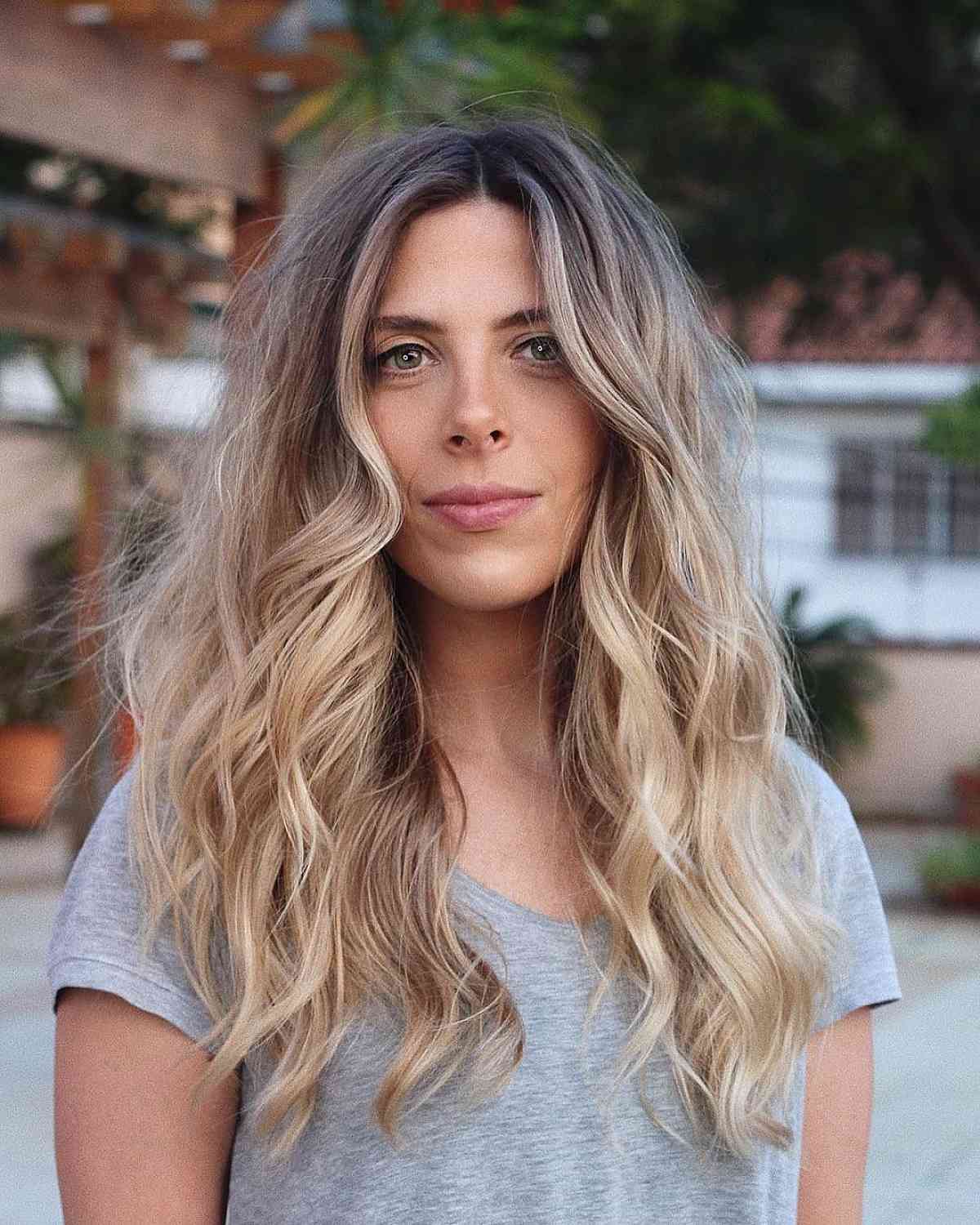 #25: Dark-Rooted Layered Shag Haircut
A long layered shag can give you a little more edge than the traditional ones. Joan Jett and Farrah Fawcett were 70's icons that rocked this style with full swag! Long hairstyles that feature long tousled layers suit fine or thick hair. It adds extra volume and texture and gives you a modern look. You can style a shag in many different ways. For a sleek look, try an oil or serum when almost dry. For a more tousled, worn look, use a textured mouse when wet, hit it with a little dry shampoo when dry, and let those windows down.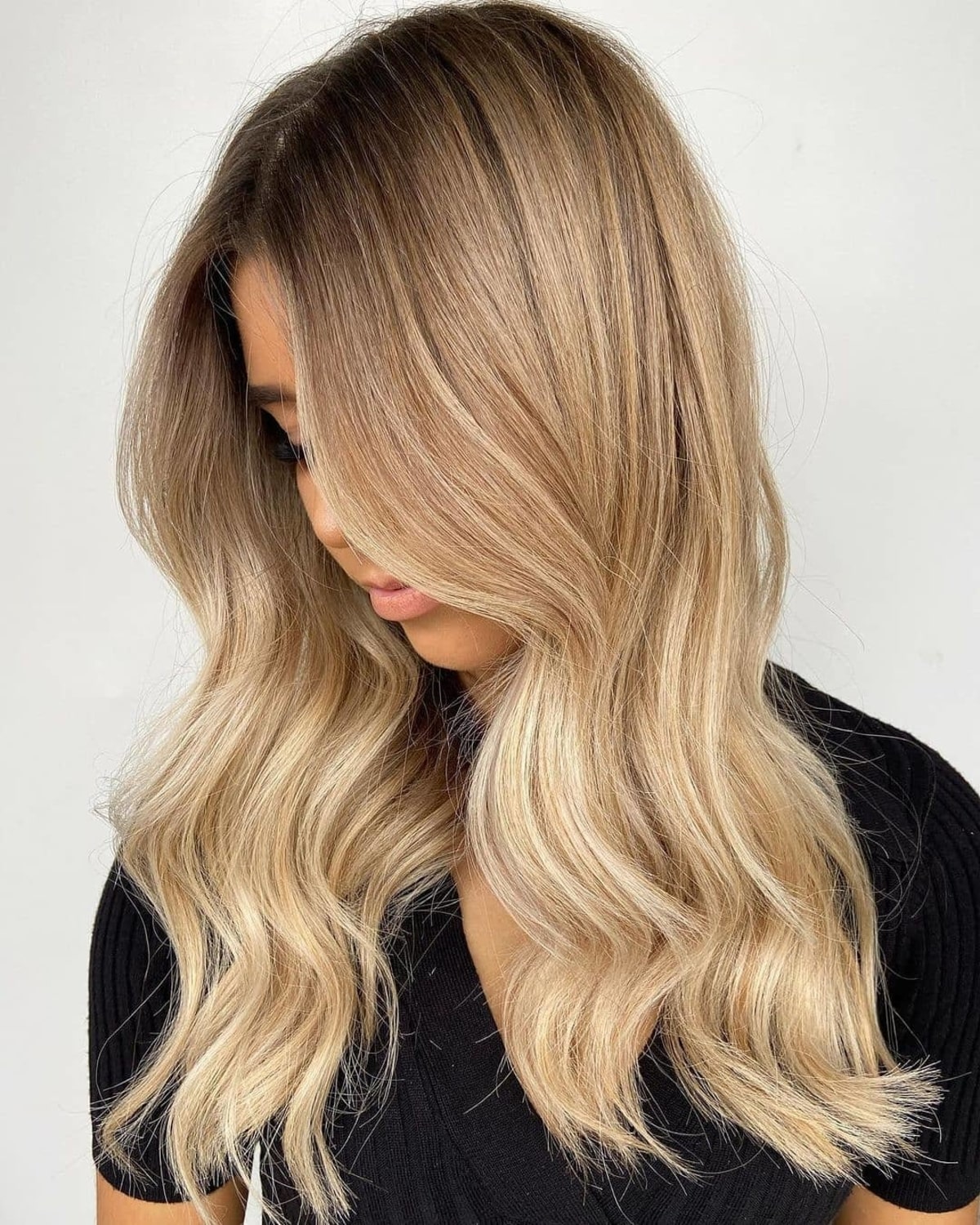 #26: Long Blonde Layered Hair
Here's long blonde layered hair that's beautiful and low-maintenance. This is one of those long hairstyles with layers that appear even better if styled with beach waves.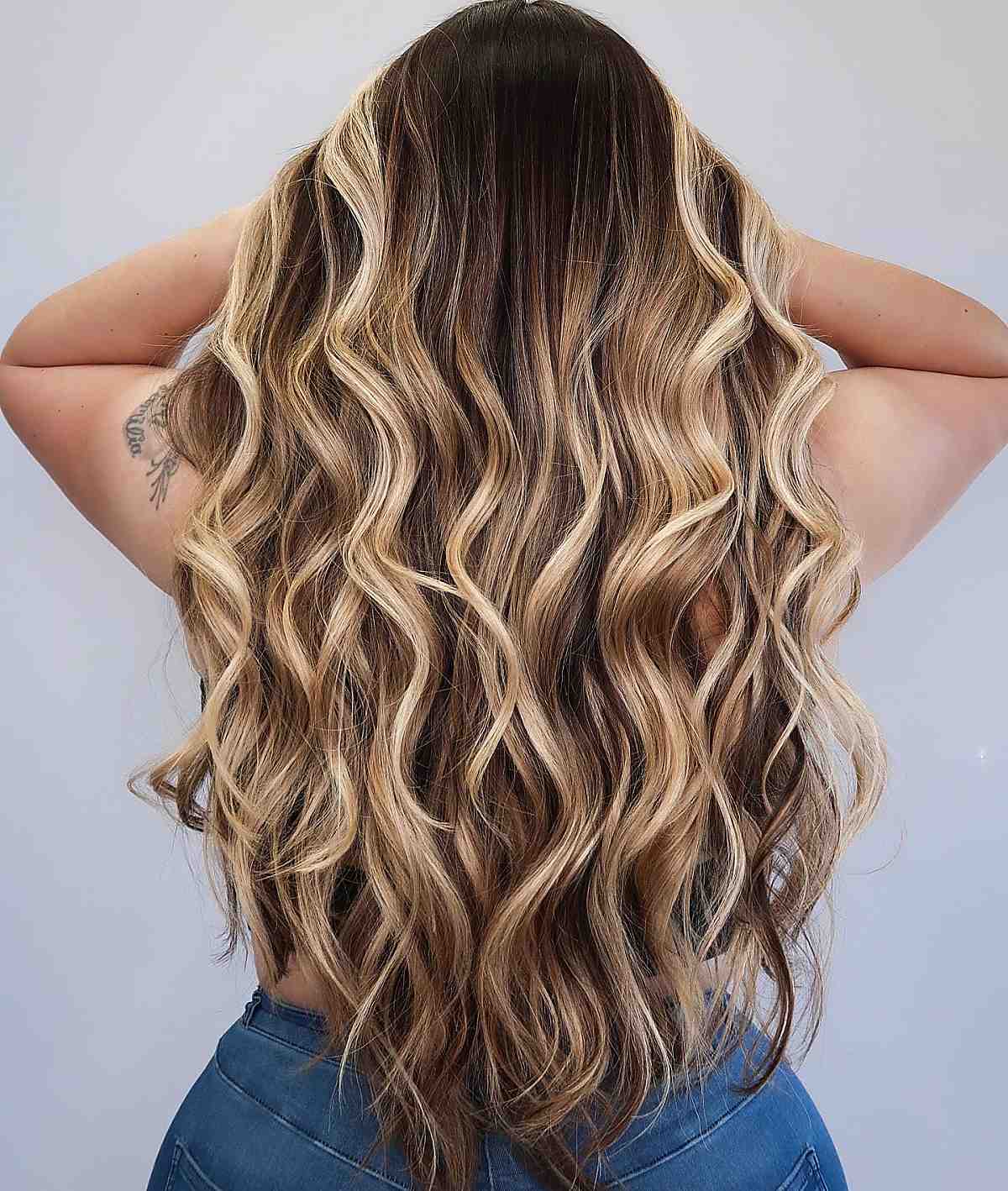 #27: Waist-Length Texturized Choppy Layers
A layered, waist-length hairstyle can be described as undone and texturized, with beachy tresses. When it comes to these choppy layers, long hair gives it a more natural and effortless hair trend right now. To style, use a 1 1/4-inch curling iron and curled random section to create the undone waves. After curling, use Milbon Texturizing Spray to add body and softness.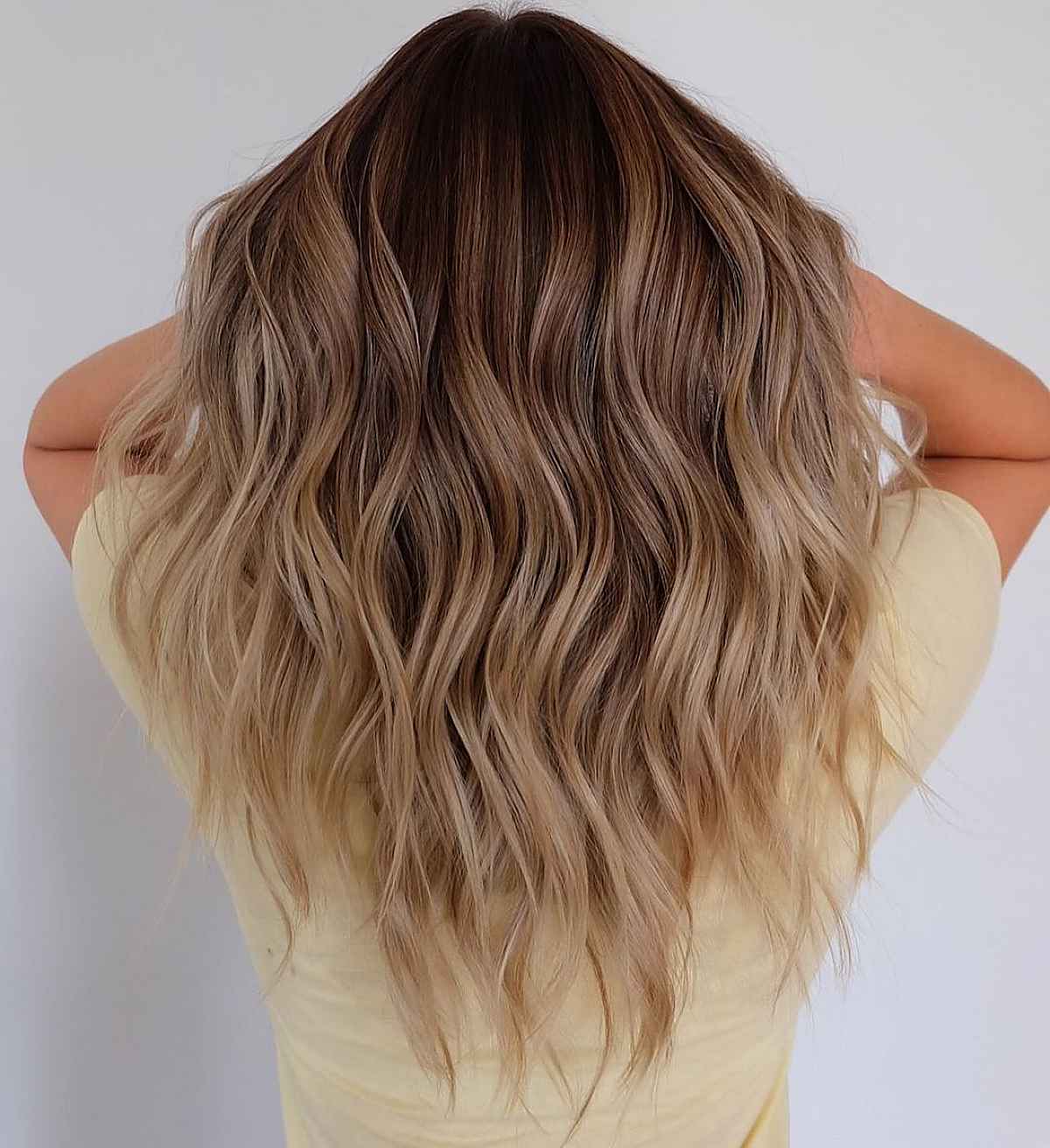 #28: Loose Wavy Layers for Fine Hair
Featuring loose wavy layers for fine hair that give you more texture and movement. The thing about this layered long hair is it helps you keep your beauty while growing out a mid-length chop. Long layers for fine hair are also guaranteed to upgrade your warm blonde ombre.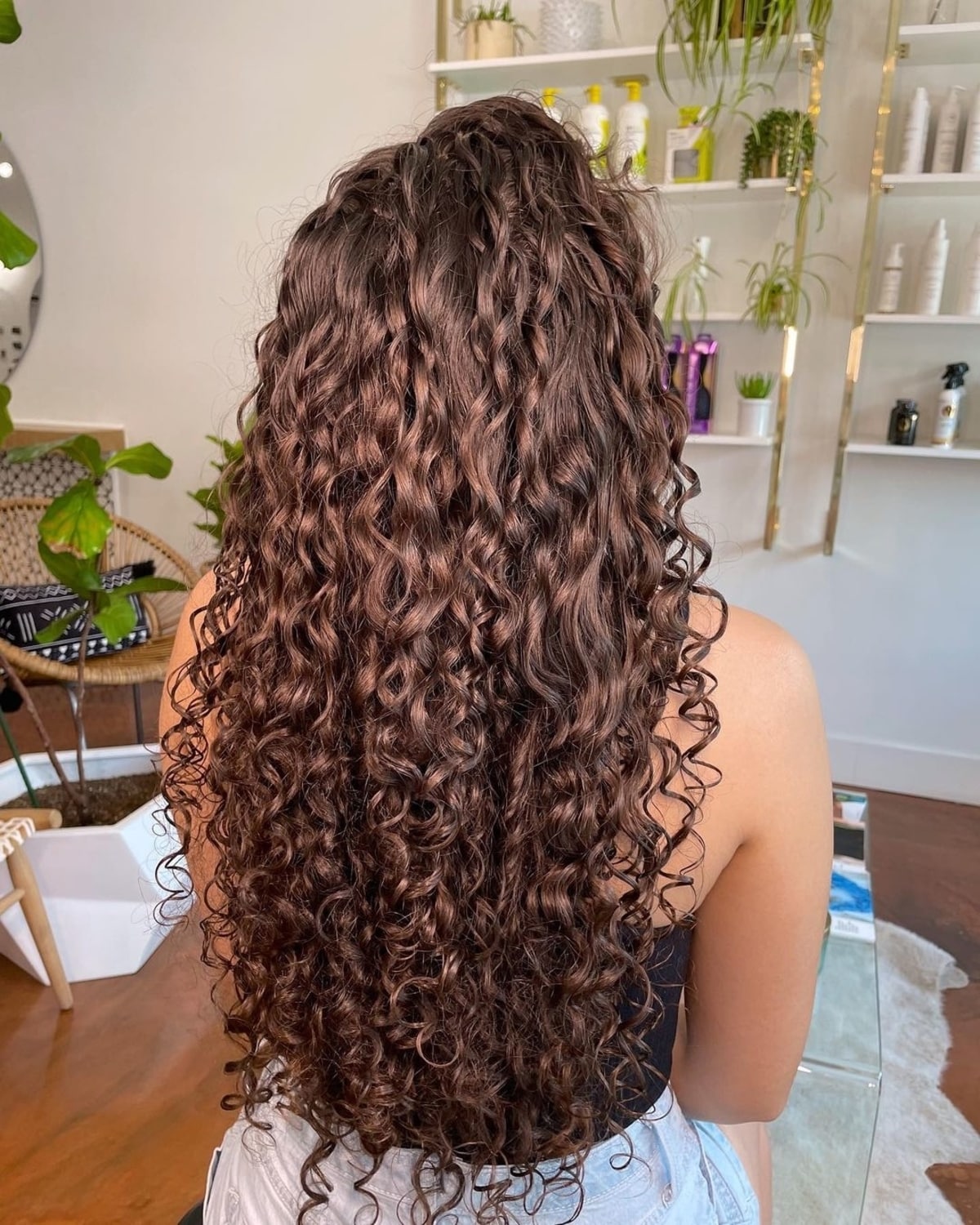 #29: Curly Layers for Long Curly Hair
Curly layers for long curly hair is a classic haircut that distributes volume throughout your tresses. A long layer cut enhances the curls and gives movement. Try curly layered long hairstyles for women who want a subtle and bouncy finish.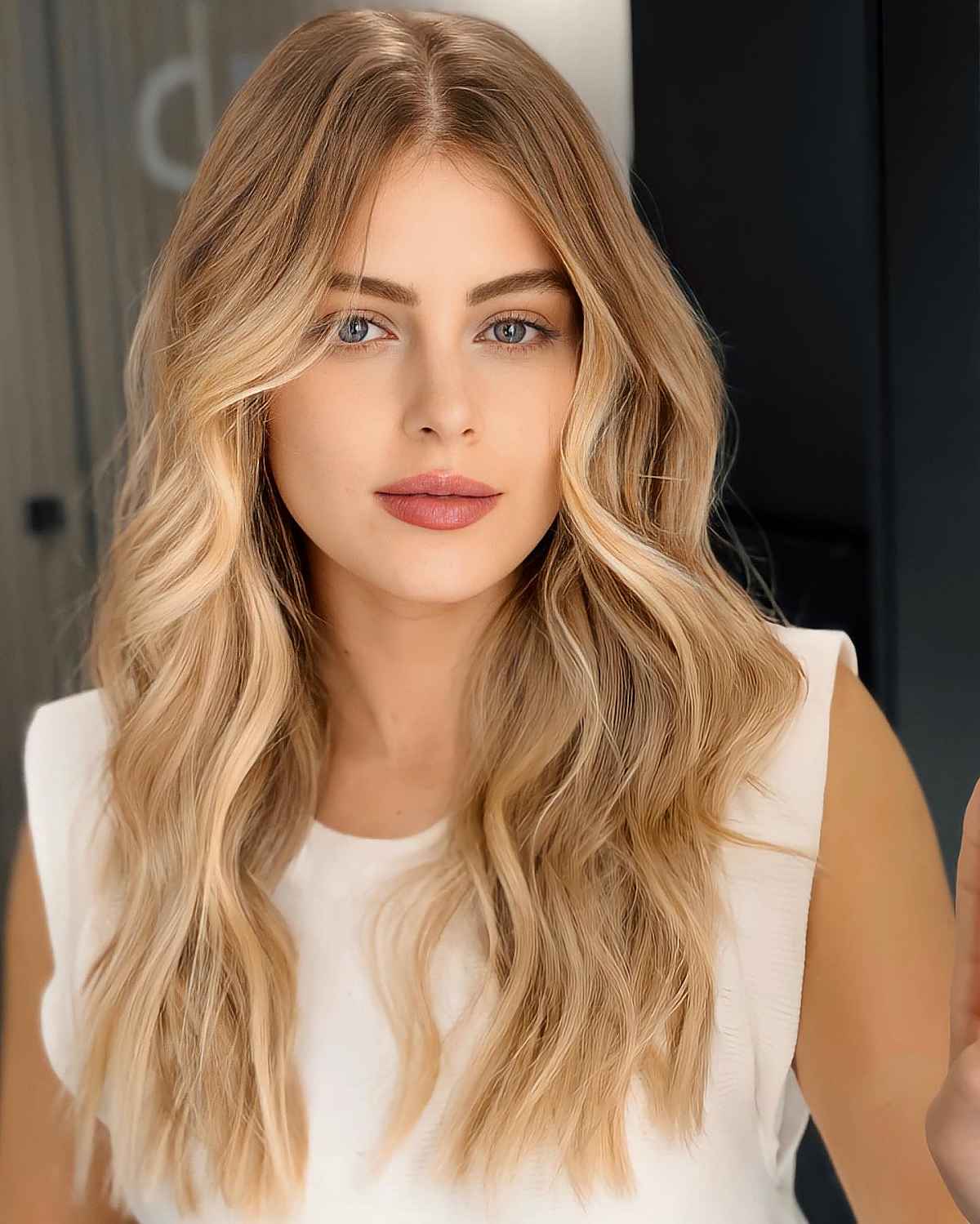 #30: Long Choppy Layers with Rooted Sombre
Consider long straight hair with soft layers. It's the perfect blend from going natural to long blonde. The mix between babylights and balayage blonde highlights makes it look so seamless. Wear it for months due to the rooted sombre. This layered hairstyle is for women with coarse to fine hair. It's just a versatile look for those who want their natural hair color to be a part of their balayage. The brightness and face-framing will open up any part of the face that you feel is too closed off. The cut also helps enhance the color creating movement.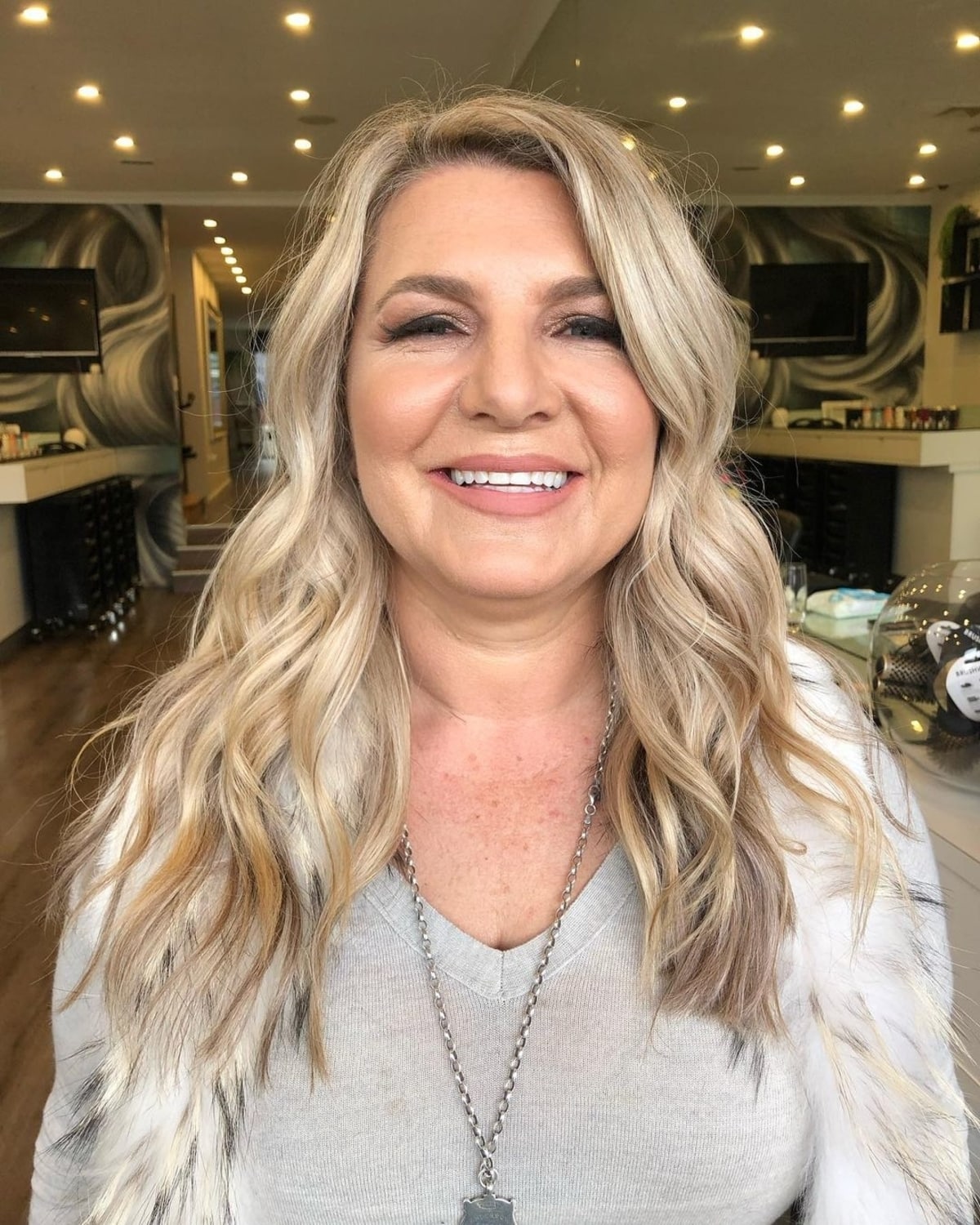 #31: Layered Hair with Beach Waves for Over 40
Long layered hair with beach waves for over 40 is an example of layered haircut ideas to explore. Long hair tends to give a conservative look for women over 40. Offer modernity to the cut by introducing it with bright hair hues.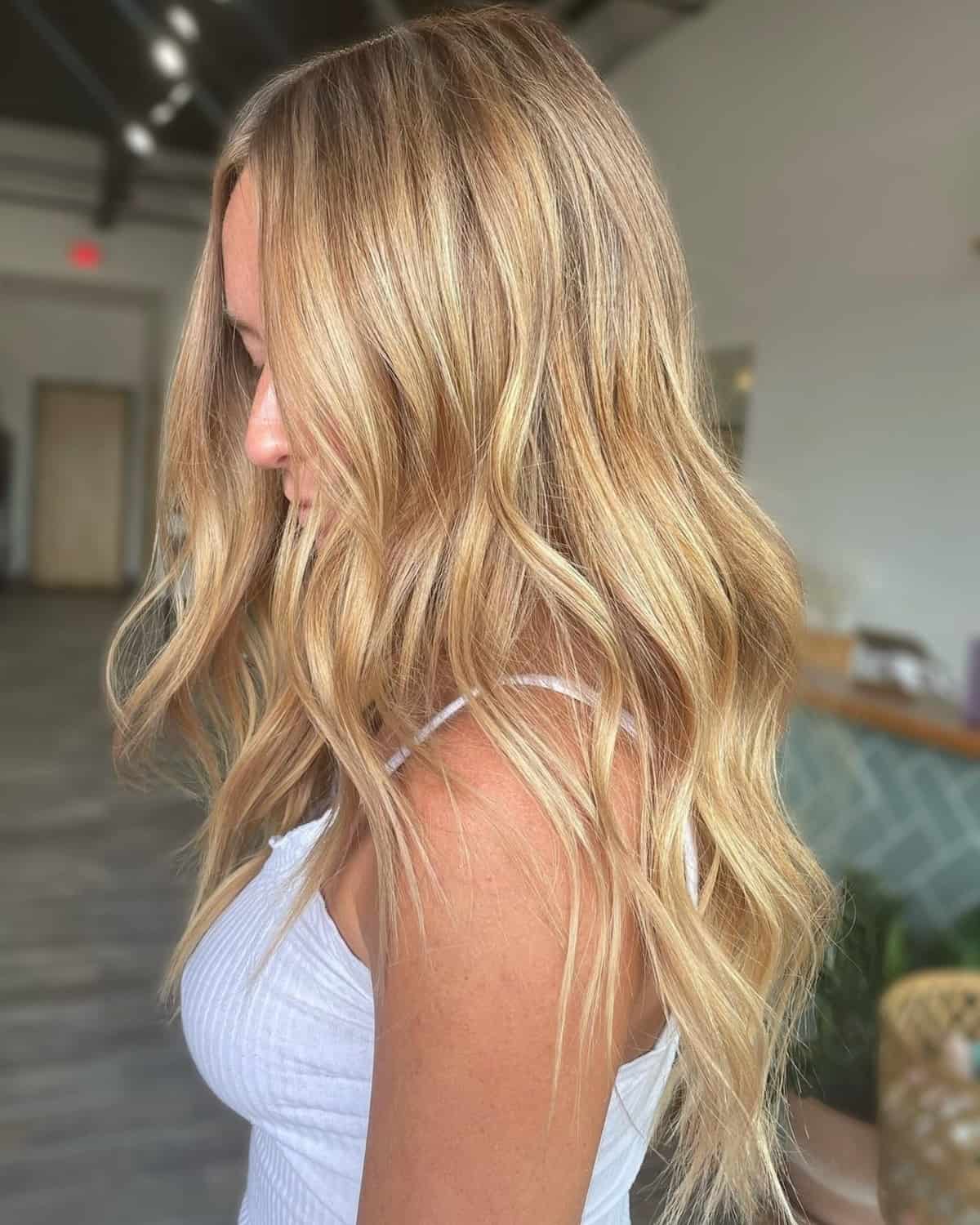 #32: Golden Blonde Layered Hair
Golden blonde layered hair is bright, full of sunshine, and gives an illuminating glow. By adding long layers and face-framing pieces, it brings life and movement to long hair. A long layered haircut is sleek, but you can also emphasize the texture and long layers by using a ½ inch curling iron, leaving the ends out to give effortless beachy waves.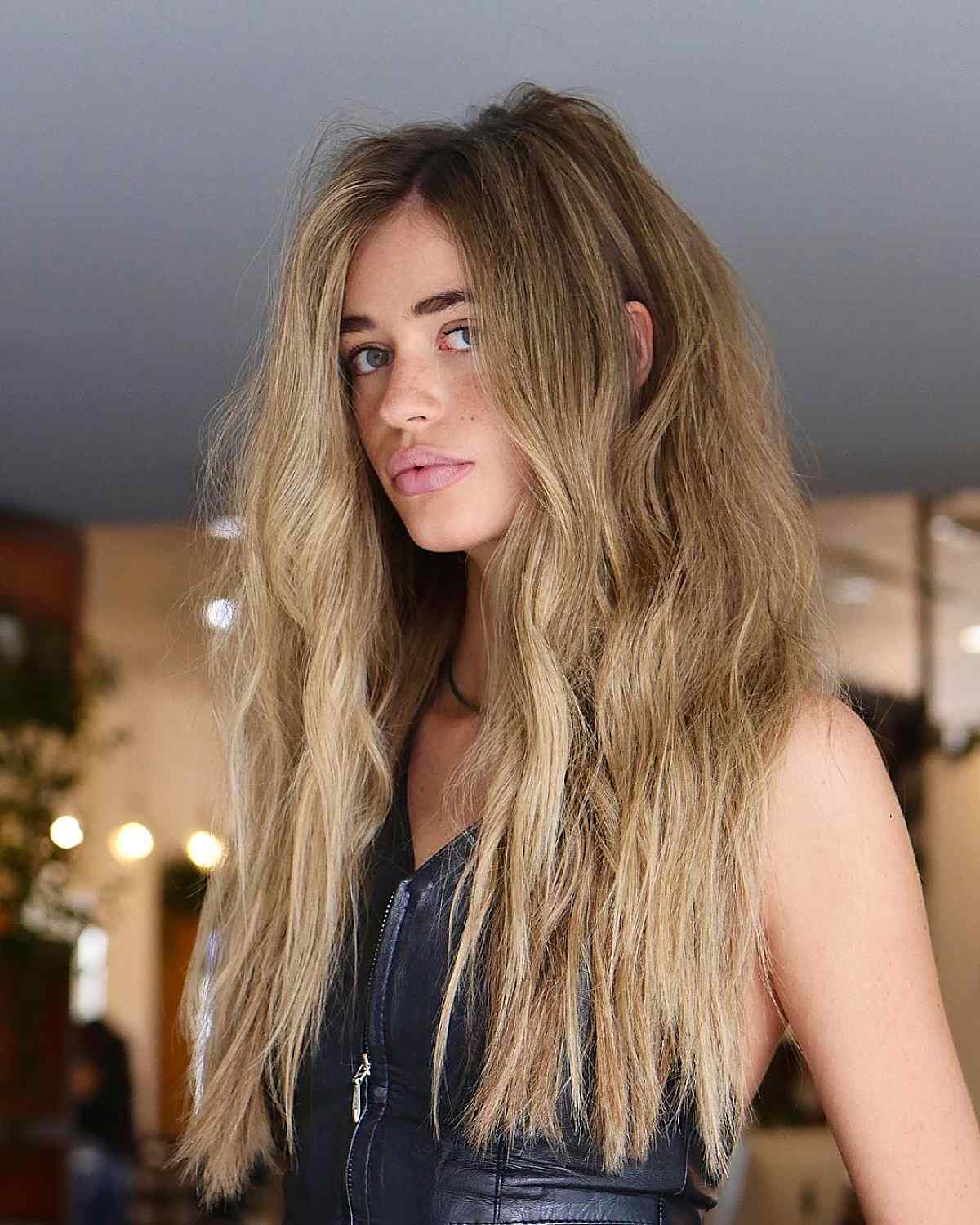 #33: Textured Long Layers
Spice up the already stunning long cut with layers and a warm balayage. The textured long layers emphasize the lighter hue, creating a better dimension. For richer and healthier-looking hair, apply a shine-inducing oil onto your strands.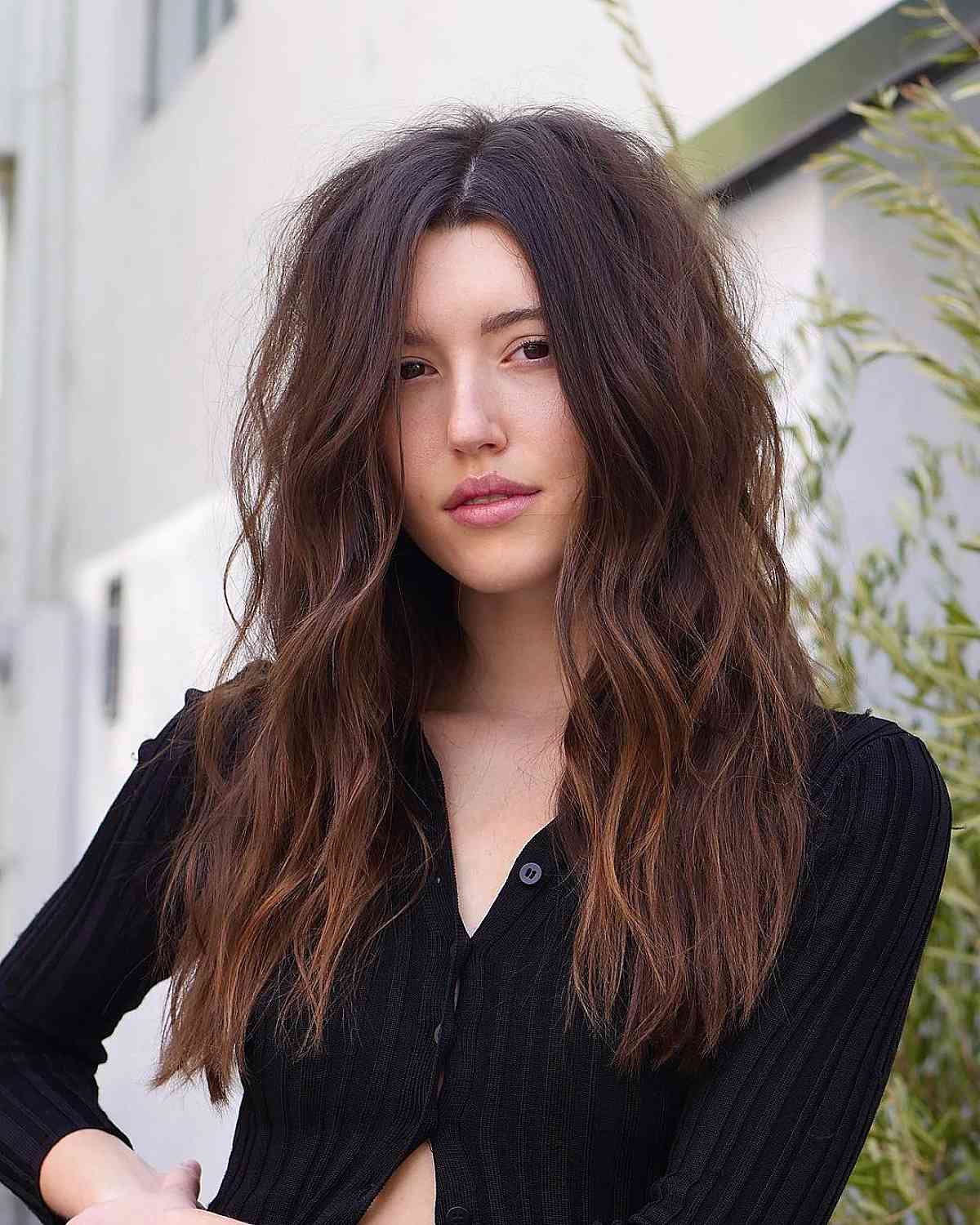 #34: Long and Layered Shag
Long layered haircuts remove weight from your long tresses, but with style. Here's a long and layered shag that provides a fresher aura. It's solid proof of how long layers, curtain bangs, and a brunette shade look great together.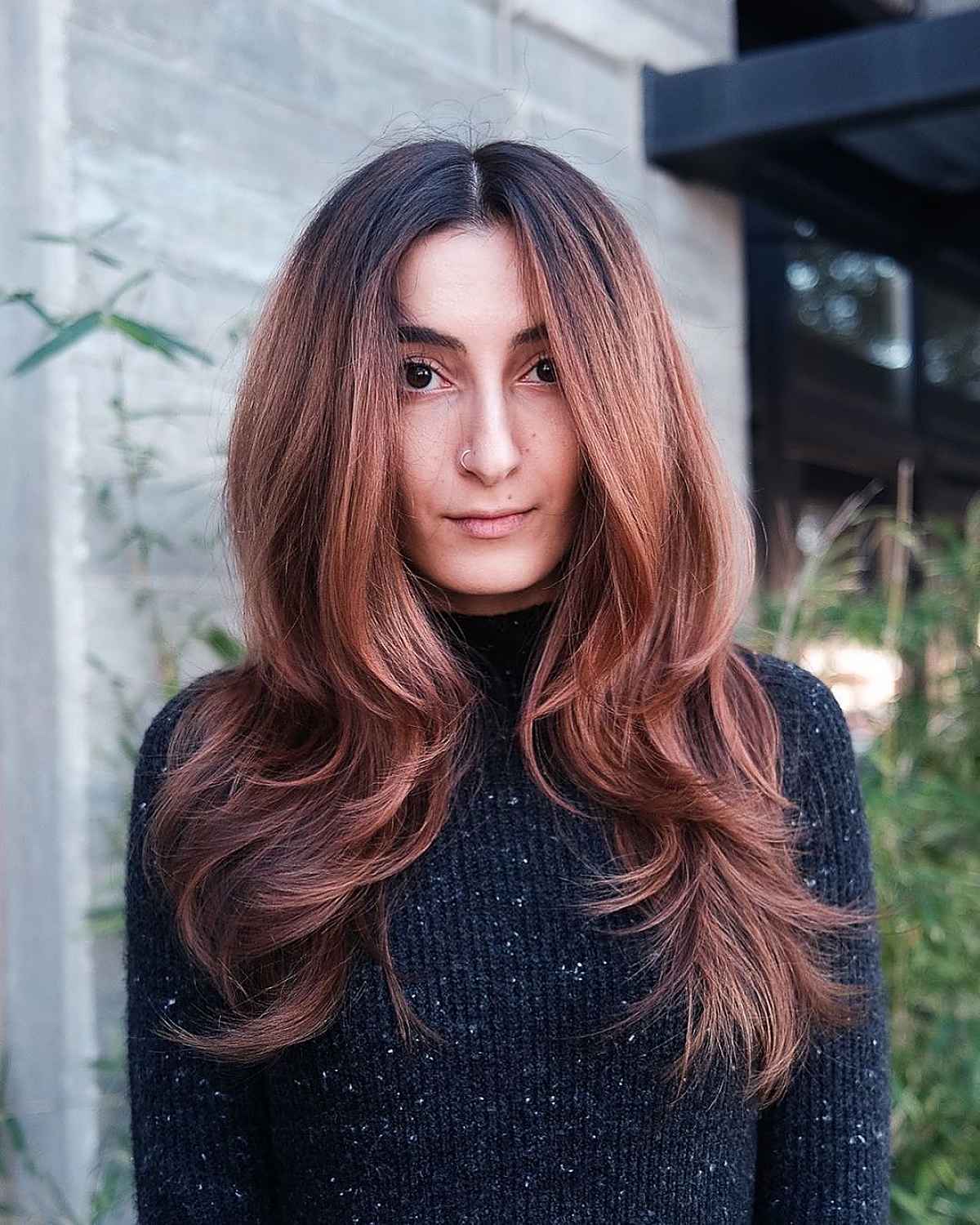 #35: Long Face-Framing Layers
Avoid a flat and lifeless look with long face-framing layers. These layers remove a lot of weight, giving your black and brown tresses added body and movement at the bottom. Layered and long hair needs trimming every 6-10 weeks to keep it healthy and without split ends. A tousled layered cut for long hair like this does magic on straight textures and fine densities.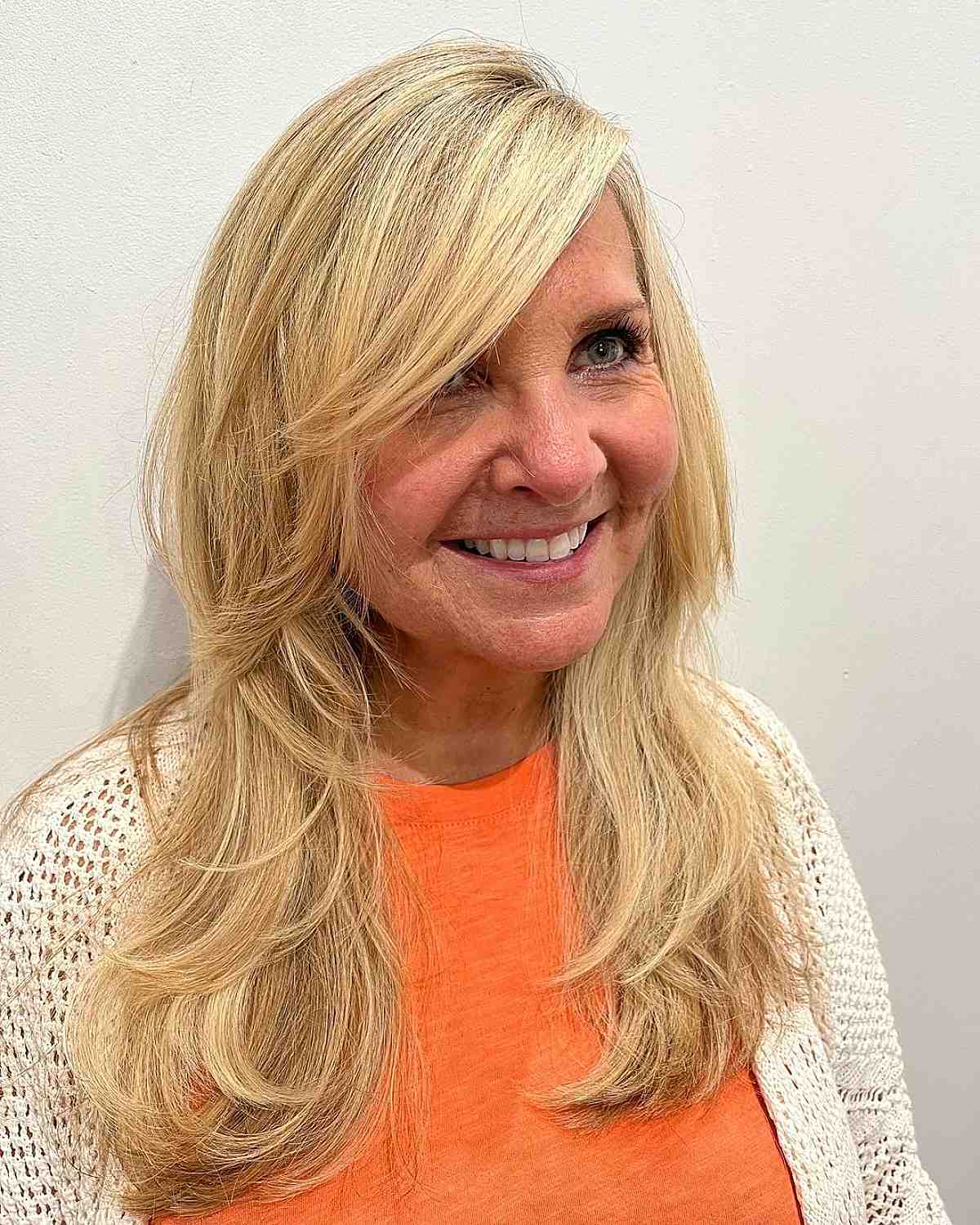 #36: Layered and Textured Cut
Opt for a cut that features flipped layers for long hair. This long layered cut is for women looking for something a little different than your traditional layered haircuts for long hair. It could work for someone with thick to medium hair. Texturize the ends more on the thicker hair. Avoid this cut if you have fine/thin hair because of the intensity of the layers. It would remove too much weight.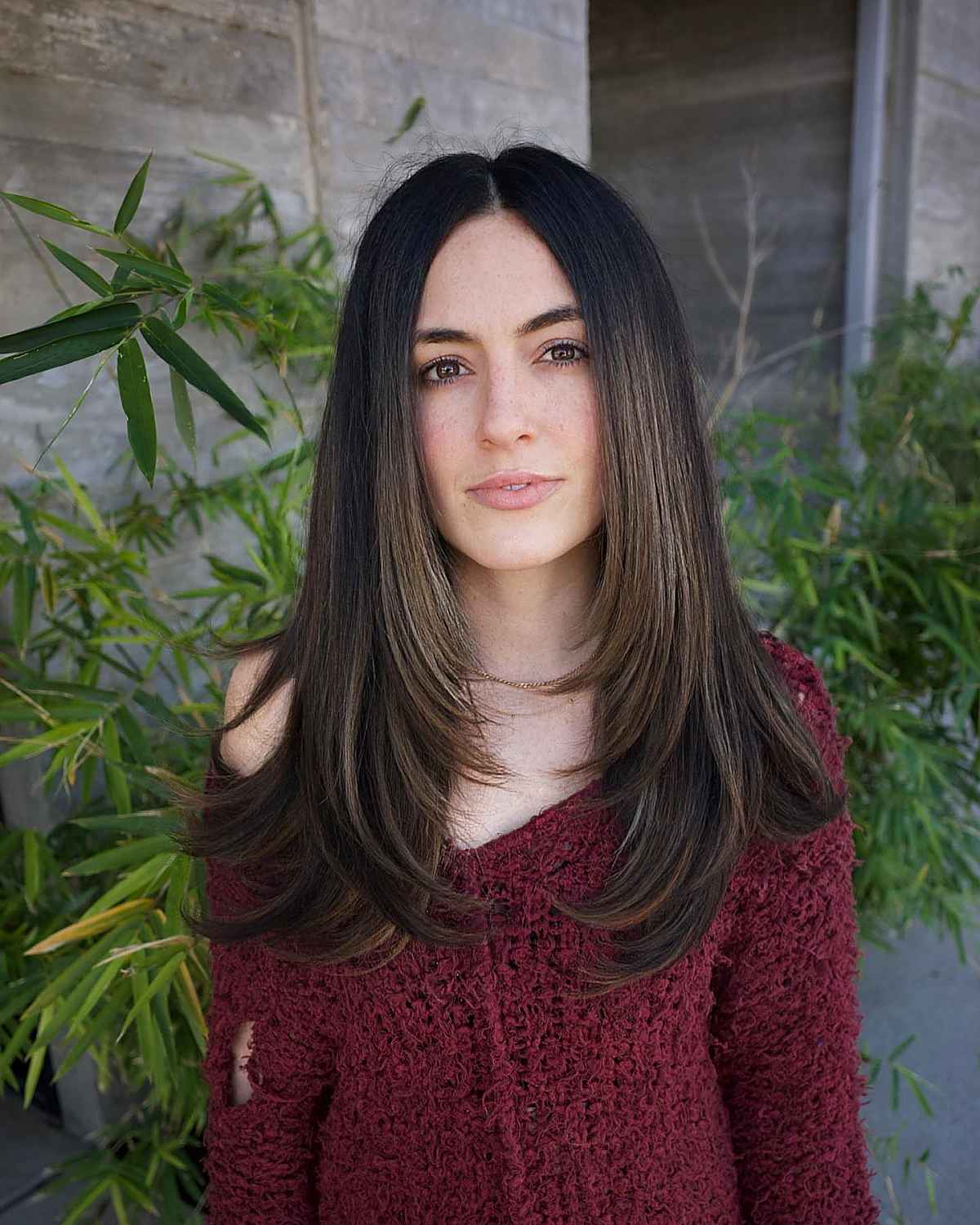 #37: Low-Maintenance Haircut with Subtle Layers
The dark contrast with the ashy long hair with layers gives this a very casual, yet super-stylish look! Long hairstyles with layers like this are natural and subtle. Long haircuts with layers like this are great for women that desire something low-maintenance and natural.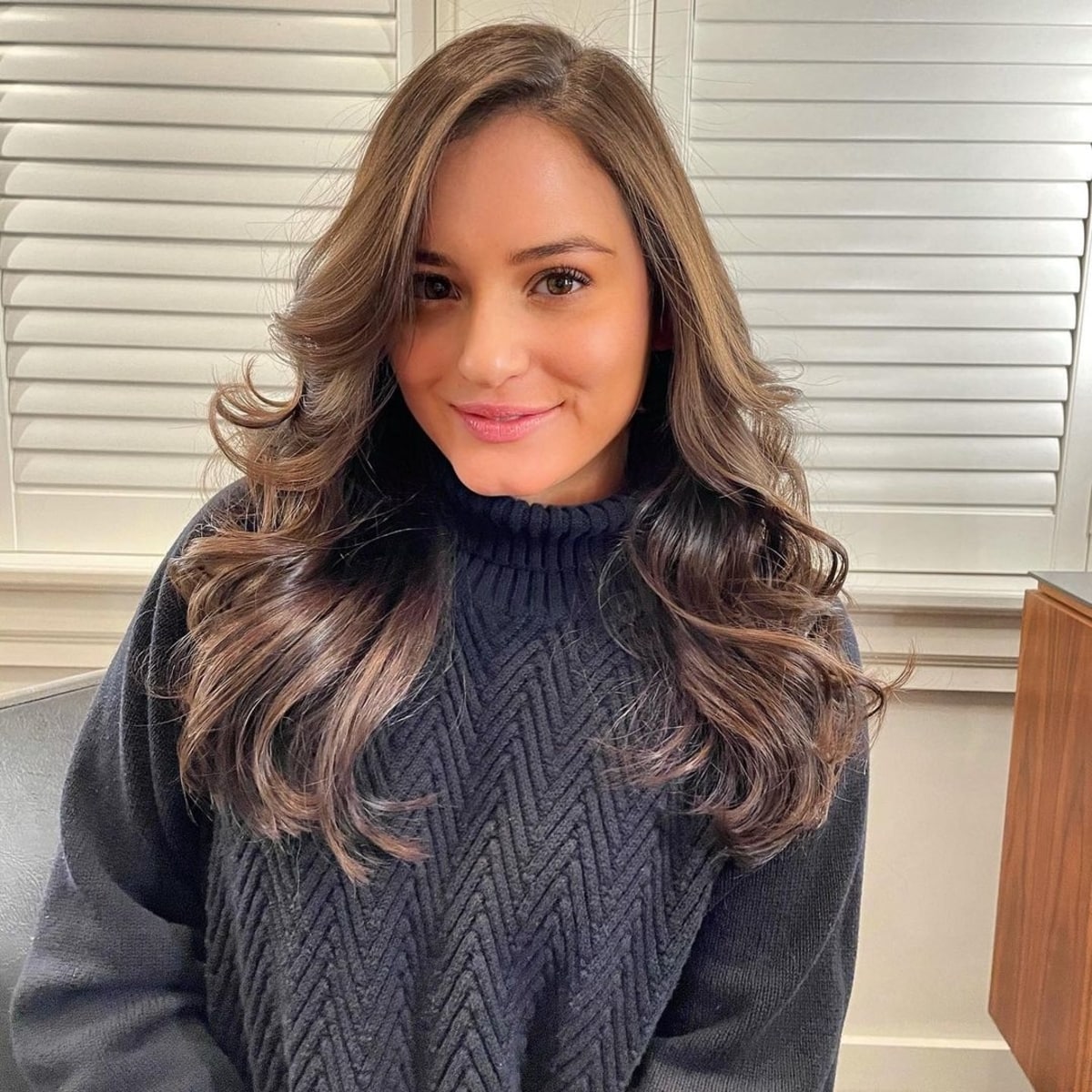 #38: Glamorous Blowout with Long Layers
A glamorous blowout with long layers values the texture of your tresses. Long layers are great in adding volume. If you want a sexy look, try long hair with layers.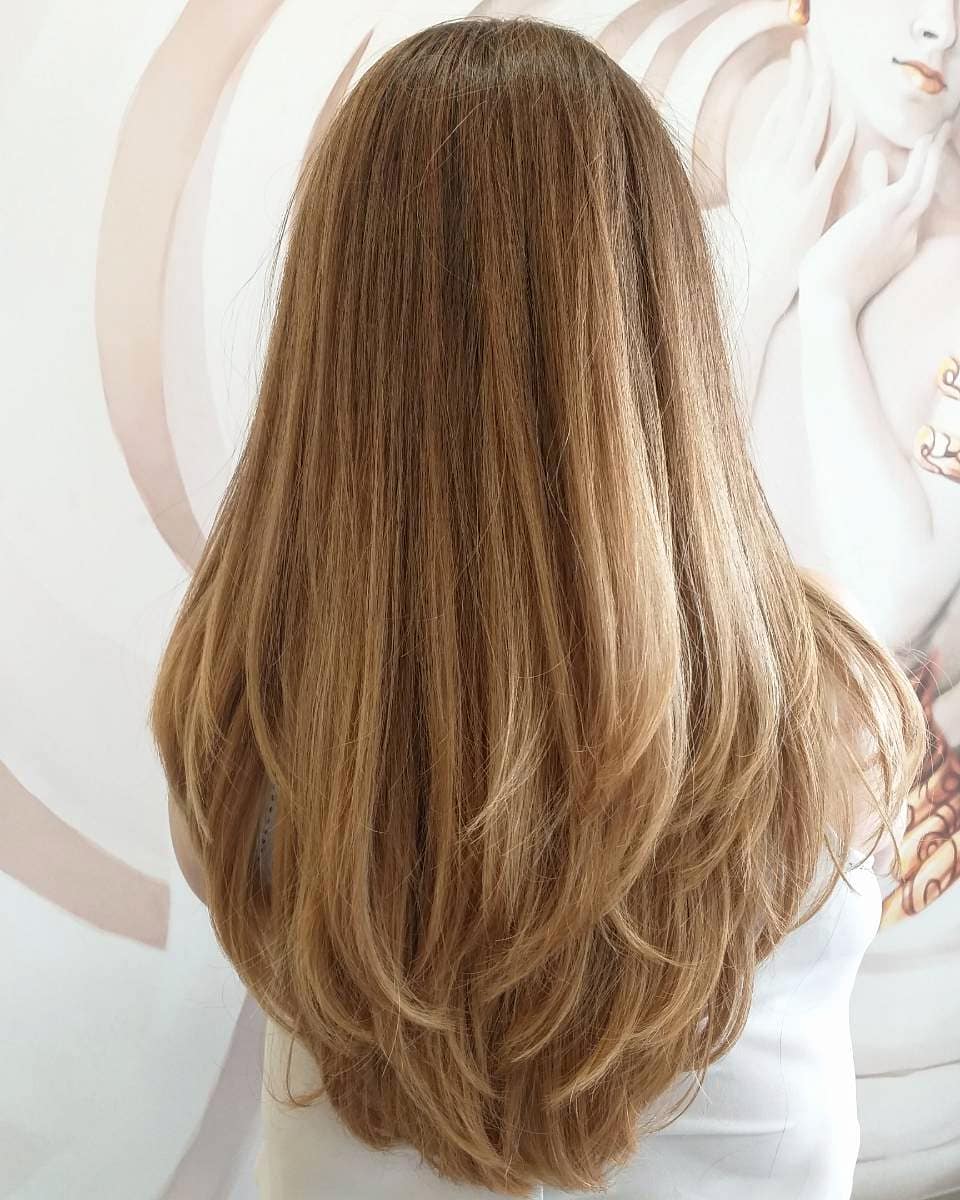 #39: Layered U-Shaped Cut
Opt for a u-shaped layered haircut for long hair to keep bouncy hair while maintaining length.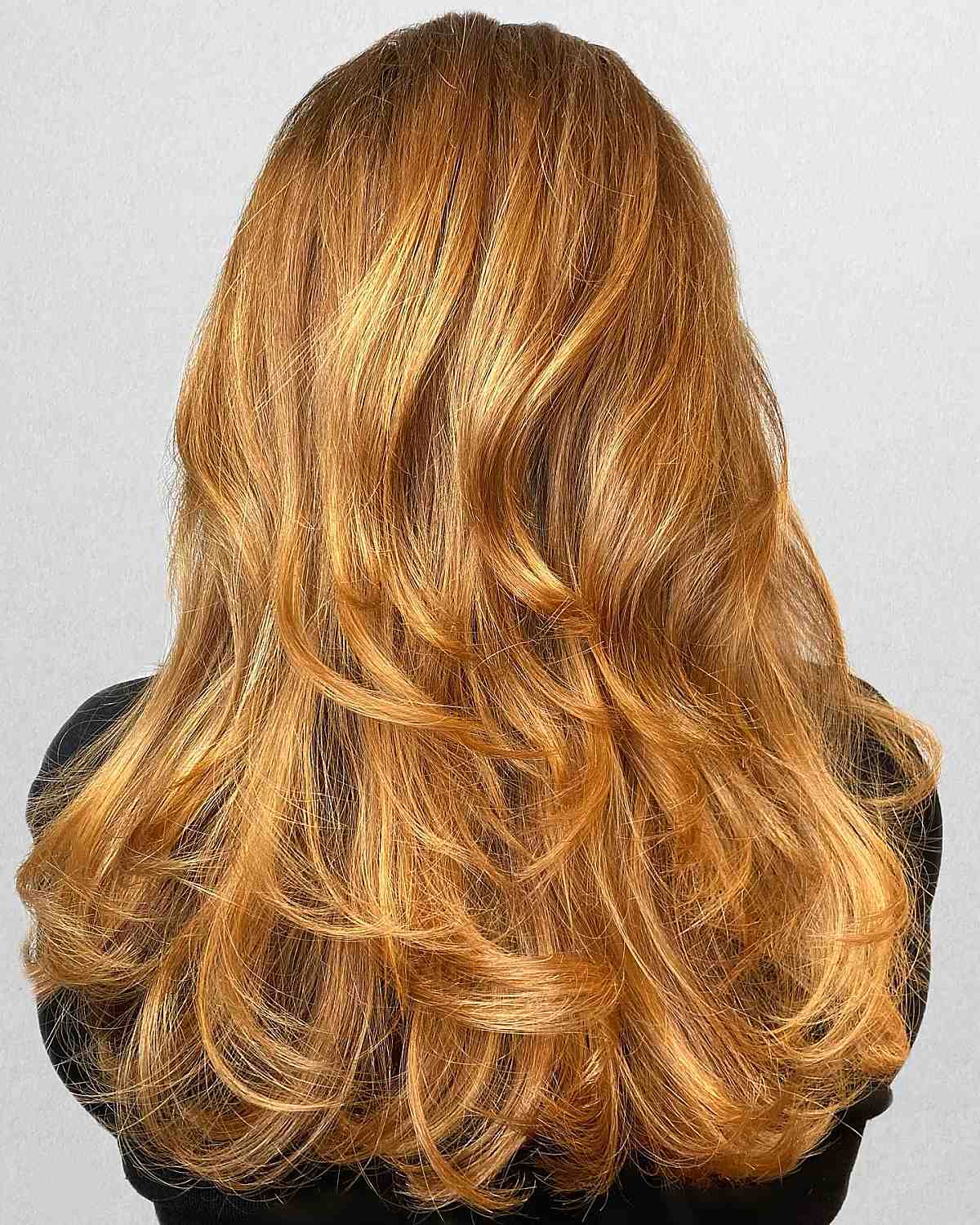 #40: Layered Wavy Hair
Long layered wavy hair, when paired with copper balayage, makes a stunning go-to look. Wear this long haircut with layers to give your ends more texture. When styling, hold the flat iron horizontally. Then, take wide horizontal sections while curling the hair. This way, you'll get a more wavy hair look instead of the classic, tight curls.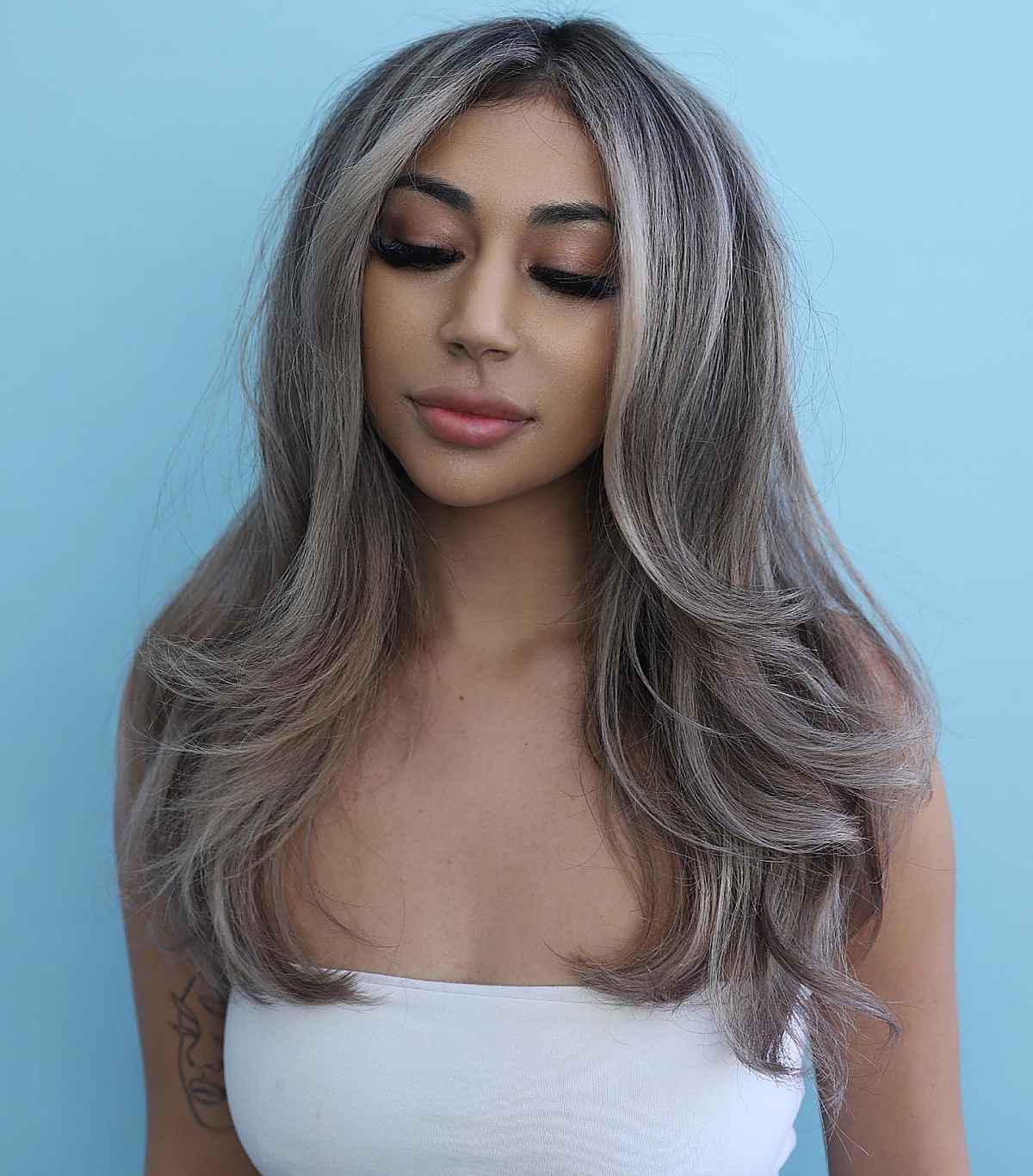 #41: Textured Layering for Long Thin Hair
A messy layered cut with a dark-rooted blonde and brown balayage is sure to freshen up fine tresses! The perfect textured layering for long thin hair does exist. This hairstyle for long hair also suits a natural wavy texture. To prep long layered hair, use a dry texture spray to work on the body and texture.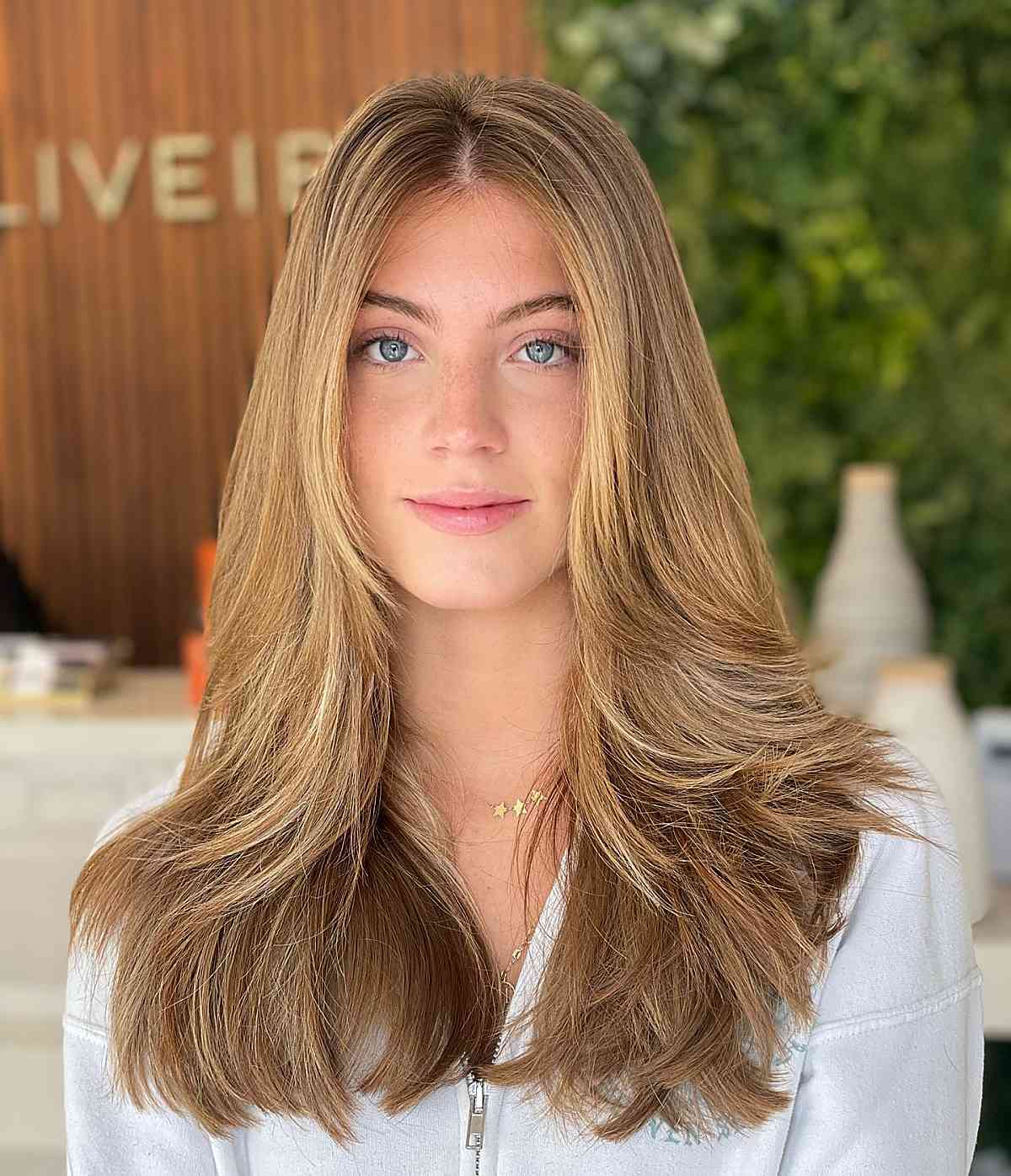 #42: Choppy Layers for Long Thick Hair
Here's a long layered hairstyle that works fine with golden blonde highlights! These choppy layers for long, thick hair offer tons of texture and boost volume that you'll love.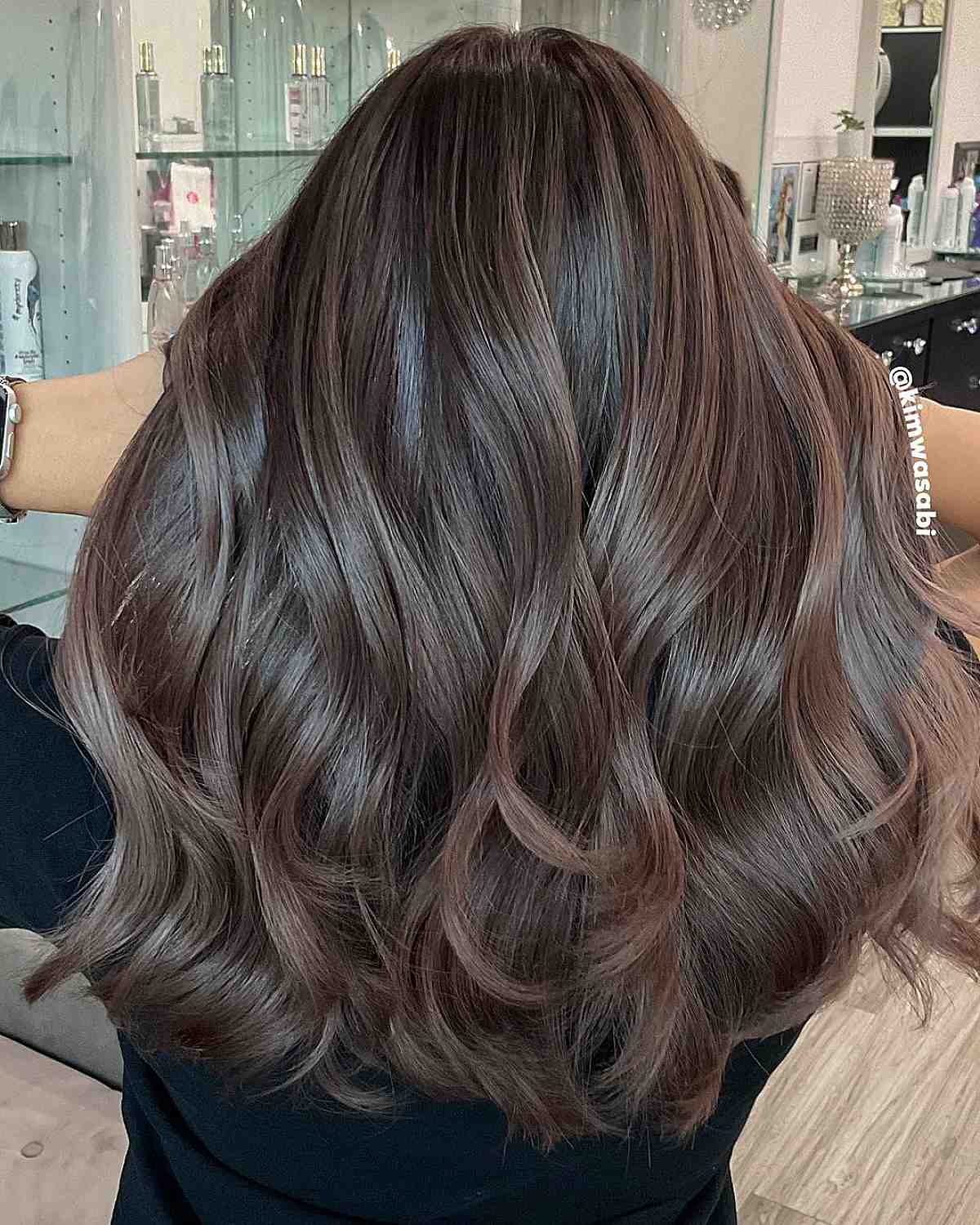 #43: Long Brown Hair with Soft Curls
Give long brown hair with soft curls a try for your next simple and romantic style. The softness of the curls mixed with the warmth of the brown works very well to soften harsh features and bring femininity to the face. Brown tones tend to work really well with skin that has pink undertones.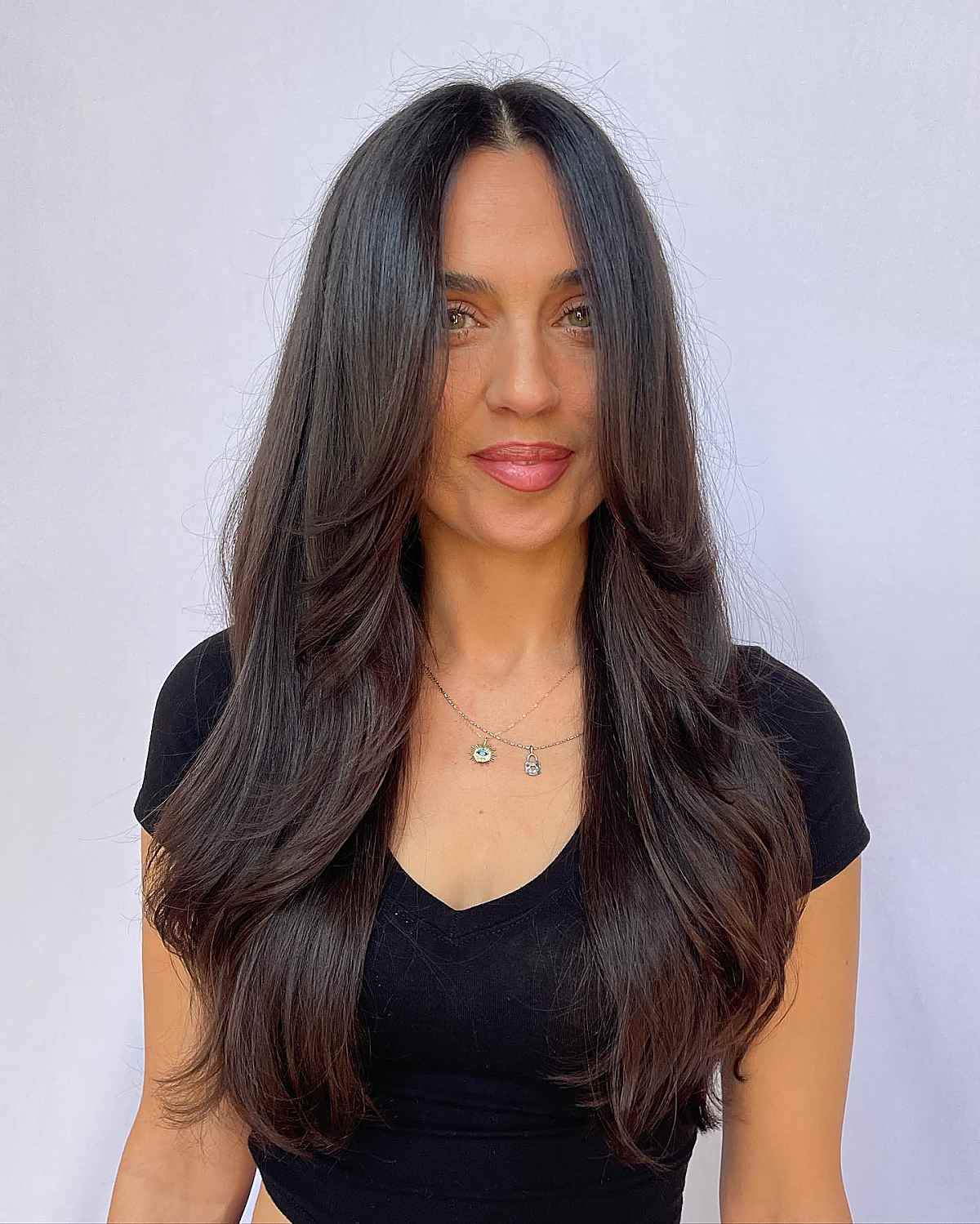 #44: Brunette Long Layered Hair
Choosing a brunette long layered haircut is ideal for women who have long, but flat hair. Cutting long layers adds movement and depth without taking away length. For those with long thin hair, this is also an excellent choice because it adds volume.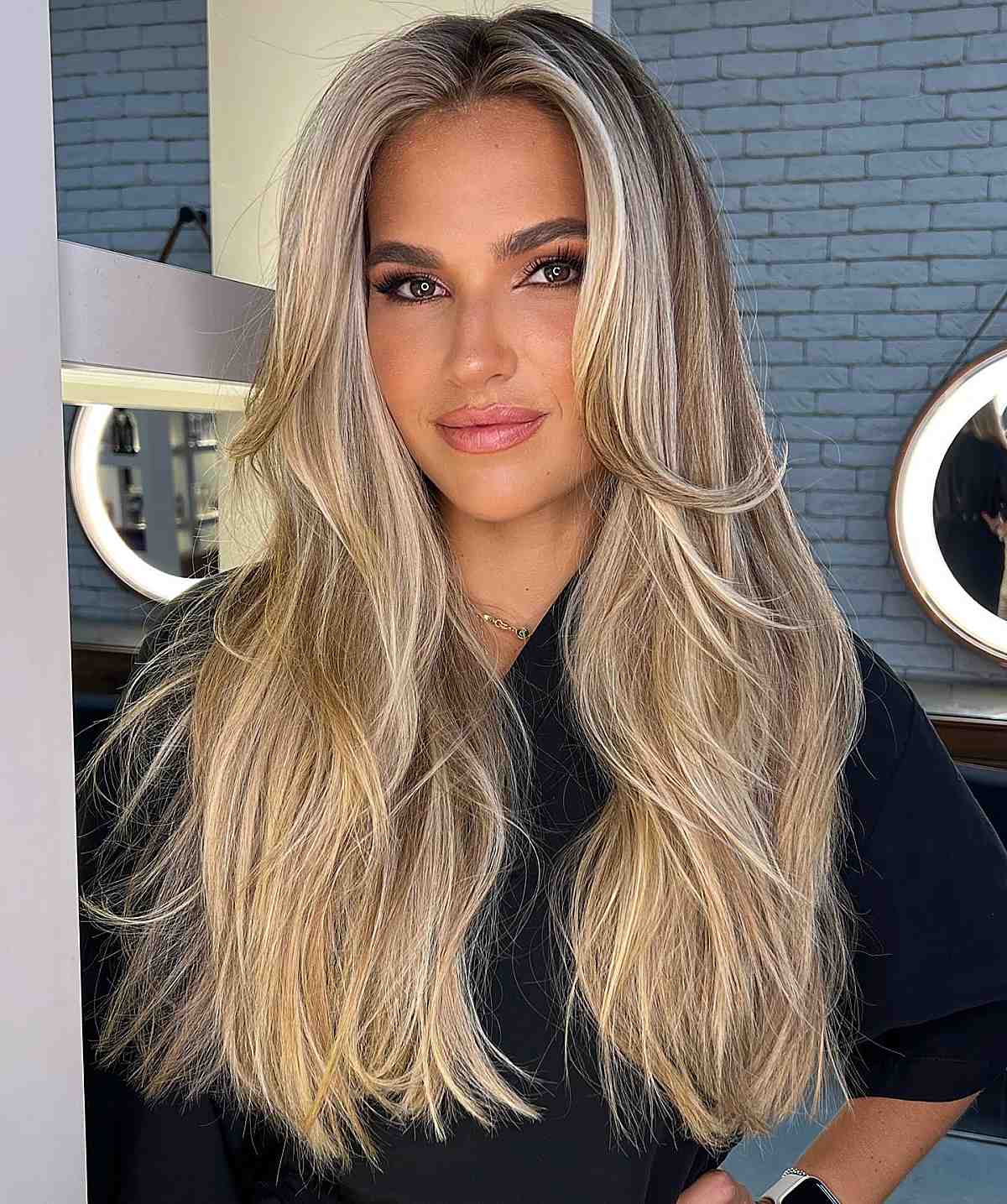 #45: Beautifully Layered Long Blonde Hair
A beautifully layered long blonde haircut is extremely popular and never out of style haircut idea. The number of layers can always be customized to suit you and your lifestyle, so don't be afraid to ask your stylist about the different options you have.