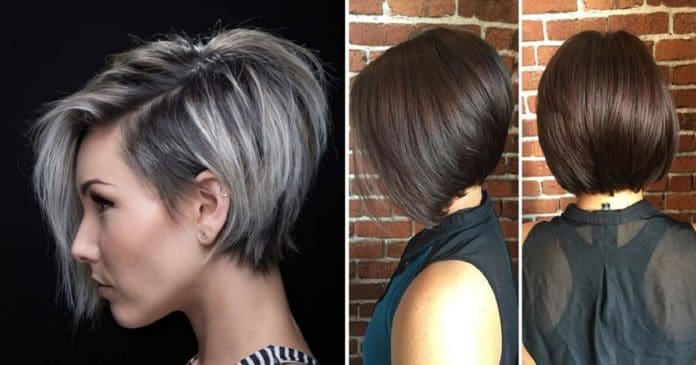 If you are looking for a new hairstyle then why not try a short, stacked bob? It's been a popular trend for a while because it's an awesome hairstyle. It's the kind of bob that is fashionable and chic; you will be turning heads wherever you go. These stacked styles can be the shorter or medium length as well. The stacked bob is called that because of the back of the style which is cut so that it stacks. There are many different styles to choose from.
Below are 53 Charming Stacked Bob Hairstyles That Will Brighten Your Day:
Blonde Hair
This stunning style is very choppy and very sexy.
Icy Blonde
A gorgeous style that has some icy blonde elements.
Stacked Styles
A sexy style that anyone would love. We just love how chic this style looks.
Rose Gold
A sexy style that isn't too short if you want to keep your hair a little longer.
Angled Bob
As you can see, there is an angled edge to the style.
Stunning Styles
Chin length styles are super sexy and this is a great hairstyle.
Contrasting Styles
A simple style that can show off some contrasting colors as well.
Soft Styles
A great style that you are sure to love because it's soft.
Choppy Styles
A great style that has many different layers in it.
Red Hot
A great style that looks super hot with the color.
A Shaggy Style
This is a very short style that has many different layers.
Purple Styles
A stacked style that is a bit longer. The front is quite long while the back stays stacked.
Striking Styles
Who says you have to cut your hair short to have a stacked bob? This is a gorgeous example of what you need to be truly badass.
Frosty Styles
This frosty look is beautiful because of the color and the stacked style.
Highlights
The great thing about highlights is that they will totally stack your color in an eye-catching way.
Great Products
This style is very short and very choppy. You will need to have a lot of product to make this style look this good.
Perfect Edges
This style is not for the faint of heart. The style is very severe and blunt. There are multiple levels with different colors.
Sexy Style
This messy style is very attractive. We love the waves and the fact that it's a low maintenance style.
Blue Styles
A greatly stacked bob that stands out because of the blue highlights.
Curly Styles
These curly locks really make that stacked style much larger.
Purple Love
Another style that has the hair longer in the front than the back and we just love the purple.
High Volume
If you are looking for a style that is truly dramatic then this us it. Her style has some serious volume to it.
Slick and Stacked
A great style that looks polished.
Soft Layers
A great style that has some flowing layers, this style is so sexy.
Flowing Locks
This style looks amazing with some flowing layers.