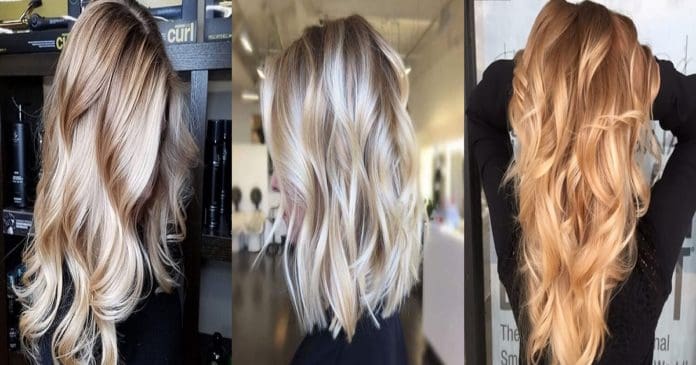 If blondes truly have more fun or not we do not know for sure, but what we know for a fact is that they have an abundance of tones, accent, and shades to play around with. Blonde hairstyles are flirty, exciting and classy all in one, which is most likely why they have been popular for decades on end. This year, you can treat yourself to a fresh makeover with the best shade of blonde for your personal style. Learn more below!
1. Light Blonde Hairstyles
Targeting a natural blonde appearance? Although women who are born with this hair color can have different tones, one of the most common is light blonde. This serves as a marvelous summer look or a chic makeover for a new chapter in your life.
2. Icy Blonde
You can take light blonde to the next level by cooling it down to an icy tone. This approach is highly popular this year, for reasons we all can easily observe. The shadow roots are also an excellent way of accentuating your hairstyle.
3. Short Blonde Hairstyles
We all know that short is relative when it comes to hairstyles. While some ladies classify a pixie cut as short, others consider that even a lob is a pretty short haircut. We'll meet you halfway with this short bob, ideal for women growing out pixies or other similar haircuts.
4. Warm Blonde
At the exact opposite of the icy blonde pole, we can find warm blonde. Even though we don't recommend going for a full yellow-orange tint to your warm hair color, we do think that a splash of sun can work wonders for any bland look that needs an upgrade.
5. Medium Blonde Hairstyles
If you would rather opt for a balanced hair color through medium blonde, this is the ideal reference for you. Jennifer Aniston is the ultimate queen of medium blonde, with numerous variations showcased throughout the years.
6. Blonde Weave Hairstyles
Weave hairstyles are very generous from a variety viewpoint. Basically, you can get your weave with any hair texture, length color and more. If you want to rock a blonde one, you may want to consider dark roots as a detail for a more natural look.
7. Brown to Blonde Ombre
There's no doubting the power of an ombre as a factor for your makeover. Mixing any colors with this method will enhance your locks like never before, particularly if the two shades are contrasting. Take brown and blonde, for example, and feast your eyes on the gorgeous results.
8. Golden Blonde
If you want to look and feel like a million dollars, golden blonde should be your go-to hair color. To boost the glam impact of your hairstyle, you can also opt for golden blonde lowlights on a light red-blonde foundation.
9. Long Blonde Hairstyles
Have you patiently and persistently worked to grow your hair? Reap the rewards by playing around with your hairstyle. For instance, you can try a beach hair look by lightly curling your long strands. Don't shy away from multi-color highlights with various blonde tones.
10. White Blonde
Didn't think any hairstyle could go above and beyond icy or silver blonde hair? Think again, because white blonde is here to stay for at least a few more years. Use it to reflect the snow around you in the winter or to make your tan stand out in the summer.
11. Blonde and Burgundy Hairstyles
When combined in a hairstyle, burgundy and blonde have a fantastic effect. Owing to the fact that they're highly contrasting, the two colors result in a head-turning hairstyle. You can either rock blonde highlights on a burgundy base or a few dark red streaks on a lighter foundation.
12. Butterscotch Blonde
Another way you can gracefully brighten your hair is through butterscotch blonde. It is a warm, sweet and playful way to sport blonde locks, all without having to deal with a high maintenance hairstyle. It's also subtle enough to be appropriate for all occasions.
13. Blonde Buzzcuts
As far as 2017 is in discussion, the blonde buzzcut is ubiquitous. Take some of the most influential female celebrities in the industry and you'll notice that they have all ventured into the super short, striking blonde look. Cara Delevingne, Katy Perry and Kristen Stewart are just a few examples.
14. Black and Blonde Hairstyles
The boldest contrast you can get is through black and white, especially in a hairstyle. If this is your goal, we encourage you to explore silver blonde as an option for streaks on a black base. We also think the emo haircut in this shot is super cute.
15. Medium Length Blonde Hairstyles
Longing for a haircut that's easy to style, but not tiresome to maintain? All the signs point to a shoulder-length haircut. In addition to being a dreamy hairstyle from a practical point of view, it's also among the top trends this year.
16. Champagne Blonde
Blonde with a champagne tint is undoubtedly an idea you want to keep in mind for a hairstyle that will leave those around you in awe. It has a classy glow to it, but also a sassy touch provided by the daring color itself.
17. Blonde and Brown Hairstyles
Is a natural-looking hairstyle all you could ever hope for? A brown and blonde blend is just what you require, darling. While the earth tones provide natural beauty, the sunny shades bring the entire look to life. Think about balayage for mixing the two.
18. Bronde Hairstyles
To be honest, a trend like bronde is just what we needed to make our lives easier. The style combines brown and blonde hair with the most natural angle possible – that of growing out a hair color. Gigi Hadid is just one of the A-list celebs rocking it at the moment.
19. Blonde Bob Hairstyles
styles for women express attitude quite like a blunt blonde bob does. It's an edgy hairstyle that shows you're down to business, and in a highly stylish way, for that matter. The lighter you go with your blonde, the more outgoing your final look will be.
20. Caramel Blonde
As far as warm blonde shades are concerned, caramel is the optimum color for lightening hair. To put it otherwise, we recommend caramel blonde more for highlights or lowlights on a browner base. The difference is astounding.
21. Blonde Balayage
Thankfully, balayage still stands tall as a hair staple this year. This subtle alternative to an ombre is just what you require to blend multiple shades of blonde harmoniously. Pick your favorite tones, no matter if their cool or warm.
22. Platinum Blonde Hairstyles
As far back as we can remember, platinum blonde has always been in style. However, this year it seems to be trending more than ever, especially when paired with dark roots. If you also have tanned skin at the moment, this is definitely the blonde shade for you.
23. Dirty Blonde Hairstyles
We have been drooling over dirty blonde since the 90s, but lucky for us that it's still as fashionable as it was back then. A hairstyle with this color results in a rich and creamy appearance that flatters any hair texture or skin color.
24. Vintage Blonde
Channel your inner Marilyn Monroe for a blonde hairstyle that will be impossible to forget. Platinum blonde will bring out that old Hollywood glam, while the large and soft curls complete the rest of the look. Don't forget the red lipstick!
25. Pearl Hairstyles
It's hard to get more fabulous than with pearl hair. We have this year's trends to thank for the idea, which features an opalescent icy blonde with stunning metallic accents. Pick this look if you know you have the soul of a fairytale princess.
26. Hairstyles with Blonde Highlights
Just like dirty blonde, the concept of blonde highlights seems to be an everlasting trend. No matter what base color you get them on, blonde streaks will always make your entire hairstyle pop. For a natural look, opt for blonde highlights on brown hair.
27. Blonde on Top Black Underneath Hairstyles
Dare to step out of your comfort zone with an unconventional hairstyle. Back in the early 2000s, Christina Aguilera blew us away with her platinum blonde on top with black hair underneath. The iconic hairstyle still serves as inspiration to this day.
28. Neutral Blonde
If you have blue or green eyes, neutral blonde is just the hair color you need to bring them out. This hair color is ideal for those who want to accentuate specific facial features. The neutral hair tone leaves the spotlight for your eyes, lips or whatever else you want to emphasize.
29. Frosted Tips
Beach hair on your mind? Frosted tips are a must. This technique allows you to blend various earth tones on the majority of your hair, leaving platinum blonde just for the tips. Any choppy hairstyle will look outstanding with this idea.
30. Honey Blonde Hairstyles
Add a sweet touch to your look with honey blonde hair. You can juggle honey highlights and caramel lowlights to spice up the hairstyle, with sun kissed results. Don't hesitate to choose this version if you have a warm and bright personality.
31. Chunky Blonde Highlights
Go for an attention-grabbing angle for your hairstyle with chunky blonde highlights. This edgy approach to your look will ensure that you'll stand out through style. It's a must-have for girls with a sense of adventure.
32. Blonde Hairstyles with Bangs
It's easy to see why bangs and blonde hair are such a popular combination. Regardless of your specific shade of blonde, a set of blunt or side-swept bangs can act as the icing on the cake for your hairstyle. Choose the bangs style that represents your mindset the best.
33. Afro Curls in Blonde
Afro-textured curls are always a pleasure to admire. If you're thinking about switching up your style, you can consider coloring your curly locks with a bit of blonde. We encourage you to try a warm blonde out to complement your skin tone.
34. Blonde Curly Hairstyles
Even if your hair isn't naturally curly, you can still rock a hairstyle like the one in this example. Get back in touch with your girly side by gently curling your hair about halfway down. It's an amazing look for prom or any other formal event.
35. Rose Gold Hairstyles
No matter what time of the year it is, you can rock rose gold hair like the ultimate fairy. With cotton candy pink accents and golden tones, this hairstyle is a dream come true for women who adore pastels in their locks.
36. TWAs in Blonde
Just like buzzcuts are hot for Caucasian women right now, so are TWAs in the same color. You can make your Teeny Weeny Afro sparkle with coolness by bleaching it in blonde. However, talk to an expert about how you can lighten your hair with as little damage as possible.
37. Blonde and Red Hairstyles
We've talked about a blonde and burgundy combo, but what about mixing blonde with ginger-inspired tones? In other words, you can blend shades that range from copper to honey blonde for a jaw-dropping hairstyle. Alternatively, redheads can sprinkle a few blonde highlights in their hair.
38. Dark Blonde Hairstyles
In fashion and beauty trends this year, nude tones are everything. From #ootd ideas to makeup and everything in between, beige, rose gold and tan are all the rage. Adopt this chic trend for your new hairstyle by getting a dark blonde color.
39. Blonde Peekaboo Highlights
If you love experimenting with your look, it's high time you learn more about peekaboo highlights. Like you would expect from their name, these kinds of highlights literally 'peek out' from behind your main hair color. Aren't they wonderful?
40. Strawberry Blonde Hairstyles
Get a natural redhead appeal with a strawberry blonde hairstyle.  We recommend this hairstyle for girls who have pale skin, light colored eyes and freckles to get the desired impact. If you're already a natural ginger, you can lighten your locks with some blonde highlights.
41. Contour Coloring Hairstyles
Yet another major hair trend this year is referred to as contour coloring, also known as contourage. You may have thought of it before as getting highlights in the front, but industry experts describe the process as accentuating certain facial features through the highlights in your hair.
42. Blonde Lob Hairstyles
Impossible as it may seem, a handful of the hottest hair trends this year can all be found in one picture. The choppy long bob haircut, soft beach waves and icy blonde balayage will all lead you to one of the most stylish hairstyles around.
43. Copper Blonde
Blake Lively never ceases to amaze us with her flawless style, from fashion to beauty and more. However, out of all her hairstyles, copper blonde was among those that impressed us the most. This intense alternative for strawberry blonde is awe-striking indeed.
44. Blonde and Purple Hairstyles
Purple and blonde look phenomenal together. They draw attention even more when prepared with blonde on top and purple underneath. Nevertheless, you can also sport a blonde base with purple highlights for an impressive hairstyle.
45. Wispy Blonde Highlights
Just like balayage is the discrete alternative to ombre, so are wispy blonde highlights to chunky streaks. In essence, these highlights are the subtle way to get some sunny accents on your already blonde base color.
46. Amber Blonde
Daydreaming about a romantic hair color that rests comfortably among blonde, brown and red? Amber blonde is the answer to all of your problems. The shade supplies a beautiful natural glow to your hair by equally blending the three colors mentioned above.
47. Ash Blonde Hairstyles
How can you not fall in love with ash blonde hair? With the help of a coloring technique like balayage, you can obtain the ideal mixture of cool blonde with light charcoal hair. Moreover, it's on the top charts this year for hair trends.
48. Bridal Hairstyles for Blondes
Depending on the theme of your gown and wedding, you can have fun with countless bridal hairstyles to complement your blonde locks. If you're tying the knot in nature, you should definitely consider a boho hairstyle with light flowers to go with your hair color.