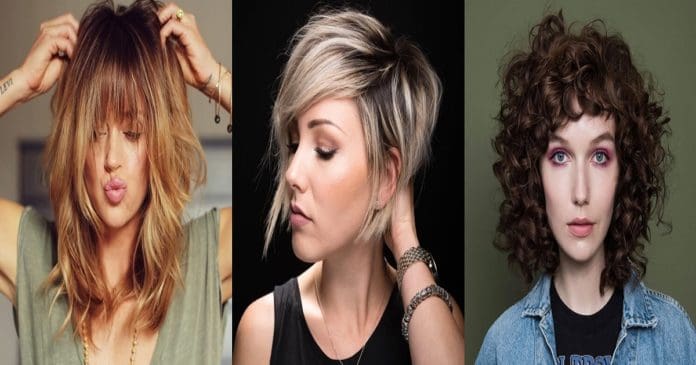 Who would have ever thought that shag haircuts would be back and booming decades later? After being one of the most endeared hairdos in the 70s, shaggy hairstyles are now among the hottest hair trends this year. This feisty, carefree and attitude-filled haircut works amazingly for all face shapes and hair textures. Take your pick below!
1. Medium Shag Haircuts
When we present new hairstyle ideas, we always like to start with a balanced option. For example, one of the best modern shag haircuts you can rock is medium-length, with an all-natural aspect. The choppy layers are key.
2. Beach Hair
The concept of beach hair falls under the broader category of modern adaptations of the timeless shag haircut. Just like the name leads you to believe, the hairstyle aims to reproduce the aspect of your sun-kissed hair after some time spent at the beach.
3. Short Shag Haircuts
Want a more playful approach to your shag haircut? Go short with it! This is the ideal look for a summer makeover or if you simply just want to flaunt shorter locks. We also dig the pixie bob haircut blend involved in this hairstyle.
4. Sleek Layers
Hard as it may seem, not all shag haircuts are messy. Even though this is an aspect you will often find in common for all shaggy haircuts, some of them can also be styled sleekly. This is excellent news if you have formal events coming up or you just have a classy personality.
5. Long Shag Haircuts
To obtain the picture-perfect shag haircut with long hair, you need to go above and beyond with the layers. The shorter and choppier they are, the better. Not only will you enjoy a dynamic silhouette, but also the boho style you're longing for.
6. Shag Haircuts with Bangs
A wonderful way to boost the shag aspect of your hairstyle is to pair those wild layers with bangs. We will be showcasing several bangs styles as we go through our list, but we will start with this classic set of full, arched bangs.
7. Cool and Flirty Hairstyle
Shag haircuts are an exciting way of expressing yourself, particularly if you're a free-spirited and unconventional girl. For a flirty and cool hairstyle, you should opt for a bob-length shag haircut that you won't be afraid to get yours fingers into.
8. A-line Shaggy Bobs
Now that bob hairstyles are in discussion, talking about the shaggy A-line is a must. Angles are everything when it comes to cute shag haircuts, so it's natural that an angled bob would serve as the perfect outline.
9. Shag Haircuts for Thin Hair
If you struggle with thin hair, we recommend exploring shorter shag haircuts. A choppy hairstyle with a bob or lob, for instance, can help you get extra volume. Owing to the fact that the locks are shorter, you won't have as much weight pulling your hair down.
10. Asymmetrical Bobs
Speaking of bobs, why not try an asymmetrical version for your shag hairstyle? You don't have to aim for a dramatic haircut with a huge difference between the length on each side. Instead, just step out of your comfort zone a bit for a one or two-inch asymmetry.
11. Shag Haircuts for Older Women
Accentuate your youthful personality with a shag haircut! Regardless of your age, you can look and feel fabulous during any chapter of your life with a sassy hairstyle. Raquel Welch proves so time and time again, like in this flattering shot.
12. Straight Shaggy Hairstyles
We will speak about all types of hair throughout our list of shag haircuts, from wavy, to curly and more. However, we want to start off with a magnificent look for our ladies with straight hair. Everything about this hairstyle is perfect – from the length to the layers.
13. Jagged Bangs
If you're genuinely not afraid to leave your comfort zone behind, consider an unconventional shag haircut with short and choppy bangs. This is an exceptional look for our riot chicks who won't settle for the image that society imposes on them.
14. Gypsy Shag Haircuts
If you're feeling nostalgic, go back in time and get inspired by retro hairstyles. One way to do so is with a ravishing gypsy shag hairstyle, with lush side swept bangs and short layers. It's a fine choice if you have medium-length hair.
15. Curly Shag Haircuts
If you were lucky enough to be born with natural corkscrew curls, never shy away from flaunting what you got from your mama. In other words, do your best to find a hairstyle that accentuates your ringlets, such as this shaggy haircut.
16. Short and Choppy Bangs
What better way to complement your choppy layers than with equally choppy bangs? Instead of sporting eyebrow-length bangs like most, you can take a walk on the wild side with short and rebellious bangs.
17. 70s Shag Haircuts
In the 70s, marvelous hairstyles were all about short top layers and bangs. Whether your bangs are slightly parted, swept carelessly to the side or messily down the front, rock them with your head held high for some retro glam.
18. Long Bangs and Shaggy Hair
An amazing way to highlight your shaggy locks even more is to wear them with long, about nose-length bangs. It's the traditional boho approach to this hairstyle, ideal if you want to get closer to the retro shag haircut.
19. Pixie Shag Haircuts
Not afraid to chop it all off for the hairstyle of your dreams? The shaggy pixie is just for you. You can make your pixie shorter than the one in this example, but remember that styling is key. We recommend the full side bangs for all adaptations.
20. Casual Shag Hairstyles
If you don't want to go too over the top with your haircut but still make it memorable, go for a casual style. For shag haircuts, you can get this effect by keeping your part in the middle, hair length to your shoulders and your general hairstyle without bangs.
21. Shaggy Inverted Bobs
It's easy to see why inverted bobs are known as some of the most voluminous hairstyles among trends this year. To take yours to the next level, think about including some choppy layers for a cool shaggy look.
22. Shoulder Length Shag Haircuts
Shaggy hairstyles look arguably the best with shoulder-length hair. You can appreciate the layers and get that much-needed kick of volume without struggling with high maintenance afterwards. We especially encourage women with middle parts to go for this look.
23. Layered Shag Haircuts
It may seem to be redundant to label a shag haircut as being layered, but we want to emphasize the role of this cutting technique for the big picture. As you can clearly see in this example, the short and gradual layers are the icing on the cake for a shaggy hairstyle.
24. Boho Hairstyles
You will frequently find the term boho associated with shag haircuts, for reasons that are quite obvious. If you want to emphasize the bohemian part of your shaggy hairstyle, concentrate on making the bangs all choppy.
25. Dramatic Hairstyles
No matter how flashy a hairstyle may initially seem, we constantly encourage our readers to get one that fully represents their personality. As such, bold girls can seek extreme shag hairstyle inspiration from icons like Yolandi Visser from Die Antwoord.
26. Shag Haircuts for Round Faces
A shaggy hairstyle is an enchanting way to complement a round face shape. If you focus the layers and angles inwards, you can successfully slim down your face. The side swept bangs also boost the cuteness of the overall look.
27. Wavy Shag Haircuts
Shag haircuts and wavy hair truly go hand in hand. This is the ideal hair texture for a shaggy hairstyle, as wavy layered locks fall gracefully into place on their own. Don't hesitate to explore this hairstyle category if your strands are naturally wavy.
28. Curtain Bangs
One characteristic that both retro and modern shag haircuts have in common is the style of bangs. Although you have plenty of options to choose from, one of the most popular is the curtain bangs approach. Try it out if you fancy longer bangs.
29. Colorful Shag Hairstyles
To put the spotlight on the rebellious side of your shag haircut, think about trying out a new hair color. Considering that shag haircuts are typically unrestricted, you can play around with the liveliest of colors. This rich green is just an example.
30. Black Shag Haircuts
Halle Berry rocks a short, sexy shag haircut quite like no other. The renowned actress is known for her choppy hairstyles, especially for their bold shortness and spunk. It goes to show that this hairstyle is suitable for women with all skin tones, face shapes and more.
31. Side Part Hairstyles
Contrary to popular belief, shag haircuts are just as head-turning with a side part. Indeed, retro shag haircuts are almost always found with a middle part, but a modern-day look opens the way for experimentation.
32. Choppy Shag Haircuts
If you want to get as much attitude as possible out of your haircut, go for extremely choppy layers. In addition to this, we encourage you to experiment with different lengths for your layers. For example, try short layers on top and longer layers as you go down.
33. Pop Shag Hairstyles
Remember when celebs like Mandy Moore or Meg Ryan rocked this short hairstyle fantastically? You can recreate this look for a fun and girly hairstyle. It's based on a short bob with progressive, angled layers that frame your face.
34. Sexy Shag Haircuts
The sexiest shag haircuts are often the messiest and most careless ones. Counterintuitive as it may seem, they stand out through a reckless glow and as a statement of an outgoing personality. Of course, expressing sexiness will always come down to your attitude.
35. 2000s Hairstyles
If we were to talk about pop icons of the 2000s, there's no doubt that Britney Spears would be among the top three of the decade. She was always known for being a trendsetter for girls, from her clothes to her hairstyles. Her long, choppy and thoroughly layered hairstyle was one of them.
36. Goth-inspired Hairstyles
You probably wouldn't have expected to find a mullet-based haircut that looks outstanding these days, would you? We weren't prepared for it either. However, this deliciously dark, mysterious and goth-inspired shag haircut proved us wrong.
37. Retro Shag Haircuts
We will go back to the 70s for this entry, with a gorgeous, retro-inspired shag haircut. We wholeheartedly recommend this approach if you have a generally bohemian lifestyle, but also if you want to cut down on long-term hair maintenance.
38. Wispy Shag Bob Haircuts
Ladies with fine hair should definitely keep shag bob haircuts in mind when setting their next hair appointment. Without a doubt, this is one of the most flattering hairstyles for thinner hair, creating an abundance of natural volume.
39. Soft Curls
Yet another way to adorn a shaggy hairstyle is with soft curls. This look works best if your hair is naturally curly or very wavy. If this is your case, don't hesitate to experiment with shaggy bangs and tousled layers all around.
40. Cute Shag Haircuts
Would you rather have a fun approach to your shag haircut? You can reach your hair goals by going for feathered and flirty layers, and all-around shorter haircut. Rock this hairstyle no matter how young or old you are for a super sweet appearance.
41. Shag Hairstyles for Square Faces
Do you enjoy sharp features? We definitely agree that razor-like jawlines have a unique charm of their own, but they should come with a hairstyle that complements them. In this situation, we recommend a shag haircut with softer layers to balance out the features.
42. Long Layered Shag Haircuts
Short layers on long hair have been trending for as far back as we can remember. The two details work seamlessly together to create a balanced yet playful hairstyle. Moreover, they represent one of the definitive traits of the modern shag haircut.
43. Shaggy Bangs
If you decide on rocking a short shag haircut, you should think about bringing your bangs to life. Just one of your options is to focus on full bangs that start from the crown of your head and continue with plenty of short and jagged layers.
44. Shag Haircuts for Thick Hair
Shaggy hairstyles not only work for spicing up thin locks, but also for bringing the best out of thick hair. With a shag haircut, you can accentuate the natural thickness of your hair while expressing your fearless personality.
45. Ombre Shag Hairstyles
Yet another way to bring some color to your new shag haircut is through ombre. We're sure that you already know all about this coloring technique, but we wanted to remind you so you can keep it in mind for a eye-catching hairstyle.
46. Platinum Shag Hairstyles
If you sincerely want to leave an unforgettable impression, always go for platinum. This has been one of the top-trending hair colors for years now, and we're certain that it will still be a favorite among divas for more years to come.
47. Classic Shag Haircuts
A classic shag haircut will always focus on the top part of your hair as the pièce de résistance. In other words, all attention will be drawn to your short and layered top, letting the rest of your hair flow naturally. Embrace that retro allure with confidence!
48. Curly Shag Haircuts with Bangs
Shag haircuts with bangs are the most flattering choices for gals with curly hair. The fact that your locks have a curly texture pave the way for effortless bangs that complement the entire approach of your hairstyle.