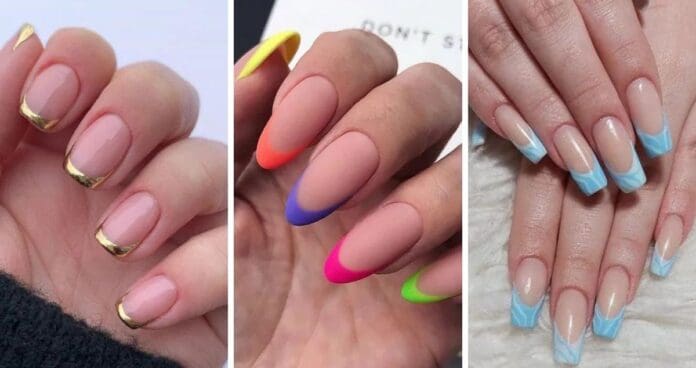 A traditional French manicure with white nail polish at the tip is a timeless and chic look. It exudes sophistication and can be worn in a variety of settings, from casual to corporate. However, there are many modern approaches with bright, bold advice. Interesting use of color, spacing, accents and patterns will inspire your creativity. Pastel shades are always in fashion; You can paint each nail with a different magical nail polish and complete the look with red tips for a dramatic look. There are other simple yet fun options, such as cobalt blue tips; This color is associated with peace and tranquility. Keep reading and get inspired by these modern French manicure nail designs.
1. Classic French Manicure
There are many fun and creative nail designs out there, but the traditional French manicure is a sophisticated and timeless look. Created using white tips applied over a light pink or clear base coat, this design has been around for decades and has recently gained a lot of popularity. Simplicity makes it easy to create from the comfort of your own home with minimal effort, but it's also the perfect look for a variety of occasions, from casual to formal.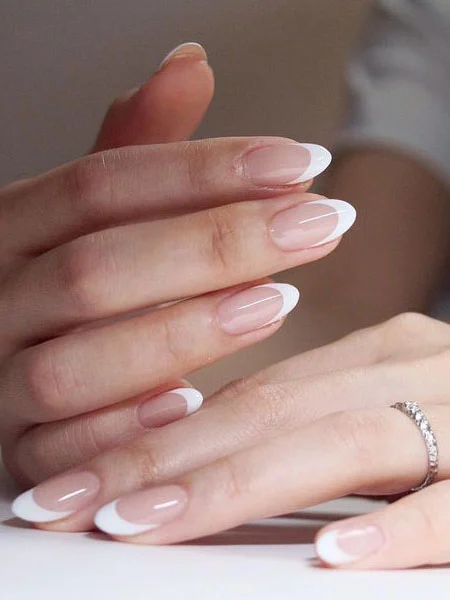 2. Arty French Manicure
Choosing artistic nails is a great way to express yourself and unleash your creative juices. There are many different interpretations of what an artistic French manicure does, but one of the best options is to have fun with colors and shapes. If you love mint green or soft pink, use this color for your tips. After that, you can create an interesting design on the nails; whether it's a black S-shaped line and a white circle representing the yin-yang symbol, or a row of tiny polka dots, the choice is yours. There are no rules to this nail art, so have fun and make it meaningful to you.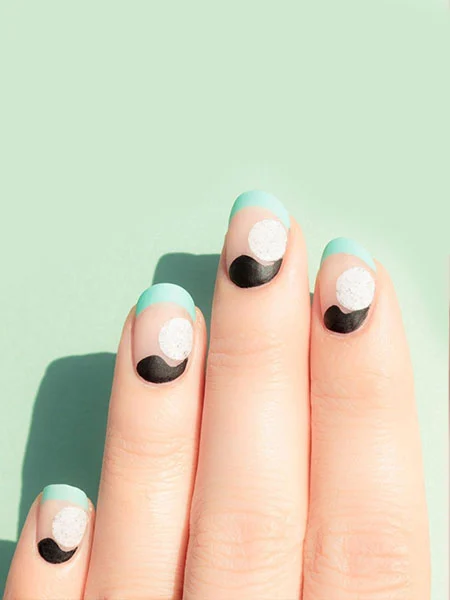 3. French Manicure With a Logo
You have probably seen logo nail designs on social media because this is one of the biggest trends of the last few years. It's also for good reason; Adding logos to your nails is a great way to express your personality and interests. You can present your favorite brands; Whether you love sportswear brands like Nike or you prefer luxury fashion houses like Louis Vuitton and Chanel, the choice is yours. It's also a way to get designer gear on a budget; we all know how expensive these products can be! You can get creative with the color of the feathers by choosing one of the pastel shades or by matching them to the shade of your logo.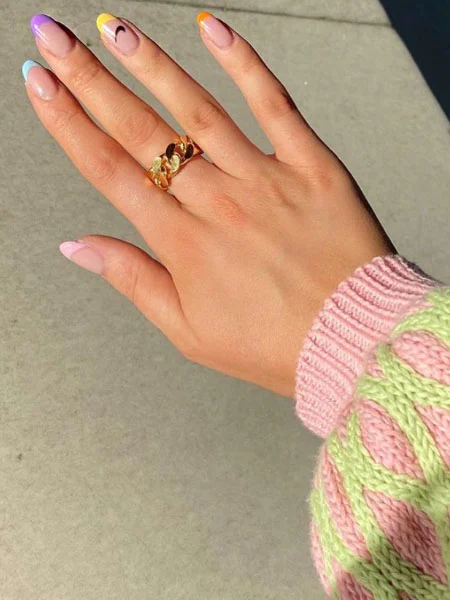 4. Black Nails With Red French Tips
A French manicure doesn't have to be the classic combination of clear and white; there are many ways to have fun with the look, such as black nails with red tips. The combination of colors catches the eye and is reminiscent of stylish Christian Louboutins shoes with red soles. It's one of the easiest and most casual ways to express yourself and it's incredibly sexy. There is femininity in this image: black is often associated with strength and sophistication, while red personifies passion, love and danger. Wear this black and red manicure if you want to stand out and emphasize your femininity. For more drama, try winged makeup and dark red lipstick.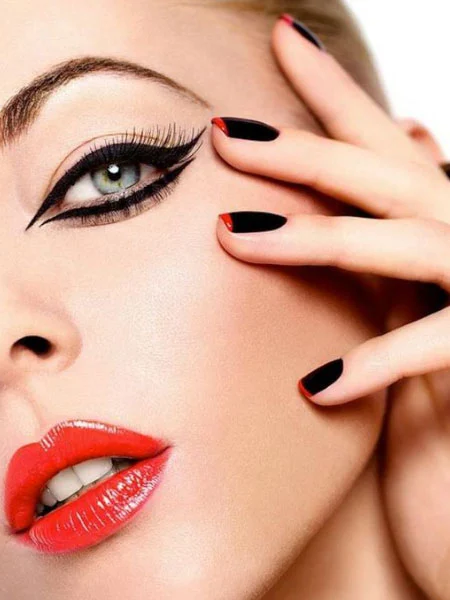 5. Classic French Manicure with Pearls
If you're a fan of tradition but want something a little more fun, then a classic French manicure with pearl details is the way to go. The only difference between this look and the original is the addition of small pearls at the base of the nail. Pearls are a gemstone associated with elegance and femininity. They also represent purity, wisdom and peace; it's not hard to see why this would be a welcome addition to nail art. There is no denying that it is a classic and a beauty. Wear them with oversized earrings or even a pearl headband for a harmonious dreamy look without being too flashy.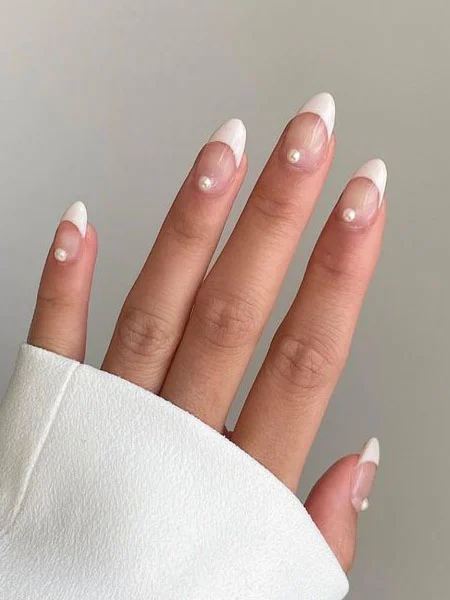 6. Fluro Matte French Tip Nails
Why not use your favorite bold colors and update the tips with fluorescent polish? Bright yellows, hot pinks, and lime greens are a great way to add color to your nails. It also looks especially impressive when paired with a nude matte base coat that lets bright colors stand out. This is an option for those who want to have fun with their nail art; such rich colors can draw attention to your hands. For this reason, always make sure that your nails are buffed and groomed so as not to detract from the beauty of your manicure. If you want your claws to be the center of your look, soften the rest of your look by wearing solid neutrals. If you prefer to make a statement, be sure to use clothes of your favorite models and colors.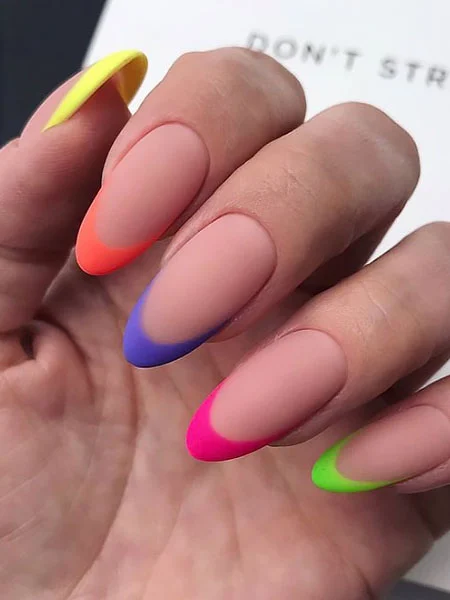 7. Color Block French Manicure on Two Sides
Color blocking, as the name suggests, is when you create blocks of solid colors. This particular nail art is created by using two contrasting shades and placing them at the tips and at the base. You don't need us to tell you how amazing this nail art is because it's easy to see for yourself. Something so simple can be so effective. You can play with different colors by choosing your favorite to create a personalized and meaningful look. However, try to limit yourself to four or five shades so that the drawing is not too cumbersome. In the true art of color blocking, it is also recommended to choose different shades that complement each other.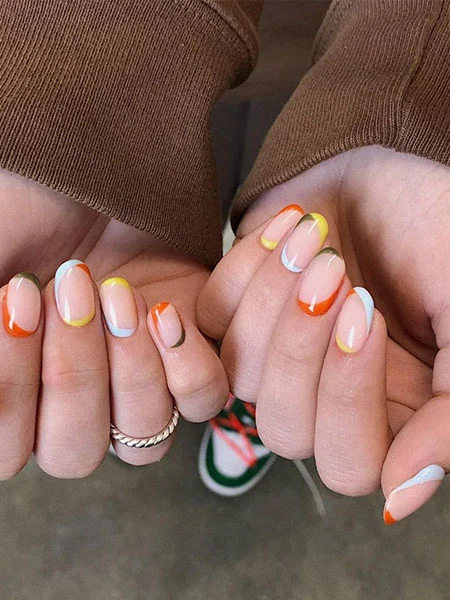 8. Dainty Black French Tip Nails
Sometimes the simplest looks are the best, and dainty black French tips are a subtle yet fun take on nail art. Not only are they relatively easy to create at home, they also require minimal tools and polish. Black is a powerful color associated with sophistication and strength. If you want to remind yourself that you have these qualities, this is a great way to do it. The beauty of this piece of art also lies in its versatility and should work well for casual and semi-formal occasions and events. Wear it with confidence and pair it with eyeliner or smoky eyes.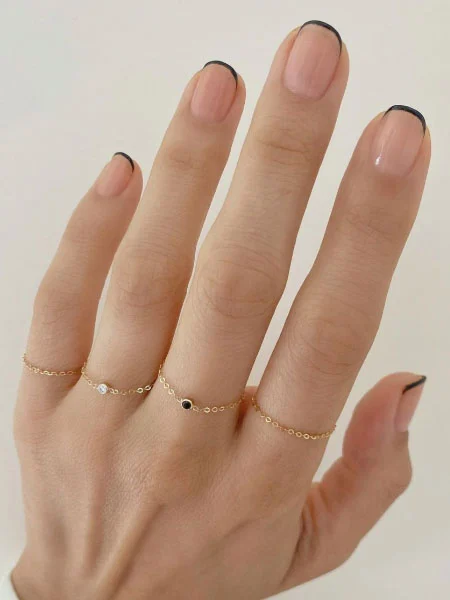 9. French Manicure With Stripes
Stripes are an attractive option for nail art. The classic French manicure is a white stripe at the tip of the nail, but why stop at one stripe when you can do three? Black base and pale pink line down the middle. This look is very girly and effortlessly chic. Black and white are always a great combination, and pink adds softness and appeal to the pattern. This is a modernized take on a classic that will look exceptionally good on longer nails as the extra length provides plenty of space between each line.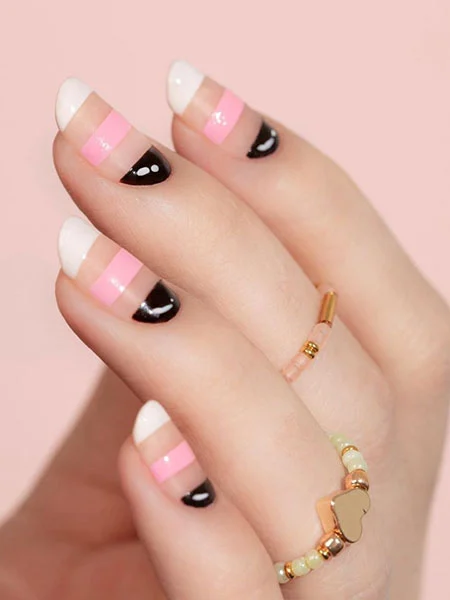 10. Cobalt Blue French Tip Nails
If you're a woman who loves simplicity but also wants to look bold, then cobalt blue French tips are the perfect combination of the two. It is easy to recreate at home and is perfect for a wide variety of occasions and events. In addition, blue is a color that evokes calmness and peace. The shade is often associated with nature, reminding us of the ocean or the sky, but is also associated with wealth, friendship, and even trust. For a more dramatic look, put on your favorite cobalt eyeliner or blouse and boldly walk out the door. Alternatively, you can tone down the rest of your look and opt for oversized earrings in a similar shade instead.