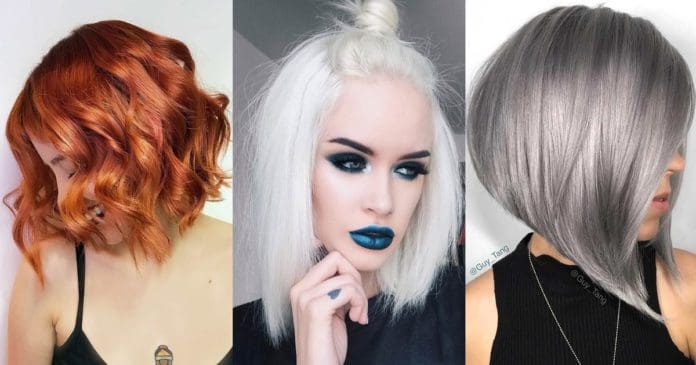 Short hairstyles are really making a comeback in 2022 and made a big splash in the last few years, but seem to be even more rampant this year. Fashionistas and celebs alike are sporting short hairstyles 2022. From pixie cuts and punk-rock pixies to bob haircuts and stylish lobs, short hairstyles for women are taking the world by storm, and there are dozens of short hairstyles to choose from. No matter what your style or preference, you will be able to find the right short haircut for you!
Whether you are looking for a fun and flirty look or a more refined and sophisticated style, you will surely be able to find one of our favorite short haircuts 2022 to match your style! You'll wish you had traded in your longer locks for a sexy short do years ago. And if you get bored with your shorter look, you can always grow it out and then try another short style in a few months. One of the advantages of being a woman is what we have the ability to grow and cut our hair whenever we please. A short hairstyle is a great way to start the new year or new step in your life with a positive attitude and renew your self-confidence!
As short hairstyles come and go, you will need to stay on top of the latest short hair trends, so, if you want to be summer-ready for 2022, check out our favorite trendy short hairstyles for 2022.
If you are thinking of trading in your longer locks for a short and sassy style, you have come to the right place, because we have chosen some of the hottest short haircuts 2022 for your inspiration, along with styling advice. Don't forget to pin your favorites to show your stylist!
1. Middle Part Style For Short Hair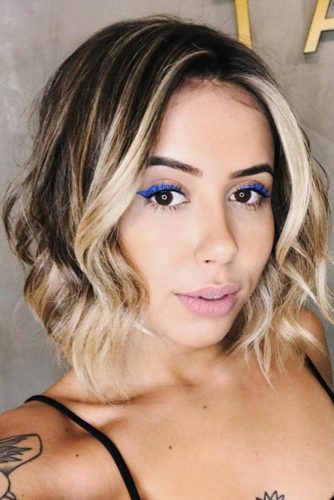 If you are looking for cute middle part short hairstyles, why not try this short bob with a center part? The pretty cotton-candy pink color is super girly yet modern and chic, but blonde tones are pretty too. A short straight messy style like this one is great as you can wear it any time of day, from a morning at the office to a night out with the girls! This cut is shorter on the sides and back and slightly longer in the front.
If you are wondering how to style middle part hair, it's really quite simple! Simply part your hair the center when wet, blow dry straight and finish it off you with a flat iron for a sleek and straight finish. Flip the ends under to give it a bit of a lift. Add a shine serum to give your hair some sheen. You'll feel years younger with trendy middle part hairstyles for short hair!
Source: danimanzutti via Instagram
2. Side Part Hairstyle For Short Hair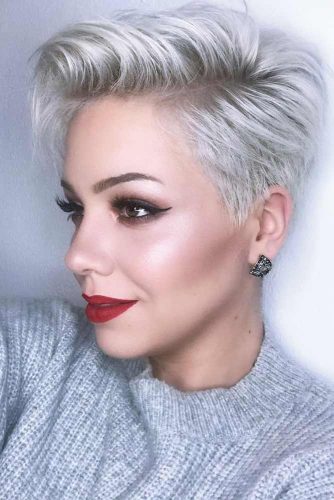 Are you brave enough to go super-short? This example of side parting hairstyles with fringe is super cute but also classy if you are looking for a more refined style. How to get a side part haircut is probably what first comes to mind when the first glance at this sassy side part women's short hairstyle. It's super easy to pull off. Simply part your hair to the side of your choice and blow dry it with a round brush to add volume. A side fringe adds a bit of mystery and playfulness to this fun and flirty short haircut. And we think the pretty strawberry blonde hue is simply stunning!
Source: fanny_rst via Instagram
3. Styling Short Hair With Deep Side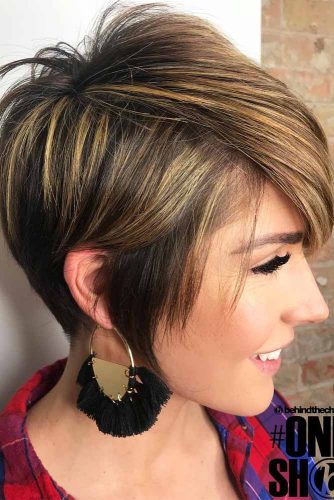 A deep side part hairstyle is very chic and glamorous if you are looking for a retro vibe. How to do a deep side part is surprisingly easy and well worth it as you can see! And the deep side part short hair is very alluring. Simply use a wide-tooth comb to make a deep part on whichever side you choose and style your short tresses to seductively hang over one eye. And if you want to add a bit more mystery, the blend is a pretty brunette and honey brown tones like the one pictured here. This style is mischievous and playful and shows that you have a fun side as well!
Source: shorthairbyshawni via Instagram
4. No Part Styles For Short Hair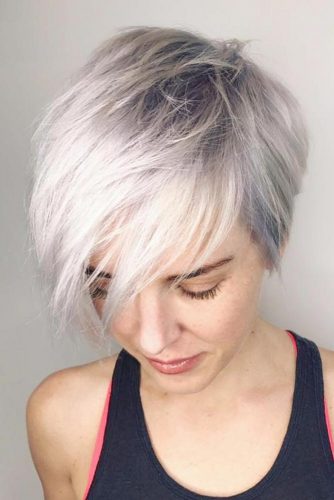 Since not all women are blessed with hairstyling skills, it's a huge blessing that no part of short hairstyles are in this year. If you love the carefree, sexy look this cute and casual cut might be right up your alley.
Are you wondering how to style your hair without a part? It couldn't be simpler. Just wash (or wet) your hair and let it dry without making a part. You can let it air-dry or blow it dry with your fingers to add some volume. How to have no part in hair is becoming a stylish option for many women with shorter tresses this seasons. This silver blonde pixie with super short layers and long side bangs is very fashionable and trendsetting if you are looking for a short hairstyle that is a bit more daring!
Source: trishjamesinc via Instagram
5. Short Curly Hair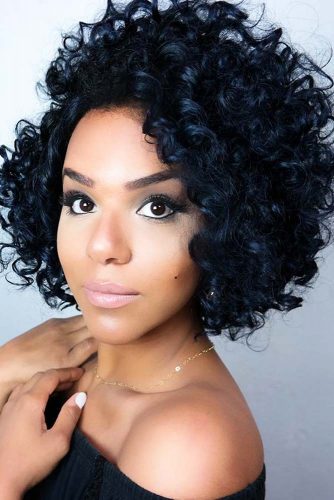 Short curly hairstyles 2022 are popular trend. For those with naturally wavy or curly hair, it's a no brainer to get a short and sassy cut in 2022. This curly, tousled bob with long bang is very cute. And what's best about this short sassy curly hairstyle is that it's so easy to style.
Simply spritz a generous amount of sea salt spray in your curly tresses, run your fingers through your hair, and go! The bedhead look is all the rage right now and is super chic and sexy! To maintain this style, go a few days between washings and use dry shampoo and a leave-in conditioner to keep your curls happy and healthy!
Source: jessicagome_s via Instagram
6. Short Wavy Hair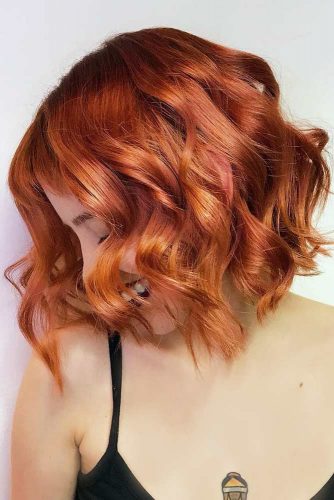 Looking for a new look for your short wavy hair 2022? This pretty fuschia and soft red ombre fade is a bit edgy yet still feminine and chic. The waves add a lot of body while giving your hair a soft and girly vibe while the bold ginger shades give it a brilliant burst of color. If you want to show off your sassy and confident side, this look is perfect for those with medium wavy hair.
Not sure how to style short wavy hair? Simply apply a curl boosting cream to your curls and then spritz on some sea salt spray. Either allow it to air dry or blow dry it upside with a diffuser to add body and movement. Use a curling wand to curl those pieces that need shaping.
Source: thegicamp via Instagram
7. Beach Wavy Hair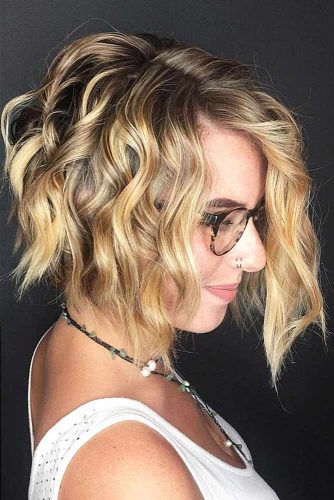 Beach waves are the perfect solution for those looking for cute short hairstyles. Beachy waves are all the rage in Hollywood and while they seem impossible to duplicate, they are really quite simple. If you are not blessed with naturally curly or wavy tresses, you can use one of the many different ways to curl your hair with a straightener.
Girls with curls can simply use sea salt spray, tousle their curly tresses and let their hair dry naturally. However, if you do not have curly hair, you can get beach waves for short hair with a flat iron in as little as ten minutes. All it takes is a few simple twists of your flat iron and some sea salt spray to get perfect beach waves, like the ones shown here. And if you want a pop of color, this purple ombre fade is simply gorgeous!
Source: monicannnicole via Instagram
8. Finger Waves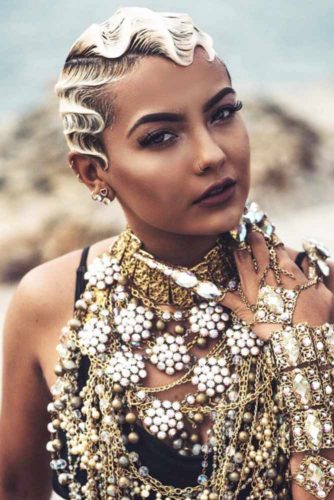 Short hair styles are not only fashionable in 2022 but had been a huge hit in the Roaring Twenties, when bob cuts and finger waves were all the rage amongst women of the 1920s. Believe it or not, finger wave styles also look great on shorter tresses!
If you want to find out how to style easy finger waves for short hair simply comb your dampened hair straight back and then part it however you wish. Then apply some gel to your hair. Next, take two of your fingers and place them next to the part you just made. Then comb your hair in a C-shape and continue with the next section until all of your hair has been curled in this matter. Then wrap the ends of each section around 2 fingers forming a coil Clip each section to your scalp and let sit until completely dry. Finally, slowly and carefully uncoil your each section and behold gorgeous finger curls!
Source: _hairgod via Instagram
9. Behind The Ear Short Hairstyle With Bang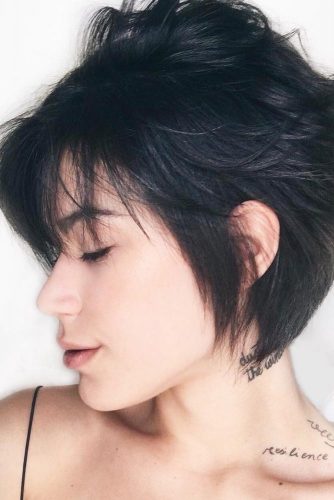 Another option for those with shorter tresses are various short hairstyles worn behind ears such as the one pictured below. Pulling your hair back behind your ears is a great way to keep your hair out of your eyes and off of your face.
If you can't find a good way how to tuck hair behind ears so it will stay in place, you can always use a hair clip, barrette or another stylish hair accessory to keep it in place. However, if you tuck your hair behind your ears and a few loose tendrils happen to fall over your face, you will look very mischievous and cute!
The short tousled hairstyle above is too cute for words and the shorter layers add a great deal of volume and texture to the tousled tresses. The wavy fringe adds a bit of mystery as well.
Source: bnery via Instagram
10. Behind The Ear Short Bob Hairstyle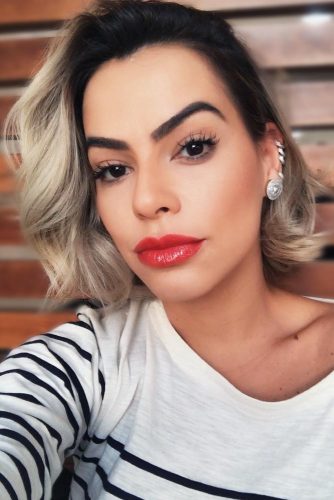 As you can see there are many cute short hairstyles worn behind ears. This platinum blonde bob is very striking. Again, if you are having trouble with how to tuck hair behind ears, you can utilize cute hair accessories to help keep any loose hair out of your face.
To duplicate this style, made a deep part and then blow dry your hair straight. Use a flat iron to smooth it out and then tuck one side seductively behind your ear for a fun and flirty vibe. This look is even cuter with an asymmetrical short bob.
Source: krissiaabreu via Instagram