21. Half-Up Twist Hairstyle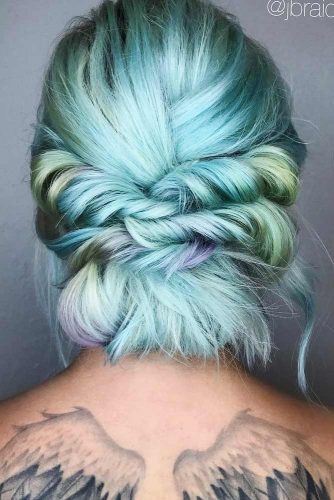 Believe it or not, there is not end to the way to style short hair hairstyles! And just because you cut your hair short, doesn't mean you can't still pull it back in a cute half updo! Check out this fun half-up hairstyle for short hair. The pretty pale blue, green and gold ombre style is very hip and the twisted updo is just adorable!
Are you clueless when it comes to how to do a half-up twisted hairstyle? They are very easy to pull off. Simply section your hair into as many sections as you want twists. Then divide each section into two separate sections and twist. Or you can make several big twists. Style them as you wish and secure tightly with a hair clip. Spray with a strong hold spray to keep in place!
Source: jbraidsandbows via Instagram
22. Voluminous Half Up Topknot For Wavy Hair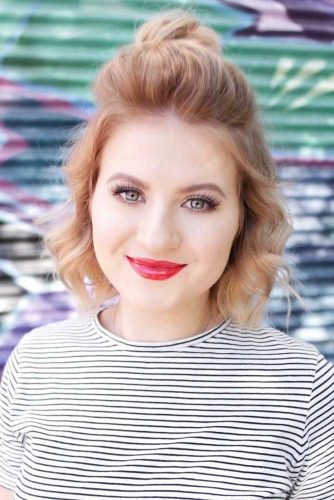 If you are looking for a more polished look for a formal affair, a half-up topknot is very glamorous! They are all the rage on the runway this year! And you can easily pull off a topknot for short hair.
Topknots are an easy hairstyle for short hair. To duplicate the look below, pull back the front section of your hair into a loose topknot, leaving some volume in the front. This is an especially cute style for those with short wavy hair. Topknots are so vertical as you can wear them to work, for fun or for a night out on the town!
Source: milabu.co via Instagram
23. Easy Half-Up Knot For Short Straight Hair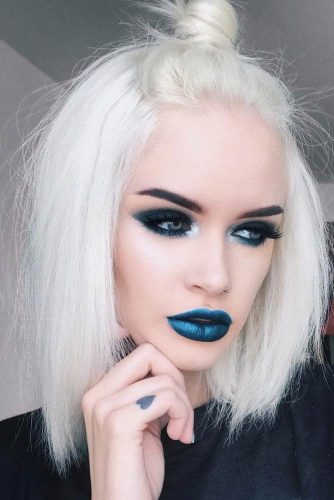 Another twist on the topknot for short hair is the messy half topknot shown above. And this one is even easier to duplicate. If you are still feeling confused, simply google tutorials on how to do a half up topknot on Youtube. However, this look is so easy to do at home in just a matter of seconds.
Simply pull back the front section of your hair into a small messy bun or topknot on the top of your head. And if you really want to knock their socks off, this silvery platinum blonde color is just striking. Pair it with smokey eyeshadow and a bold lip color like the one pictured here and you'll be the center of the crowd! Hair buns for short hair are very playful and sexy!
Source: atleeeey via Instagram
24. Double French Braids With A Topknot On Rainbow Short Hair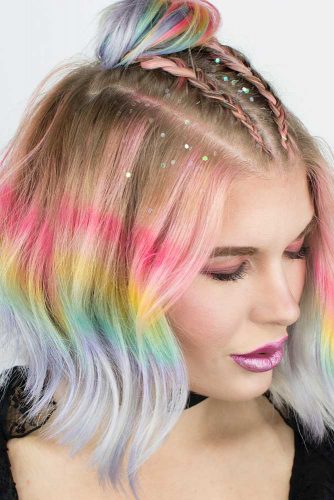 If you are running out of ideas for cute hairstyles for short hair, looking no further. This topknot with double French braids is very stylish. And if you want to make it even more hip this pastel rainbow fade is super cute and chic!
If you need to know how to tie a topknot with short hair, it's much easier than you would envision. To duplicate this look, make small double French braids starting at the front of your head and then send them in a topknot. This cut is a wavy A-line bob that is drastically longer in the front, which gives you enough hair to pull off this super chic top knot short hair!
Source: caitlinfordhair via Instagram
25. Cornrows Half-Up Topknot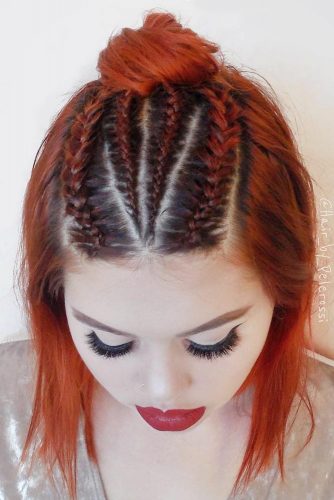 Another style for top knot short hair is this super cute top knot half down style with cornrows. The pretty light auburn highlights on a darker base is a bold look if you want to experiment with color. And the style is so easy to copy! Simply make a few cornrows at the front of your hair and then pull them back into a top knot bun on short hair like the one below.
Short hairstyles with braids, cornrows and top knots are very much in demand these days. As well, half up, half down styles are especially flattering on short hair.
Source: hair_by_pelerossi via Instagram
26. Scarf Bun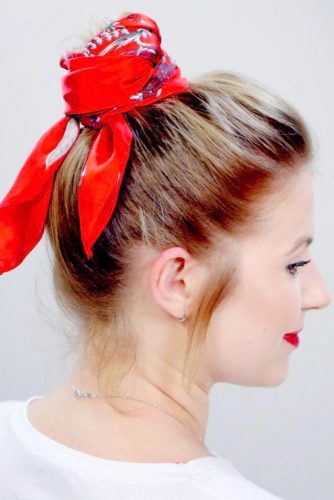 There are so many fun ways to wear headscarves. And contrary to popular belief, you don't have to have long hair to sport a stylish headscarf!
Check out this trendy scarf bun! It's so cute and super easy to do, even for those with short hairstyles! Simply pull your hair up into a high ponytail. Then twist your scarf and tuck the end into your hair tie. Then divide your hair into 2 sections and braid your hair using the scarf as the 3rd section. Next, create a bun by wrapping the braid at the base of your head and wrap the remaining part of the on top of the bun and pin in place! It's that simple! Did you ever think it would be that easy how to wear a headscarf fashionably!
Source: milabu.co via Instagram
27. Space Buns For Short Hair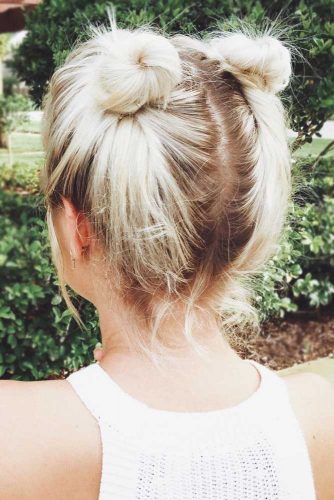 Space buns are all the rage right now, especially since Princess Leia has reappeared on the big screen! And don't sit there wondering how to make a high bun with short hair, we got you covered.
Hair buns for short hair are so cute and feminine. And they are really easy to do! Just part your hair down the middle, pull each side into a super tight ponytail and coil each ponytail around itself in a tight or messy bun, secure with hairpins and viola, space buns! And we think they are even cute with warm balayage hues, like the striking blonde shades pictured below!
Source: milabu.co via Instagram
28. High Updo For Short Hair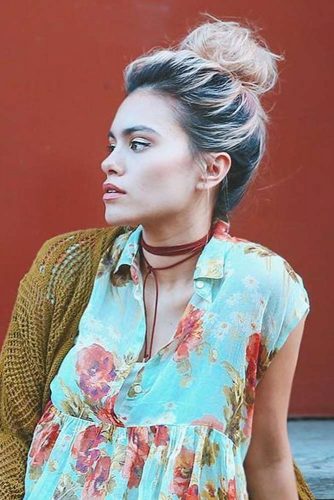 Another stylish updo for short hair is a high updo, or bun, like the one is shown here. And what makes it even more stunning are the darker roots that fade into a pretty honey blonde!
And don't despair, as we stated before, how to do a topknot with short hair isn't as hard as one would think! All you need to do is gather your hair into a high ponytail, securing any loose pieces with bobby pins. Then coil the ponytail on the top of your head and secure it with hairpins. You can make a tight bun or a loose, voluminous bun like the one pictured here! Topknots are amongst the most trendy hair styles for short hair this year!
Source: xandervintage via Instagram
29. Diagonal French Braid Updo Hairstyle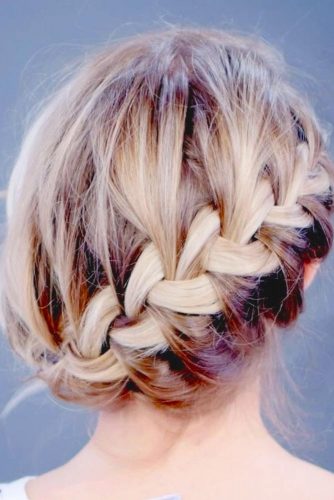 Braided updo hairstyles are also a great way to style short tresses. And what is more stylish and chic than a bohemian braid updo?
The look above is an enchanting combination of a waterfall braid and bohemian braids. Simply make two big Bohemian style braids and allow the rest of your hair to cascade gracefully through the strands of the braids, creating a waterfall effect! However, instead of letting your hair fall out below the briad, it falls into the second Bohemian braid! And the darker base with purple streaks makes this fun style even more edgy and chic! This look was made for long flowy skirts and flip-flops or strappy sandals!
Source: milabu.co via Instagram
30. Dutch Braid Back Updo For Short Hair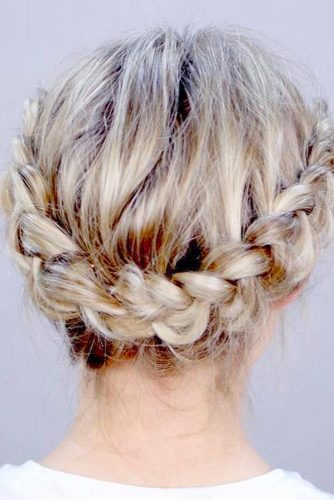 Dutch braids are very chic and stylish as well. You can duplicate the previous style but opt for a big Dutch braid instead of a Bohemian style braid. Start at one side of your hair and braid your hair in a thick, yet loose, Dutch braid all the way around and secure on the other side with hair pins.
One of the best ways to style braided updos for short hair is to wave flowers or beads into the braid for a very soft and romantic vibe. Braided hairstyles for short hair are so elegant and pretty! You can totally rock them on a casual day out with the girls or dress them up for a wedding or formal event!
Source: milabu.co via Instagram