31. Fishtail Halo Braid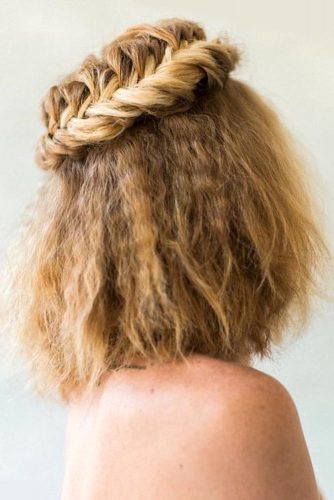 If you want a braided updo that's trendy and works for short hairstyles, try this halo fishtail braid. The perfect blend of a classic fishtail braid and a halo braid with short hair, this look is both modern and chic.
To duplicate this fishtail crown braid half up halo braid, you simply make a deep part and then take a 1-inch section of the fuller side and divide it into two equal parts. Then, take 2 section from the right and add it to the left side after crossing it underneath. Then reverse it and then continue along the hairline to create a crown braid. Then repeat the process on the other side of your part and then have the two sections meet in the back and pin them to hold in place.
Leave the remainder of your hair down and add some hairspray and then tease it to add volume and texture. This intricate braid looks very stunning with a pretty blonde balayage like shown here.
Source: jbraidsandbows via Instagram
32. French Halo Braid For Short Hair With Headband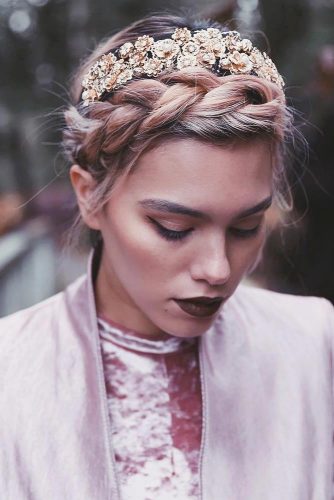 If you want to dress up the previous style to make it a bit more formal, you can add a use a French braid instead of a fishtail braid. Then add pretty floral hair band. And it isn't that hard to figure out how to do the halo braid for short hair.
Simply make a French braid using the front section of your hair starting at one side and ending on the other. Pin it in front and then add a decorative headband to add a feminine flair. This French halo braid short hair is very classy and soft, not to mention romantic and ultra fine. It is a very glamorous look that is perfect for formal events such as proms and weddings.
Source: xandervintage via Instagram
33. Royal Crown Braid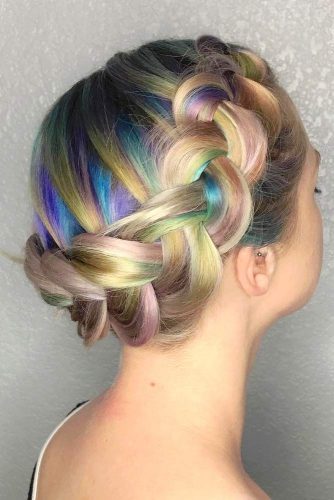 A crown braid is a very dignified and chic updo for short hair. A royal crown braid like the one pictured below can make you feel like a princess, hence the name! And if you want to be a princess with a sass as well as class, add some bright colorful streaks to your hair such as the ones pictured here! Soft pastel shades will look sensational in a crown braid.
A halo braid for short hair is easier than it looks. Simply start French braiding your hair on one side, adding pieces from the other side as you go alone. Once you reach the nape of your neck, secure your braid. Then braid the other side the same way and criss-cross the braids. Be sure to tuck the ends under the updo and pin them securely in place.
Source: deathbycouture via Instagram
34. Ponytail Styles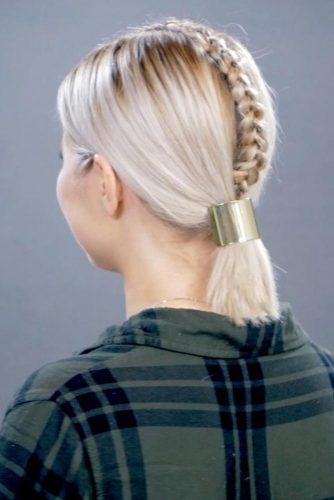 If you think that there are no stylish ponytails for short hair, you are dead wrong. You can totally rock a cool ponytail with short hairstyles!
The best method how to do a cute ponytail with short hair is to separate your hair into three sections and place the middle section in a low ponytail. Next, add the other two sections to the base of the ponytail and secure them with hairpins. If you wish to add volume to your hair, you can spray some volumizing hair spray and tease the ends of your hair.
A low ponytail with a thin braid like the one shown here is extremely fashionable and chic if you want a more polished look for a formal event. As well, you can dress up your pony with stylish hair accessories.
Source: milabu.co via Instagram
35. Pull Through Braid For Short Hair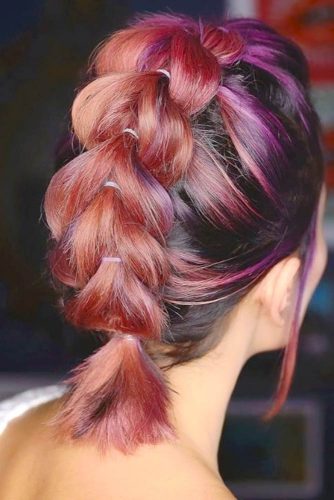 If you love both braids and ponytails, this pretty pull through braid for short hair is just exquisite. And we love the dark black to magenta ombre fade that adds the perfect pop of color to this fancy updo for short hair!
This style is so easy to do you'll wish you thought of it sooner. First, take a small section of your hair from the corner near your crown and gather it into a ponytail. Clip it up so it's out of the way and make the 2nd ponytail just under it. Next, release the first one and divide it equally into 2 sections. Now pull the 2nd one through the middle and clip it up temporarily so it's out of your way. Make the 3rd ponytail under the second, adding the ends of the first into it. Now, release the 2nd and divide it in half as well. Bring the 3rd ponytail through the middle and clip it out the way as you did the 3rd. Now make another ponytail, adding in the ends from the second. Repeat this process until you reach the nape of your neck and tie the remainder of your hair into a final ponytail. Next, release the top ponytail and tie it two inches lower than originally. Create an opening in the split using your fingers and pull the bottom ponytail through, thus making it the top. Repeat this until you have pulled them all through. Tie an elastic at the end and tug on the braids to give it a slightly messy flair if so desired.
Source: xandervintage via Instagram
36. Simple Low Chignon Updo For Short Hair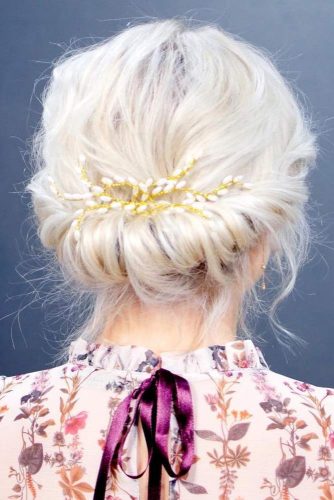 Chignon buns are another timeless updo hairstyles for short hair. As well, they are a quick and easy style if you are in a hurry or haven't washed your hair in a few days and are looking for a get up and go look that is still chic and stylish.
The chignon hairstyle shown here is very feminine. The platinum blonde color is striking and the pretty hair accessory adds a bit of sophistication to this easy updo hairstyle.
To style a chignon bun, part your hair down the middle, tuck it smoothly behind your ears and gather it at the nape of your neck. Twist your hair gently starting at the nape of your neck all the way to the end. Next, going counter-clockwise, coil the twist into a bun shape at the nape of your neck, holding it in place with one finger. Secure each side of the bun with a hairpin and then gently on the bun until you have the desired shape and size. Hold in place with bobby pins. Next, use a teasing brush or tail comb to get the desired value. Finally, use a medium to strong hold finishing spray to keep in place. Chignon hairstyles are perfect for work or play! And they have been around for centuries so you can't go wrong with this classic short hairstyle!
Source: milabu.co via Instagram
37. Upside Down French Braid With Topknot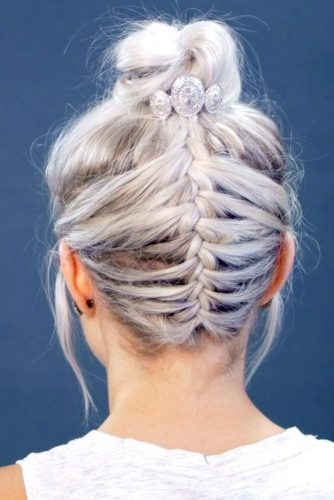 As braids are all the rage right now, there are many variations of braided hairstyles. Upside down French braids with a braided top knot and bun are taking the fashion world by storm.
This intricate looking upside down braid is very avant-garde and will certainly catch everyone's eye. And it's not hard at all to pull off on your own if you simply follow our simple, guide for upside down braids for short hair.
Flip your head over and divide a small section from the nape of your neck into three pieces. Then start to make a regular braid going upward. Continue into a Dutch braid adding more hair as you go until you reach just above your ears. Tie the braid in place and sit upright, sweeping the remainder, of your hair into a high ponytail and secure loosely with a hair tie. Twist the ponytail and loop it over the bun, securing it with the hair band. Use hairpins to pin down any pieces that are sticking out. Use the remaining hair to make a top knot and then make a very thin French braid and wrap it around the topknot and pin it in place. Smooth down any fly-aways and spray with a strong hold hairspray.
Source: milabu.co via Instagram
38. Half-Up With French Braided Bang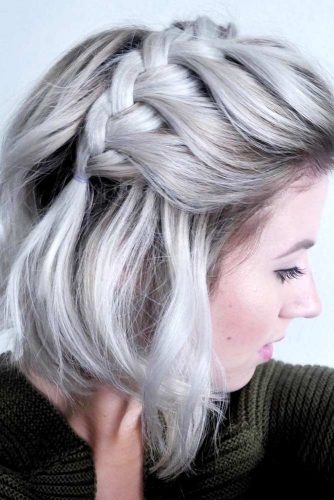 If you want a look that's very sweet and demure, this half up short hairstyle with French braided bangs and loose waves is very chic. And braided bangs for short hair are very in right now. Braided bangs are a great way to keep your bangs out of your face for a formal event, especially if you are in the process of growing out your bangs.
Follow these steps how to French braid bangs to duplicate this adorable French braid half up half down hairstyle for short hair.
Make a center part. Divide a section of the left side into 3 parts. Start a French braid by crossing the sides over the middle. Continue the braid until it reaches the center of your ear. Then finish that section in a regular braid, securing with a hair tie at the end. Repeat this on the right side of the part. Next, pull both braids to the back of your head and secure them together before loosening the remainder of each braid below the hair tie, which will now fall into soft waves.
Source: milabu.covia Instagram
39. Milkmaid Braid Short Hair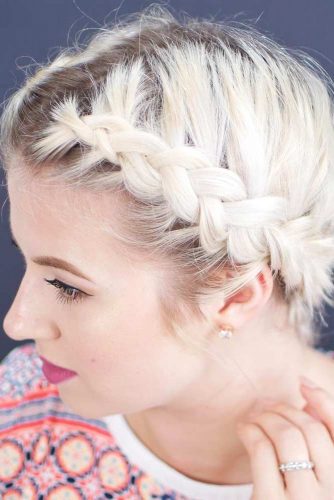 Milkmaid braids are making a huge comeback. A milkmaid braid is a timeless and romantic if you want a soft and old-fashioned vibe. This pretty braided updo for short hair is super easy to pull off, if you follow our guide below.
Comb your dry hair to ensure that there are no tangles. Part your hair as you normally do and start by taking a section at the crown, twisting it together and pinning it to your head. Next, create 2 sections by making a part under that section. Then make 3 sections on the left side and start a French braid going to the nape of your neck using all of the hair on the side, securing it with a hair tie or pins. Then do the same on the right side. Gently pull on the edges of both braids, making them fuller. Next criss-cross the braids at the back of the head, secure in place with hair pin and spray to hold.
Source: milabu.co via Instagram
40. Faux Side Shaved-Head Braid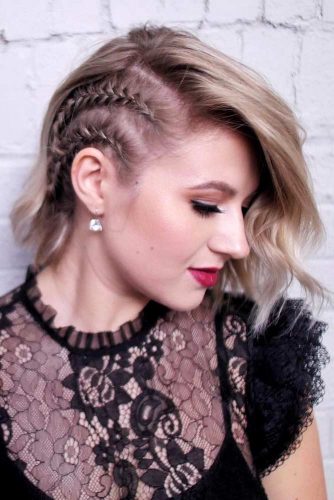 The best thing about hairstyles these days is that anything goes so it's ok to go with a bold and edgy look. This faux side shaved-head braid is ultra chic and trend-setting. And with thin Dutch braids you'll add a touch of softness and femininity to this super cool style.
Follow these steps on how to braid short hair to create this daring short hairstyle:
Make a dramatic deep side part starting at one side and going across the top and back of your head. Find the middle of your hairline and start a Dutch braid (or inverted French braid) to the ends and securing with a hair tie. Then you can either secure the braid at the nape of your neck for a more refined look or let it hang down for a carefree vibe. This is another style that works best with dirty hair if you need a fun style for days that you don't feel like washing your hair. You can also make multiple braids like the ones pictured here. Tease the rest of your hair and let it fall over one eye for a fun and flirty look.
Source: milabu.co via Instagram