41. Faux Side Shave For Asymmetrical Haircut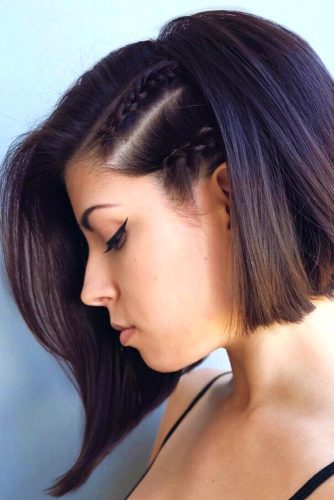 Another variation on a short braided bob is this braided style for with a super cute short asymmetrical short haircut. The thin tiny braids give it a bit of an edge but the wispy asymmetrical layers give it a soft touch as well. To make this look even bolder, try a pretty dark ombre fade from raven black roots to caramel brown tips.
Follow these tips on how to style bob haircut with braids for a faux side shave effect!
This is another quick look for those days you don't wash your tresses. Braided styles such as this often work best with hair that hasn't been washed for at least a day. Part your hair to the side and spray a quality volumizing spray. Staring at the part, make as many braids as you want on the side of your choice, pining them at the end as you go. You can braid the entire side or just one section and let your hair fall over the braids like pictured here. Spray with a strong hold spray. You can weave in ribbons or beads to dress this look up a bit if you wish!
Source: hair_by_pelerossi via Instagram
42. Dutch Braid For Pixie With Undercut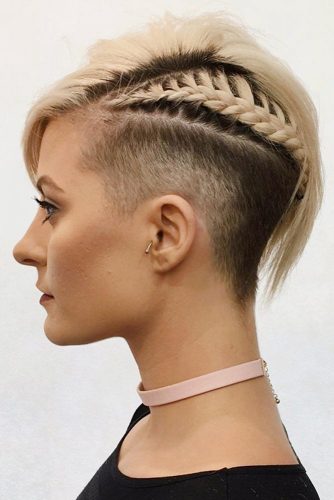 For those who really want to embrace their racy side this braided pixie undercut hairstyle is very bold! Start off with a long pixie and ask for a dramatic undercut like the one pictured below. Or you can even ask for a braided pixie cut as well. Drastic layers will add a bit of flair and drama to this super trendy pixie.
Make a thick Dutch braid on one side, gathering all your hair from that side and style the rest off to the other side and tease the top a bit to add more volume. And if you are feeling a bit sassy, leave your roots and undercut darker and ask for buttery blonde hues on the top. This look has a ton of texture and personality to show off your inner punk rock chick!
Source: ladylee.looks via Instagram
43. Dutch Braid On An Asymmetrical Short Haircut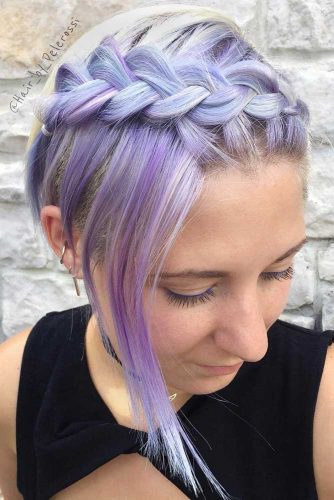 Another great short asymmetrical haircut is the shown above. The pretty pastel mermaid hair makes gives it a mystic and playful vibe if you want to show off your carefree side. Ask for an asymmetrical cut that is drastically longer in the back than it is in the front. Then braid the front and one side in a Dutch braid and wrap it around the other side, pinning it in the back. Ask for pretty purple pastel hues for a magical mermaid effect that will look like you just walked off the beach! Pair it with some pretty pastel eye makeup and a matte lipstick and don your favorite long flowy skirt and strappy sandals and you'll feel like the Queen of the Sea!
Source: hair_by_pelerossi via Instagram
44. Waterfall Braid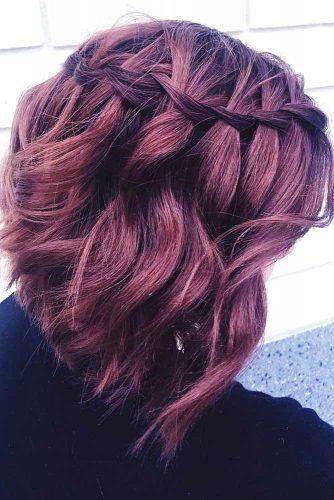 Waterfall braids became a huge trend in 2013, and they just keep getting better with age. They are an elegant way to style wavy hair, no matter what the length.
This auburn waterfall braid is so pretty and perfect for those with shorter tresses! Take 3 strands of your hair from close to your hairline and then cross the back section over the mid section and then the front over the middle. Next, make a French braid by crossing the back over the middle adding new hair as you go. Repeat with the middle section. However, drop it down add more hair crossing it over in the middle. Continue this way until you reach your ear on the other side of your head, pinning it in place as you go, covering it with loose hair to hide the bobby pins. Tease your curls or waves to add more volume and you're good to go with as super cute and trendy braided short hairdo that is very feminine and chic!
Source: andhannah.styles via Instagram
45. Side Fishtail Braid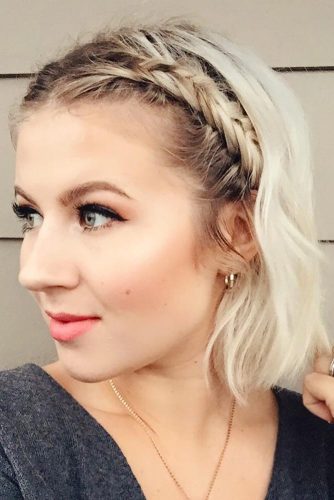 For those with medium short bob hairstyles braids are always a fun way to dress up your shorter locks! A side fishtail braid is very easy to style. You can start at the front of your hair and work your way to the side in a thin fishtail braid. Pin it behind your hair and let your wavy tresses cascade softly over it for a super feminine look and feel. Spray some sea salt spray in your hair and tousle your waves for a messy and carefree vibe! Blonde balayage tones will add a sense of mystery to this adorable shorter hairstyle.
Source: milabu.co via Instagram
46. Fishtail Headband Braids For Unicorn Hair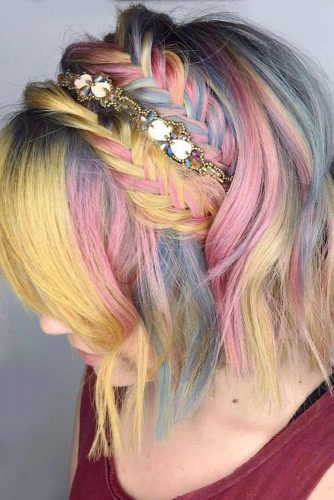 Unicorn hair is totally en vogue this year. Pretty pale pastels make a perfect blend in both short and long locks! From pinks to blues to yellows and liquid, you can make your hair look like a pretty unicorn mane to make you feel like you have just stepped into a fairy tale!
Follow these steps for these pretty fishtail headband braids:
Make a part on the right side of your head and take a section that goes from the part to your left ear and clip it out of the way. Take the next section in 2 and clip up the back part. Then take a section from the other part of your hair and divide that into 2, taking a small piece from the back and cross it under, adding it to the first part. Then do the same with the front section. The go underneath with a piece from the back, adding a new piece of hair as well, but add it to the opposite side. Do the same with the front repeating until all of the hair is pulled through. Braid the rest of your hair downward in a fishtail braid, tugging on the edges to make it fuller and tie with a hair tie. Then make a 2nd braid just behind it. Next, gently undo the back part that you clipped up and wrap the braid around the back, securing it in place. And then add a fancy headband to finish off this classy short hairstyle!
Source: dajanakdoeshair via Instagram
47. Simple Side Micro Braids For Lunar Look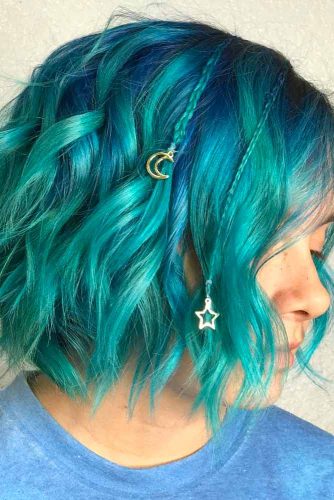 If you don't have time to do a fancy intricate braid, you can try a simple braid such as a micro braid. Side braids are very cute and fun if you want a relaxed and carefree look, and they look very nice on short wavy hair! Add some pretty green and blue streaks and you will have a lunar look that is just out of this world!
Start with clean dry hair and use a wide tooth comb to get rid of any tangles. Brush with a fine toothbrush. Then part your hair in the middle and divide each half into small sections, securing each section with a clip or hair tie. Start at the front of your hair and make even smaller sections. Holding one side with your fingers, move the left section over the right, thus putting the left in the middle and the middle to the left. Then do the same with the middle section but start with the right side. Repeat this process until you reach the end of your hair. Then repeat the entire process until your entire head is micro braided.
Source: deathbycouture via Instagram
48. Side Twists With Braided Faux Hawk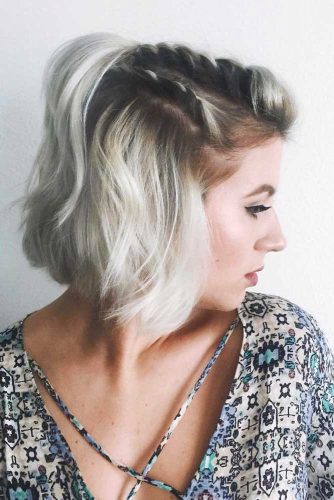 If you want the look of a Mohawk without having to commit this braided faux hawk is just up your alley. You can style it as you wish and take it out when you're tired of your faux hawk and you can experiment with different easy short hairstyles such as the one below.
Divide the front of your hair into three sections and then take each section and braid it one at a time. You can make twists if you don't feel like braiding your hair. Don't braid all the way through. Just bring it to the back of the top of your head. Clip each twist tightly before making another. Then join them together and tie them with a hair tie. Tease the reaming hair from all three sections to make it look like a faux hawk. Use a stronghold hairspray to keep it in place. Tease the sides and back of your hair for added fullness. This style looks, even more, striking with dark roots and pale blonde streaks throughout for added texture.
Source: milabu.co via Instagram
49. Rope Braid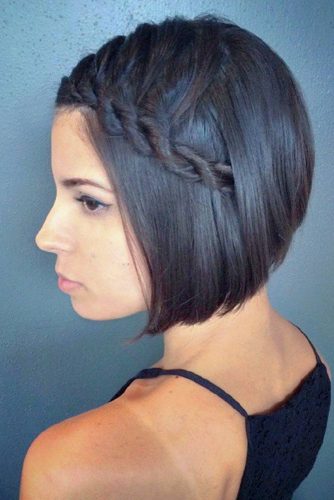 We have another braided style for short hair. A rope braid is not only super easy to style but its very elegant as well. It works great on even short bob haircuts and will make you feel like you went back in time!
Just do these steps on how to do a rope braid for short hair and you're good to do! We think the side rope braid like the one shown here is very classy for a night out with the girls!
Start with a triangular section on the top of your hair, dividing it into two equal halves. Then twist them both the same way. Cross them over each other and then add more hair as you continue twisting and crossing. Keep going in the same direction the entire time, adding more hair as you go. Continue to the back of your head and twist and cross any remaining hair and then secure it with a hair tie.
Source: hair_by_pelerossi via Instagram
50. Scarf Covered Short Hair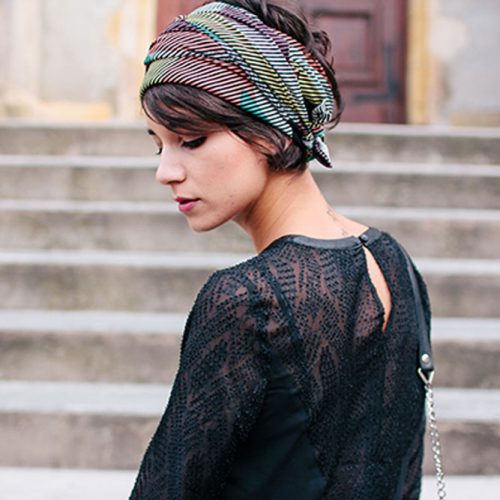 Every woman has experienced a bad hair day. Or several, if we are being completely honest with ourselves. And face it, there are just some days when you don't have the energy to put forth a lot of time effort styling your hair.
Behold the bad hair day scarf hairdo! Scarves, headbands, hats and other hair accessories are a great way to cover up a bad hair day (or a lazy day). And if you are stumped on how to wrap short hair in a scarf, have no fears! All you need to do is pull your hair back in a bun, braid or twist and tie it with your favorite scarf (and it doesn't have to be perfect, a messy bun will do, hence the hair scarf!). And it's so much fun to find scarves to match your favorite outfits!
Source: Etpourquoipascoline
51. Macrame Braid To Make Your Bob Look Like A Mohawk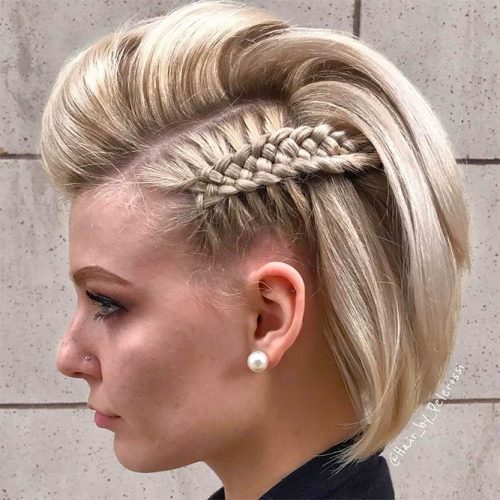 Want a look that will make all eyes fall on you when you enter a room! Feeling a bit bold? This braided Mohawk short bob will certainly make you the center of attention.
Ask for a short layered bob and then make a deep part and style the larger half of the part to one side. Tease it with some gel or mouse and a teasing comb to give it some added volume. Then take a section of the other side, and make four strand braid, or a macramé braid. Tuck it behind your ear and secure it tightly with bobby pins. Then let the back of your hair cover part of the braid. This edgy style will definitely make you the envy of all your friends!
Source: hair_by_pelerossi via Instagram
52. Simple Side Four Strand Braid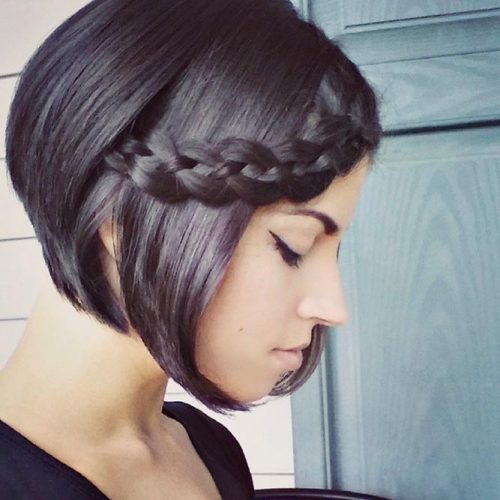 If you like the four-strand braid concept but aren't ready to commit to a drastic style such as a faux hawk, then try this classy simple side braid for short hair with 4 strands. A side braid is especially elegant on a traditional short a line bob like the one above. Shorter in the back with face framing layers, this bob cut is very girly and chic for a soft and polished look.
How to do a four-strand braid is very simple. It's not much different from a 3 strand braid. Just section your hair into four pars and alleviate the sections as you would normally, but with 4 braids instead of 3. Before you start the braid though, straighten your hair for a sleek look and then make a thin side braid and in it behind on ear, letting your hair fall gracefully over the back of the braid.
Source: hair_by_pelerossi via Instagram
53. Braided Faux-Hawk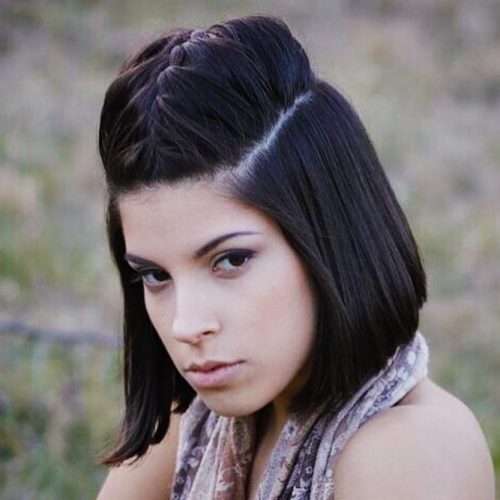 If you want a look that's got both sass and class, try this braided faux-hawk! It has a hint of sophistication but also enough edge to keep you one step ahead of the crowd!
Start by teasing the hair on the top of your head to add texture and volume. Make a Dutch braid down the center of your head staring at the top. Pin it down to keep it in place as you braid. After you have finished braiding the crown, gently pull one-half inch strand from the side of your hair, braid from front to back and tie this braid with a clear hair tie. Next, tuck the bottom from that braid under the crown braid, securing it in place with hair pins. Pull the braid apart to add even more volume and add some flowers or pretty hair clips if you wish to dress it up. You can totally rock this braided faux hawk with confidence and attitude!
We hope you have enjoyed our style guide and gallery of absolutely alluring trendy short hairstyles for 2020! Do you think you can pull them off? There is something here for everyone, so we are absolutely certain you will find at least one hairstyle that calls your name. Have fun trying them all!
Source: hair_by_pelerossi via Instagram