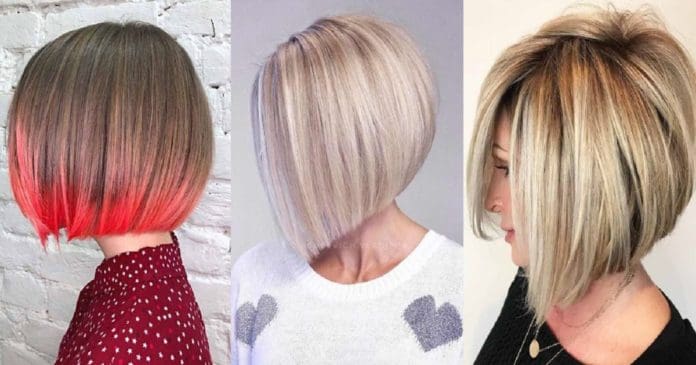 Hairstyles for women over 50 have come a long way over the years. You can still rock a trendy hairdo if you are in the prime of your life. Who says hairstyles have to become boring as we age? 50 is the new 30, so why not embrace a sexy look?
Short hairstyles for women used to be boring and out of place, but short hair is very trendy these days. And with all of the options for color and style, the possibilities are endless!
Short haircuts for women can really accentuate your facial features. Also, they can help add volume to limp or dull hair. But you can also opt for a medium and even longer cut that will frame your face in a way that will remove years from your image. We will show you how.
Still, not sure if you want to embrace a sassy new look? Check out our gallery of fun and flirty hairstyles for women over 50, and we think you'll change your mind! A new look could do wonders for your self-esteem!
Sleek Textured Crop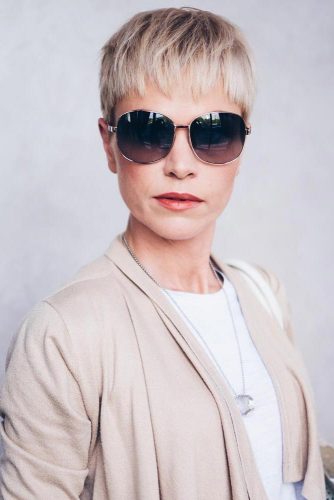 This short crop with piecey layers is very stylish and chic. To add texture to this sassy 'do, use some volumizing mousse or gel. The light blonde color says you still have some spunk and aren't afraid to show it!
Source: gulevich.vladimir via Instagram
Straight Platinum Blonde Bob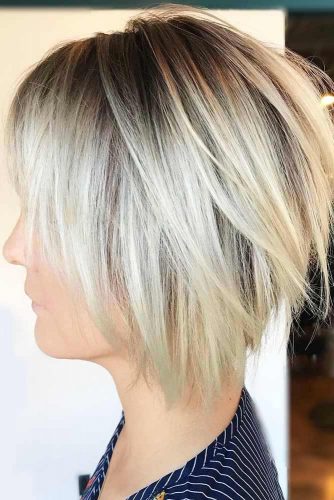 This platinum blonde bob is among most sophisticated hairstyles for women over 50. The short, uneven bangs styled to the side and slightly angled cut give this cut a look that is polished and elegant. If you want a look that is professional, yet mysterious, this look's for you!
Source: styled_by_carolynn via Instagram
Super Soft Medium Layers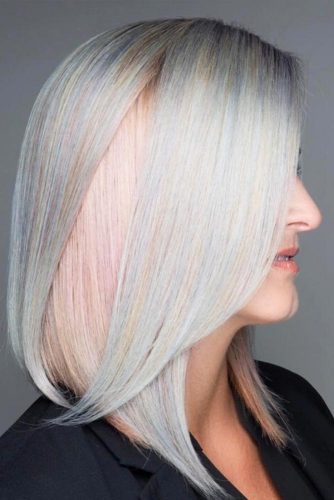 This sleek angled bob is very stylish on its own. Mix in some pretty pastel shades like the soft lilac and pink combo pictured here for a look that's feminine and chic. This style gives a modern edge to a classic bob. You will definitely stand out from the crowd.
Source: presleypoe via Instagram
Chic Silver Pixie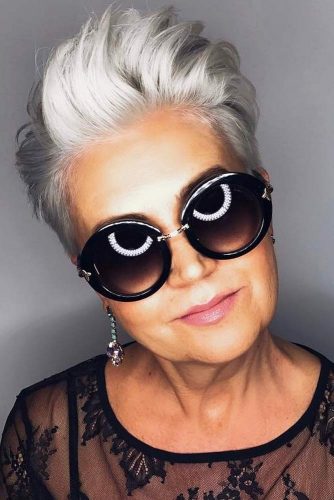 These before and after shots show what an edgy cut can do for your appearance. The short spiked pixie in the after pic with the silver and gray streaks really takes years off your age. Plus, it is daring and youthful! Grey hair is all the rage, so why not add some shine to your locks with this sassy style.
Source: ryabchik.moscow via Instagram
Bob With Fringe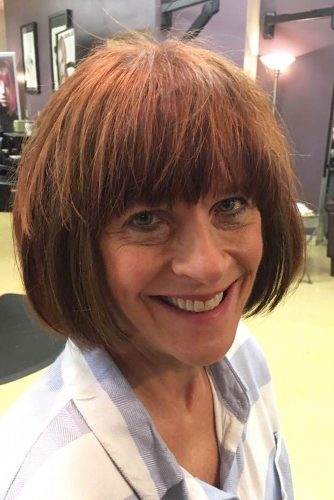 The transformation for this woman is amazing! A simple addition of a full eye-grazing fringe and angled choppy ends can make a world of difference and shave years off your appearance!
Source: margojco via Instagram
Natural Color Long Bob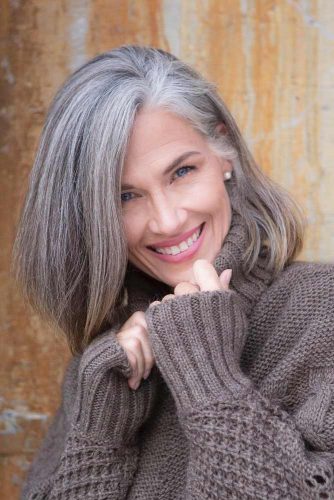 Embrace your natural gray with this enchanting shoulder-length bob. Salt and pepper streaks will add depth and dimension to your locks. The side part is sexy and mysterious for a fun and flirty vibe to help you recapture your youth.
Source: lizwparks via Instagram
Short Layered Bob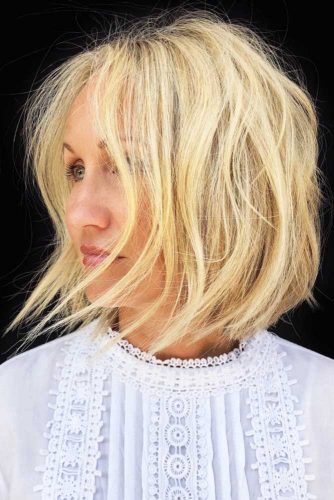 A layered bob such as the one pictured here can be styled to showcase your layers. The light and honey blonde tones add texture to this chic cut. Blow dry your hair back to give this style a feathered look that adds volume and movement for a style that's hip and trendy.
Source: chrisjones_hair via Instagram
Short Pixie With A Side Bang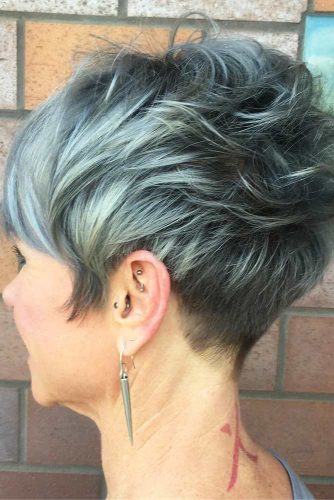 This short layered pixie has a ton of volume and texture. The varying shades of salt and pepper give it a sheen that can't be beat. Short layers in the back with longer side bangs is a very popular look these days, so you'll be keeping up with the times with this trendy cut!
Source: katiezimbalisalon via Instagram
Sun-Kissed Beach Waves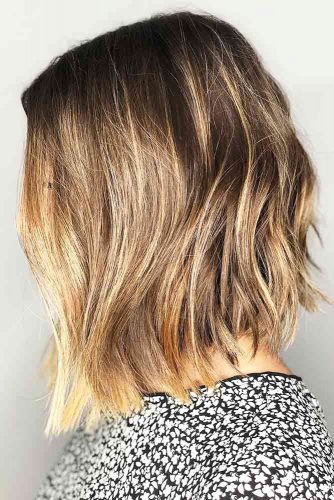 This shorter style with beachy waves is dreamy and feminine! The pretty sun kissed tones are stunning and vibrant for a youthful look that will make you feel like a teenager again. Simply spritz some sea salt spray into your damp hair and tousle it gently with your fingers for a carefree, messy look that's super sexy!
Source: anhcotran via Instagram
Spiky Bob With Balayage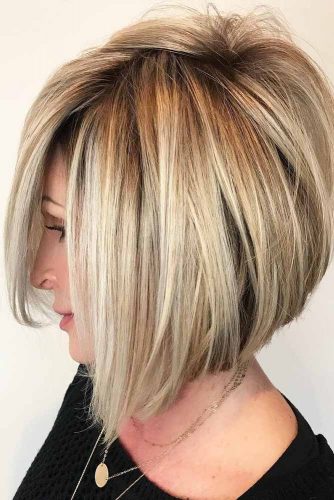 If you want to embrace your inner punk-rock princess, this inverted bob is totally cool and hip hairstyles for women over 50! The shorter stacked layers in the back add some volume while the long bangs that cover your eyes are mysterious and alluring. Try a multi tonal balayage effect to add depth and dimension for a look that says you're a rebel and you don't care who knows it!
Source: styled_by_carolynn via Instagram
Copper And Blonde Balayage On Stacked Bob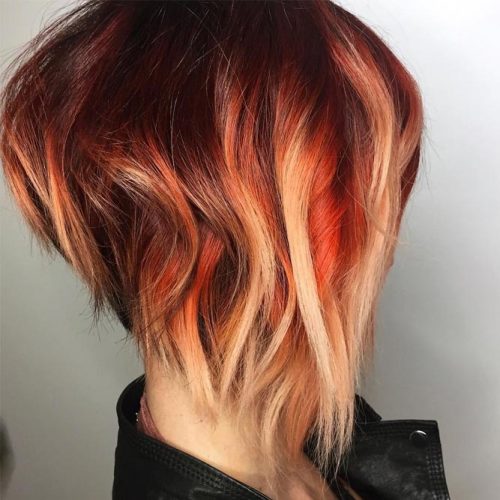 The bold colors in this stacked angled bob with blunt uneven ends are just stunning. The varying shades of red, strawberry blonde, and orange on a dark base are bold and vibrant! Let them know you aren't afraid to play with fire with this brilliant burst of color!
Source: presleypoe via Instagram
Side Shaved Pixie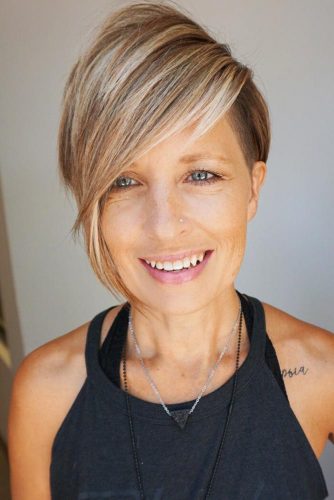 This razored style is not for the faint of heart. If you want a look that's bold and edgy, why not try this style with a shaved sides and longer layers on top for a look that's young and fierce!
Source: emilyandersonstyling via Instagram
Straight Bob With Highlights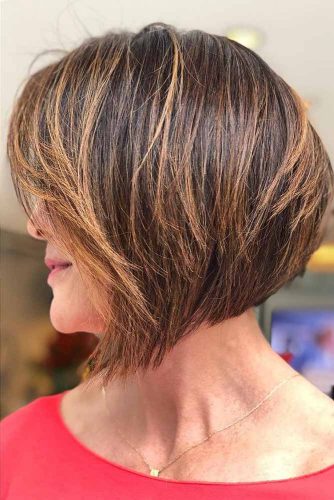 This short bob with slightly uneven angled layers is very youthful and trendy. The pretty high and lowlights add dimension and texture to this straight and sleek cut. Blow dry your hair dry straight and run a flat iron through your dry hair for a smooth and sexy finish! Don't' forget to add shine serum for your highlights to glisten in the sunlight!
Source: ro.hsiqueira via Instagram
Short Shaggy Cut For Thin Hair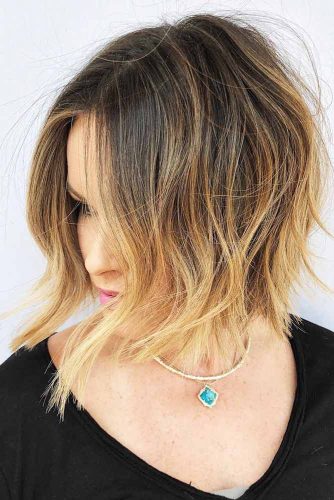 Shaggy haircuts are very in right now, and this sexy shag bob is no exception! With its tousled bed-head effect, it is a simple no-fuss look for those who don't want to spend a lot of time or effort styling their hair. Show 'em you've still got some attitude with this playful cut!
Source: chrisjones_hair via Instagram
Medium Layered Hair With Side Bang And Highlights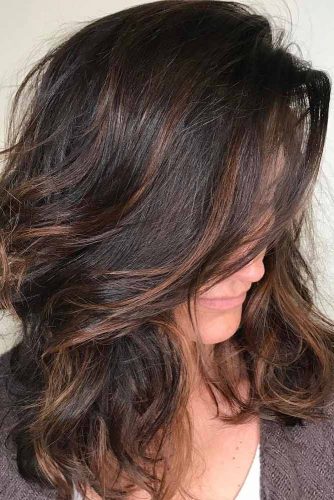 If you want a cut with a bit more length and volume, this shoulder-length layered cut is fun and flirty. The layers add a ton of volume as do the copper highlights. Style your bangs to the side for a more youthful vibe. This look is super sexy and chic with its tousled waves.
Source: kesliann via Instagram
Platinum Blonde Highlights On Medium Haircut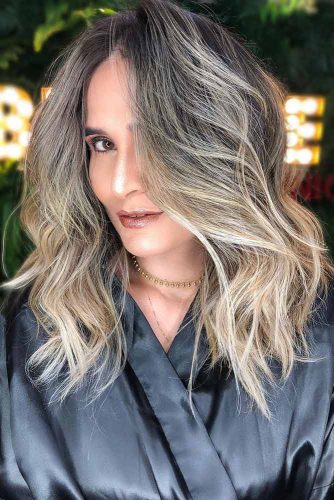 If you think that your medium haircut is a bit boring, we can share a great way how to spice it up. Just add platinum blonde highlights!
Source: antoniofelipes via Instagram
Layered Cut With Bang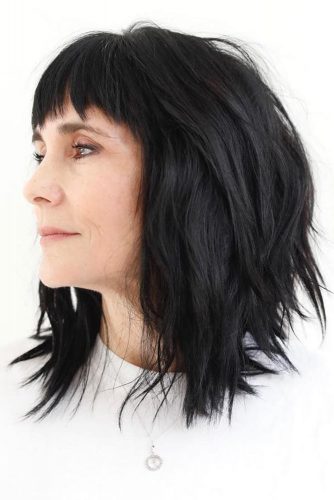 If you ask your hair stylist to add bangs to your layered haircut, this trick will instantly make you appear years younger.
Source: anhcotran via Instagram
Sleek Layered Cut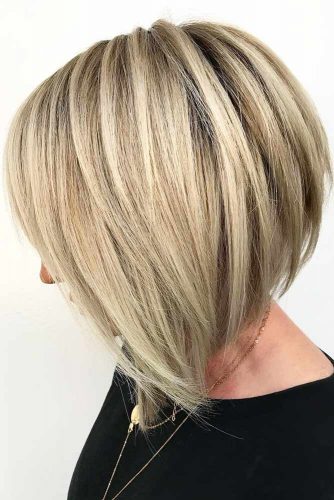 A sleek hairstyle is something peculiar to ladies who are always on the move. Pick one, and an extra decade is gone.
Source: styled_by_carolynn via Instagram
Copper Waves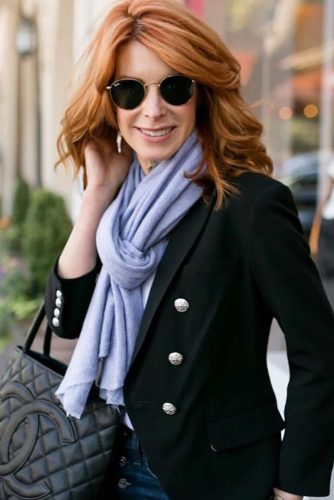 Copper can add a touch of elegance to your image and really refresh it. And this is the effect that practically any woman in her fifties is looking for. Wear it textured and a bit messy to give more volume to your tresses.
Source: themiddlepageblog via Instagram
Blonde Inverted Bob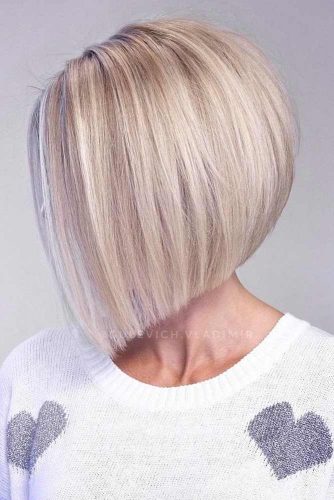 Blonde is the answer when you wish to appear a bit younger. Combine it with a youthful and sassy inverted bob and voila, some hot twenty-year-old guy might hit on you. Sounds tempting and absolutely mood and self-esteem boosting, right?
Source: gulevich.vladimir via Instagram
Punky Bleached Bob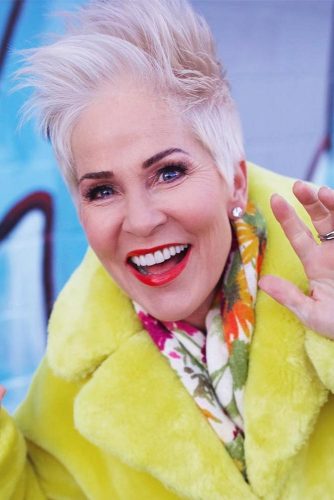 In your senior years embrace the beauty of bleached strands. In addition, for this hair color, the pixie with the undercard looks perfect. It show us how short hairstyles for women over 50 can come packed with a punch!
Source: chicover50 via Instagram
Brunette Inverted Bob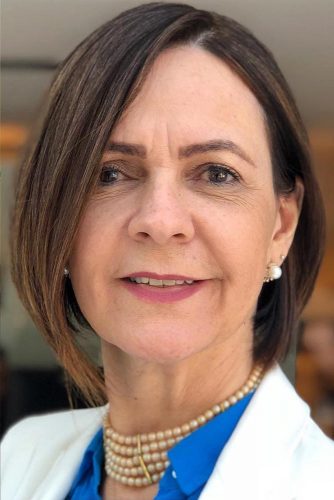 The classic brunette inverted bob will emphasize your elegance and sense of style. This haircut is suitable for business women and housewives. But do not forget that such a haircut requires constant laying if you want it to look well-groomed and beautiful.
Source: ro.hsiqueira via Instagram
Long Layered Bob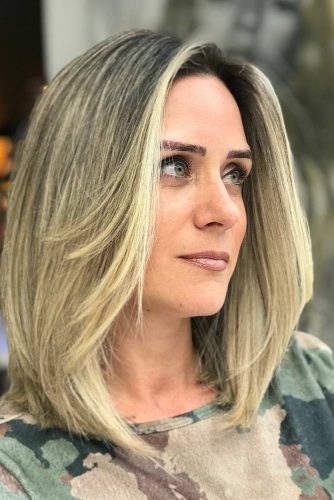 Long layered bob is one of the best hairstyles for women 2018. The thing is that long layers are timeless and classy and that is definitely something that most women over 50 appreciate. Nevertheless, a layered bob grants you that necessary modern touch which will take at least ten years off! Not to mention that with proper styling you can suit it to any outfit!
Source: ro.hsiqueira via Instagram
Wedge Bob Haircut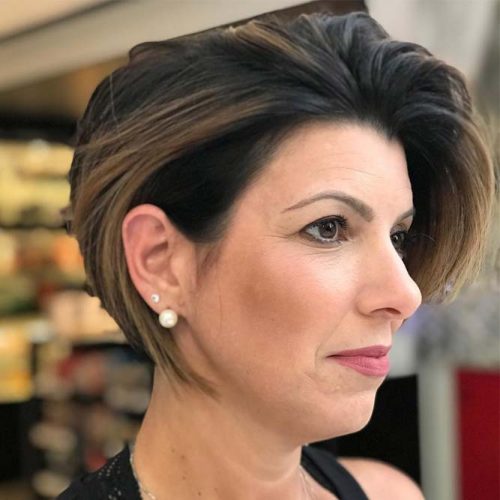 In case you are looking for hairstyles for 50 year old woman with thick hair you have come to the right place! The thing is that wedge bob is likely what you need and what you will surely fall for if you wish to look both stylish and easy-going without going over the edge with fixing your mane all the time!
Source: ro.hsiqueira via Instagram
Touch Of Balayage For Medium Hair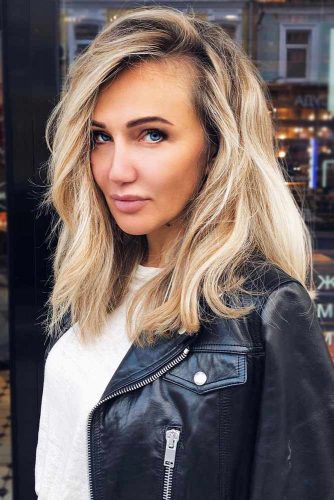 Medium length hairstyles for women over 50 are still on the edge of popularity though there is a trick or two to learn. The thing is that your primary goal is to look stylish without taking it too far that is why a modern way of coloring is surely what you need. What we have in mind is a touch of balayage that will grant your hair the necessary style and dimension to mesmerize everyone around you!
Source: ryabchik.moscow via Instagram
Festive Waves For Any Holiday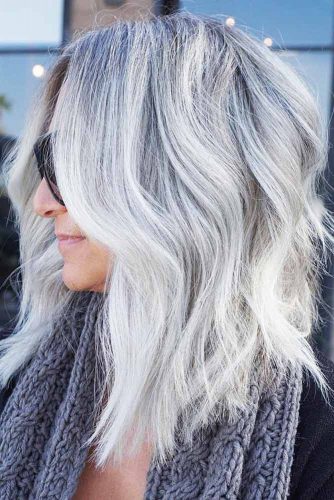 Those of you who are looking for some youthful hairstyles for ladies over 50 when it comes to a festive activity should think waves first. All the medium hairstyles for women over 50 with light waves involved look extremely sweet and feminine. What is more, waves are something that does not go out of fashion no matter what time you live in!
Source: maggiemh via Instagram
Bouncy Waves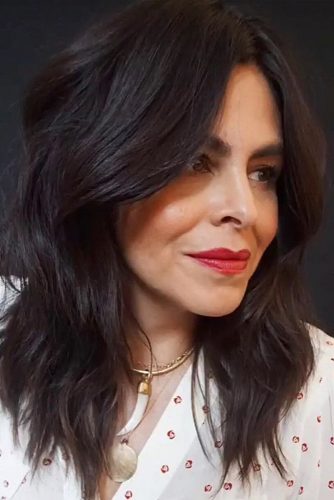 The best way to upgrade any of the hairstyles for medium hair is to add some bounciness to them. What can be bouncier than a set of nice elegant waves? Heading to the office or getting ready for the party – no matter the occasion such a 'do will never look out of place!
Source: anhcotran via Instagram
Brown Bob With Neon Ombre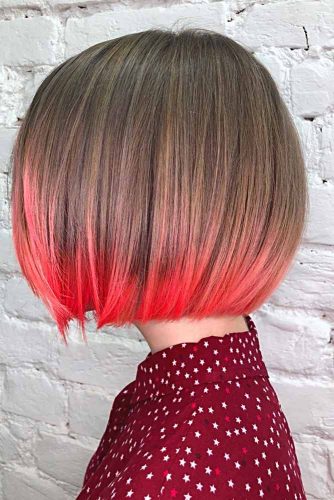 Among short hairstyles for women over 50 many women prefer sleek bobs. It is easy to understand why, just look at this gorgeous, sleek temptation, it seems you can hardly take the eyes off! If you are open for some extra spice, then you will surely appreciate this neon ombre addition!
Source: aliyousha via Instagram
Up Long Hair In Sexy Curls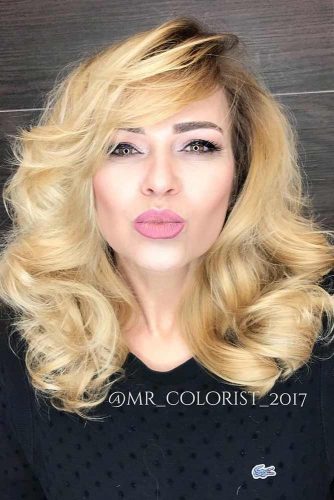 The list of hairstyles for 50 year old woman with long hair is a little bit less impressive than the same for younger women, but that does not mean that you are out of possible options. It is true that you should be attentive when it comes to long hairstyles for women over 50 because one wrong move can turn out to be disastrous. Big, voluminous curls are the perfect suggestion to play around with if you want your hair to look fabulous and stylish!
Source: mr_colorist_2017 via Instagram
Voluminous Short Hairstyle For Fine Hair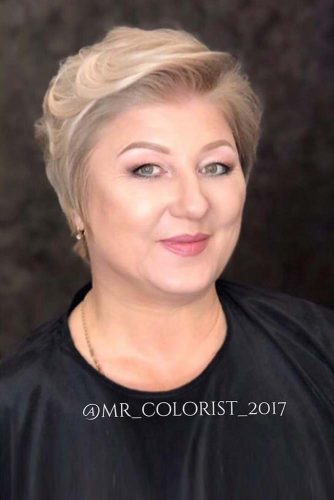 Most of the short hairstyles for fine hair suggest to add some volume to your mane, and that is great. But when it comes to a trendy 'do, no matter the age – there are trends to follow. That is why you should never leave the coloring out. Opt for trendy but suitable shades to look your absolute best no matter where you go!
Source: mr_colorist_2017 via Instagram
Rose-Gold Ombre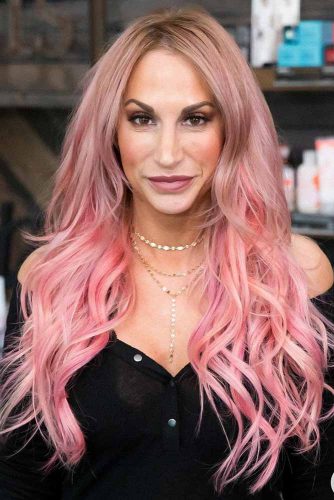 Rose gold ombre has been trending for a while now, and all the fashionista ladies are dying to try it out if they haven't yet. That is why when you are looking for a new hair style for female fashion icon over 50 – you should definitely consider this option. After all – age is only a digit – what matters is the way you think about yourself as well as the way you feel.
Source: thehairstandard via Instagram
Unicorn Roots For Gray Hair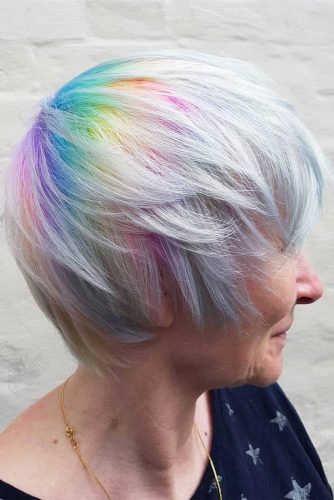 We must admit that when it comes to short haircuts for older women there is a certain tendency and most women over 50 tend not to break away from it. But if you are still a rebel at heart then you will not only appreciate this colorful upgrade for the gray hair you will opt for it straight away!
Source: jaymz.marsters via Instagram
Purple Short Pixie Cut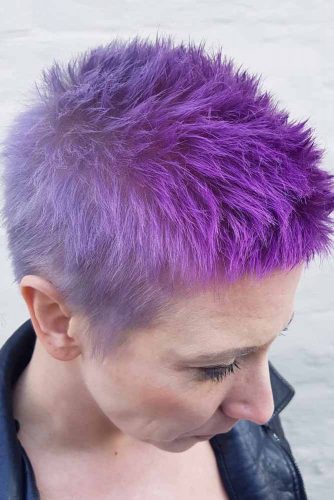 Pixie haircut, especially the short and spiky one requires a lot of courage to pull it off, not to mention that there is purple hair involved. But if you are the lady who is not afraid of experimentation and attention, then there is a high chance that this hairstyle will come to your taste!
Source: jaymz.marsters via Instagram
Wavy Layered Medium Cut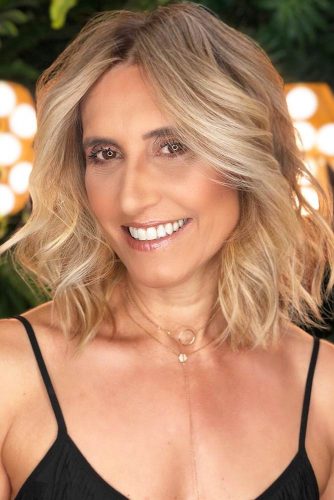 Such a wavy cut can be in handy for everyone: it looks quite simple, yet very lovely. Sometimes our hair becomes weak, and it seems that there is no good treatment to recover its beauty. Actually, the only thing you need is to add some structure to your hair. To freshen up your look completely, get yourself a balayage: you will love how your new hairstyle illuminates when the sun shines on it.
Source: antoniofelipes via Instagram
Wavy Blonde Styling For Thin Hair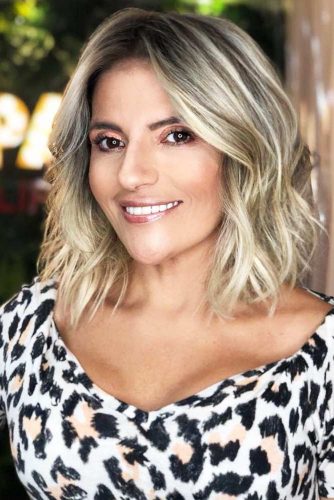 Thin hair is something that we can't get rid of. Fortunately, we know how to deal with this little hair trouble to reach perfection in our look. Now it's all about waves. Why do we love them so much? Well, they work for any girl with any type of hair. Isn't that the thing your thin hair needs? Look: what a voluminous silhouette they give to the hair, it looks just gorgeous. And the best way how you can sport your glorious waves is to combine them with blonde colors. Remember: it's never too old for blonde.
Source: antoniofelipes via Instagram
Long Layered Cut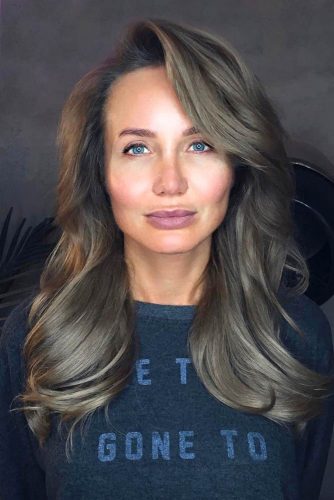 Many women prefer to cut their hair short as they become older. And we don't know the exact reason. The truth is that long hair is the symbol of your beauty and eternal youth, so why don't you give it a chance? This layered haircut is just enough to make you understand how adorable your long hair can look. Layered structure gives a haircut the volume that every woman needs, no matter how old she is. And you can see with your own eyes that it really gets on well with pale colors. Don't you think it's worth a try?
Source: ryabchik.moscow via Instagram
Sleek Inverted Bob With Natural Highlights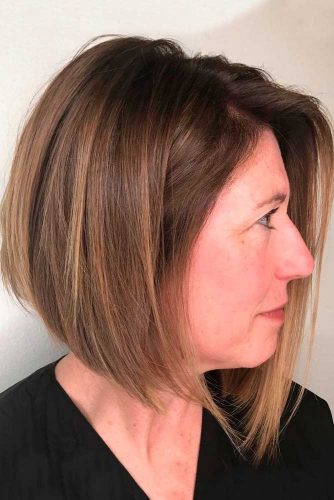 This stacked inverted bob is so sleek and sophisticated. Inverted bob haircuts are always in style, and this one is no exception with its soft, subtle chestnut and honey brown hues. If you prefer medium length hairstyles, this is a great option as the longer length in the front and sides gives you more styling options.
And when it comes to styling, it's a no-brainer! All you need to do is blow dry it straight and smooth it out with a flat iron if needed. Add some shine serum to show off those pretty balayage tones!
Source: hairbykesli via Instagram
Punky Pixie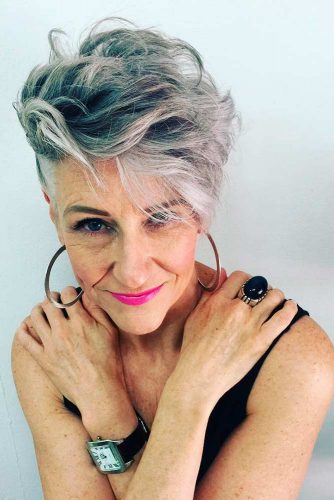 Pixie cuts are fun and stylish at any age. If you are looking for short hairstyles for women over 50, you can't go wrong with a short and sassy pixie!
This cute pixie cut with long bangs will make you look and feel years younger. Not to mention this is one of the most popular short layered hairstyles for women. The salt and pepper streaks are all the rage right now and take this funky pixie to another level. All you need to do to style is apply some gel and blow it dry to one side, curling and lifting it as you go to add some volume. Finish it off with strong hold spray, and you're ready to go with your sexy new style!
Source: deborah__darling via Instagram
Natural Curly Hair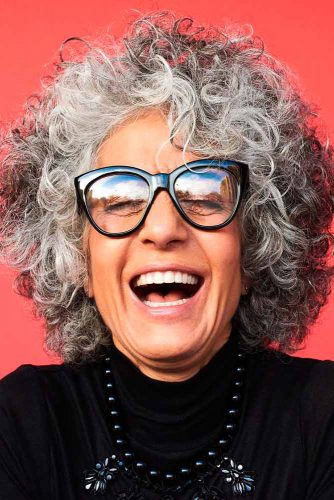 If you were blessed with naturally curly tresses, you have probably spent hours looking for cute curly hairstyles for medium length hair. Don't get discouraged and think you have to go super short to make those curls come to life. This mid-length short curly 'do is super cute and adds a ton of volume to your tresses!
The best thing about curly hair hairstyles is that they are pretty much "get up and go!" All you need to do is apply good curling serum or spritz your curly locks with a generous amount of sea salt spray and let your hair air dry, and you are set!
Source: silvinaneder via Instagram
Long Layered Silver Cut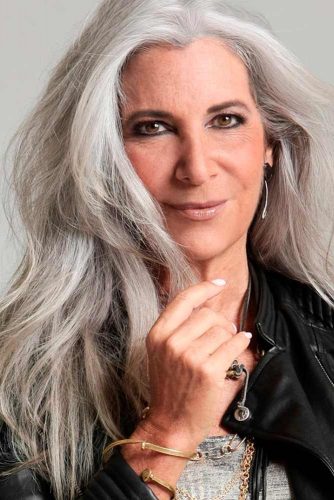 If you have longer locks but need a bit of a change, do not be hesitant about cutting layers in long hair. Layers add a lot of volume and texture to your hair.
There are plenty of stylish layered hairstyles women are sporting this season! This cut is very pretty with its long silvery layers that add a sense of mystery.
And hairstyles for long hair with layers will work with any texture of hair. It will help even out thicker hair. As well, if you have thin or fine tresses, it can add a ton of body! Whatever texture your hair has, this style is totally fun and flirty!
Source: silverstorm777 via Instagram
Long Layered Cut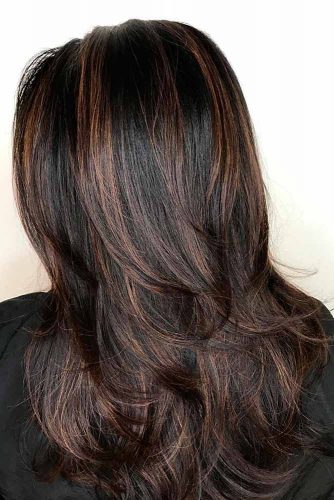 If you have naturally wavy hair and are looking for long layered hairstyles, this dark chocolate and chestnut brown balayage long layered cut might be just what you're looking for.
Layered cuts for long hair will add life to your wavy locks! As well, the pretty warm and cool balayage hues will add a ton of depth and dimension to give this pretty cut a sultry vibe! Random long layers throughout will add a lot of fullness and bounce to your curly locks!
Source: hairbykesli via Instagram
Classic Blonde Bob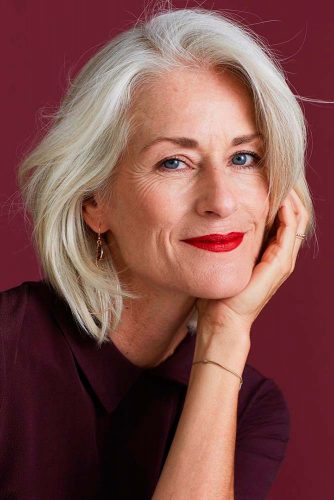 If you are always on the go and looking for easy hairstyles medium length hair, a bob haircut is always a great choice! A classic bob will never go out of style! If you get elongated layers in the front, they will nicely frame your face and make you look much younger! And why not go for an all over silvery blonde shade to bring out your inner blonde sex goddess?
Source: simone_i_jacob via Instagram
Updo For Medium Hair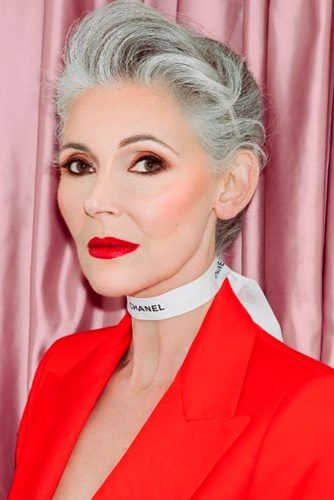 If you want to keep your long locks, you can always style your hair in quick and easy updos for medium hair such as a classic chignon or bun. Also, braids and half updos are very in right now. There are so many classy and easy hairdos for medium hair that you won't have to sacrifice your length to keep up with the times!
Source: barbara_lutz_model via Instagram
One Side Bob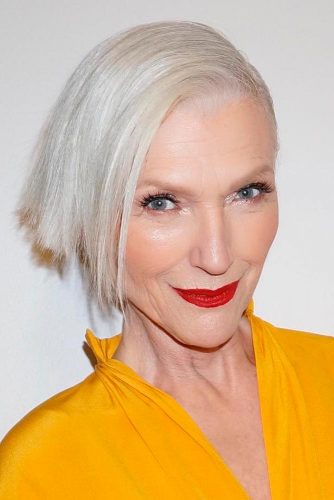 Hairstyles for short hair don't have to be boring. Short hair is actually very in right now. And bob haircuts will never fall out of favor! This side part bob is very sexy and chic if you are looking to update your look. With choppy layers and a pretty silvery hue, you will be sure to turn heads wherever you go!
Source: mayemusk via Instagram
Natural-Looking Highlights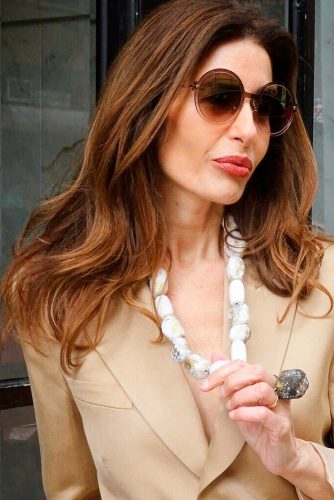 With layered hairstyles women taking the world by storm, you might be ready for a change. Layers are so helpful in giving your hair much-needed lift!
And who says long hairstyles for women over 50 aren't trendy? You can totally rock a long layered hairstyle at any age.
This long layered cut with natural brown highlights is absolutely stunning! The long, cascading waves give it a ton of body and depth, and you can still wear your hair up if you choose to do so!
Source: codigopilar via Instagram
Pony Up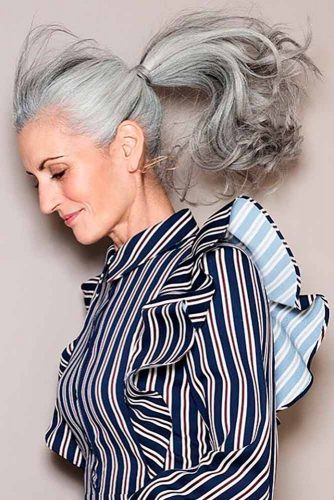 Another great way to sport long layered hairstyles for women over 50 is a stylish and fun updo! Why not pull your gorgeous salt and pepper or silvery locks back up in a high ponytail. Tease the front to add some volume and height to your hairstyle!
Cute ponytail hairstyles are so much fun. And you can always dress it up a bit with a fun braid, bun or a fun hair accessory such as a headscarf or ribbons. The sky's the limit when it comes to cute updos for long layered locks!
Source: iconicfocus via Instagram
Long Pixie For Thin Hair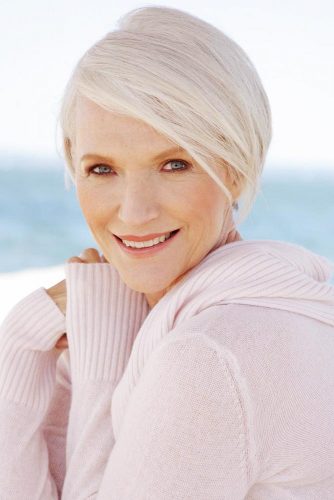 It's time to challenge your thin hair with a cute long pixie! It's no secret that our hair becomes thinner with age, so our task is to make the most out of it. Ask your stylist for a layered pixie and the so much needed volume will come back!
Source: mayemusk via Instagram
Thin Hair Edgy Styling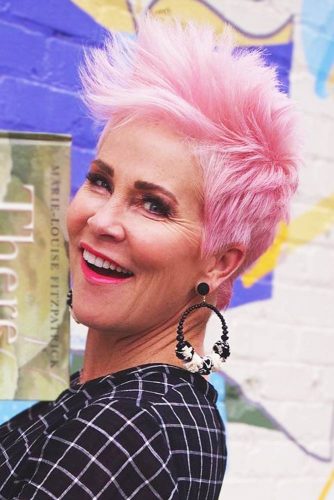 Here's another good idea to put an end to thin hair troubles. But only bright personalities can pull off such a funky color! Edgy styling will literally make your thin locks disappear, as spiky pixie will create an illusion of fullness.
Source: chicover50 via Instagram
Blonde Pixie For Thin Hair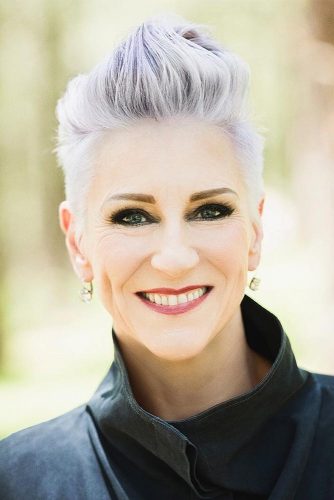 Once you put your short hair up, you will feel as confident as never before. Some women don't believe in the power of brushed up tops, and this pic will make them change their minds. Such a sophisticated, fancy, and stylish look will never show that your hair goes thinner.
Source: deborah__darling via Instagram
Bob Cut With Thin Bang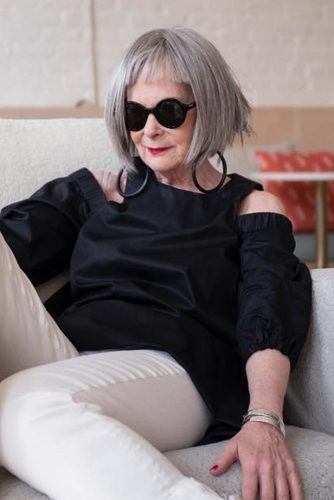 Ladies who would like to beautify their bob with a little fringe without a blunt-bangs-effect will love this idea. If you want to keep your brows visible and hide your big or wrinkles forehead at the same time, these cuties are the best decision ever.
Source: iconaccidental via Instagram
Straight Inverted Brunette Bob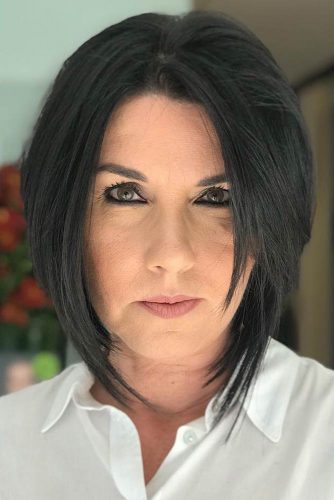 Look how nicely this straight inverted bob frames this model's face. Face-framing hairstyles for women over 50 can help make a face appear not so round.
Source: ro.hsiqueira via Instagram
Shoulder Length Bob With A Blunt Bang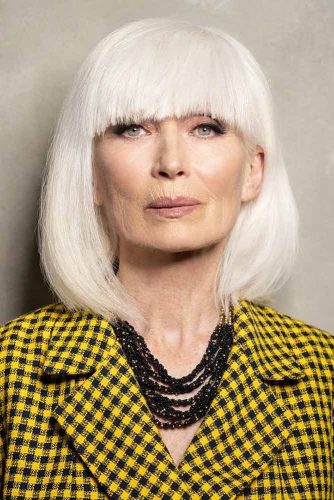 A blunt bang is something that can make any hairstyle appear more stylish and ultimately sassy. This blonde bob is among the sexiest hairstyles for women over 50 we have ever seen.
Source: oldushkamodels via Instagram
Styled Back Long Pixie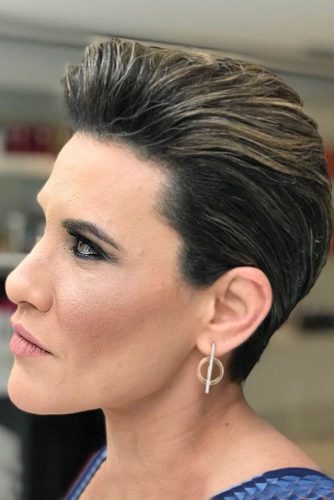 A long pixie can grant you more styling options, comparing to shorter hairstyles. If you are looking for trendy and cool hairstyles for women over 50, this one is to consider.
Source: ro.hsiqueira via Instagram
Rockabilly Long Pixie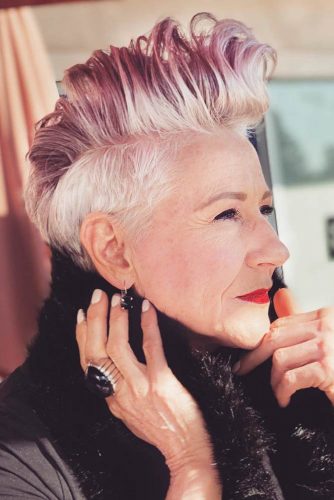 Who says that hairstyles for women over 50 can't be hot and rocking? This model really looks like a rock star with her long pixie styled upwards.
Source: deborah__darling via Instagram
Styled Back Wedge Bob With A Side Bang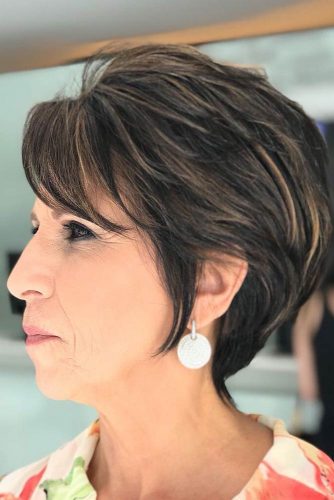 A side bang makes this styled back wedge bob hairstyle look sultry and hip. If that's the effect you are searching for, then go for it without any hesitation!
Source: ro.hsiqueira via Instagram