#41: Pretty Tapered Black Pixie
Stay up to date and trendy with a sexy black hairstyle that's both feminine and sophisticated. Pixie haircuts with sharp angles and a lot of height on top are edgy and confident, and the sharp triangular shapes of the nape and sideburns have a striking impact. It's a style that works nicely with extra-coarse hair.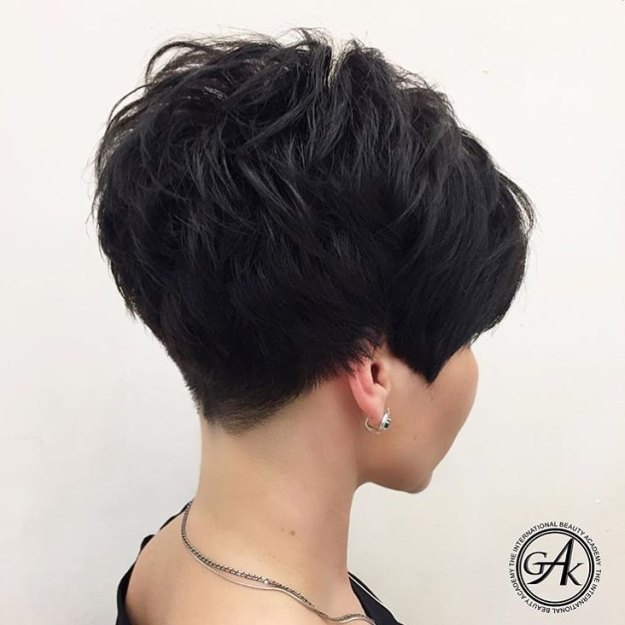 Instagram / @GEORGIYKOTSTYLISTS
#42: Piece-y Silver Blonde Pixie
Keep your hairstyle modern by leaving your short hair long in front. This is a perfect cut for fine, thin hair. The side-swept bangs are a nice addition to the piece-y tousled cut. The wispy, straggly top section adds extra height and character.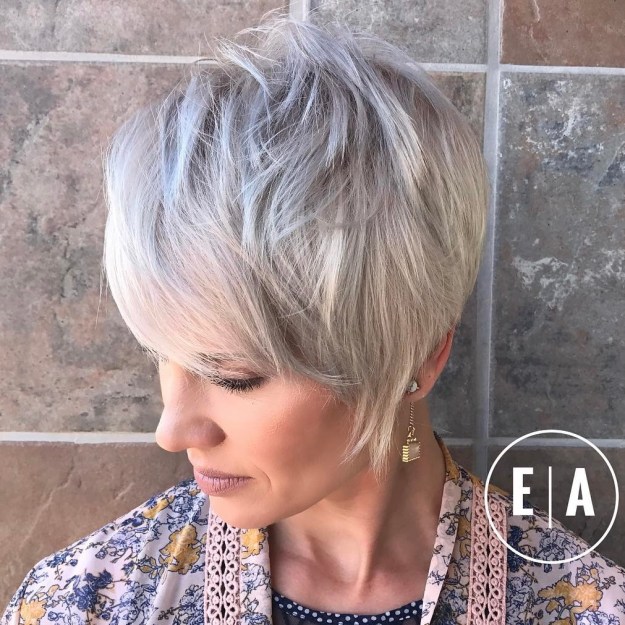 Instagram / @EMILYANDERSONSTYLING
#43: Long Sleek Wheat Blonde Pixie
Wear your straight hair in one of these long pixie hairstyles and bring out the best out of your fine-textured locks. The wispy bangs and tapered back create a lovely silhouette, and the dark roots enhance depth and volume.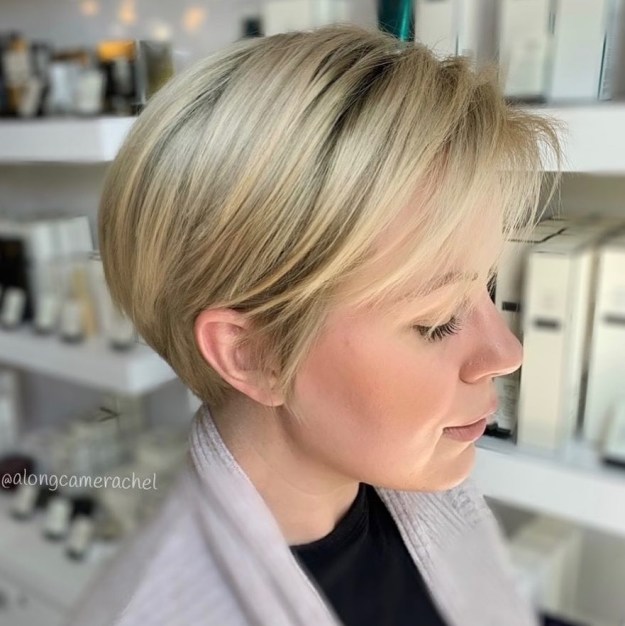 Instagram / @ALONGCAMERACHEL
#44: Platinum Pixie with Undercut
Keep your coif current with a close cut or shaven back. If you're feeling bold, extend the close cut to the sides. Maintain your do long on top for a funky style that's fun to play with. An extreme platinum color adds poise and is sure to turn heads.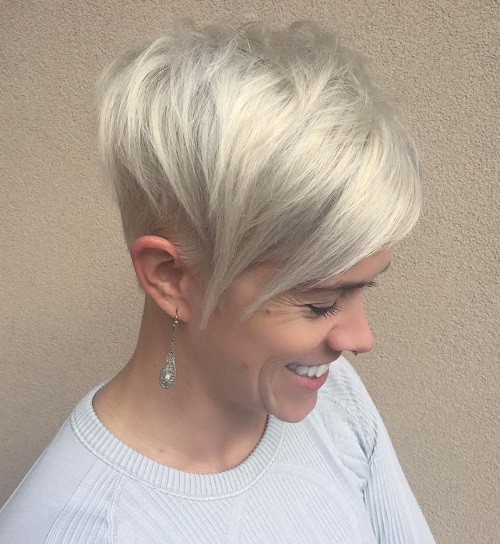 SOURCE
#45: Asymmetrical Pixie with Long Bangs
To one side, this pixie is shorn very short, while to the other, the hair almost extends to the jaw level. As can be seen on the model, this brings out the features in the upper half of the face, like the light colored eyes and impeccably maintained eyebrows. It's not an extremely pretentious style, but it won't work as well for square face shapes as it will for oval and oblong ones.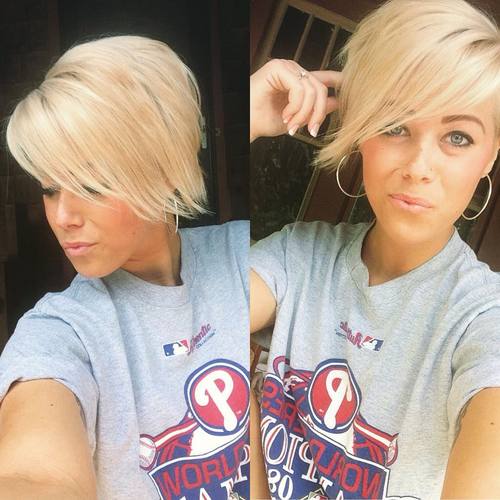 SOURCE
#46: Effortless Haircut
A longer, low-maintenance pixie is the essence of the girl next door. Texture, volume and a bit of wave combine to bring a powerful but adorable cut to life. Less is really more when it comes to effort.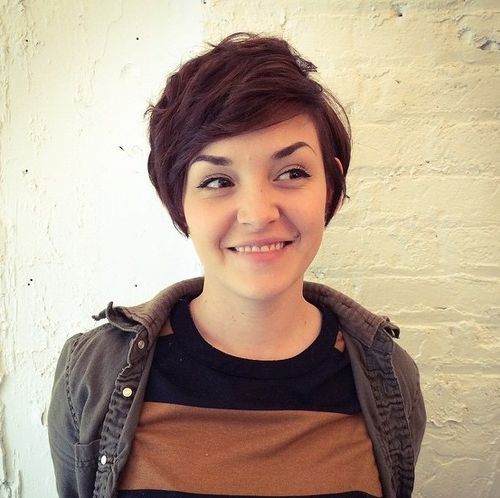 SOURCE
#47: Painless Pixie
This picture of a long pixie haircut presents a style anyone can rock. It's cute, fresh and has just enough attitude to make it stand out from the crowd. A cut this painless requires virtually no maintenance and stands the test of time.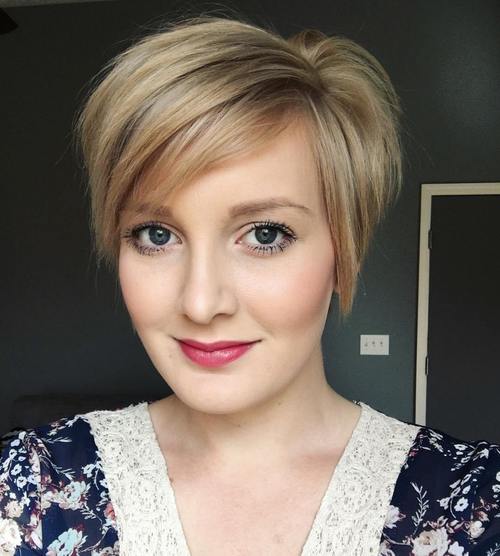 Instagram / @THEMIDWESTMINIMALIST
#48: Smooth Sailing Haircut
Here's an elegant and refined short haircut style with a deep side part and angled fringe. Longer hair on one side creates a fun element of asymmetry for a more dynamic hairstyle. Maintain a smooth finish and you've got a perfectly polished mane.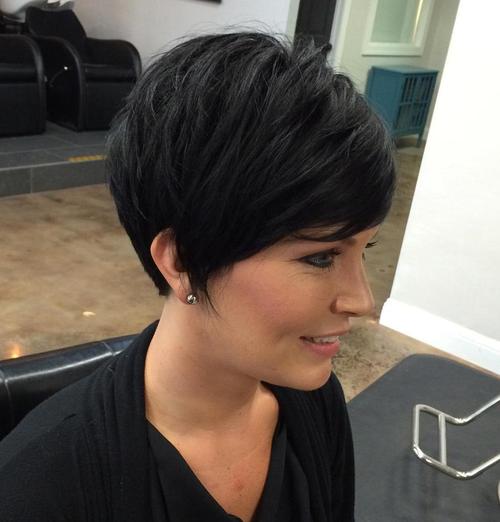 SOURCE
#49: Layered Pixie with Length at the Nape
This cute hairstyle with long bangs also features choppy layering, which tends to work best with very light color options. It is also the case here, where the platinum strands are offset by the darker roots.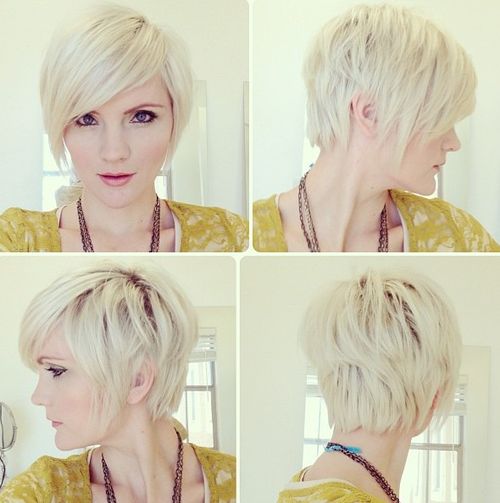 SOURCE
#50: Modern Pixie Style
A long pixie haircut with a modern twist could be just what you need to revitalize your look. With lots of length on top and closely cut back you get a trendy and confident look. Add further dimension with a platinum color on top of the dark underlayer.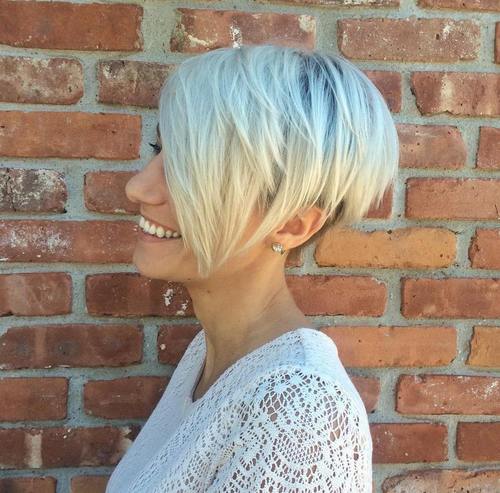 SOURCE