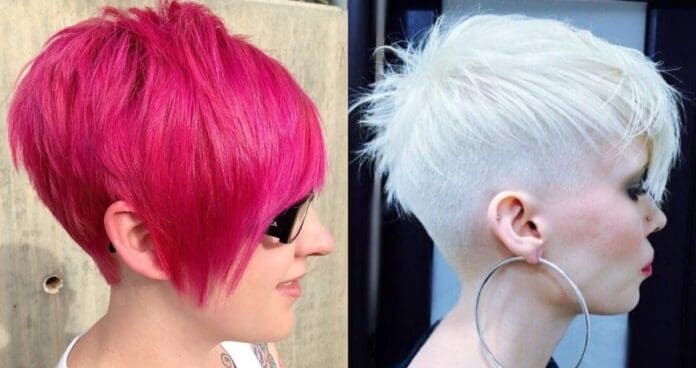 A short and sassy pixie has become extremely popular in many hairstylists' chairs. What was once an edgy haircut has become the standard for women seeking a streamlined and polished look. In order to add some punch to your new pixie cut, we recommend adding in a lovely or fun color. From rich dark dyes to punchy primary hues, we have 40 looks below that are sure to inspire.
Colorful Pixie Cuts
It's much easier and safer to try new hues on shorter lengths. A cool short cut plus a stunning hair color is a winning combo and a nice way to change your appearance drastically, if it's something you are in the mood for!
#1: Layered Brown-Purple Pixie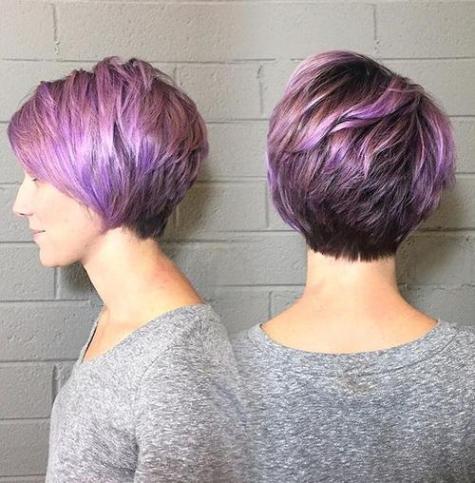 SOURCE
Forget fifty shades of grey and instead go for fifty shades of purple! By combining multiple violet hues, you can transform a standard layered pixie cut into something very interesting and chic.
#2: Lavender Pixie Cut with Highlights
When you want to rock a fun color like lavender, the darkened roots are a way to make your hair color more sophisticated. This creates depth and keeps your edgy cut from looking overwhelming. Plus, incorporating the darker elements makes the hue less sweet.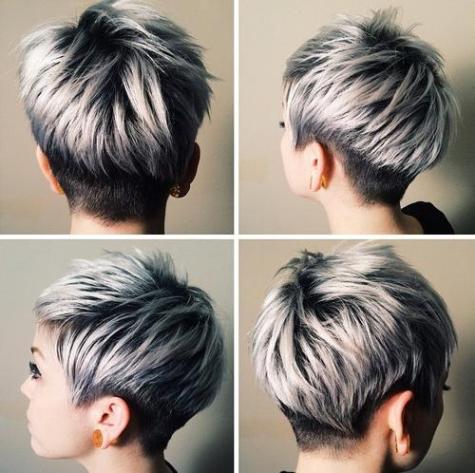 SOURCE
#3: Bleach Blonde Pixie Cut As Fauxhawk
Bleach blonde hair is a favorite among rock stars due to its ability to be sexy and sweet at the same time. Take a cue from a style icon like Gwen Stefani and pair your hue with a signature red lip.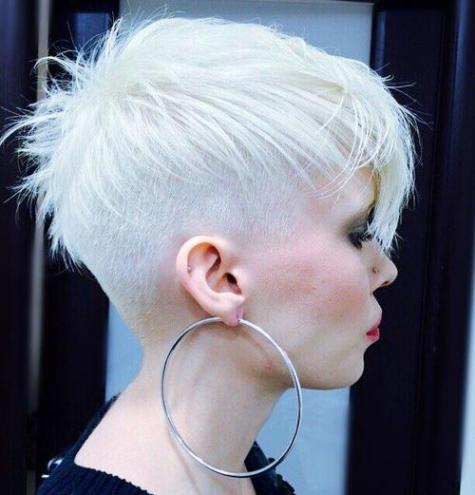 SOURCE
#4: Bleach Blonde Pixie
Having a bleach blonde look is the best move to make when your hair is shorter. As we all know, bleaching hair can affect the health of your tresses; however, with a short do – you're free to explore color!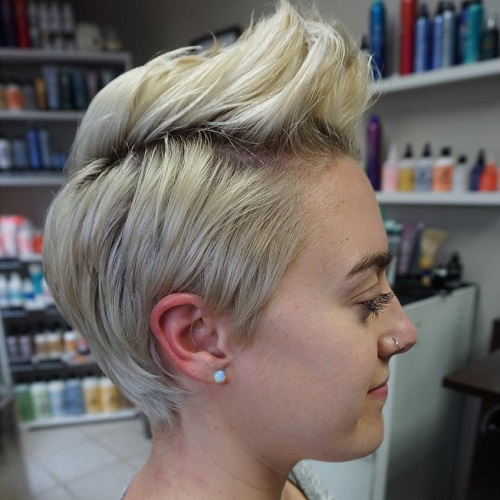 SOURCE
#5: Platinum Blonde Pixie Cut
This platinum pixie cut puts a smile on anyone's face! New variations of trendy pixie hair colors include ash blonde balayage solutions which can be multi-tonal or two tone, like in this example.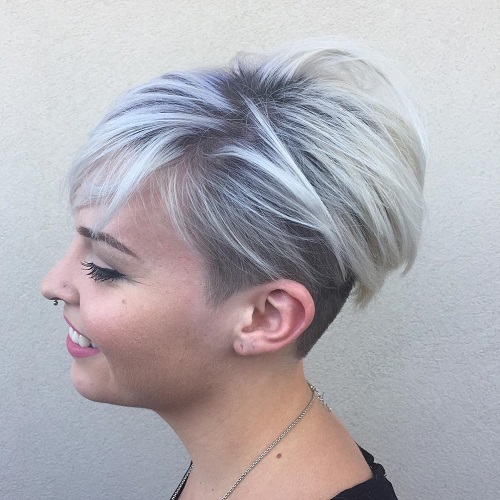 SOURCE
#6: Magenta Pixie Cut
Images like this one always catch the eye and don't leave anyone indifferent. This lady must work in a creative field or be a trendsetter. A daring look for a daring woman.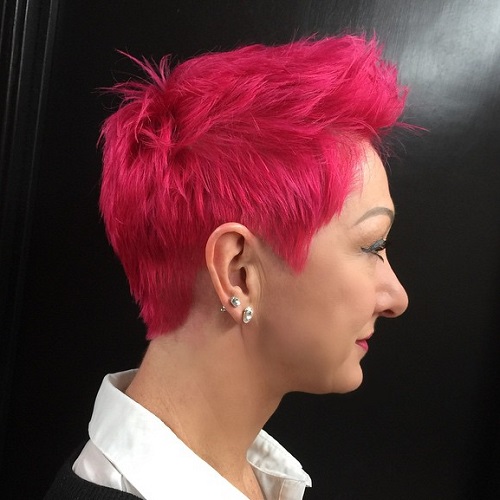 SOURCE
#7: Black Pixie Cut
Hair pigmented green used to be nonsense, not anymore. This black pixie features green peekaboo highlights in the bangs, turning a common style into a chic hairdo that doesn't need any special styling to look gorgeous.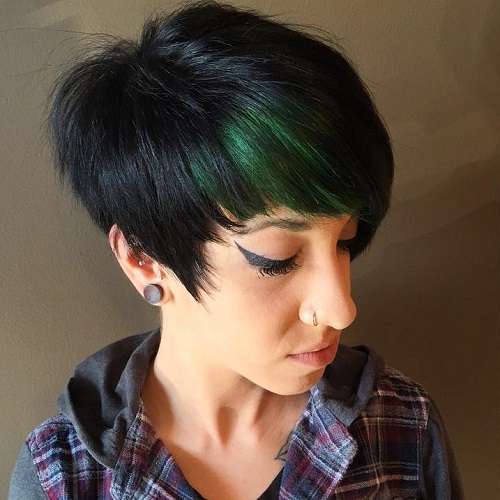 SOURCE
#8: Black Choppy Pixie
No pixie cut gallery is complete without a choppy pixie. This is an example of a must have in the world of short hair. A brunette pixie for thick hair can stand out with its texture, while the color may remain natural.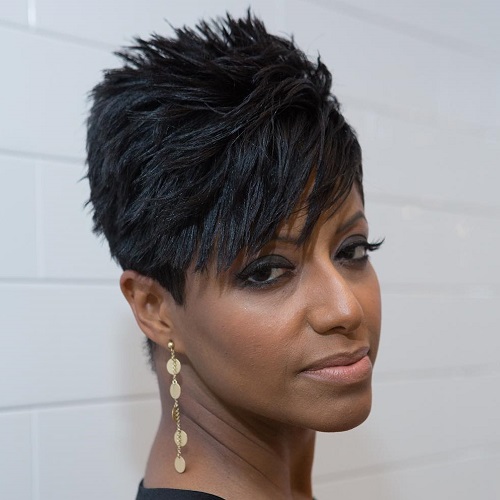 SOURCE
#9: Colorful Pixie Cut
This modern brown pixie cut is upgraded with a side undercut and e few colorful feathers that work as a stunning accent you can pair with the colors of your clothes, accessories or makeup.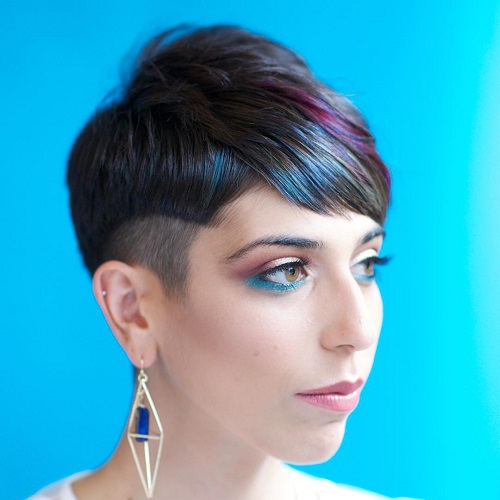 SOURCE
#10: Layered Pixie Cut
Colorful, bleached or natural, pixies look great on African American women. This cut boast expertly cut layers throughout that increase in length towards the bangs. We love the warm orange-y hue of this blonde that flatters the girl's skin tone so much.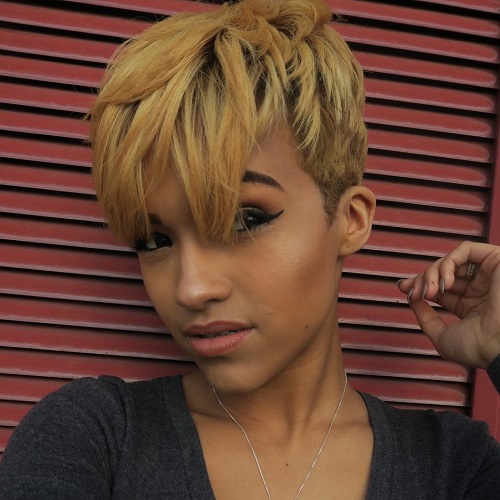 SOURCE