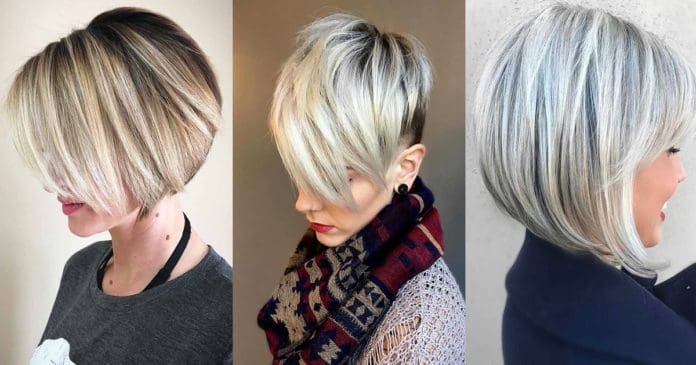 The best short haircuts are presented in this post, so do not miss them. Especially if you are willing to amp up your look. Whether you are going to change your look drastically and get your longer locks cut or you just wish to spice up your already short haircut, this post will come in handy. We will help you to pick the most flattering haircut!
Here you will find gorgeous short layered hairstyles that will instantly boost the volume of your hair and make it more alive. Another advantage of such hairstyles is that they are not complicated to style and are low maintenance. Plus, layers provide a hairstyle with so needed texture and this makes them look more stylish.
And we mention this info because we are well aware of the fears of women when it comes to short haircuts. The first thought that makes them tremble when they hear about a short haircut is high maintenance. The second in line is super-difficult styling. And it is not surprising as really, who wants to go through the nightmare every single morning? But it's not that bad as you might have imagined. To the contrary! See for yourself!
Short Hair With Bangs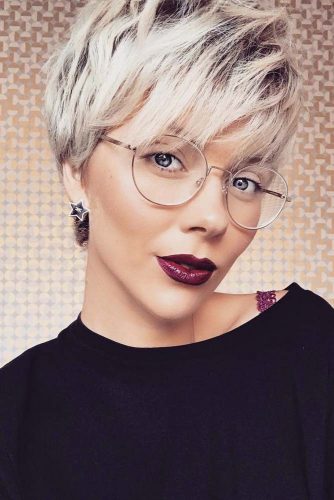 This timeless cute pixie cut is a great option if you want to have sassy short hair with bangs. The addition of the bangs really draws attention to the eyes. This is a fun cut that looks great even if you decide to forego the bangs option. With its ease of maintenance, it is simple to understand why it is among the best hairstyle ideas for short hair. There are options of side-swept bangs, full bangs or if you really enjoy taking things to the limit, even a micro-fringe!
Source: prozhanna via Instagram
How To Style Short Hair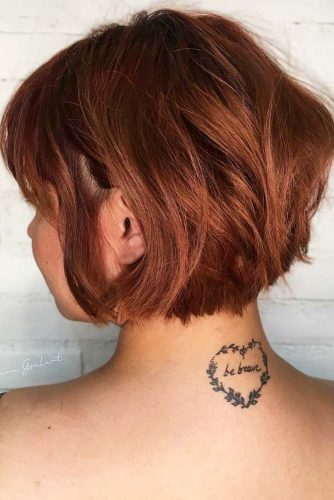 There are several ways how you can learn how to style short hair. Whether you choose straightening, curling or even going for the natural option, you can style your cut to suit almost any occasion. Although there are several types of short cuts, the bob involves some of the cutest short haircuts you can get. The versatility allowed by the bob is unmatched with the shorter pixie cuts. You can modify the bob to suit formal occasions, as well as everyday wear. This style has also become extremely popular with the messy look.
Source: maygovintage via Instagram
Textured Pixie For Older Women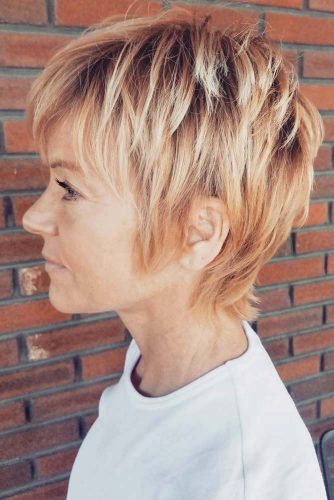 There are several short hairstyles for older women that are both elegant and eye-catching. Often women, as they age, begin to experiment with various hairstyles to distract themselves from the aging process. Women decide that they want their hair to be both beautiful and low-maintenance, so they opt for shorter hairstyles. The pixie cut, pictured above, is one of the best short haircuts for older women due to its ability to be easily maintained and its simplicity in the styling process. Just towel dry, apply your desired hair products and go! You can blow dry if you prefer, but it isn't necessary.
Source: melistarr via Instagram
Side Parted Blunt Bob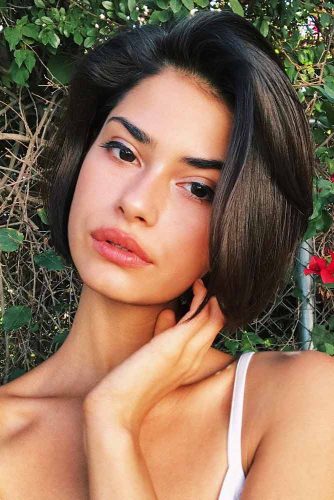 If you're looking for a wash and go hairstyle, then the bob with a side part is the cute short haircut you want to pursue. It is important to have the right hair tools, including hair products, to achieve the look. The blunt bob, also known as a straight-across cut, is an increasingly popular choice among women of all lifestyles today. Whether it is a formal or casual occasion, this hairstyle will do. You can also obtain various looks with this cut by wearing it straight or curly or anywhere in between.
Source: hannahkleit via Instagram
Angled Short Bob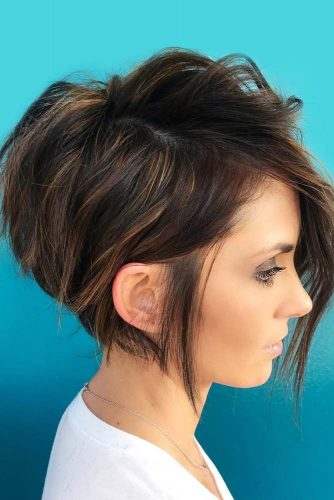 This beautiful angled bob hairstyle is a pristine example of short, edgy haircuts. The various lengths add both volumes and bounce to this hairstyle. The lifted silhouette on the back of the head and longer short tresses add a touch of class while keeping to the expectations of the modern society. This hairstyle can be wild and care-free with a messy look, or it can be tamed down and sleek. Among the short hairstyle trends, the bob is a go-to for a new hairstyle. This style can also be altered in various ways to add a more intense level of depth. Whether you choose to taper the cut or to shape the ends, it gives a fresh and stylish look to the hairstyle.
Source: shmoakin_hair via Instagram
Braided Updo For Short Hair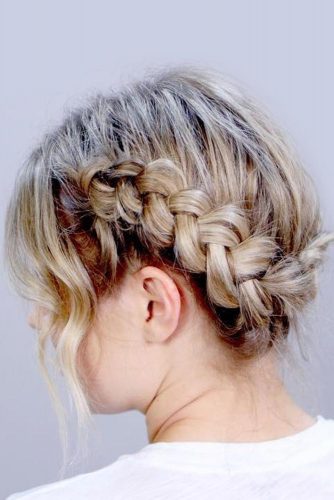 We know the struggle of finding options for updos for short hair. Updos are very popular for more formal occasions but can often be challenging for women with short hair. There are some updos that work better for lighter or darker colored hair, depending on the style. There are short hair ideas that vary from messy to sleek. Even if you have hair that is thin, you can use the trick of backcombing and tucking, which will cause your hair to appear much longer and thicker than it really is. If simplicity is what you seek, the braided updo is for you. Two sections of hair, a couple of hairbands, and a few hairpins, and you appear as if you've spent hours securing your hair into this classy style.
Source: milabu.co via Instagram
Long Pixie For Thin Hair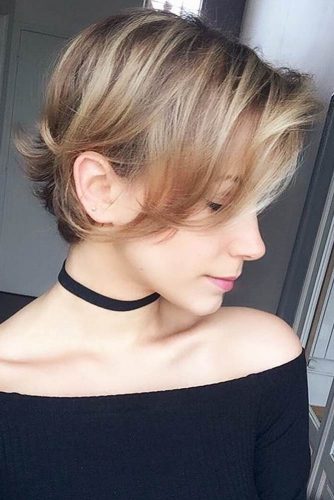 This photo of this haircut must be among our favorites in the cool haircuts category. The color that has been added does a phenomenal job of accentuating the lines of the cut and thus making hair appear fuller. If you look closely, you'll see that this pixie also has a 3-dimensional effect due to the seamless, softly added layers. The flexible length of this pixie makes it one of the best short haircuts for summer. Its styling options allow you to be stylish and sexy as well as cool and comfortable. Another summer splash is color options which will add a fresh look to your summer cut.
Source: cabelocurtobr via Instagram
Rooty Blonde Bob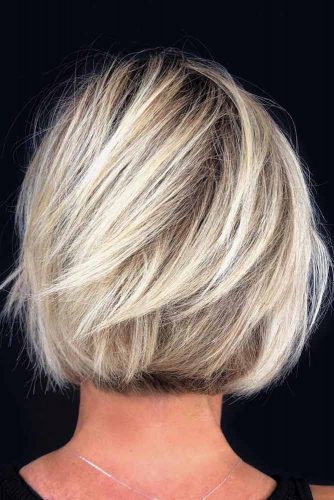 If you're ready to go short this summer, we have the options for cute haircuts that you've been looking for. With the high demands of women these days, it is understandable why women are in search of an easy hairstyle for short hair. Whether you think about getting a pixie, bob, taper or another type of cut, you can add flair by getting bangs or adding curls into the mix. There are plenty of ways to go short this season and still turn heads. Join the short hair don't care crew and stay cool this summer.
Source: chrisjones_hair via Instagram
Platinum Balayage On A Bob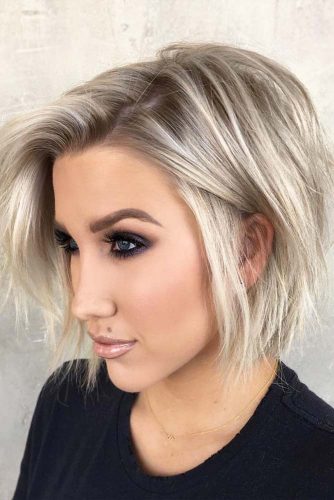 If you've fought the battle of thin hair, you have most certainly explored your options of the best short haircuts for thin hair. There are several cuts that can volumize your thin hair with just a swipe of the seemingly magical scissors. Not only will you have more volume the texture added to your hairstyle, but you will also transform it in a way you didn't think was possible. Not only are the short hairstyles cooler but they are also bringing along an easier way of life. With one of the easy hairstyles for short hair, you are sure to have a little more free time on your hands for other important duties.
Source: hairby_chrissy via Instagram
Braided Bob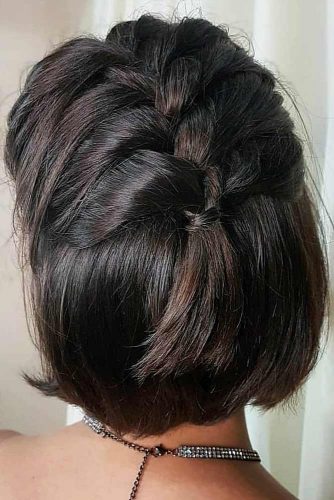 Just 'cause you have short hair doesn't mean you can't have gorgeous braids for short hair. Even short hairstyles can rock the prettiest of braids! If your hair is too short to pull back, there is the halo braid option. You can also combat the awkward in-between grow out phase by braiding up your long locks. Don't forget to incorporate braids into your best short haircuts for the spring list. There are also braids that are suitable for both formal and casual occasions. Whether it's a sleek updo braid or a messy braid, both options are appropriate for multiple occasions. Try your short hair braids today!
Source: dicasdecortes via Instagram