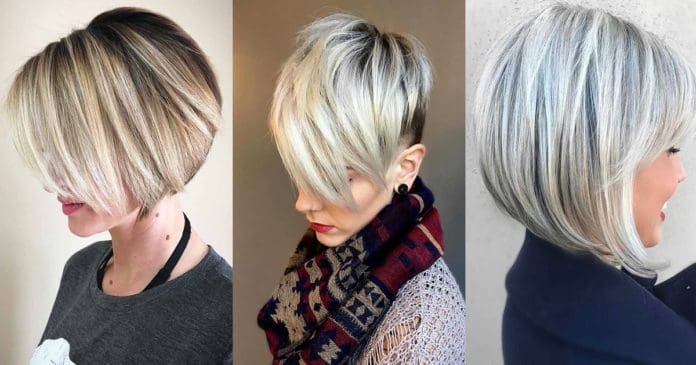 The best short haircuts are presented in this post, so do not miss them. Especially if you are willing to amp up your look. Whether you are going to change your look drastically and get your longer locks cut or you just wish to spice up your already short haircut, this post will come in handy. We will help you to pick the most flattering haircut!
Here you will find gorgeous short layered hairstyles that will instantly boost the volume of your hair and make it more alive. Another advantage of such hairstyles is that they are not complicated to style and are low maintenance. Plus, layers provide a hairstyle with so needed texture and this makes the look more stylish.
And we mention this info because we are well aware of the fears of women when it comes to short haircuts. The first thought that makes them tremble when they hear about a short haircut is high maintenance. The second in line is super-difficult styling. And it is not surprising as really, who wants to go through the nightmare every single morning? But it's not that bad as you might have imagined. To the contrary! See for yourself!
Short Hair With Bangs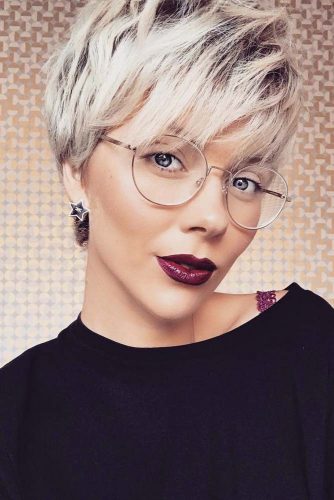 This timeless cute pixie cut is a great option if you want to have sassy short hair with bangs. The addition of the bangs really draws attention to the eyes. This is a fun cut that looks great even if you decide to forego the bangs option. With its ease of maintenance, it is simple to understand why it is among the best hairstyle ideas for short hair. There are options of side swept bangs, full bangs or if you really enjoy taking things to the limit, even a micro-fringe!
Source: prozhanna via Instagram
How To Style Short Hair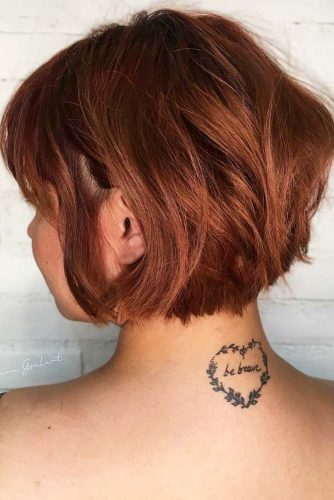 There are several ways how you can learn how to style short hair. Whether you choose straightening, curling or even going for the natural option, you can style your cut to suit almost any occasion. Although there are several types of short cuts, the bob involves some of the cutest short haircuts you can get. The versatility allowed by the bob is unmatched with the shorter pixie cuts. You can modify the bob to suit formal occasions, as well as everyday wear. This style has also become extremely popular with the messy look.
Source: maygovintage via Instagram
Textured Pixie For Older Women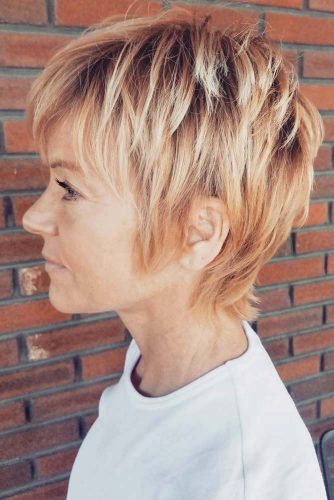 There are several short hairstyles for older women that are both elegant and eye-catching. Often women, as they age, begin to experiment with various hairstyles to distract themselves from the aging process. Women decide that they want their hair to be both beautiful and low-maintenance, so they opt for shorter hairstyles. The pixie cut, pictured above, is one of the best short haircuts for older women due to its ability to be easily maintained and its simplicity in styling process. Just towel dry, apply your desired hair products and go! You can blow dry if you prefer, but it isn't necessary.
Source: melistarr via Instagram
Side Parted Blunt Bob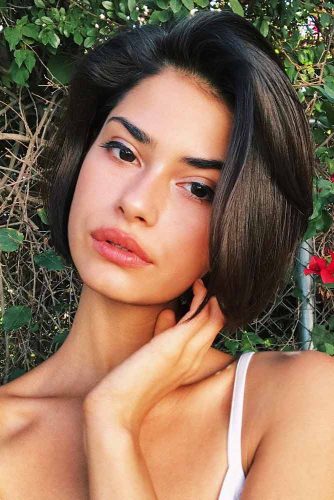 If you're looking for a wash and go hairstyle, then the bob with a side part is the cute short haircut you want to pursue. It is important to have the right hair tools, including hair products, to achieve the look. The blunt bob, also known as a straight-across cut, is an increasingly popular choice among women of all lifestyles today. Whether it is a formal or a casual occasion, this hair style will do. You can also obtain various looks with this cut by wearing it straight or curly or anywhere in between.
Source: hannahkleit via Instagram
Angled Short Bob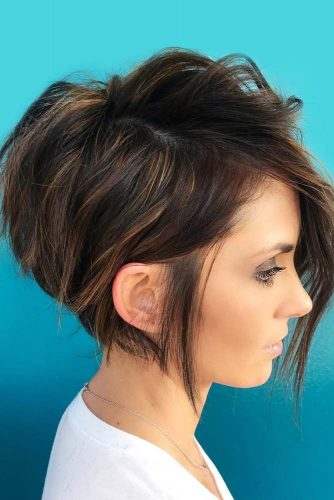 This beautiful angled bob hairstyle is a pristine example of the short, edgy haircuts. The various lengths add both volume and bounce to this hairstyle. The lifted silhouette on the back of the head and longer short tresses add a touch of class while keeping to the expectations of the modern society. This hairstyle can be wild and care-free with a messy look, or it can be tamed down and sleek. Among the short hairstyle trends, the bob is a go-to for a new hairstyle. This style can also be altered in various ways to add a more intense level of depth. Whether you choose to taper the cut or to shape the ends, it gives a fresh and stylish look to the hairstyle.
Source: shmoakin_hair via Instagram
Braided Updo For Short Hair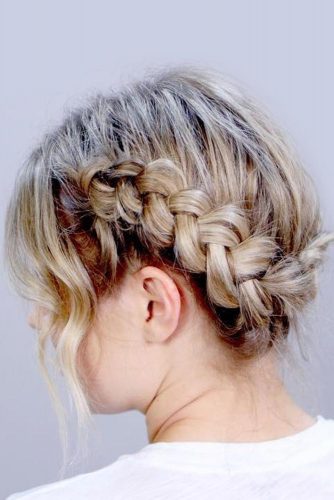 We know the struggle of finding options for updos for short hair. Updos are very popular for more formal occasions but can often be challenging for women with short hair. There are some updos that work better for lighter or darker colored hair, depending on the style. There are short hair ideas that vary from messy to sleek. Even if you have hair that is thin, you can use the trick of backcombing and tucking, which will cause your hair to appear much longer and thicker than it really is. If simplicity is what you seek, the braided updo is for you. Two sections of hair, a couple of hair bands, and a few hair pins, and you appear as if you've spent hours securing your hair into this classy style.
Source: milabu.co via Instagram
Long Pixie For Thin Hair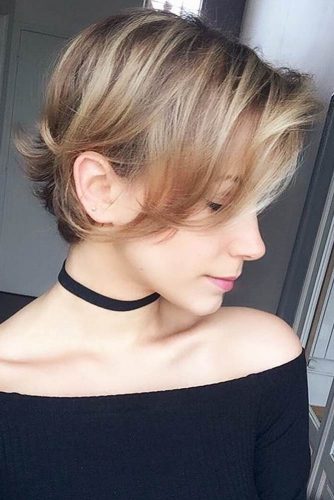 This photo of this haircut must be among our favorites in the cool haircuts category. The color that has been added does a phenomenal job of accentuating the lines of the cut and thus making hair appear fuller. If you look closely, you'll see that this pixie also has a 3-dimensional effect due to the seamless, softly added layers. The flexible length of this pixie makes it one of the best short haircuts for summer. Its styling options allow you to be stylish and sexy as well as cool and comfortable. Another summer splash is color options which will add a fresh look to your summer cut.
Source: cabelocurtobr via Instagram
Rooty Blonde Bob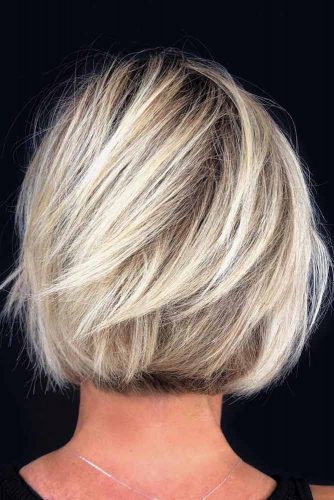 If you're ready to go short this summer, we have the options for cute haircuts that you've been looking for. With the high demands of women these days, it is understandable why women are in search of an easy hairstyle for short hair. Whether you think about getting a pixie, bob, taper or another type of cut, you can add flair by getting bangs or adding curls into the mix. There are plenty of ways to go short this season and still turn heads. Join the short hair don't care crew and stay cool this summer.
Source: chrisjones_hair via Instagram
Platinum Balayage On A Bob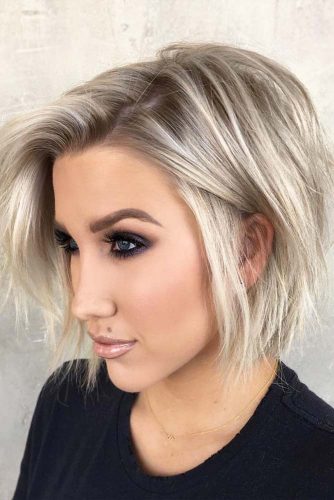 If you've fought the battle of thin hair, you have most certainly explored your options of the best short haircuts for thin hair. There are several cuts that can volumize your thin hair with just a swipe of the seemingly magical scissors. Not only will you have more volume the texture added to your hairstyle, you will transform it in a way you didn't think was possible. Not only are the short hairstyles cooler but they are also bringing along an easier way of life. With one of the easy hairstyles for short hair, you are sure to have a little more free time on your hands for other important duties.
Source: hairby_chrissy via Instagram
Braided Bob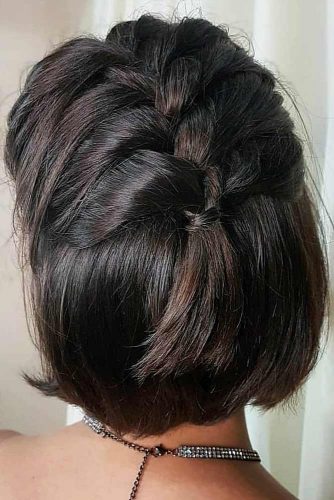 Just 'cause you have short hair doesn't mean you can't have gorgeous braids for short hair. Even short hairstyles can rock the prettiest of braids! If your hair is too short to pull back, there is the halo braid option. You can also combat the awkward in-between grow out phase by braiding up your longer locks. Don't forget to incorporate braids into your best short haircuts for spring list. There are also braids that are suitable for both formal and casual occasions. Whether it's a sleek updo braid or a messy braid, both options are appropriate for multiple occasions. Try your short hair braids today!
Source: dicasdecortes via Instagram
One Of The Best Short Haircuts For Fine Hair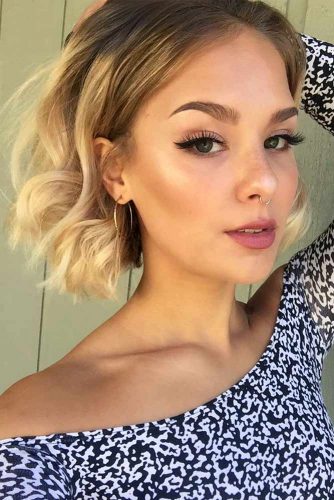 There are many options to pursue when considering the best short haircuts for fine hair. I would almost bet that you've never thought of using the words silky, delicate or feminine to describe your fine hair. The short styles are best to deal with the fine hair issue. With the short hair being easier to maintain due to longer hair often appearing limp and unmanageable, it is most popular among women with fine hair. From Mohawks to waves, the short styles are as numerous as you can imagine.
Source: michealaxanne via Instagram
Short Wavy Bob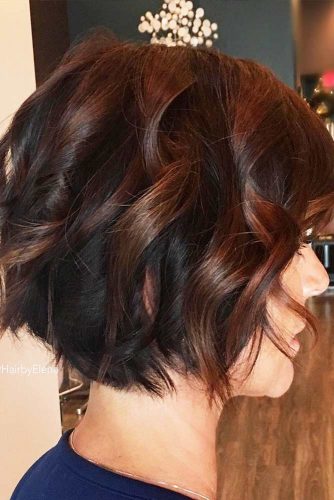 If you are a woman with sleek straight hair, then you are envious of the women who have those natural short wavy hairstyles. If you have curly or wavy hair, you view those waves as a curse. And many women who pay big bucks or endure a lot of tedious hours in front of the mirror to obtain what they see as a blessing you have naturally. Some women with wavy or curly hair hesitate to cut off their tresses due to potential stressful styling issues. Once they take the leap, they are most often glad they did. Ladies short cuts are popular today with splashes of color for added effect, as well.
Source: hairbyelena via Instagram
A-line Bob With An Undercut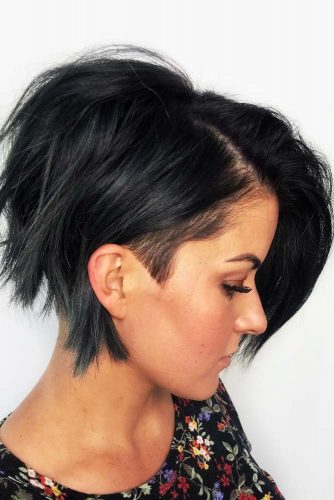 If you really want to turn heads with an edgy hairstyle, add a short undercut to your list of options to try. Even though these styles may be a little on the extreme side, they are still very feminine and stylish. If properly managed, they can still work for almost any occasion or setting. The undercut is highly popular among short hair cuts for women. And it has adapted to a broad range of options varying in levels of extreme. Your hair type can play a major role in the type of short haircut you should acquire, as well.
Source: shmoakin_hair via Instagram
Layered Long Pixie Hairstyle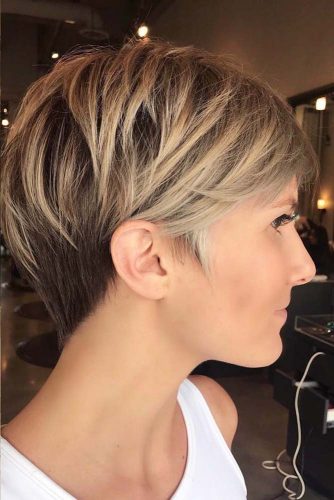 Short layered hairstyles are all the rage in the hairstyle industry today. Whether you are going for the sweet, sassy or sultry look, it can be obtained with the layered cut. Short layers to long layers, either can be adjusted to suit any age, young or old. There are also styles that range from messy to sleek to work for any occasion. If you wish to add texture to your hairstyle, then short layers are the answer for you. Diversity is certainly an option with this chic hairstyle.
Source: shannonrha via Instagram
Blonde Balayage On A Shaggy Bob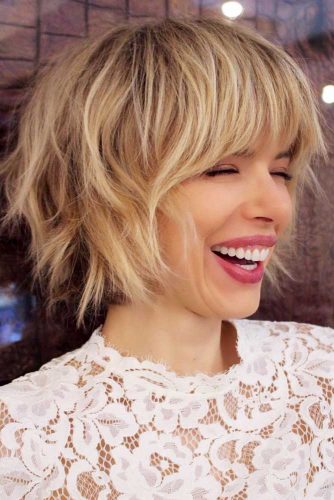 If you're ready to kick your hairstyle up a notch or two, then jump right into the short hairstyles with bangs option. Whether you opt for side swept or micro bangs, they add a certain attitude that simply can't be ignored. These short hairstyles are full of options to keep you interested, but the most sought-after option would have to offer the ease of styling. There is a plethora of easy to manage short hairstyles for fine hair, and that is what makes them so desirable.
Source: mrdanielmartinez via Instagram
Pretty Ladies Bob Haircut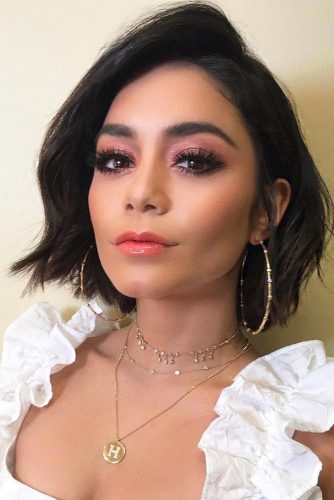 Every woman is in continuous search of new pretty hairstyles to try out. Whether you choose your basic pixie cut or a cute bob option, there are plenty of options available to find your perfect style this season. Ladies' best short haircuts range from edgy to sleek and sassy and are continually evolving to an ever-intriguing level. Expand your horizons in the hair industry and step into a brand new you this season.
Source: vanessahudgens via Instagram
Wavy Layered Bob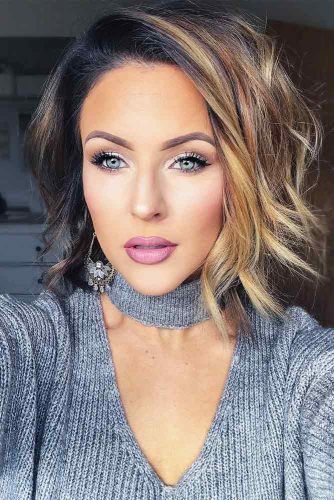 Layered hairstyles are the magic that women can't deny. They give body to our hair, making it look well-groomed and sophisticated. Each layer plays its own, important role in your look, saving your weak and thin or uncontrollable and thick locks. Short layers give more texture and movement, while longer ones create the fullness you can see in this pic. And when such beauty is paired with waves, nothing is more attractive than this voluminous look.
Source: nicole_huntsman via Instagram
Messy Bob With A Deep Side Part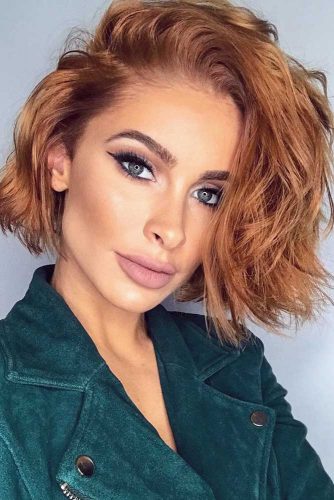 Messy silhouettes add more body and life to our hair. Some women even think that they're salvation for their thin locks, as this messiness makes all the hair troubles less visible. Actually, the shorter your hair is, the more attractive it looks: the layers are more textured, waves are more bouncy, locks are more voluminous. Just look how stunning you can look once you spray your hair with sea-salt spray. Let it air dry, and style it to the side. Yes, that's worth a shot.
Source: ellie_gonsalves via Instagram
Side Parted Wavy Pixie With An Undercut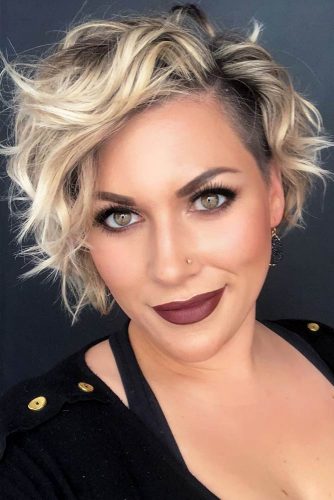 This idea is meant for bold women who are not shy to be different. It shows that pixies not only open up your face, but they can also create a very dramatic and wavy look. How do you like the contrasts of lengths? The clean shorter sides that are partly hidden by the messy waves of your side-parted pixie. If you show up with such a hairdo, be ready for the most flattering compliments.
Source: carmenjayelove via Instagram
Layered Messy Pixie-Bob With Rose Highlights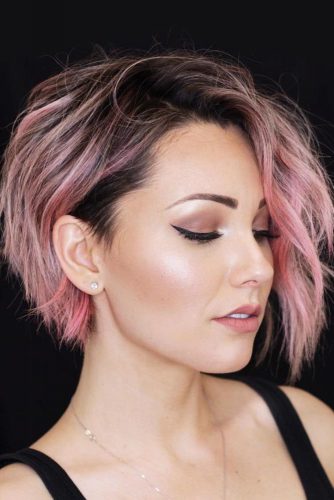 You already know how powerful messy silhouettes and layers are. So how about you reveal their beauty by getting yourself a seductive pixie bob? This cut gives you a bit asymmetrical body, adding more volume to the crown. As for the color, these subtle rose highlights that roughly transit to darker roots can spice up any haircut, and yours won't be an exception.
Source: chloenbrown via Instagram
Undercut Pixie
Source: nothingbutpixies via Instagram, bymaggiekime via Instagram, alemhm via Instagram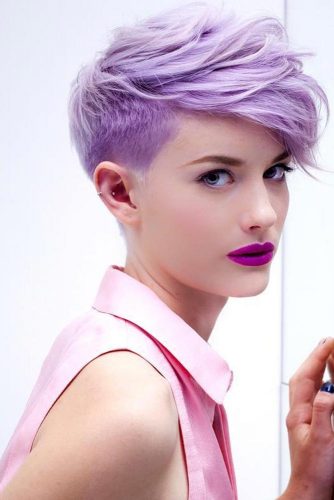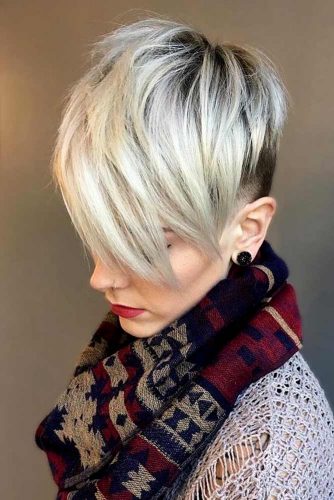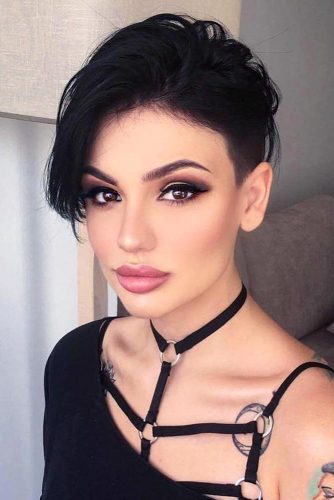 A pixie is a perfect choice for women who do not lack self-confidence. But an undercut pixie will work for the most daring only. Show 'em all how wild you are! Plus, in case you hate spending much time on styling your tresses every morning, one of these haircuts will work great for you. Just wake up, wash, and then go! Your hair already looks perfect. And as you can see, pixie haircuts are quite versatile when it comes to the color choice. You can look awesome whether you opt for a more natural or a super vivid hair shade.
Short Pixie
Source: monicaprusa via Instagram, alexandra_anele via Instagram, ema_aydin1 via Instagram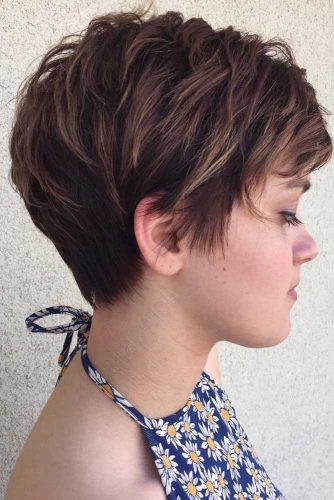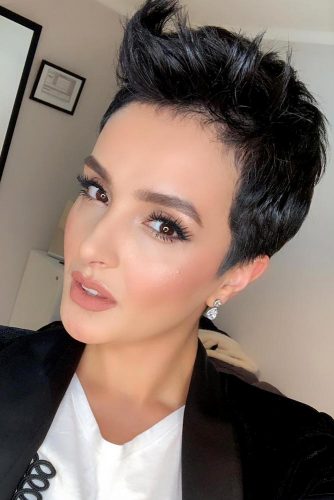 A shorter pixie looks pretty cool, and that is why many women, including fashion icons, choose such cuts. Plus, you won't have any difficulty in styling it in the morning. If to think about it, really, what can be less maintenance than a shorter pixie? These choppy best short haircuts appear fun, bold, and cool. Just pair this haircut with the most flattering color, and you will get the look that is maximum effect and minimum effort.
Long Pixie
Source: hairstylesimages, jamieeasonmiddleton via Instagram, juliadalavia via Instagram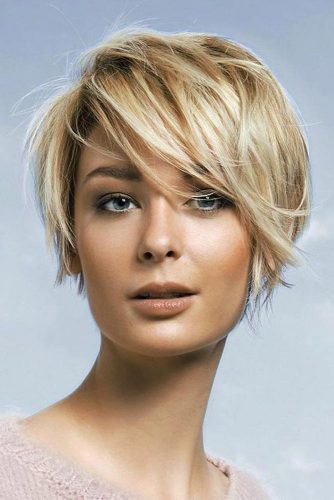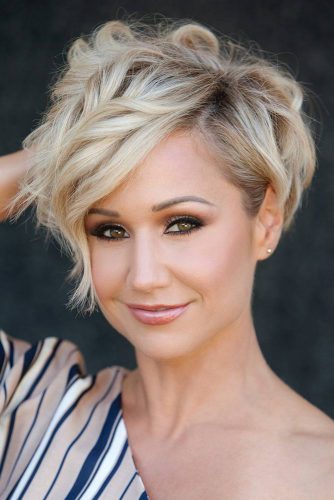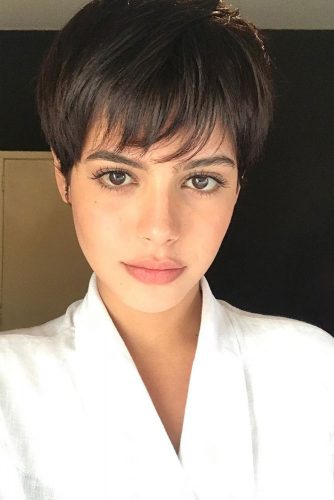 Keep your pixie on the longer side if you wish to appear more sophisticated. Being a layered cut, the longer pixie will work great for fine hair, providing the necessary volume even without any styling product.
But if you do wish to go for some styling, the longer length allows for many options. From sleek and straight looks to wavy and feminine hairstyles, the pool of choice is quite large here. Plus, you can always add some sassy texture with your favorite texturizing gel. Several drops will change your look in a dramatic way!
Layered Bob Style
Source: rochellegoldenhairstylist via Instagram, krissafowles via Instagram, anhcotran via Instagram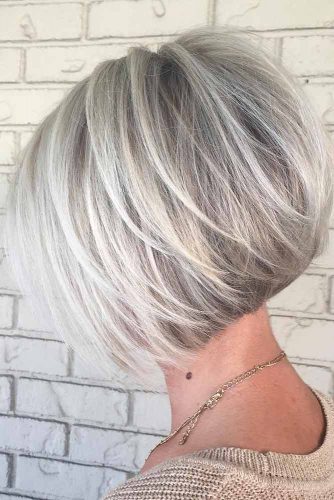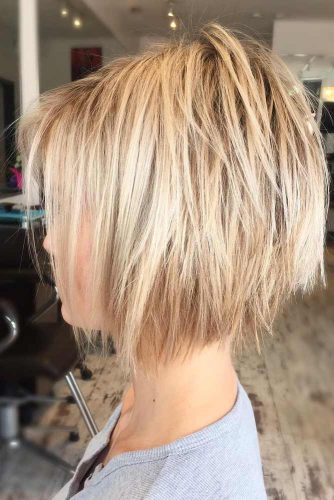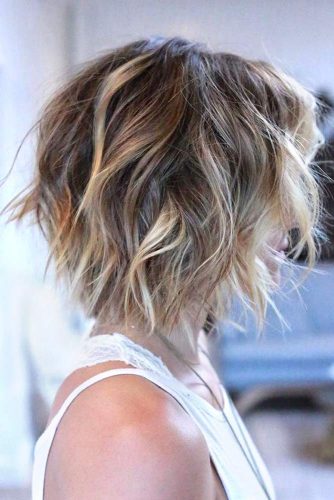 A layered bob haircut can grant you the look desired by everyone these days. Opt for this cut, and you will appear fresh and rested, as if you just spent some luxurious time at a resort.
There are many finishes available, which means that you can find the perfect layered bob for your hair type. Overall, layering makes the bob more up-to-date. Plus, these haircuts are not high maintenance.
Maybe that is why celebs who are often spotted on the red carpet opt for layered bobs. These haircuts offer you a huge variety of styling choices, from sleek to textured and tousled to wavy, etc.
Angled Bob
Source: xostylistxo via Instagram, petermenezes via Instagram, salsalhair via Instagram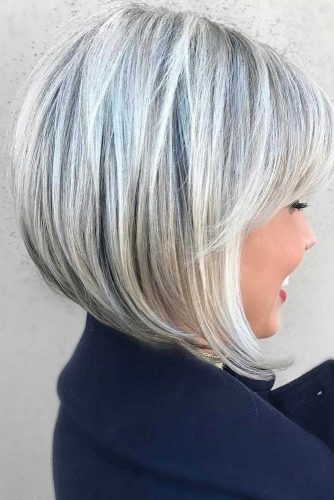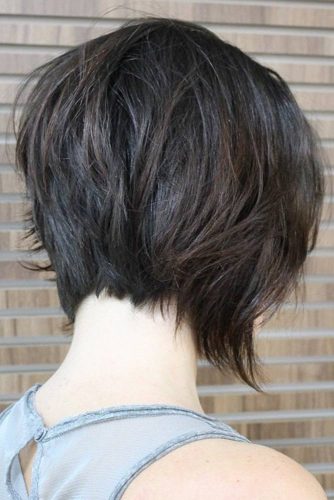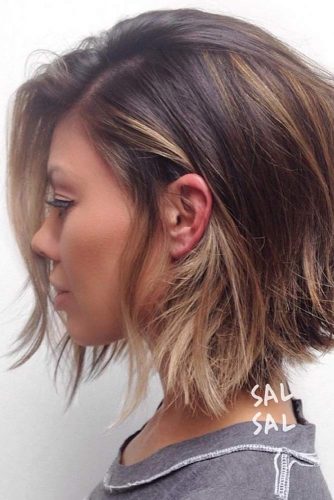 Hair stylists point out that an angled bob is quite a versatile haircut. Why? Because you can wear it the way you wish: wavy or straight, sleek or messy, and look chic. And these beautiful shapes that are peculiar to angled bobs can be easily enhanced by various colors.
To get a bit tousled, carefree look, start with washing your tresses and applying some texturizing product while they are still wet. You can replace the texturizing product with heat protectant in case you wish this hairstyle to appear more natural and less edgy. Proceed with blow-drying your tresses, styling them with a medium round brush. Finish with medium-hold hairspray, and you are ready to go.
Bob With Bangs
Source: cutyourhair via Instagram, hair.roullete via Instagram, terrajonah_atjuansalon via Instagram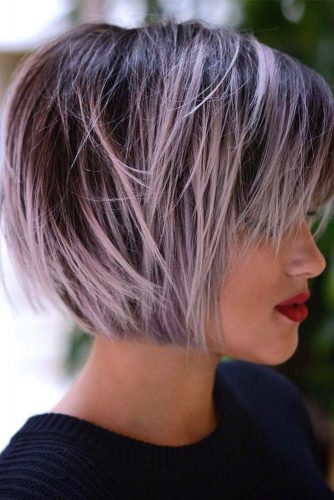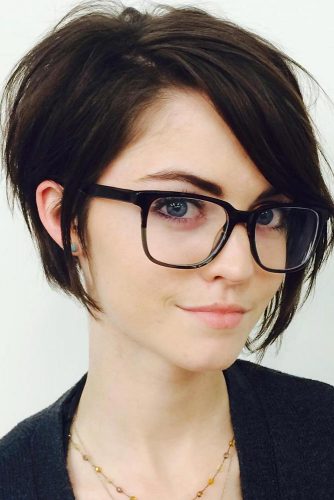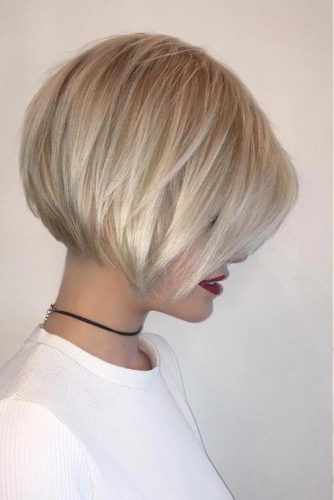 Tell us, who doesn't love a chin-length bob with a bang? This haircut is especially flattering for those who have defined cheekbones and would like to accentuate them. Plus, this cut can grant more texture to your tresses.
You should opt for a chin-length bob in case you would like to enhance movement and add some fullness but without adding curls. Just look at these super hot hairstyles. These color variations appear especially up-to-date. These looks will be appropriate for a day at the office and also for a night out on the town.
Short Hairstyles For Wavy Hair
Source: hairbykatlin via Instagram, Anhcotran, ellarow.com via Pinterest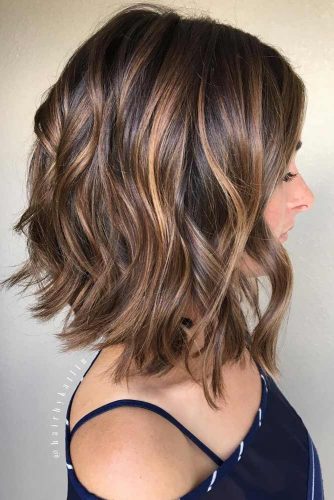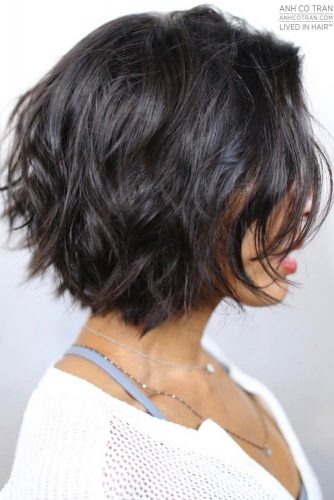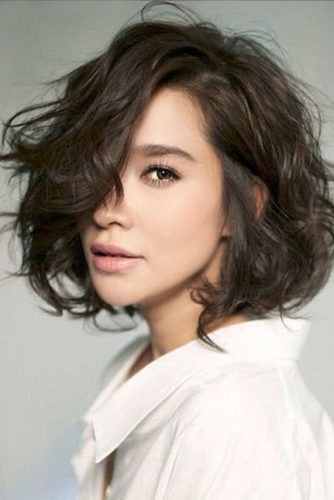 If you have naturally wavy hair or prefer waving it, you can still pull off a shorter cut. Waves will add body and movement to your pretty tresses.
Just wash your tresses with moisturizing shampoo and then condition them as usual. Towel-dry them a bit. Next, apply curl enhancer – pick the brand you prefer, but it is advisable to use products that also offer heat protection. Thus, you will not only wave your tresses but keep them shiny and healthy, as well. Blow-dry your tresses, tousling them with your fingertips. Finish with hairspray, though this step is optional because the curl enhancer normally allows for extra hold.
Short Hairstyles For Curly Hair
Source: parrucchieridelcorso via Instagram, hairbymelb via Instagram, thereallialovee via Instagram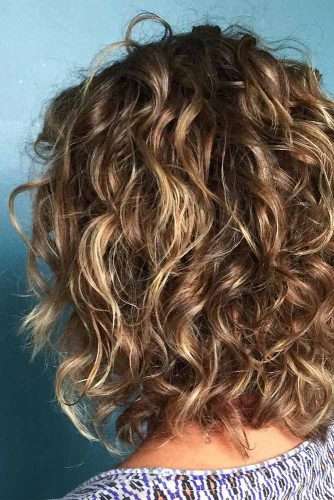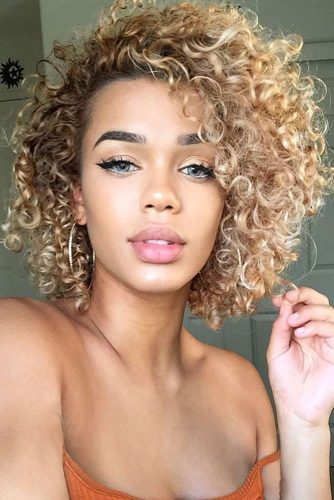 The volume that curly hair can give a short haircut has no rivals. You will need no styling product to boost the volume sky-high! But if you do not have naturally curly hair, you can always get it. Today there are many curl boosting products available for every woman who wants to rock curls. Also, heat appliances will come in handy to achieve the most gorgeous curls ever. Just use them with precaution, that is, do not overheat your tresses. But if you wish to get curls heat-free, you can always use good old hair rollers. It might take more time to curl your tresses with them, but they are your safest option.
Braided Short Hairstyles
Source: shelbyweatherholtzhair via Instagram, louiseroe via Instagram, hair_by_pelerossi via Instagram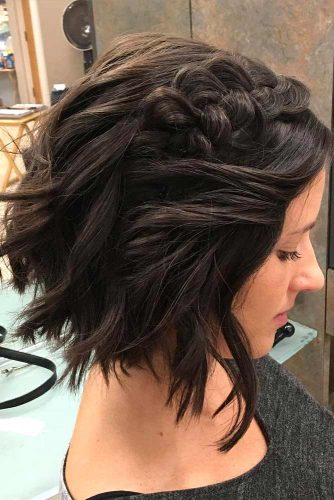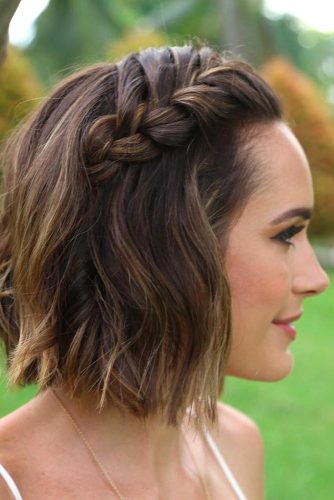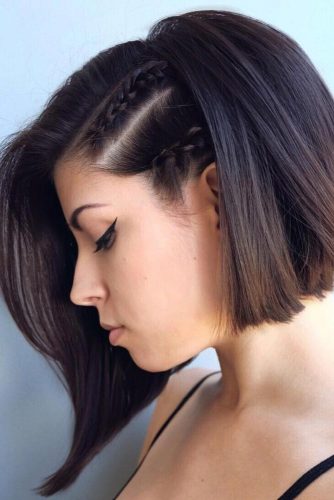 Are you into braided hairstyles? A braid can be a pretty embellishment to many haircuts, even if they are not that long. Will you add it to the top or to a side?
Well, actually, there is a big number of ways how to incorporate braids into the best short haircuts. We just picked several cute looks for your inspiration. Pair your braid or braids with sleek or tousled loose tresses, depending on your preferences and the effect you wish to achieve. Would you like your hairstyle to appear more natural or more glammed up?
Half-Up Hairstyles For The Best Short Haircuts
Source: the.blonde.chronicles via Instagram, ryohei_katayama via Instagram, sarahpotempa via Instagram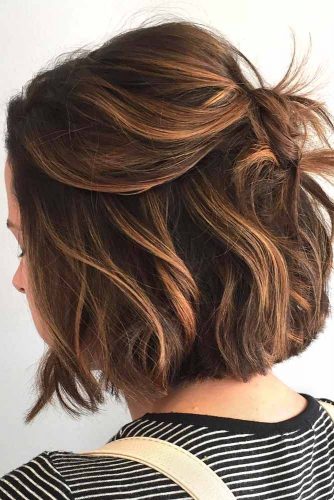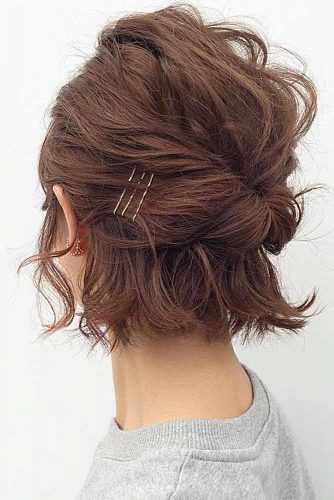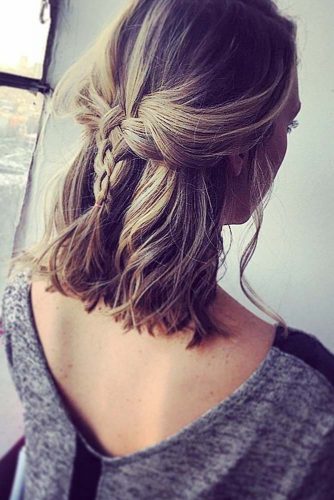 Opt for a half up short hairstyle in case you would like to open your face. The best short haircuts you can observe here can add some carefree vibes to your image.
Half up braided hairstyles can work great for babes who have busy mornings but would like to look nice and all-polished during the day. The best thing about these hair styles is that they can be easily styled even by babes who are not excellent at styling. Really, you do not have to spend days to practice these pretty hairstyles and sharpen your skills. Several times will suffice for the greatest results.
Straight Bob Best Short Haircuts
Source: gulevich.vladimir via Instagram, rochellegoldenhairstylist via Instagram, cabelocurtobr via Instagram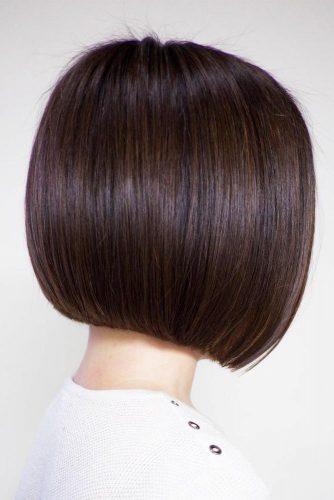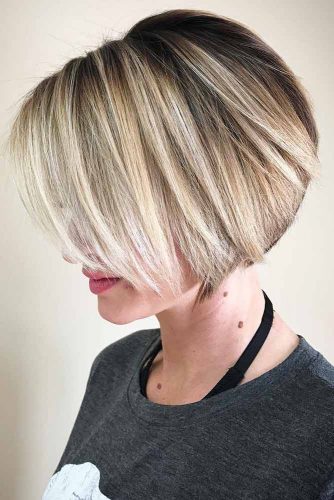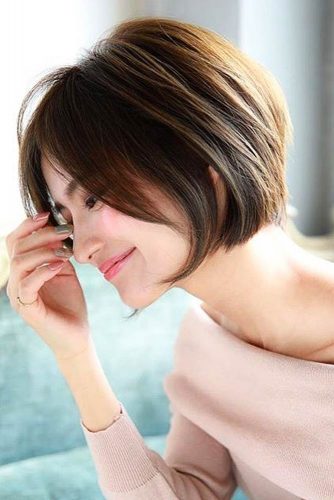 Straight bob best short haircuts are back in town! Unlike their messy compatriots – straight bobs are the ones to relieve you of the pain of time-consuming styling and such. All you need to deal with a straight bob is your naturally straight hair and a little bit of help that a hair straightener can provide. As simple as that! But the variety of choices is still huge so that there will always be something to win your heart for sure!
Simple And Trendy: The Best Short Haircuts
Source: roxyhorner via Instagram, riawna via Instagram, natalieannehair via Instagram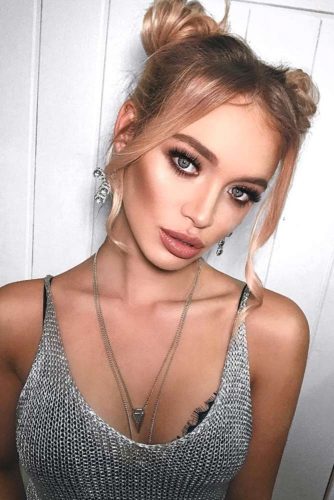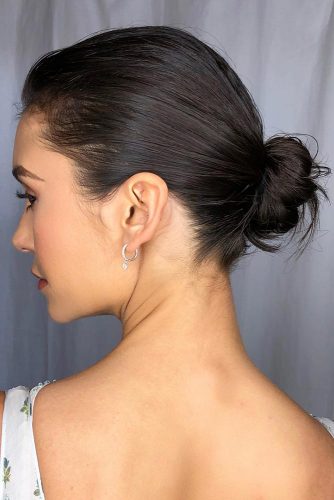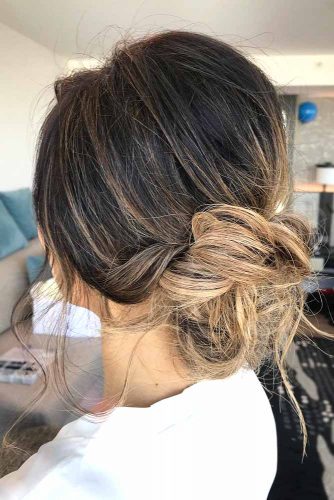 It's not a secret that sometimes we are too lazy for complicated hairstyles. The truth is that easy hairstyles can be even more adorable than you expect. Simplicity never fails, remember? Two twisted buns with wavy front locks can be a good choice for a lovely walk with your friends. If you are into minimalist style, you can try a simple middle part low bun: it keeps your face open, showing how feminine you are. You don't have to spend all day to look beautiful, nothing can hide your natural charm. Are you looking for a perfect hairstyle to look impressive on your first date? A low messy bun with a voluminous crown will literally take minutes to beautify your big day.
See? Easy hairstyles are incredibly versatile. Pick one of the best short haircuts from this gallery! Discover other interesting topics on our blog!