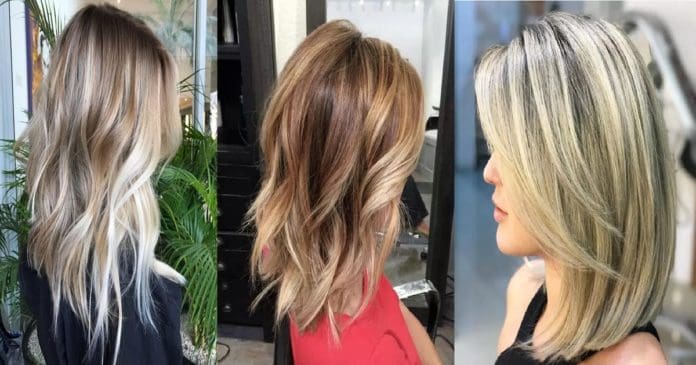 Medium Hairstyles for Women – New and Popular Ideas
In the gallery below you'll find everyone's favorites – hairstyles we come across looking through popular hair and beauty blogs. There are also some fresh ideas, you'll be tempted to try. Thick, straight hair needs a little shaping and direction from the cut to become truly low-maintenance. Softly blended French bangs (angled bottleneck bangs that graze the eyes and cheekbones) pull the look together, while short layering at the ends tapers the fullness of thick hair for a less bulky look. This softly shaped cut has the style built in with purposeful layers and flattering bangs, so it's a great candidate for air drying and minimal styling. We love how this cut looks on all face shapes, and it's especially great on round and oval faces.
#1: Caramel Balayage Bob
Not eager to chop off a lot of inches? Angled bobs like this one fall on the longer side of medium, especially at the longest point of the angle. Furthermore, bobs are universally flattering, ideal for women of any age, with any hair length, or hair type.
#2: Bobbed Volume with Highlights
This is more of a variation of traditional bobs thanks to the layering. It's almost a shag, except that it's smooth and softly rounded, not tousled and messy. Basically, this involves just one layer of layers that bobs softly over the bottom.
#3: Long Disconnected Bob with Highlights
Gone are the days when bobs would be prim and proper. Today's bobs embrace choppy layers and modern dye jobs. One of fun hairstyles to play around with is the faded-out highlights that are a new take on the ombré style. Cut choppy layers into a long bob for the ultimate A-lister hairdo.
#4: Centre-Parted Disheveled Blonde Bob
With medium hairstyles, you can easily part your hair down the middle without it looking flat and dull. Style your locks in messy, uneven waves for an effortlessly undone vibe. Top off the hairdo with a fresh and cool blonde color to add some brightness to your hair.
#5: Messy Wavy Lob with Disconnected Ends
If you're new to the mid-length hair world, one of the best options here is the long bob. You won't have to deal with the upkeep of super short hair, but you can still enjoy the fun, carefree nature of the cut. Opt for disconnected ends to amp up the texture and volume of your style.
#6: Two-Tiered Long Bob for Thick Hair
Thick hair and shorter lengths can sometimes have a tricky relationship, but with the right layers, you won't have to worry about frizz or unwanted volume. Cut two levels of layers to shape the natural thickness of your hair and let it fall evenly and smoothly.
#7: Voluminous Messy Extra Long Bob
Medium haircuts for women lend themselves well to amped up volume or lift. If you're not ready for the traditional bob, try a lob; you can anytime go shorter if you wish so. Using a curling iron or large hot rollers, create these swooping, messy waves that will last you all day long.
#8: Medium Blonde Hairstyle with V-cut Layers
Want something a little smoother? Angled, v-cut layers look great when styled straight and will make your cut unbelievably low-maintenance. If your color is starting to look a little dull, liven your hairdo up with sandy blonde highlights mixed with a lighter shade on the top layers of your hair.
#9: A-line Blonde Balayage Bob
A-line bobs with minimal layers look super sleek, and you won't have to spend too much time styling in the mornings. With this cut, you can even prep your locks the night before by blowdrying with a round brush, so you wake up with smooth hair. Brighten up the color with a blonde balayage treatment that has hints of light brown through the roots.
#10: Lovely Choppy Angled Lob
If you want a medium low-maintenance cut, shoulder length hair is definitely the best option for you. The lob is the perfect length so you'll be able to style it in loose, carefree waves or throw in a few braids and come up with a quick pretty half updo!
#11: Wavy Caramel Balayage Lob
The lob continues to be the most stylish cut for women, making mid length hair highly requested at salons everywhere. Worn with balayage coloring, it becomes the epitome of an up-to-date 'do — soft caramel, in particular, is the perfect shade to brighten any face.
#12: Rounded A-Line Lob
If you're looking for polished hair cuts, you really can't go wrong with a rounded long bob. Keep the sections of your hair that are closest to your face longer than the rest for a nice angled yet softened shape. This also allows you to cut long side bangs to frame your face.
#13: Feathered Mid-Length Style for Straight Hair
For some, wearing hair in downdos is a scary thought because hair tends to look flat and boring. If this sounds like you, a longer mid-length cut that can easily be styled straight is the right one for you. Cut feathered layers to add extra texture, keeping some shorter ones around the crown.
#14: Medium Hairstyle with Swoopy Layers
Shoulder length hairstyles often need well-shaped layers in order to create a nice, smooth flow in your hair. For a rounded shape, opt for side bangs and swooping layers that fall right at your shoulders. You can even add in highlights for some extra dimension that enhances the dynamic effect from layers.
#15: Shoulder-Skimming Caramel Balayage Lob
Chocolate and caramel balayage adds flavor to every mane. Placed miscellaneously, the lighter streaks highlight mid length hair, bringing an extra dose of freshness and dimension to the lob. Make sure to lighten strands that fall close to cheeks for a more luminous complexion.
#16: Medium Shag Hairstyle for Thick Hair
Layers benefit dense locks and create a fundamental structure. Shag cuts work well for medium length hair, giving off the appearance of controlled chaos. Also, this 'do suits women who work in a professional environment and don't like too short cuts.
#17: Provocative Black and Blonde Bob
Experimenting with shoulder length hair, take a walk on the wild side by showing off dark roots and contrasting them with platinum or ash blonde lengths. This midi style is for bold ladies who like to capture attention.
#18: Caramel and Strawberry Blonde Balayage
Here's another example of how beautiful balayage can be for medium hair. Caramel and strawberry blend to make a gorgeous medley, great for those who appreciate unique combos.
#19: Tousled Layered Blonde Balayage Lob
An edgier take on the lob is created through layered cuts, bleached locks and tousled styles. With the said trio, your morning styling routine can be minimized, because here imperfection is the aim.
#20: Golden and Platinum Balayage Lob
There are so many medium length hairstyles to choose from, the only question lies in deciding which cut and color combination is right for you. Golden and platinum is a fresh and stylish duo, so it's a safe bet for any lady who has always wanted to see if they (blondes) really have more fun…
#21: Pretty Ash Blonde Bob with Root Fade
Natural brunettes can enjoy a cute ash blonde color as well. Ask your stylist for a light blonde shade that allows your natural roots to shine through. In order to avoid a stark color difference, go for stretched roots that subtly fade into blonde highlights.
#22: Brown Style with Bangs and Caramel Highlights
Calling all our brunette babes! Add some dimension to your brown hair cuts by subtly highlighting your base (but sticking to the same color family). Top off the new style with bangs — a sweet addition to any midi haircut!
#23: Side-Parted Highlighted Style for Thick Hair
With thicker haircut styles, you need to be careful about choosing the right length and cut for your hair. Layers will help you manage the body of your locks in free-flowing hairstyles. Highlighting the face-framing strands you also make a thick hairstyle less overwhelming.
#24: Blonde A-line Lob with Face-Framing Layers
Haircuts for women who want to keep their hair at the shoulder length work best when bangs are involved. Get a cute accent and cut side bangs that easily flow across the main stream of your locks. Add in blonde highlights to top off this sweet hairdo and style with a straightener or a curling iron — the choice is yours!
#25: Cute Medium Hairstyle with Flipped Ends
Looking for a style that's a little bit longer? Let your hair stay past your shoulders and cut long angled bangs. Textured ends can be curled or flipped up for a gorgeous style full of depth and energy.
#26: Wispy Messy Blonde Bob
For those thin-haired ladies out there, you should not be excluded from enjoying a medium-length bobbed cut. Styling your hair in tousled waves will make the ends appear wispy, creating more texture throughout. Accentuate your ends even more and make your hair look thicker with golden blonde and platinum highlights.
#27: Dimensional Blonde Balayage Bob
Finding the right hairstyles for women with graying hair can be daunting, but a good way to ease into the transition is with chunky ash blonde highlights. Coordinate the blonde shade with your layers for an interesting two-toned look. Style your hair straight and enjoy a sleek hairdo all day long.
#28: Medium Style with Long Feathered Layers
Hairstyles with longer layers and bangs are great for anyone looking for a cut with little upkeep. You can opt for no layers at all, but in order to give your hair movement and texture, try long, feathered layers. You will have a lasting hairdo that looks great.
#29: Caramel Blonde Layered Bob
Medium hair styles for straight hair also need some layers for a boost of visual interest. If you like this look, layered bobs can be done on any hair type, but suit naturally straighter strands best.
#30: Medium Hairstyle with Backswept Layers
To really get a volumized and texturized style, cut a shoulder-length hairdo with at least three different levels of layers. Use a curling iron to get your hair into the perfect wind-swept style. With colored or highlighted hair, don't be afraid to let your roots show through for added depth.
#31: Messy Chocolate Lob with Caramel Highlights
Upgrading medium length hairstyles with messy waves or curls is the ultimate go-to for busy women. A long bob won't take long to style, so you'll never have to go another day without a great hairdo. Place caramel highlights sparsely throughout your hair for pops of color.
#32: Long Tousled Lob with Root Fade
Medium haircuts for women mesh seamlessly with root fades, as both benefit the 'in-between' length. Neither short, nor long, outgrown, but still intentional, fashionable, and modern. Tousle your lob for a lovely casual look.
#33: Medium Ash Blonde Shag with Bangs
Shags are inherently a more alternative cut, and pairing it with an ashy tone takes the hairdo to the next level. Plenty of layers with razored ends and heavy bangs complement an edgier wardrobe.
#34: Medium Layered Golden Blonde Hairstyle
Midi cuts are extra sweet in golden blonde hues. A layered cut offers loads of diversity as your entire look can change depending on how the layers are styled. Curl the ends (using your flat iron or a curling wand) for a ladylike, bouncy 'do.
#35: Wavy Layered Hairstyle for Dimensional Balayage
Dimension is taken to the next level in shoulder length hairstyles like this one. Irregular waves enhance the color job and give even more depth to the highlighted hair.
#36: Choppy Blonde Bob
Medium length hairstyles for women can be edgy – who says they can't? This choppy bob is on the shorter side of medium. The uneven, deliberately jagged layers are everything, they're the highlight of the entire hairstyle. Women who are looking for a fun, youthful 'do may consider copying this cut.
#37: Straight Bronde Bob Blowout
There's just something so sleek and sultry about blown out medium cuts! The look is sharper than long hair that has a blowout. Update your favorite bob with a fresh hair color idea, like silver highlights in bronde hair, to bring it closer to perfection.
#38: Medium Bedhead Waves
Look at all that texture and body, isn't it enviable? This 'do is purposely messy, so its styling is fast but always gorgeous. The layers are subtle and long, but they still add so much movement. The cinnamon highlights are worth stealing!
#39: Lob with Face Frame Layers and Bangs
Feathered edges of the cut are excellent at making shoulder length hair less harsh and more feminine. Sparse, long bangs that start further back from your forehead are also ultra dainty!
Instagram / @caitycaatt
#40: Strawberry Blonde Bob with Swoopy Layers
Medium hairstyles work for every age group. Whatever the style, you are bound to look youthful, and up-to-date with a cut like this lob. Swoopy layers are fun and fresh — perfect for ladies who love classy and simple 'dos that make an impact!
Instagram / @theartistrysalonandspa
#41: Angled Lob with Long Choppy Layers
With a lob, you don't want to make your layers too short, or you'll have too much of a stacked shape. For those ladies with a naturally wavy texture, it's best to think on the longer side when it comes to cutting different levels of layers into your hair, but you can use an angled cut for more structure.
Instagram / @kristen.lumiere
#42: Soft Blunt Blowout Hairstyle
No one has the time to blowout their hair everyday, but with the help of this cute shoulder-length cut, you can make your styled hair last longer. A reasonable way to put highlights in your hair is to mix warm and cool shades of the chosen color for truly dimensional results.
Instagram / @by_linds
#43: Messy Angled Subtly Highlighted Lob
With medium haircuts, there are so many small details that go into a hairstyle and make it a statement 'do. For example, cutting your ends at an angle gives the style a subtle shape change that makes your locks look all the more interesting. Add caramel brown highlights to your ends to brighten the overall color.
Instagram / @davidmuzichuk
#44: Messy Textured Hairstyle with Side Bangs
If you have to deal with flat, lifeless hair, you may just not be choosing the right haircut for your hair texture. Haircuts have an unbelievable power to transform the look of your hair just with a little help of layers and bangs. Cut stacked layers and pair these with choppy side bangs.
Instagram / @tamirescorreas
#45: Shaggy Honey Blonde Lob
Take a cue from the '70s and let your loose waves hang down with shaggy layers. Amp up the cut with thin honey blonde highlights, and don't be afraid to style the hairdo in messy waves.
Instagram / @christinesilvermancolor
#46: Edgy Shaggy Brunette Bob
Medium length haircuts really allow you to play around with different vibes of your hairstyles. If you have an edgier fashion sense, why not get the haircut to match? Choose a shorter bob with jagged, shaggy layers cut throughout.
Instagram / @donovanmillshair
#47: Extra Voluminous Messy Lob
The key to waking up everyday with voluminous hair is finding a nice textured cut and a quality texturizing spray. A long bob with irregular layers will have this effect on your hair, and to get the appearance of even more lift, keep your locks in messy waves.
Instagram / @maggiemh
#48: Black Feathered Inverted Lob
If you want a cut that has an extreme angled look to it, you might like the style of an inverted lob. This mid-length haircut has layers that are much shorter in the back and slant steeply towards your face, and the result is a lovely feathered look, fairly dramatic though.
Instagram / @sidvisage
#49: Blonde Shag with Outgrown Roots
Medium length hair looks good with root growth, without your color treatment appearing sloppy too soon. With the right cut, showing roots is more of a trend rather than an evidence of a skipped salon appointment. Opt for shaggy layers to give your hair a messy, yet chic style.
Instagram / @maggiemh
#50: Blonde Lob with Long Straight Bangs
Looking for something a little bit sleeker? Try a boxed shape by cutting a long bob with long bangs that graze your eyes. Keep the look styled straight to achieve the perfect A-line bob effect. The result is a power haircut for bold women.
Instagram / @maria_fialko_v_barlyhair
#51: Medium Length Layered Bob
This bobbed cut is all about the subtle angle and choppy layers. Texture is important to carry off this kind of cut, even if it requires a curling iron or some blow dry magic. Keep the layers razor cut and tousled for a deliberately messy 'do.
#52: Medium Short Shag
Thanks to the layers and angles, this shaggy bob is both medium and short. There are all sorts of levels within this cut, which gives it plenty of movement and keeps it lightweight. It's easy to see why this is a sought-after choice for both younger and older women.
#53: Blonde Layered Bob with Lowlights
Here's a 'do that's favored by ladies on the go thanks to its effortless upkeep. Styling is a breeze, but have a blow dryer and a round brush close to hand. A spritz of hairspray will keep those feathered layers held back.
#54: Face-Framing Layered Cut
Looking for timeless medium length hairstyles for women over 40? Don't be afraid to keep it on the longer side of mid-length. Ask for layers that frame the face, just like these. Notice how the cut sharpens the chin and creates some beautiful angles to flatter the face. The soft side-swept layers in front can double as long bangs, too.
#55: Bob Cut with Wispy Layers
Medium length haircuts for women pair beautifully with ombre and balayage. Elevate the glamor of your bob with swoopy layers strewn around the coif. If you have naturally straight locks, this is a low maintenance look with a personal touch.
Instagram / @parrucchieridelcorso
#56: Long Bob with Subtle Layers
Women's medium haircuts for brunettes can be enlivened with a simple addition of light layers and color. You don't have to go crazy with all the shades of the rainbow, but just a touch of honey highlights will add depth to your dark locks. Play it up even more with subtle layers around the ends of your strands.
Instagram / @stephengarrison
#57: Warm Toned Wavy Bronde Bob
Why choose one or two shades when you can indulge in a plethora of them! Compiling a wide range of hues brings intrigue and sophistication to your hairdo and makes for a great color solution if your want to amp up simple womens haircuts.
Instagram / @kimjettehair
#58: Caramel and Blonde Blend for Messy Layers
Unevenly cut strands and ribbons of color guarantee a fuller hairstyle with movement and dimension. When styled messy-chic, an effortless girl-next-door vibe is easily achievable.
Instagram / @lookdujour_ca
Versatility is the main characteristic of many medium hairstyles for women. Playing around with length, layering, shape, and styling finishes opens up a world of chic creative hairdos. What's the best medium length look of the bunch?