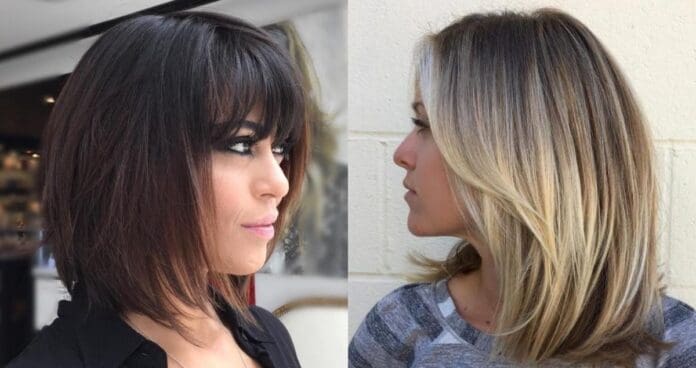 Every woman wants to look feminine and well-groomed, but taking into account the hectic rhythm of modern life, practicality is viewed as the main advantage of our everyday hairstyles. Having read this article, you'll find out more about today`s most popular and extremely universal medium length layered haircuts. You are going to be surprised at the diversity of hairstyles and coloristic solutions that can be performed on its base. And, certainly, you'll be able to find your own universal variety of layered haircut. A few simple rules to grasp is all it takes to look chic every day.
As a rule, layered haircuts look more interesting than one-length cuts, because layers offer more attractive shattered shapes that are sharper and much more versatile. A layered haircut suggests at least two layers and shorter tresses along the face, however, you can have loads of layers as well. Another question is how you'd like to have your ends trimmed, anything from blunt choppy ends through smooth subtle grades to abundance of thin and delicate feathers. Experimenting with a number of layers and finishes for your ends, you can come up with a range of unexpectedly gorgeous looks, you haven't tried before.
Whom Do Layered Medium Haircuts Flatter?
A layered haircut is an excellent choice because if flatters all women and has a wide spectrum of its execution. Girls with luxurious thick mane are gaining the feel ease and lightness with layered haircuts. Ladies with fine hair achieve the desired volume. And women with curly hair can easily structuralize their curls.
Layered Haircuts and Face Shapes
The good news is a skillfully done layered haircut can maximally bring your face shape to the ideal oval. If your face is round, the layering for the face-framing locks is going to elongate it visually. Side bangs will go fine with this type of haircut as for a long face, straight bangs, skimming your eye-brows, and out-flicked locks around your face are highly recommended. Girls with oval face shape are the luckiest. They are not restricted and can go for whatever type of layered haircut they desire, and it will look gorgeous.
Styling Tips for Layered Haircuts
This unique haircut is easy to style which is, undoubtedly, a big plus, because you can style your locks yourself at home. A layered haircut looks its best when you make an accent on the tips. You can curl the ends of your tresses with a curling iron or flat-iron your locks with a straightener. Most stylish hairstyles today feature volume at the roots that is achieved with a blow-dryer. Romantic locks slightly fixed with hair-spray are a wonderful idea of a hairstyle for special occasions.
Best Medium Layered Haircuts
Let's see all that in examples.
#1: Feathered Brunette Lob Cut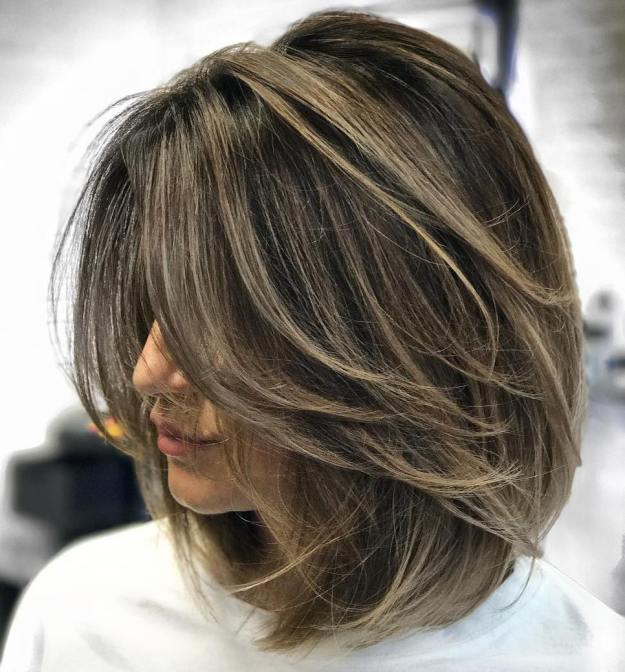 Instagram / @DEGOSTA
A feathered cut with long layers gives texture and body to an otherwise plain basic cut. Slight graduation allows for a fluid look while a great blow out showcases lots of volume and movement.
#2: Straight Inverted Caramel Blonde Lob
Sometimes you don't need a short haircut makeover to freshen up your look. Just cutting medium long layers is an easy way to do something different. A blonde lob works wonders for framing the face.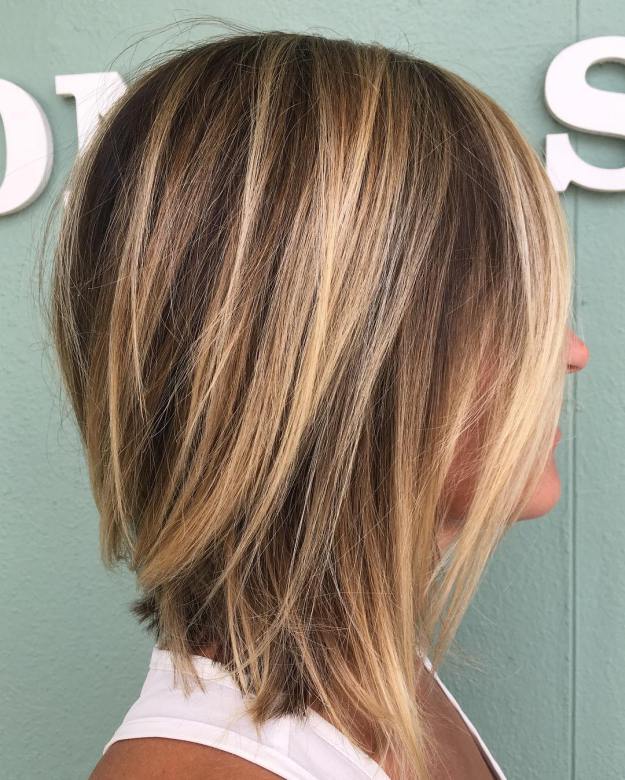 Instagram / @JACKIEANDHERSCISSORS
#3: Shoulder Length Haircut with Flicked Ends
If your hair's length is medium to long, consider spicing up your cut with flicked, choppy ends. Layers define and add interest to all hair styles, but flicked ends work especially well if you like the quick rough blow-dry styling. Thick hair types can hold flicked out layers best.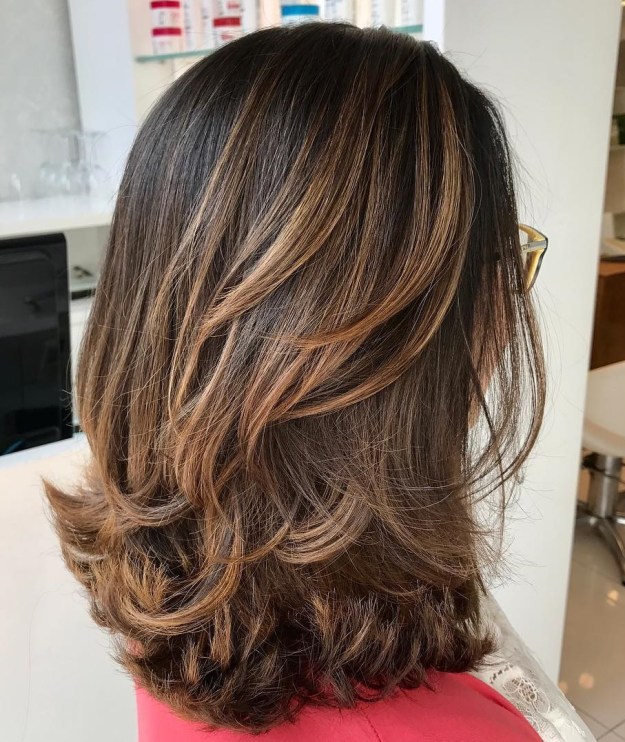 Instagram / @IDAAXENSTEDTHAIRDESIGN
#4: Mid-Length Two-Tier Cut for Thick Hair
A two-tiered mid length layered hair is an unorthodox approach to layering. This cut with shoulder length layers is an ideal choice for those who want some dimension without a fully sectioned look.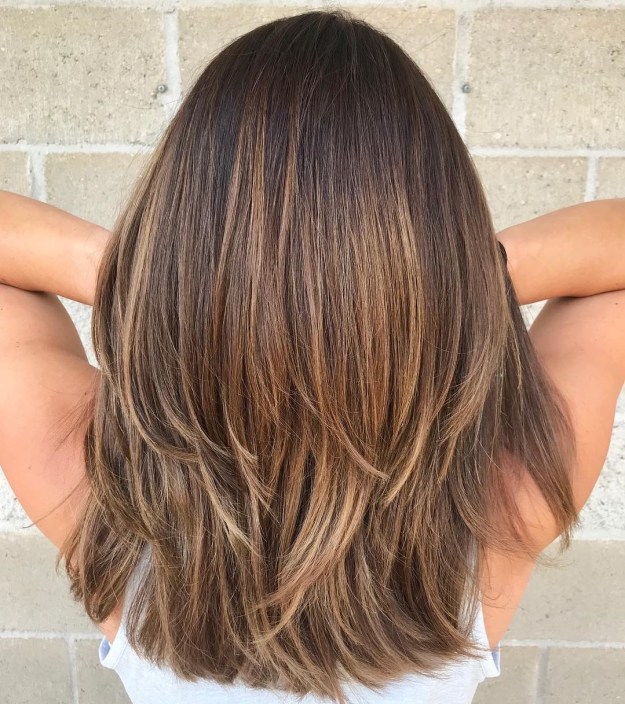 Instagram / @JAMILIA_NIKKIS
#5: Long Disconnected Choppy Bob
Medium layered hair is one of those great versatile styles. For thick hair, a choppy bob brings dimension and easy styling. For thin hair, it creates the illusion of having thicker hair. Tousle in a curl crème for wave action and add in highlights to brighten up your skin tone.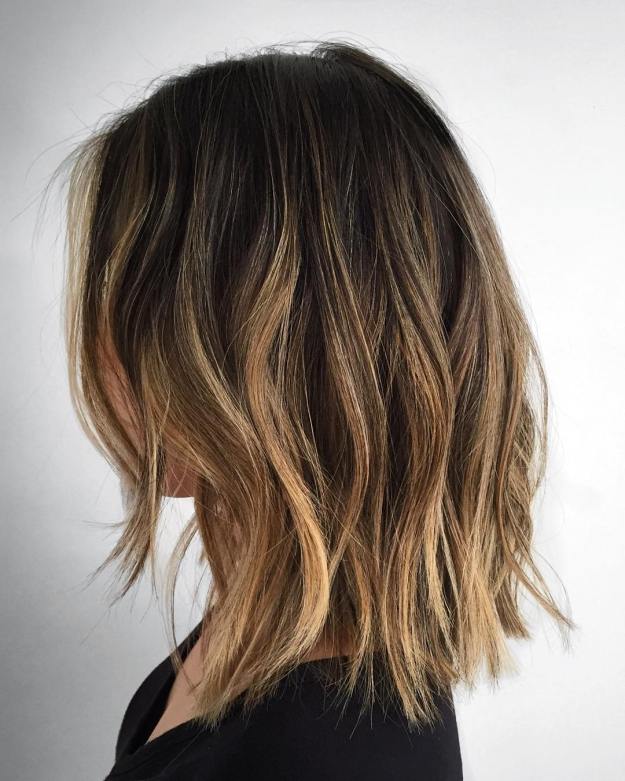 Instagram / @MIZZCHOI
#6: Straight Rounded Lob with Chunky Razored Layers
Razor cutting is a technique that stylists employ to refine sections and thin ends out. Thinner ends cause pieces to look more blended. This lob is a perfect fluent look yet with depth originating from the cut and coloring.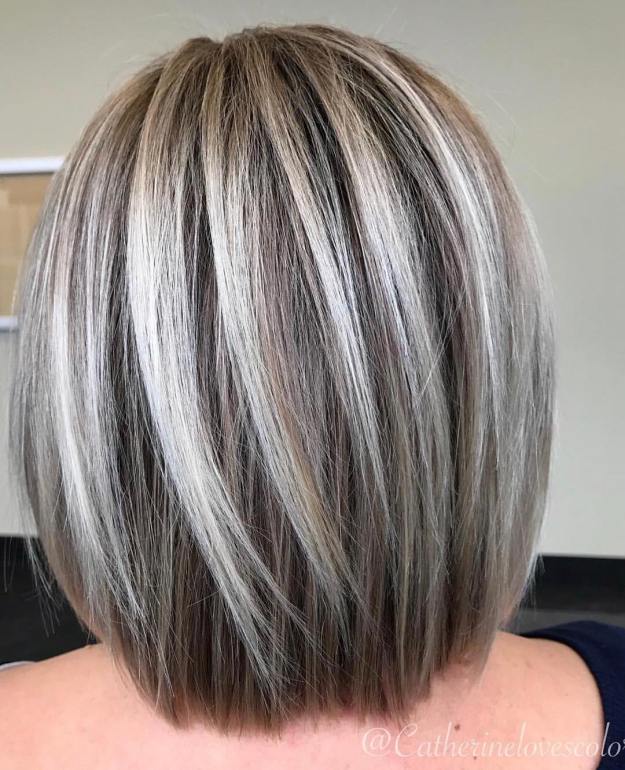 Instagram / @CATHERINELOVESCOLOR
#7: Two-Layer Feathered Blonde Cut
A feathered above-the-shoulder hairstyle is one that will never lose its popularity. Go platinum blonde a la Marilyn Monroe on a two-layer cut for a flirty and gorgeous seasonal glow-up and be prepared – people will be checking you out!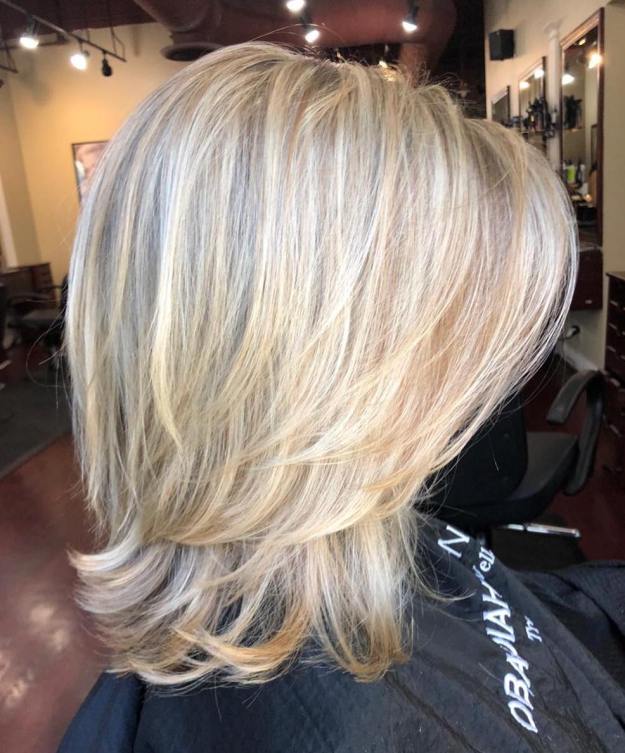 Instagram / @SUZIDO_
#8: Mid-Length Haircut With Side Layers
Layers don't have to go all over your head to add the desired dimension. A beautiful mid-length style with side layers can frame your face in a complimenting way, especially if your neck is long or your face shape is oval.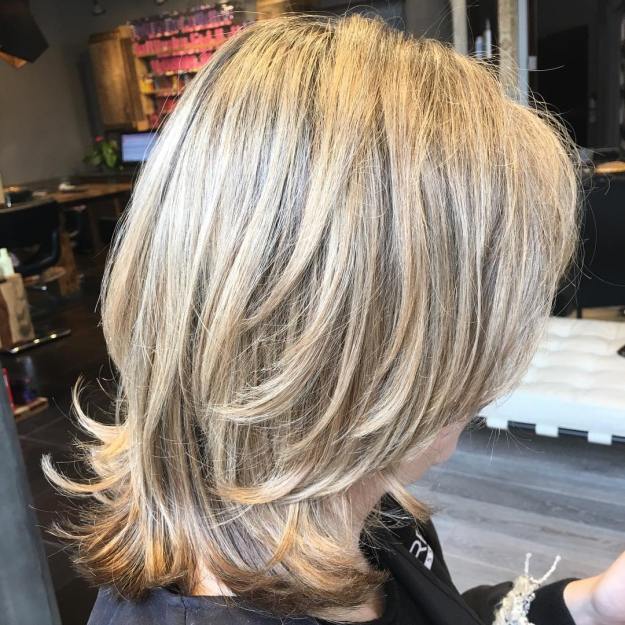 Instagram / @TONY_SHAMAS
#9: Elongated Layered Haircut for Straight Hair
The style with V-cut layers allows for more styling potential. A single length haircut hangs limp without any movement and may conceal the natural contours of your face, whereas layered haircuts for medium hair can be shaped according to your unique facial constitution.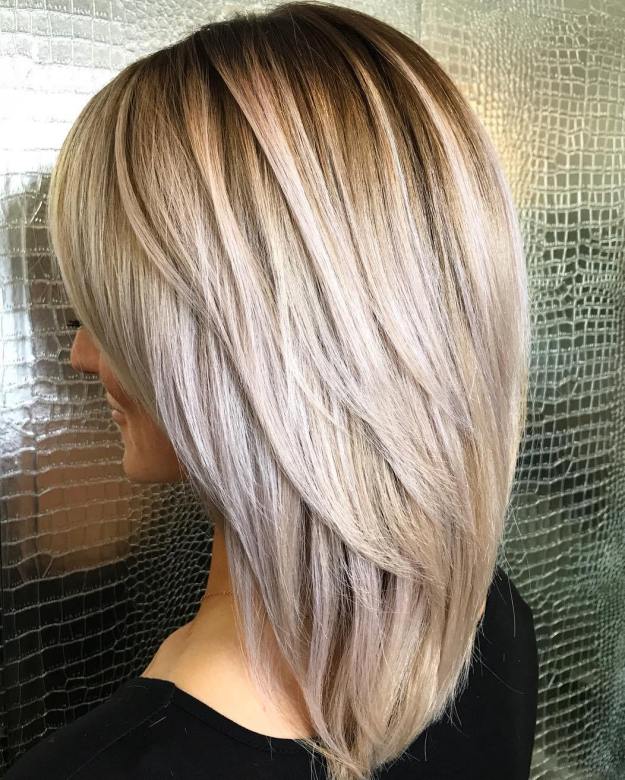 Instagram / @THE.ORIGINAL.DK
#10: Medium Messy Feathered Cut
Face-framing highlights are youthful and imitate the natural bleaching from the sun during summertime. Match this with a tousled style to achieve an effortless-looking ready-to-wear hairdo.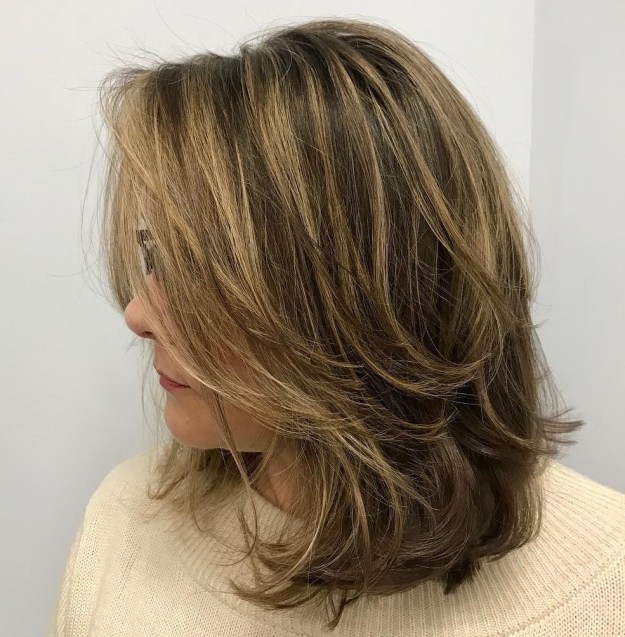 Instagram / @EMWITZ73