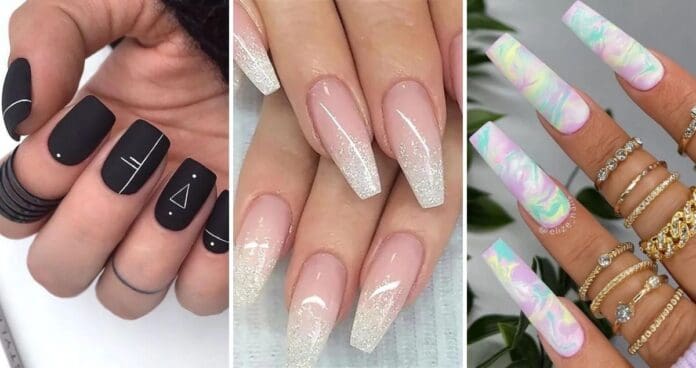 Nail art is a great way to have fun and express yourself. These can be the colors of your choice and the patterns or patterns you like the most. Maybe you want to declare to the world that you are a strong and confident woman with the motto of female power? Or maybe you want to show off your playful side with a fruity manicure. If you prefer a more minimalist approach to nail art, then a classic French manicure that can be worn everywhere is your favorite. You can also use colors like baby blue, olive green and lavender for a beautiful manicure that will look good with just about anything. Great nails will lift your spirits, so keep reading to find inspiration for your next look.
1. Daisy Art Nails
Chamomile nail art is a beautiful and easy way to try out floral details. The flower is associated with innocence, love and purity. The great thing about these colors is that they have a basic shape that is easy to replicate. It can be worn on nails of any shape and length, and you can also experiment with different base colors, depending on how bold and bright you want to make your manicure. For a soft and comfortable look perfect for every day, stick with muted tones like nude, light pink or clear polish. Paint the base color with a more saturated shade if you want the manicure to look summery.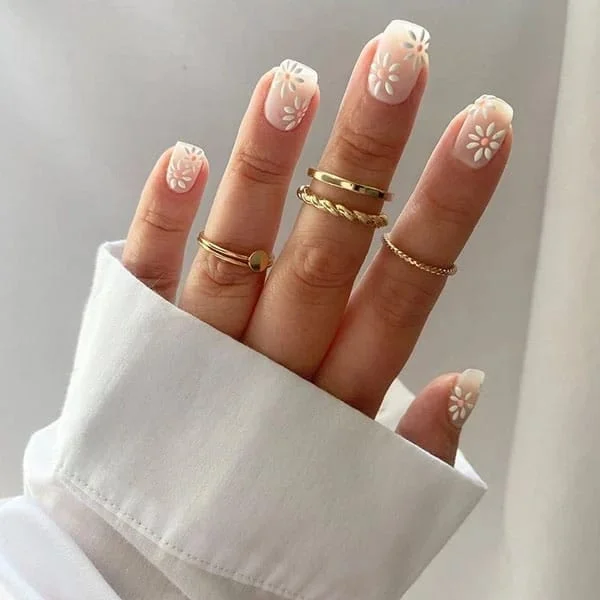 2. White and Gold Nail Designs
White nails are timeless and chic and can be worn all year round. A bright shade demands attention and can accentuate the shape and length of your nails. The beauty of white nails is that they can be combined with other details for a more unique and interesting result. Perhaps you want to add gold; Gold details can give your nails a luxurious look, and the two colors go well together. How you choose to add gold to your nail art is up to you; a few examples include simplicity, drawing geometric lines, accentuating a distinctive nail, or using gold for a modern take on classic French tips.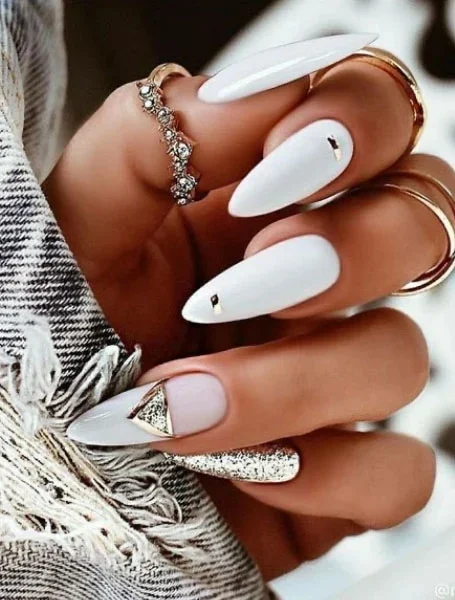 3. Baby Blue Stiletto Nails
Stiletto nails are sure to make themselves known. They are long and very feminine and can elongate the finger making them a good choice. The shape will draw attention to your hands with its length and very sharp tip and will complement even the simplest nail art. If you're looking for a great color for 2022, look no further than baby blue. This soft, muted shade is lovely and dreamy and will look good on most skin tones. It's very wearable, plus it's often associated with calmness and serenity, so you'll love looking down on your hands; it can also be a reminder to take a deep breath and take time for yourself.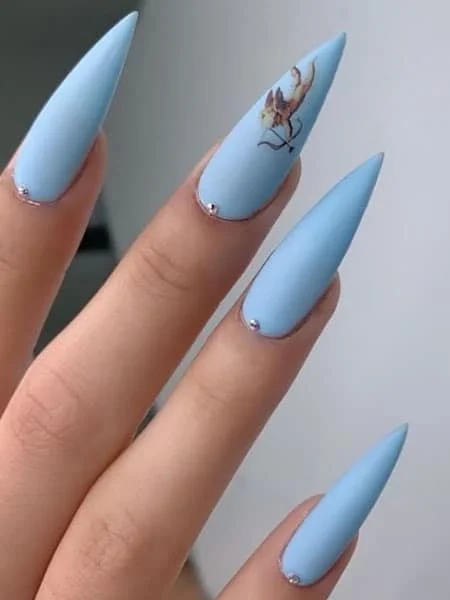 4. Squoval Nails with Geometric Nail Designs
Geometric patterns are a great way to achieve a fantastic manicure with minimal effort. They are created using shapes, angles and patterns and often have an abstract look. They can be made in a wide variety of colors, from bold and contrasting hues to muted tones that complement each other; your choice will depend on your preference and how much you want your nails to stand out. The eternal choice is a monochrome color scheme, such as black and white. It's also easy to mix and match with your outfits. When choosing a shape, pay attention to oval nails. They are versatile and look good on both long and short nails. It's also one of the strongest and most durable forms, making it ideal for those who want a manicure that doesn't require much maintenance.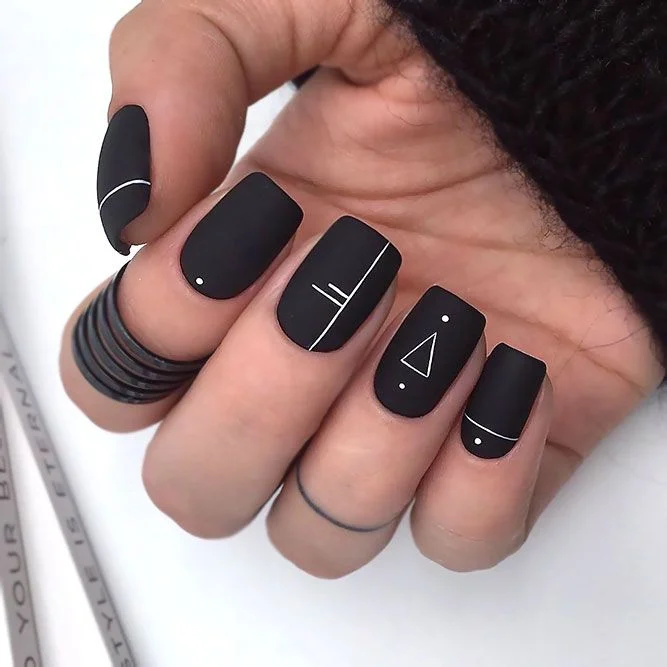 5. Aesthetic Nails
Lilac is a beautiful shade of pale purple that is great for everyday wear. The beauty of this color is that it is a subdued tone, making it extremely versatile and well-suited for all occasions, including formal occasions. Color is also associated with youth, romance, and innocence, so your manicure can subtly comment on your thoughts and feelings. It looks great in combination with other soft colors, white or nude. You can create a unique manicure by adding nail designs such as hearts or flowers and experimenting with different finishes. A matte polish will give your nails a flatter, smoother look, while a glossy polish will give your nails a sheen.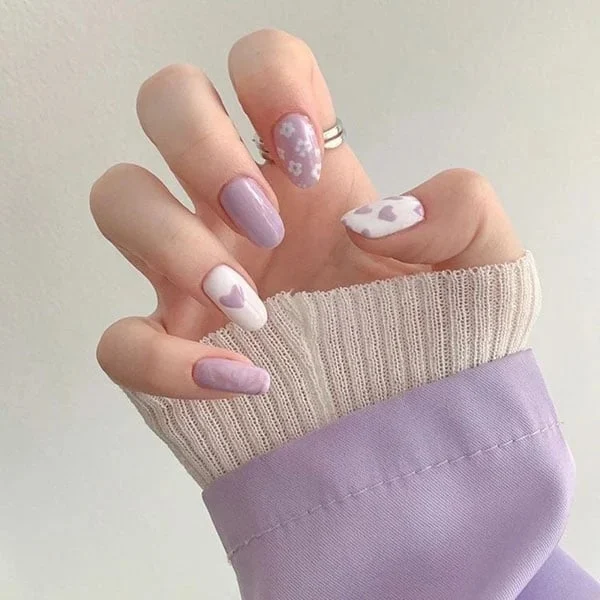 6. Matte Grey Ombre Nails
Gray is a cool shade that is a favorite for nail art because it is versatile and stylish. There are different shades of gray to choose from, from light to dark, allowing you to choose the shade that best suits your preference and complexion. You can also combine colors by coloring each nail in a different shade or by applying the ombre technique. This approach mixes two colors, one light and one dark. If you want a smoother, flatter look, you can opt for a matte finish. Matte can also be more durable and give your nails a edgy look.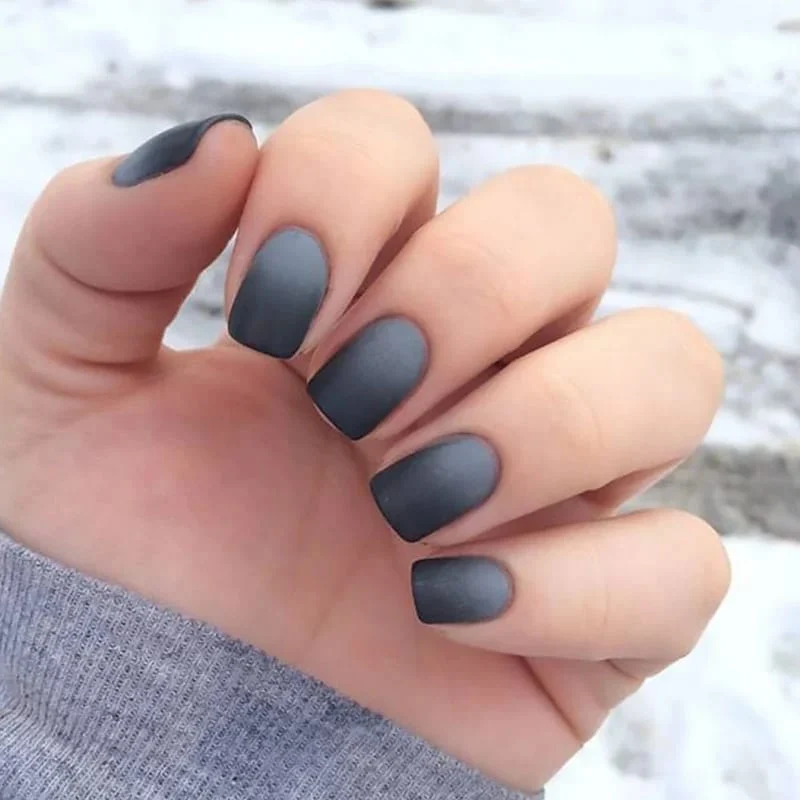 7. Leopard Print Manicure
Leopard print has been dominating the fashion industry for years, so it's no surprise that it has also been inspired by many stylish manicures. The print can be difficult to wear because it is too sticky; Thus, trying it on your nails is a great way to make your life easier. A leopard print manicure is a fantastic way to have fun with nail art, bring out your wild side and draw attention to your hands. You can opt for animal prints on each nail, or make just one nail stand out by painting the rest nude or brown. The functional approach to nails is very versatile. You can also focus the print on the tips for a modern take on a classic French manicure. This will emphasize the shape of your nails.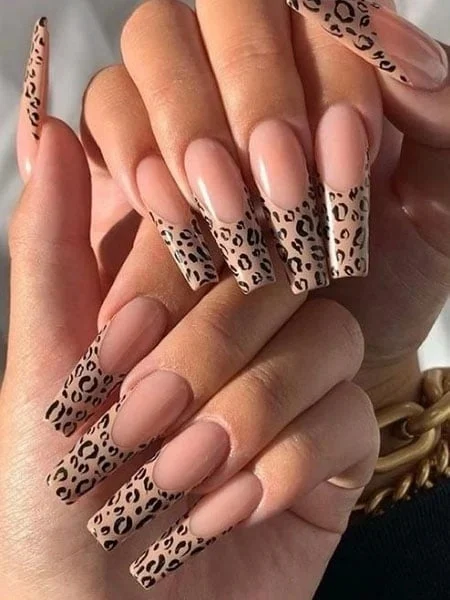 8. Mix and Match Pattern Nails
If you can't decide on a theme for your nail art, why not combine a few? The mixing and matching effect is bold and fun. This allows you to try multiple colors at the same time and get creative with your choice of print or pattern. It could be an animal print like leopard or cow patches, or your favorite fruit or flower. You can also experiment with different colors. This is the perfect choice for the woman who loves to stand out from the crowd and wants to express herself. your manicure will go well with nails of any length and shape and will be spectacular; however, this may be restrictive as it is not approved by the corporation.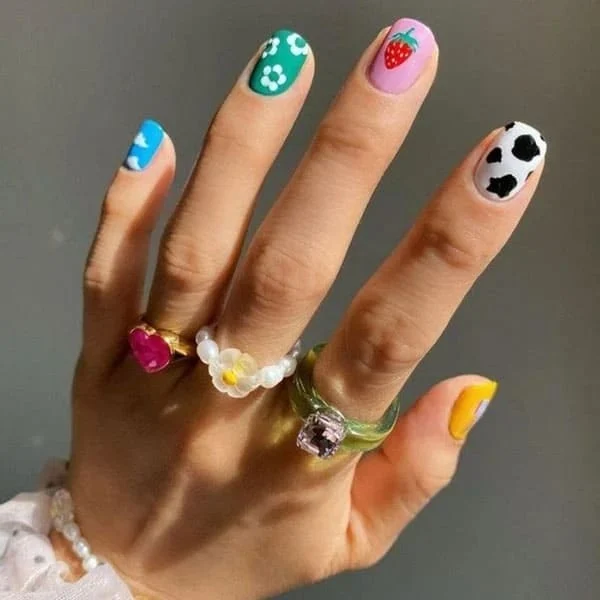 9. Simple Round Nail Shape
Round nails are a flattering shape perfect for those who want to look practical. The appeal of this shape is that it is more durable than bolder options like coffin or stilettos and looks good on both short and long nails. They don't tear and can be worn anywhere, including the workplace or formal occasions. To emphasize the forms, you can choose a classic French manicure, which is always relevant and sophisticated. Or paint your nails in your favorite pastel pink or nude colors for a look that can be worn everywhere.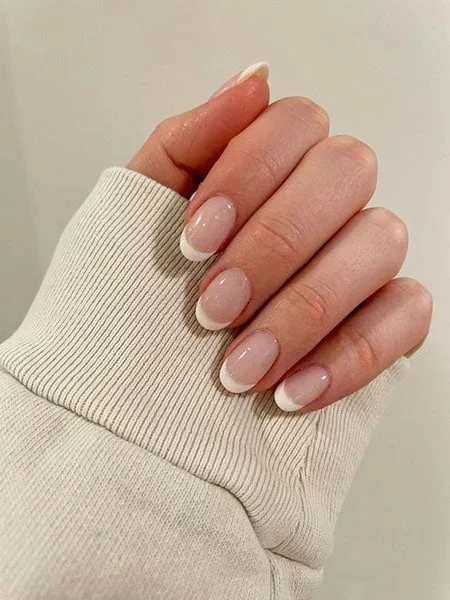 10. Astrology Nail Designs
If you are interested in astrology, what is the best way to show it with a manicure? Watching the stars and interpreting them can be fun, and your manicure can be just as fun if you focus on the constellations that draw you in. This manicure can also be symbolic as the stars are associated with light and guidance. Perhaps you want to remind yourself to stay focused during difficult times, or that all the good things are ahead, and your nails can help you with this. Your work can be done in the colors of your choice, but you can opt for a black or navy blue base coat to depict the night sky for a more realistic approach. This will also help achieve contrast between the base layer and the stars and planets.