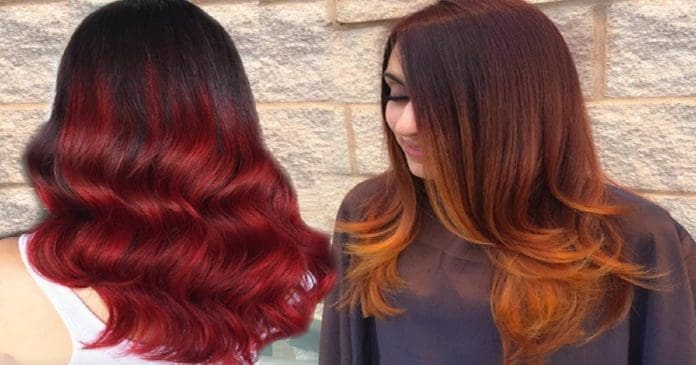 Red hair colors will always have a warm place in my heart. I stuck to red and burgundy hair colors for years, so I'm really excited to give you all some suggestions about them! I'll have some tips and tricks coming up, as well as 100 different inspiration pictures for different red hair color ideas, from auburn to copper to cherry to deep burgundy hair shades with highlights. Contrary to popular belief, red hair is actually extremely versatile. Some of the more natural iterations of it include copper and auburn hair colors, while you can also get really out there with neon, cherry, or fire engine red hair colors! The choices are nearly limitless, especially once you start including ombre, highlights, and balayage options.
Fashion for Red Hairstyles
There are no real fashion rules per se, when it comes to red hairstyles, but there are certainly guidelines and things to remember.
• The opposite of red on the color wheel is green, which means any time you wear green it will emphasize the red and vice versa. This can clash, or be super flattering, depending on the garment, so pay attention. Color blocking is usually the best way to go.
• If your hair is more orange, then it's blue that is opposite it on the color wheel, and the same instructions apply.
• If your red hairstyles lean towards warm, similar shades, especially oranges can look silly. A little bit of orange throughout the outfit can be complementary, but you don't want it to overwhelm.
• If you prefer magenta or burgundy hair colors, shades of purple that are not too similar to your hair can actually create a nice analog color scheme – just avoid being too matchy matchy.
• Blacks, browns, greys, and whites are pretty neutral and will always look good.
• Sometimes the best way to rock crazy hair is by also wearing a ton of different colors, and being a walking rainbow!
74 Red Hair Color Ideas
So now that you know what rocking red hairstyles really means, time to choose your look. Here are some red hair color ideas.
1. Cherry Cola Balayage
Soft, retro curls are a classic, but here they were jazzed up with a small bun on one side. This is also a great example of how to use just a little bit of cherry red dye for a high impact, by utilizing it as balayage over black hair.
2. Rose Gold Shift Curls
Dark brown roots make way for a gorgeous rose gold hair color! The curls are luxurious, and the bright orangey-pink shade is sure to stand out – this is one of the more interesting takes on red hair colors.
3. Magic Pumpkin Locks
What's the best way to achieve a touch of magic? Just add some glitter! This pumpkin shade of orange, with the darker roots, is one of those red hairstyles that are perfect for autumn.
4. Hand Painted Fruit Sorbet Waves
This fruity hand painted balayage is like a delicious summery treat. If you're looking for red hair color ideas for summer, this is a perfect look!
5. Cherry Red Balayage with Crown Braid
While some red hairstyles are more natural, this cool cherry red balayage is anything but natural. It's a little darker and more daring, but is made softer by that crown braid.
6. Rising Phoenix Balayage
Burgundy red hair transforms into a fiery orange, in a warm balayage that I actually think could liven up a dour winter really well. To keep things interesting, the hair was pulled back into two half braids, one on top of the other.
7. Purple Fire Bangs
There is a lot going on with this style! Red hair colors can pair really nicely with oranges and purples. Choosing to dye the hair straight across bangs is both original, and an excellent way of warming up the face.
8. This Hair is on Fire Balayage
Let's forget the color for a second, because we need to seriously talk about these diagonal curls. They are like nothing I've ever seen before – just a really modern take on '40s curls. The balayage itself is made up of complementary red hair colors, like orange, magenta, and blonde – like a really healthy bonfire, with the dark roots representing the coal.
9. Copper Sunset Side French Braid
Auburn hair colors are some of my favorites. In this look auburn transforms into copper, which then becomes strawberry blonde. It's a lovely ombre that's broken up a bit by that cool side braid.
10. Keeping Warm in Autumn Waves
Soft waves are accentuated here, and made deeper, by a touch of brown hand painted vertically. It makes this otherwise bright orange look a lot more grown up, sophisticated, and fall ready.
11. Fiery Mermaid Waves
Guy Tang is the master of mermaid hair! This blending of orange and red dye looks like a forest fire, and the waves are just like Ariel's from the Little Mermaid. As always, big, shiny, healthy hair will always look amazing no matter the color. This is how you do red hairstyles.
12. Scene Girl Neon Locks
This is a really unique way of doing red hair colors – instead of traditional red or burgundy hair colors, what we have here is mostly a mixture of neon orange, pink, and yellow. When they come together, the effect is totally ginger. By keeping the hair straight the effect is a little 2000s, but in the best way.
13. Copper Queen Waves
This is a rare natural look from Guy Tang, and he kills it, of course. Luxurious copper and auburn hair colors come together to create a really rich, lush look that begs to be paired with a ruler's crown.
14. Burgundy Dream Style
I'm all about those burgundy hair color ideas, because they bridge my love for red hair colors with my love for all things dark and gothy. Here we see a masterful example or burgundy and black streaks, with soft, touchably wavy hair.
15. Lady of the Highlands Locks
This style channels the Scottish Highlands with this natural-looking red head look. Orange, brown, and copper hair colors blend together seemingly effortlessly on long wavy hair, so the only thing missing is a dusting of freckles across the cheeks.
16. Red Velvet Tease
This is a gorgeous purply red; teased 'do is everything I love about burgundy hairstyles. The color is rich like red velvet, and it's not so dark that it can be mistaken for black or brown.
17. Red Nightfall
This is a super subtle ombre that utilizes some really good burgundy hair color ideas. One of them is the really large waves in the hair that make sure the look is more luxurious, and the other is brightening up only the very ends of the hair, which gives everything dimension.
18. Magenta Crimped Braid
Did you think crimping was a thing of the past? Well, okay, for the most part it is, but this image shows how you can do it right. When paired with a dark burgundy and magenta balayage, and a lot of layering and braiding, crimping can actually look awesomely boho punk chic.
19. Blood Orange Balayage
Red hairstyles don't always require red dye – this combination of burnt orange and warm purple dye come together to create a subtle, flattering effect that seems natural, despite both colors being thoroughly unusual. Also worth noting is a beautiful example of balayage on slanted, bobbed hair.
20. Astounding Aubergine Waves
These massive, deeply aubergine waves are the perfect example of how to do very cold burgundy hair colors. This would be a great color choice for anyone with cool undertones, or very dark skin.
21. Go Straight to Red Hair
Deep, natural reddish copper hair colors, like this one, will never go out of style. The stylist here chose to keep the roots a little darker, which means painless grow-out, and I also really dig the layers near the front.
22. A Touch of Magenta Slanted Bob
Until shown otherwise, I do not believe there is a better way of jazzing up auburn hair colors than by adding a pop of a brighter tone like the magenta tips you see here. The sharp angle is a great way of taking off bulk, without losing the long haireffect near the face.
23. Hidden Pastel Rainbow Red Hairstyle
So at first glance, this is a lovely example of wavy, soft looking hair, dyed a deep auburn red. But we're all about hidden depth with the red hair color ideas we have for you. Underneath the first layer, there is a lovely sea glass effect achieved with a rainbow selection of pastel hair colors. This is the best way of being a secret badass at a professional environment.
24. Glam Rainbow & Red Curls
This is another example of the hidden rainbow effect, except here you get a little bit of a peak through the rich mahogany red hair colors. The deep red is complemented wonderfully by bright shades of yellow, orange, turquoise, blue, green, and purple.
25. Summer Salad Balayage
Fruity shades of pinky watermelon, peach, and apricot give a balayage effect to the predominantly auburn hair colors. This look is really summery, warm, and thanks to natural roots – easy to maintain.
26. Grape & Cherry Balayage?
I'm not sure what it is about all these red hair color ideas that makes me obsessed with food in general, and fruits specifically, but it's undeniable that these gorgeous cherry hairstyles whet the appetite. These balayage waves show how well purple and red go together.
27. Bonfire Gradient Hairstyle
Fire gradients strike me as an excellent red hair color idea for anyone who wants a really lively way of dyeing their hair. To get that gorgeous bonfire style, keep the roots dark and have the rest be a dark to light orange gradient.
For a starker difference between roots and the rest of the hair, pull the hair back into two Dutch braids at the crown, and then combine them into one braid.
28. Princess Ariel Waves
For the true princess Ariel mermaid look, choose solid red hair colors, like this beautiful bright cherry, and then style the hair in big waves that all go in one direction.
29. Neon Orange Magic
This true orange color will never go unnoticed! It's really bright and fun – but word of warning, it'd fade fast, and unless it's really tastefully waved like in this picture, it could end up looking tacky.
30. Red Wine Bangs & Bun
Warmer burgundy hair colors like this one remind me of expensive, dry red wine. This deep color is made more playful by that half bun on top of the head, and the youthful straight across bangs.
31. Auburn to Copper Ombre
An excellent example of how to do copper hairstyles! For anyone who wants that true redhead effect, but is afraid the color might be too light for them, just choose this beautiful ombre, since the auburn flows into the copper very softly and naturally.
32. Rose Gold and Garnet Ombre
Who needs jewelry when you have hair dye? The combination of cool dark hair on top and warm, bright hair on the bottom doesn't always work, but thanks to red undertones, it's actually one of my favorite burgundy hair colors.
33. Beachy Berry Sombre
This soft ombre shows how well to put cool and warm tones together just right. The dark purple roots extend down into warm magenta tips beautifully, and the beachy waves help create really nice texture.
34. Red Balayage Braidstravaganza
Cherry red, orange, and auburn hair colors come together in two really thick braidsthat combine into one. Anyone could make this balayage work, but for the braids you need a lot of thick hair.
35. Mahogany Locks
Curling just the ends of the hair is an excellent solution for anyone who wants that princess look, without going through all the trouble of curling all of their long hair. Mahogany hair colors are great, because they can look straight up cherry red in direct sunlight – two hair colors in one!
36. Eggplant Color Melt
Dark black hair was hand-painted to create a marvelous, rich effect. If you're envious of burgundy hair colors, but don't want the regular dyeing of the roots, this is the way to go! Dark and light shades of eggplant come together in a really 3-dimensional balayage.
37. Pomegranate Ombre
This unique shade of muted, pastel red really reminds me of the pomegranate peel. The roots are like the nutritious, dark juice – especially considering these shiny curls look very healthy.
38. Cold Fire Storm
While there's really just a wee bit of purple and copper hair colors here, when applied together they amplify each other, making this balayage really outstanding, despite the fact that most of the hair is actually a natural shade of dark brown.
39. Extreme Fire Storm
Thanks to a bright, burnt orange and magenta added to the copper and burgundy hair colors, this is a more extreme version of the previous balayage.
40. Mahogany, Copper, & Blonde Curls
One of the best ways to create texture, depth, not to mention a unique take on natural hair colors is simply by blending a bunch of them together, like in this lovely balayage! The mahogany, blonde, and copper hair colors work so well together here because they are all relatively warm.
41. Mermaid Coral Waves
Look closer at this picture, and you'll realize it's a balayage of deep copper and magenta with a touch of magenta. Adding that touch of coldness really helps balance things out, making this one of my favorite copper hair color ideas. The big curls at the ends of the hair are beautifully reminiscent of the ocean.
42. Copper Lob
Copper hair colors are the perfect choice for that "me? of course I'm a natural redhead!" look. This straightened long bob looks super sleek and modern, and 100% wearable under any circumstance.
43. Sunset Boulevard Balayage
Warm shades of orange and copper blend beautifully with violet reds in this gorgeous, curly balayage.
44. Morning Sunshine Curly Lob
This is one of those red hair color ideas that'll keep you warm in winter. Orange, yellow, coral and red work wonderfully in this bright and complex balayage that's perfectly suited to the fun curly ends.
45. Crushed Velvet Curls
This color sits somewhere between auburn and burgundy, thanks to expert styling it is oh-so-luxurious – I just want to go for a swim in these kinds of auburn hair colors.
46. Copper and Auburn Balayage
This warm mixture of copper and auburn hair colors creates a 3-dimensional effect that is natural yet high impact. It's a perfect style for anyone with fair, warm skin.
47. Warm Eggplant Sombre
And the winner for the most subtle ombre around is this beautiful burgundy long bob! A soft wash of aubergine dye has been hand-painted over darker locks to create a beautiful yet understated effect.
48. Dark Cherry Color Melt Waves
If you're looking for dark cherry red hair color ideas, this is a great option. The streaks make this look stand out, but also keep it easy to maintain.
49. Chocolate and Caramel Gradient Melt
This soft, rich color melt is another option if you're looking for auburn hair color ideas. The roots start off dark, but auburn and copper streaks are gentle incorporated in to create a very sophisticated balayage.
50. A Wink of Candy Apple Curls
This is a great way of getting that high-impact redhead effect, without having to go bright red all over. Just blend apple red hair colors into auburn, and you'll have a head-turning look.
51. Red Velvet Melt
These gorgeous piecey curls are super soft, and this kind of ombre is great for anyone looking for easy to maintain burgundy hair color ideas. Thanks to the dark chocolate roots, this hairstyle is like a red velvet lava cake, stuffed with melted chocolate.
52. Red Hot Cherry Lob
Another great subtle ombre/balayage combo! Bright cherry hair colors layered over darker auburn look really sophisticated in this lovely layered long bob.
53. Wine & Ginger Color Melt
I see red hairstyles in a spectrum, from burgundy to red to orange. This ombre skips the red altogether, and the result of pairing a warmer burgundy with bright ginger tips is exquisite.
54. Red Forest Balayage
This brunette long bob has been touched with an auburn balayage, and the effect is that of a walk through the woods on a warm autumn day.
55. Solid Auburn Waves
Keeping up with the woodsy themes, these soft waves are a classic choice for anyone looking for auburn hair color ideas. The long bob will keep you warm as we move away from summer and into fall.
56. Jessica Rabbit-lite Ombre
So the auburn to copper hair colors here are a lot more muted than the cartoon bombshell's, but those super smooth, retro waves are spot on, and the combination is marvelous.
57. The Copper Bombshell Hairstyle
We've got some sexier femme fatale waves happening here! Copper hair colors have a tendency to look a little young, so styling them in such a sleek way is a great way of obtaining a touch more maturity.
58. Melted Sorbet Balayage
You know when you've almost finished your sorbet, and all that's left at the bottom of your cup is a swirly mixture of the two delicious flavors you've just enjoyed? You've had enough ice cream, so you find yourself more interested in the lovely pattern the grapefruit and cherry flavors make when mixed together.
Well, only a balayage expert can blend two such bright and sweet red hair colors together so beautifully, as though they simply melted into each other.
59. Mad About Magenta Curls
Bright aubergine magenta is a great, out of the ordinary way for those with cool skin tones to try out bright red hair colors, without worrying about the shade clashing with the skin. The soft, sleek curls make this look a little more grown up.
60. Silk & Copper Hairstyle
Subtle copper hair colors are a great way to progressively move your hair towards a brighter red. The diagonal way the hair was waved makes a natural hair color fascinating and unique.
61. Strawberry Blonde Crush Ombre
Sleek curls and ombre red hairstyles are a match made in heaven. The way the aubergine roots melt into coral and strawberry blonde shades is sophisticated and the very opposite of mundane.
62. Femme Fatale Curls
Finally, those Jessica Rabbit curls paired with the perfect cherry shade! This retro styling is mandatory for anyone trying out different red hair color ideas.
63. Treasure Chest Balayage
Red hairstyles really lend themselves well to metallic finishes. This is a lovely take on copper hairstyles, because it looks as though the coppery roots are melting into the golden tips.
64. Treasure Chest Deluxe Ombre
This look is similar to the previous one, but the secret here is that this styling was done 6 months after the hair was dyed, proving that ombres and balayages are the way to go for any busy lady. I also cannot overstate how much I adore Hair & Harlow's diagonal waves.
65. Deep Purple Allure
Long dark purple waves are like a beautiful sea witch rising from the ocean. This is another example of fantastic burgundy hair ideas.
66. Wispy Copper Bob
This delicate, fresh bob works well with elfin features, and shows how well bright copper hair colors work with fair, warm skin.
67. Ginger & Copper Balayage
Darker copper hairstyles can really be brightened up with a touch of hand painted bright orange, along the tips and near the face. This wavy 'do is an excellent example.
68. Autumn Balayage for Dark Hair
This balayage really represents that transition season from summer to winter, with natural mahogany roots and summer golden tips, with a lot of autumn leaf copper hair colors in the center.
69. A Touch of Copper Ombre
I'm gaga for these long lush waves, and the extreme ombre! Dark brown roots go blonde almost too quickly, but thanks to a wash of copper in the center everything still works.
70. Summer Ginger Bob
Small curls keep this look fresh, and this bright gingery orange is the very definition of natural looking red hairstyles.
71. Softened Cherry Curls
Gorgeous cherry curls are softened here with a touch of coral. Big curly ends keep everything soft and sexy.
72. Subtle Darkness Balayage
This dark yet subtle balayage is a wonderful way of experimenting with burgundy hair colors. Just keep the roots ultra dark, and then dye the ends a burgundy that's not much lighter. Healthy, shimmery curls keep this look marvelous.
73. You're Hot and You're Cold Hand-Painted Balayage
Word of caution here: you might be totally enamored with this daring way of pairing red hair colors with purple, but for this to work, your skin has to be perfect and mostly neutral. I really adore this curly mixture of warm and cool colors, but it's a risky move.
74. Fishtail on Fire
With such a cascade of long hair, creating dimension by using different shades of red, orange, and auburn is the best way to do red hairstyles. The fishtail braid gives an awesome, almost contradictory effect, by channeling a touch of ocean into this fire hot look.