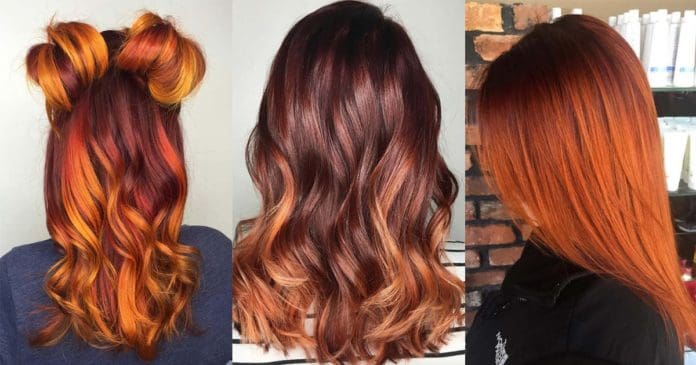 Copper hair is a seriously underrated hair color option. Some people attribute it to red hair so quickly that they fail to realize there are plenty of innovative copper hair colors that can be made and improved upon if you are interested.
50 Copper Hair Color Ideas
On the plus side there are so many different shades of copper that literally anyone could rock a copper hair color. The below compilation of 50 different copper hair color ideas offers plenty of inspiration, so take a good look!
1. Copper and Carrot Crown
Updos on copper hair have a tendency to gleam and shine in all the right places. Here a French braid has hair twisted around it, allowing the copper in her hair to reflect the light at stunning angles.
@hairaldo
2. Dreamy Copper Ombre
Length allows for a lot more stretch on creativity, allowing for several shades of copper to create this look. From a rich and warm copper color at the roots to light copper at the ends, this lengthy style is sure to grow out beautifully as well.
@larisadoll
3. Copper with Strawberry lights
This is a copper hair color with a lot of dimension featuring a pinkish red strawberry tint spread throughout beautifully. It's a really awe-inspiring, light and eye-catching look.
@larisadoll
4. Chocolate and Copper Ombre
Brown and copper hair colors are an underrated combination that is really warm and flattering for a lot of people. The color grows out beautifully and the transition looks eerily natural.
@larisadoll
5. Brown Roots and Copper Waves
The copper hair color looks so vibrant against the brown roots, as the transition from one color to another is shorter, but well dispersed. The contrast is just another piece of evidence in the beauty of copper and brown hair.
@larisadoll
6. Fired Copper and Orange Lights
The spread of bright sunshine and orange colored highlights throughout the copper hair looks alive and fresh. It's a great look for anyone not afraid to be seen. This is not the color combination for someone wishing to pass under the radar.
@hairgod_zito
7. Copper Angled French Braid
The transition of copper hair colors from the roots to the ends is displayed beautifully thanks to the angled French braid.
@garrettkenroach
8. Red Tinted Copper
While copper already has a warm hint of red, this color treatment makes it much more obvious. The red used is very warm and lends that warmth to the copper.
@off7thsalon
9. Red Roots and Copper
The red transitions beautifully into the copper lengths of her hair. This copper hair color is bright, but soft and works well with the warm red roots.
@off7thsalon
10. Dark Red to Bright Copper
This color treatment was so well done that the hair appears gilded, shimmering like actual copper that has been well shined. The look is ornamented without appearing overdone, as the color is still rich enough to appear natural.
@off7thsalon
11. Realistic Copper Hair
Deep Wine colored roots transition slowly into bright copper tips on layered, face-framing hair. The look will grow out brilliantly, allowing for longer life of the red hair as long as proper technique is used to keep the colors vibrant.
@off7thsalon
12. Soft Wine to Light Copper
This is a clear use of a balayage treatment to the dark red roots that transfer to shimmering copper hair ends. The colors are blended seamlessly and naturally looking.
@off7thsalon
13. Sandy Brown and Copper Bob
The color treatment for her bob gives it a feather-light appearance that is also very flattering and bright. Bobs do well with multidimensional ombre treatments, as it appears that the light and the length collaborate very well.
@parlourandjuke
14. Copper Colored Highlights
Copper hair has a life of its own in the light, which makes it a great hair color for longer and straighter hair. The delicacy of this look was achieved through custom hair painting.
@mckenna__mckenna
15. Bright and Rich Copper
Merlot roots give way to lengths of bright copper hair color all the way down to the tips. The flawless transition of color is short, but still provides the desired ombre and a likelihood that the color will grow out beautifully.
@mckenna__mckenna
16. Blunt Cut Copper Hair
The severity of the cut is enhanced by the blonde and copper hair color dispersed evenly throughout the style for a healthy and interesting look.
@ecohairbyk
17. Light Copper Fire
This is one overall color with micro dimensions that appears bright and light without being overpowering or drastic. The color appears soft and accented perfectly with the spiral-curled ends.
@ecohairbyk
18. Brighter Copper Hair Color
Multi faceted reddish copper hair color looks amazing when done right, and this is most certainly done right. The color is impeccably blended and enhanced reflecting the light in the perfect way.
@harhoppkarlek
19. Coppery Redhead
This is the sort of copper hair color that people will always assume is yours naturally. The color is just right in terms of brightness and depth and this is the type of copper hair option that can be a secret to you and your hairdresser.
@amai_hairstudio
20. Copper Blonde
The addition of this copper to blonde means that the color will be light in appearance, but definitively reddish in hue. The color is good for the length, as it is incredibly natural looking.
@joeldavilabeauty
21. Brightened Copper Hair Color
While this color is unmistakably a reddish copper, the overall appearance is luxe and entrancing. The color application is smoothly done but the soft lighter copper hair shades brushed through are a stunning addition for a completely light reddish copper look.
@fuzhairbyronbay
22. Copper With a Touch of Blonde
Rich copper hair colors with blonde accenting that length in strategic places create a beautiful overall look. The overall effect is bright and stunning.
@cutandcolorse
23. Curly Copper Red Bob
A good haircut and color are a magnificent boost to an overall aesthetic. Here the copper hair highlights offer the appearance of health and movement even while still, enhancing the curls, thickness and length of her bob.
@ericastallings
24. Long Copper Hair
Long hair can drag features down, especially if the lengths are one note. Here the bright copper is a fun and healthy color that illuminates the lengths of her hair making it anything but boring or dull.
@stylistsarahtaglio
25. Hand Painted Copper Ombre
Ombre is a stunning treatment on a bob, especially a bob with bangs. The haircut lends an interesting dimension to ombre colored hair and vice versa. The wine red tone of her hair and the brightness of her copper balayage highlights show well how the colors can marry together.
@hollinghair
26. Balayaged Copper Hair
Copper hair colors vary enough to do an ombre using solely the copper spectrum. Here the difference in color is a bit more drastic, but will definitely be noticed.
@hiphopkids
27. Cherry and Ginger Buns
Copper enhances red in nearly all shades. Here the copper hair boosts both the deep red roots and the bright cherry red buns in her hair, the minute streaks of copper highlights giving the hairstyle dimension and fullness.
@taylorrae_hair
28. A Gingered Copper Hair Color
Smooth waves show off the different lights, both high and low in the copper hair color. While this color could be seen as red, there are certainly a number of benefits and boosts thanks to the included copper hair color.
@eduretro
29. Burnished Copper
Burnished copper is deeper shade of brown toned copper color that looks great on hair and is good for multiple skin tones. The color boosts some skin colors, warms others, but very rarely clashes.
@ana_sta_sea_
30. Fire and Copper Hair
Fire red hair is supposed to be as intricate and color fluctuating as fire itself and this is one treatment that certainly holds up to the expectation. The use of copper and different hues of red give this look an amazing overall appeal.
@hairbyshannonmurphy
31. Smooth and Shiny Copper Hair
Multi dimensional copper hair looks good at any length. Bangs accent long length as beautifully as the shiny copper hair color she wears from roots to tips.
@bettynicehair
32. Copper Red Balayage
A balayage treatment will be unique regardless the hair color, but this red copper hair color benefits tremendously from the inclusion of perfectly placed copper highlights that brighten up the length.
@stephanyvanstone
33. Shiny Copper Penny
The color of a bright and shiny newly minted penny is beautiful on any length of hair. Here the color is dynamic as the light picks up different areas of the loose curls.
@stephanyvanstone
34. Light Copper
Copper works well with reds, which is no surprise, and here the shade of copper hair chosen was a great pick as it does not wash out her skin tone. Her hair appears to be very fine, but the placement of the copper reflects enough light to create an illusion of thickness.
@stephanyvanstone
35. Copper and Mahogany Balayage
Mahogany is such a bright yet rich red tinted brown that nearly any shade of copper will look outstanding against it. Here the balayage intersperses a bright copper towards the tips for definition.
@samihairmagic
36. Merlot and Copper
Deep red merlot colored hair is more than accented by the inclusion of copper hair highlights. The color ends up multinational and will stand out beautifully no matter the style.
@kellymassiashair
37. Browned Copper
Darker hair colors can still benefit from the addition of copper. You can be a brunette with a copper treatment and enjoy a warm and fresh look for fall, like this rich brown hair with a copper tinted hair color.
@hairbyelm
38. Copper Red Hair
A solid color with light dimensionality is a great go-to, when you aren't looking to do too much. Here the color is spectacularly even without being one note.
@loveloxx
39. Copper Sunshine
There is nothing else that brightens up hair like light. The inclusion of this cherry highlight boosts the brightness of the copper hair, while the roots maintain the warmth of the look.
@janelleloveshair
40. Copper and Peach
The use of peach as an accent to her copper hair makes for an interesting surprise. Choosing an accent color is always a great choice as it adds an unexpected element to the overall look and peach and copper are complementary.
@janelleloveshair
41. Dark Brown to Flaming Copper Ombre
Choosing the right copper hair tone does not mean you are locked to only one. Doing an ombre with a mix of complementary copper hair shades can really highlight your features.
@janelleloveshair
42. Copper Fishtail Braid
Fishtail braids are a great way to accessorize long hair and show off the shimmer in a great color. Smooth color transitions are barely noticeable, and the hair is just beautifully colored and shown off in the twists of the braids.
@janelleloveshair
43. Bright Copper Undercut
The bright copper hair color has a great sheen to it and a multidimensional look. The undercut has the same copper color, but on the shorter length it has a soft appearance.
@janelleloveshair
44. Red Tinted Copper
When most people hear the term copper colored hair, they immediately think of a vibrant red color like this. Truthfully, copper gives this red a brighter, more shimmering appearance.
@janelleloveshair
45. Prismatic Copper Curls
There is no better indicator of a great color than how it works in the light. For copper, this is even more true as it is known to have a distinctive shine all its own. Here that shine is picked up and amplified by the curls in her long copper hair.
@cheesemandoeshair
46. Fall Colors
Straight hairstyles are greatly complemented by highlights and lowlights to create dimension. Here the deep reds and coppers of fall boost her hair to a warm and lively overall look.
@hairbylindsayracca
47. Warm Copper and Gold
The copper used here significantly brightens the reddish brown hair at the roots and the start of the transition of color. Hints of gold and glaze help the copper stand out even more.
@xoannachung
48. Holographic Copper Hair
The brilliance of the balayged copper against the blue-based wine base color makes for an interesting hairstyle full of distinction.
@kateloveshair
49. Fall and Copper Meld
Fall colors generally consist of reds, coppers, browns and yellows, and here we can see the reds, coppers and yellows vividly melded together.
@kateloveshair
50. Bright Copper Hair
Copper from roots to tips is a great, consistent and natural look. The reddish tint just at the roots helps sell the illusion, as does the lightness at the ends.
@kateloveshair
Photos courtesy of Instagram