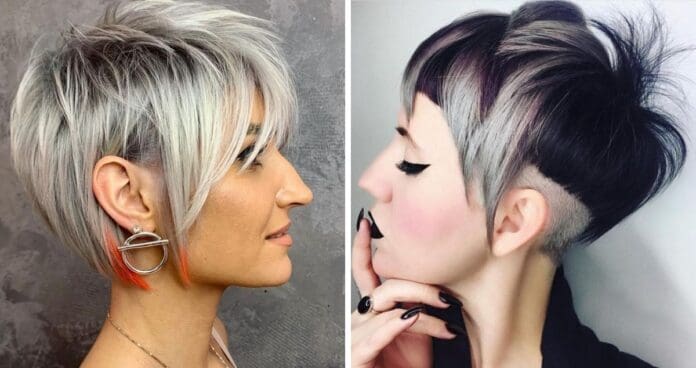 Outrageous pixie haircuts are a fashion style taken to the extreme! They are designed to make you look amazing and be the center of attention for all the right reasons. And they include showing off your unique style and fashion sense. Today's new season gallery is full of creative ideas from talented designers and their award-winning pixie hairstyles. So if you like breaking all the rules and wearing a wild yet classy look, you've come to the right place!
1. White-blonde – black roots – windswept pixie cut & color ideas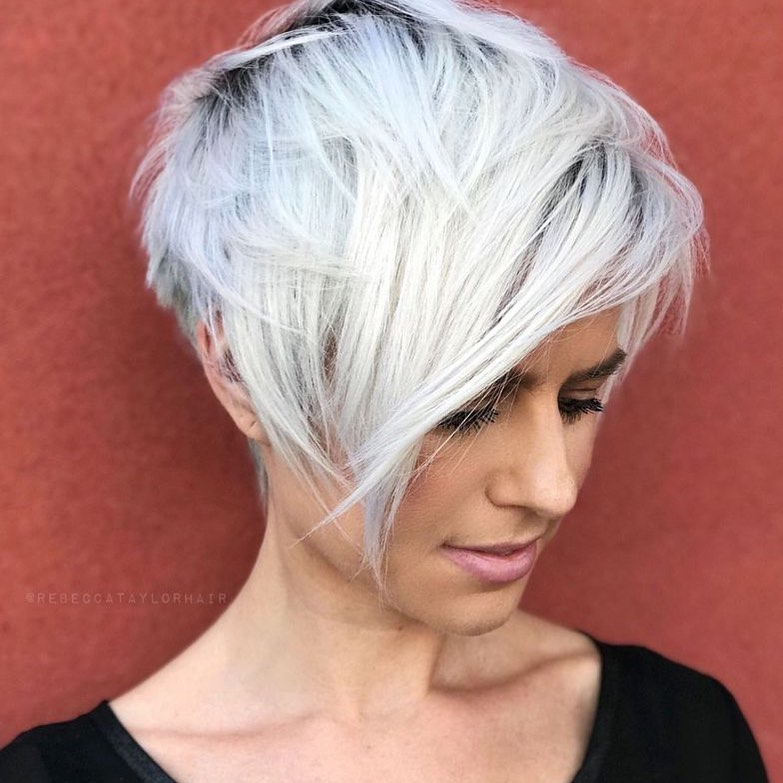 Credit
Long flowing lines create a dramatic asymmetrical line on the face that breaks the symmetry of a round face and hides a wide forehead on a heart-shaped face. And the wind-blown finish creates an image of a free spirit with its own style and original ideas. You need to have medium to thick hair to get this look, as silky thin hair will simply slide out of place. Standout features are trendy jet black roots contrasting with pale blue around the crown and ivory in front!
2. Platinum-blonde with disconnected line detail – pixie cut & color ideas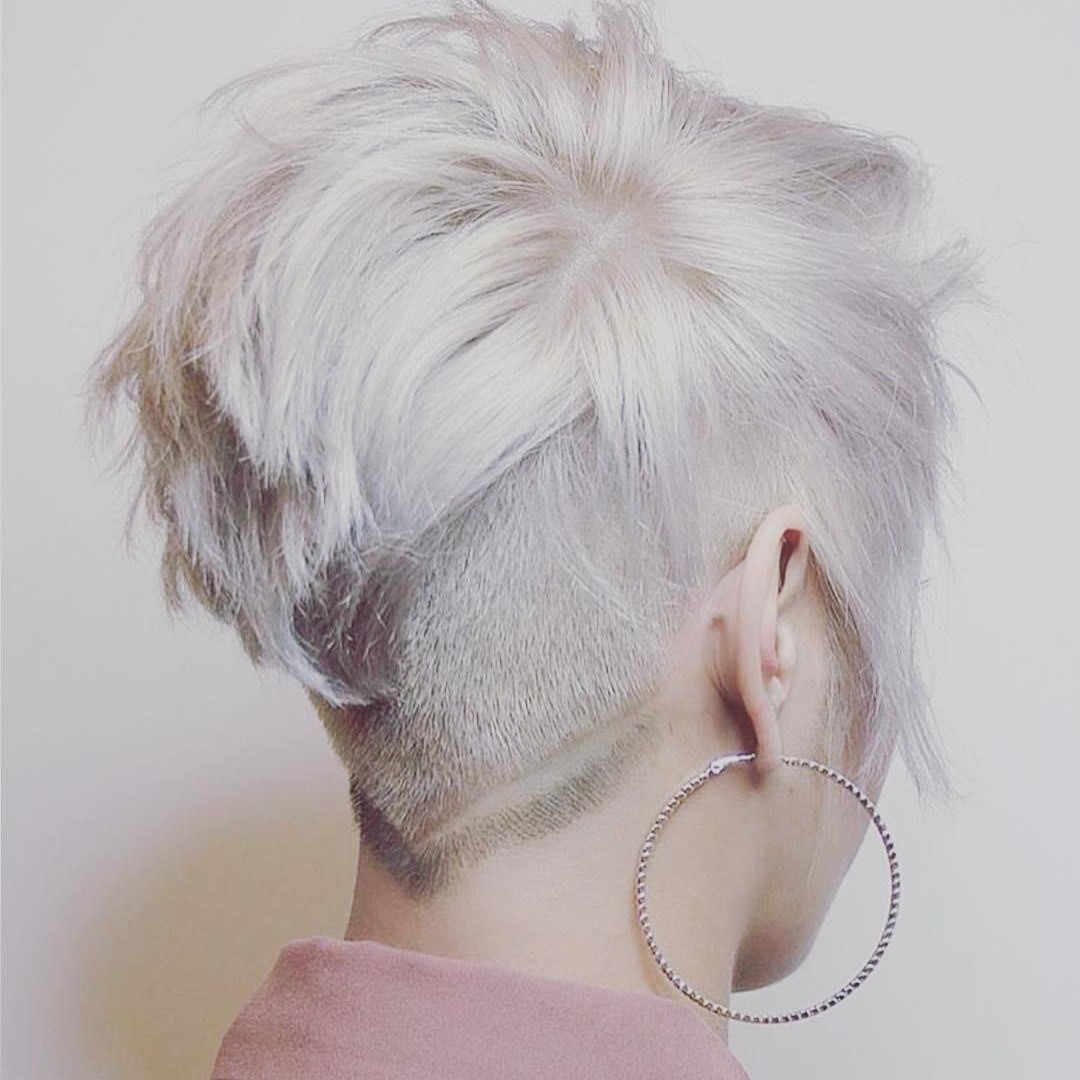 Credit
This gorgeous platinum blonde without dark roots is softer and more attractive. And that's partly because it makes the hair color look like the model's natural color. But a clever stylist has altered the angelic look of this trendy pixie with edgy, textured ends that create tousled ends. And under long layers, the rounded back forms an attractive point at the back of the head. Finally, a shaved line and a separate V create a super figure in an incredibly trendy short haircut!
3. Ivory-white with flame-orange tips – pixie cut & color ideas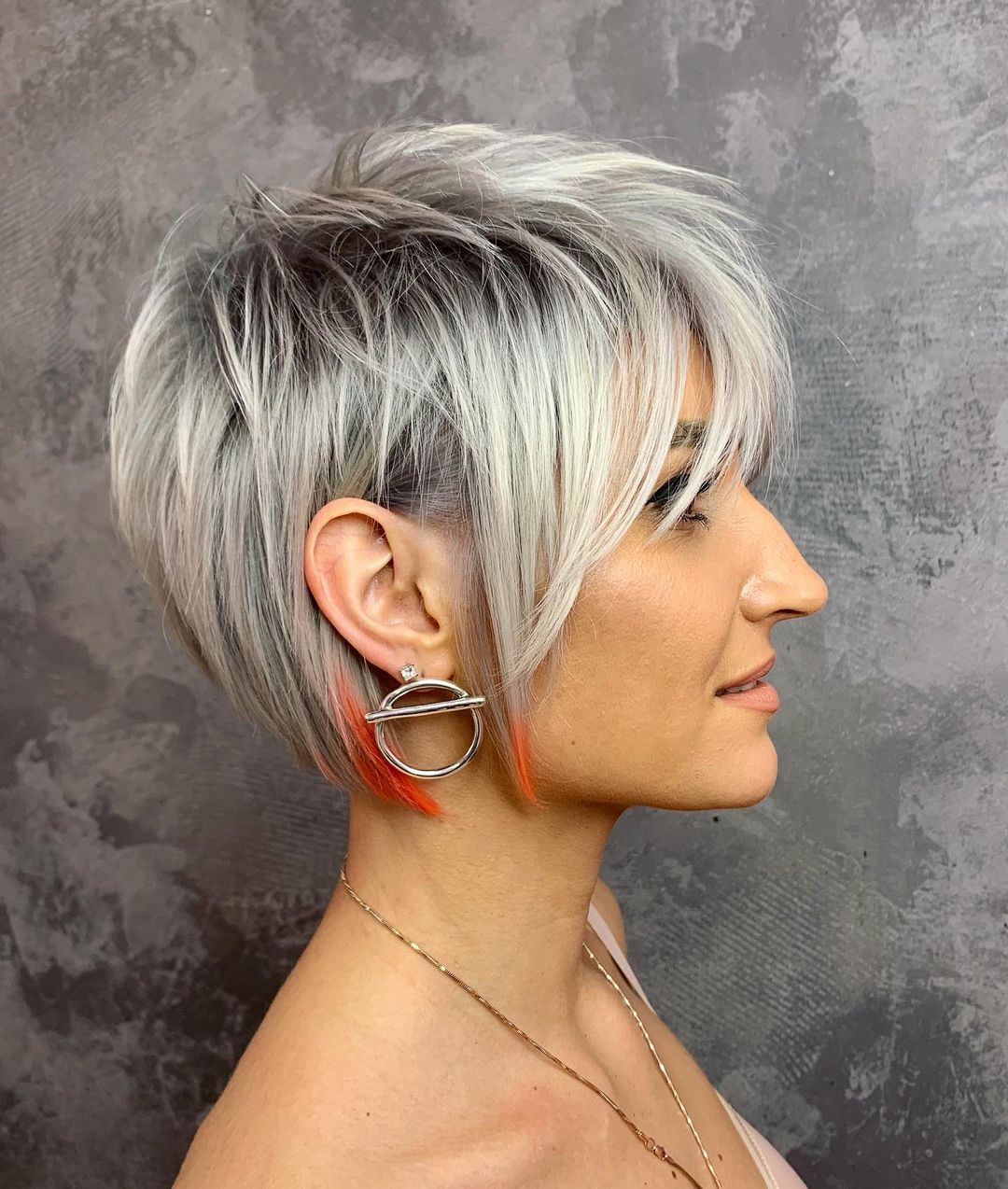 Credit
Here's a great example of how a little touch of color can have a fantastic effect on a platinum blonde/dark roots short hairstyle. This model has a rather prominent nose, so the stylist created a beautifully curved volume at the back that draws attention and balances the silhouette. Hair styled forward and then curved back, such as long bangs and side parting, also help draw attention away from the nose. As a finishing touch of inspiration, vibrant raspberry orange tips line up with the model's clean jawline, creating a lovely focal point on the side!
4. Neon yellow basin-cut – pixie cut & color ideas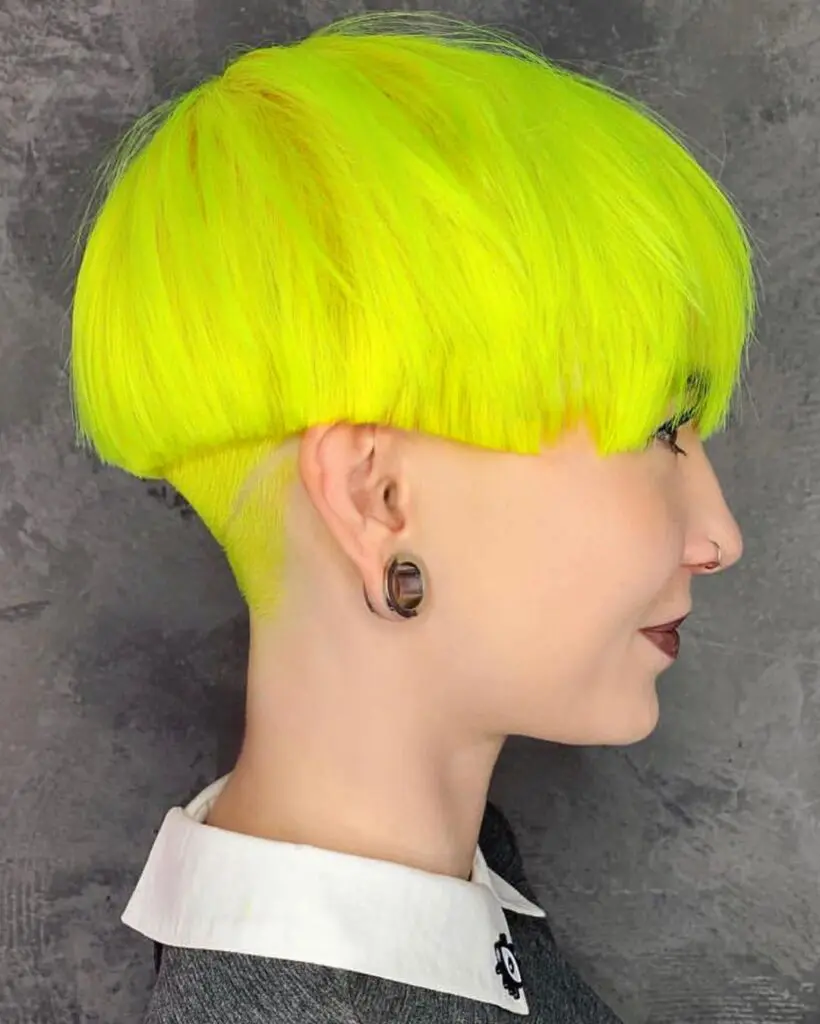 Credit
It is immediately clear that this model loves unusual style, fashionable tunnel earrings and dark lipstick. And the contrasting style is obviously her thing, as her elegant gray dress looks nothing like her canary yellow pixie cut with orange roots and green highlights! But it all works great, because outrageous contrasts are a favorite fashion trend. Attractive to the face, the cup cut has a slightly jagged line and a distinctly homely vibe that contrasts with the carefully shaped nape. And the stylist complemented it with a fashionable V-neck on the back!
5. Straight & curly combo on brunette short haircut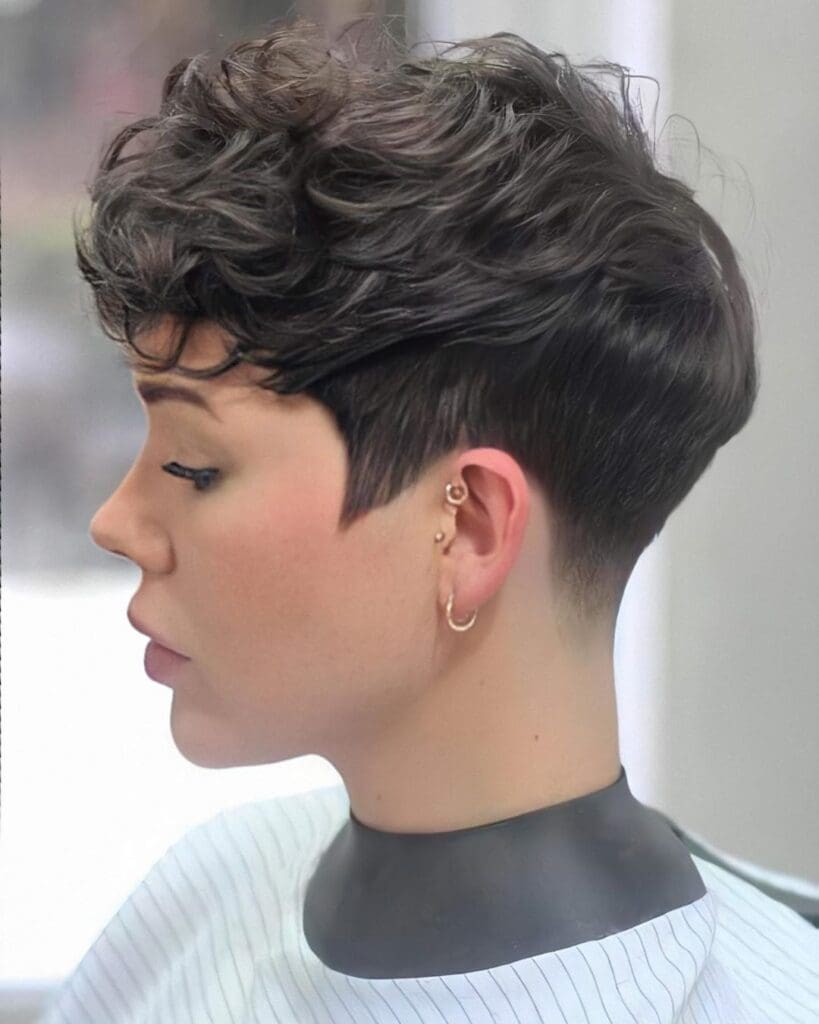 Credit
Here's a cute young look that isn't outrageous, but it's here because of the beautiful haircut. This is an easy-to-care short haircut with edgy, forward-facing strands that accentuate cheekbones and a fresh complexion. There is a trendy contrast between the top and the straight back, which is delicately shaved to the back of the head, creating a beautiful curve. And deep, slightly wavy bangs and a slicked-forward top add volume, movement, and texture. This natural look is great for medium to fine hair!
6. Purple & orange details on vintage white Mary Quant short basin-cut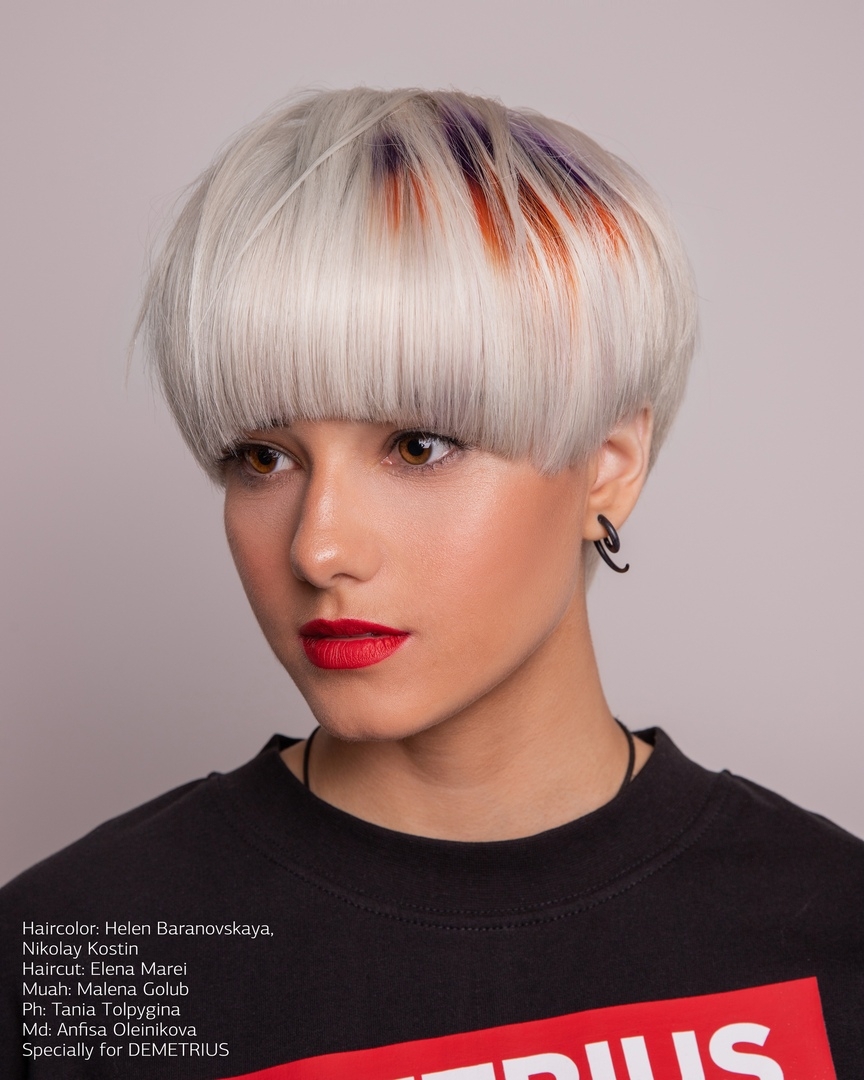 Credit
Such a beautiful and interesting haircut and color. It combines Mary Quant's famous pool cut from the 1960s with the orange and purple craze from the 70s. And the gorgeous soft white-brown color looks completely modern! This is a pretty futuristic hairstyle with purple and bright orange neatly placed at the roots on one side. And the elongated bangs of a beautiful shape, directed upward, focuses on the eyes and cheekbones of the model. Great style for a heart shaped face!
7. Delicate shimmering beige on short straight choppy short hairstyle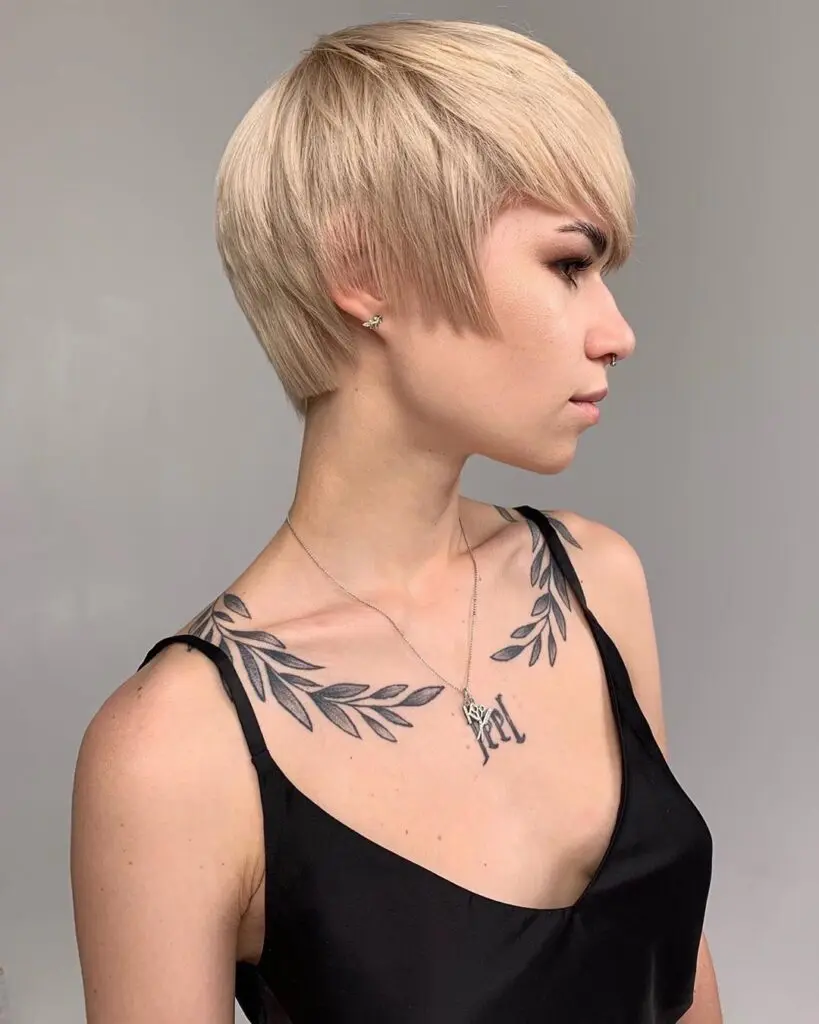 Credit
Here is another trendy short haircut with ragged edges that is a fresh take on the pixie hairstyle. He is skillfully built
, with a blurred side parting and a lovely, textured section on the side. The outstanding hair-color is eye-catching for its beautiful blend of gold, beige and an almost metallic shine. So the final image is natural and gentle, with wispy layers covering the ears and side profile!
8. Lavender-silver short cut with undercut fringe & nape detail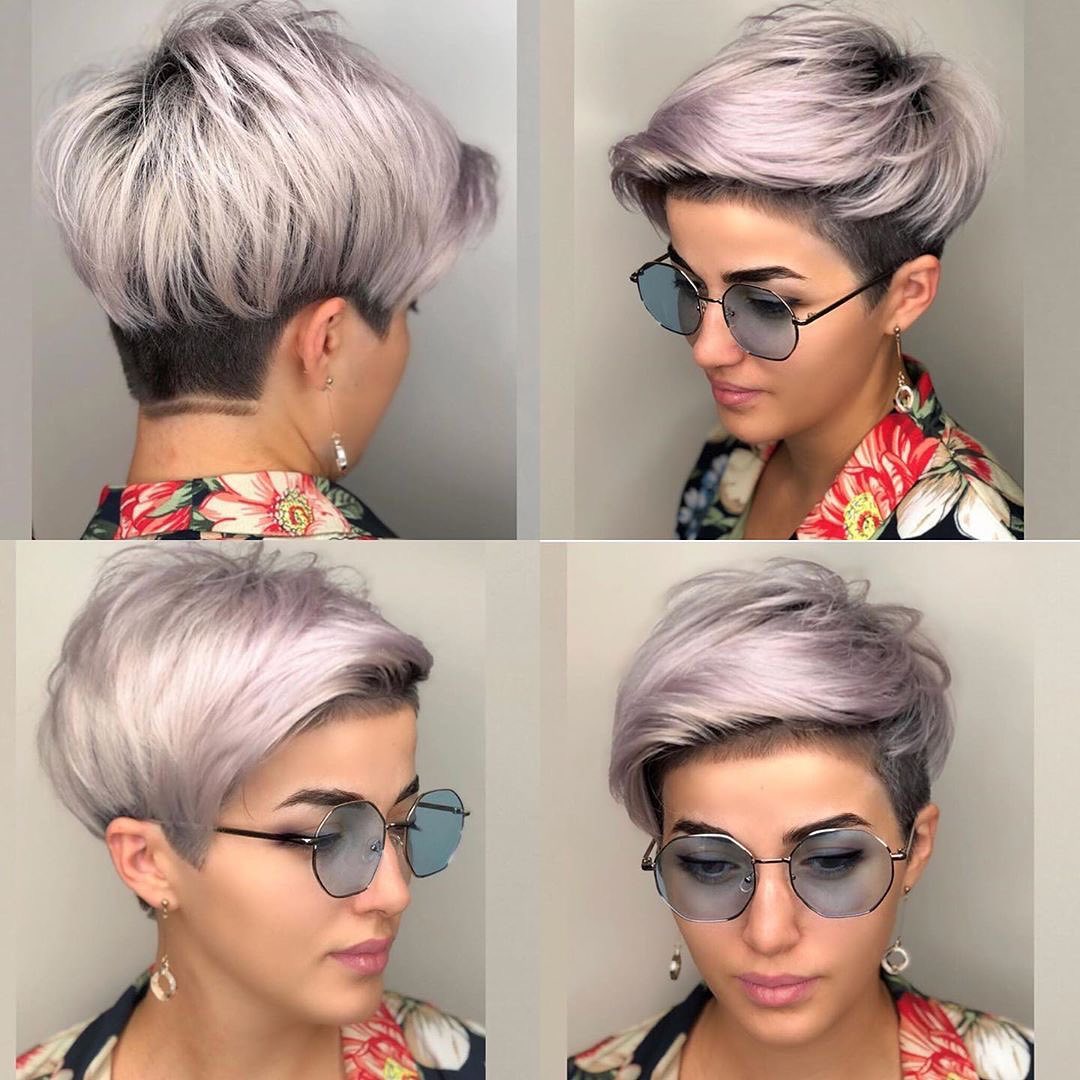 Credit
These four images show how you can take a short layered haircut and add imagination to create something entirely new and attractive! The clever stylist has created a lovely, soft side-swept front, and then literally undercut the romantic look with a dark, micro-fringe and buzzed sides. So you get a high-fashion contrast between long, sweeping layers in dainty silver, with a lavender sheen, and the retro, 'punk' look. And to make it completely modern, the stylist has cut a disconnected section into the nape!
9. Silver & gray defined strands on messy short thick hairstyle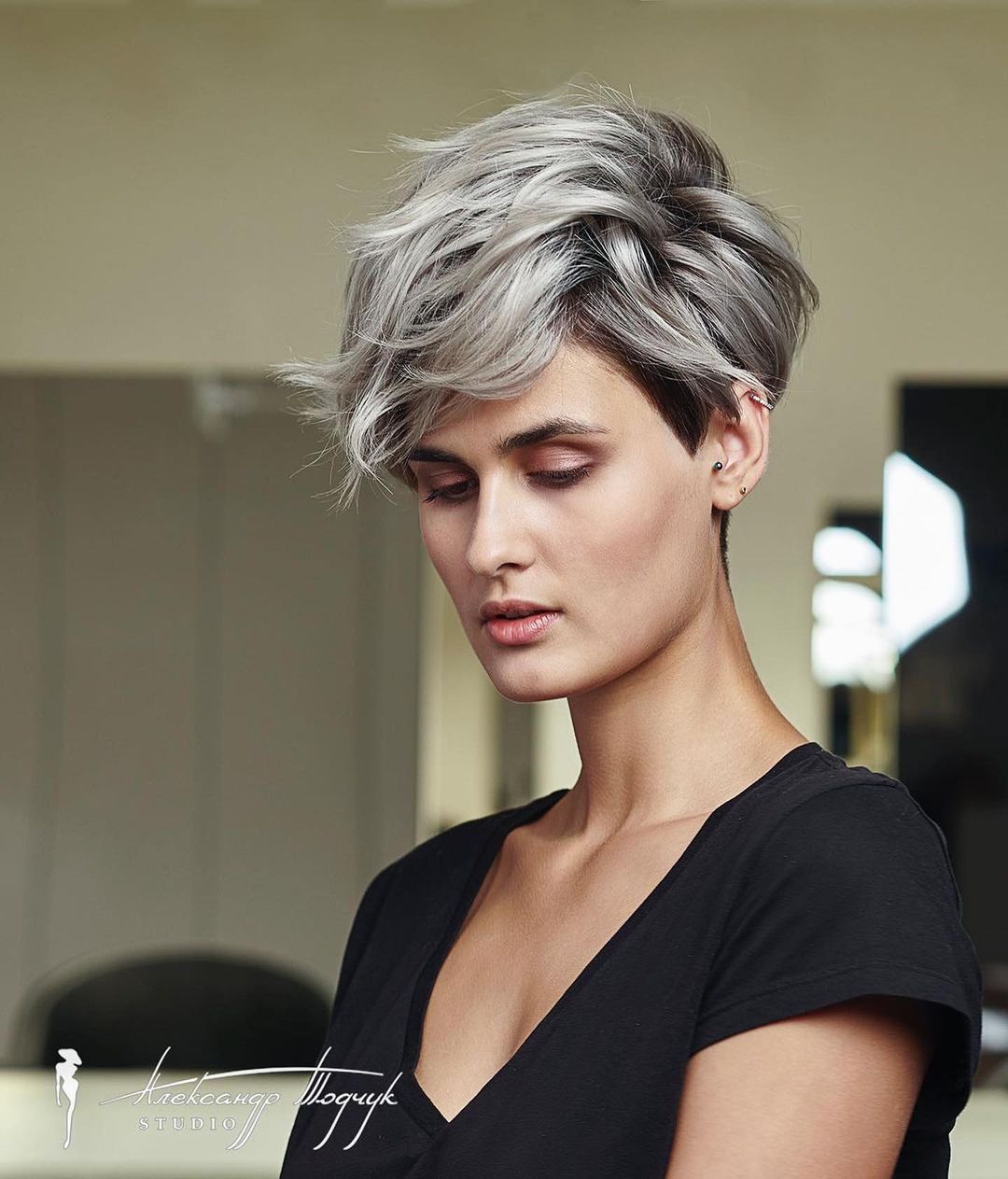 Credit
This chic, high-volume long pixie cut is the answer to anyone who's struggling with gray hairs. Embrace them with a contemporary gray, silver and white hair-color design and a youthful, modern haircut. This is a great style for thick hair that has plenty of natural volume. We love the side-parting, which the stylist has given a woven look, and the flattering texture and height on top, finished with edgy flipped-out tips!
10. Ultra-modern black-gray-magenta angular short hairstyle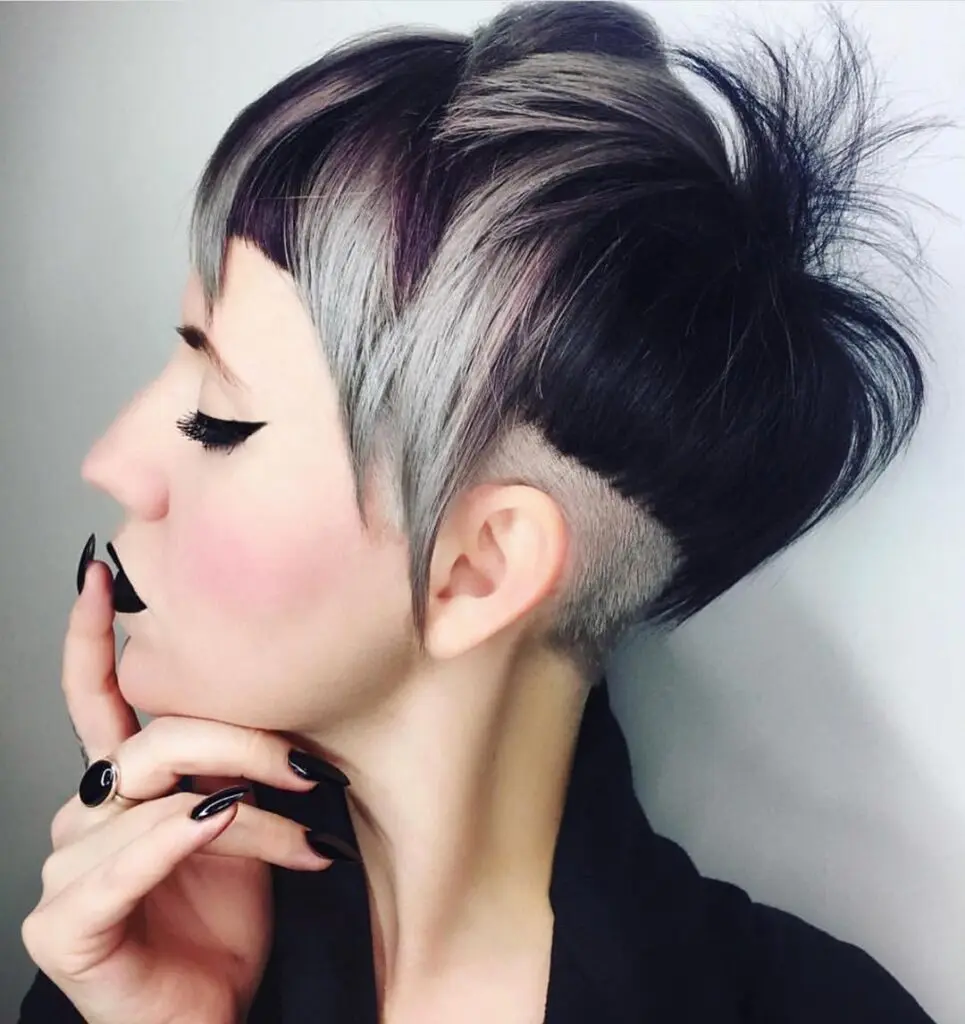 Credit
This amazing new haircut and color is an extreme look that could change your whole image! The vibe is arty and futuristic, with shaved sections, and a strong bowl-cut line in black, beneath silver-gray, sliced ​​layers. The stylist has created a stunning, high-maintenance haircut, which you'll need to have trimmed and shaved regularly to keep its edge. But if you want to make a big impression and show your individual style, it's a fabulous look!