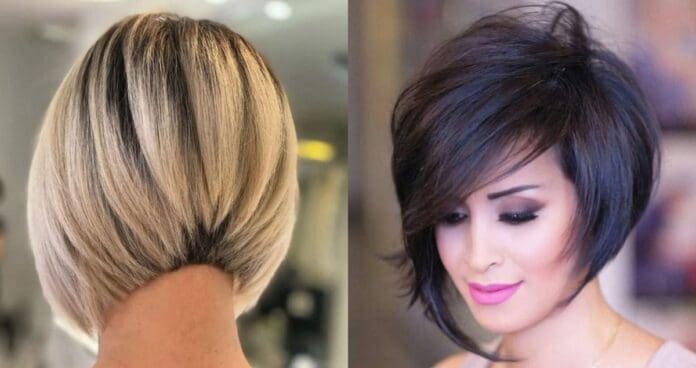 Raising from the classic 60s, the stacked bob keeps breaking the hearts of ladies as well as everyone around them if they go for that extra volume and a rounded, full-bodied shape at the back of the head.
This is exactly what a stacked bob haircut is about: it's cut shorter at the nape, with layers, which give a lot of texture and volume to the cut (that's why women with thin hair especially like a stacked style.) However, women with dense and thick hair can get their benefit too as the stacked layers will help to remove that undesirable bulk and provide more movement.
Stacked bob haircuts can be extremely short, mid-length, with or without bangs – and this versatility explains why they never go out of style.
If cut professionally, precisely to perfection, a stacked bob has so many varieties that it can suit any face shape and hair type.
The gallery below showcases a wide array of gorgeous stacked bob hairstyles as well as recommendations and answers on the most popular questions about stacked hairstyles. So, if you're looking to try out this cut and striving for a doze of inspiration, just scroll down.
Charming Stacked Bob Haircuts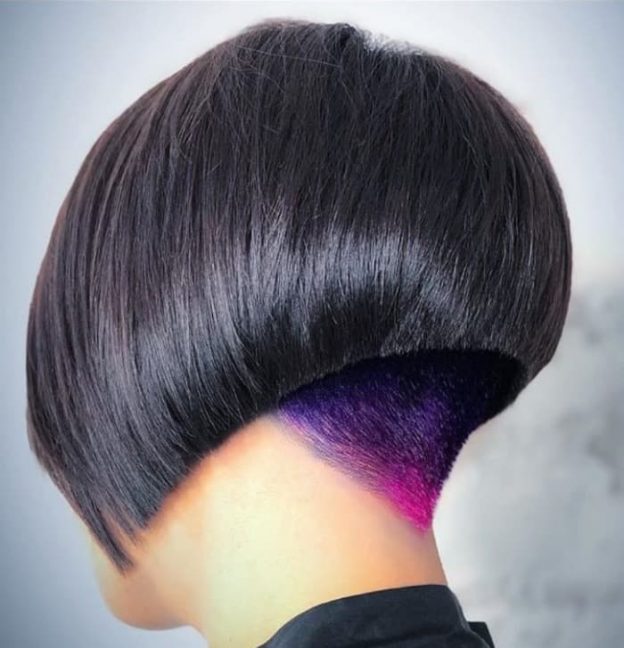 .
@foreverbobbed
Edgy Stacked Long Bob (Lob)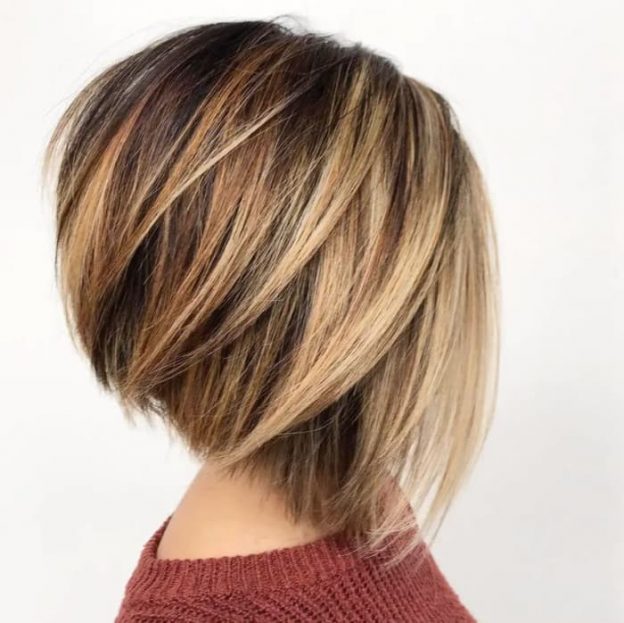 .
@styled_by_carolynn
An edgy long stacked bob will add volume to fine and thin hair. Even if you style it sleek and smooth, soft layers of an angled bob with a stacked nape will give your hair that desired dimension and depth.
Stacked Bob for Wavy Hair
.
@shmoakin_hair
Color and haircut specialists highly recommend their clients to add some hair texture to their short bob haircuts if they wanna bring out the best version of their short hair. Since the length doesn't allow for changing hairstyles a lot, you can diversify your image by juggling with straight, curly, messy, and wavy hair textures.
Stacked Balayage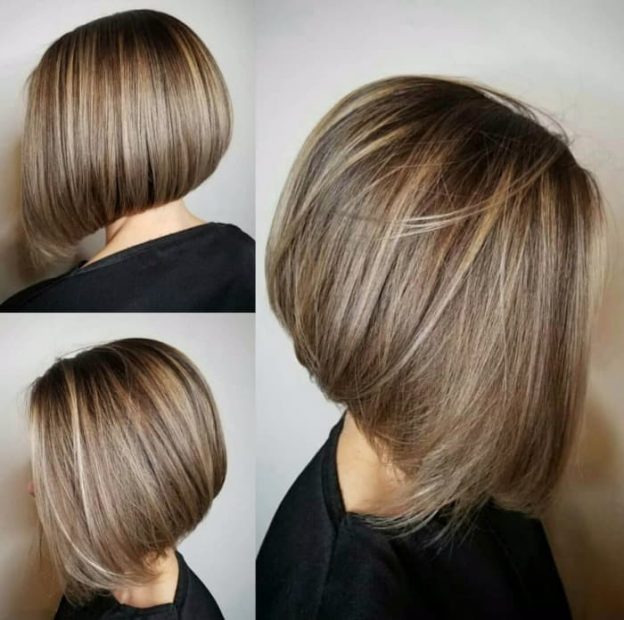 .
@hair_by_marlo
Adding balayage blonde highlights is another way to add thickness and dimension to naturally thin hair. Thus, with this coloring technique, even a medium length stacked hairstyle will give visual volume to complement your personality and hair type.
Angled Stacked Bob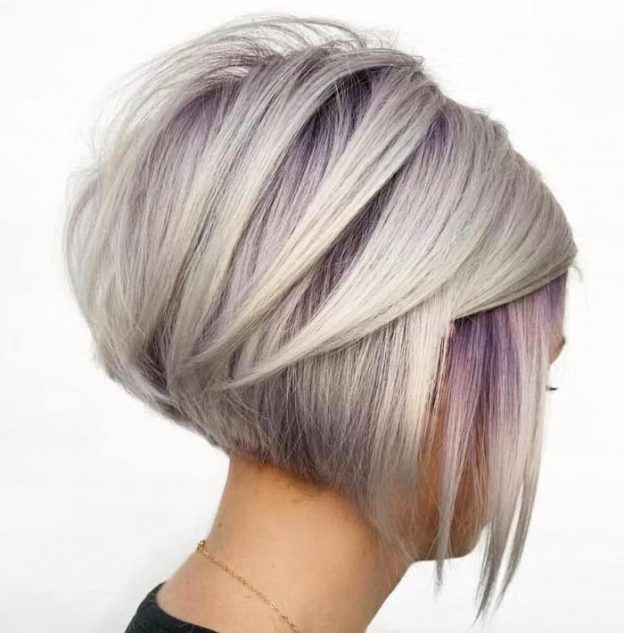 .
@foreverbobbed
This platinum blonde bob cut is super short with the longer front, the shorter back, and it's rounded with layers. This way, a stacked cut allows for extra volume even when it's cut super short. But if you also add some peekaboo highlights in a trending color, you'll be just a queen of short stacked bob haircuts.
Blonde Piece-y Stacked Bob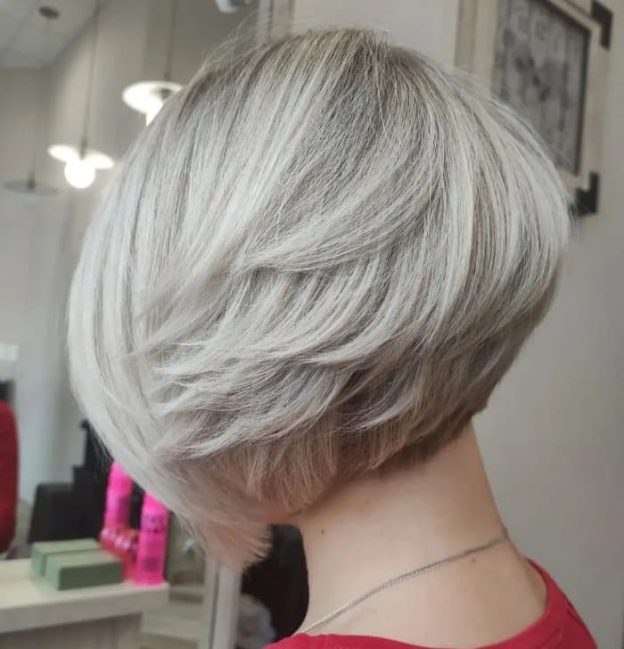 .
@lara_stelmashuk
Here, you can see a blonde piece-y stacked layered bob in action. The layers give you the freedom of styling: sweep them to the side and get a completely new vibe and type of movement at the back.
Short Stacked Bob with Bangs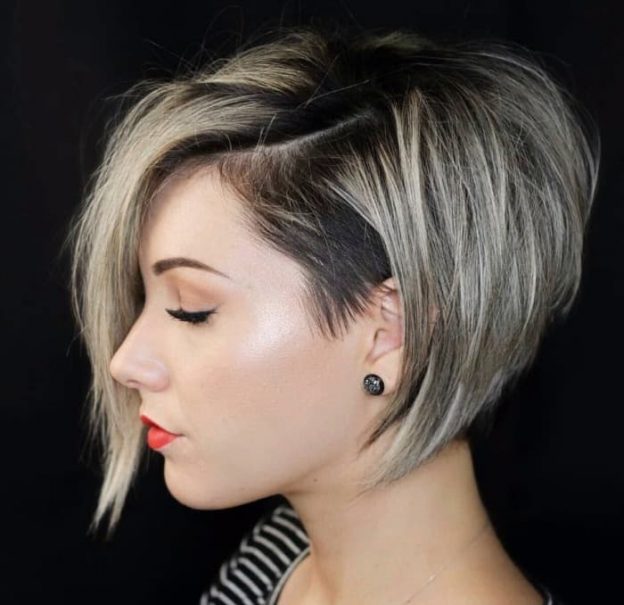 .
@chloenbrown
This short stacked bob haircut with dark chocolate brown base and blonde highlights looks a lot different than a random pixie bob. The stacked bob with bangs in the photo features a distinctive side part that sends the bangs to the opposite side and shows off the undercut at the temple.
Asymmetrical Bob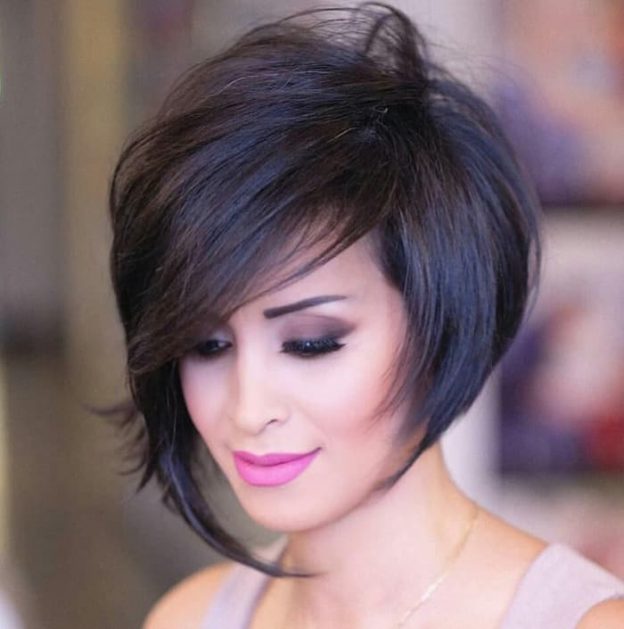 .
@victorkeyrouz
An asymmetrical stacked bob is much more often picked by celebrities than other bob haircuts. The asymmetry gives a touch of freedom, playfulness, and intrigue to the timeless classic bob. This is the way to reborn your short haircut in a variety of styles.
Stacked Bob for Thick Hair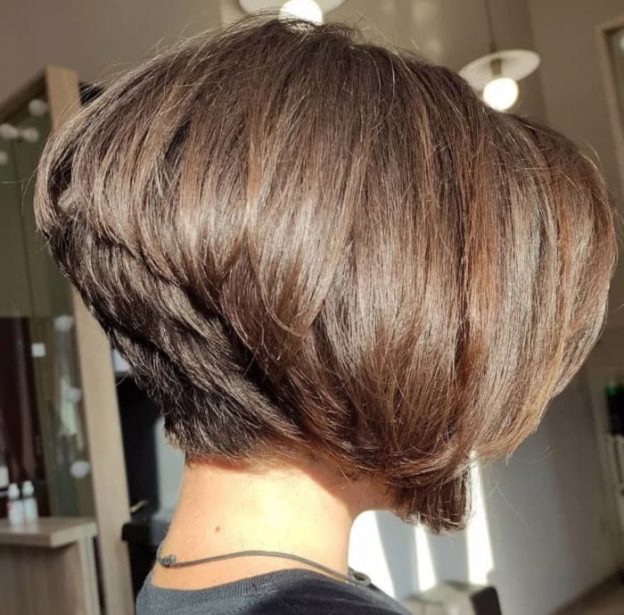 .
@lara_stelmashuk
Can thick hair benefit from an extra short stacked bob? Definitely yes! But only if your hairstylist does everything
right. If cut in an appropriate way, short stacked layers will build a soft shape and make the cut visually less heavy and airier.
White Choppy Pixie Bob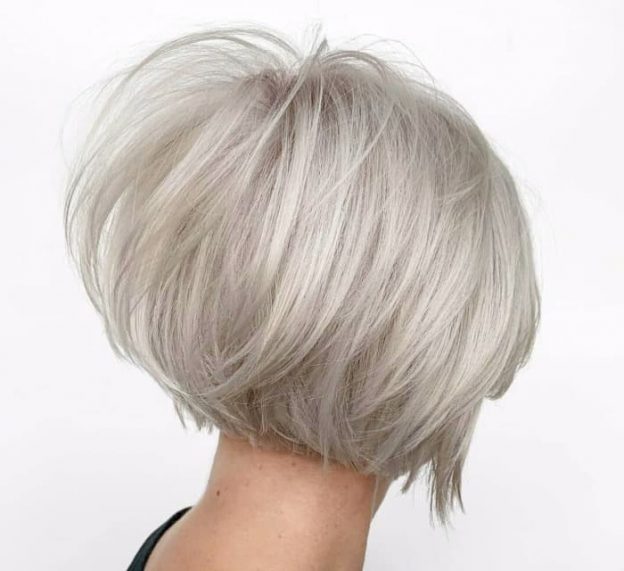 .
@headrushdesigns
Oh, that trendy greyish white everyone is so obsessed about! This shade of blonde turns any hairstyle into a gorgeous and sophisticated piece of art. Wanna give that luxury vibe to your thin hair in a short stacked bob hairstyle? Follow the lead.