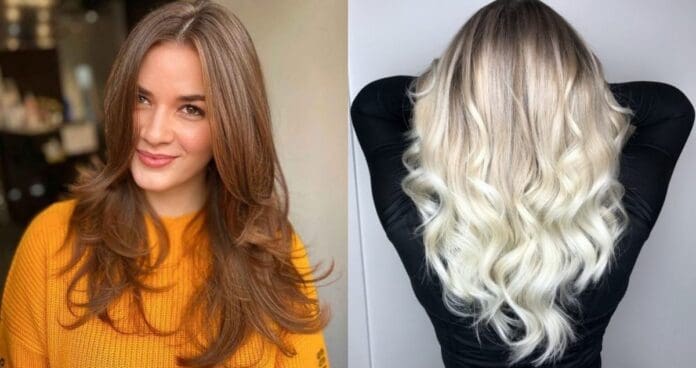 Long layered hair is a haircutting technique for long hair that cuts the top layers of hair shorter than the bottom. Adding layers to long hair creates more movement and adds more volume to thin hair.
Layering long hair removes just the right amount of weight to give the hair movement, without making the ends look over-layered and straggly. Long layered hairstyles typically look great on all face shapes and, depending on how they are styled, they could flatter some face shapes more than others.
Before your next hair appointment, check out these trendy pictures of the best long layered hair ideas.
Platinum Long Layered Hair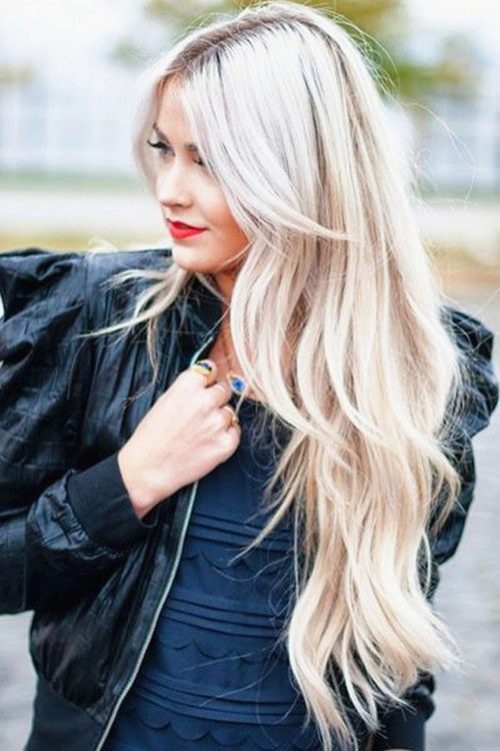 Credit: Cara Loren
Long Layers with Bangs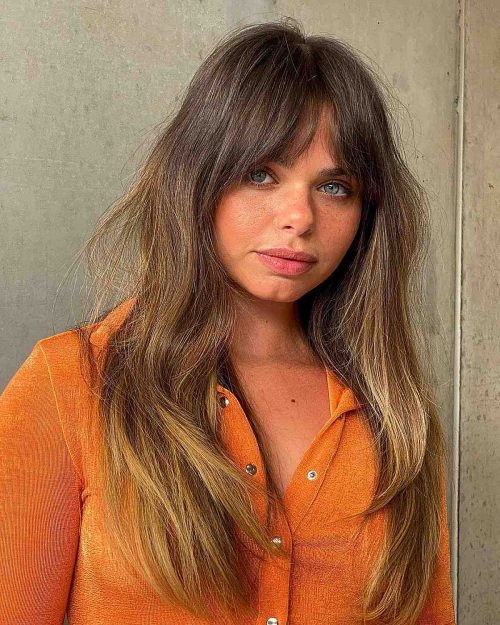 Instagram @jaiden_edwardsandco
Long layered hair with bangs is a gorgeous example of what you can do with scissors and extensions. Don't you love the beautiful job of blending the layers and the various shades of golden brown? This is one of the best examples of long haircuts with bangs that you'll see this season.
Platinum Blonde Layering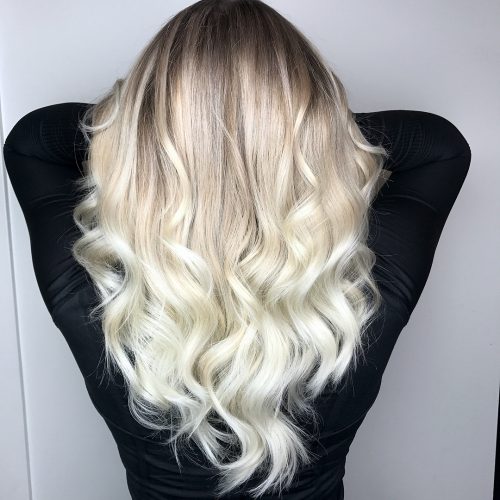 Instagram @hairandmakeupbynatparker
Long layered hairstyles are perfect for diminishing strong facial features. The dark roots melting into the white-blonde hair really bring out a modern, feminine layered look.
Shaggy Layered Waves With a Side Part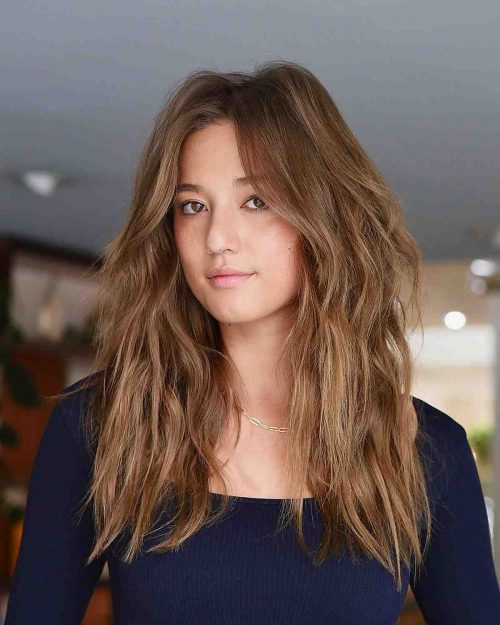 The deep side part of this layered hairstyle would be a gorgeous fall season look. For shaggy long layered haircuts, long hair gives lots of dimensions.
Layered and Long with Curtain Bangs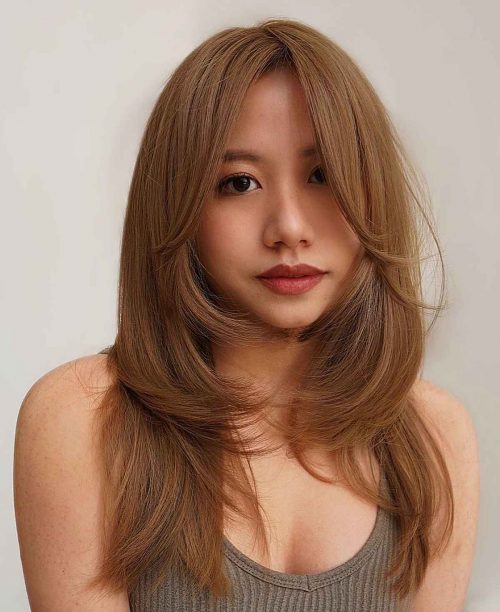 Instagram @memmieyo
A chop that's layered and long with curtain bangs can frame and accentuate the front of your face, especially the cheeks. Flaunt it with the golden brown shade, and you'll achieve that beautiful softer finish.
Very Long V-Cut Layers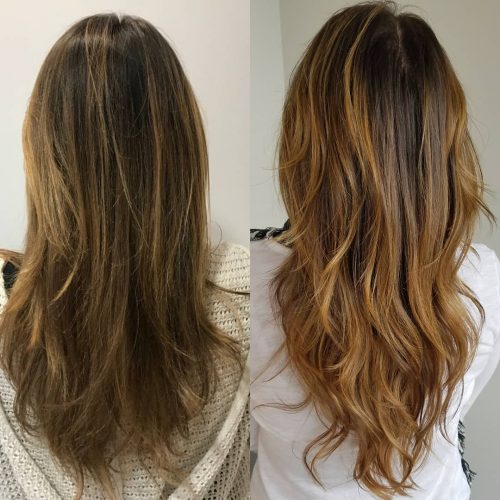 Instagram @kuki_klobucista
Take a look at this hair makeover with a cascade of long v-cut layers using the step-cutting technique. Trendy long layered tresses like this v-cut on long hair add dimension and body, which is perfect for women with thinner hair.
Jet Black Tresses with Soft Layers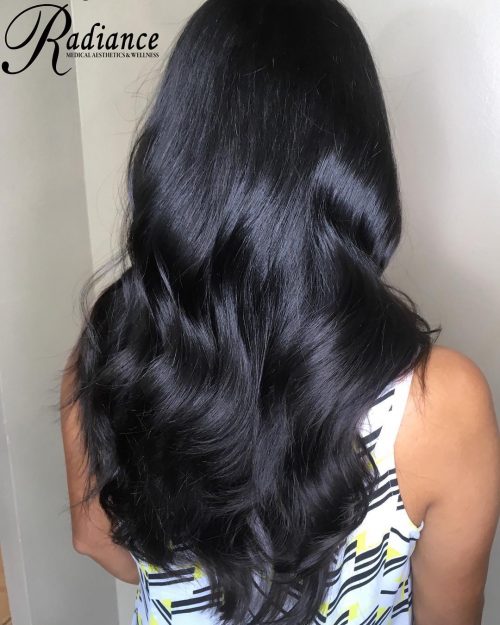 Instagram @briandersonstylist
A jet black long layered haircut looks gorgeous on women with darker skin and extra-long hair.
Light Brown Locks with Lengthy Layers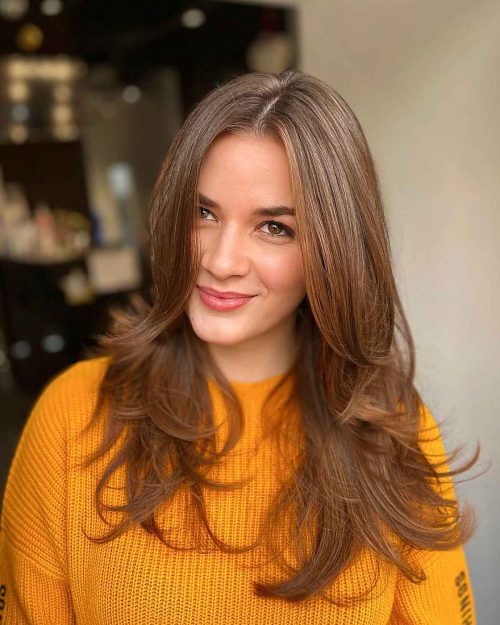 Instagram @hairlab_amiryan
These razored long layers on long-length hair have the advantage of a razor cut so you don't have to sacrifice length for movement.
The wispy layers are kept lengthy so that the bottom line is not too skinny, giving the appearance of stringy hair. But cutting with a razor allows the ends to have plenty of free-flowing movement if the hair is blown out smooth or curled.
Layers for Long Straight Hair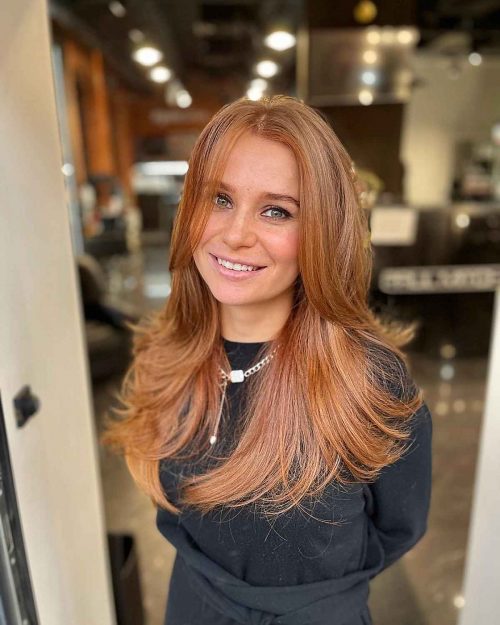 Instagram @hairlab_amiryan
Dramatically layered lengthy tresses with a face-framing center part make this a perfect straight long layered cut for women with thick hair. The swoopy layers are so soft and feminine! This is a sun-kissed look with lots of movement that allows for versatile styling. No matter which way you part the hair or style the long hair, layers will always lay beautifully. For long layered hairstyles like this, it's important to use a good conditioner to keep your hair healthy, shiny, and strong.
Long Shaggy Layers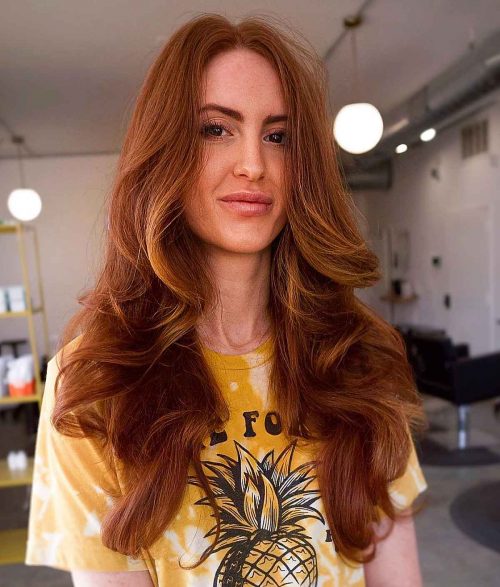 Instagram @tyler_the_hairstylist
Opt for a gorgeous long layered haircut that offers long shaggy layers for optimum movement and texture. The curtain fringe creates a soft face-framing effect and has enough length to pin it back out of the eyes.
Edgy Wavy Layered Cut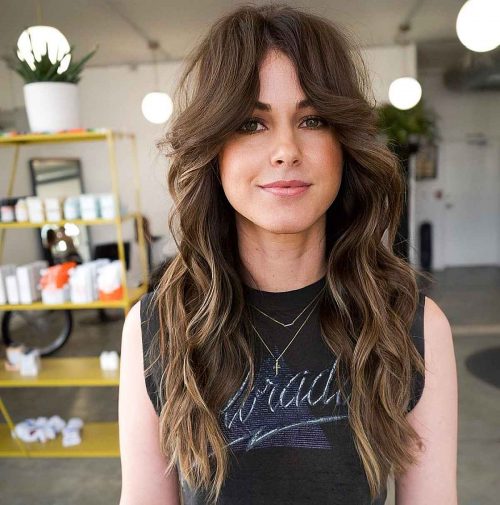 Instagram @tyler_the_hairstylist
Try a wavy layered cut that features heavily textured, brown long layered strands. Long layered hairstyles seem to provide that perfect beach-ready style. I see a wash-and-go style that's still modern and up to date. I love that women who have a low-maintenance style can still have a modern look that works for their everyday lifestyle.