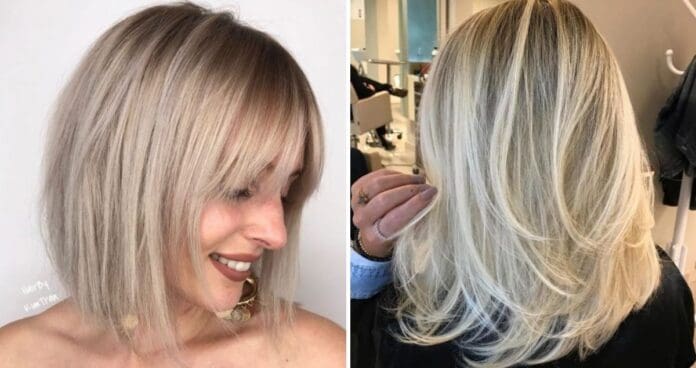 Medium length hairstyles for thin hair are praised for their versatility in styling, since you are not limited to wearing your hair loose. Even a collarbone length can be packed into a pretty updo or a half up/half down. Sure, many women also find the length more feminine and safe, since it doesn't open much of the neck and shoulders. Now we only have to find out which of mid-length hairstyles work fine for thin locks and how hot they are.
What to Focus on When Choosing Haircuts for a Certain Face Shape
Have you noticed that stylists' recommendations for thin-haired girls are often strikingly contradictory? "Ask for blunt cut", "You'd better have layered hairstyle", "Oh, no, don't ask for layering around your cheeks!" What the hell does this mean? Actually, when choosing shoulder length haircuts for thin hair, you should factor in your face shape, as the length can affect your look, and it needs to be balanced somehow. "Elongate round face shapes by creating soft layering just below the jawline, keeping the shape square throughout," Sam Burnett, UK-based salon owner who styled Dua Lipa among many other stars, says to Marie Claire, also suggesting softer lines for square faces. Let's sort it all out through the examples taken from Instagram.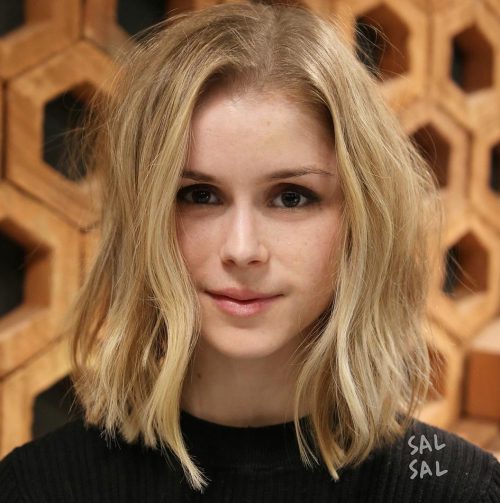 via @salsalhair
Oval faces look stunning when framed with a no-fringe textured lob, since the volume on the sides saves them from an elongating effect of the length. Part it a bit off center for the same reason.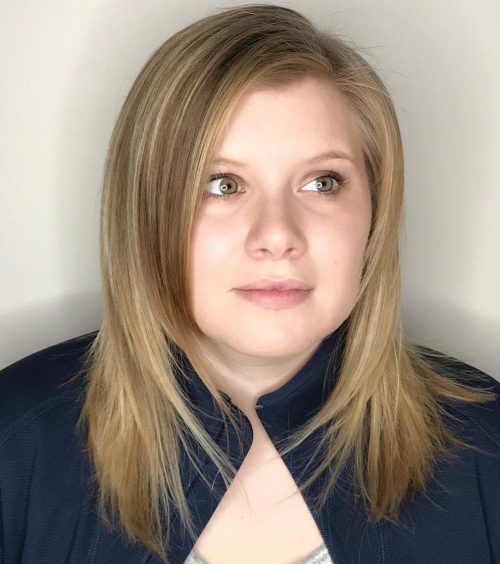 via @meganrosehairstylist
Keeping the cut on the longer side is great for round faces, but a side parting and angles created by face-framing layers do even a better job.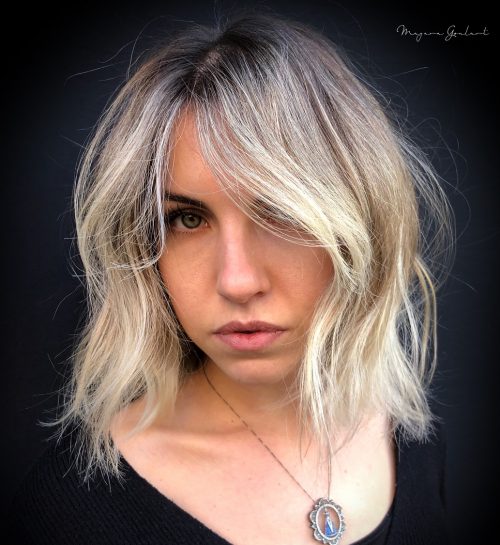 via @maygovintage
A collarbone length helps avoid dragging a long face down, while textured waves around the cheeks add the desired width.
via @tr1zzz
Square faces require soft lines, and they get both across-the-face face framing and loose waves around the jaw with this subtly layered balayage hairstyle.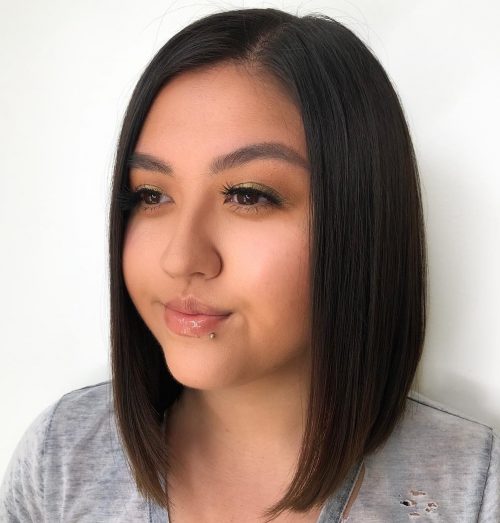 via @madi.jcsalon
Take your flat iron and recreate this lovely blunt lob with a side part that gives plenty of straight lines to make the chubby cheeks look slimmer.
How to Find Flattering Hairstyles When You Are Over 50
We know that older women need something more than just voluminous medium haircuts for fine hair – they want a rejuvenating effect integrated into a stylish cut. And they can achieve it in many ways! Both bangs and layering along the face can soften an aging face, while adding density, movement and dimension (if they are cut correctly, of course). Or think of effects that can be obtained through coloring. "Using a mix of shades from dark to light blonde gives depth to the overall style," Mark Hill, celeb hairstylist and two-time winner of The International Hairdresser of the Year, says to Redbook. The color blend can also refresh the look! So, explore other tips on both slaying your age and making your hair seem fuller.
via @chrystaldawn_hairstylist
Go for a permed mid-length hairstyle with no hesitation in order to get vibrant ringlets that bring in volume and bounce.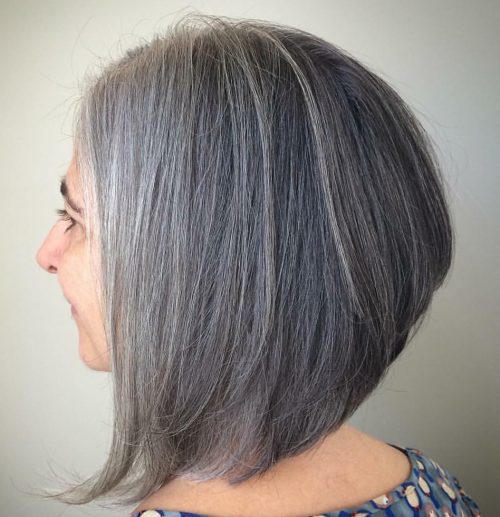 via @fringehairworks
But gray hair can look gorgeous when styled straight, too. Steal this voluminous inverted bob hairstyle with subtle layering through the bottom.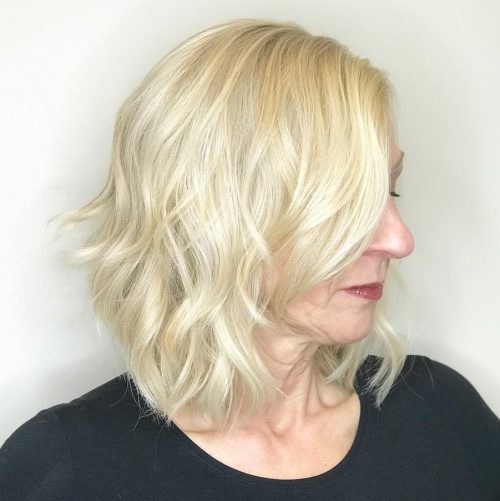 via @yoavtauber
Wavy lobs work fine for older women who have thin to medium hair, since they deliver texture and movement, also helping add some lift at the roots.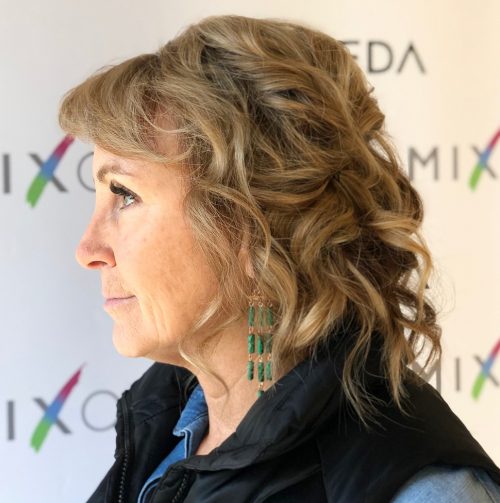 via @mixologysalon_
Don't even think that a curly updo isn't age appropriate! It softens the face and oozes a youthful feel, enhanced with a cute side-swept fringe.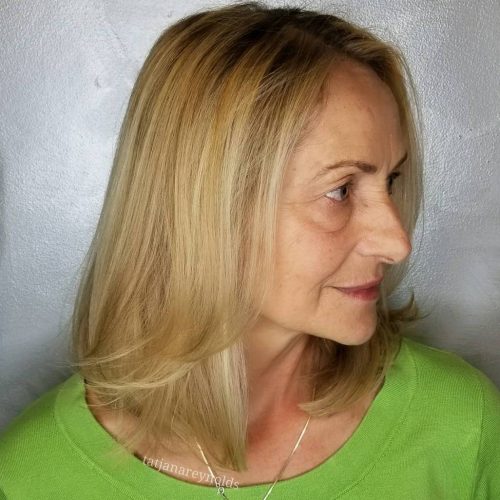 via @tatjanareynolds
If you have fine thin hair, add a balayage color to your shoulder-length hairstyle, as darker roots make the hair look fuller. And don't forget about a feathered finish for an airy touch!
What Bob Chimes With Thin Hair
When it comes to a mid-length bob for thin hair, the blunt lob seems to be a hands-down winner. "All the hair that is at the bottom gets cut off so it will have the most density and look super chic," Jennifer Yepez, hairstylist to Emily Ratajkowski, Salma Hayek and Jessica Alba, tells Allure and recommends avoiding thinning shears and a razor for a real blunt cut.
But this doesn't mean you're bound to have one and only lob. For one thing, you can wear it sleek, messy, wavy or textured, not to mention the choice between straight-across and angled cuts. Besides, layered hairstyles are not prohibited, if they're customized to your personal features. This is how it works.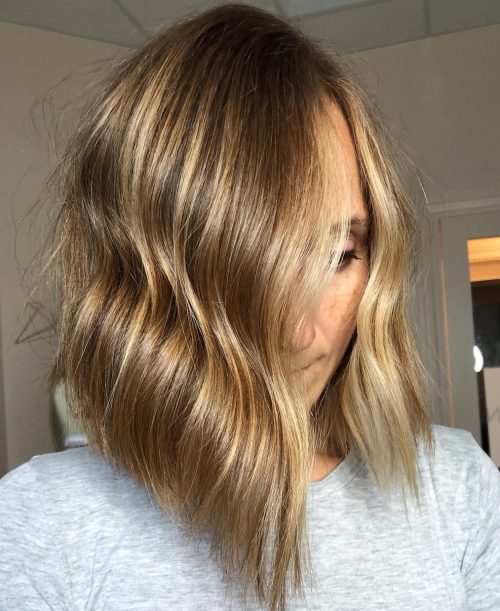 via @hairmeroar
This inverted bob sparks with shiny highlights and feels edgy due to its strong lines, though softened by an awesome wave.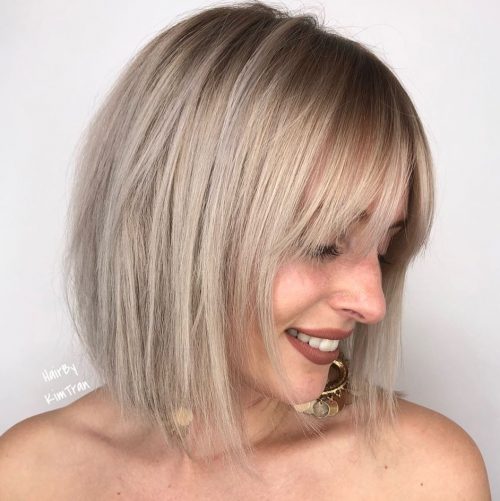 via @hairbykimtran
Think of complementing your regular bob with fringe for added density in the front, but keep the bangs light and piece-y to hide the scarcity and to blend into the overall texture.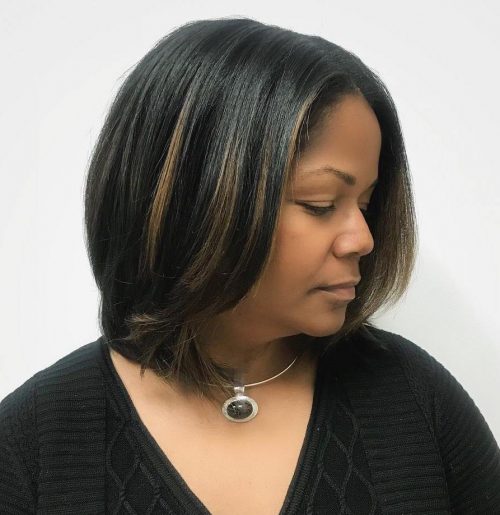 via @lynn.styless
These fine black tresses are feathered and flipped out in the front to open the face, while highlighted strips serve to spice up the bob.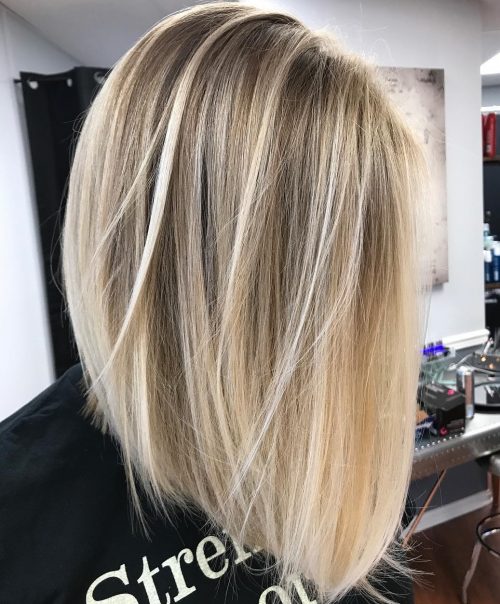 via @corynneylon_hair
Blunt ends are good for thin hair, as they create fullness on the bottom, yet some thin layers on top add texture and movement to straight locks.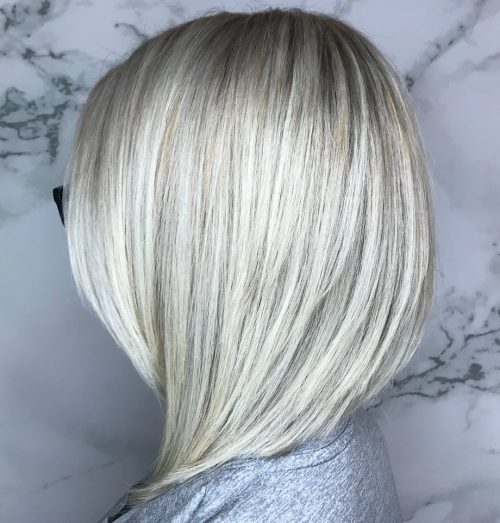 via @hairbyheatherg
This angled lob gains depth and dimension through the dark-to-icy color transition and multiple seamless layers built into the cut.