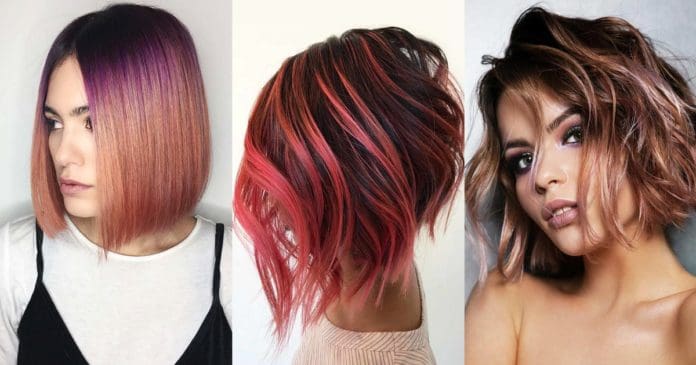 Short ombre hair isn't the first thing that comes to women's minds when they think of this coloring technique. What a shame! It just so happens that girls associate ombre with long hair. It's time to think differently: this beauty can be applied to any context, and short hair is not an exception. Having looked at all the pics we've prepared, you will get what we mean.
Actually, there's nothing impossible about short hairstyles, as in the fashion world "short" doesn't mean limitations. So if you decide to start growing your hair just to get ombre hair color you like, girl, don't make things complicated. Your short haircut is enough to create the color transition you want! See how women with short hair made every ombre hairstyle even more trendy than longer ones. Maybe it's your turn to become one of these goddesses?
Good Ombre Hair Color Combinations
Before changing your hair color, you should make sure that you know why all the famous coloring techniques are special. Let's start with the raucous ombre that you see literally every day. It works well for those who don't want to cover their roots with a new color; the highlighting area takes begins at mid-head. This technique gives a contrastive saturated look, as your colored ends differ from the color of roots. Plus, it doesn't need to be updated every month, which is great for those who seek low-maintenance techniques. See which colors you can combine to get this awesome effect!
1. Brown Ombre Highlights
Source: veronika_belyanko via Instagram
You can diversify your ombre hair in any way you want; it's all up to your endless imagination. This technique has no rules, the only thing you need is contrasting colors on your head. The diversity of short ombre hair for women is just infinite: there's no way you won't find an option for you. Such ombre highlights can be a good idea for brunettes who want to freshen up their locks.
2. From-Purple-To-White Style
Source: shmeggsandbaconn via Instagram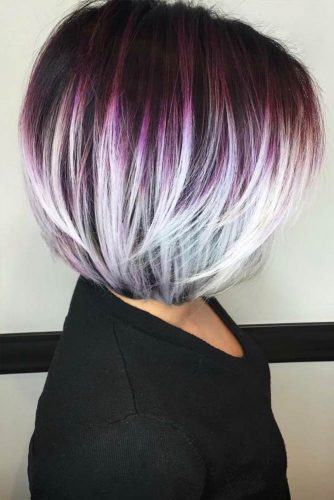 How about unrealistically-looking ombre styles? Nowadays nothing can stop you from sporting bright colors. Modern stylists even say that the more colorful, the better. These purple hues are about to make people hallucinate, isn't that cool? Bold graduation from seductive purple to whitish highlights is a truly breathtaking look.
3. Classy Contrast
Source: anhcotran via Instagram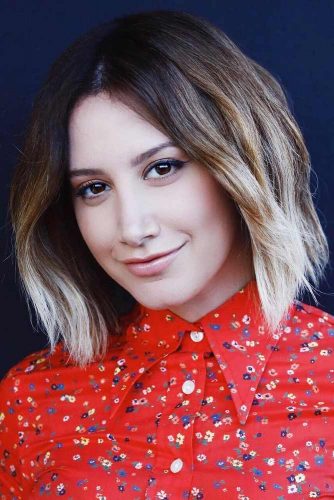 Those who want to bring some colors to their life, there's no way better than getting a blonde ombre. It's a variant that many women prefer to sport due to its versatility. The contrast between brown and blonde hues is a nowadays' classic that will never die: it adds some texture to your hair, giving a fresh look at your style.
4. Wheat Blonde Ombre Hair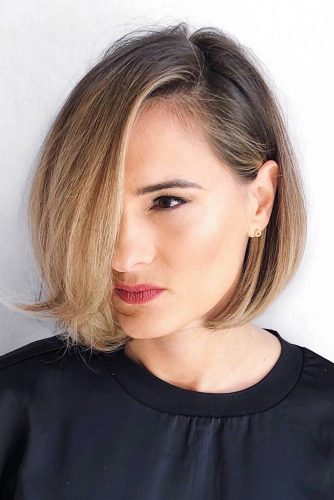 Do you know why a short ombre looks hotter than it's longer versions? You can clearly see the graduation of colors; everything is just right before your eyes. Want your bob to look like a brand new haircut? A soft wheat blonde ombre with darker roots will be there for you.
5. Seductive Blue Ends
Source: anhcotran via Instagram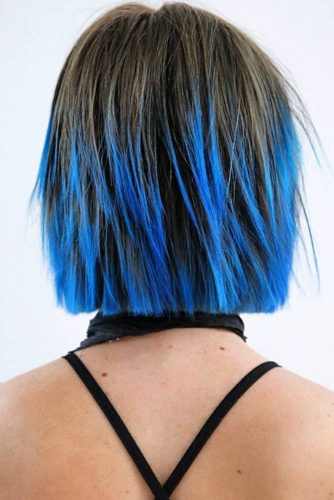 Is there any daring girl who is not afraid of radical changes? Keep in mind that ombre features quite a rough transition of colors, unlike balayage. So, if you're brave enough to be noticed, this blue ombre idea is a must-try for you. Chick blue locks will look unbelievable on light and brown hair. Just give it a try!
6. Ombre For Natural Look
Source: salsalhair via Instagram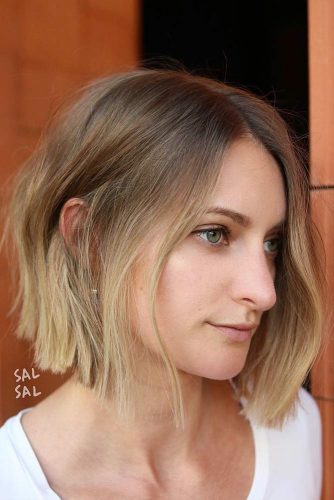 When going for an ombre bob, many girls prefer to keep it natural. Well, your hair changes don't need to be too vivid to look great. And this transition from natural wheat blonde to soft ashy hues is living proof. Once you spice up your blonde in this way, you will fall in love with your own locks.
Is Balayage Good For Me?
alayage is good for women who prefer organically highlighted hair without a definite contrast line between colors. This freehand technique gives a softer and a bit lighter effect, going all over your hair and starting right at the roots. Though balayage shows root regrowth, you don't need to worry: when your hair grows, the highlighted hair keeps a smooth transition with roots.
7. Honey Blonde Balayage
Source: maygovintage via Instagram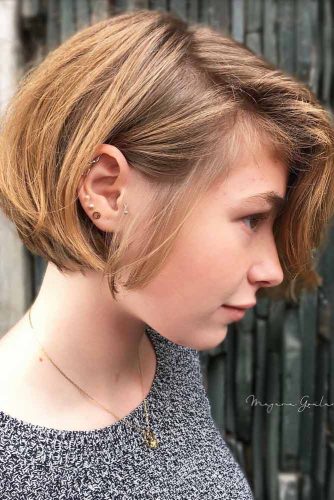 When you know that you want to see balayage in the mirror, it's crucial to choose colors that will look authentically with your complexion. This pic is an example of suitable skin and color pair: a girl with light skin tone wearing soft honey gold hues. Balayage works for everyone, just make sure that you know what colors suit you best.
8. Voluminous Balayage Highlights
Source: prettylittleombre via Instagram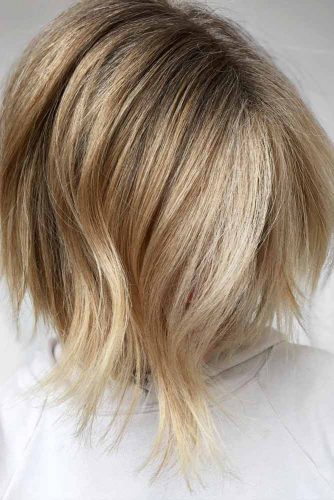 Most women know that they should choose their hair styles based on their hair type. But not everyone realizes that a proper color pair also plays a vital role in their looks. For example, you have thin hair, and you would like to add some volume: you opt for a messy bob. And here comes balayage highlights that create both needed volume and texture. Once you mix it all, you will forget about hair problems: these ashy blonde and caramel highlights will prove that.
9. A-line Bob Hairstyle
Source: styled_by_carolynn via Instagram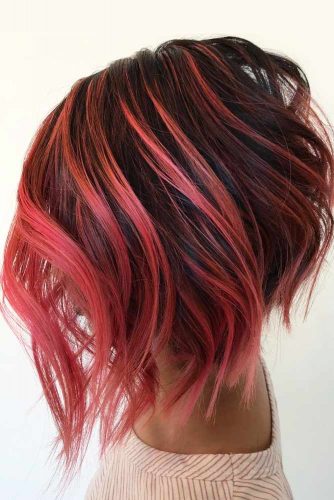 As for women who want to show off their hair in a glaring way, they usually go to the ombre side. When you look at these amazing rose and burgundy red hair colors, you see where each one begins. This is how ombre works: the colors don't melt together, each one plays the main role. By the way, this burgundy idea is the newest thing in the color world. Don't pass it by.
10. Beige Ombre Highlights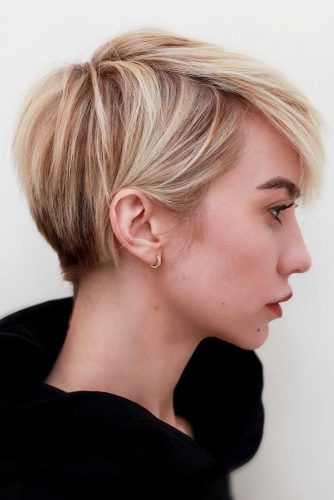 How do you like these beige ombre highlights with a darker bottom? When it comes to your pixie cut, you are the only one to choose a coloring technique, as this cut is very flexible. If you have thin hair and feel like there's a lack of texture, it's better to go for balayage highlights. And if you want your cut to look distinctive, ombre is a good choice. It all depends on your hair needs and preferences.
11. Update Your Blonde Hair
Source: prettylittleombre via Instagram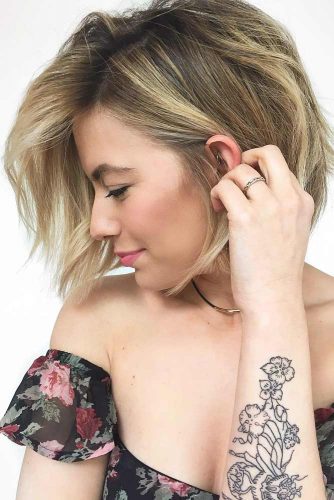 If you think that there's nothing to do with your blonde hair, you're completely wrong, sweetie. Nothing looks more natural and adorable than ombre on blondes, especially when many blonde shades are mixed. Add lighter hue to a darker base, or darker hues to a lighter base, and that's enough to update your hair color.
12. Ombre For Medium Hair Length
Source: hairbykas via Instagram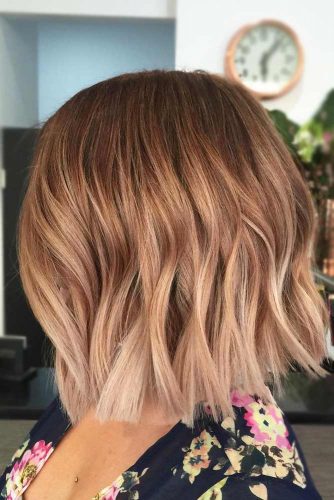 The best hair length to sport ombre is medium length. Your hair isn't too short to show off the beauty of color transition and not too long to style it conveniently. This layered medium bob, embellished with sandy and chestnut shades will work for every woman, every hair type, every face shape. If you're looking for a fail-free idea, that's it.
Best Accent Highlights For Dark Brown Hair
Highlights are here to accentuate your hair color. They are sections of hair that are dyed lighter than your base hair color. If you want to add some brightness and dimension to your hair, it's a good idea, as you don't need to dye your hair completely, you just put a little accent on some strands. Wondering how it looks on different hair colors? Go ahead, and you will see!
13. Brown To Blonde Ombre
Source: buddywporter via Instagram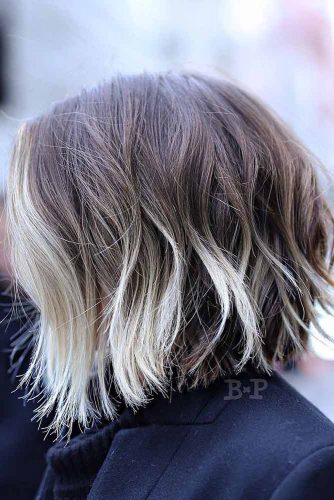 When you feel that your brown hair is too bleak, it means that it needs some changes. You don't need to change your hair color completely, but a little accent won't hurt. This transition from brown to blonde is a good way to emphasize your natural hair color. With such a look, everyone will know that you're a brunette with a good taste.
14. Dimensional Highlights
Source: lissyroddyy via Instagram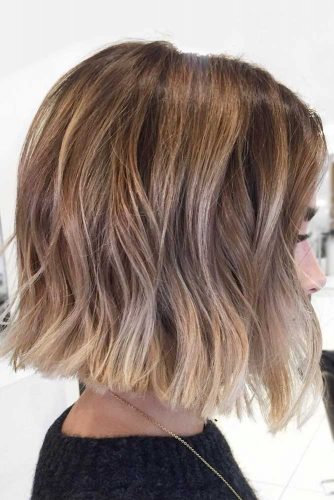 If your hairstylist wants you to try ombre highlights, you are about to bring the most multidimensional colors to life. This technique features two or three matching shades, creating an extra voluminous and lively silhouette. Look at this pic! Don't you find these gold, platinum, and chestnut hues to be the trendiest idea ever?
15. Best Color Combination For Layered Bob
Source: rogerio.capela via Instagram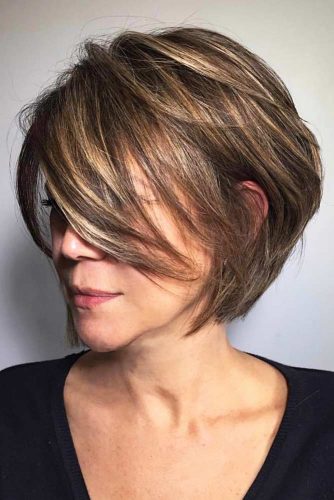 To accentuate your short bob, you can get yourself a slight ombre, highlighting your base. Women with brown hair can go with warm blonde highlights, and blondies can opt for brownish highlights. If you have bangs, don't forget to emphasize them, as they always should be in the spotlight.
16. Dramatic Dark Brown Bob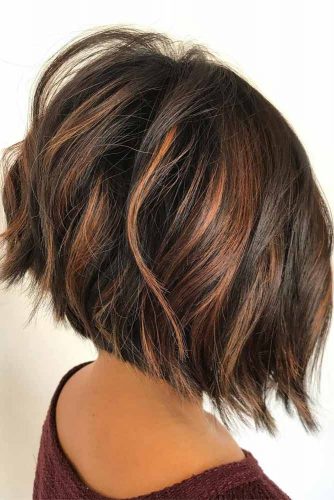 Remember that dark brown hair gets on well with dark blonde and reddish hues. Yes, to reveal the beauty of your dark hair, you need some lighter locks that show it. And this idea is the nicest example of what we're trying to say: these bronde and cherry shades combined together make this hairdo look absolutely awesome.
17. Pastel Blue Highlights
Source: hairbykotay via Instagram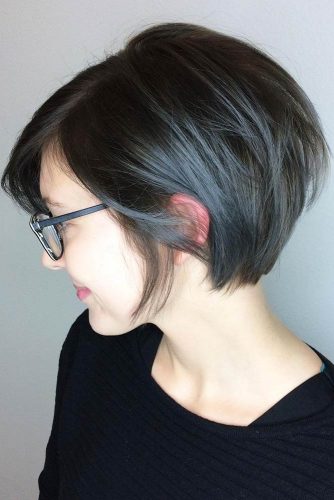 Once you have a look at this bold idea, you will realize that your short hair deserves to look this great! Pastel colors are so in demand nowadays, and when they're paired with a darker base, they create a look that can take over the world.
18. Trendy Ash Blonde Hair Color
Source: hairbymirna via Instagram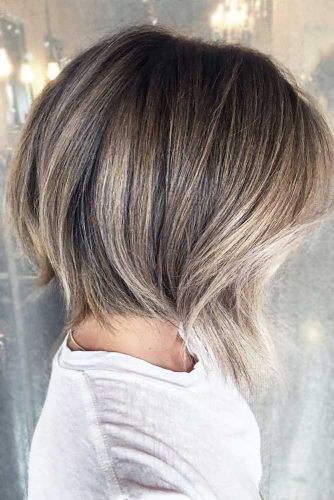 It's time to talk about the most famous member of the blonde family: the fantastic ash blonde is here to turn heads. These colors mix requested faded hue and trendy greyish tint. The best thing is that it works for any complexion. Be careful; this color is about to win your heart. No wonder, this ashy ombre is a look to steal.
19. Blonde Ombre Hair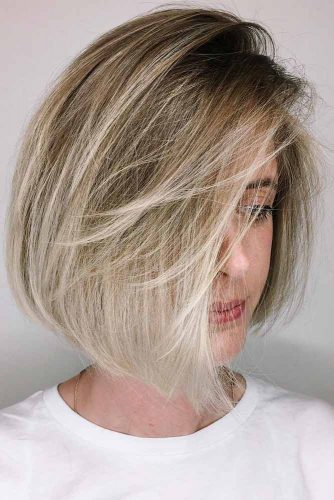 Blonde ombre hair is the idea that has always been around and probably won't ever leave us. It's a versatile color that can fit any base, giving it a soft, light transition that enhances the beauty of primary and freshens up the overall look.
20. Bob With Sandy Ombre
Source: chrisjones_hair via Instagram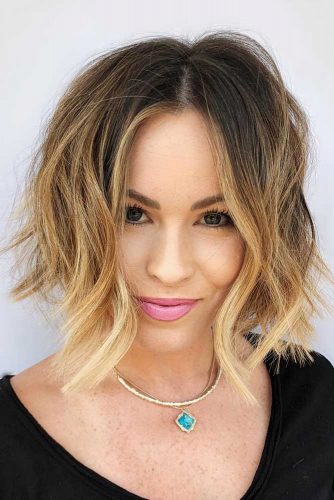 How about adding some beachy vibes to your casual hairstyle? This time we're not talking about seductive beach waves, yet they get on well with sandy ombre. It looks ravishing with waves and curls, and it's a nice choice for brunettes who sport bob cuts.
21. From Purple To Peach Color
Source: xandervintage via Instagram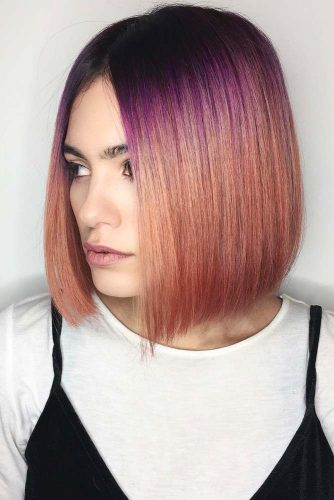 No more familiar blonde and brunette colors; it's time to give the green light to something more unusual! Dark roots that gradually turn into a purple base, which, in its turn, gets peachy to the ends is a color update that every daring girl should try in her life!
22. Dark Brown & Beige Color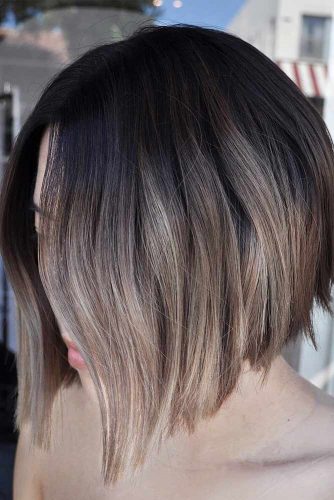 While many ladies ask their colorists for the famous black and grey color pair, the real trendsetters rock their days with dark brown-to-beige ombre. These colors are more natural, so even if they create visible graduation, they look authentic.
23. Brown To Wheat Hair
Source: anhcotran via Instagram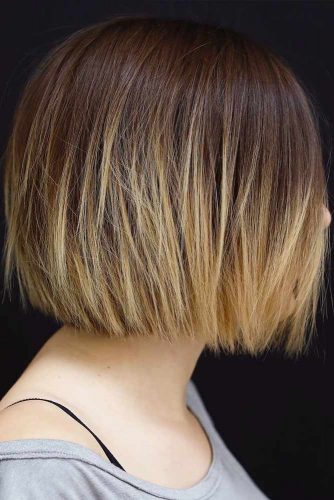 Nowadays, the more natural look you have, the better. That's why you come across such combinations as brown and wheat blonde when you search for ombres. Indeed, they're a nice color match which looks good on short hair.
24. Brown Ombre Color For Natural Look
Source: salsalhair via Instagram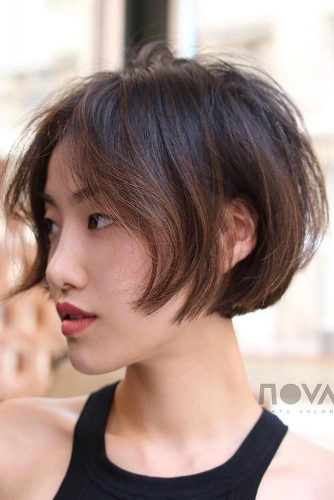 You can also get yourself ombre of two matching shades. Girls opt for such ideas because they give a lot of shine and dimension to their hair. So once you mix two brown shades, you will love the effortless effect of this mixture.