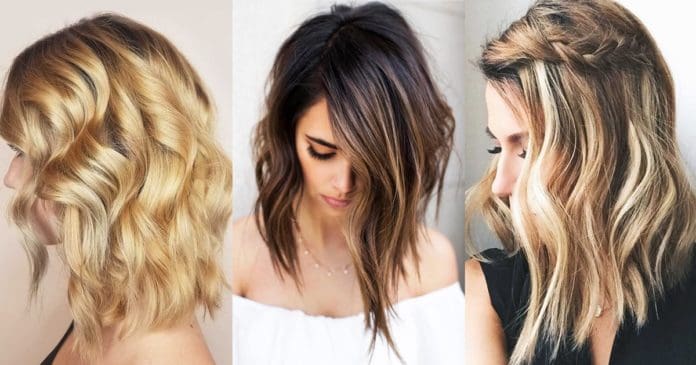 Hairstyles for medium length hair look especially flattering when they are wavy, and a beach wavy hairstyle is one of the trendiest options this season. Read on to learn several tricks that can help you to achieve the most fabulous wavy hair look.
How To Get The Perfect Beach Waves In Different Ways
Do you find yourself wondering how to get beach waves? All over social media, we see women with sexy, perfect waves, and we ask ourselves how much they paid to get those gorgeous wavy tresses. Believe it or not, beach waves are one of the most sought out hairstyles for medium length hair.
The secret to luxurious beach waves is the technique of getting them. All you need is a few minutes, your hairdryer and a curling wand. And if you are a more visual learner, you can always search for a beach waves hair tutorial online. However, we are going to give you a quick guide as to how to get beachy waves without going to the salon.
There are several ways to get beach waves including using sea salt spray and scrunching your naturally wavy tresses, blow-drying and curling your hair, or simply getting the right haircut.
Centre Parted Lob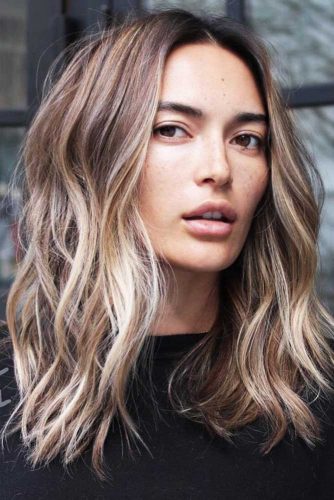 Lob hairstyles are perfect for medium wavy hair. A lob is simply a longer bob hairstyle. As such, you will still be able to pull up your hair into a short ponytail, updo or cute half updo. And you can still wear it down without your curls looking dull due to too much length and weight on your hair.
Part your hair in the center while damp and then style as desired. Beach waves look stunning with a blonde and light brown balayage fade like the one shown here.
Source: salsalhair via Instagram
Side Part Hairstyle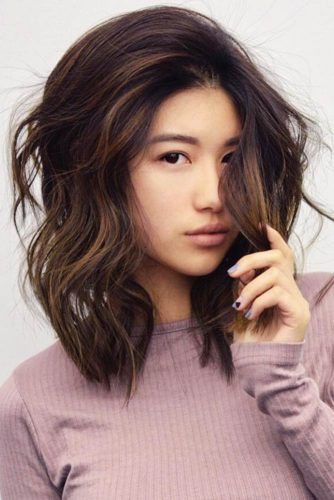 Another great wavy hairstyle for medium hair is this pretty side part hairstyle. A side part is a great way to add volume to thinning hair. Our hair tends to naturally part to one side or the other, so you should try to go with your natural part. It is much easier to part your hair when wet. So, if you are not washing your hair, give it a good spritz before parting. Then use your fingers to tousle your beach waves in a sexy, bed-head style. If you really want to add texture, try some caramel brown highlights on a chocolate brown base. And don't forget to ask for layers as they add a ton of volume to your hair.
Source: cutyourhair via Instagram
Deep Side Part Medium Hairstyle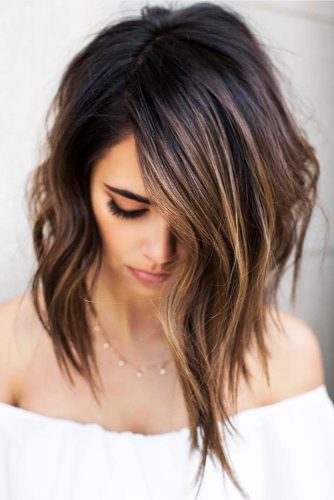 If you are going for a super sexy look, try a deep side part medium hairstyle like the one pictured here. A deep part will not only add more volume to your hair, but it will allow it to seductively fall over your eyes. Add some dark and light ash brown highlights to your dark brunette hair to give it a multi-dimensional look.
Source: mikaatbhc via Instagram
Deep Side Part With Some Height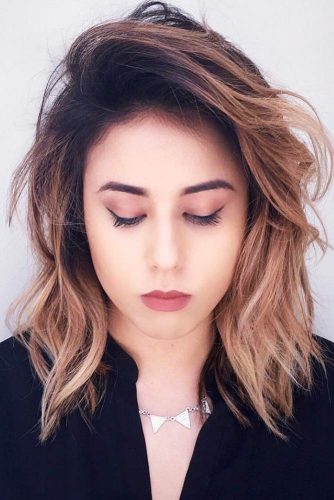 Another great look for a deep part is this deep side parted hair with added height. Added volume will make your thin, or fine hair look much fuller. As well, such hairstyles for medium length hair are very flattering. While not quite as high as the hairstyles of the 1980s, parted hair with volume becomes very popular again.
Simply do a deep side part and then tease it from the roots to give it more volume. Make sure to use volumizing spray to give it that added oomph. A teased deep side part looks especially pretty on hair that has a lot of texture. The shades in this pic are the perfect contrast between warm and cool shades. Style your waves in a casual messy way for a fun and flirty look.
Source: cutyourhair via Instagram
Beach Wavy Medium Hair With Choppy Bangs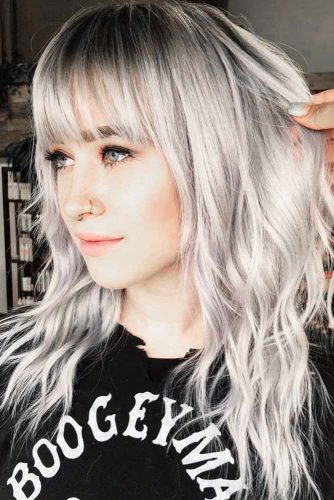 Choppy bangs are very popular right now. A fringe is making a huge comeback and is a perfect choice if you want a look that is demure and mysterious. This long layered lob with choppy bangs is a very hip hairstyle for beach wavy medium hair. Ask for long layers to add volume to your wavy tresses.
Gray hair is all the rage with women of all ages. And what could be prettier than this silvery blend of medium and light gray hair for a truly multi-tonal look?
Source: bescene via Instagram
Half Updo Hairstyle For Medium Hair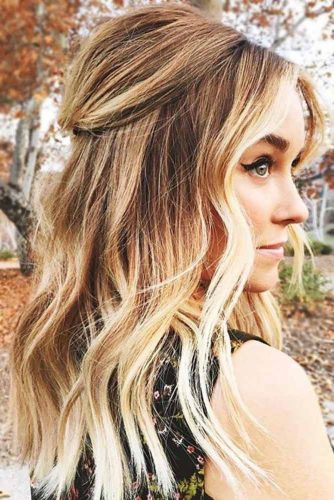 A fun and trendy hairstyle for medium hair is the half updo. There are so many ways you can style your hair in a half updo, from buns to braids to top knots to chignons. And they are a great way to get some of your hair off your face as well as add volume and texture.
This pretty half updo has a ton of depth and dimension thanks to the stunning balayage blend of dark blonde, ash blonde, and light blonde hues. Blow out your beach waves for a relaxed vibe that shows you are ready for anything that comes your way.
Source: kristin_ess via Instagram