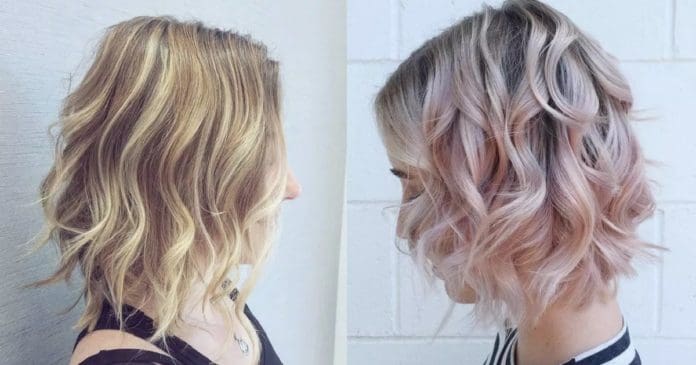 Statistics are showing that a lot of girls have thin hair and such hair type becomes a huge problem for some of them. Thin hair can easily get matted, it does not have enough volume, and, worst of all, thin hair becomes dirty more quickly. It is easy to damage such hair, it often gets dry, ratty, and lifeless. Thus, the main aim of girls with thin hair should be to choose a proper hairstyle. A good specialist will help anyone to choose the perfect haircut for fine hair in accordance with the appearance and face shape.
The medium hair length is the most universal one when it comes to thin hair. You can make a lot of chic hairstyles because thin hair of medium length can be styled in different ways. All the hairstyles are pretty simple and include variations based on bob haircuts, braids, or curling styles. If you do not know how to style thin hair, try a cascade firstly – it is great for both, straight hair from the roots and curls. Additionally, a "creative mess" hair trick will always save you when there is no time for hair styling.
Nevertheless, an owner of thin hair can find some significant advantages in this hair type: firstly, thin hair is easy to cut, and, secondly, it is easy to be styled (some of the fixing mousses can literally do wonders with the thin hair).
Stylish Shoulder Length Hairstyles for Fine Hair
Admirers of the Grunge style, which is getting more and more fashionable this season, can easily create the effect of carelessness and "morning negligence" on thin hair.
If you need to get curls that are randomly divided into strands, and look chaotic, use a hair dryer – a so-called "diffuser" for hair drying and other texturizing styling tools. Talk to your hairdresser about how to perform the styling properly, according to the grunge style and how to give a fashionable effect of slight tousiness to the hairstyle, so that your whole outlook to be really stylish and fashionable, and does not give the impression of banal negligence.
It would be good to make minimum styling after combing the hair with a flat brush. The hairdressers do not recommend to use wax, hair fixing gel or lipstick to add shine for sparse and thin hair. Such things contain fats, and the hair will look slick, due to those fats. For short thin, a little (!) amount of gel with the effect of wet hair will do. For longer thin or rare the experts advise using a hair spray with strong fixation. Try to lift the strands and apply the hair spray from the inside. If applying the hair spray on top, it will make the hair heavier.
Cool Haircuts for Medium Length Thin Hair
If you want to learn some tips on how to style medium length thin hair – you will get them!
Highlighting is a great way to add volume to hair. Bleached locks will give color depth and make thin hair visually thicker- especially if talking about the medium length haircuts.
Another cool trick for thin hair is to change the hair part with each styling. Even if the new parting differs from the previous one just a little bit, the hair will take another position, which will give it more volume from the roots.
The Best Hairstyles for Medium Thin Hair
Thin hair requires a special and highly professional approach when it comes to making haircuts and hairstyles. The owner of thin hair should decide only on the general style and length of hair, and a hairdresser, who knows all the nuances of working with fine hair, will select the best haircut for a fine hair texture that is ideal for any person's image and type of the face.
If the hair became thin recently and you did not have fine hair from your birth, then the professionals will select special treatment procedures for your hair (for example, Keratin prosthetics of hair structure) that will quickly restore the thickness and structure of a weakened hair.
Cute Medium Length Haircuts for Fine Hair
Nothing increases the volume and thickness of thin hair better than curls! Variants and methods of curly and wavy styling for fine hair are endless. Hairstyles with lush, soft curls will help create a gentle, romantic and feminine image. Slightly disheveled curls, divided with wax, will grant the image the attractive charm of "morning negligence", and clearly structured curls or waves will grant, on the contrary, irresistible elegance and glamor of a socialite.
If you are the owner of straight hair, you still can make cute magic curls and waves in various ways: with curling tongs, with a hair dryer and round brushes of various diameters and, of course, with the help of pinning curls.
It is pin curls that are the best option for frequent hair styling, as they are the least traumatic tools for thin and sensitive hair to hot styling. Hot tongs and too hot air from a hair dryer quickly dry out the thin hair and make it more brittle, so the professional hairdressers do not recommend to style the hair with such the "hot" tools.