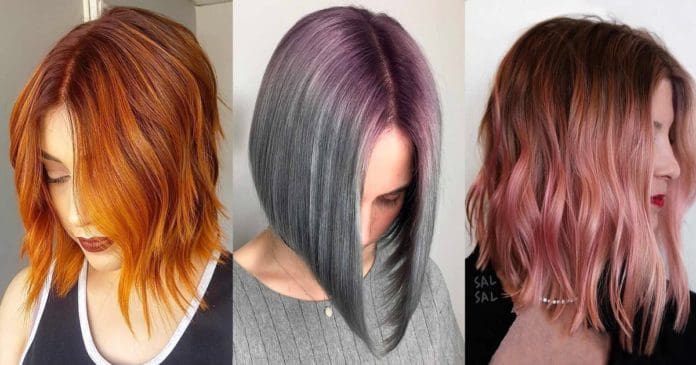 An inverted bob (also called graduated): you probably have heard this beauty term many times already. But what does it mean? How is this kind of bob different from other kinds of bob?
In short, a graduated bob haircut involves a completely different cutting technique, comparing to other bob haircuts. And in detail, its nape section is trimmed so that it resembles a curve encircling a woman's neck. Its center back is a bit shorter and its length is approximately one inch. And in order to get the voluminous crown, the cut is stacked and tapered. Unlike other bob haircuts that have a flat crown. But even though being tapered, you can see that its nape does not appear thin, it is rather soft and heavy. And being shorter at the nape center, the hair gets longer gradually and blends into longer sides that start approximately ½ inch behind a woman's ear. These sides fall in pieces in the forward direction because they are texturized. If you look at this haircut from the back, you can see that its lines resemble a horseshoe.
Now when you can differentiate a graduated bob from other kinds of bob, let's discover trendy ways of rocking bob hairstyles. You will love them all!
Medium Inverted Bob For Light Curly Hair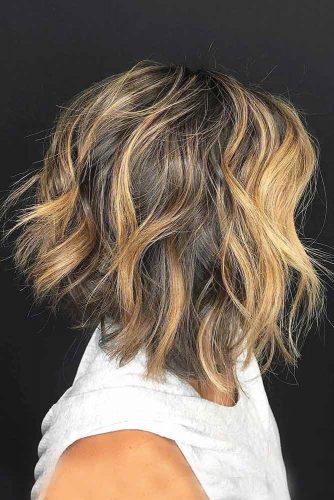 This model is wearing a beautiful representation of the medium inverted bob. The layers and balayage effect add a level of depth that is amazingly convincing. This style works for various hair types, and it also works for straight or curly hair. The multiple tones of the color help to get an exciting, fun effect, making this style appropriate for all occasions. This style is easy to achieve and maintain and doesn't require a lot of time.
Source: justhairobsession via Instagram
Layered Inverted Bob Cut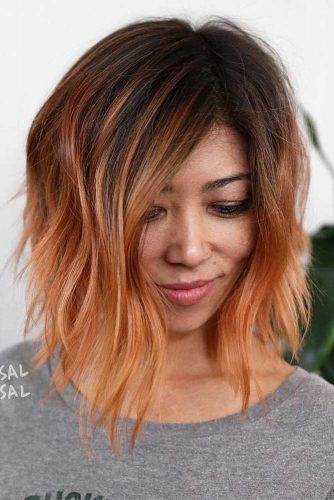 This layered inverted bob is perfect for the increasingly popular messy look. As this model displays with her before and after photos above, the right cut can totally change a look from being tired and drab to sassy and chic. Her reddish-brown color does a fantastic job in bringing out her beautiful skin tone. The ombre hair has also rushed to the forefront of popularity in the coloring industry. It is the perfect quick, easy style.
Source: salsalhair via Instagram
Angled Short Curly Bob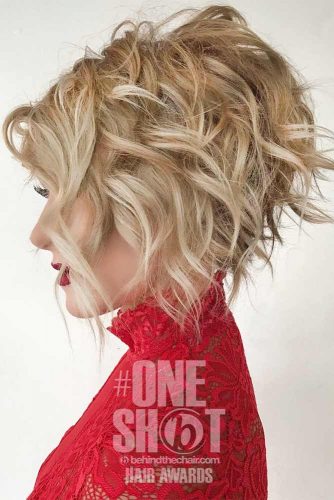 This model has an inverted bob short style that accentuates her face shape and her facial features. The super short layers in the rear of this cut give an amount of volume that is stunning and would never allow you to realize that this model has thin hair. The short curly hair also adds loads of dimension to this style and gives it a gorgeous lift.
Source: styled_by_carolynn via Instagram
Black And Straight
Check out this inverted bob long sleek style pictured above. It is the epitome of a classy, elegant style that screams for attention. This specific cut and style do work best on straight hair due to the stylish angle of the inversion. Accentuated by the model's black hair color, this cut with its long layers provides a smooth, seamless style that you're sure to adore.
Source: hairbyedwin via Instagram
Inverted Bob With Fringe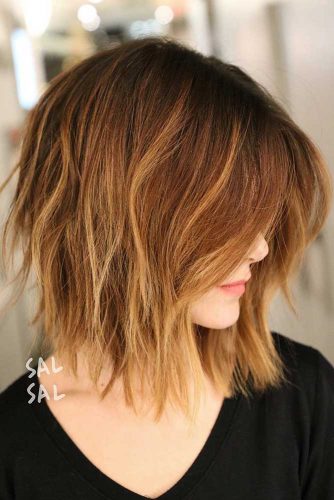 The inverted bob with fringe has the ever-popular messy look. This cut has a very subtle inversion but an added fringe gives dimension to this style. Coupled with a long side bang, this hairstyle is perfect for someone who is going for the relaxed look. The layered cut is notorious for adding volume to hairstyles as this cut does in the photo pictured above.
Source: salsalhair via Instagram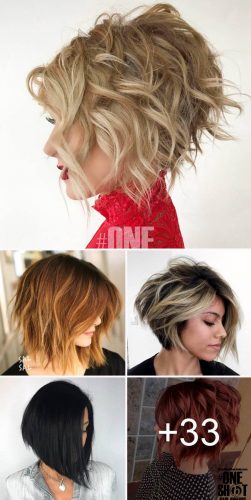 Inverted Bob With Bangs And Layers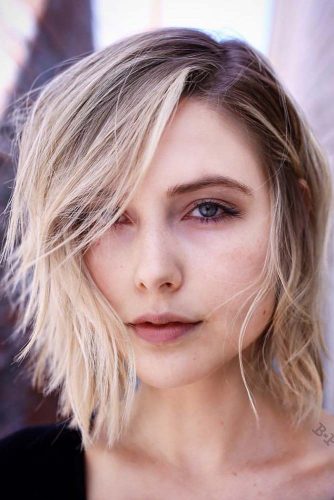 This adorable inverted bob with bangs and layers is cutting edge in its own right. This style works perfectly for the model's face shape and features. The beautifully added layers are also complimenting to her face framing balayage. The color brings attention to her eyes and other facial features. This style is also on the simpler side of the styling spectrum.
Source: buddywporter via Instagram
Short Layered Bob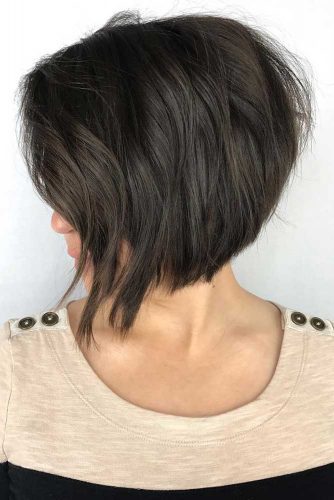 The photo above is a short-layered bob with super short layers in the rear of the cut. The dramatic inversion of this cut provides a wedge shape that is often sought after with the inverted bob hairstyles. Also referred to as a wedge cut, the long layers at the front of this style offer the versatility to obtain various styles. This hairstyle is also absolutely packed with layers. The rear layers are perfect for the stacked look women are often seeking in an inverted bob. The layers in this style almost provide a soft feathery effect as they are integrated in a wispy manner.
Source: hairbyedwin via Instagram
Short Layered Bob With Bangs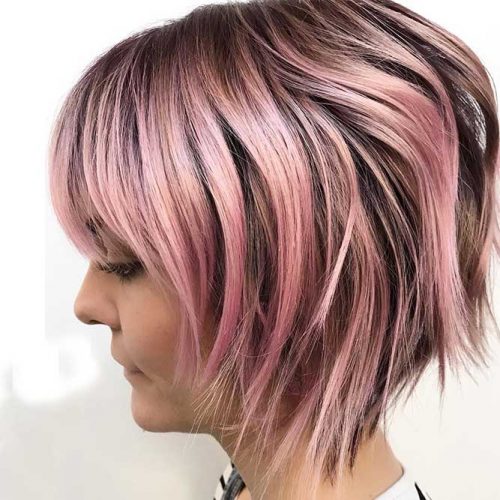 This short inverted bob with bangs hairstyle is very attuned to modern hairstyles. Although it isn't a true inverted cut with the layers varying in length, it is still a very popular hairstyle.
As for the pastel hair colors, these color variations have even become supremely popular as hairstyles for women over 40. Some may say it is a last-ditch effort to hold on to their youth. But we think it is a beautiful thing to be confident in both your hairstyle and your hair color.
Source: styled_by_carolynn via Instagram
Casual Stacked Bob Style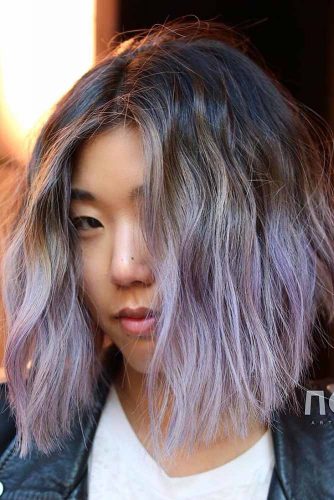 This time we will explore how to style a short stacked (inverted) bob haircut. You want to begin with assuring you have the proper hair products for your hair type to obtain your style. Wash your hair and decide where you want your part to be located. The model above has chosen a center part that suits her style perfectly. Begin with blowing dry your hair and styling to your preference. This model has chosen a style with fun, beach waves but this style could also be worn straight or curly for an altered, more professional look.
Source: salsalhair via Instagram
Long Inverted Bob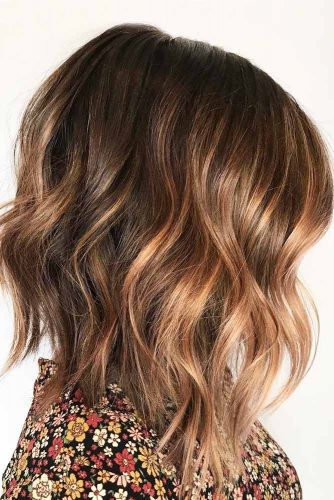 This style is referred to as a long, inverted bob. It doesn't have the super short layers in the back to provide a high stacked look. This cut has a slightly less severe inversion to it and adds long layers at the back that still provide volume. With the long layers in the front and with the deep side part providing additional bangs, this cut is also referred to as a lob haircut. This style is good for both professional and casual wear.
Source: styled_by_carolynn via Instagram
Bob With Bangs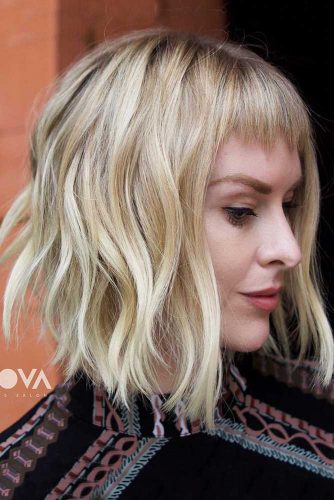 This is also a version of a subtly inverted bob with bangs. There are various versions of bangs to add to this cut. A blunt bang or a baby bang would also compliment this cut well. However, typically, the baby bang is much shorter. The model's blonde hair color also adds a level of intrigue to this cut and style. The inverted bob in this photo is so slight it can almost be classified as a regular bob, but there is a slight inversion allowing it to be classified as an inverted bob.
Source: salsalhair via Instagram