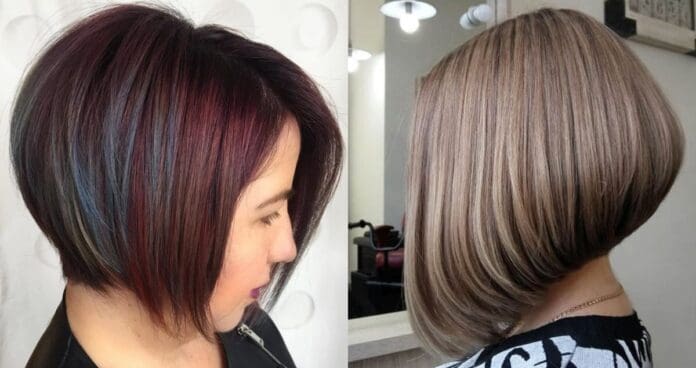 Yes, your thick hair can be cut short! Chopping some of those luscious locks and keeping your mane short and sweet is often a great way to reduce styling time for those with thick hair. From a bob, layered crop, and a pixie cut, you'll find a short haircut and hairstyle that will tame your thick locks. So, get ready for some serious inspiration. Short hair for thick hair? Absolutely! Here are the best short hairstyles for thick hair:
Versatile Textured Short Pixie Cut for Thick Hair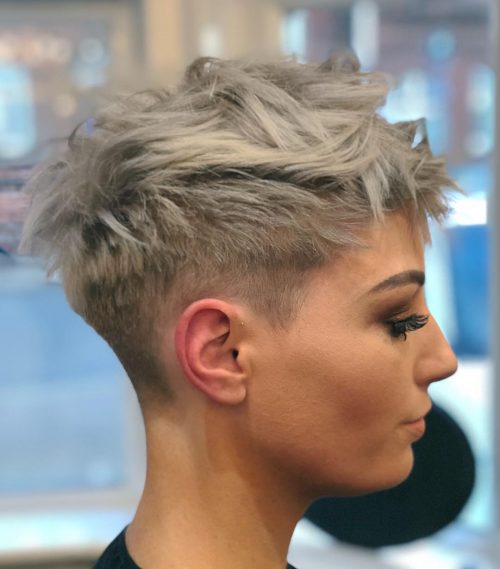 Q&A with style creator, Luigi Altomonte
Hairstylist / Barber / Co-owner @ Fratelli Hair Salon in Cambridge, Cambridgeshire
How would you describe this? This short textured pixie cut for thick hair has it all with short sharp edges and lots of internal texture. The short cut starts shorter at the top/back, increasing in length to the front. The shorter sides are clipped with a grade 1 at the hairline. What's your best advice? Super short hairstyles for thick hair are not for the faint-hearted, you need to be ready to go this short. You have to be someone who likes to style their hair because pixie haircuts look better styled. Matte waxes and texture sprays work really well with these shapes. This choppy pixie cut is very versatile and can be shaped in many ways.
Long Bob for Thicker Hair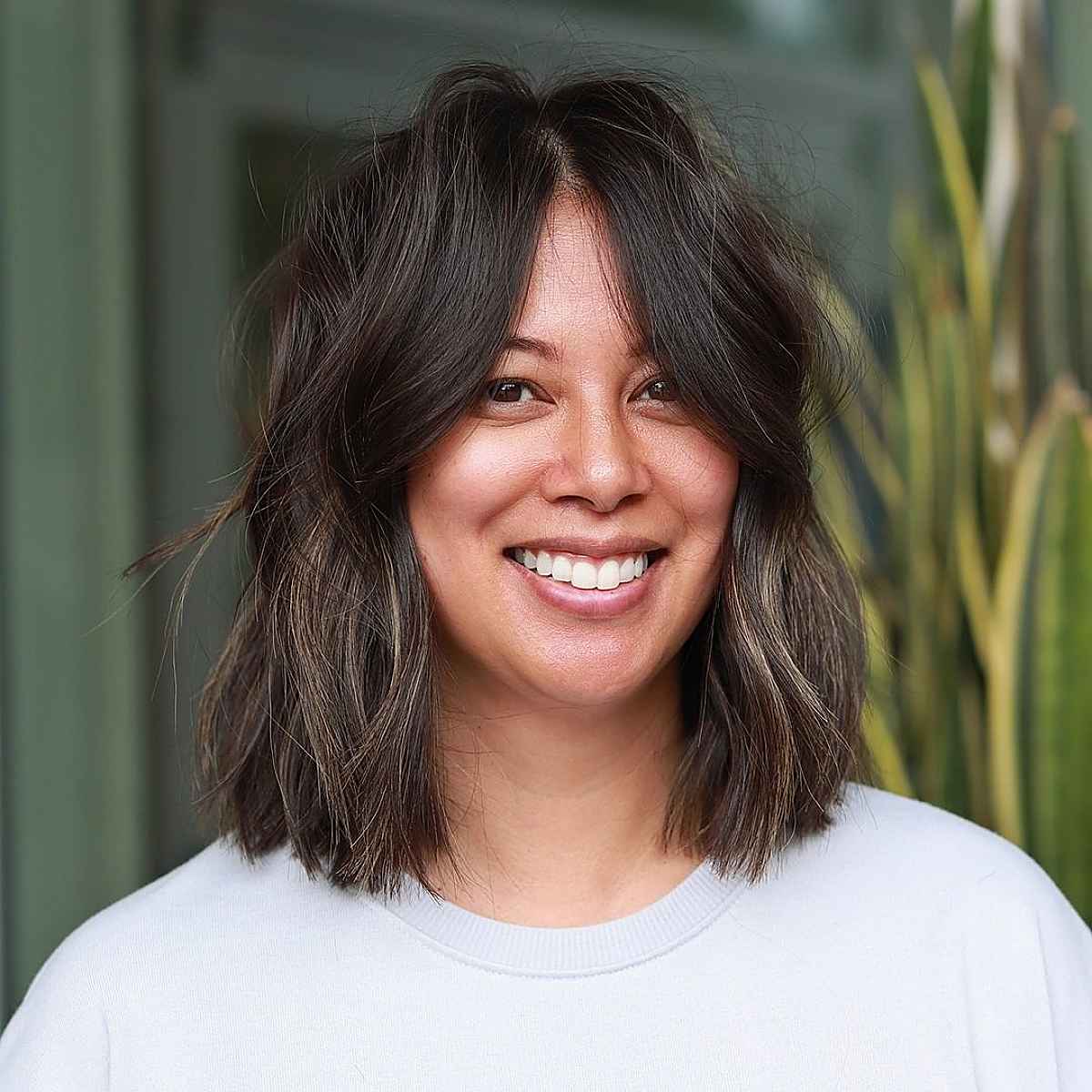 A long bob for thicker hair is a wash-and-wear kind of haircut. The thicker density can pair well with this choice of bob styles because the length is kept past the shoulders, avoiding bulk around the face. Salon visits can vary 6-12 weeks apart and this style of bob cut can go with curly or straight hair.
Very Short Bob for Thick Frizzy Hair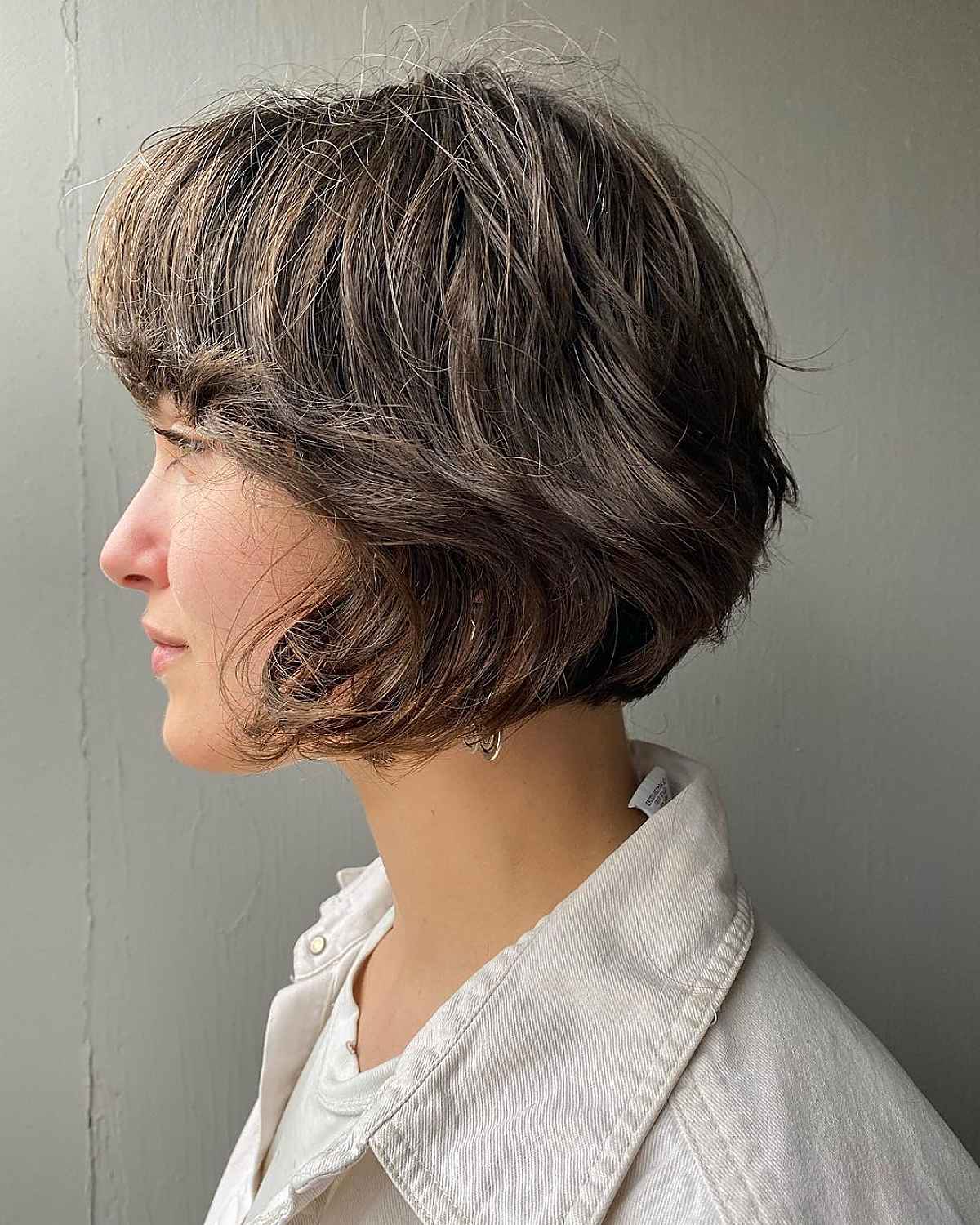 A very short bob for thick frizzy hair is a done/undone style, in a chic kind of way. Bob haircuts in a jaw-length silhouette will call for frequent pop-ins to the salon to maintain the structure of this cut. Air dry mousse or blow-out creams can help tame the frizz and polish the locs.
Short Bob for Thick Curly Hair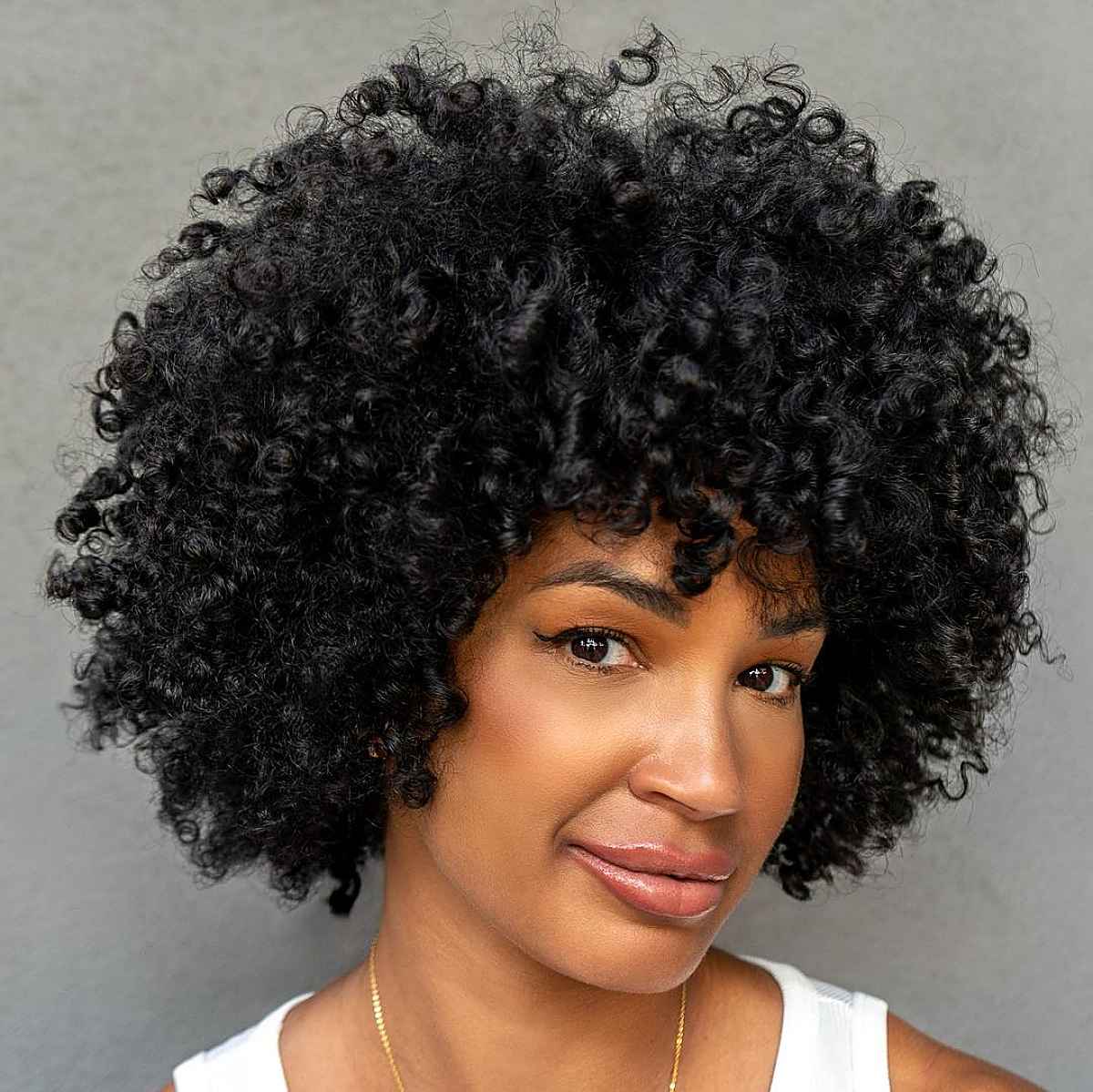 A short bob for thick curly hair can showcase big body and volume when kept above the shoulder. This style of bob cuts is great for thick hair because it removes weight and creates a ready-made style that looks great. Maintenance with both salon visits and at-home care should be made routined for upkeep.
Short Bob for Kinky Hair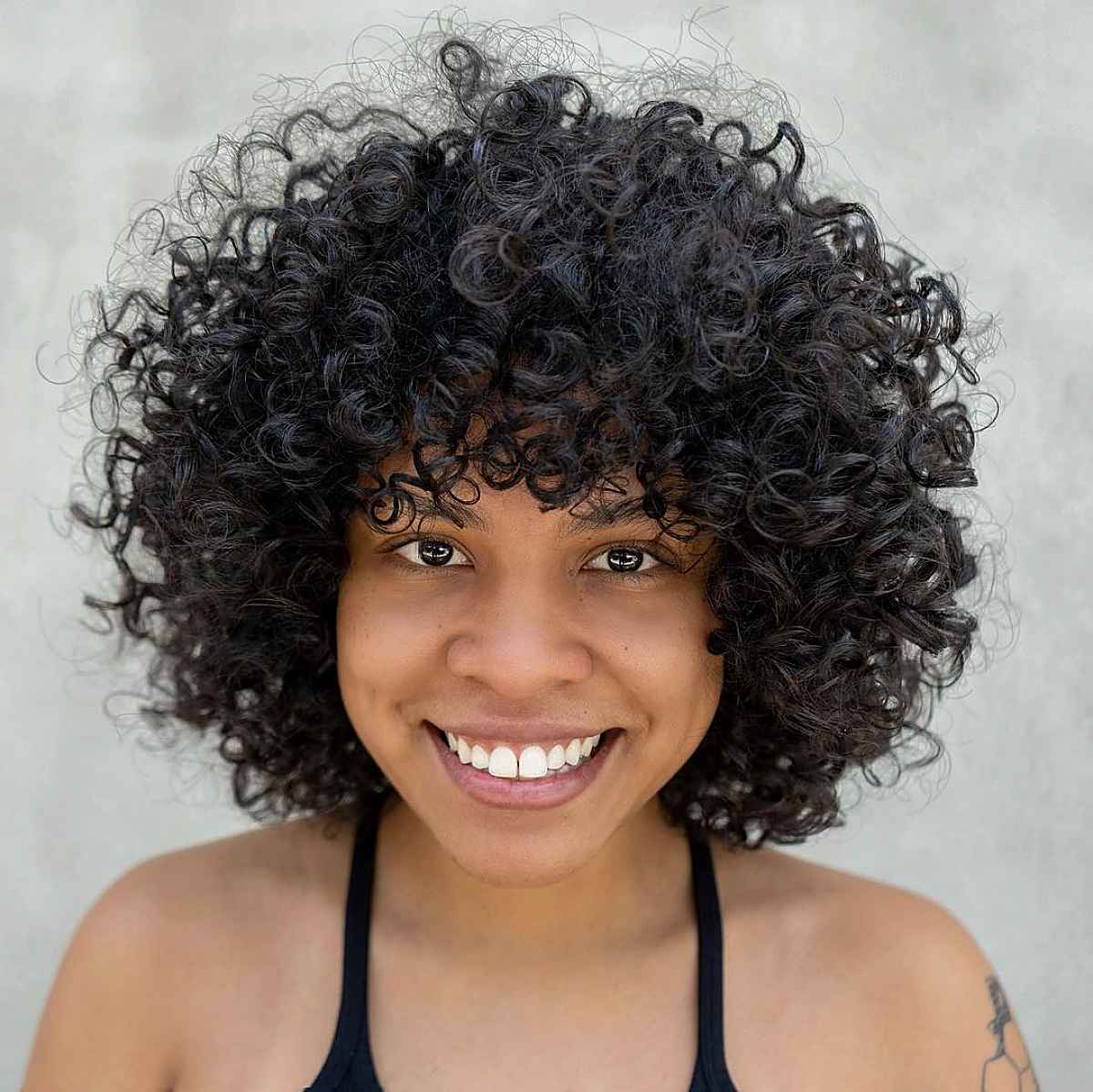 A short bob for kinky hair is a fun way to showcase ones curls. The layers and face-framing are customizable to a client's preference and are best created by a curly hair specialist. African-American woman can accentuate their natural hair with a variety of twists or coiling to help style this choice of length. A curly haircut of this length can go 6-12 weeks in-between visits to cut the length right back into shape.
Short Bob with Side-Swept Bangs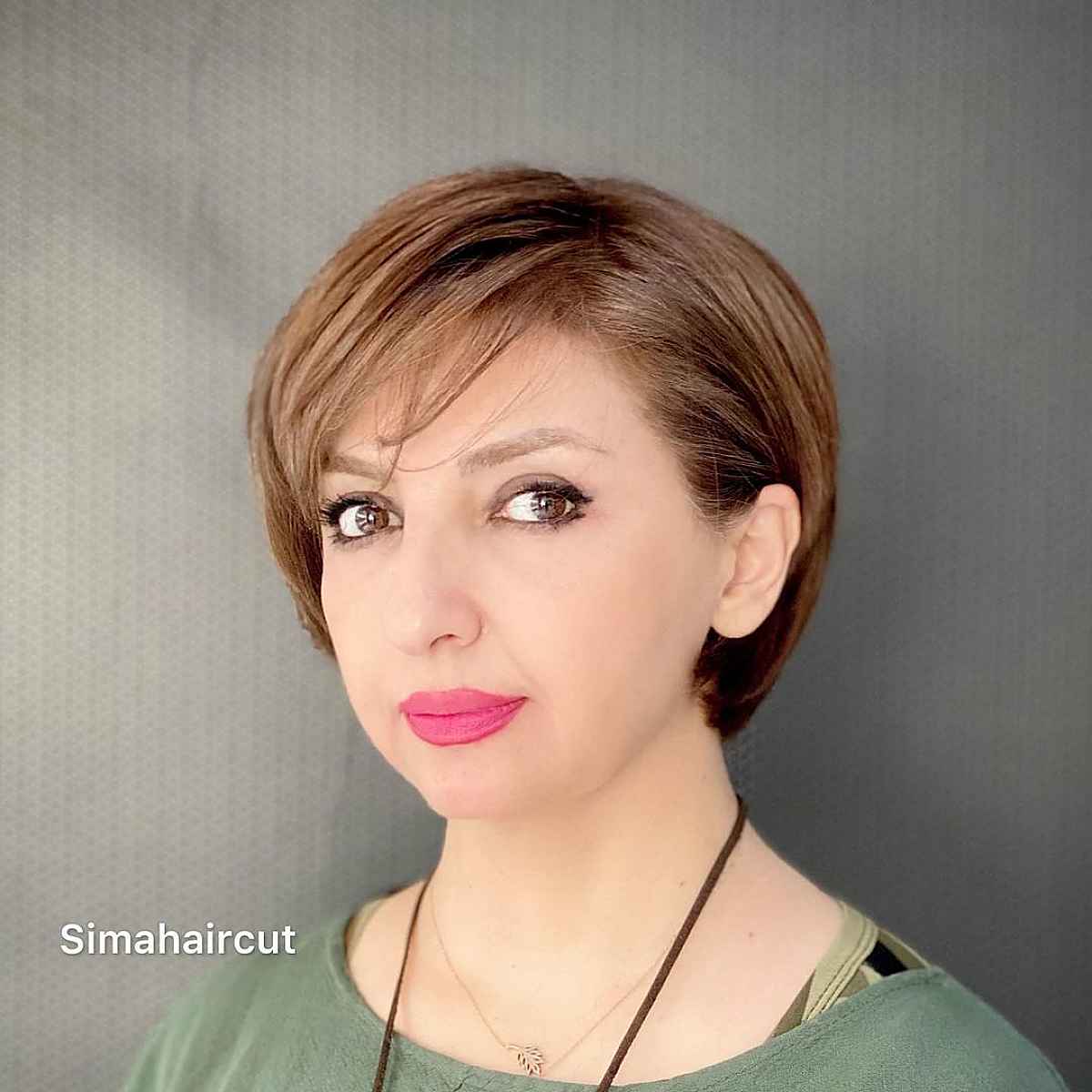 A short bob with side-swept bangs helps to reduce a large forehead while also accentuating a sharp cheek and jawline. Lots of layering and texturing create movement in a bob hairstyle.
Asymmetrical Bob for Older Women with Thick Hair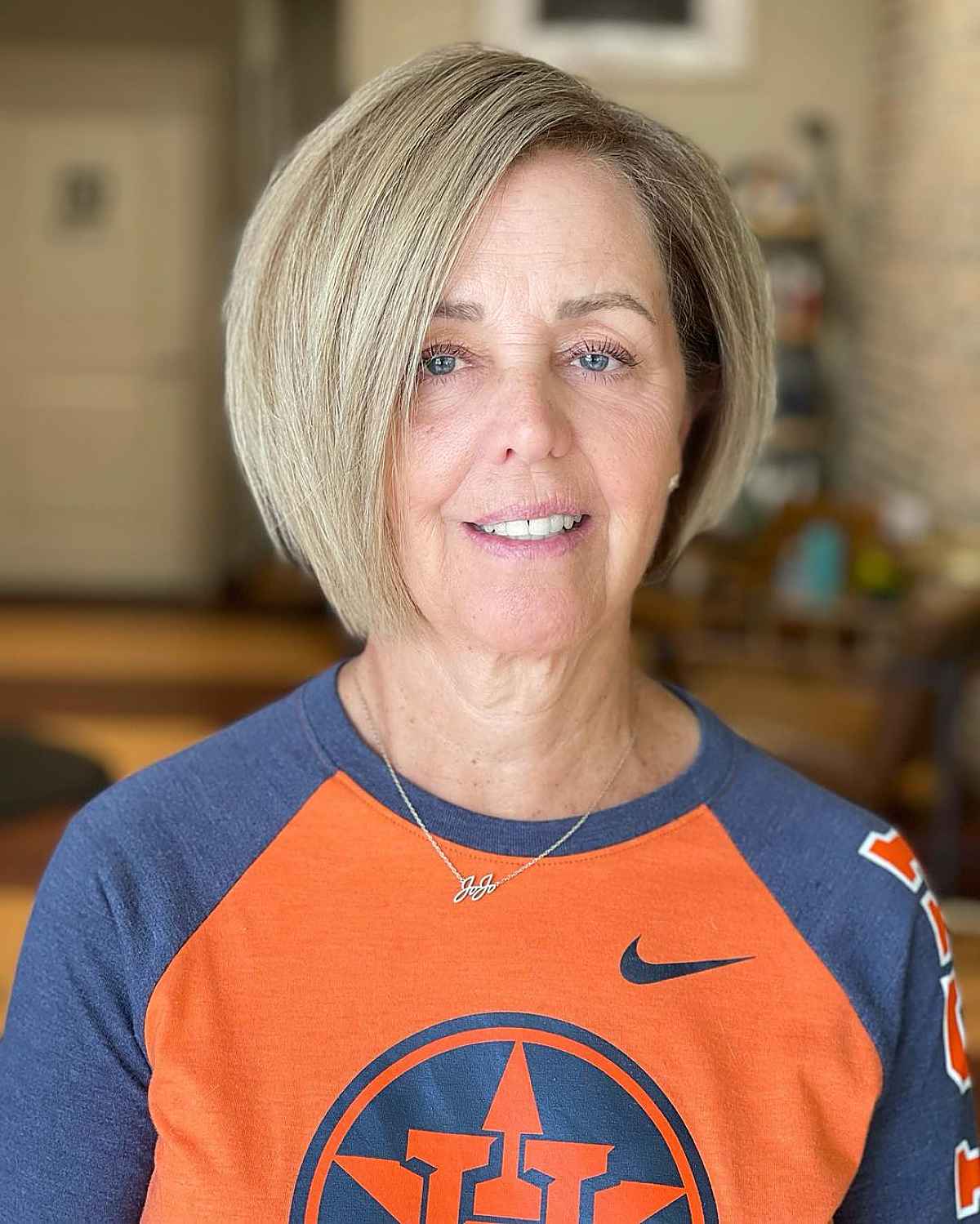 An asymmetrical bob for older women with thick hair gives an edge to a classic bob haircut. Short cuts are great for women who want easy-to-style hair while still maintaining some length.
Blushing Rose Gold Angled Bob for Thicker Hair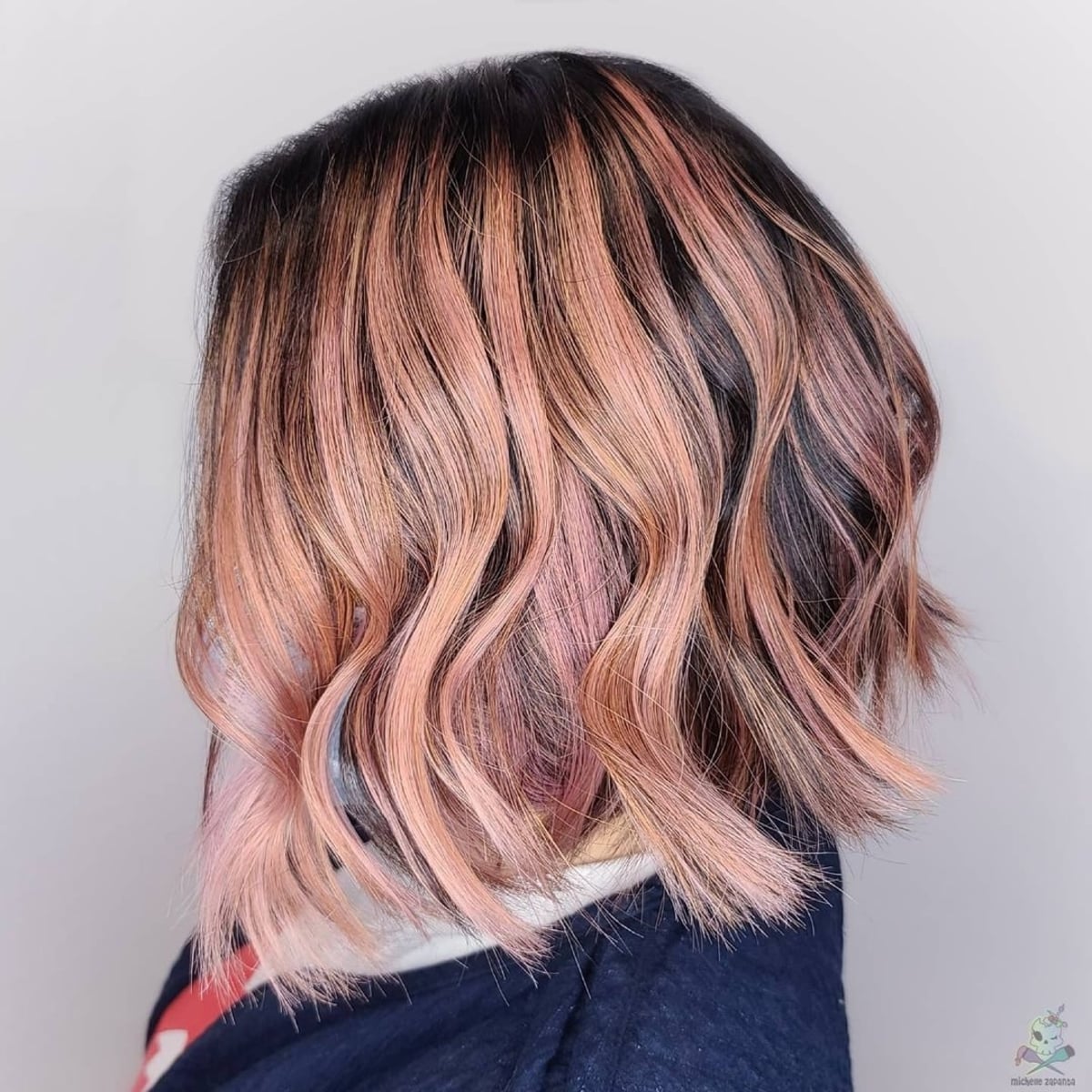 Opt for a blushing rose gold angled bob for thicker hair to have a fun color and easy-to-style cut. Stylist Michelle Zapanta of California is the one behind this hair idea. "This is a balayage and baby light combo with a root smudge for a more bold and blended effect. The color, if done right, will usually fade back to a nice blonde. The darker the rose gold is, the longer it will last," Zapanta explains.
Trendy Inverted Bob for Thick Hair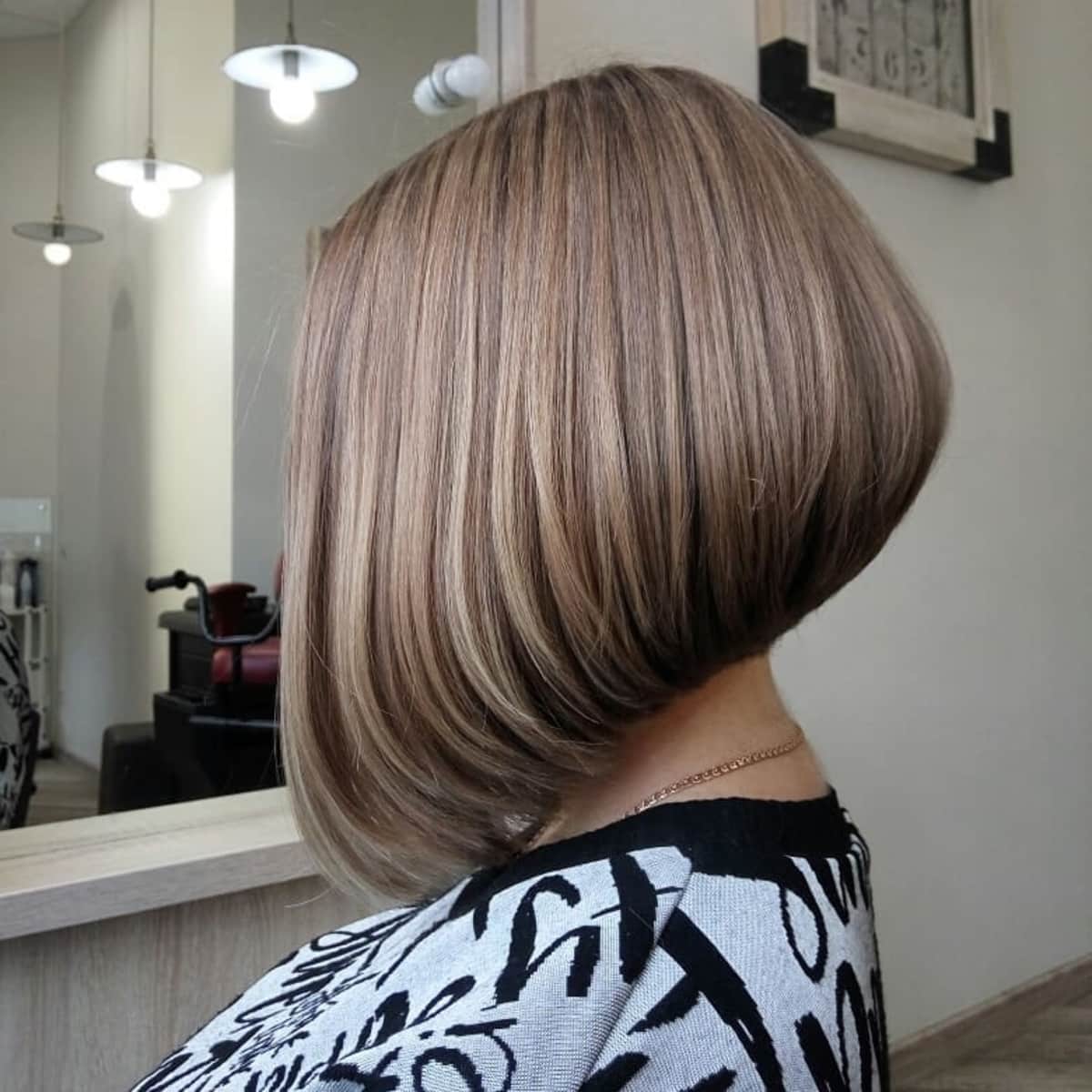 A trendy inverted bob for thick hair is ideal for women who want a short length. For women with thicker hair, who are wanting shorter hair, try a short inverted bob. It's shorter at the nape and gradually and seamlessly gets longer at the top as it angles down to the chin. When styling smooth out using a blowdryer and boar bristle brush.
Short Thick Chin-Length Bob With Edgy Flair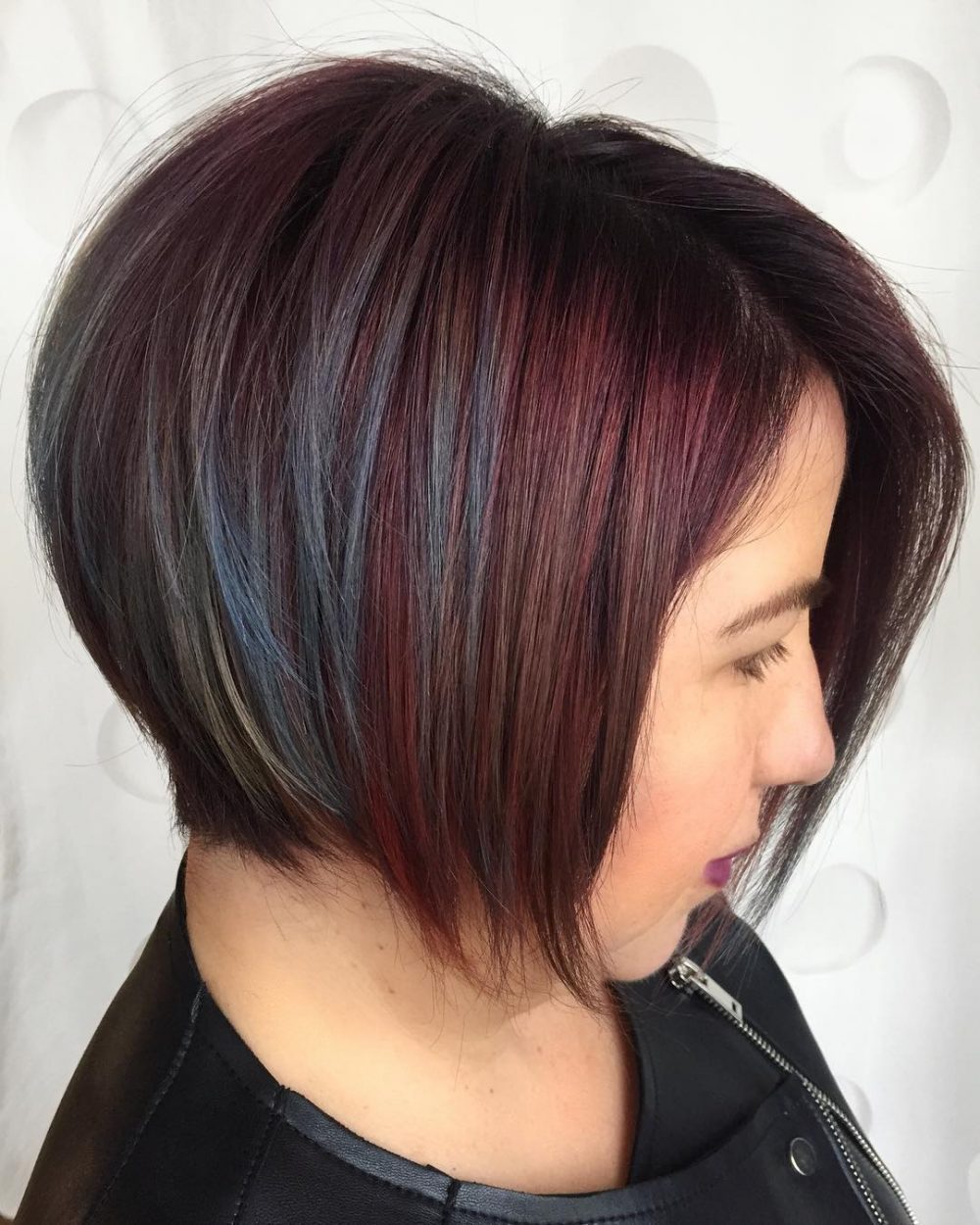 Q&A with style creator, Pati Rodriguez
Matrix Bilingual Artistic Educator / Salon Owner @ Lozanía Studio in Milwaukee, WI
How would you describe this? A classic chin-length bob hairstyle for thicker hair can have an edgy flair with fun colors throughout. The color conceals the undercut that allows this rockin' asymmetrical bob to really take shape and have a lot of movement. What's your best advice? This is a great short hairstyle for thick coarse hair. If you're looking to go short, the undercut removes a lot of unnecessary bulk. Any face shape can wear this thick short haircut as the area around the face is left longer and can be customized to their preference. This is a perfect cut for ladies who have a busy lifestyle. The undercut will give you more wearability and longevity between haircuts. You can even add designs to your undercut!
Muted Edge Short Bob for Thick Hair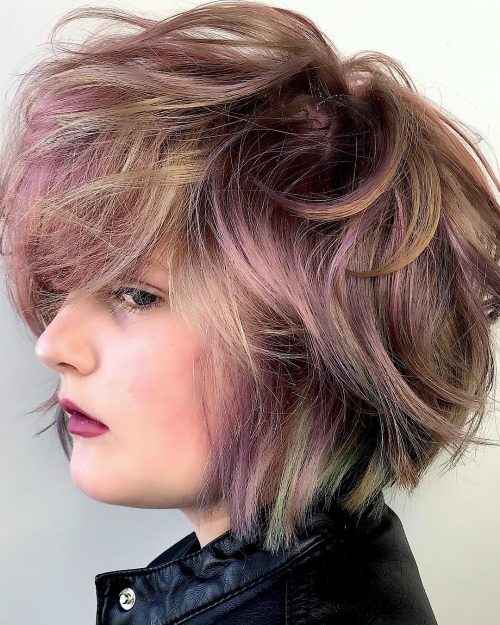 Q&A with style creator, Amber Moyer
Owner @ Shear Envy Salon in Tupelo, MS
How would you describe this? This short choppy bob for thick hair cut is a Muted edge. Muted tones of this color really accentuate the haircut! It's soft, edgy, and fashion-forward hairstyle for thick frizzy hair. What's your best advice? There are so many factors to consider when choosing a haircut that will suit you. If you have extremely thick hair and your face shape is round, then get your hair lightly layered throughout and created invisible layers underneath. Also, consider opting for a slight taper around your face to show off your cheekbones! The muted edge is ideal for women with thick hair.