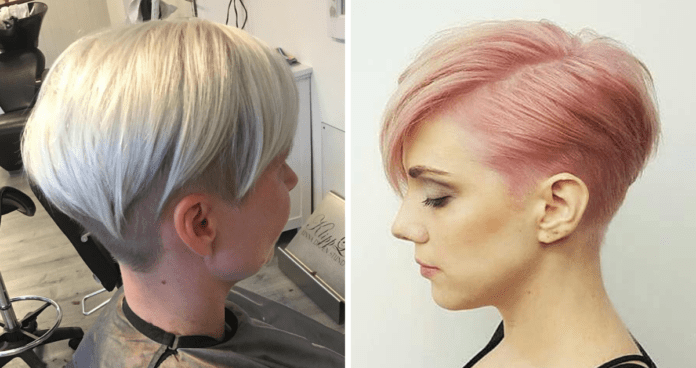 Check out these trendy looks showcasing the latest pixie hairstyles for women of all ages! I encourage everyone to look through these stylish, modern cut and color ideas and find a great new look! Upgrading "worn out" hairstyles to a trendy short look in gorgeous colors is a great way to shed a couple of years off your age! And cutting long hair into a trendy, streamlined pixie can help you shed your "disorganized teen" image and become a poised and confident young woman!
Chic beige-blonde on brunette – latest pixie haircut designs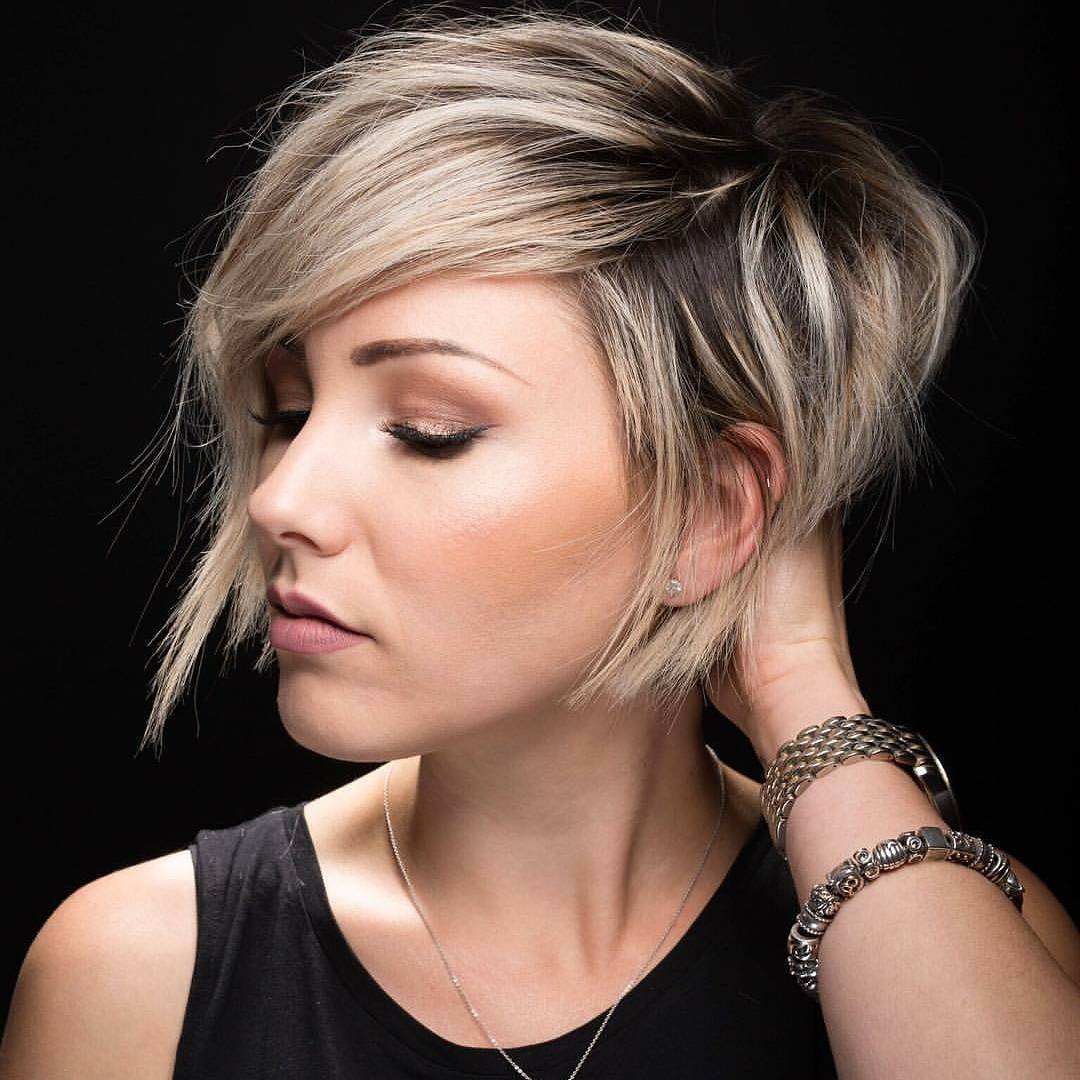 Credit
Beige and brown are two colors that complement each other perfectly – just like coffee and cream! And it's a cool way to turn a brunette's hair into a trendy blonde hairstyle that won't need touching up every few weeks. There are at least two shades of blonde here, creating a stunning three-dimensional illusion that makes thin hair appear thicker. The shape is a trendy angled bob styled back for thick hair or tapered towards the back of the head for fine hair. Long layers with edgy textured tips provide smooth volume that "ruffles" to show off color and texture!
Edgy shaved back & sides on white-blonde – latest pixie haircut designs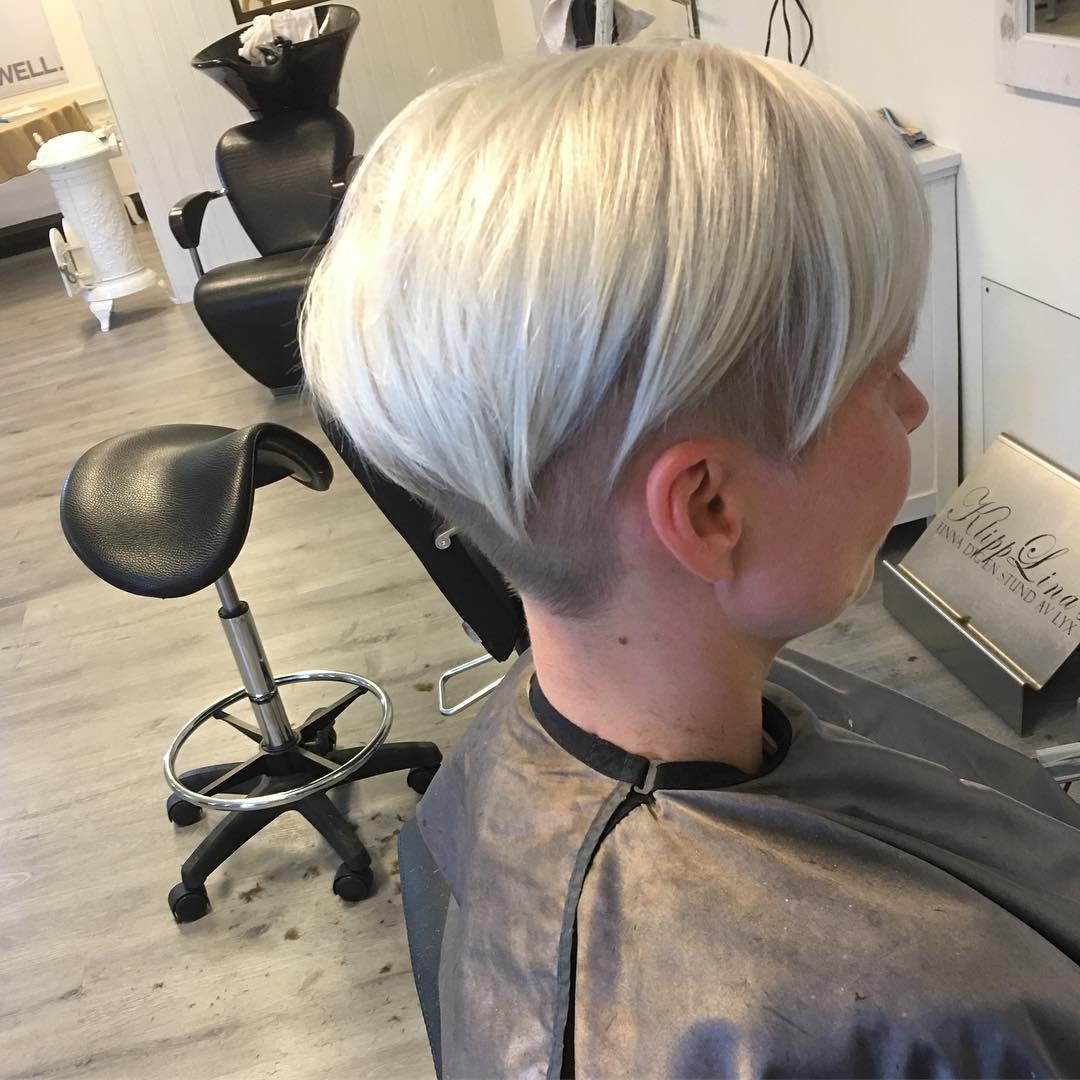 Credit
Shaved undercut hairstyles have finally gone from extreme, punk hairstyles to mainstream haircuts! This undercut is cut very neatly to create an attractive pattern on dark hair that follows the model's natural hairline. The long layers from crown to forehead feature modern pointed ends in a versatile cut that can be worn straight, wavy, braided or styled over the forehead. This blonde has a beige tone over blue tips to complement the model's pale complexion with a warm undertone!
Hi-class glamor of beige waves with hint of pink – latest pixie haircut designs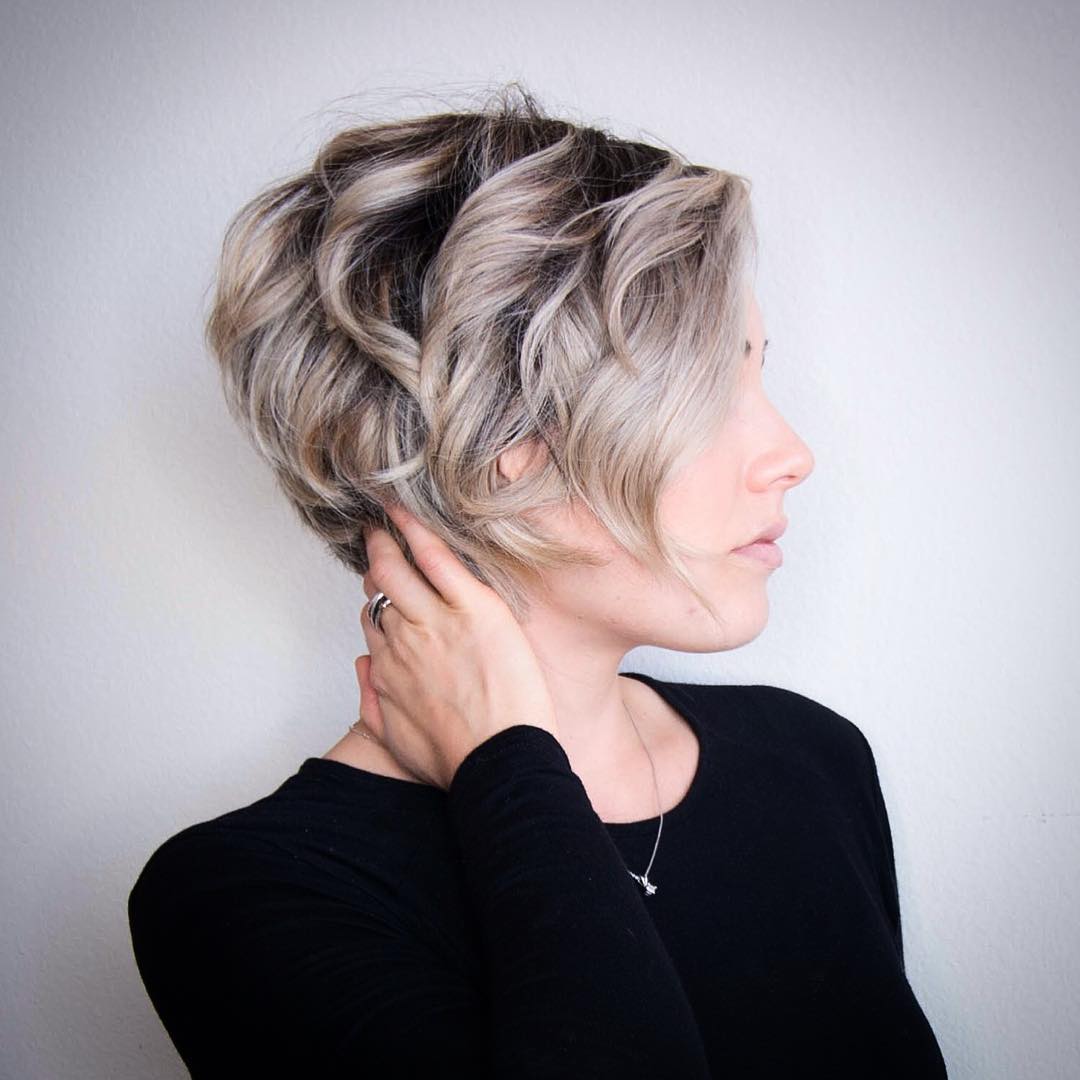 Credit
This new wavy pattern adorns a hairstyle full of movement! The addition of back-facing barrel waves with forward-facing ends creates volume around the temples and some really interesting texture. Smooth, flat waves with a forward motion are also great for highlighting your lips. And I love this color combination with dark roots heavily highlighted with pearlescent ash and beige blonde, with subtle hints of pink toner. This is a super fresh short bob idea for medium to fine hair!
Cute brunette pixie with short bangs – latest pixie haircut designs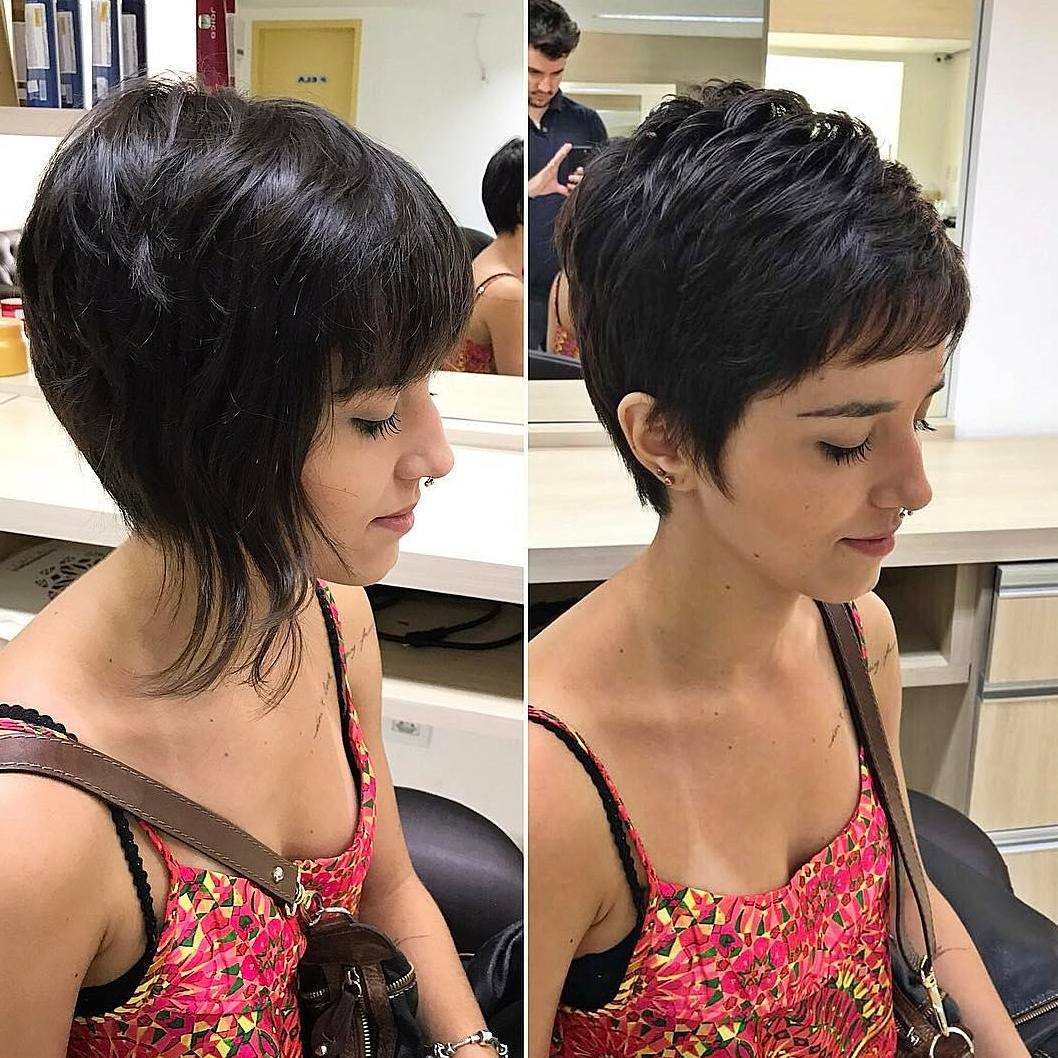 Credit
The beautiful dark coffee color of this model's hair is perfect for her tanned skin. But she was ready for a makeover from an artistic short bob with extremely loose layers to an equally flattering short pixie cut. This is an original pixie haircut with short bangs and long strands that create a beautiful frame for the eyes. Ultra-easy styling thanks to the many layers – the perfect haircut for busy, fashion-conscious women and holiday attire. Suitable for medium to fine hair, this haircut is suitable for all ages, making it a super haircut for those over 50 too!
Elegant pixie sharpens up curly graying hair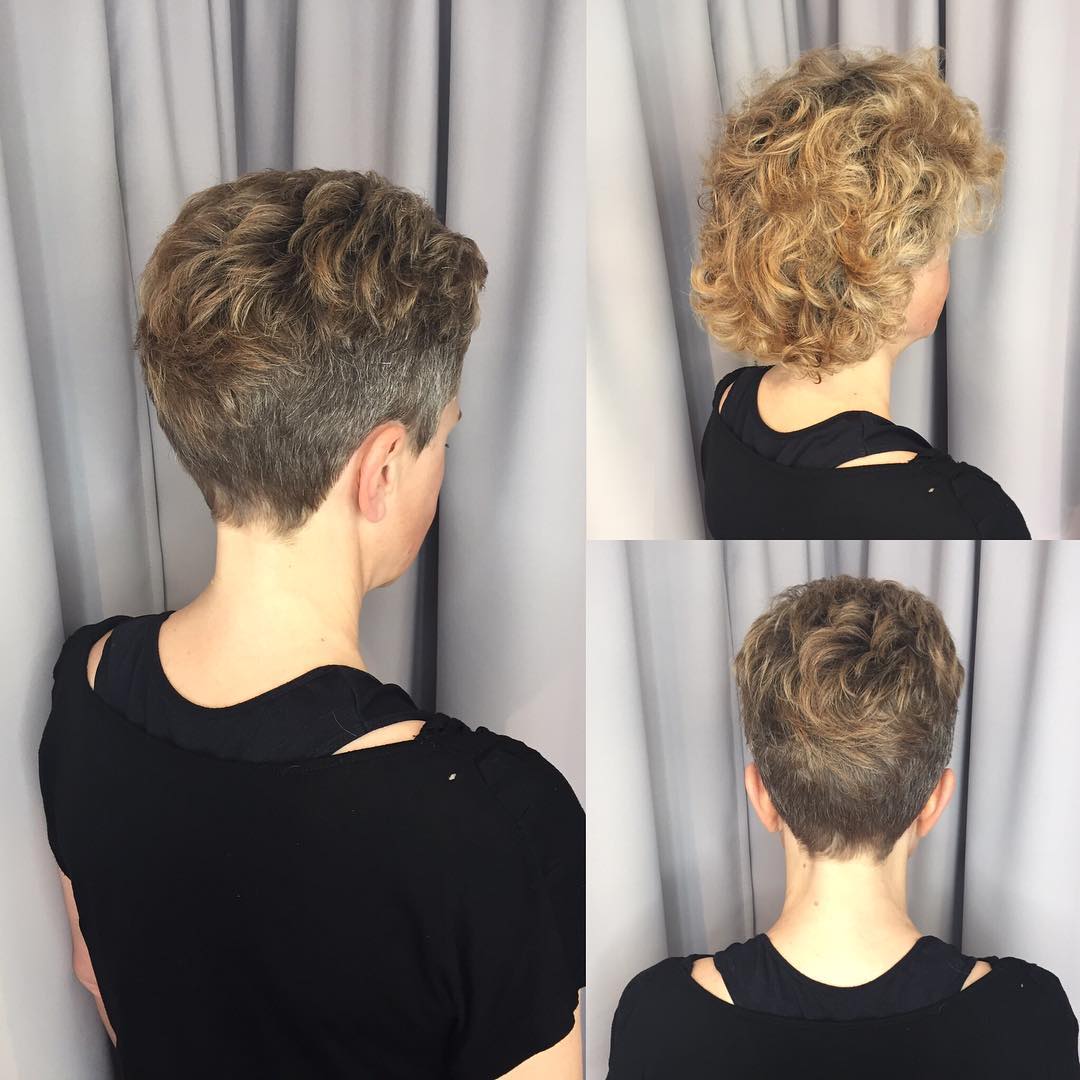 Credit
If your hair is already turning gray and you're ready to forgo lightening it, you'll love this makeup look! From an unfashionable curly style, this model has moved to a trendy, modern pixie with a short back and sides. The sides are cut short, not shaved or shaved, so the style is not too strict, and the back is decorated with an incredible horizontal wave! The natural light brown color of the model looks great on a beautiful textured top. And she can show off her grey/gray hair nonchalantly thanks to the gray hair trend!
Shape-up coarse black hair – latest pixie hair designs for thick hair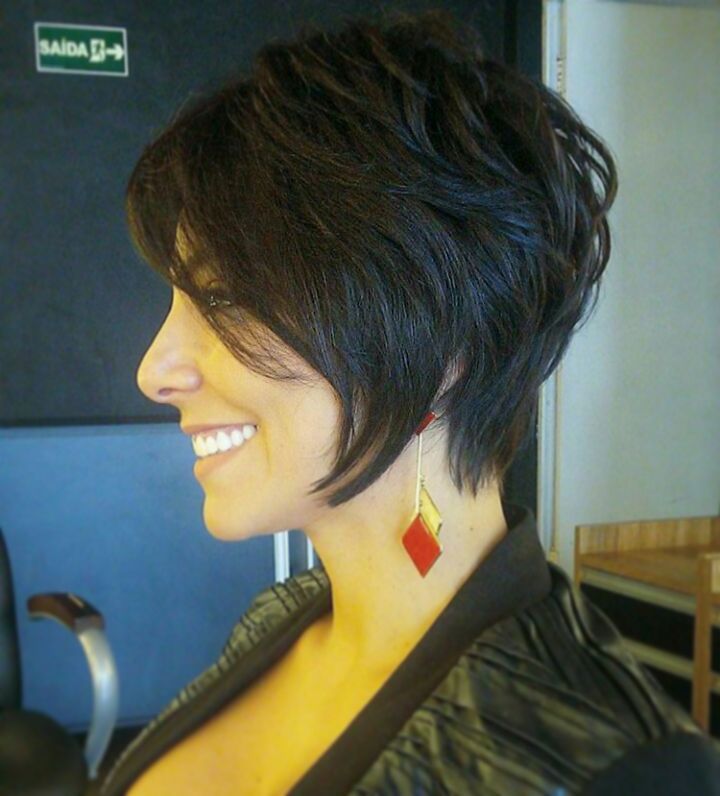 Credit
Coarse, thick hair needs to be cut carefully, following its natural movement. Otherwise, you will fight him every day and possibly lose the battle! Here is a lovely layered short haircut that is incredibly easy to style with an attractive rounded silhouette. Layering around the crown and back creates natural volume and curvy shapes that are expertly tapered at the back and sides. The result is a long pixie cut with volume at the top and smooth sides, suitable for a round face. With swept bangs, trendy chin-length hairstyles can be adjusted to flatter many other face shapes!
Adorable long to short haircut makeover – cute clean lines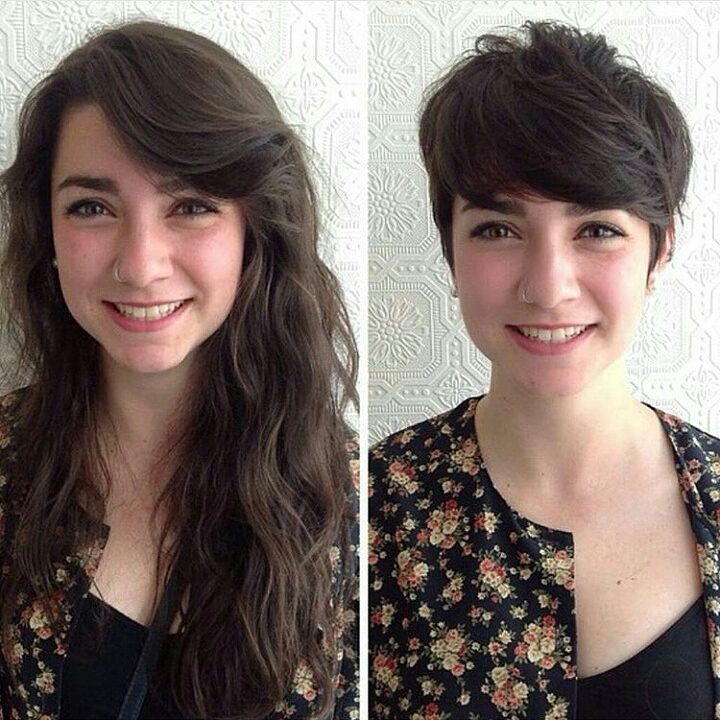 Credit
Sub-consciously we all use an individual's personal presentation style to give us a clue about who they are. So look at these two images and see if you would judge the model differently if you met her with long hair or short hair. She looks attractive in both images, but many would say she looks brighter, more mature and definitely trendier with short hair. The deep, long fringe skims the brows in a strong, curved line drawing attention to the eyes. Cute side-points frame her cheekbones and accentuate the 'lined-up' ear-rings and nose-ring, too!
Sassy intense scarlet waves on short wavy bob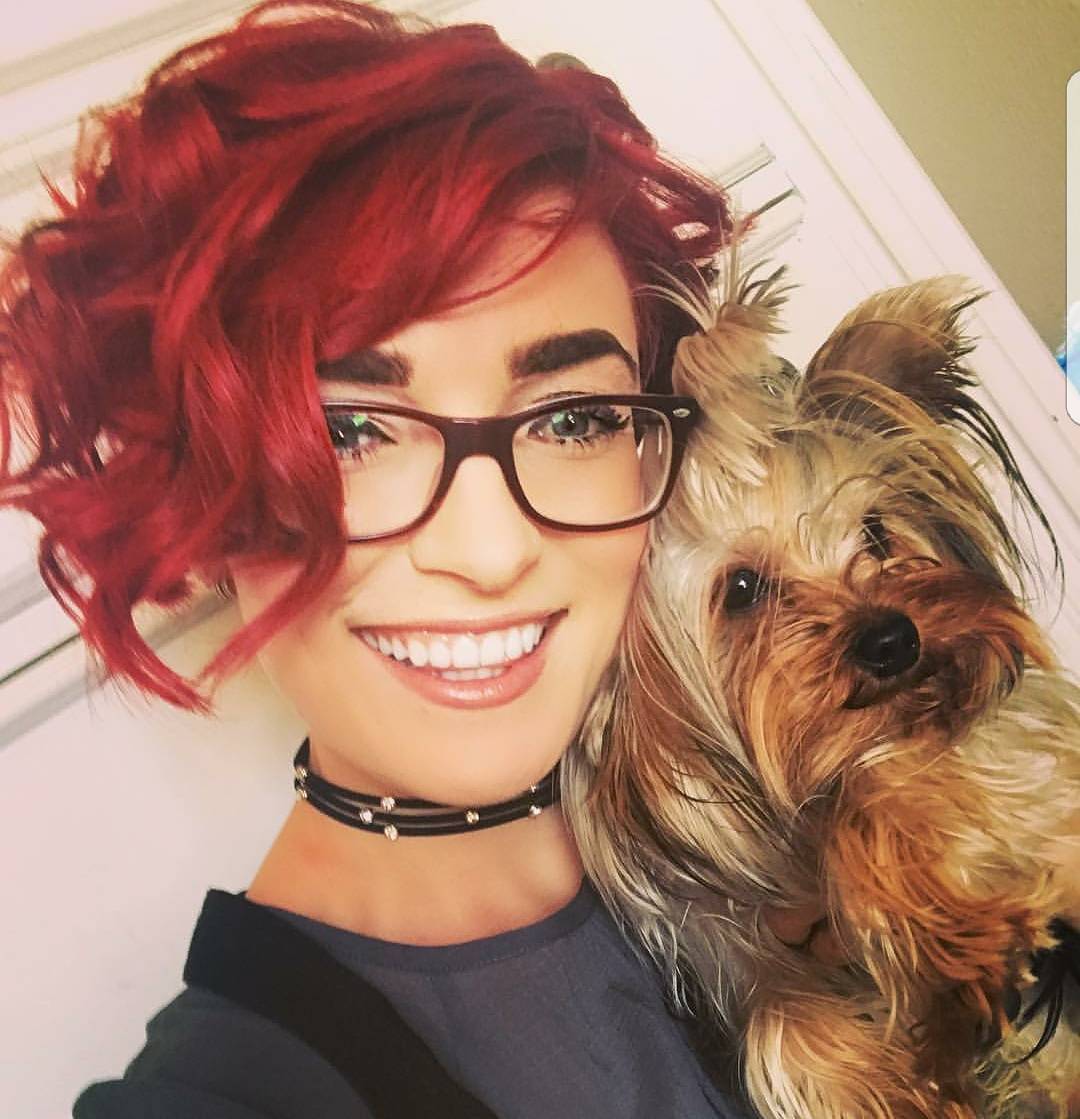 Credit
This year's fashionable red shades are vivid, 'saturated' colors like this gorgeous red-orange scarlet. They suit medium complexions with a warm undertone and stay looking good if you enjoy a sunshine holiday that tans your skin! This haircut is based on a short, angled bob with long layers and a deep side parting. Strong asymmetry and a long, diagonal wave 'cut' a long or thin face shape, to bring it closer to the ideal 'oval'. With strong waves also adding width to the model's face, this lively red haircut has been expertly tailor-made!
Oat-blonde & dark roots – updated classic pixie haircut for fine hair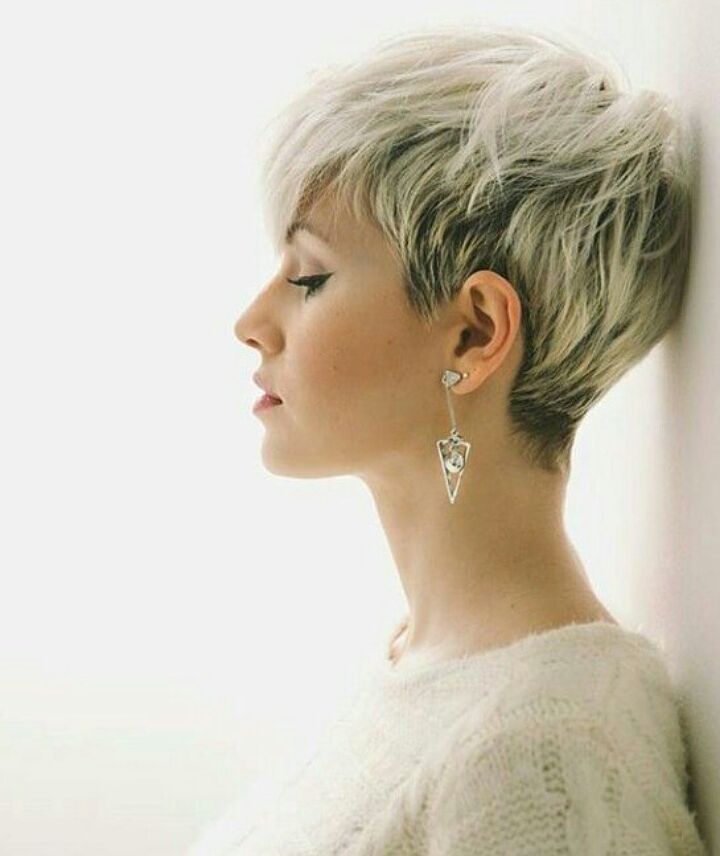 Credit
Sometimes it's difficult to know whether a hairstyle will suit you or be a disaster! And this is partly caused by salons using professional models to show their latest cut and color collections. Naturally, top salons want to present their new styles to best advantage, but it's easy to think, 'Young model means it only suits young women'. However, this pixie is one of the most enduring hairstyles for young and mature women, because it suits many face shapes! This oat-blonde over dark roots version is super-trendy and, with balayage echoing how gray/white appears as we age, it's also a fashionable over-50's hairstyle!
Boring bob makeover to exciting coral-pink pixie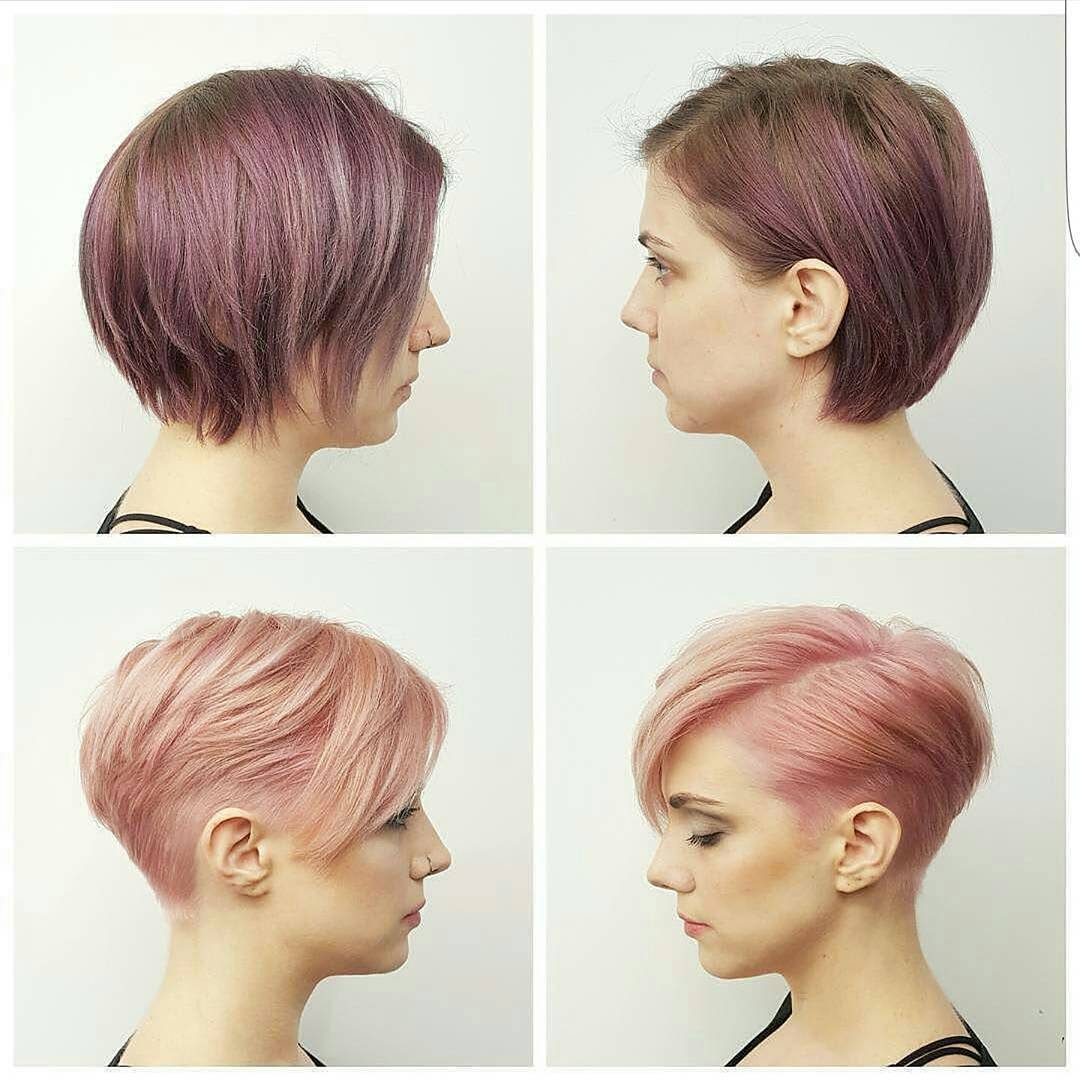 Credit
Today's final flourish goes to another exciting hair makeover! The model's chin-length bob tries to be interesting, with half-hearted lilac in the top layer, but the shape is just plain boring. Now, switch to the same model below, with a snazzy pixie cut flattering her head, neck and facial features. Clean lines and brushed-back texture/movement make her seem like a whole different person! She's modern and confident, a go-getter who isn't afraid to try new stuff – like pink hair – and who can totally 'pull off' a daring look!