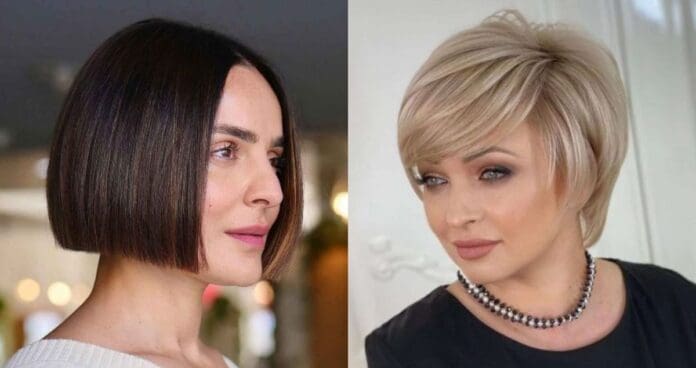 Here are stunning short hairstyles for women over 40 that you can mix and match for your new look!
Most women over 40 say that they are way more confident than they were a decade ago. With that being said, your 40s is the best time to explore new hairstyles to express who you are! It's no longer about the trends and definitely not about fitting in.
It's all about the confident fabulous YOU.
Check out these pictures of short haircuts for women over 40 that are flattering, daring, and modern.
Organic Short Wavy Hair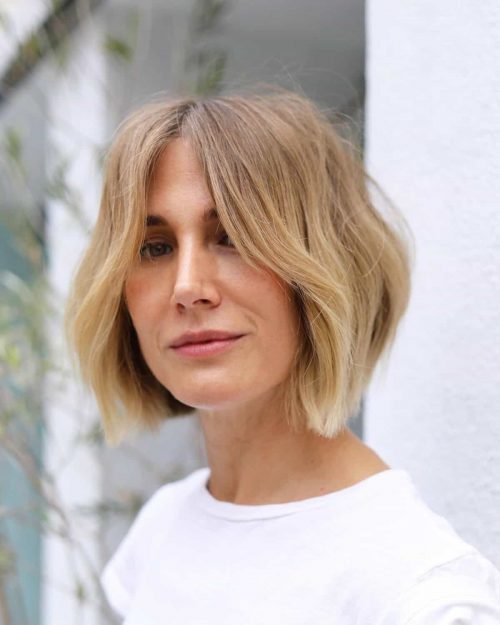 Instagram @hirohair
Short hair with organic waves are more youthful through your 40s compared to structured perfect curls. They seem softer, more natural, freer, and most of all, more on-trend! To style, apply thermal protection to hair. Wrap sections of hair around a medium barrel iron. Shake hair with hands to loosen up the curls. Set the hair with a flexible hold spray. Try Alterna's Caviar Working Hairspray as it gives a long lasting flexible hold while adding fullness and shine.
Feathery Curls for Women Over 40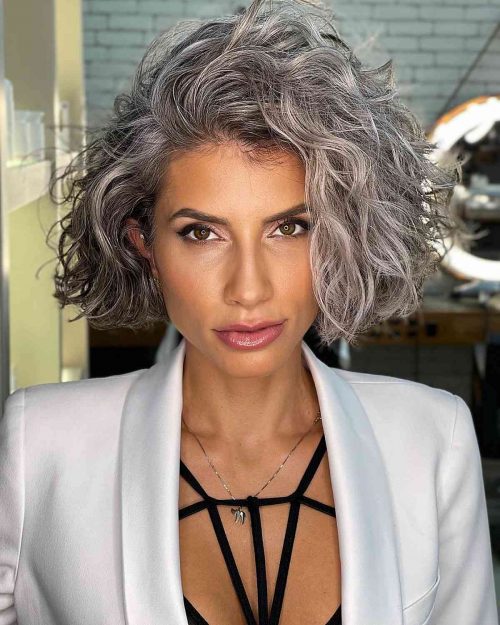 Instagram @romeufelipe
Super feminine hairstyles and haircuts feature big, bouncy, feathery curls for women over 40.
The French Bob with Bangs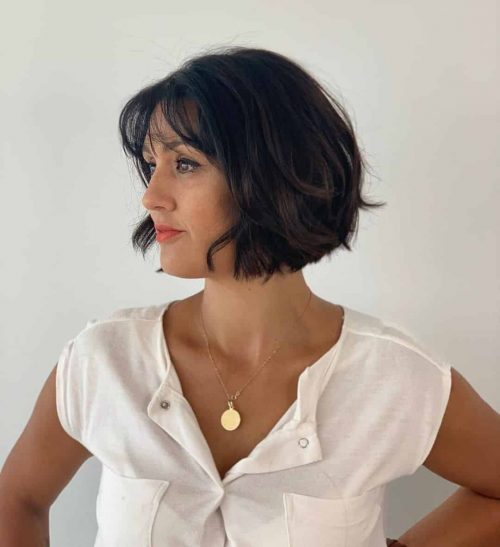 Instagram @alberto_spiteri
This stylish short hairstyle for ladies over forty is soft and blended and can be worn on straight or curly hair and is very low maintenance.
For women over 40 with grey hair, adding babylights with the shadow roots help to conceal the rapid regrowth.
For these short textured waves, use a trusty flat iron. Put in some sort of volumizing mousse on damp hair (blow dried in) to set the hair for either waves or a sleek look.
If you have a slender face and long neck, then the bob haircut complements you extremely well! The short length is quick and easy for someone who doesn't have much time in the morning to style their hair.
The bob haircut is a classic haircut that stands the test of time, can be styled many different ways, and keeps mature women over 40 looking youthful.
Edgy Pixie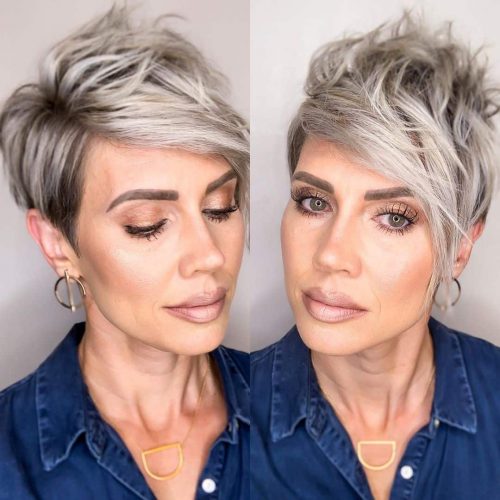 Instagram @donnie.flaherty
Women in their 40s have hair that's starting to thin, so a short haircut cut into a pixie is perfect.
Keep your hair short and fun by adding subtle yellow highlights that are still flattering but not too much!
This is a fun look so you need to have fun rocking it!
For styling, use Bumble and bumble Sumo Clay. It's a matte clay that gives moveable and workable hold.
This look is great for ladies who loves short hair and would have a fun time taking the time to style it in its edgy fashion!
Carefree, Whimsical, and Sexy Bob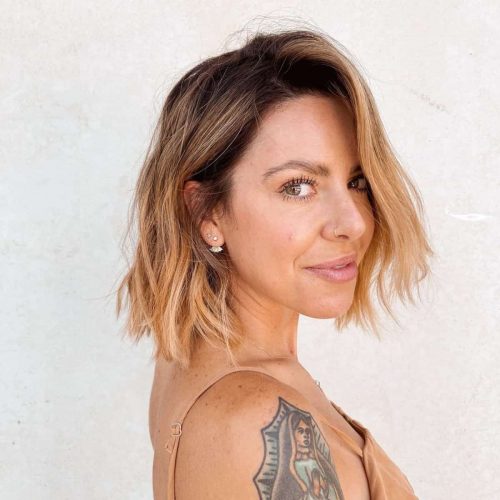 Instagram @melaniejacobshair
This short-length hairstyle pops of fun! For women over forty, this short style is a great way to style your hair. It's a great way to make your hair look shorter, care-free, whimsical, and sexy.
Take into account your lifestyle, maintenance, personality, hair texture, and face shape. The most important things to consider for short haircuts for women are hair texture, neck, and face shape. This bob haircut looks great on women over 40 with an oval or heart-shaped face.
Perfectly Trendy Long Pixie Cut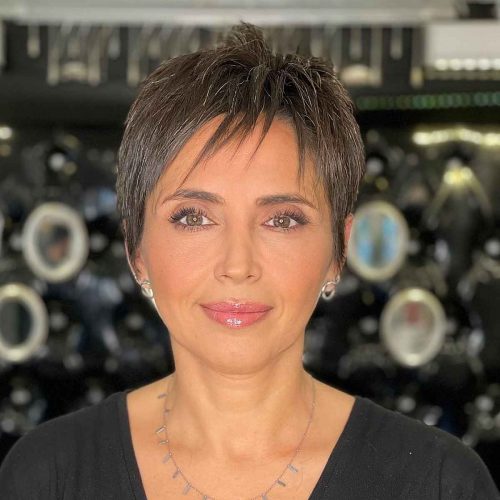 Instagram @sacaumut
A long pixie is a trendy short haircut that is the perfect edgy style for 40-year-olds.
For women over 40 looking for something short and sassy, this may be the look for you. This cut is low-maintenance due to its convenience of quick and easy styling. Short haircuts for women should be easy to maintain at home.
For a woman over forty considering this short crop, consider your face shape and hair texture. This specific cut is great for someone looking for a smooth and sleek style by day, and a sassy and textured style by night.
You can add volume or texture to your short strands by using root lifting products. Use heat tools to create a youthful and natural-looking messy curl. This cut is super cute and quite a hit due to its elegance and convenience!
Princess Cut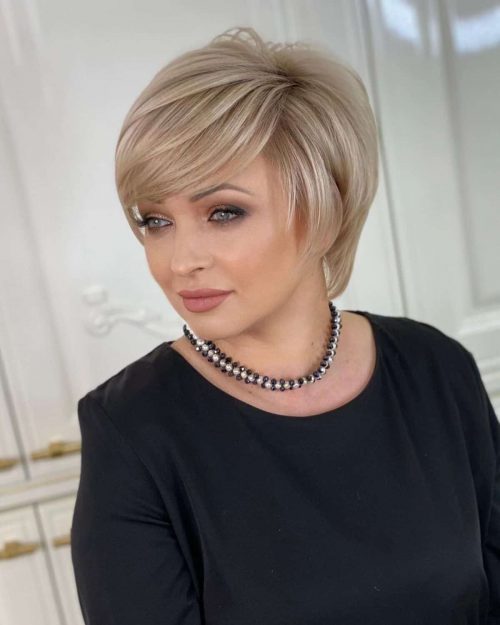 Instagram @georgiykot
Women over 40 can look like a royal with this classic Princess Diana-inspired haircut.
How To Style:
1.Apply product to wet hair.
2.Blow dry the hair with a round brush, directing the hair backwards.
3.Set with a finishing spray.
Recommended Products:
HydroMist Blowout Spray gives a hair a nice and airy lightweight volume.
Best Face Shape and Hair Type:
All face shapes with any hair type can rock this style.
Chin-Length Bobbed Dimension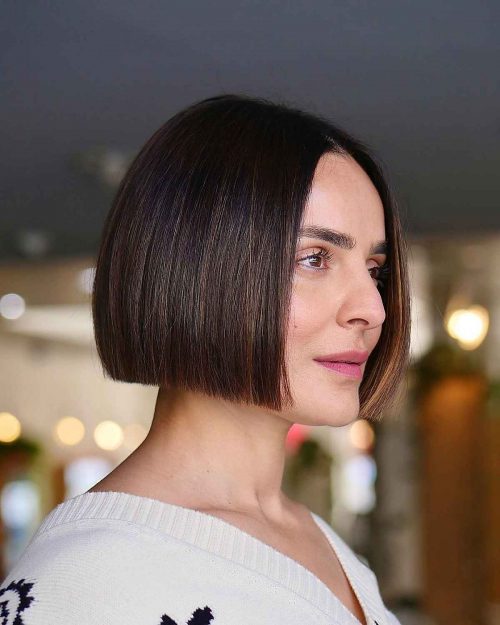 Instagram @yukistylist
This gorgeous chin-length bob with a middle part is enhanced by its dark dimensional color.
How To Style:
1.Apply product to hair.
2.Blow-dry the hair with a styling brush.
3.Smooth the hair with a flat iron.
4.Apply a serum to the hair.
Recommended Products:
Gloss Drops add shine and control frizz.
Best Face Shape and Hair Type:
All face shapes with any hair type can pull off this flattering look.
Easy Texture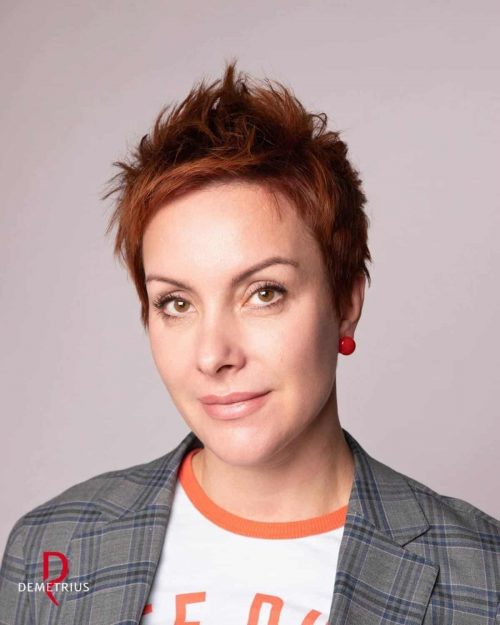 Instagram @demetriusschool_eng
This look features a short layered haircut that easily allows the hair to be styled with tons texture. It's a great cut for women over 40 with thicker hair.
How To Style:
1.Apply a product to wet hair.
2.Power dry the hair with fingers.
3.Apply a product for texture.
Recommended Products:
Shaping Cream adds flexible texture to hair.
Best Face Shape and Hair Type:
Oval face shapes with any hair type can pull off this textured style.
Sleek Bob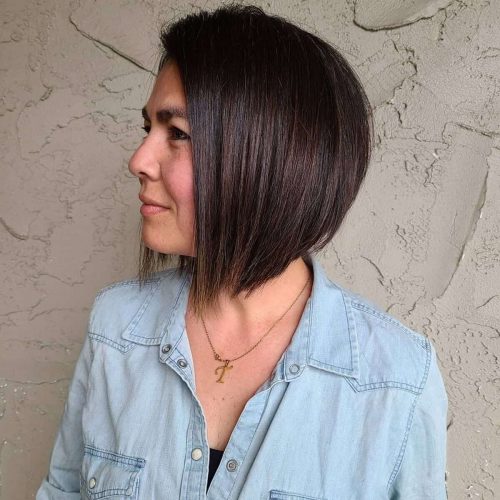 Instagram @arediaz_colorista
This sleek long bob features layers that are shorter in the back and longer in the front.
How To Style:
Apply product to wet hair.
Blow dry the hair with a styling brush.
Apply thermal protection to the hair.
Smooth with a flat iron. Set with a finishing spray.
Recommended Products:
Hot Off The Press is a thermal protection spray and a hairspray in one.
Best Face Shape and Hair Type:
All face shapes with hair that is medium to high in density and medium to coarse in texture can wear this bob.
Teased Bob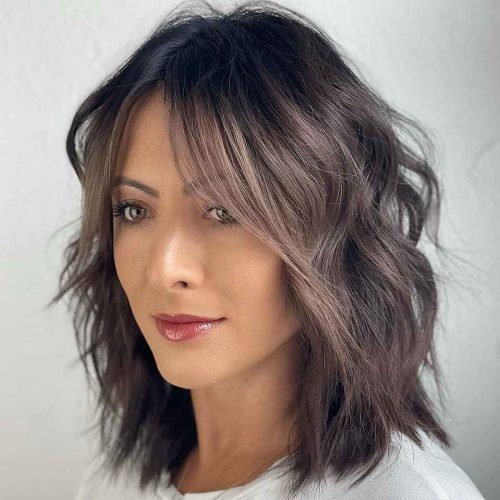 Instagram @david.oshell
Bobs with layers are one of the best short hairstyles for women in their 40s. Another way to wear a bob is smooth with volume. This bob has layers that fall below the occipital bone in the back and gradually get longer in the front. Extra-Body Finishing Spray is perfect for holding teases!
Wider face shapes with hair that is medium in texture and density can pull off this style.
Black Shaggy Cut with No Bangs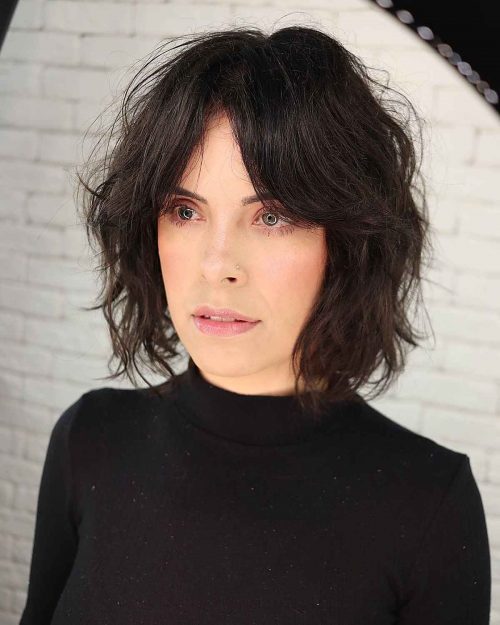 Instagram @giboazhair
Try an iconic black shaggy cut without bangs to really freshen up your overall style. The shaggy cut combined with the crisp, dark color like black allows for a very healthy and voluminous appearance to the hair. A black shaggy cut can do a lot to revitalize an aging face in terms of lifting, brightening, and accentuating face shape and key facial features. Avoiding bangs means you keep the face open and brighter while reducing the amount of horizontal lines for the eye to follow which keeps the eyes focused on following a vertical line on either side of the face. This then beautifully frames it while enhancing the focus on key features such as eyes.
Gorgeous & Textured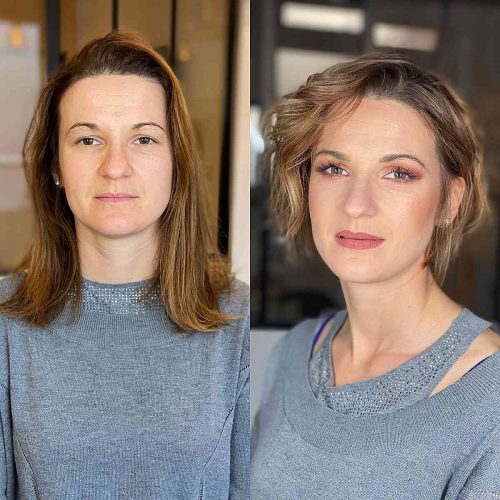 Instagram @amelie_become_you
This is very short hair with short layers. With short haircuts for women in their 40s, it is very important to create volume and shape it to highlight their features.
For those who are considering this short crop, it's very important we take into account a few factors such as hair type, face shape, time, and lifestyle.
When it comes to short hair, we like to look at if your hair is straight or curly, thick or fine, because it is important that we get to know our client and for the client to know us as we are entrusted with their hair. Some short hairstyles will work with specific types of hair, but some may not. This style especially suits people with wavy or curly hair.
Another thing to keep in mind when your hair is cut short is whether or not this hairstyle will suit the shape of your face. Even though a style may not suit your facial features, there is always a way to work around it and find an exact short hairstyle that suits you best.
With all hairstyles, lifestyle plays a big factor in how your hair is. Short hair like this is easy to maintain and therefore makes your daily routine easier. You can enjoy a lot of different looks with just styling and product use.
Chic Short-Medium Length Bob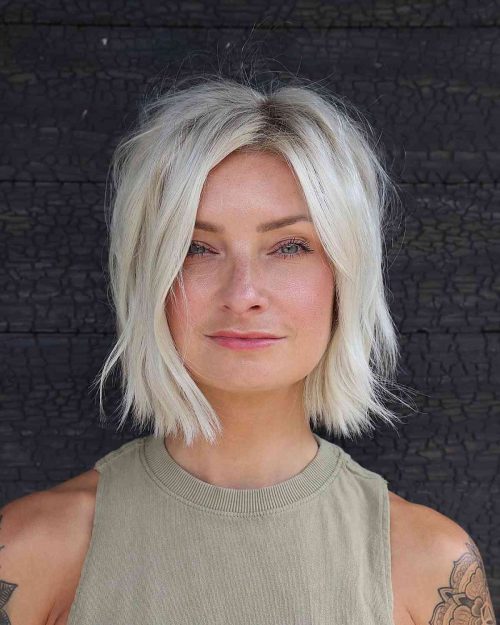 Cut your hair short into a bob as a good in between cut for ladies over 40 who want to go shorter but not "too short".
One of my favorite things about this cut is that it has longer layers that make it possible to wear it fun and flirty with some waves, or sleek and straight.
This cut goes with many face shapes and most hair types. There are many women over 40 who choose this cut, especially during the spring and summer months for a fun, short, and seasonal style. It's also pretty simple when it comes to styling as well.
To get a fun and flirty when going short, use a flat iron or a 3/4 to 1-inch barrel curling iron to create loose waves. I recommend using a good texture or working spray to give it that fun, messy, and textured look. Try Matrix Texture Spray and Kenra Working Spray. Top it off with a light finishing hairspray.
Multi-Dimensional Style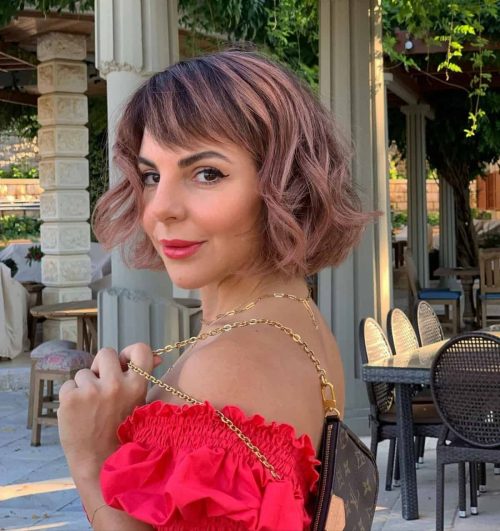 Instagram @walidzeineddine
Short hairstyles for women over 40 are multi-dimensional lots of texture and lines.
If you have short hair, make it so it can be worn straight or wavy, leaving you with great options for whatever the day holds.
When hair is cut short it's great to add in the dimension of color, giving light and depth to each angle. I'm really loving the look of a slightly shorter length in the back. It's so flattering for so many people.
For women turning 40 wanting this look would be to embrace their natural texture. Embrace your curl, your color, your texture, your own unique look, and rock it!
Fresh and Young Pixie Cut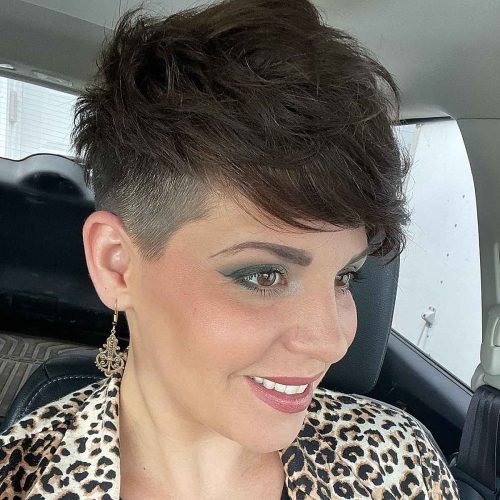 Instagram @kameranthull
This super short hairstyle is great for women in their forties with glasses who still wants to look fabulous!
My favorite thing about this short pixie cut style is that there are so many elements to it. From the color to the texture to the undercut, they all harmonize so well together. The look feels so fresh and young but polished at the same time.
To style, I pre wet hair with Matrix Miracle Creator. Dry it directionally, spray it with Joico Ironclad. Use a a flat iron to bend sections for texture and smoothness, then finished it with Joico Texture Boost, which is one of my all-time favorite products for texture.
This short style works extremely well for women over 40 with thick hair. The undercut makes it less bulky, more manageable, and adds a touch of funk and youth. It is perfect for ladies with all face shapes, especially those with round faces as it can be tailored to their particular needs to flatter and frame.