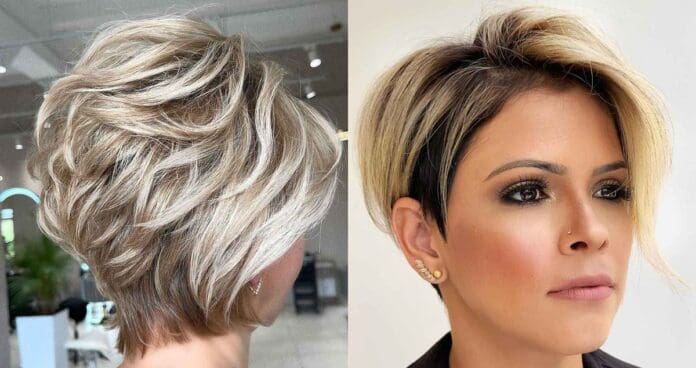 A layered long pixie cut features short, stacked pieces in the back with longer layers at the front. It creates an edgy, powerful hairstyle that draws attention. It's the perfect option for confident and sophisticated women of any age! Beverley Bates is an artist ambassador, educator, and salon owner from Warwickshire, UK. She proves the styling options for a pixie are tremendous. Want a stronger look with softness? Bates suggests a longer layered bob with graduation or undercut. "By day, it can be worn in its simple state. For occasions, it can be styled with a gentle quiff, a texture, or undone waves," she adds. The key to an appealing long layered pixie cut is finding the right stylist. Bates states, "Go to a stylist that understands how to engineer a great short haircut—someone that consults you, too." This modern cut is perfect on any hair texture and type, as long as it's not in a poor, frizzy condition. Bates suggests products from La Biosthétique Paris for a healthy scalp and edgy, textured styles. Get the right haircut that promises you a great look every day. Here are the images of the trendiest layered long pixie cut ideas you must try!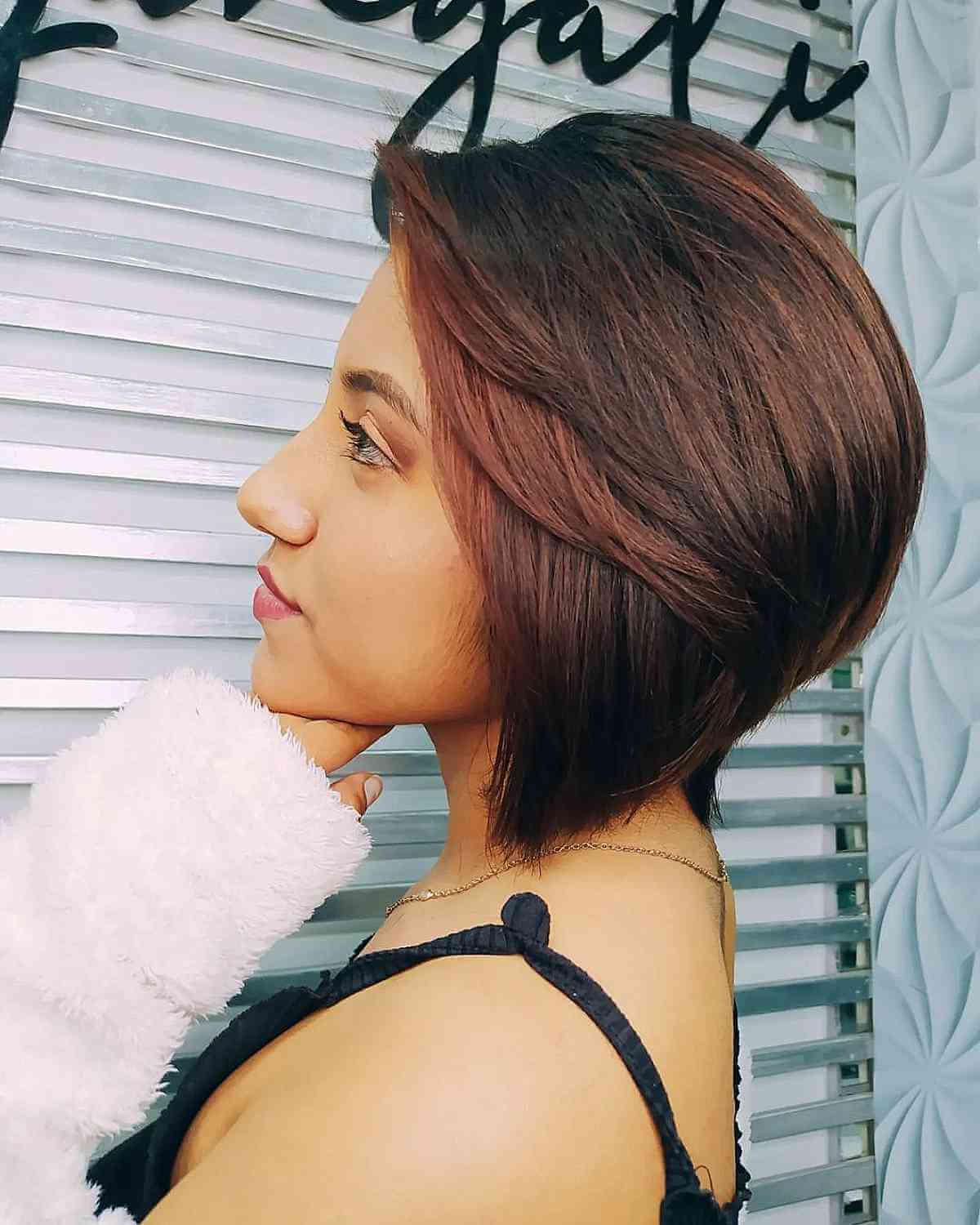 #1: Brunette Pixie Bob with Layers
A brunette pixie bob with layers is a beautiful medium to short haircut that can accentuate and frame the face. By adding layering to a pixie bob you can get more body and movement while also making the haircut easier to style. A pixie bob does require daily styling in order to look intentional, however, the styling process is generally quick and easy.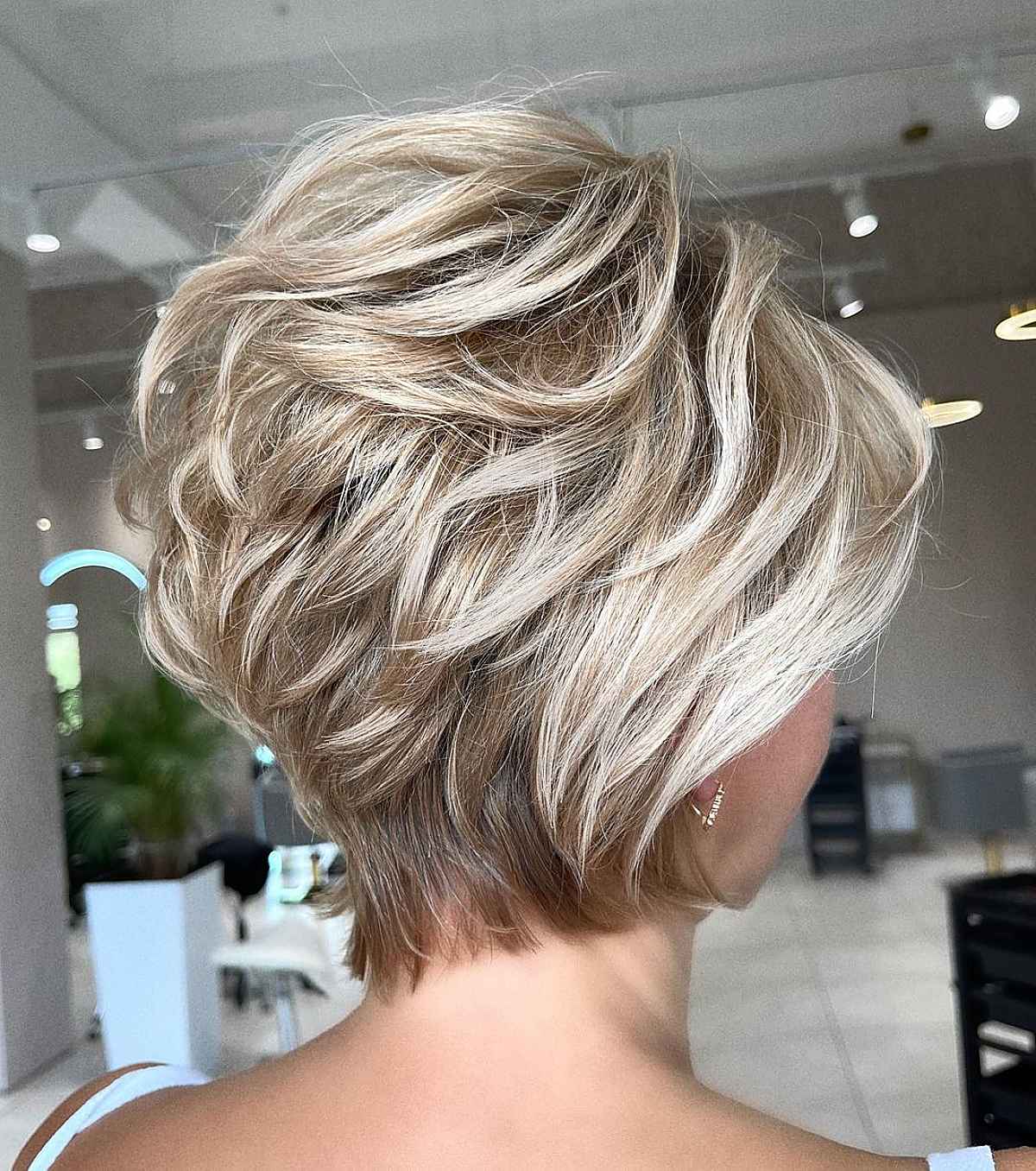 #2: Feathered Pixie Cut with Layers
A feathered pixie cut with layers is super chic. A feathered lixie haircut is a super soft feminine style that works well on middle-aged professionals and older women. Feathered layers compliment medium wavy textures. Easy to wash and go or use a little volume spray at the root to add body to a quick blow dry.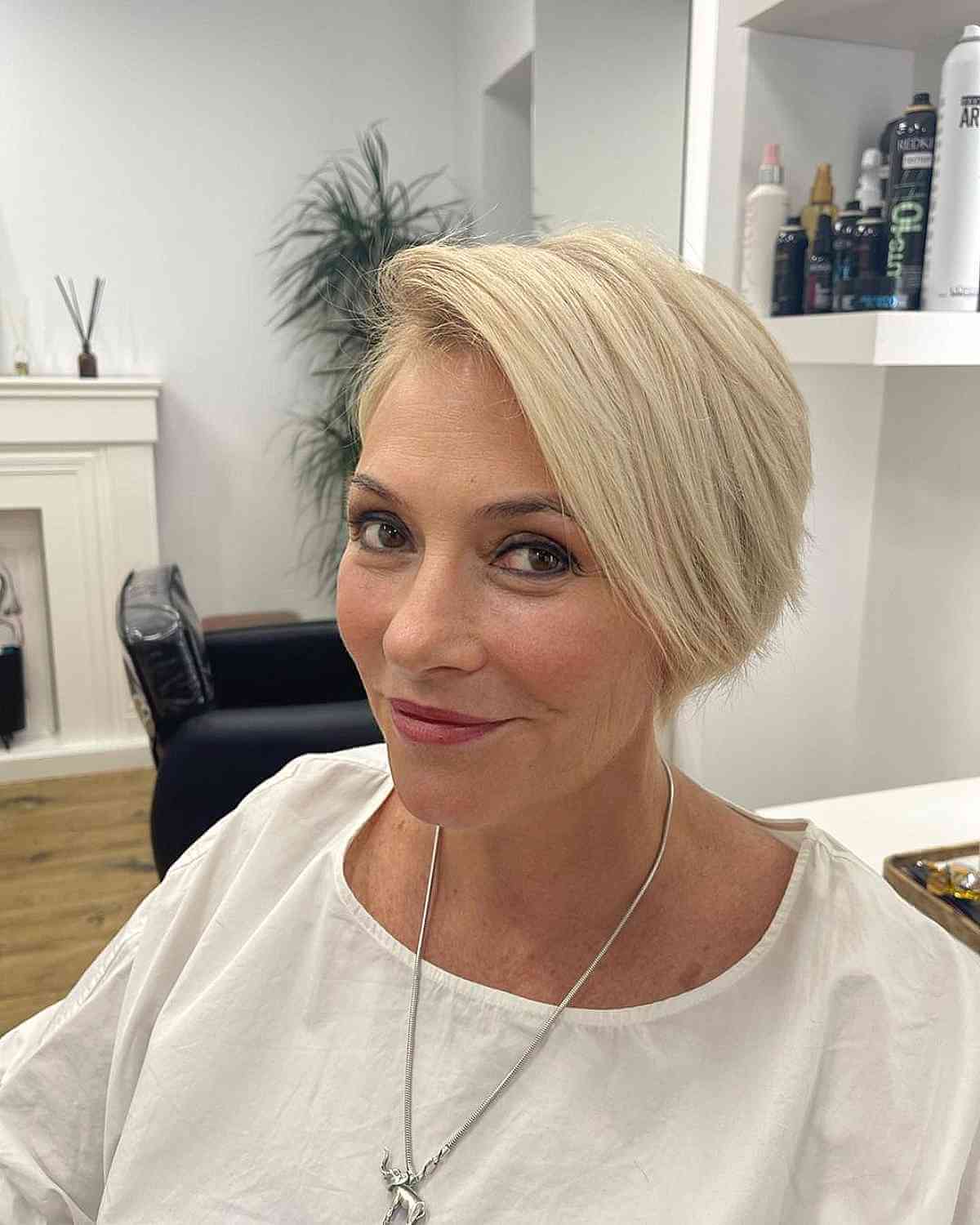 #3: Extra Long Blonde Pixie with a Side Bang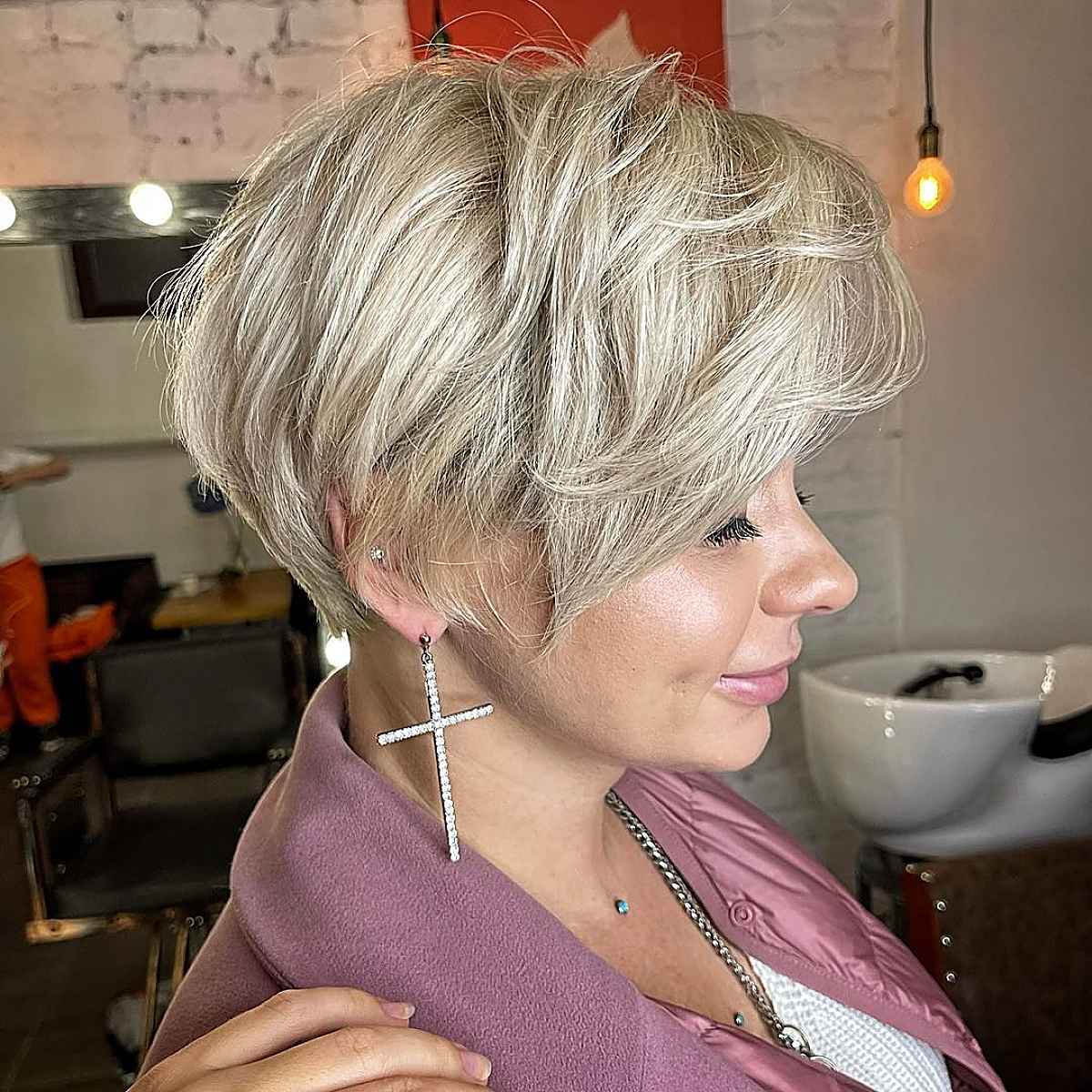 #4: Layered Pixie Bob
Try a layered pixie bob if you're looking for a short cut with versatile styling options. A long pixie bob hairstyle falls somewhere between the ear and neck, which is a great transitional cut if you're not ready to make the leap to a super short crop. Consult with your stylist about an icy beige highlight session to make your new crop really pop!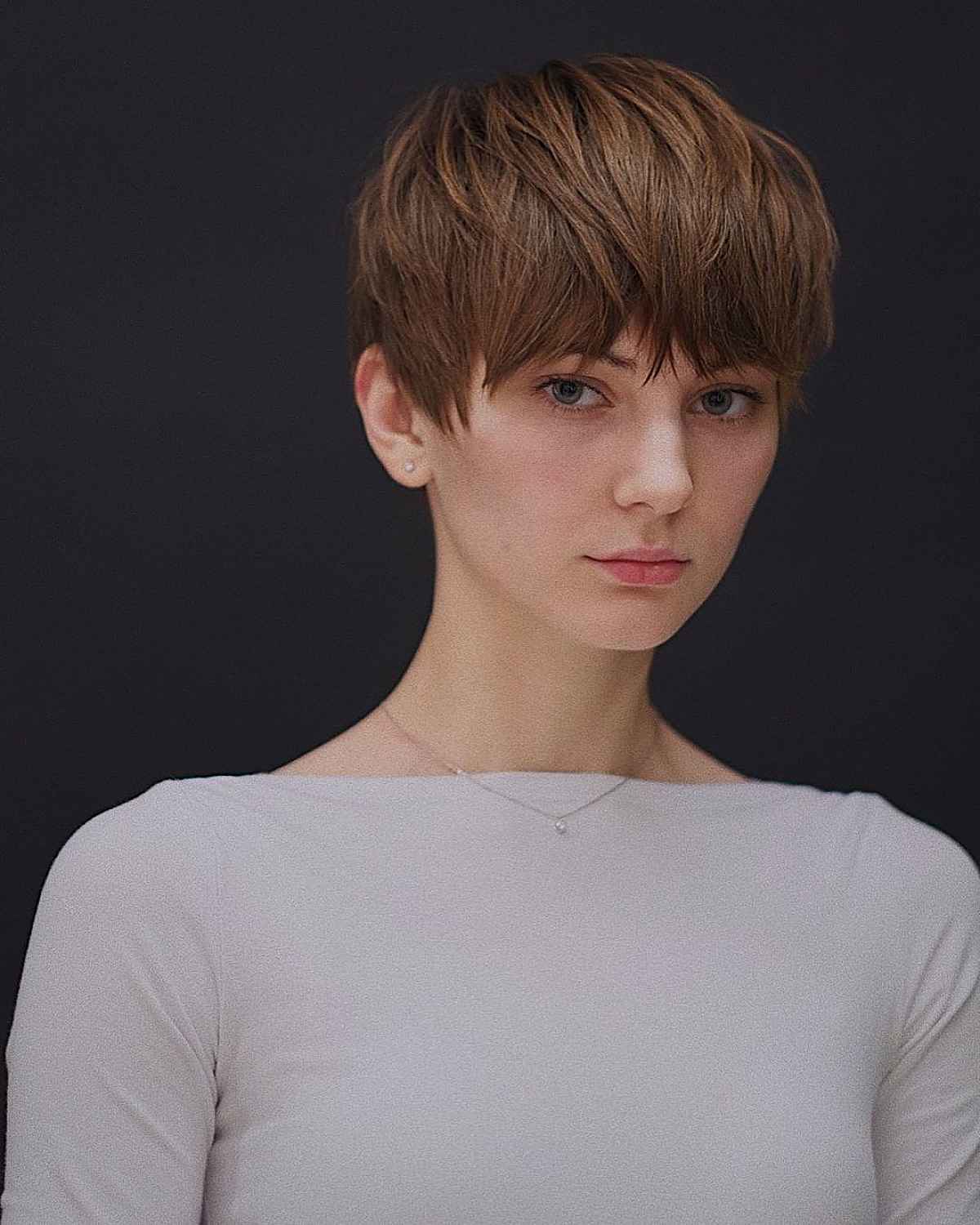 #5: Layered Pixie with Heavy Bangs
Try a layered pixie with heavy bangs for a chic wash and wear style. Long pixie hairstyles with layers and a full fringe camouflage broad heart-shaped faces, as well as shorten oval face shapes. Make sure to keep up with regular trims to keep your pixie shaped.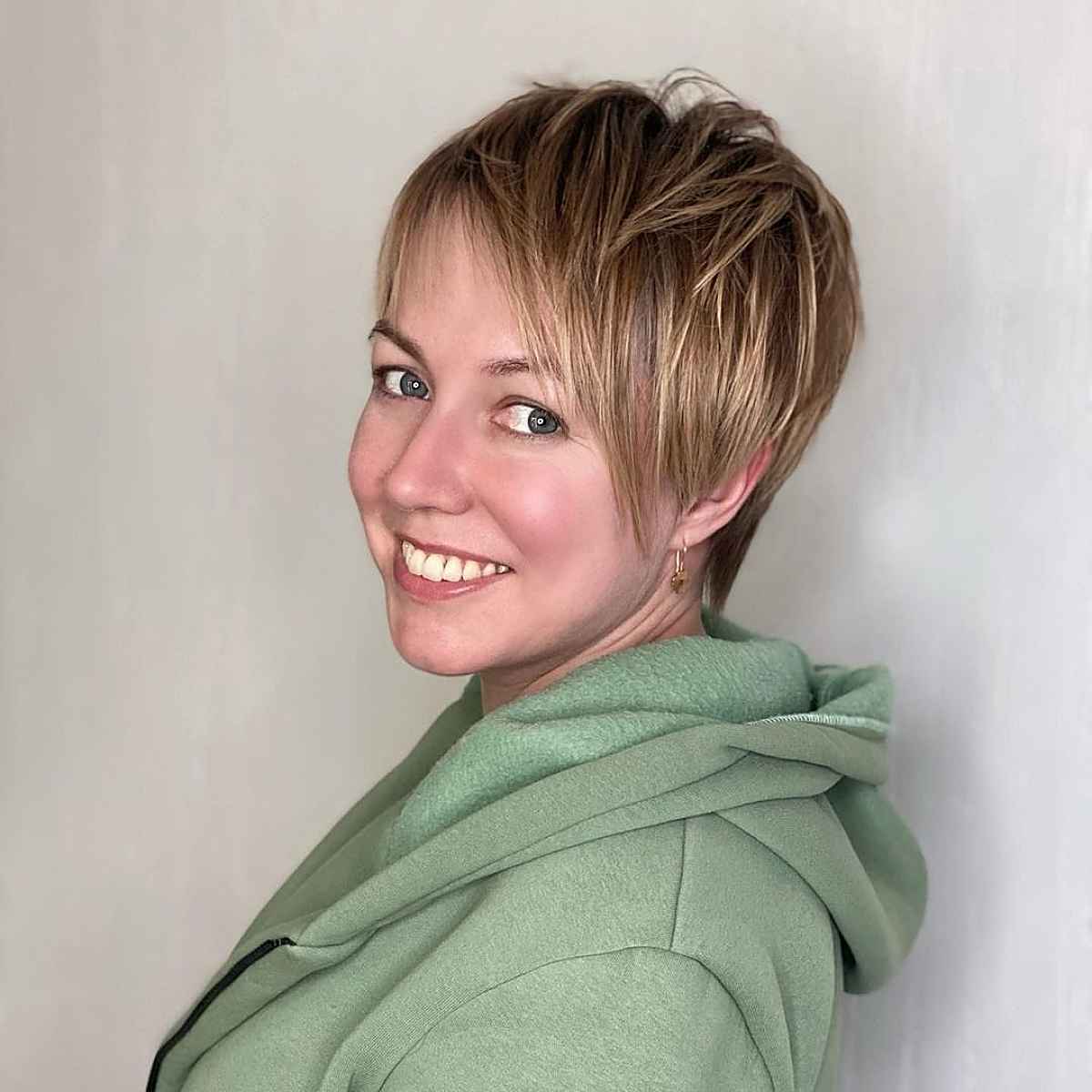 #6: Tapered Pixie Cut for Fine Hair
A tapered pixie cut for fine hair is a fun layered haircut that gives life back to limp tresses. Cropping the back extremely close, and leaving length around the sides with texture throughout the top, is a creative choice for a long pixie cut for fine hair. Spray Living Proof full root lift on damp hair, and blow dry for optimal volume.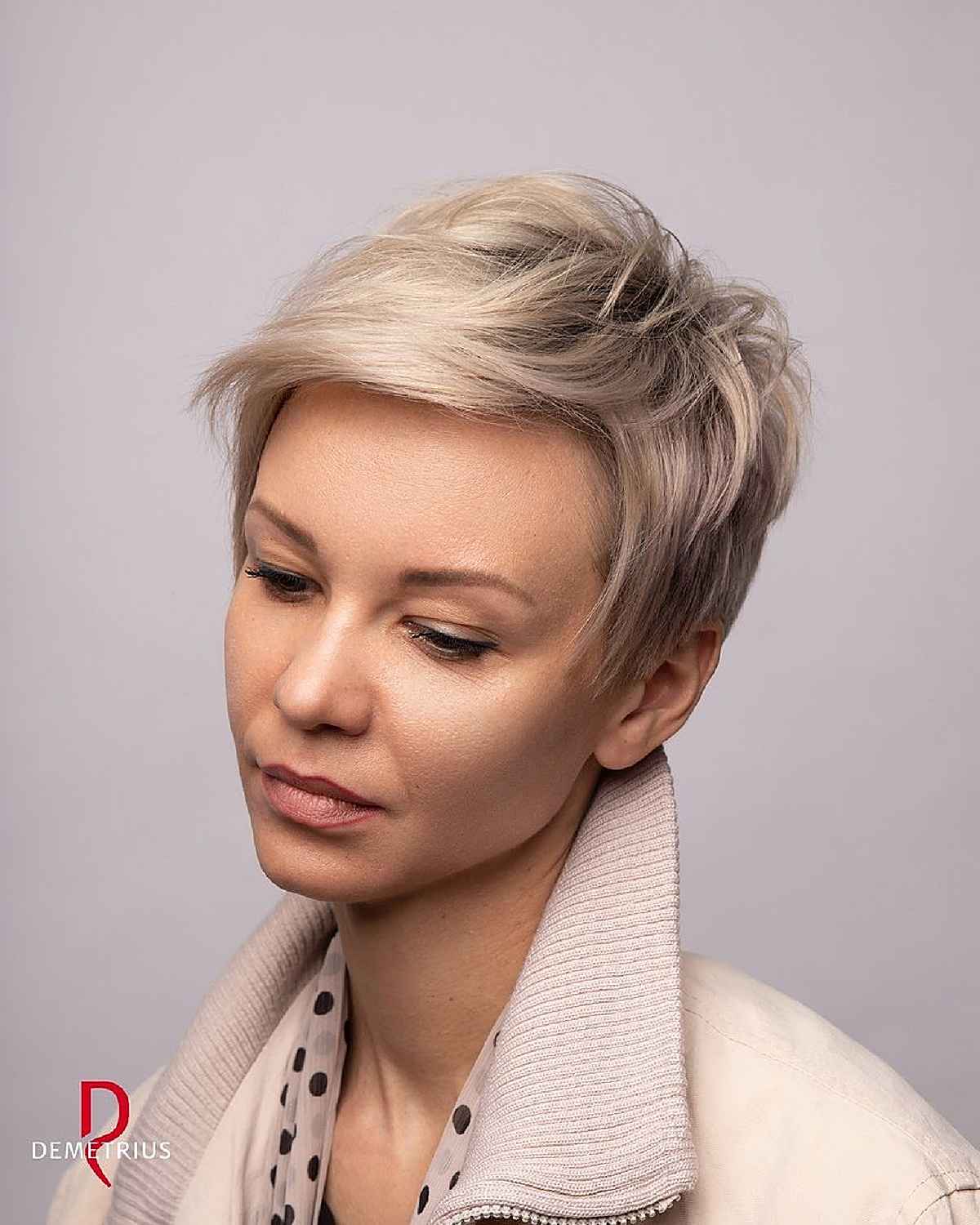 #7: Side-Swept Pixie Cut with Layers
Try a side-swept long pixie cut with layers for an edgy yet chic haircut. A layered pixie cut for short hair is extremely versatile and looks great on women of all ages. Compliment your layered hairstyle with a beautiful shade of champagne blonde.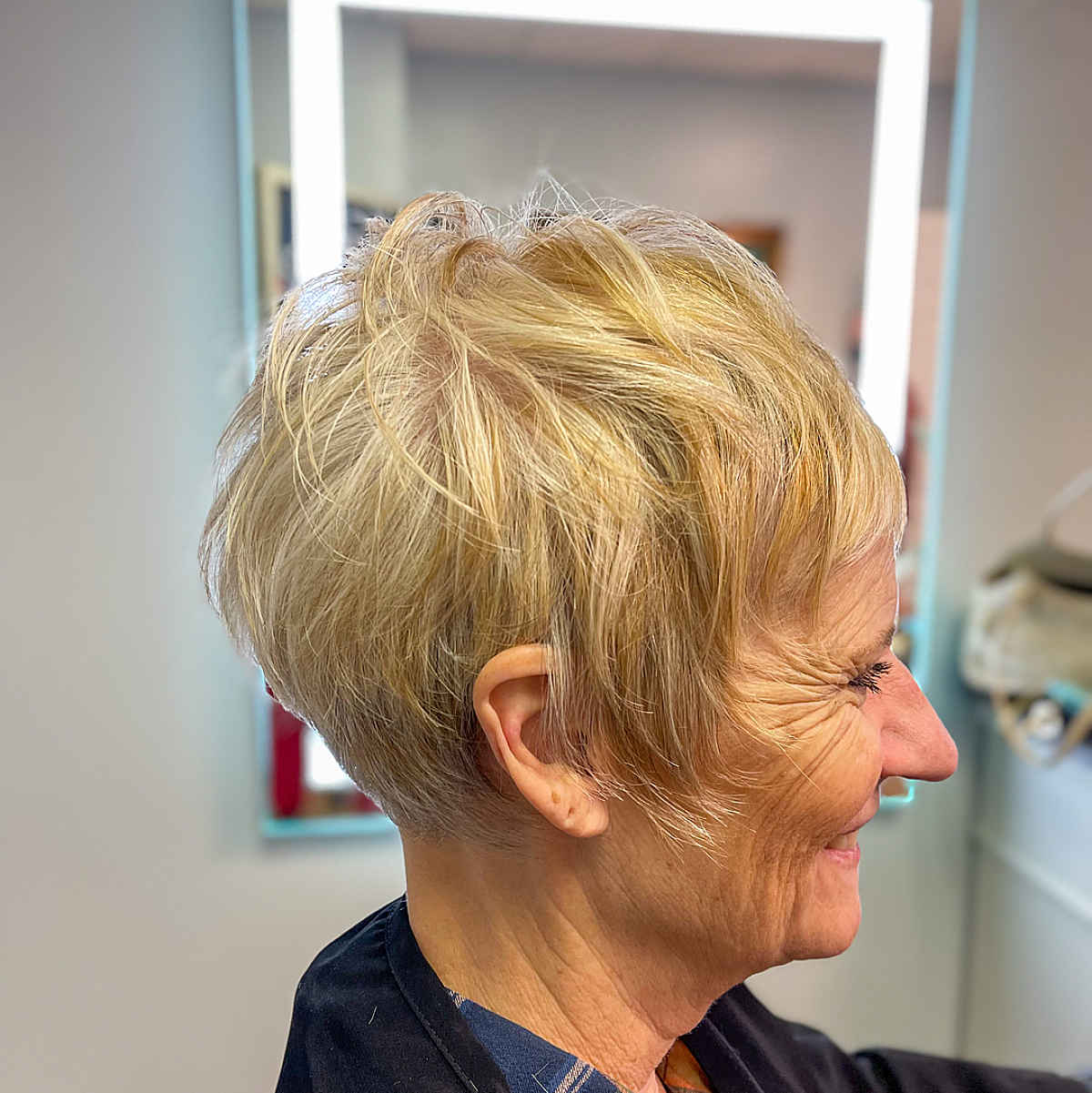 #8: Pixie with Razored Crown Layers
Consider a pixie with razored crown layers if you have thin hair in need of a boost. Layered long pixie haircuts for fine hair look super chick with wispy sideburns and a short swoopy fringe. This short razored crop looks best on women over 50.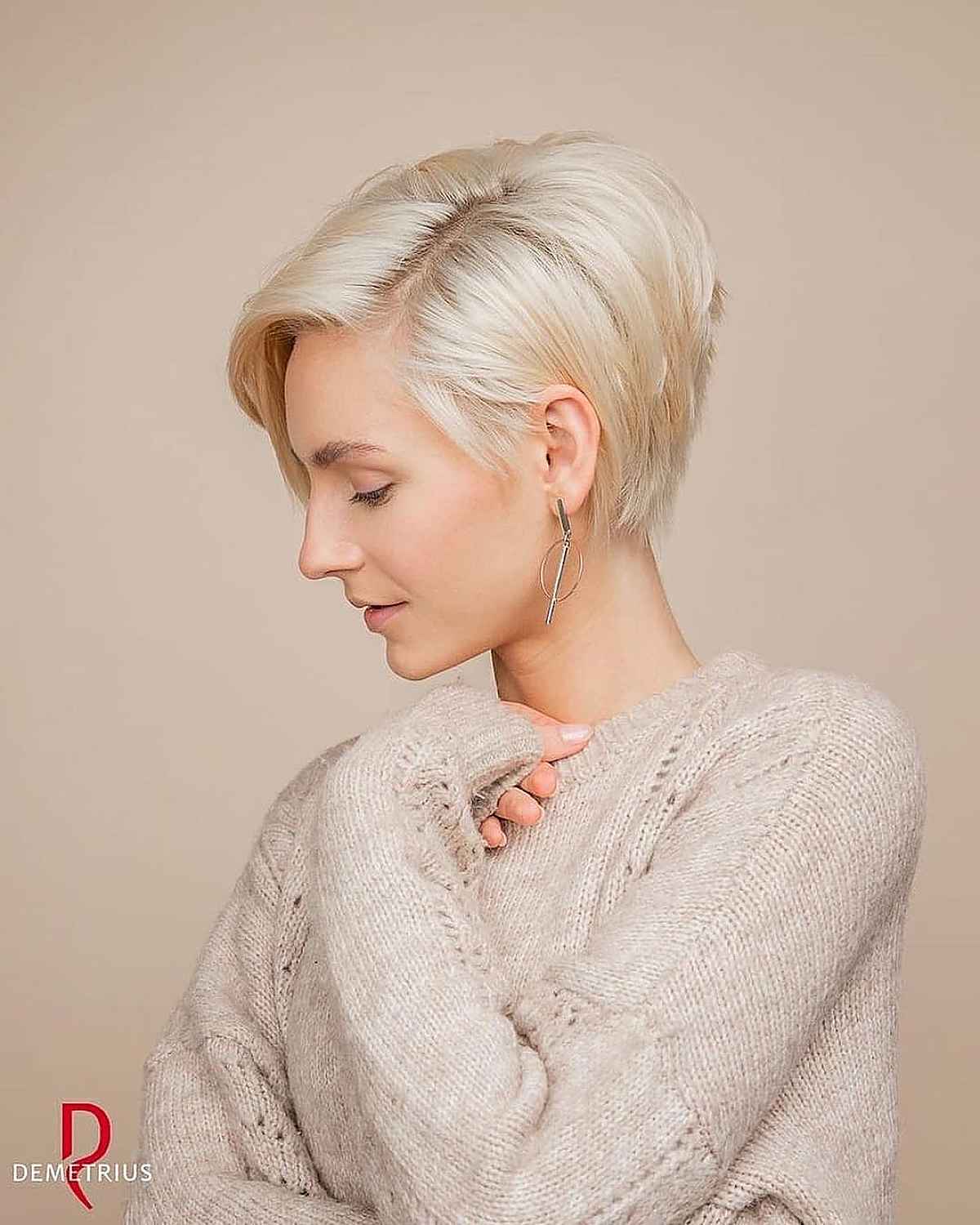 #9: Angled Pixie with a Side Part
If you're thinking of making a big change, then consider an angled pixie with a side part. Everything about short layered pixies is sheer perfection. Soft tousled layers accented with an asymmetrical side part accentuate cheekbones and highlight your eyes. Complete your stylish long pixies with a buttery shade of platinum blonde.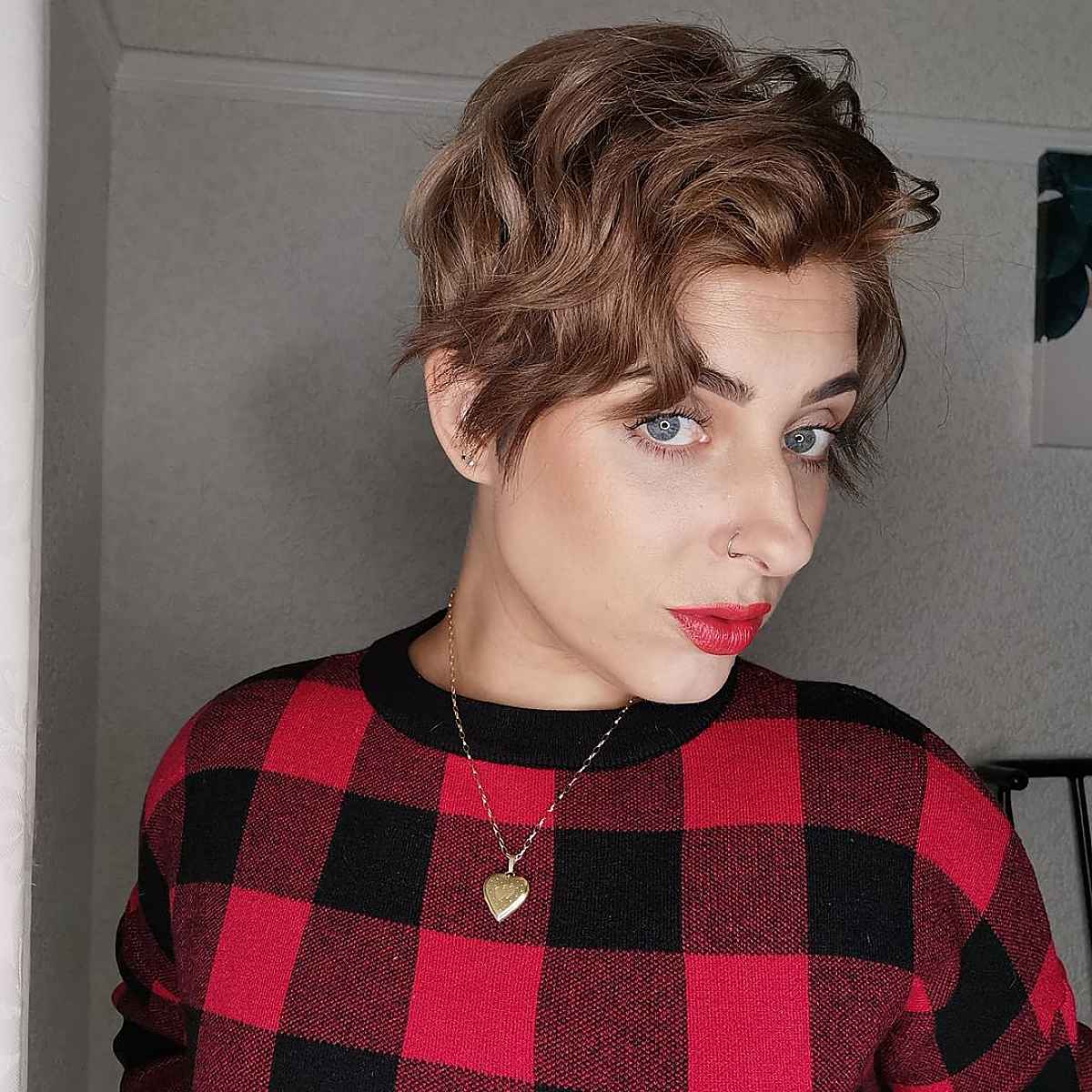 #10: Wavy Pixie Hair with Layers
Consider wavy pixie hair with layers if you have textured tresses. Lixies are extremely versatile and look great on women of all ages and face shapes. Naturally wavy hair can be worn air dried with sea salt spray, or enhanced with a few loose curling iron waves.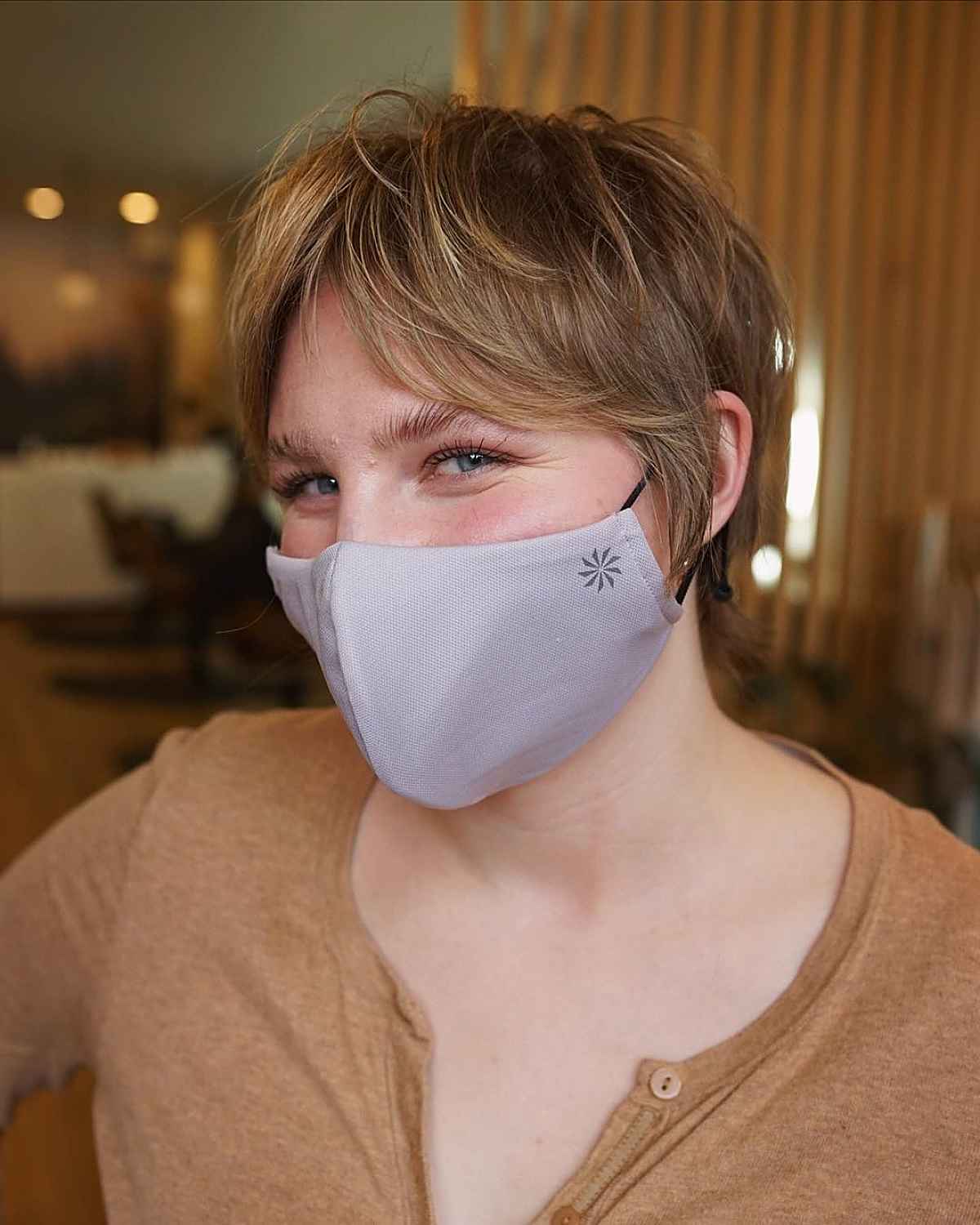 #11: Shaggy Pixie Cut with Curtain Bangs
A shaggy pixie cut with curtain bangs is an easy-breezy hand-crafted short hairstyle that offers a ton of movement and works well on straight, wavy, and curly textures. Incorporate some soft face-framing balayage into your low-maintenance long pixie cut for a complete wash and wear layered style.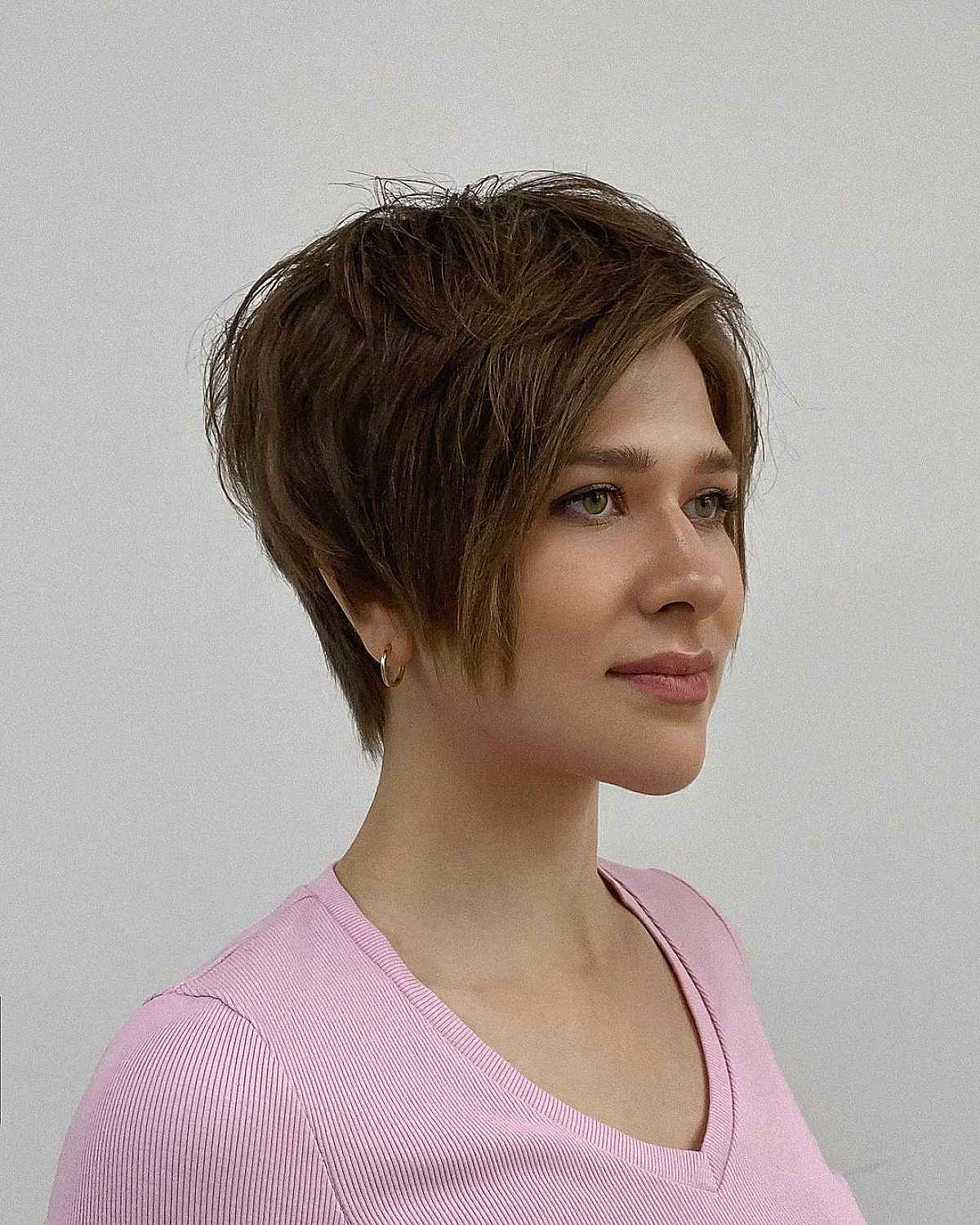 #12: Textured Pixie Cut with Choppy Layers
Try a textured pixie cut with choppy layers if you're looking to add volume to fine hair. Angled cheek-skimming layers on a long choppy pixie cut for short hair help frame the face and highlight cheekbones. Add a rich hazelnut color with a few baby lights to warm your complexion and show off the texture.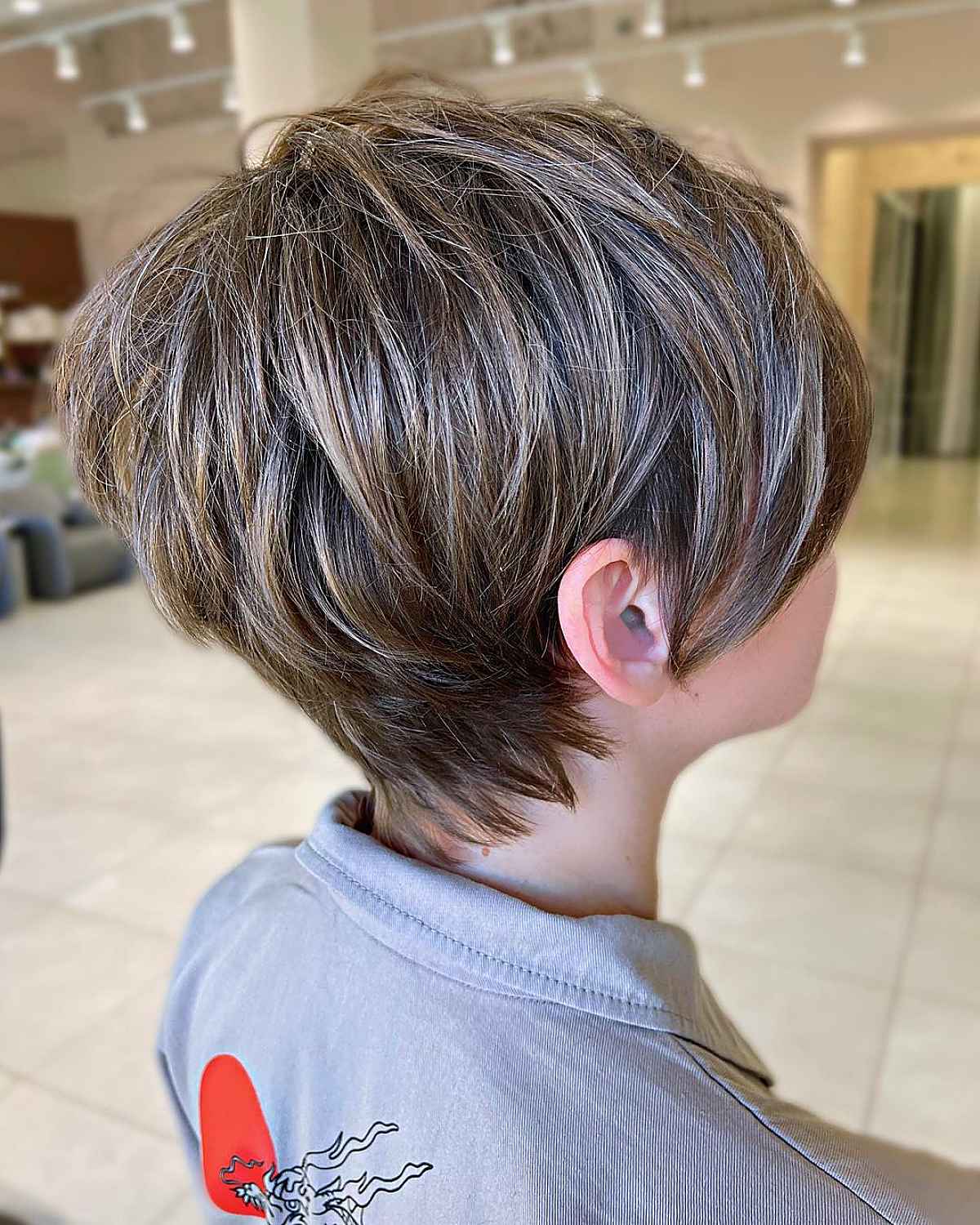 #13: Pixie with Stacked Layers for Thick Hair
Have you been afraid to go short, because you have an abundant amount of hair? Fear no more, because a pixie with stacked layers for thick hair is the perfect cut. Not only is a short crop a great way to reduce styling, but a layered long pixie cut for thick hair is ideal for weight removal. Blow-dry with Kevin Murphy Ever.Smooth, and finish with Bedroom.Hair dry texturizer.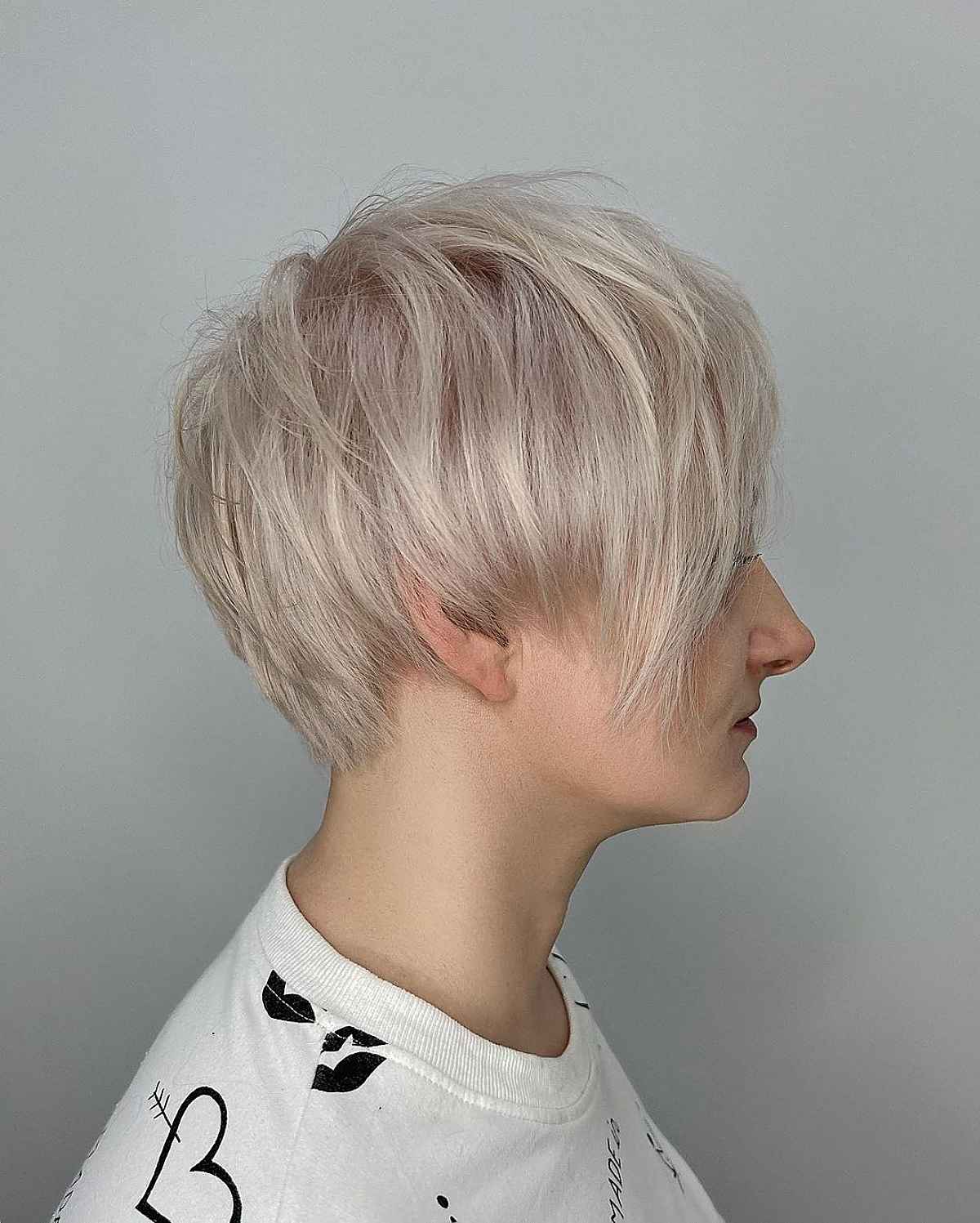 #14: Long Layered Pixie for Thin Hair
Go for a long layered pixie hairstyle for thin hair to incorporate movement and bulk up your strands. A long pixie cut for thin hair usually falls at or below the ears, with a jawbone-grazing fringe. Ask your stylist if a platinum blonde tone would complement your skin tone.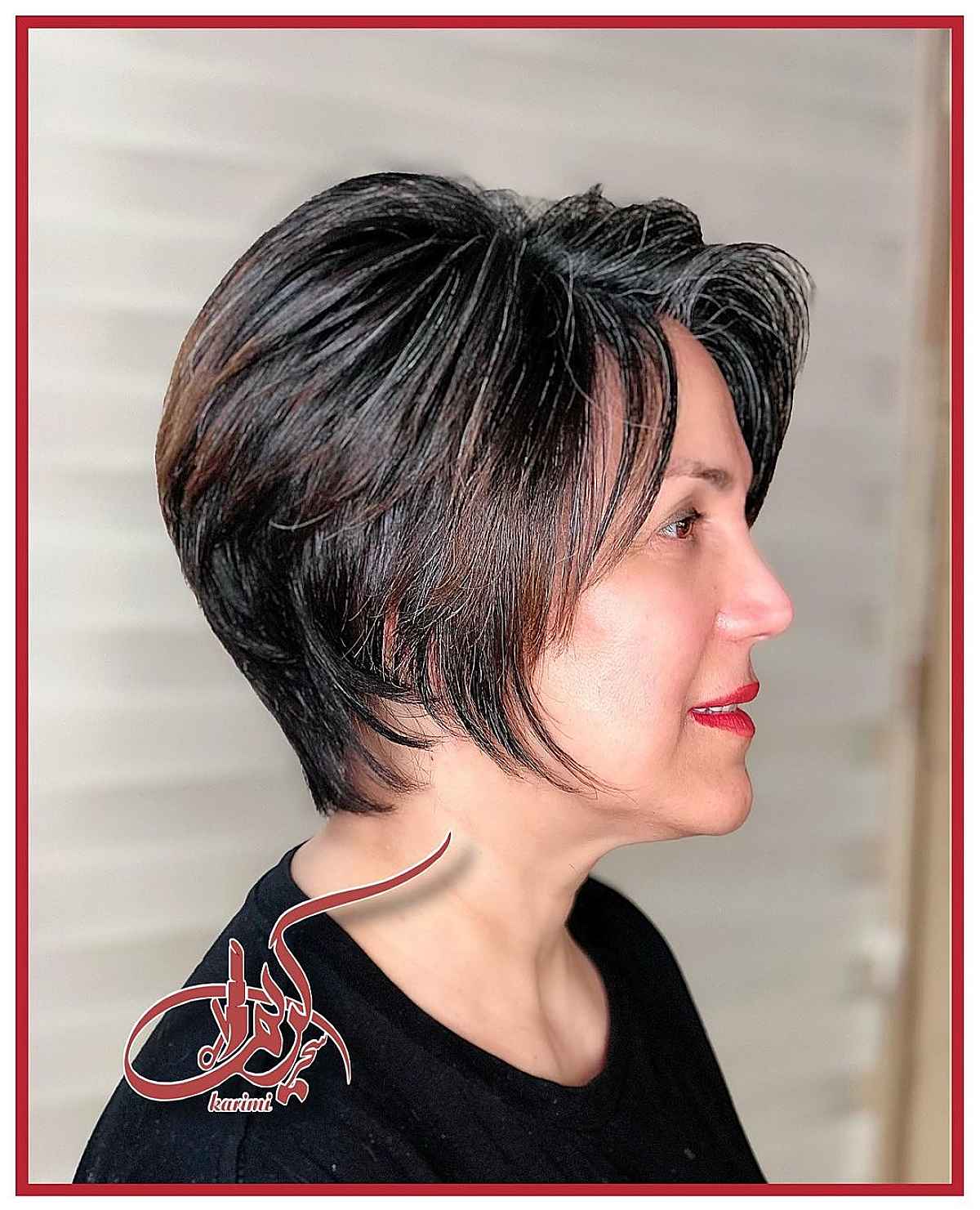 #15: Straight Long Pixie with Wispy Layers
A straight longer pixie cut with wispy layers is the perfect lixie cut for women who want to incorporate movement to their straight hair. Blended layering helps add uniform round shaping to the back of the cut. Ask your stylist to texturize your edges and sideburns for a wispy look.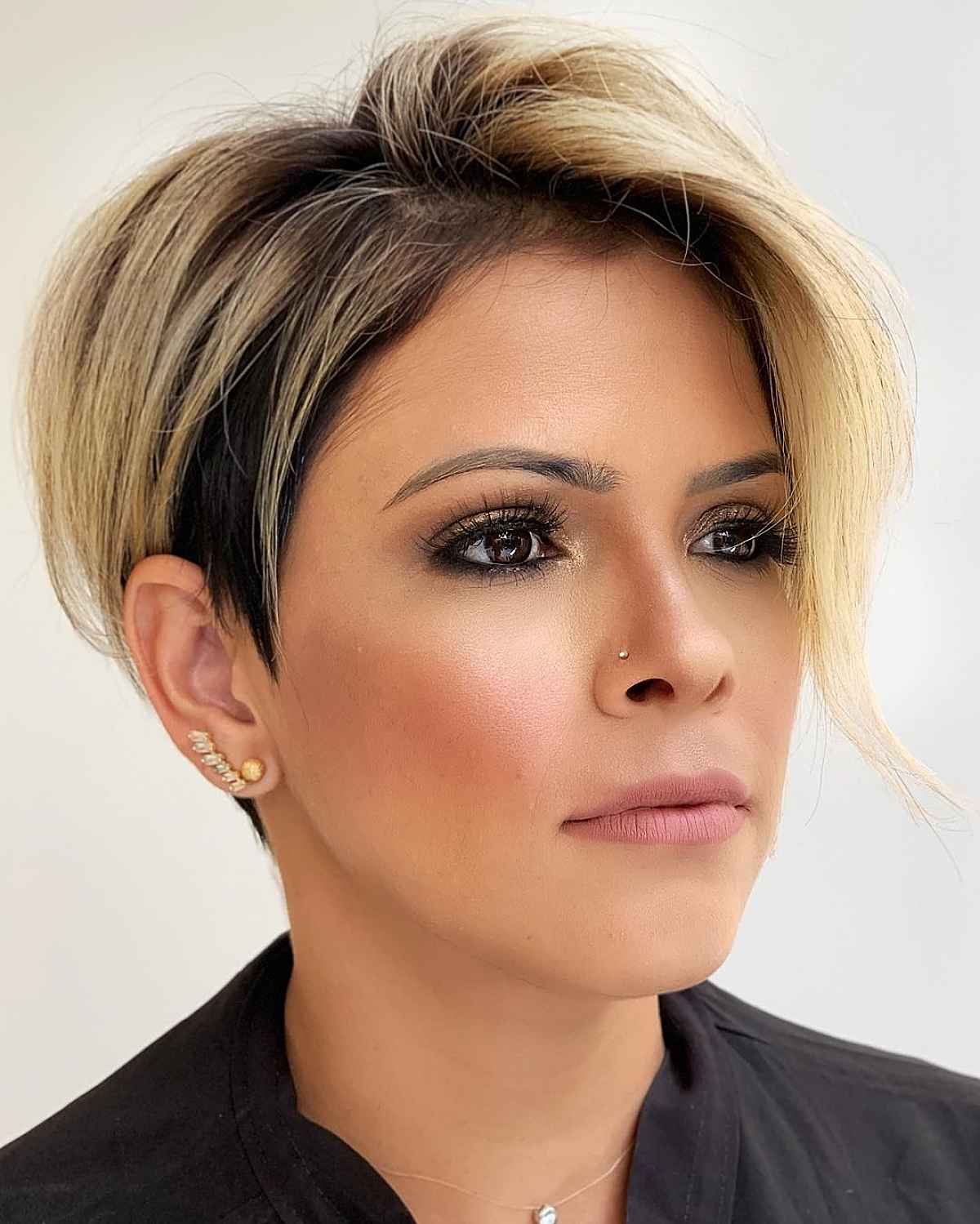 #16: Pixie Cut with Long Bangs
Go for a pixie cut with long bangs to reduce bulk and show off your best features. A close crop around the sides and back of the neck helps to remove weight, making styling a breeze. Incorporate side parting to an asymmetrical pixie cut to add extra volume to your fringe.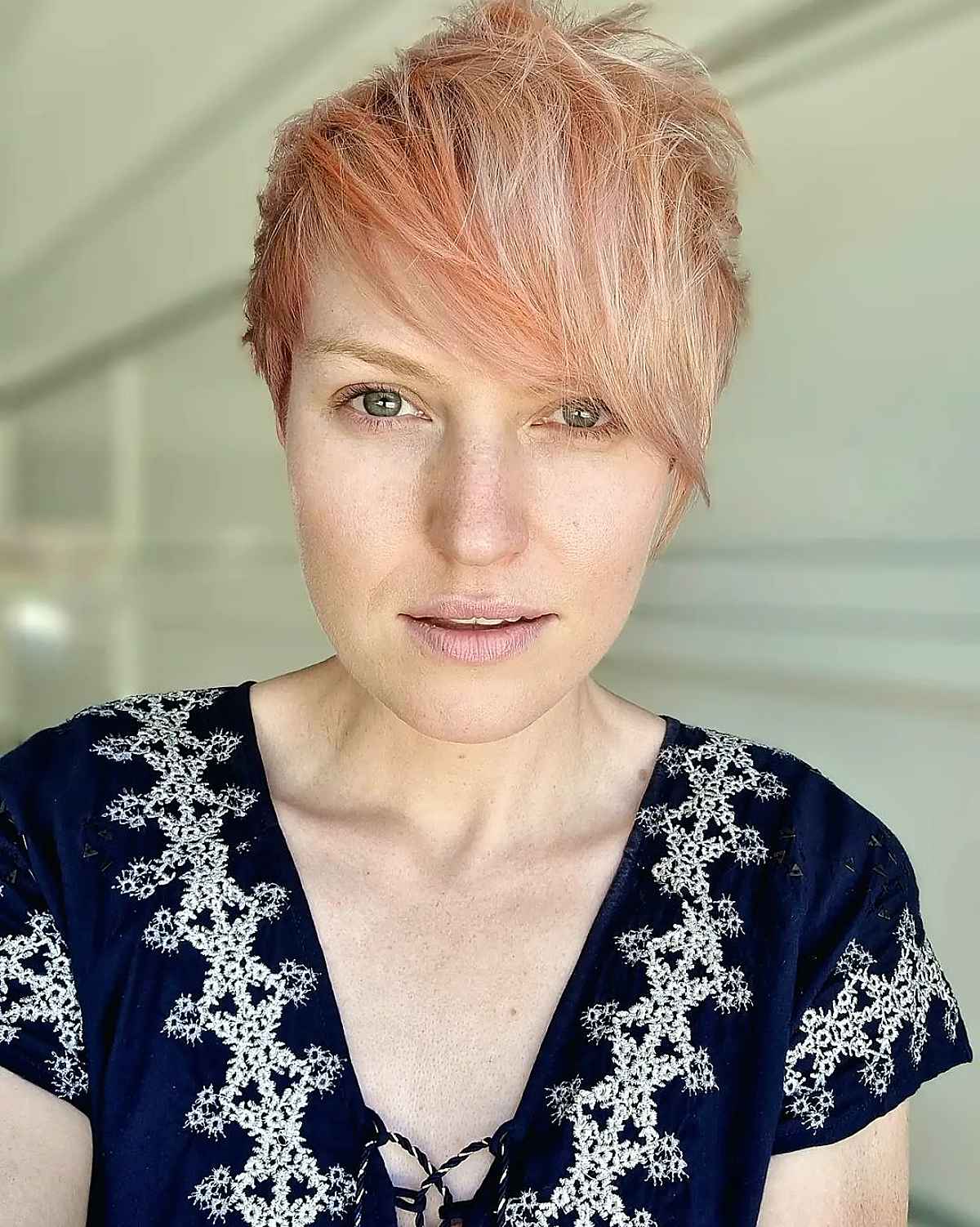 #17: Pixie Crop with Side-Swept Bangs
Consider a pixie crop with side-swept bangs if you're ready to make the leap into the world of short hair. A layered long pixie cut with bangs allows you to keep length in the front, which looks amazing on an oval face. Add some peach highlights to spice up the short style.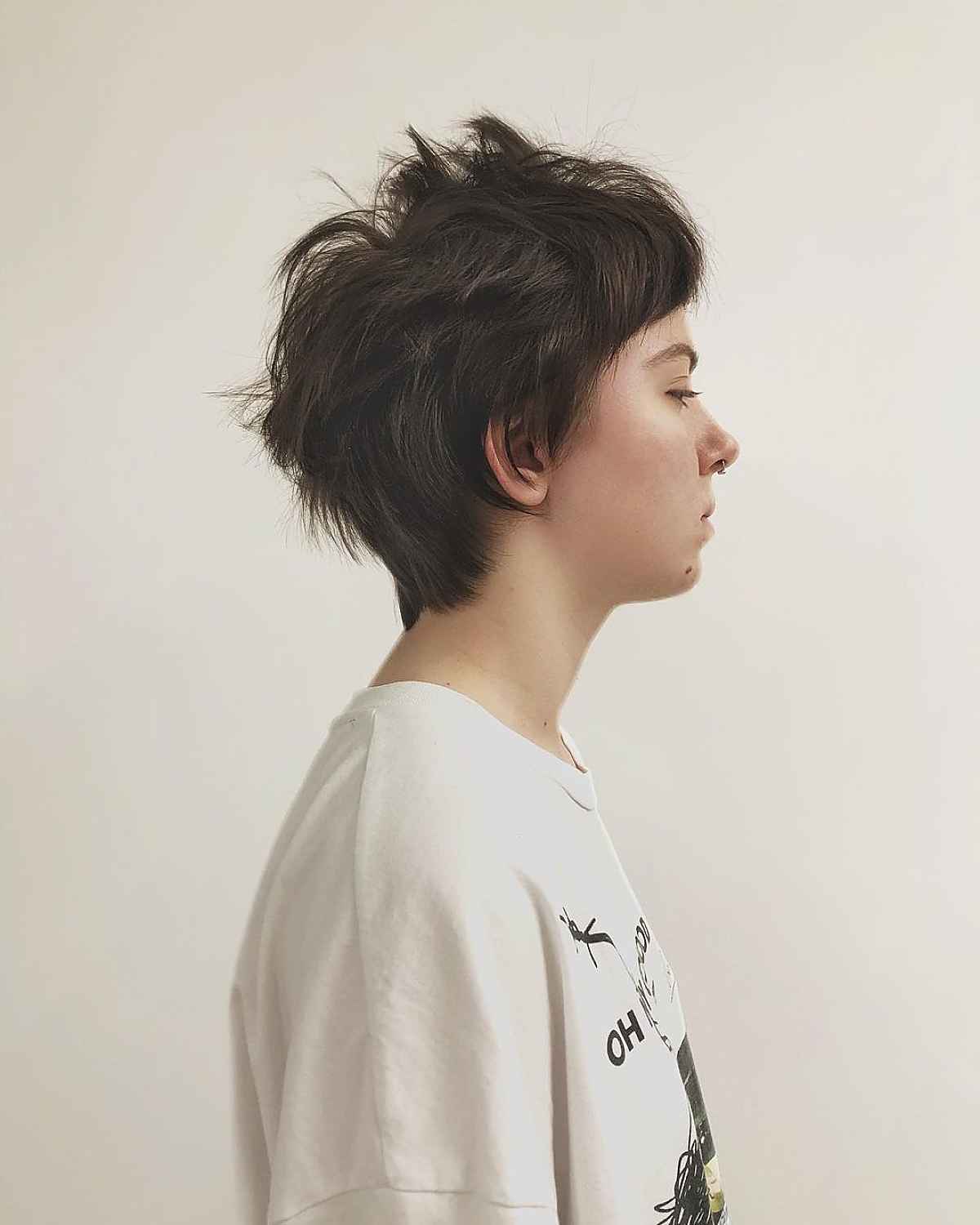 #18: Tousled Layers on a Pixie
Consider a long pixie haircut with tousled layers. If you have an edgy pixie style and love a modern take on a lixie hairstyle, then a messy pixie cut might be just what you need. Ask your stylist for textured layers, maybe slicing with scissors or a razor for the texture. Having a little hair length in the back, you will have to get trimmed up every 4-6 weeks unless you don't mind a short pixie mullet.