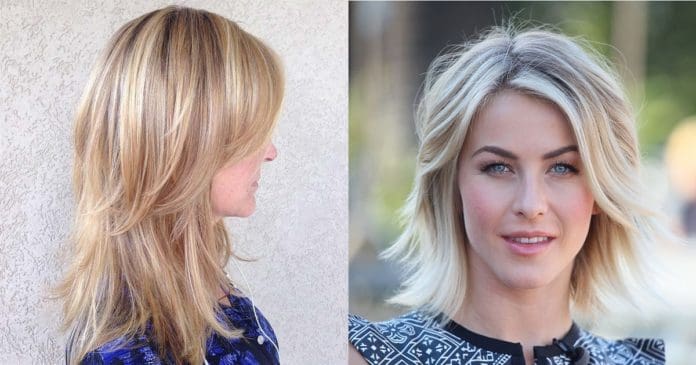 Women with thin hair often have trouble finding a hairstyle that works because their hair just can't be tamed. They usually want their hair to look more voluminous, thicker and more accessible to style, but fail time and time again. Well, we've got two tips for you that will make experimenting with new styles fun again. First, get your hair styled with layers so as to add volume. This makes creative styling so much easier. Secondly, medium-length hair is a must when it comes to thin hair because it guarantees that you'll have enough to play with and it gives you options. To help you out we've compiled some of our absolute favorite medium length hairstyles for you, so go ahead and pick one out!
#1: Two-layered Hairstyles For Thin Hair
Source
The dual-layered hairstyle and the usage of various shades of blonde gives a textured and chic look to your hair. It creates a loose and natural feeling and successfully shifts the focus to the layers and colors. This helps make the hair look thicker than before.
#2: Toused With Flipped Up Ends
Source
A medium length tousled bob adds overall volume and helps distract from the thinness of your hair. A side parting can complement your face shape, making it smaller and drawing attention to a beautifully pointed chin. Caramel hues with dark roots really go well with this style.
#3: Honey Colored Thin Hair
Source
Generally speaking, wavy and choppy hair is better than straight hair for girls with thinner locks, but that doesn't mean you can't choose straight hairstyles. A layered honey highlighted hue helps add texture and dimension to the whole style and the shoulder length is manageable.
#4: Smooth A-Line Bob
Source
Another successful example of straight hair for you! A smooth A-line bob creates a perfect angle that adds style and volume to strands which are otherwise tempted to fall flat. Platinum hues goes well with dark roots and the overall look is classy and stylish.
#5: Mermaid Green Choppy Layers Hairstyles
Source
One great way to take advantage of your fine hair is to try this mermaid green choppy style. Thin hair always looks better with feathered layers, as they add volume and create a tousled style that makes you look sassy, stylish and unique.
#6: Twisted Loosely Buns For Thinner Hair
Source
Girls with fine hair can style their locks in twisted loose buns and leave the rest to flow free. The messy buns or ponytails will add volume, and the free flowing look gives you that feminine charm.
#7: Shoulder-Length Curly Wavy Lob
Source
Curls look so sweet and go very well with blonde hues. Keep the waves near your face loose and make sure to curl away from your face for the most flattering results. No matter if it's shoulder length hair or a bob, you'll look gorgeous.
#8: Sleek And Straight Thin Hair
Source
To some extent, darker colored hair looks heavier and thicker than lighter hair. For example, this simple sleek and straight bob suits thin dark hair perfectly: It's fuss free, smooth, natural and low maintenance. A great choice.
#9: Blonde Ombre Angled Bob
Source
This shoulder-length bob is a perfect mix of balayage highlights and ombre. The colors are well blended and smoothly faded and a few eversible strands at your forehead complete the look. It's great for highlighting the shape of your face and gives the whole style a shaggy natural feeling.
#10: Lazily Textured Thin Hair
Source
Shaggy medium length hairstyles for thin hair are all the rage and this choppy blonde bob is one of the best. Various length layers add texture and create a fluffy feel. Piecey waves show off your personality and the bright blonde balayage highlights make you shine in any crowd.
#11: Halo Braid For Thin Hair
Source
You can style your thin hair in a creative way too! Why not try braiding a halo plait loosely with several strands around the top of your head and tucking the other hair back untidily. A loose halo plait increases the "fluffy feeling" of the whole style and makes you up just like a fairytale princess.
#12: Cool Punky Side Braids
Source
If sweetness is not your taste, how about this chic style? As you can see subtle little accents really can save thin hair. You can use some little accent braids and accessories to enliven your look while still showing off your excellent cut.
#13: Shoulder Length Soft Ringlets
Source
Curls and ringlets add volume to thin hair as well as movement and go great with pink hues. Overall they really give you a look that's young, energetic and chic. Soft ringlets seem unmanageable, but who can refuse such a beautiful style?
#14: Stacked Balayage Bob
Source
This choppy stacked bob is a perfect choice for women with thin hair! Graduated nape and choppy side layers add volume and dimension to the cut. Golden balayage provides accents for thin hair too.
#15: Layered Shaggy Cut With Flipped Out Ends
Source
It's important to make full use of what you've got! For example, if you have thin hair but an delicate face shape, you can try a layered shaggy medium-length cut with Valgus ends. This highlights your delicate face shape and expands the dimensional look of your hair.
#16: Carefree Medium Waves
Source
A carefree medium length shaggy look delivers an effortlessly chic feel and injects a youthfulness into your look. Blond hues work well with this style and it's low maintenance, which is always a good thing!
#17: Messy Back Swept Curls
Source
Ringlets are absolutely a safe option for women with thin hair. You can mess your mane up and sweep it back in a windswept style to make the hair appear thicker and more natural. The subtle highlights also help add dimension to your hair.
#18: Side-Part Wavy Bob
Source
Another sweet wavy bob for women with thin hair! The usage of ringlets combined with wavy layers increases volume and adds texture, whereas the side parting helps complement your face. You'll look fantastic when you glance over your shoulder.