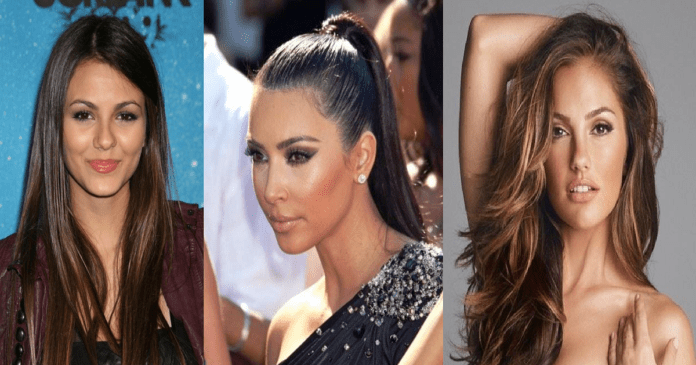 Weave will make any woman look amazing. Try to consider the color and type of hair you have before choosing the right weave. It is important to make sure that the weave is appropriately attached, so it looks natural and lasts as long as possible. Opt for attaching the weave professionally instead of doing it at home in order not to be disappointed with the results. So, if you are ready to choose a great weave hairstyle, take a look at the 70 options we have chosen for you and take your pick.
1. Very long and curly
Tired of short or medium-length hair? Make it really long! Any woman should try this very long weave hairstyle at least once in her life. Long hair will make you look like a princess and will give you a regal feeling that you won't ever forget.
2. Choose the colors
One of the most important factors for perfect weave hairstyles is the right choice of colors. If you want your hair to look as natural as possible, go for the most popular color mixes. Make sure your stylist knows what you want.
3. Chocolate waves
If your skin is dark, make sure to try the chocolate waves weave hairstyle. Your own natural hair can be straight, so the weave alone will add some soft curls to your look. This hairstyle is easy to maintain and looks extremely vibrant.
4. Highlighted waves
Take a look at this very neat quick weave hairstyle which is created by adding some wild highlights. If your hair is naturally wavy, this look will be very easy to achieve by attaching and curling a weave. You can change the highlights any time you wish.
5. The contrast
There is no reason to keep the weave the same color as your natural hair. In fact the contrast the differently colored weave creates is amazing. Play around with various colors to find the combination which suits you best.
6. The highlighted perm
Perm is a great idea for women with dark skin color. Another great advantage of the perm that it doesn't require much maintenance. In fact, all you need to do is spend some time in the salon attaching the weave and then you can forget about hairbrush for a long time.
7. Chocolate and light brown waves
There is no need to make the weave and your hair the same color. So, if drastic contrasts are not your thing, you can go for soft color transitions. For example, you can try the chocolate and light brown mix. Don't forget the waves!
8. The longer the better
Dreaming of long hair but feel like it won't look good on you and scared of maintenance? Don't be. Even the women with thick and medium-sized hair can appreciate the long weave and keep coming back for more. Give it a try!
9. The perm
Perm is a little troublesome to make and might take some time to maintain, but it looks amazing. The perm doesn't always look great on short hair, but the long weave will fix this problem. Go for it and you might never go back to short again.
10. Red and blond with a parted fringe
Red and blond make a great color mix. The red parted fringe mixed together with blond curls is a great idea. Experiment with the length of your colored fringe. Remember, not all fringes ,which looked great with short hair, will look as wonderful with your new long mane.
11. Curly blast
If your hair looks like Beyonce's on this photo, you can easily add some curly weave to make it look even hotter. Don't forget, small curls are pretty hard to maintain and when you have twice as much, you are out for twice as much work. But the result is so amazing, it is worth every minute of the hair struggle.
12. Short weave
Weave is not necessarily made to make your hair look longer. It can be used to make the hair thicker. Take a look at this short weave hairstyle. Looks very natural, doesn't it? Add some volume to your hair without much additional maintenance and enjoy!
13. Side weave
Always dreamed about a side undercut but were never bold enough to try it? The time has come to make your dream come true with a side weave. Get a weave attached to just one side and make your short haircut into a sexy partial undercut.
14. Vibrant curls
Curls are always a hit and weave can make this hit real for you. Go for the vibrant curls hairstyle to feel magnificent and look like a queen. Remember, long hair needs to be taken care of daily. Otherwise, your weave will turn into a mess.
15. Straight weave hairstyle
If you don't want to bother with maintenance, but still want to have long and sexy hair, go for the straight weave. If you want a natural look, choose one color for both your hair and the weave. If your heart wishes for something funkier, go ahead and try it!
16. Sleek raven black weave
If your skin is dark, you might enjoy a sleek raven black weave. Straight and thick hair is not a must here, all you need to do is choose the right weave. Weave can add volume, color, and length you always wished you had.
17. African American weave
Long and curly hair is a trademark of African American girls. But not everyone has enough hair to make such a hairstyle. Weave will save the day! Get a proper curly weave to make your hair shine the way it never did before.
18. Zebra weave
The white and black zebra look is a wonderful idea. But what do you do if you only have enough hair for the white stripes? No problem. Add some black strands to complete the look and you will feel fabulous without much effort.
19. Amazing volume
If your hair is thin and there is nothing you can do about it with hair cosmetics, choose a curly weave hairstyle and you will forget about all its weak points. The amazing volume a weave will give your hair will positively make you shine.
20. Frontal weave
Tired of your old bob and want to go for something longer and asymmetrical, but the hair grows painfully slow? The weave will save you! Attach the strands in front to create a new and improved bob look.
21. Long, straight and black
If your curly hair is taking too much time and struggle to make it look neat, go for the straight style. A long and straight weave will motivate you to keep the rest of your hair straight and shiny and you will finally get a chance to make some large and neat curls.
22. Weave and fake lashes
If the weave made your hair so fabulous that your face is completely forgotten, do something about it. Bright makeup and long fake lashes will add some vibrancy to your look and will become a great addition to long hair.
23. African braids and a weave
Mix two hairstyles in one with the help of a spiral weave. You can make African braids on one side and attach a voluminous weave on another. This weave hairstyle will surely turn some heads, since it is truly unique.
24. Diversify your bob
Get help from a weave to make your bob look completely different. You can either attach it to add some length to one or both sides, or thin strands can be added to create a highlighted look. Take your pick!
25. Red and fabulous
If you already dyed your hair with an outstanding color, there is no reason the weave can't be dyed the same way. Get you stylist to choose the appropriate weave and have it colored right away. You are bound to look amazing.